U-Pick Farms in Tampa Bay: Where to pick strawberries, citrus and MORE right now!
U-pick farms in Tampa Bay are opening their fields once again for a fun and unique day out on the farm with the kids!
We're seeing u-pick strawberries right now and this is the best time of year for citrus u-pick…fresh squeezed OJ anyone??
Before you go, check each farm's social pages or websites to ensure they are open as hours and dates change with weather and whether a crop is available for u-pick.
We suggest bringing some sunscreen, bug spray and closed toed shoes when out on the farm. Also make sure to pack plenty of water for everyone in your group. It can get hot in the fields (gotta love winter in Florida).
Our favorite u-pick farms in Tampa Bay offering picks right now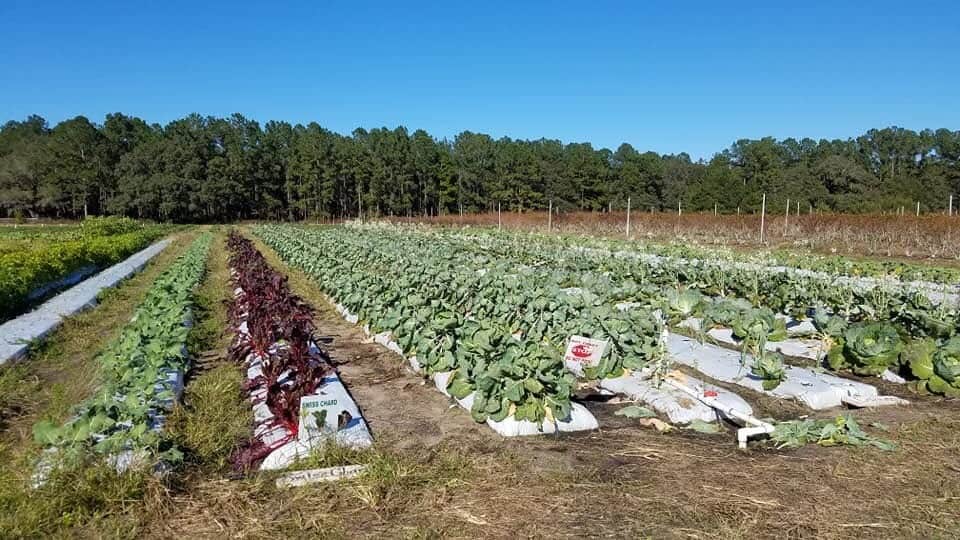 Upicktopia in Masaryktown: U-Pick Strawberries, Greens, Zucchini and more!
19125 Phillips Rd, Masaryktown 34605
www.upicktopia.com
Upicktopia has a variety of veggies and strawberries available for u-pick. You'll want to check their Facebook page before you go to see what they have available for u-pick as it changes.
Dooley Groves in Ruskin: U-Pick Citrus
1651 Stephens Rd, Ruskin 33570
www.dooleygroves.com
Dooley Groves opened for its annual citrus u-pick season in late November.  Lately, they've offered u-pick Red Seedless Grapefruit until April 8. They are open daily from 10 am-4 pm, but be sure to visit their website here to learn more details on what's available.
Berry Sweet Acres in Plant City: U-Pick Strawberries
5621 US Hwy 92 in Plant City
Berry Sweet Acres Facebook Page
There's nothing quite like the taste of freshly picked strawberries and Berry Sweet Acres is opening up its fields for u-pick strawberries by reservation only to ensure you don't get overcrowded. They are open Wednesday-Friday from 10am-6pm, Saturday from 9am-6pm, and Sunday from 12pm-6pm. There is a $2 admission fee in addition to the purchase price of the strawberries. Walk-ins are welcome or you can make your reservations here.
Starkey Blueberry Farm in New Port Richey: U-Pick Strawberries 
10730 Lake Blanche Drive, New Port Richey 34655
www.starkeyblueberryfarm.com
Starkey Blueberry Farm's u-pick strawberry season is open this week at the field located at 10730 Lake Blanche Drive in New Port Richey. The field is not too far from Starkey Market if you want to stick around for lunch and pre-picked berries. Check their Facebook page for daily updates on availability before heading out. They offer u-pick blueberries, blackberries, and strawberries.
Hunsader Farms in Bradenton:  U-Pick Flowers
5500 County Road 675, Bradenton 34211
www.hunsaderfarms.com
Hunsader Farms is currently offering u-pick flowers. They have zinnias and wildflowers and a few sunflowers. Admission is $2 and then you buy a cup for the flowers starting at $8 and then it goes up by cup size. They also have other u-picks including veggies like bell peppers and jalapeños. There's also a petting zoo with more than 30 species of animals! They're open daily right now, (Monday-Saturday 8am-4pm & Sunday 10am-3pm) so it's a good day trip for littles. Learn more here.
Strawberry Passion/Passion Organics in Thonotosassa: sunflowers, tomatoes, and strawberries
11780 Tom Folsom Rd, Thonotosassa 33592
12351 McIntosh Rd, Thonotosassa, 33592
Visit Facebook Page
Strawberry Passion/Passion Organics is offering u-pick strawberries at their newest McIntosh location right now.  Check their Facebook page for updates and availability as well as u-pick details at their Tom Folsom Rd. field.
A Land of Delight Natural Farm and Nursery in Plant City: U-Pick Veggies and Mulberries
2514 Learning Pine Ln, Plant City 33565
www.alandofdelight.com
A Land of Delight Natural Farm hosts a regular farmers market and u-pick. Right now, they are offering u-pick mulberries! Only on select days those which have been on Thursdays through Saturdays. U-picks are mostly greens which are great for smoothies and salads! The market has plenty of fresh produce, honey, and soooo much more. Check their Facebook page here for updates.
Three Son Farms in Dover: U-pick strawberries
3830 MacIntosh Road, Dover 33527
Visit Facebook page here
Three Sons Farms in Dover's u-pick strawberry season is over for 2023. They will be offering sunflowers starting in April.
JG Ranch in Brooksville: strawberries and greens
17200 Wiscon Rd, Brooksville 34601
www.jgranch.com
JG Ranch's u-pick strawberry season has ended. They will be offering u-pick blackberries starting at the end of March. You'll want to check in on their Facebook page to see if they are open for u-pick before you head out.
5K Farms in Plant City: u-pick strawberries
6302 S County Road 39, Plant City 33567
U-pick strawberries will be available at the end of March and the sunflower field will be ready once again in May! Admission is $5 per person and kids 5 and younger are free. Strawberries are $2/pound and containers are $1 (or you can bring your own). Sunflowers are $1. Follow their Facebook page for updates.
Church Lake Farm in Odessa: blueberries
16321 McGlamery Rd, Odessa, FL 33556
www.churchlakefarms.com
Church Lake Farm's u-pick blueberries are now ready for u-pick select days of the week from 8am-12pm! Make sure to check their Facebook page for picking updates. 
Wish Farms Blueberry U-Pick in Plant City: U-Pick Blueberries
1301 Frontage Road S, Plant City 33563
www.wishfarms.com
Wish Farms will open their blueberry u-pick on April 1. You can check their events page here to stay up to date.
---
MORE farms to WATCH for future u-pick events:
Keel & Curley in Plant City: U-Pick Strawberries (not offering u-pick right now-check back soon!)
5210 Thonotosassa Road, Plant City 33565
keelfarms.com
Keel & Curley location on Thonotosassa Road which also happens to be right by Dinosaur World, so it's a great day trip for families. We also love grabbing lunch under the covered patio and saying hello to the farm animals, so make some time in your day for that too! Check their Facebook page here for updates.
Sweetfields Farm in Brooksville: sunflowers
17250 Benes Roush Road, Brooskville
www.sweetfieldsfarm.com
The season opens May 2023! Check out the sunflower maze, play area, peddle tractor rides, hayrides, farm animals and more! By popular demand, they are selling timed admission to ensure crowds at kept at a minimum. Tickets are required for everyone ages 3 and older. We suggest buying in advance online to secure your spot since this event often sells out.  Check out their Facebook page here.
The Southern Peach Company in Lithia: peaches
13231 State Road 674, Lithia 33547
The peaches are ready on select days only, so check their Facebook page for updates. This fifth generation family farm in Lithia has all the charm peach picking has to offer, including a photo opportunity with an old fashioned truck as you enter the orchard. The century old farm offers plenty of peaches to go around for everyone starting in late April.  After picking, stop by Alafia River State Park which is just minutes away for some relaxation and fun under the trees.  Visit their Facebook page here. 
HarvestMoon Fun Farm Sunflower U-Pick in Masaryktown
15950 Stur Street, Masaryktown 34604
www.harvestmoonfunfarm.com
Visit HarvestMoon Fun Farm for their Sunflower U-Pick event which usually opens in May–you can pick flowers through the maze-like paths and bring home a beautiful bouquet for yourself or a loved one! For more information for farm activities and to make a reservation please visit their website. They also have petting zoo, play area and more! You can also visit their Facebook page here for updates.
Bob's Blueberry Farm and U-Pick in Hudson: blueberries
14000 Edwards Road, Hudson 34669
Bob's in Hudson offers u-pick blueberries starting around April 1st and May, followed by peaches, plums, and blackberries later in the season. The farm is home to plenty of other produce products. Check Facebook for updates on the 2023 season.
Hilltop Peaches in Bartow: peaches
7455 Cox Road, Bartow 33830
Visit their website here.
Hilltop u-pick peaches offers two different types of peaches: UFSun (clingers) and Tropic Beauty (freestone/melters)–keep this in mind as they are priced differently per pound. Stay up to date on u-picks and prices here.
Oponay Farm in Lakeland: blueberries 
5129 Hancock Lake Road, 33812
www.oponayfarmsllc.com
The Lakeland family owned farm is now offering u-pick blueberries on select days. U-pick berries are usually $4 per pound. You can visit their Facebook page for future u-pick updates.
Jimmy MC's Farm in Spring Hill: sunflowers
17430 Coon Hide Road, Spring Hill 34610
Jimmy MC's Farm offers sunflower u-pick in May and should be opening soon. Check in with their Facebook page for opening day updates:. Learn more here.
Fancy Farms in Plant City
3524 Futch Loop, Plant City 33566
www.fancyfarms.com
Fancy Farms sometimes offers U-pick strawberries, but check their Facebook page for future potential dates. They do have a regular market where you can pick up farm fresh food like blueberries, onions and more. They have a ton of farm fresh veggies you can order now! Visit Facebook page for updates.
Favorite Farms in Dover
10070 McIntosh Rd, Dover 33527
www.favoritefarms.net
Favorite Farms u-pick strawberry season typically opens in March. Visit their Facebook page to stay up to date.
Pappy's Patch U-Pick Strawberries 
501 Florida Ave, Oviedo, FL 32765
Visit Facebook Page
Pappy's Patch will not be open for the 2023 u-pick season.
Florida Sweeties  in Dade City: U-Pick Tangerines
Various orchard locations in Dade City: Tangerine orchard located at: 14138 Curley Rd in Dade City
www.youpickpeaches.com
The friendly owners of Florida Sweeties have several orchards and offer u-picks throughout the year for citrus ad peaches and right now, they have u-pick tangerines at one of their orchards in Dade City. Look for the Sign Up Genius links on their latest Facebook post here. It's $15 per bucket for 2 for $20. *As of December 2022, they were sold out of fruit. Be sure to check their Facebook page for updates on when they'll reopen. 
Want to add your favorite u-pick farm? Email us and let us know so we can share: [email protected]
*Follow us on Instagram for more family fun! instagram.com/tampabayparenting
---
More stories we think you'll LOVE: