Mermaids in Tampa Bay. Yes, it's TRUE! They Live in Weeki Wachee Springs
Q & A originally published in the April 2019 issue of Tampa Bay Parenting Magazine.
Weeki Wachee Springs is one of Florida's oldest tourist attractions, entertaining generations of families before there was Disney World and Busch Gardens. Today, families continue to flock to the state park north of Tampa where real mermaids swim.
After about year long closure due to the COVID-19 pandemic, the park and mermaids are welcoming guests back once again with your health and safety in mind. Capacity will be limited inside the theater and physical distancing enforced–once you arrive at the park you will receive your assigned seating for the show. Masks are also required.
It's still just as magical and where else can you watch mermaids perform just as generations of families have before you??!!??
We spoke with John Athanason, the man behind the uber popular Weeki Wachee Springs social media pages (a MUST follow) back in 2019 to learn more about this Florida treasure.
---
TBPM: Tell us about the history of Weeki Wachee Springs. How did it become a tourist destination?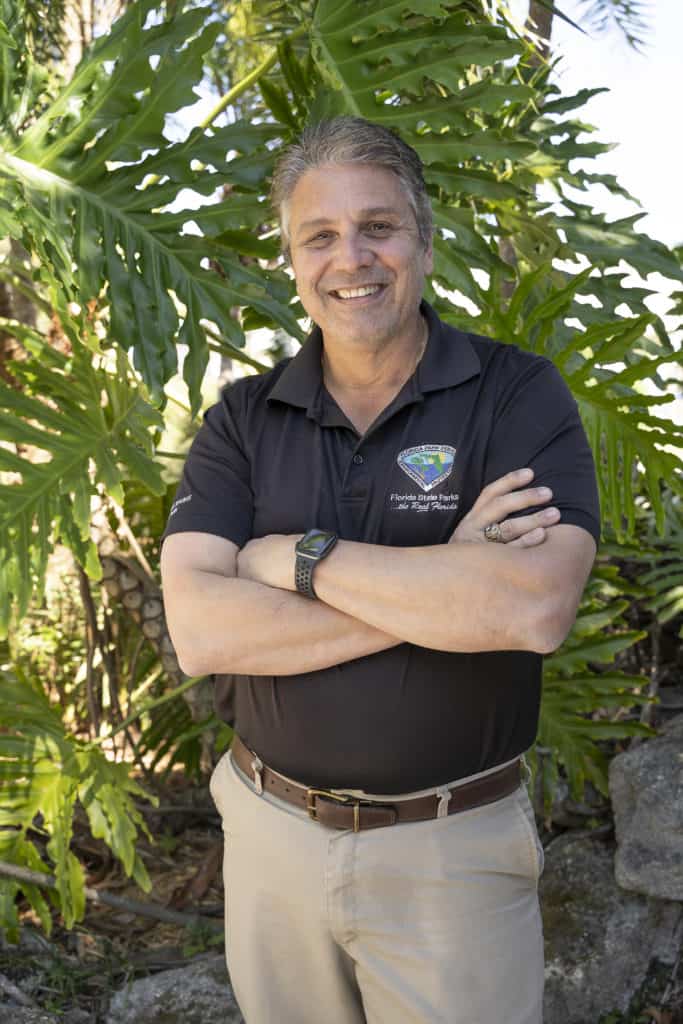 John Athanason: Founder Newton Perry had a vision of taking the concept of synchronized swimming and implementing it underwater. When he discovered the spring at Weeki Wachee, he realized it was next to US 19, a major thoroughfare back in the day, and he knew he had the location. He recruited a group of synchronized swimmers from St. Pete call the Aquabelles.
As a Navy diver trainer, he developed the air-hose we still use to this day and taught the ladies how to breathe underwater using this apparatus. After choreographing underwater ballet maneuvers and building a small, 22-seat theater, Perry opened the park on Oct. 13, 1947. Perry's underwater show became an instant hit, making it a must-see when vacationers traveled to Florida.
With a now larger theater, Weeki Wachee remains a popular destination. The underwater theater at Weeki Wachee is the only theater in the world of its kind.
TBPM: When did the mermaids start performing at the park?
John Athanason: The "mermaid" began performing on opening day in 1947. But the concept of "mermaids" did not come about till the mid 60's. Before then, the ladies did not wear "tails", but were still considered mermaids.
TBPM: Tell us about the renovation project. What can guests expect when they come see the Weeki Wachee Springs this spring?
John Athanason: Most of the renovations address mostly safety improvements. Guests will see new sidewalks, walking bridge, and a facelift inside the underwater theater.
TBPM: Some of the mermaids are moms! How many mermaids do are at Weeki Wachee and how many are mothers?
John Athanason: We have approximately 20 mermaids on staff. Six of whom are mothers.
TBPM: You do such a great job of telling the story about Weeki Wachee on social media. What do you think makes this park so special?
John Athanason: Thank you! For me, this park represents "old Florida," a time where things were simpler. I think what really makes this park so special is two-fold. It's the only theater in the world where guests can view this magnificent first-magnitude spring from under the surface of the water.
This is magical in its own right. But when you add beautiful mermaids performing in the spring, that is when the real magic happens. Weeki Wachee Springs State Park offers guests not only the entertainment value with the mermaid performances, but guests also enjoy the natural resources the park offers with swimming in the spring at Buccaneer Bay, wildlife program, river boat ride and kayaking. No special effects needed.
Get social with Weeki Wachee Springs:
Facebook: Facebook.com/WeekiWacheeSprings
Instagram: @weekiwacheesprings
Twitter: @WeekiWacheeSpgs
weekiwachee.com
Fun Facts at Weeki Wachee Springs:
Weeki Wachee Springs is one of the deepest naturally-formed underwater caverns in the United States. It is so deep, the bottom has never been found!
More than 117 million gallons of water flows up from the caverns EACH DAY!
The spring is the start of the Weeki Wachee River which flows 12 miles to the Gulf of Mexico.
Weeki Wachee is Seminole Indian for 'winding river.'