A Florida Scalloping Adventure: Dive in with us to see what it's like!
Just sit for a minute—and think—we're pretty darn lucky to call Tampa Bay home. The area is home to some of the world's top beaches, close to world-famous theme parks and attractions, and home to one-of-a-kind adventures you can't experience in most places in this world…like swimming with the manatees.
Friends, we have another adventure to add to your Florida Bucket List…scalloping! While scalloping season in Florida starts on July 1, the final weeks of the season —which ends on September 24 –are actually the best time to go because scallops are bigger and you're likely dealing with less people as kids head back to class. So, don't feel pressured to book your tour right away. There's plenty of time!
The Plantation on Crystal River invited our family out for a scalloping adventure and now that our kiddos are 6 and 8 years old, we felt like it was time for us to finally take the dive.
First, when is scalloping season in Tampa Bay?
The 2022 scalloping season in Tampa Bay starts in Citrus, Hernando and Levy counties beginning July 1-September 24, 2022. Pasco County's two week season opens July 15-24, 2022.
Levy, Citrus, Hernando Counties: July 1-Sept 24, 2022
Pasco County: July 15-24, 2022
Gulf County: Aug 16-Sept 24, 2022
Franklin to NW Taylor County: July 1-Sept 24, 2022
St Joseph Bay and Gulf County: Aug 16-Sept 24, 2022
You can read our full Q & A about scalloping season in Florida here.
Let's Dive In and Go Scalloping with Plantation Crystal River
We were treated to a two-night stay at the resort which has been hosting families since the 1960s. We got there the night before our scalloping trip to enjoy the family-friendly activities at the resort. The kids loved playing with the life-sized chess set and running around on the expansive water-front lawns as we enjoyed the spectacular sunset.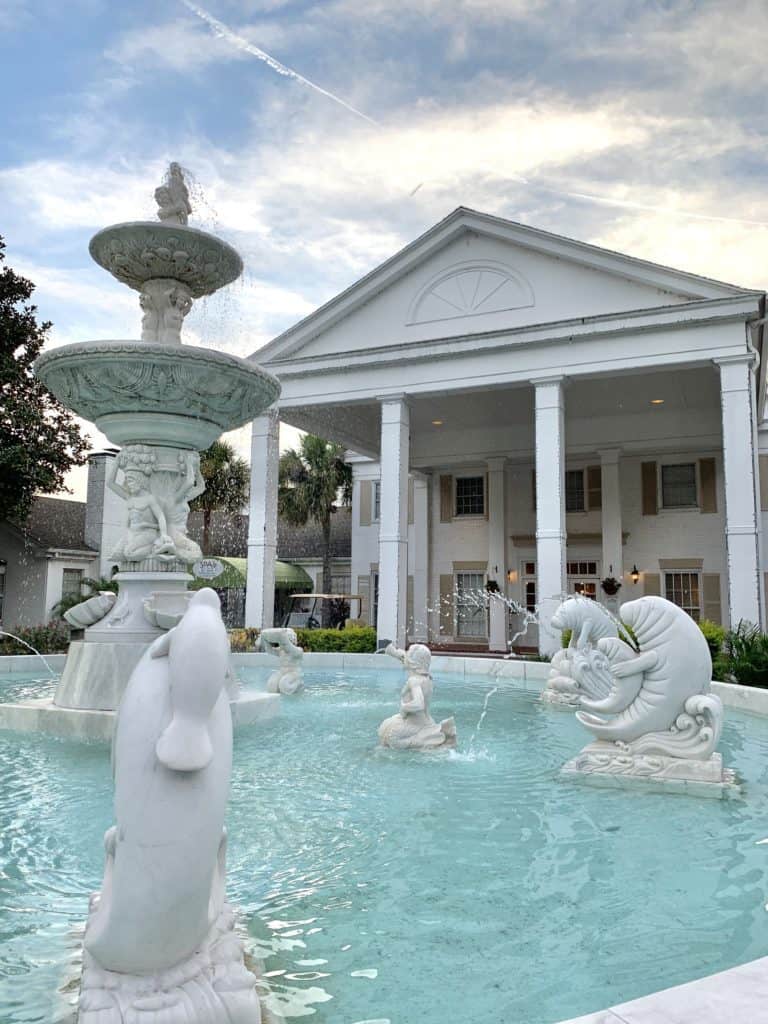 While the resort is only about an hour drive north from Tampa, it does make it easier to be on property if you've booked the morning tour which leaves at 8am. The resort has several different packages to choose from which includes a scalloping tour with the resort's Plantation Adventure Center.
Our tour was scheduled for 8am, so it was an easy morning to wake up, grab breakfast, and walk next door to the Adventure Center where we met with our guide Paul Cross and his son Parker.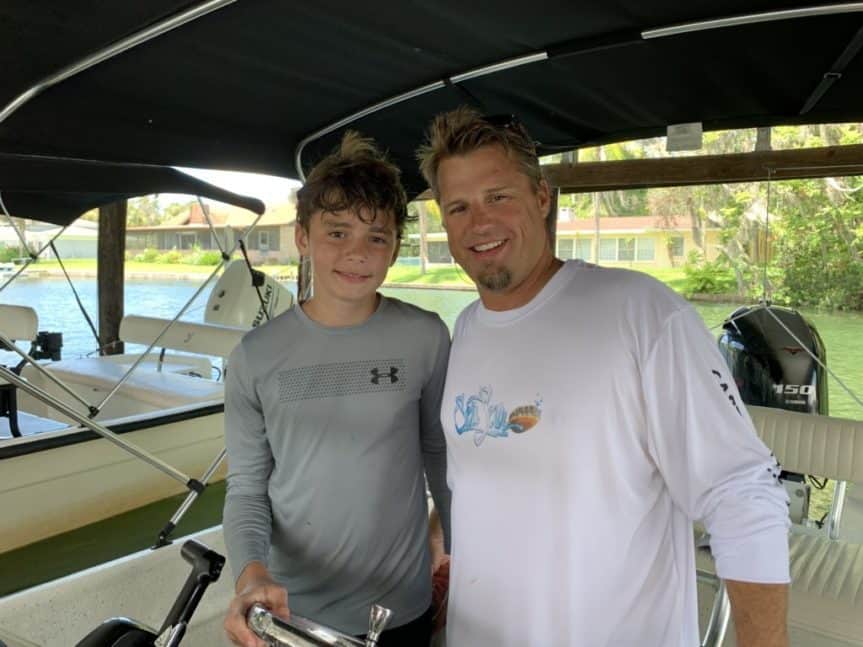 They fitted the kids with life jackets, gave us a quick overview of what to expect, and then we boarded Cross's boat for the trek through the majestic salt marshes and then out about a mile into the Gulf of Mexico. Cross explained that this area of gulf offers the perfect blend of fresh and saltwater thanks to the many rivers and springs that feed into this area. He also pointed out it's these same rivers that have discouraged red tide in this area.
"It's the same concept -those same rivers that are dumping fresh water into the Gulf of Mexico that allow these scallops to thrive out here," he explained. "That fresh water coming out of the springs is forcing that red tide to stay away from us. We haven't seen an issue with red tide in our area and don't look to have an issue, so come on up and enjoy!"
Enjoy, we did! Cross anchored in a spot in about 4-6 feet of crystal-clear water. As a seasoned pro, he he knew we'd have luck finding scallops here, so he put down the dive flag and Parker jumped in first to find us the first scallops, so we knew what to look out for.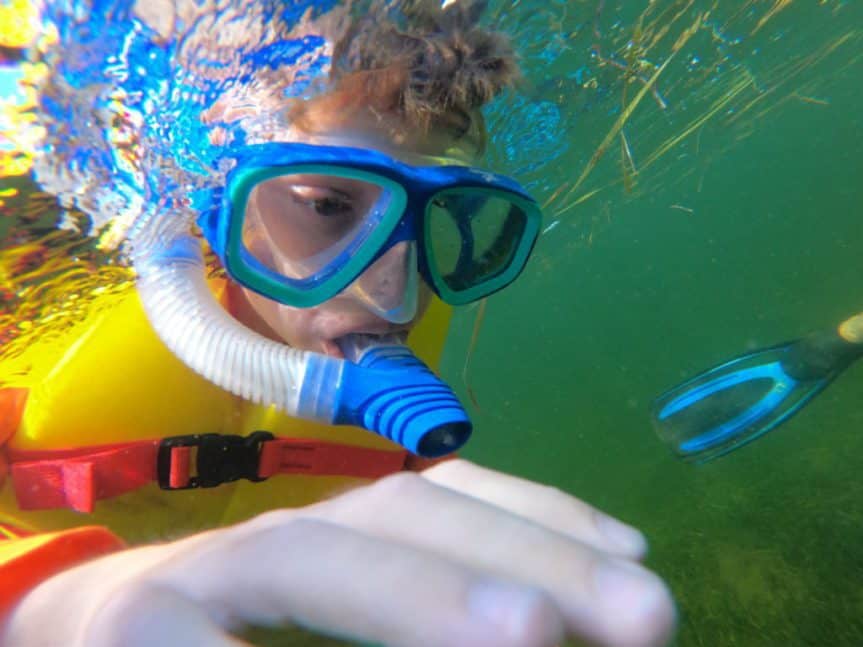 "It's just a phenomenal experience. It's low paced, it's not very strenuous. It's just getting in the water and relaxing," he assured us.
Within a minute, Parker found a scallop or two and brought them over to the boat so his dad could show us what to look out for.
"See this algae growing on top," Cross said, pointing to the greener side of the freshly caught scallop as the boys look on to investigate, "It blends in perfectly with the other algae and grass on the bottom."
He then flips the scallop to the side to reveal the partially open mollusks and the row of eyes looking back at us, "See the blue eyes? Underwater they almost glow."
Scallops really are beautiful creatures…in fact, it's that row of bright blue eyes that helps them detect you as you swim above— as you reach down, they might even try to 'swim' away from you, adding to the challenge. They may even snap at your fingers, but don't worry. It doesn't hurt.
"One tip of the trade would be if the current is moving and the grass is kind of laid over in one direction, go against the grass, so you can see down through it. That makes you more successful when you're trying to find them," said Cross.
We kept the life jackets on the boys even though they are strong swimmers since this was our first experience in the open water as a family. Still, they loved floating on the surface to help spot the scallops in the seagrass bed. We quickly discovered that once you start, it's pretty hard to stop because the challenge is so addicting.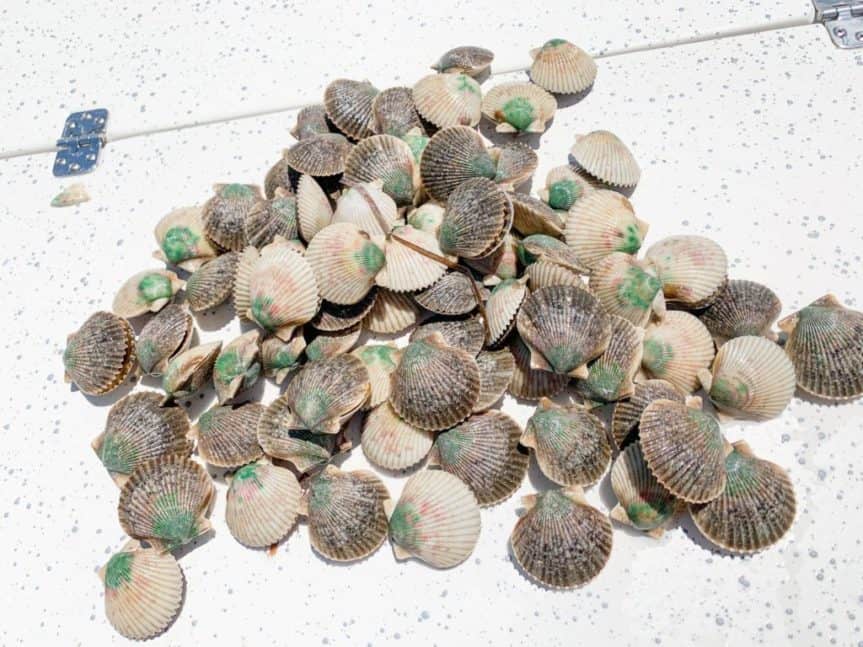 At the end of our adventure, Cross and his son Parker helped us collect a decent sized bucket full of scallops. The limit is 2 gallons per person or 10 gallons per vessel.
We had plenty for dinner that night which the restaurant at Plantation on Crystal River, West 82° Bar & Grill, will cook up for you! There's nothing quite like the taste of a freshly caught scallops and nothing quite like this family treasure hunting adventure!
It's a must add to your Florida bucket list.
*Originally published in August 2021. Updated in June 2022 for the 2022 scalloping season.
________
Scalloping Pro Tips from Paul Cross:
Book the morning tours. "We like to fill up the morning spots first because afternoons, we typically run into thunderstorms."
Practice with a snorkel. "Put on a snorkel and mask in the swimming pool before you come out just so you are comfortable, but again, it's not a strenuous activity. It's not like you need to practice for a marathon or something like that."
Stick with the pros. "Go with a professional or reputable tour guide who will get in the water and help you. That makes the experience so much better."
WATCH: INSIDE LOOK | A Florida Scalloping Adventure