Walking through the courtyard at Heritage Elementary School in New Tampa, a wall immediately catches your eye.
It's not just any wall. It's a work of art.
On this wall is a mural, conceived by the school's art teacher, painted by the school's art students, but conceptualized off 7 Mindsets.
What is 7 Mindsets?
Adopted by Hillsborough County Public Schools this year as part of social and emotional learning, the 7 Mindsets are designed to promote self-awareness, self-management, social awareness, relationship skills and responsible decision-making.
Heritage Elementary is one of ten 7 Mindset pilot schools around the district. Andrea Simpson, school counselor at Heritage, says that embracing the 7 Mindsets is already having profound impacts on the school.
"Because of the pandemic, we have kids that haven't left the house in a while, and being back on campus is a whole new thing for them," Simpson says. "So we are embracing their feelings and letting them know it's about beliefs and your mindset. Yeah, we hit rough patches, but we can get through that together."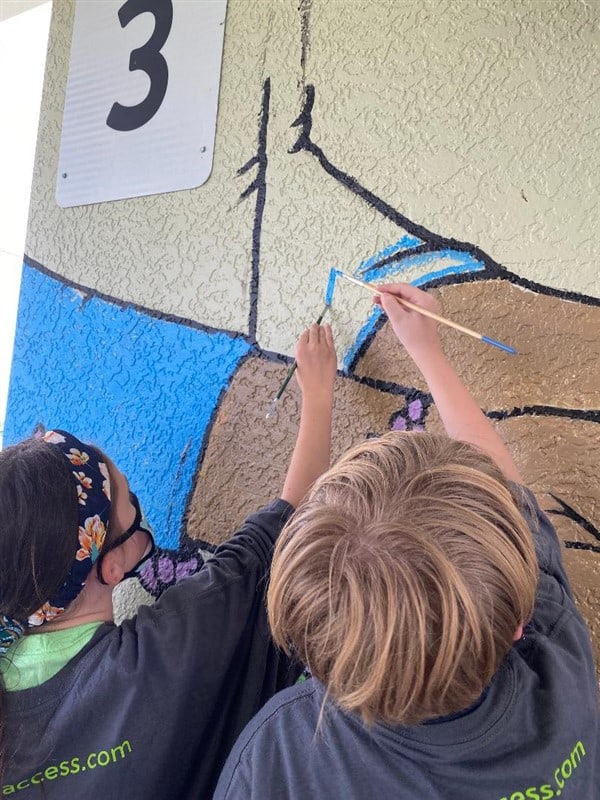 So, where does the wall come into play?
Introducing Stephanie Scheno: art teacher extraordinaire!
New to Heritage Elementary, Scheno was excited about the 7 Mindsets program. When the school's principal challenged her to create murals based on the Mindsets, it was a challenge Scheno was more than happy to accept.
The only question was where to start.
"My morning duty is across the courtyard, and I face the garden every morning. The garden club is in the mornings and the kids, even some of the most macho boys, were really getting into it! They were working together so nicely, and so passionately, and there was a very nice sense of community. So, I thought, what a great place for the first mural… right next to the garden!"
Scheno put out feelers and students were enthusiastic about taking on this project. Once a week, the Mural Club stays after school for an hour to paint and create.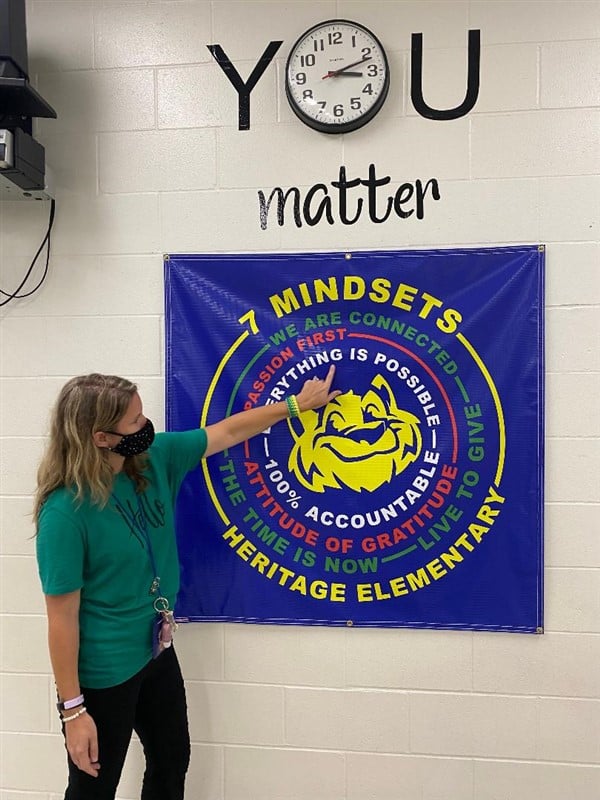 The theme of the first 7 Mindsets mural is "Live to Give," a nod to the school's young gardeners who Scheno sees giving back to the school by making the garden grow.
"I feel like in this day and age especially, with the virus and how isolated they've been, there hasn't been a lot of opportunity for them to do something to bring others joy," explained Scheno. "Now these kids get to paint this mural and they hear the little kids come in and scream, "There's more to the mural!" And they gain firsthand experience of what it's like to bring joy to others through hard work."
What are the 7 Mindsets?
The 7 Mindsets are: Live to Give, Passion First, We are Connected, 100% Accountable, Attitude of Gratitude, The Time is Now, and Everything is Possible.
Simpson is proud of how the students and staff are implementing the Mindsets into every corner of the school and finding their passions.
"Passion first. Some of the kids don't necessarily excel academically and you're giving them a confidence somewhere else. That's what it's all about. Not everyone is going to get straight As. They got to find what their passion is. It's about building confidence and dreaming big!"
What schools are participating in 7 Mindsets?
The 7 Mindsets pilot schools in the district are: Apollo Beach Elementary, Collins Elementary, Heritage Elementary, Morgan Woods Elementary, Sheehy Elementary, Eisenhower Middle, Jennings Middle, Mann Middle, Leto High and Wharton High.
Find out more about 7 Mindsets at 7mindsets.com.
More from Hillsborough County Public Schools
Taking the Lead as Coronavirus Breaks: A look inside the first weeks of HCPS's new superintendent
Love for Literacy! Hillsborough County Schools want books in every hand
---
Originally Published in the November 2021 issue of Tampa Bay Parenting Magazine.