Where to Go Zip Lining in Tampa Bay with the Kids
Wondering where you can go zip lining in Tampa Bay? If you're looking for heart thumping family-friendly adventure,  give zip lining a try!
Zip lining is a unique outdoor adventure in Tampa Bay to see the sights from a whole new perspective. We're sharing some top spots to soar through the tree tops in Tampa Bay:
Note: We recommend calling ahead or visiting each park's website for safety details and additional information you may need to know before you go. Prices listed are subject to change.
Zip Lining at Empower Adventures in Oldsmar
423 Lafayette Blvd, Oldsmar
813-448-5635; zipontampabay.com
Ages 7 and up
Empower Adventures is an exciting zip line adventure park located in Oldsmar. The Zip Line Adventure is 2.5 hours long, full of 5 separate zip lines, a 200 ft. suspension bridge and multiple aerial challenges. If that is not enough adrenaline for you, consider adding the Leap of Faith to your package.
During this extra challenge, you'll climb up a 25-foot pole and then leap off, trusting the line as you fly through the air to safety. Other family date-night approved experiences include the Sunset Zip Line Adventure (every weekend) and the Moonlight Zip Tour (select weekend nights).
Each tour is guided by a trained professional and varies by difficulty. No need to bring your camera; your guides will take pictures of you throughout the adventure. Pricing depends on the package that you choose, but tickets start at $74 for a daytime adventure and $84 for moonlight and sunset tours. Reservations are required.
*Yes-they host birthday parties!
Zip Linging at TreeHoppers Aerial Adventure Park in Dade City
27839 St Joe Rd, Dade City
813-381-5400; treehoppers.com
Ages 5 and up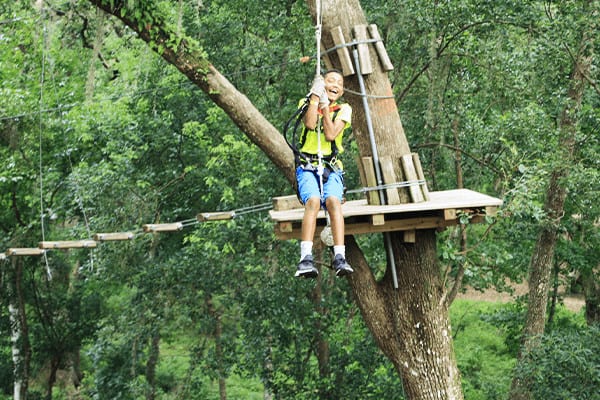 TreeHoppers is the largest aerial adventure park in Central Florida. There are 8 courses including hundreds of different elements to explore, such as platforms, cables, wood, rope, barrels, and of course, zip lines! Each course is color coded to signify the level of difficulty from beginner to advanced. The color-coded courses allow you to travel the park unguided.
Fear not though! There are park monitors and guides throughout to assist if the need arises, and your ticket includes a safety and orientation class. Visit during extended hours on select weekends for a night climb when the course is illuminated with lights and the music is cranked up a little louder.
Admission includes three hours of adventure and is $60.95 for 12 and older, $40.95 for ages 7-11, and kids ages 5-6 are $20.95–these prices are for online ticket purchases. It's $5 extra at the door. Memberships are also available.
*Yes, they host birthday parties!
FLG X Adventure Course in Brooksville
6440 Cedar Ln, Brooksville
888-231-8592; flgxfl.com
Ages 5 and up
Located about 45 minutes north of Tampa in Brooksville, FLG X Adventure Course is Central Florida's newest zip line spot. In addition to the adventure course's zip lines, you'll also have to overcome various challenges including cargo nets, suspension bridges, swings and more. The entire course is set in the treetops with some challenges 80 feet above ground. During your multi-hour adventure, you'll progress through four adult courses, each color coded to signify difficulty level.
Tickets are $52.95 plus taxes and fees for ages 16 and older and include access to all four adult courses. Teens who are 12-15 years old can purchase tickets for $52.95, but they must be accompanied by an adult 18 or older and turn in a waiver filled out by a parent or guardian.
Kids ages 9-11 can go on the Blue and Green courses only for $36.95 plus taxes and fees. Little ones ages 5-8 can give the Little Ninjas Course a try for $12.95 plus taxes and fees. This is a ground based course that is just challenging enough for littles!
Zip Lining at TreeUmph! Adventure Course in Bradenton
21805 E. State Road 70, Bradenton
941-322-2130; treeumph.com
Ages 5 and up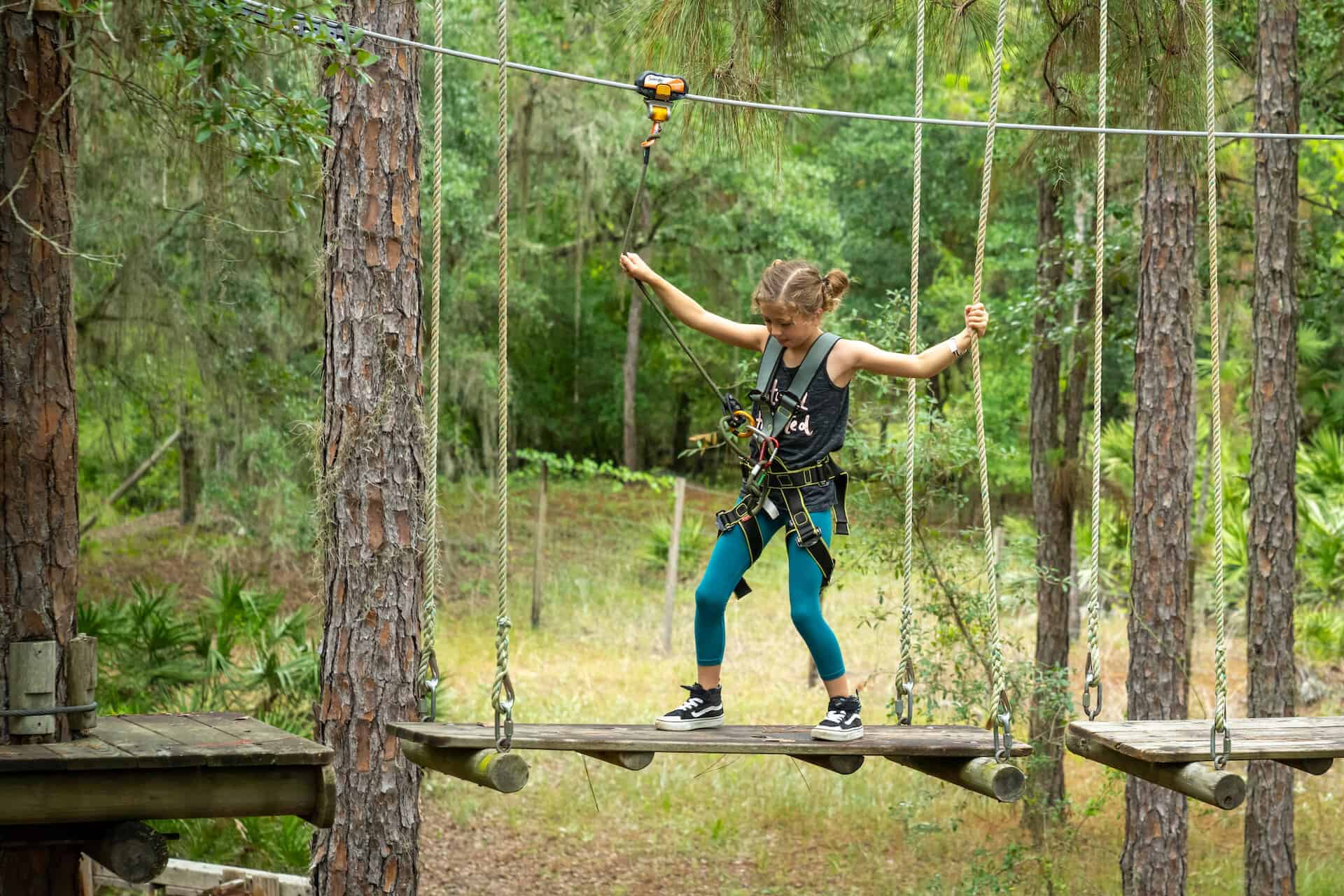 Located in Bradenton, FL,TreeUmph! is 10 football fields in size and houses 5 progressive courses plus a dedicated course for the kiddos. You'll also get to zip along the TriUmph dual zip line, which was massively upgraded in March of 2020. The Junior and Adult courses build up in difficulty starting at a lower elevation to the highest elevations requiring leaps of faith.
All courses have a variety of different elements including suspension bridges, nets, barrels, and seesaws.
Adult tickets for ages 12 and older are $59 and give you access to all the junior and adult courses including the dual zip line. Or, just book a ticket for the zip line which is $21/person and includes two trips. There are also Weekend Twilight Specials to book the last reservation of the day on Saturday and Sunday for $40 which gets you access to the first three courses and the zip line.
A Junior ticket is $45 for ages 9-11 (they must be able to reach 5'9 with the tips of the fingers when reaching up when flat on their feet). Climbers who are ages 5-8 can go on the Ape Up Course for $28. As you'd expect, parents/guardians must sign a waiver.
MOSI: Sky Trail Ropes Course in Tampa
4801 E. Fowler Ave., Tampa
813-987-6000; mosi.org/exhibits/sky-trail-ropes-course
At least 42 inches tall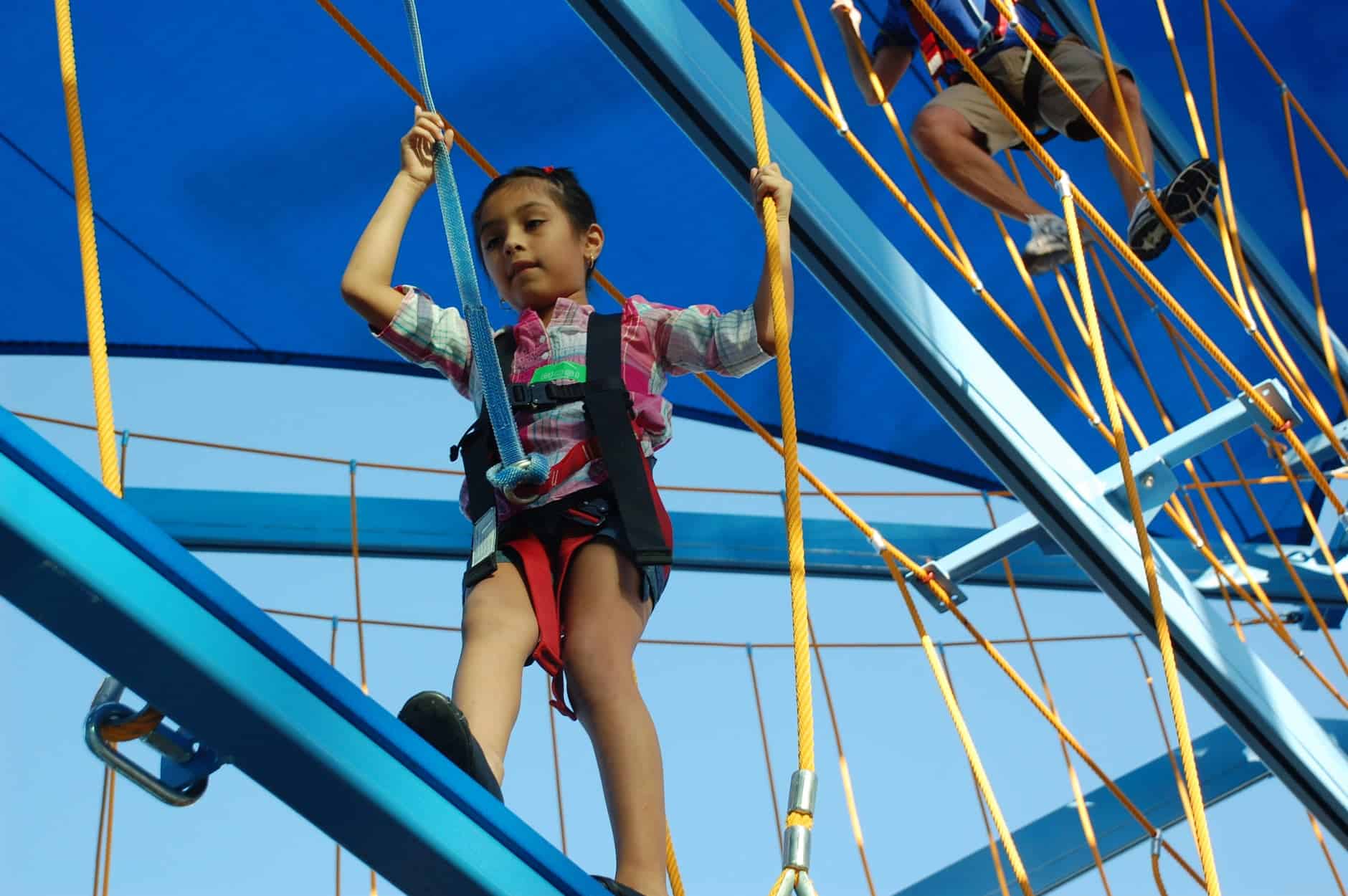 If you're not into nature, but would still like to try zip lining, MOSI's Sky Trail Ropes Course is a great place to check out. The 36-foot multi-tiered structure features several elements to explore, including ropes, bridges, zip lines and more, all equaling up to 700 feet of adventure.
Admission to the course is $7/person and requires a general admission ticket to MOSI. If you are a member of MOSI, it's $5 to go on the ropes course. The course is open Friday-Sunday subject to weather conditions. Kids must be at least 42 inches tall to climb and go with an adult.
BEYOND TAMPA: Canyons Zip Line & Adventure Park in Ocala
352-351-9477; zipthecanyons.com
If you want to go zip lining somewhere that will get you totally immersed in nature, The Canyons Zip Line & Adventure Park in Ocala is worth the 1.5-hour drive. You'll hardly feel like you're in Florida as you zip through the old limestone quarry above scenic lakes and lush treetops.
The Big Cliff Canyon Tour is the longest experience at 2.5-3 hours and includes nine zip lines and two sky bridges culminating with an adrenaline-pumping rappel. Some of the zip lines are up to 1,100′ in length. We told you it's worth the drive! The Sky High and Treetop Express tour options offer fewer zip lines if you're short on time.
Stick around for additional experiences like horseback riding, kayak tours, gem mining, and a wine and chocolate tour.
Tickets are $55.99 for the Sky High-3 Zip Tour, $79.99 for the Tree Top Express-5 Zip Tour, and $109.99/person for the Big Cliff Canyon-9 Zip Tour. Reservations are required.
*This article is a collaboration with our sister site, TampaBayDateNightGuide.com.
MORE IDEAS
There are even more zip line adventures to experience outside of Tampa in the Orlando area and beyond. Check out all the details from our sister site, Orlando Date Night Guide's: Where to Go Ziplining in Central Florida.