Creatures of the Night at ZooTampa is back with NEW thrills in 2023!
Creatures of the Night at ZooTampa is back in 2023 for 13 select nights from September 29 to October 29 from 4 p.m. to 10 p.m.  (September 29 is member's night.)
Get ready for a ghoulishly great night as ZooTampa transforms into a spooky whimsical place where clowns delight and creepy creatures roam.
This is one of our favorite Halloween events in Tampa Bay because it's truly one that people of all ages can enjoy, whether you're attending with a small child or checking it out for date night.
Related: Fall Festivals, Pumpkin Patches & Corn Mazes, Halloween Events and MORE!
We got a sneak peek before opening night so we can dish on all the details to help you plan your best night ever!
So let's get to it, friends! Here's what ZooTampa says they have in store for you and your ghouls and goblins!
What's NEW at Creatures of the Night in 2023:
This year is super exciting with some NEW additions, including new featured characters to love, Count Chirop and Countess Tera. They're inviting you to a Vampire Ball for an epic night of dancing!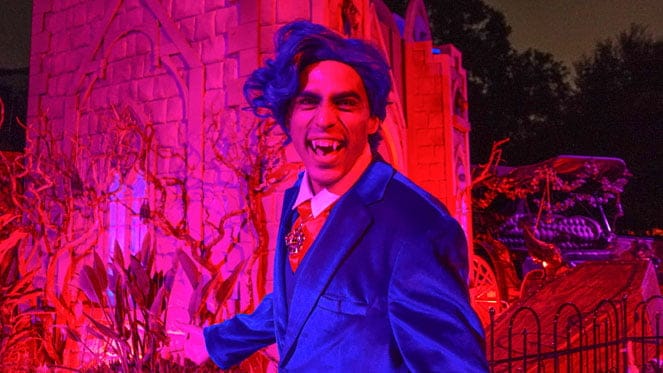 "Most vampires—you might be afraid of them as a family because they drink blood. Not our vampires," explained Alex Crow, ZooTampa's director of events and entertainment. "Our vampires have learned how to survive off of energy. Every Halloween they throw a big party so they can get everybody having a good time and just feed on that energy to keep themselves young, beautiful, and vibrant."
The kids and kids at heart loved dancing with the vampire crew on the sneak peek night and we have a pretty good feeling your kids will too! You'll the Vampire Ball at Manatee Circle as you enter the zoo.
Crow tells us they've been working all year to curate an epic night for your family. His crew even had some pint-sized help.
"I like to take ownership of the creative of this event, but it's really my 8-year-old daughter who tells me what to do. She loves being a part of it, I love to show it to her and she has all of these great ideas too, so she's just as involved as I am," Crow told us.
The Vampire Ball isn't the only new addition this year. Here is what else Crow and his team (and his daughter) came up with  for 2023:
More NEW Things to Do at Creatures of the Night:
Vikings Victory Party: Barbarians unite! The Vikings Victory Pary is another fun dance party over in the Africa Realm. You and the kids can dance along to jock jams and victory anthems while chatting it up with these quirky barbarians!
Troll Cave: The cave that takes you to the Africa Realm has transformed into a Troll Cave this year. They may look really creepy, but the trolls are fun and may challenge you to a game of hide and seek!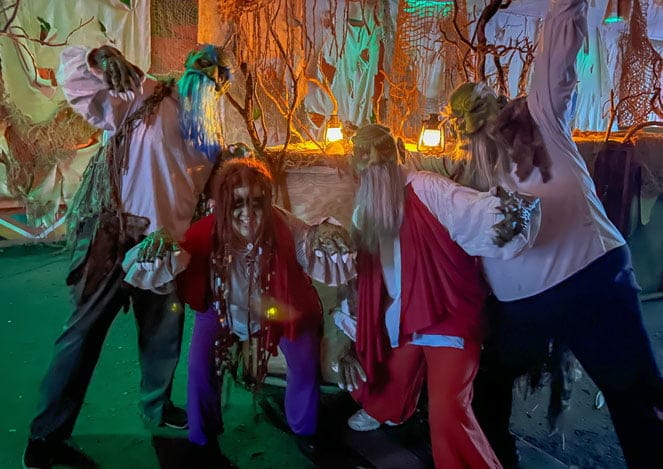 Howliday House Light Show: This is another sweet new addition! ZooTampa has its own holiday light show, but this one is

Halloween-style

! You'll find it in the African Realm near the rhinos. The show goes on every 15 minutes.
NEW LOCATION: Scarecrow Junction: Scarecrow Junction has a NEW location at Saunders Pavilion near the zoo entrance since Wallaroo Station is under construction for exciting new additions in 2024! This area is where little ghouls and goblins gather to dance with the scarecrows and watch Lucilla Smash Pumpkins. While there, kids can also navigate their way through the HaHa Haybale Maze.
A SCARIER Junkyard of Broken Dreams:

 You asked and ZooTampa is delivering! Junkyard of Broken Dreams is back and it's scarier than ever! 

You'll find this between the Asia Realm and Florida Wilds. This is the scariest experience at the event and best for older kids who don't mind lots of startles.
Spider-Queen Dining Hall Oasis: Are you ready to meet the Spider Queen and her Court? Snap photos with them and nosh on some snacks and then be sure to stick around for the living Black Widow Water Fountain. She'll be performing throughout the night. The Dining Hall is located in the Africa Realm.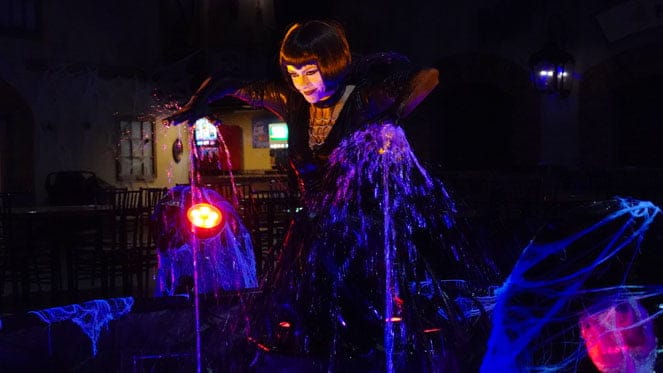 Returning Creepy Favorites:
Clown Carousel: Whether you find clowns frightful or delightful, you won't want to miss Carousel Circle. A troupe of clowns has set up shop here to play pranks on passing guests. They are hilarious, so be sure to stop and chat with them!
Swamp Witch Way: Blackwater Mattie, the swamp witch, can once again be found lurking in the Florida Wilds. She needs to fill her cauldron, so be sure to bring her sticks and leaves and even meet her 'swamp cat'.
Twisted Tales: You'll find Twisted Tales in the Asia Realm where you'll encounter whimsical creatures and characters from your favorite storybook characters.
HooDoo Haven: Guests who dare to travel through ZooTampa's Ituri Forest in the Africa Realm will find a Mardi Gras party festooned with flags and beads. This is where you'll find Dr. Hoodoo and his hoodoo friends who can help you find a cure for any ailment you may have. We also love the new interactive lights even adults loved to experience.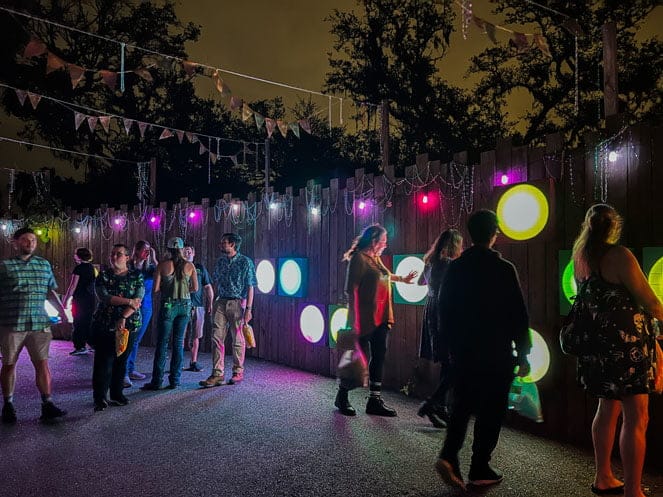 Voodoo Bar: Guests who need a break from the Zoo's eerie festivities are encouraged to take a break at the Voodoo Bar. Adults will find New Orleans-themed beverages at the Coppertail Watering Hole bar in the Beer and Wine Garden.
The Eerie Scale
ZooTampa is bringing back the Eerie Scale that will let you know how spooky an attraction may be. You'll find the signs featuring pumpkins at the entrance for each attraction and on the Creatures of the Night event map.
"This is a family event, but we do have that scale to gauge what your family can deal with. So, one pumpkin means we're not going to startle you, not going to scare you. It's for everybody. Two pumpkins, you might have some fun spooks here or there, a couple of jump scares, but nothing too crazy. And, three pumpkins means we're out there to scare you and that's for our bravest guests," Alex Crow told us.
Junkyard of Broken Dreams is the only attraction with a three-pumpkin rating. We walked through this year and it was definitely thrilling, but might be a bit too startling for young kids. It was pretty awesome though!
Even More SPOOKtacular Entertainment:
Be sure you stop by one of the different chats and animal connections throughout the zoo. It's an opportunity to learn more about the animals and even get up close and personal with them! There are 17 animal experiences on schedule throughout the night, so be sure to grab your paper guide when you arrive.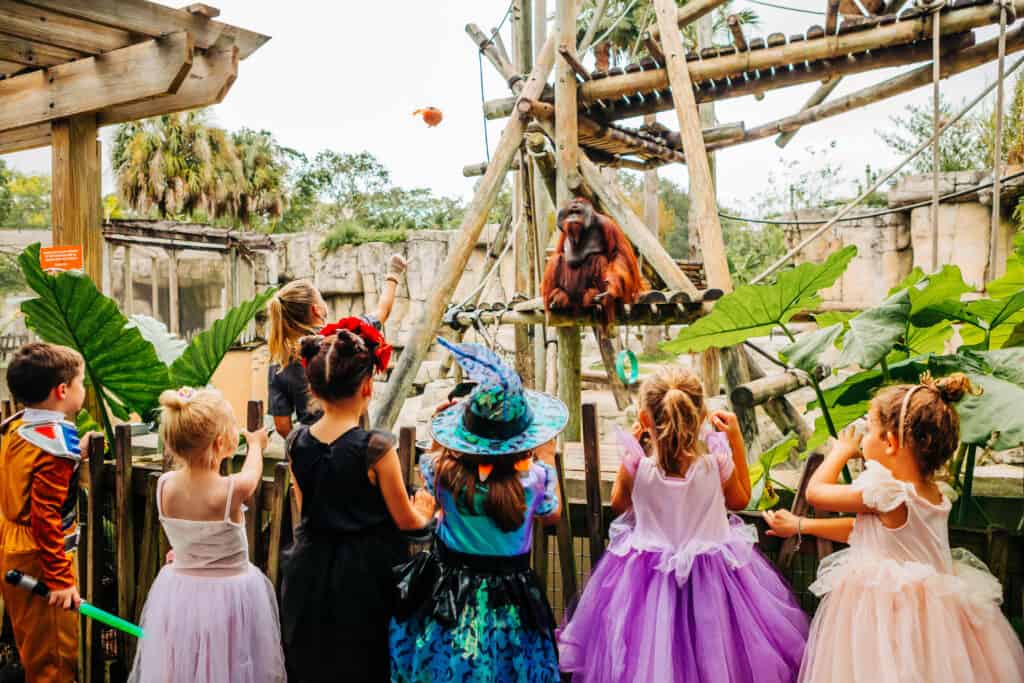 Quick Facts about ZooTampa's Creatures of the Night: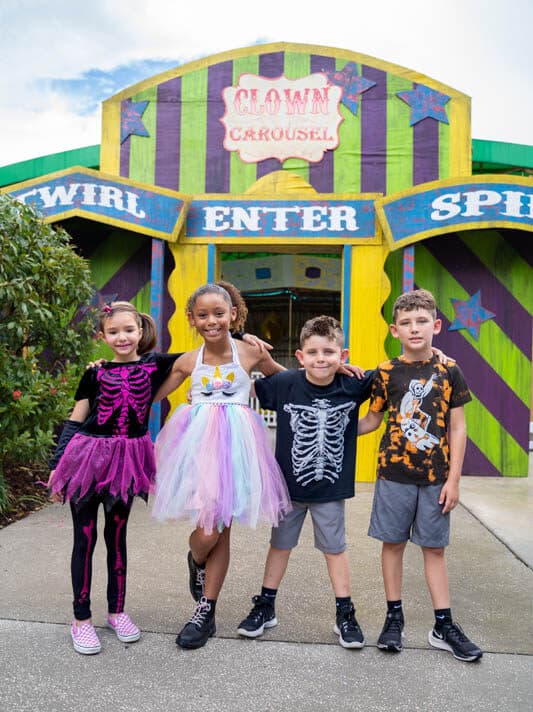 When is Creatures of the Night at ZooTampa? 
Creatures of the Night takes place on 13 select nights in October from 4 p.m. to 10 p.m.: Sept. 29-30, Oct 6-7, 13-15, 20-22, and 27-29. Event capacity is limited. Date and time-specific tickets and reservations are strongly encouraged and the only way to guarantee admission.
How much are tickets for Creatures of the Night?
General admission tickets are $34.95. There's a $5 reservation fee for annual members and "Pay for a Day, Come Back All Year" ticket holders, which will be reimbursed upon entry in the form of a $5 voucher valid on the event night for food and merchandise on the night of the reservation.
Are costumes allowed at Creatures of the Night at ZooTampa?
Children 12 years of age and under are invited to wear their most spooky Halloween attire. For the comfort and security of all guests, anyone 13 years of age and up may not wear Halloween masks, wigs, face paint, or costumes of any kind. Toy weapons are prohibited regardless of age.
What kind of food and drinks is available at Creatures of the Night?
The ZooTampa chefs have been hard at work curating a spooktacular menu for you and the kids! In fact, there are so many awesome treats, that they've put together a Creatures of the Night Food Guide you can explore.
For more information on the event and to purchase tickets visit: ZOOTAMPA.ORG.
2023 Creatures of the Night Map at ZooTampa