ZooTampa's Creatures of the Night is returning with new thrills and treats!
Creatures of the Night takes place on 11 select nights in October from 4pm to 10pm.  SPECIAL NOTE: Due to Hurricane Ian, Member Night on September 30 has been cancelled. The event on Saturday, October 1 will be open, but considered a dress rehearsal so think of it as a great sneak peek.
Related: Fall Festivals, Pumpkin Patches & Corn Mazes, Halloween Events and MORE!
Get ready for a ghoulishly good night as ZooTampa transforms into a spooky whimsical place where clowns delight and creepy creatures roam.
It's a night when Roaring Springs turns into a Ghost Town, Wallaroo Station is taken over by friendly scarecrows, and the Spider Queen spins her web in Africa Circle in an attempt to trap you into a creepy-fun dance party!
This is one of our favorite Halloween events in Tampa Bay because it's truly one that people of all ages can enjoy, whether you're attending with a small child or checking out for date night.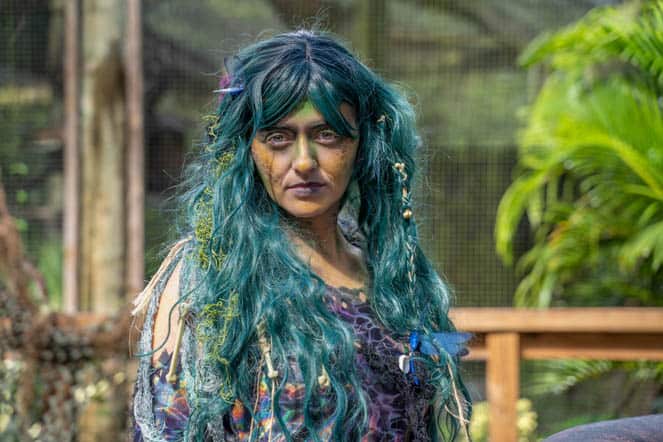 This year is super exciting with some NEW additions, including a new featured character, the Swamp Witch. Don't worry—while she's super creepy, she doesn't mind children. In fact, she loves a good bargain, so make sure the kids are ready with a trading token of sticks and rocks to leave behind in her cauldron.
So, let's get to it, friends! Here's what ZooTampa says they have in store for you and your ghouls and goblins! We LOVE the scare scale that helps us map out which attractions to see based on what our kids prefer.
( * Indicates scare level. There will be pumpkins to indicate Scare level at the Zoo. One pumpkin: low scares and fun for all ages, 2: family friendly frights, 3: scares around every corner)
What's NEW at Creatures of the Night in 2022:
** Swamp Witch Way: ZooTampa guests who are brave enough to seek out Blackwater Mattie for themselves may be lucky (or perhaps unlucky) enough to find her along Swamp Witch Way in Florida Wilds. Though she'd prefer to be left alone, she does love to bargain, so make sure you have something to trade before you venture into her cursed territory.
** New Neverland: Forever children the Lost Boys, along with their famous leader, Peter Pan, have found their way to Creatures of the Night and launched a game of never-ending hide-and-seek along Zoo Boulevard. Pranks and rambunctious fun awaits.
** HooDoo Hall: Guests who dare to travel through ZooTampa's Ituri Pass will find a Mardi Gras party festooned with flags, dripping with beads and staffed by colorful skeletons prepared to party for eternity.
*Spooky Safari: ZooTampa has enlisted the help of two long-dead safari guides who will share their amazing adventures of the African savannah with the bravest of explorers who dare listen.
Returning Creepy Favorites:
**Twisted Tales: Perfect for ZooTampa's youngest guests, Manatee Circle is the place where everyone's favorite storybook villains come to life. Don't worry: The Fairy Godmother will also be there to keep the mischievousness in check.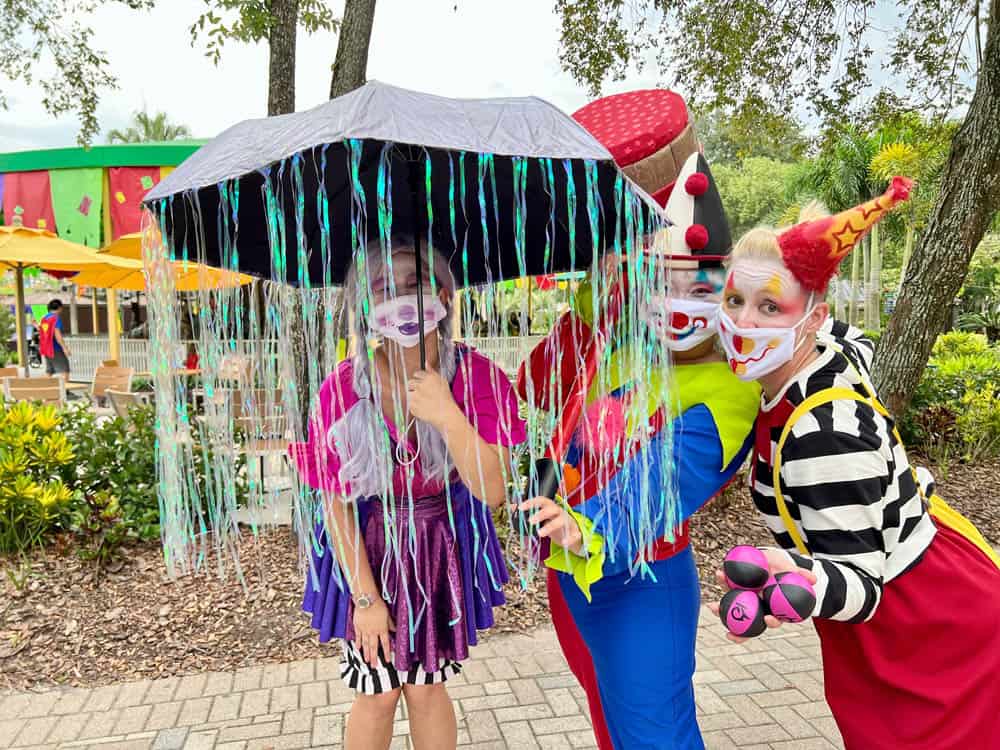 **Clown Carousel: Whether you find clowns frightful or delightful, you won't want to miss Carousel Circle. A troupe of clowns has set up shop here to play pranks on passing guests and smash a whole bunch of pumpkins.
*Scarecrow Junction: The Wallaroo children's area is where little ghouls and goblins gather to dance with the scarecrows and celebrate the season. While there, they can also try their luck at escaping the open-air HaHa Haybale Maze. New this year: Parents can grab a drink at the new Scarecrow bar.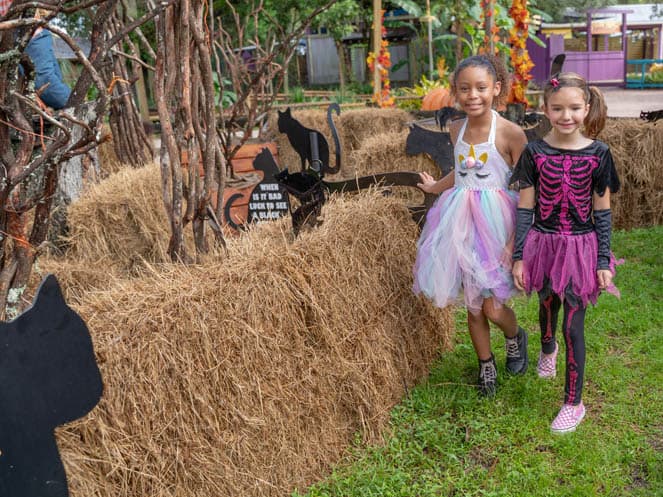 **The Realm of the Spider Queen: Are you ready to meet Arachne, the Spider Queen? If so, find your way to the Africa Circle for a high-energy dance party presided over by the queen herself.
The Voodoo Bar: Adult guests who need a break from the spooky festivities are encouraged to visit the New Orleans-themed Voodoo Bar in the Beer and Wine Garden.
***Junkyard of Broken Dreams: The bravest guests won't want to miss this haunted house where scary dreams and urban legends come to life.
Even More SPOOKtacular Entertainment:
Be sure you stop by one of the 14 different chats and animal connections throughout the zoo. It's an opportunity to learn more about the animals and even get up close and personal with them!
Several live shows are scheduled throughout the night, many with multiple showtimes, including a pirate magician in the ZooVentures Theater in the Key West area and "Lucilla Lumpkins Smashes Pumpkins" over by the Clown Carousel.
The Treats and Food at Creatures of the Night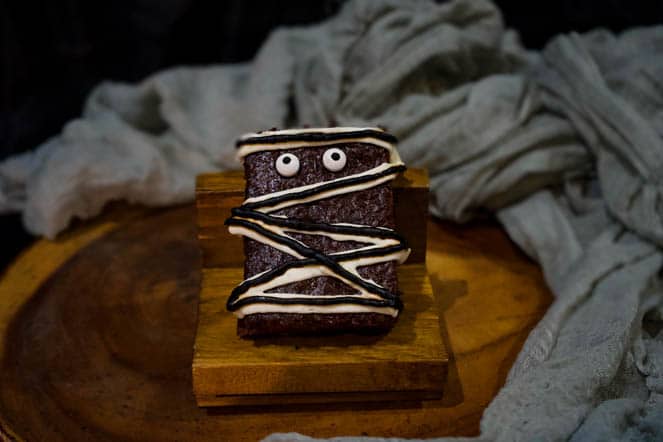 ZooTampa's culinary team has been hard at work planning a spooktacular menu for you and the kids! The Monster Burger is back, and we can't wait to try the Frankenstein Corn Dogs and the Mummy Brownie.
You can review ZooTampa's Creatures of the Night Foodie Guide here.
Quick Facts about ZooTampa's Creatures of the Night: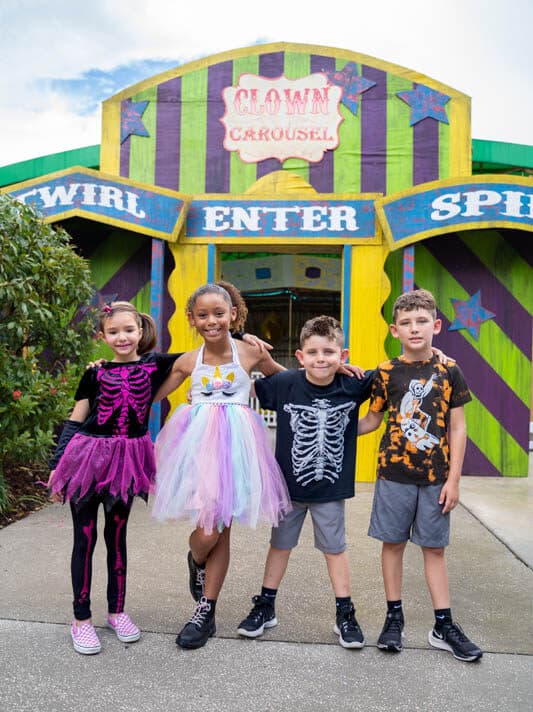 When is Creatures of the Night at ZooTampa? 
Creatures of the Night takes place on 11 select nights in October from 4 p.m. to 10 p.m.: Oct 1, 7-8, 14-16, 21-22, 28-30. Event capacity is limited. Date and time-specific tickets and reservations are strongly encouraged and the only way to guarantee admission.
How much are tickets for Creatures of the Night?
General admission tickets are $34.95. There's a $5 reservation fee for annual members and "Pay for a Day, Come Back All Year" ticket holders, which will be reimbursed upon entry in the form of a $5 voucher valid on the event night for food and merchandise on the night of the reservation.
Are costumes allowed at Creatures of the Night at ZooTampa?
Children 12 years of age and under are invited to wear their most spooky Halloween attire. For the comfort and security of all guests, anyone 13 years of age and up may not wear Halloween masks, wigs, face paint or costumes of any kind. Toy weapons are prohibited regardless of age.
For more information on the event and to purchase tickets visit: ZOOTAMPA.ORG