A Parent's Review of Drawn to Life – Cirque du Soleil at Disney Springs
The moment I climbed the stairs of the Cirque du Soleil Theater at Disney Springs my face lit up. This theater is iconic and it holds many memories. After four years in the dark, it is illuminated once again.
"Drawn to Life" is the new Cirque du Soleil show at Disney Springs. Just having a new Cirque show at Disney Springs is exciting and newsworthy. And yet this new show is unlike anything before.
For the first time, Disney and Cirque du Soleil collaborated to write and produce this show hand in hand. It'd be one thing if Disney simply gave Cirque du Soliel permission to use music and characters from Disney animated movies. Instead, their team merged with Cirque's to write the show together.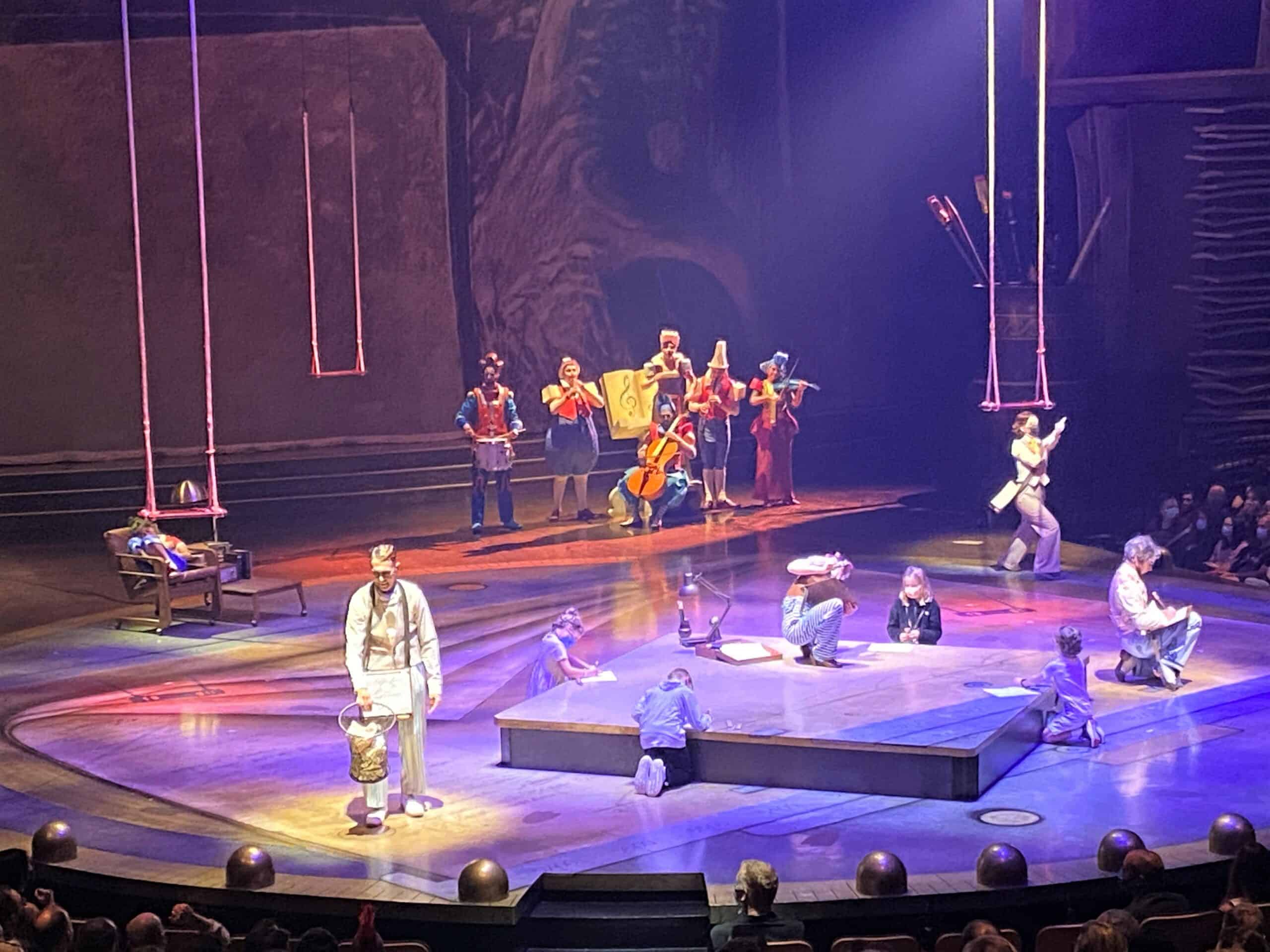 Its tagline is "a love letter to the magic of Disney animation" and this is absolutely the case. With heartfelt touches not just to the characters, but also to the animators who pour their heart into their work, there's lots to love about "Drawn to Life."
Important note, our team was invited by Disney to attend the Grand Opening Celebration, as well as a second viewing in May 2022, therefore our attendance at the show was complimentary. 
What is the right age for the new Cirque du Soleil show at Disney Springs?
This new show is more family-friendly than its predecessor, "La Nouba." In fact, "Drawn the Life" is the most kid-centric show in Cirque du Soliel's portfolio. And yet, there are certain factors that may not make it the right choice for your family.
Without giving too much away, the show revolves around a married couple and their young daughter. If your family is okay with similar themes like the ones in "Bambi," "Dumbo," or "Frozen," then this new Cirque du Soleil may be suitable for your family.
Lots of Disney characters and music are incorporated into the show. And typical storylines and themes (loss, triumph, love) found in Disney animated movies are prevalent in "Drawn to Life."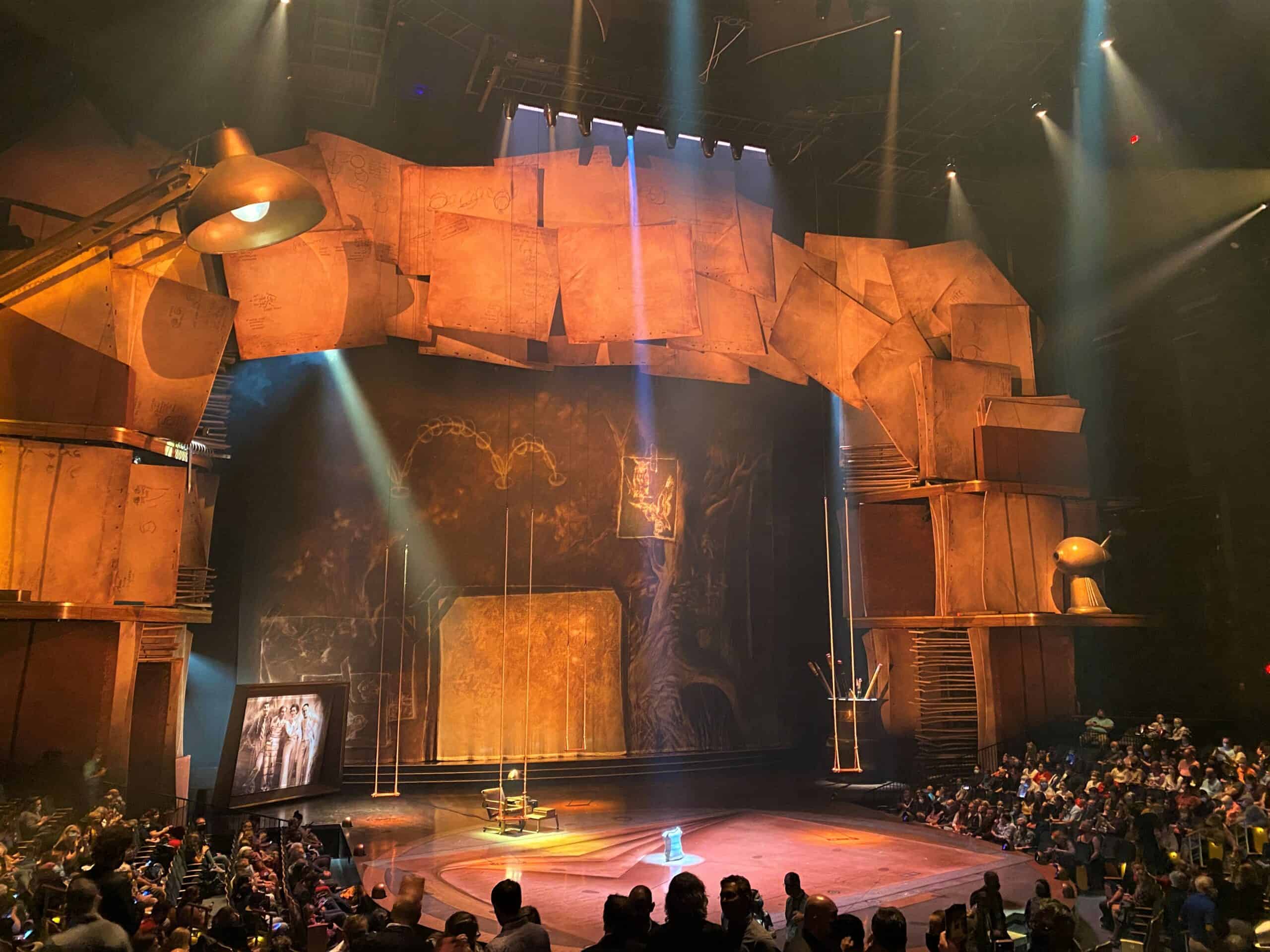 Although there are lots of Disney elements throughout the show, it is still a Cirque du Soleil experience. Many of the performance elements are abstract and highly creative. If your child (or children) can sit through and enjoy abstract movies like "Fantasia 2000" or the first 20 minutes of "Wall-E" then this show will most likely capture their attention.
Every good story has conflict or tension. Naturally, there is a villain-like character in this show. While this character, and the tension they cause, is not as dramatic as many animated movies, it is still something to be aware of.
In the end, this show is about love, family, belief in yourself, and overcoming loss. If your family is interested in experiencing such a show together, you will be enthralled by this experience.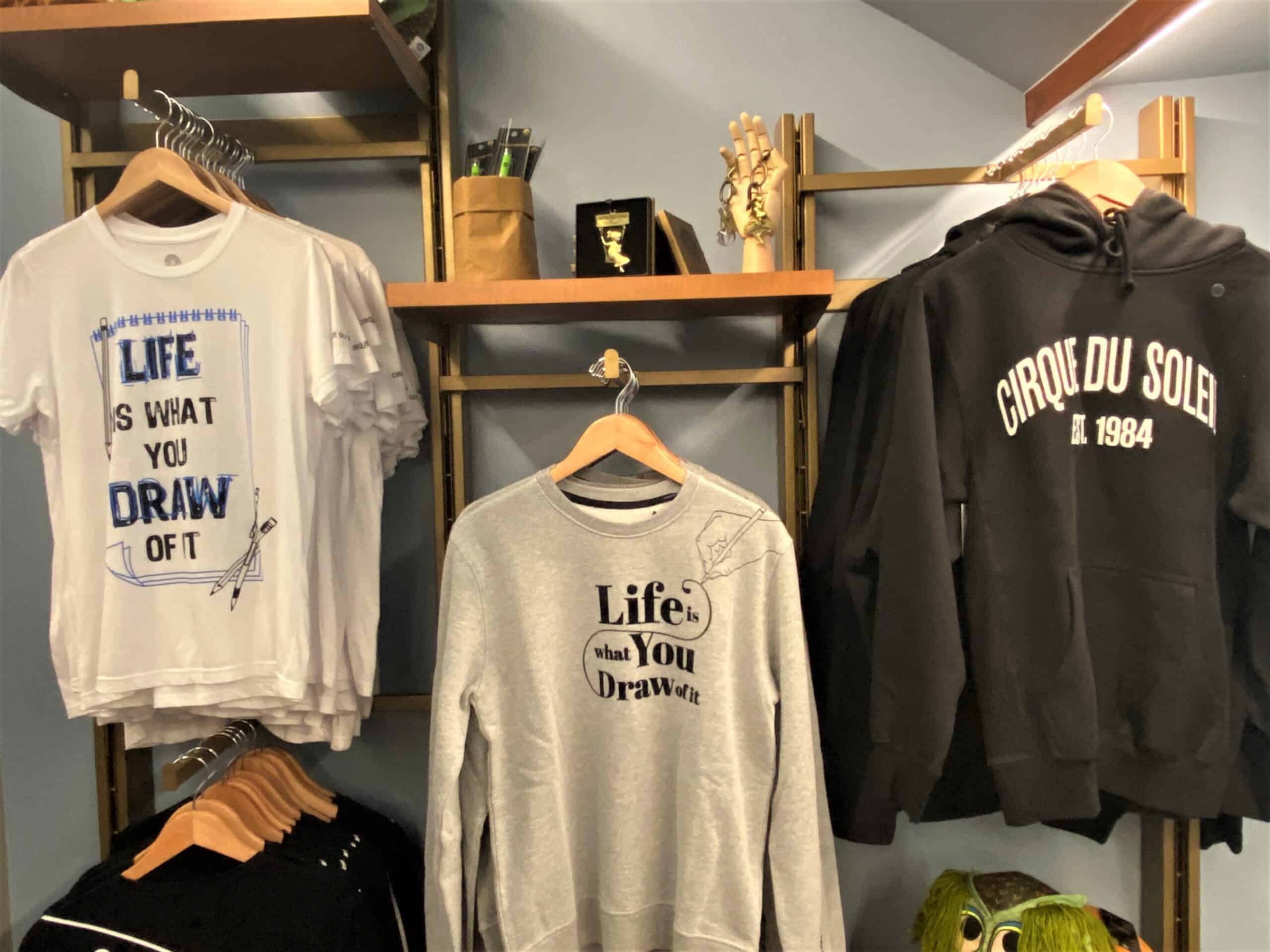 There are plenty of seats around the theater, and you will select your exact seats when purchasing your tickets. Sitting in the back provides a panoramic view, and while most of the performances take place on stage, there is a lot of aerial action high above. Sitting very close to the stage gives great views of the performers, but some of the big picture can be lost.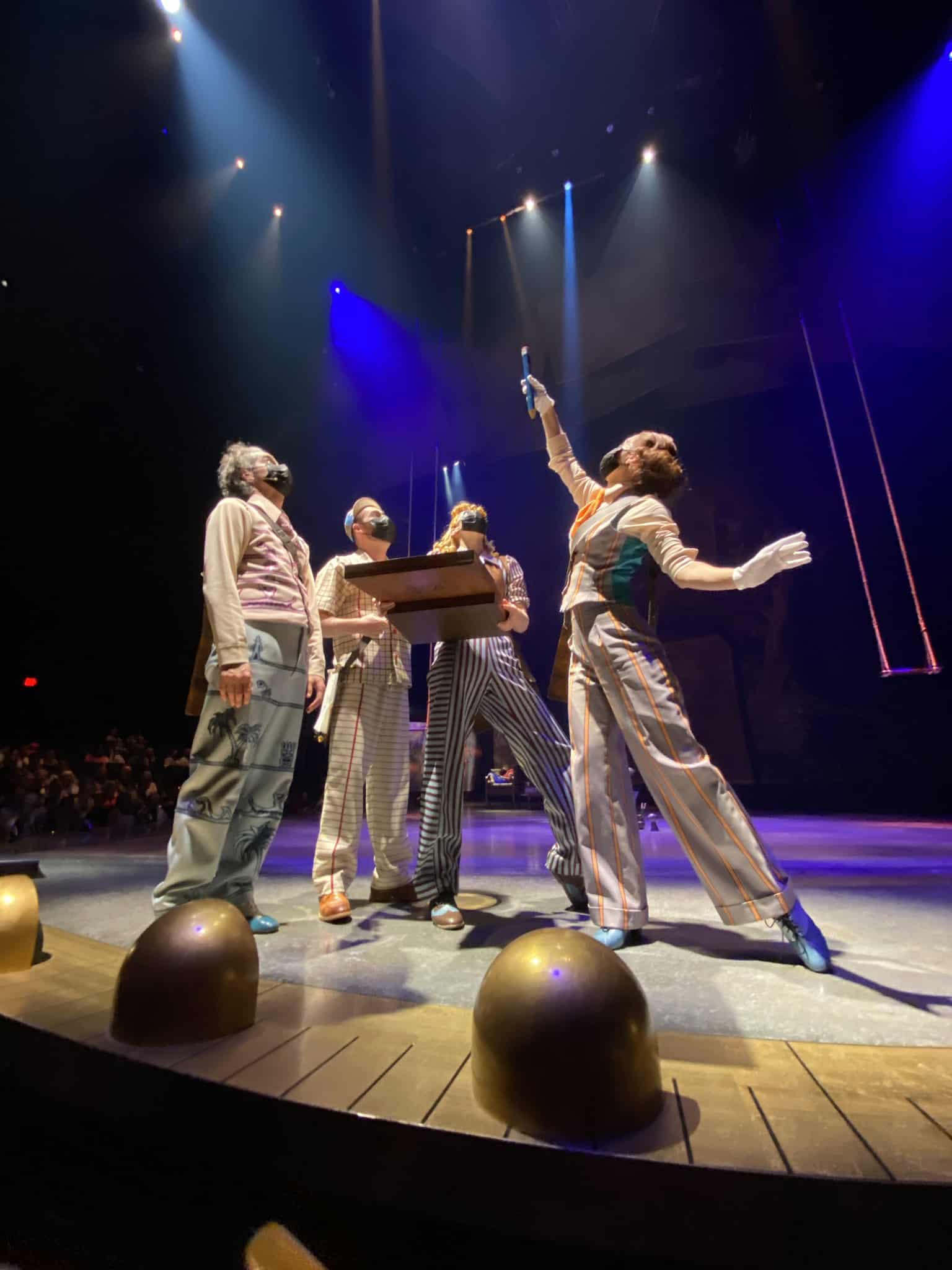 How to Plan a Family Night Out at Disney Springs and Cirque du Soleil
There are so many things to do at Disney Springs that are great for families. If you're going to spend the money to see "Drawn to Life" together you'll want to make the most of it, but you may want to make sure you don't overdo it.
Tickets to this new Cirque du Soleil show at Disney Springs range from $85 – $149, plus tax and fees. This is an extravagant night, though one that will be unforgettable.
Showtimes on most nights are 5:30 p.m. and 8:00 p.m. As a mom myself, I cannot see how an 8:30 p.m. would work out well for most children. So it is my recommendation that you have an early, light dinner around 4:00 p.m. before attending the 5:30 p.m. show. Then you can enjoy a stroll and perhaps some dessert to cap off the outing. Doors typically open 45 minutes before showtime.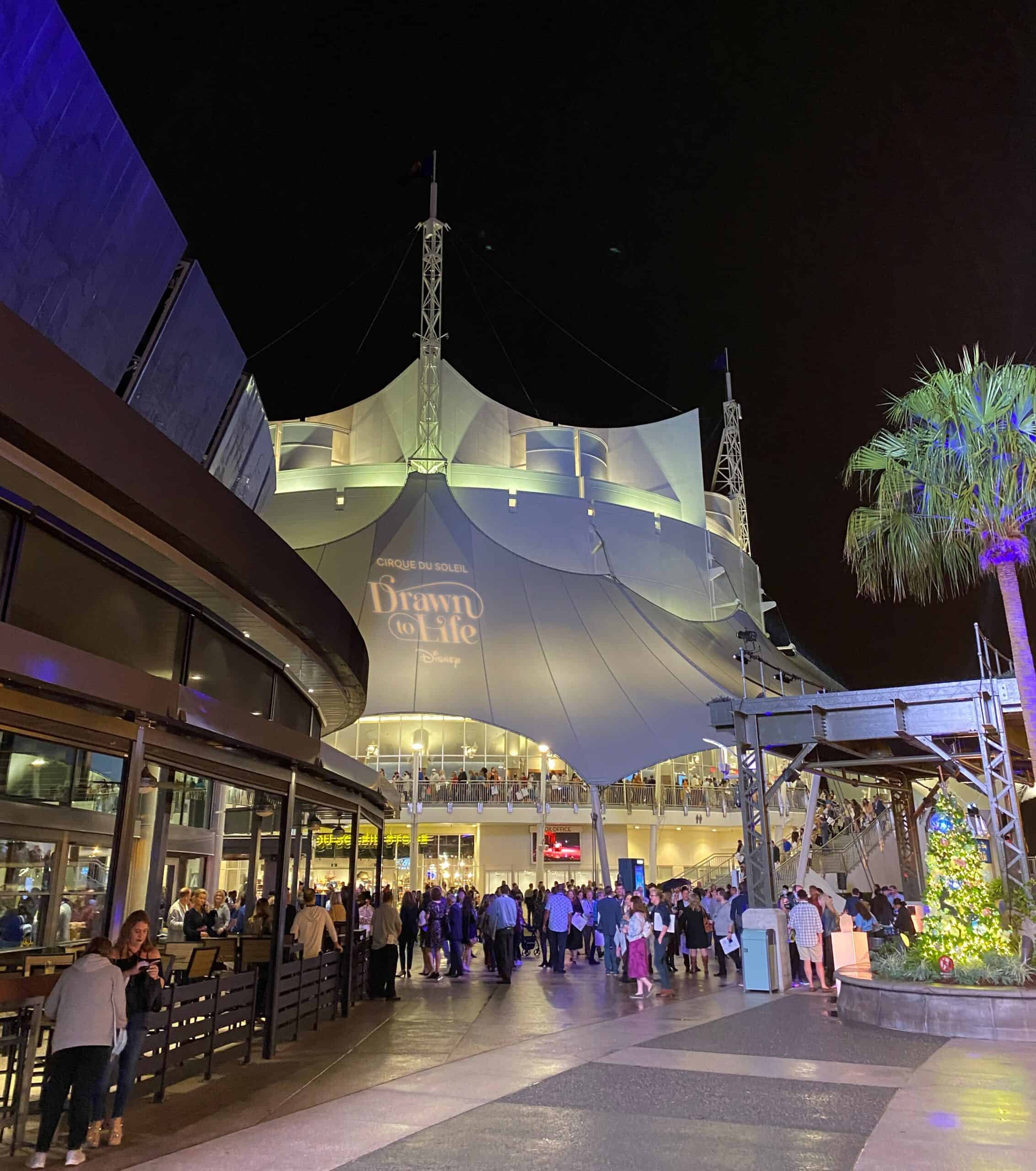 Parking at Disney Springs is free, and the Watermelon parking lot is the closest to the Cirque du Soleil theater. However, there are no row or space numbers in the Watermelon parking lot since it is surface parking. I find it can be confusing at the end of the night walking back to your car and not having an exact row number to use.
The Orange parking garage is fairly close by with clearly marked levels and rows. And if you are going to walk around Disney Springs before or after the show parking here may be better for you.
The Cirque du Soliel theater is located in the West Side area of Disney Springs. There are multiple restaurants, shops, and snack spots in this part of Disney Springs.
The closest places to eat to the Cirque du Soliel theater:
Important Information about Cirque du Soliel's "Drawn to Life"
The show itself is 90 minutes, with no intermission.
About 15 minutes before showtime there is a preshow to entertain the audience as they wait. There is some audience participation including kids from the audience.
Beverages are available for purchase inside the theater, however, there is no food for purchase.
All photography and videos are NOT permitted during the entire performance. All photos included in this article are from the preshow, with the exception of the featured image provided by Disney Media Relations.
---
Related stories we think you'll LOVE: