AHOY! Let's board a Pirate's Christmas Cruise on the Lost Pearl!
It doesn't get more TAMPA than a pirate ship and what better way to impress the guests and kiddos than taking them on a "high seas" adventure aboard The Lost Pearl Pirate Ship this holiday season for its 'Pirate's Christmas Cruise'!
This is a unique winter break adventure you really can't find anywhere else.
The ship only sets sail on select nights and you'll want to book your reservation in advance to be on the safe side–they will accept on-site bookings if there is space.
Related: The BEST Christmas Events for Families in Tampa Bay
We like the sunset cruise which sets sail at 5pm because you can't beat the views and it's just early enough that you'll be wrapped in time to take the kids to dinner or head back home in time for bedtime.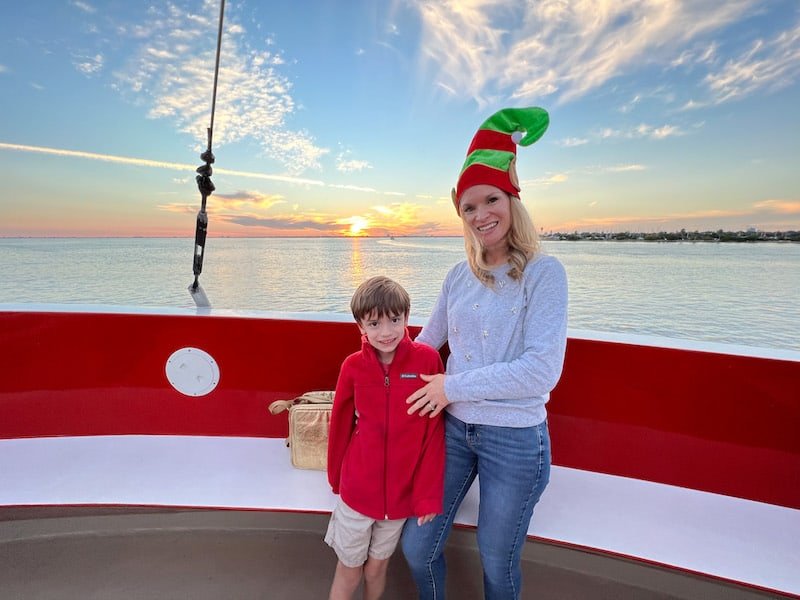 First-what is the Lost Pearl?
If you didn't already know, Tampa has its very own pirate ship! The Lost Pearl is under the umbrella of Pirate Water Taxi and Yacht Star Ship, so it comes from a long line of beloved boats in Downtown Tampa.
It sets sail year round and often hosts special themed sailings like 'A Pirate's Christmas Cruise' and even a Noon Year's Eve cruise if you want to ring in the new year early pirate-style! You can also rent the ship for your own special event.
The ship has a grog bar, covered top deck and even a second uncovered deck if you prefer to catch some rays. And yes, there are restrooms.
Every sailing comes along with a crew of friendly pirates ready to entertain you.
The Lost Pearl was added to the fleet in the last couple of years and has been entertaining kids of all ages–you even those of you who are young at heart–ever since!
What is A Pirate's Christmas Cruise on the Lost Pearl
As we mentioned, the Lost Pearl hosts themed sailings throughout the year and 'A Pirate's Christmas' is among them.
The ship gets decked out holiday style with lights and decor for a 1.5 hour cruise you'll never forget!
You'll board the The Lost Pearl at the docks at the Tampa Convention Center (we'll share more on some itinerary ideas to make a day of it as you keep reading). Plan to arrive 15 minutes before the cruise is set to depart.
This is where you'll check everyone in and then board the ship. As you get settled in, head to the grog bar which will be an open bar for this sailing. They also sell light up pirate swords kids, t-shirts, hats and more here.
As far as snacks, they have candy and chip selections you can purchase.
Once it's time to set sail, the ship departs as you make your way along the channel and sail by Davis Islands and Harbor Islands–this is why we really love the sunset cruise because the sunsets are simply spectacular on the water! Again, this would be the 5pm cruise.
Related: Sunset cruises and tours for a romantic night out (from our media partners at a TampaBayDateNightGuide.com)
Keep a look out because you might spot dolphins! We saw several during our sailing.
The kiddos will be rounded up on the deck for holiday games like a wreath ring toss and snowball toss.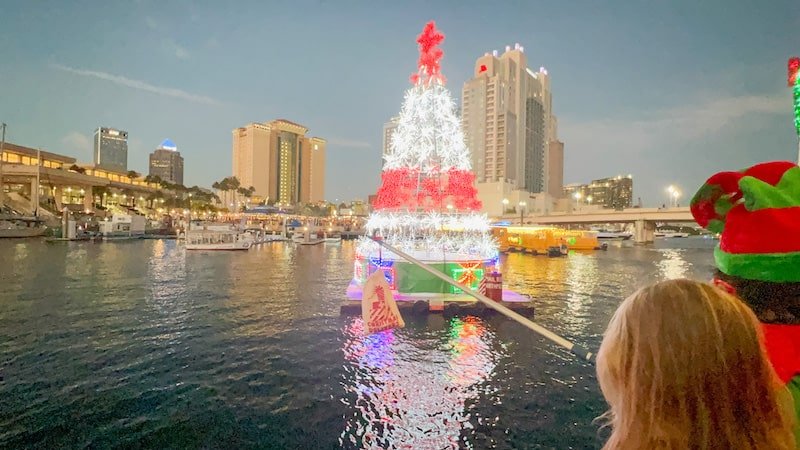 And let's not forget the most important part…writing the letter to Santa! A helpful elf will come by and give each child a post card to fill out and then collect them for a really cool treat–dropping off the bag of very important letters on Tampa's only floating mailbox! The kids really get a kick out of this, especially when they discover Santa has left a very special bag of gifts for them at the mailbox.
Our little one adored his reindeer and treats inside the stocking with his name on it. It's pretty special and a very cute addition this year.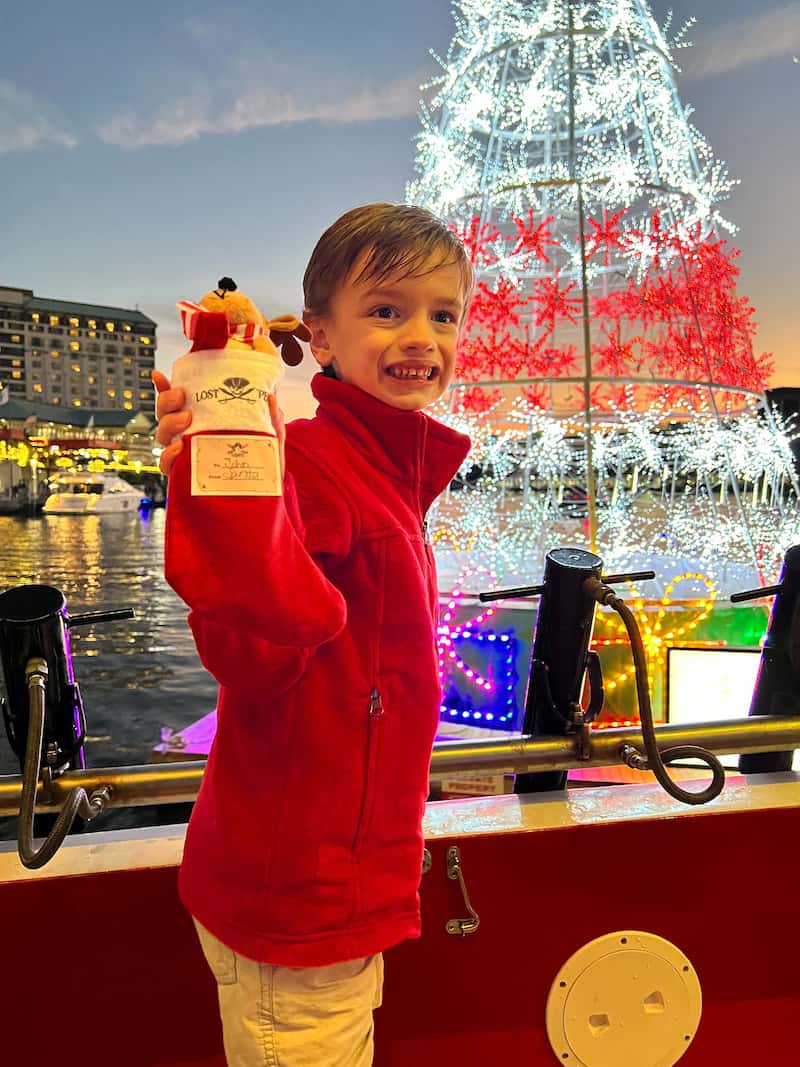 One of the kids' most favorite parts of the Pirate's Christmas Cruise was a getting a chance to fire the water cannons! This is where they'll truly earn their pirate stripes!
As the ship makes its way back to port, you can sit back and enjoy the beautiful Downtown Tampa skyline and listen to the holiday music.
It's a night to remember, for sure!
How to make a day out of your Lost Pearl experience
The Lost Pearl is currently docked at the Tampa Convention Center which has some great restaurants close by. Another fun option that's a total Tampa thing to do is to hop the on the free TECO Street Car from the station across the street from the Convention Center at a the Dick Greco Transportation Center at Franklin Street and Old Water Street. You can ride over to the area of Sparkman Wharf to grab dinner there or even at a the Columbia Cafe at a the Tampa Bay History Center.
Another idea is to get started early and explore the Florida Aquarium and then take the TECO Street Car from the stop there to the Dick Greco Transportation Center and then take the super short walk to the Tampa Convention Center.
There are so many new food options in Downtown Tampa if you haven't been in awhile! In fact, we even love popping into the new Publix Greenwise store next to the Tampa Bay History Center when in the area.
How much is it the Pirate Christmas Cruise?
Admission to the Lost Pearl's 'A Pirate's Christmas' cruise starts at $20 for children ages 2-12 and $25 for adults. Infants are free. The cruises will set sail on weekends the weekends of December 10-12th and then everyday after December 17th, so it's a great option for winter break fun.
There will also be regular sailings during the day. You can purchase tickets here.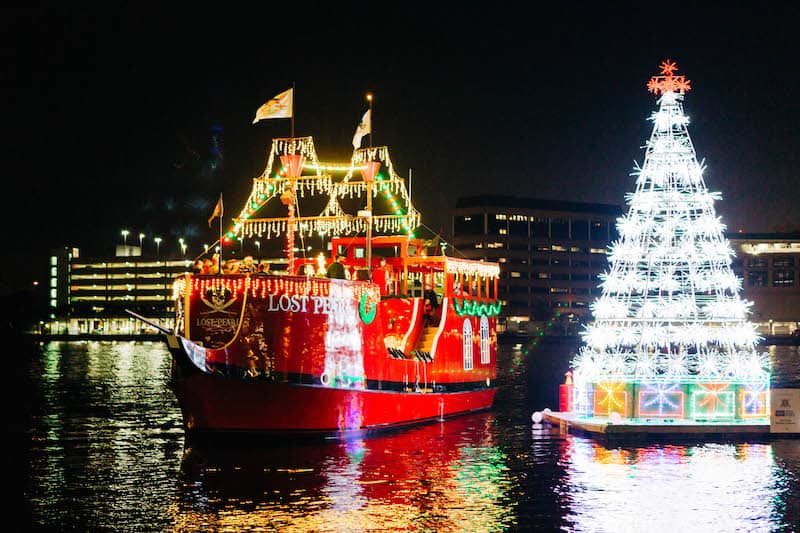 Where to park for your Lost Pearl adventure
They will let you know where to park when you purchase your tickets and will send an email notification if there are special events in the downtown area to be aware of. The night we went, there was a concert at Amalie Arena, so we were able to plan ahead just in case traffic and parking became a problem.
We were able to find a spot at a the Tampa Convention Center parking garage, but did have to pay event pricing to park. You'll sometimes get lucky and find street parking as well, which you still have to pay for, but it's less than the special event rates if they are in effect.
Other parking garage options are the Pam Iorio Parking Garage and Fort Brooke Garage.