NEW Bay Rocket Jet Boat Ready to Thrill in Downtown Tampa!
The 2800 horsepower Bay Rocket jet boat is the newest addition to the Yacht Starship fleet and it's ready to launch you and the family to heart-pounding speeds and 180-degree turns for a thrill ride on the Bay like no other.
And when we say 'like no other', we mean it. The Bay Rocket is one of only five speed boats like it in the country. Similar jet boats can be found in waterfront cities like New York, Boston, Chicago, and San Diego…and now Tampa.
When Yacht Starship's president and CEO Troy Manthey and his wife went on one of the jet  boat tours, they knew they had to bring this experience to Tampa Bay.
"When we saw the smiles of all the customers and how much fun everybody was having, we saw the draw. So, we said when the time is right, we want to bring this concept to Tampa," Manthey told us.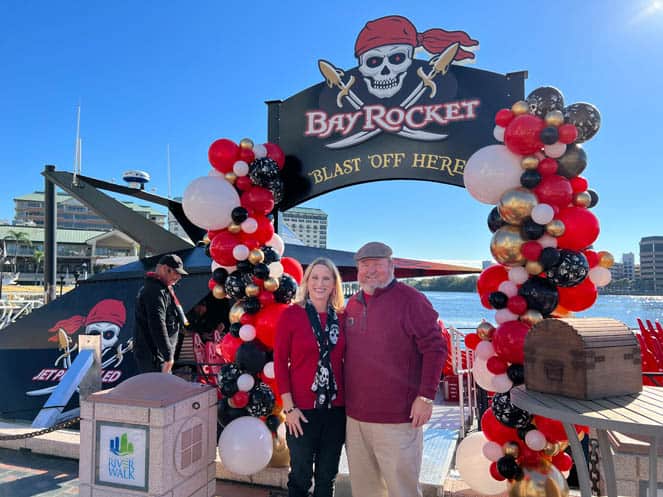 With the recent growth of downtown and coming expansion of the Tampa Bay Convention Center, Manthey said the right time was now.
"I mean our tourism is just doing phenomenal," he said. "Visit Tampa Bay is bringing a lot of folks here and they need a diverse group of vessels, a diverse group of offerings, so Bay Rocket is at the top on the fast end and you've got Pirate Water Taxi on the other side taking people around at a slow pace. If you want a great meal, you've got Yacht Starship."
The Bay Rocket isn't just for tourists. The Mantheys say they also brought it here for you to enjoy too! It's sort of a perk of calling Tampa Bay home.
Between this new jet boat experience, Pirate Water Taxi, The Lost Pearl Pirate Ship (in dry dock now for some updates, but will be back on the water very soon!) and Yacht Starship, their fleet has a boat for every family.
And they're not stopping with the Bay Rocket. They have something else in store for Tampa Bay and would only offer us this clue:
"There is something polar opposite from this, but something that also doesn't exist in the United States now, but it does in Europe and that's the tease I'll give you," smiled Manthey.
We can't wait! Alright–let's get to some common questions to help you map out your high-speed adventure on the Bay!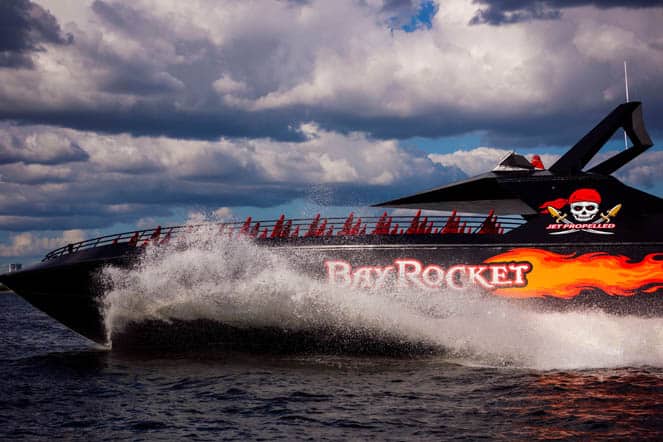 How much are tickets for the Bay Rocket?
Adult tickets start at $34.95 and children's tickets (ages 5-12) start at $29.95. Kids must be able to sit in their own seat without assistance. Babies and children sitting in laps are not allowed. You can book your tickets at bayrockettampa.com or call (813) 223-7999.
When does the Bay Rocket jet boat sail?
You can experience the the adrenaline filled thrills Fridays, Saturdays and Sundays from 11 am through sunset.
Where is the Bay Rocket docked?
You'll find the Bay Rocket at the Pirate Water Taxi's main stop #7 at the Tampa Convention Center. If you're plugging it into your GPS, the address is: 333 S Franklin St in Tampa.
If you'r allowing for a place to park, consider the Tampa Convention Center parking garage of the Pam Iorio or Fort Brooke garages.
Where does the Bay Rocket go?
There will not be any performances from the Riverwalk area, so anyone staying behind won't be able to watch from land. The jet boat will take you on a law abiding slow cruise out to the Bay where they'll then crank up the speeds for the thrill ride.
What happens during a Bay Rocket cruise?
Once you board, you'll find your seat among the 102 seats and fasten your seat belts. As the driver cruises from the dock to the Bay, you'll be entertained with fun narratives, interactive games, and of course…music! There might even be a dance party on the back of the boat at some point during your cruise.
How long does the Bay Rocket cruise last?
The cruise takes about 45 to 55 minutes. You can expect about a 15 minute cruise out to the Bay followed by 15-20 minutes of thrills and then another 15 minutes to cruise back to the dock.
Will I get wet on the Bay Rocket?
The chances are pretty good you'll get wet, so plan for it just in case. It's more of a spray than a soaking.
You can wear a poncho if you want. When we went for one of the inaugural rides, we didn't get soaked, but we did get a few good splashes during the turns which feels great on hot days. We're pretty certain this will be a popular way to keep cool in sunny, steamy Florida.
Can kids ride the Bay Rocket?
Yes! As long as they can sit in their own seat, they can ride. Infants and lap riders are not allowed for safety reasons. Pregnant women and anyone with pre-existing neck or back conditions should also not ride.
You will need to sign a Waiver prior to boarding.
What if I am prone to motion sickness?
Good question. If you are prone to motion sickness, you may want to reconsider OR take a Dramamine before riding. If you're typically able to handle roller coasters, you can easily  handle a ride on the Bay Rocket.
What else is there to do near the Bay Rocket stop?
There is SO MUCH to do in Downtown Tampa! You can pop over for lunch at Big Ray's Fish camp right next to the Bay Rocket dock or hop on the TECO Line Streetcar trolley to Sparkman Wharf for a bite to eat and then visit the Tampa Bay History Center or Florida Aquarium.
And then there's the Pirate Water Taxi if you want to go a bit further and explore. The options are endless!
Want to learn more? Visit BayRocketTampa.com for more information and book your tickets. This also makes a really great Gift of Experience in Tampa Bay for the holidays! 
Related stories we think you'll LOVE:
20+ Awesome Things to Do this Weekend in Tampa Bay