How to Experience Boom by the Bay in Tampa on July 4th
Tampa is once again going BIG this Fourth of July celebration with the return of Boom by the Bay, featuring several amazing fireworks displays along the downtown Tampa riverfront!
You'll have plenty of options to choose a favorite party spot with family-friendly activities and events at each location. Since we know you'll want to stick around for the big show, let's talk WHERE to see fireworks in Tampa on July 4th!
Fireworks will be launched into the sky from three barges in the river at dusk (around 9:15 pm), but there are four spots to get the best views while enjoying extras like food trucks and entertainment:
Heights District Fourth of July Celebration at Armature Works – Starts at 3pm. Enjoy live music, a hot dog eating competition, kid zone, food, drinks, and fireworks along the waterfront.
Star Spangled at Sparkman – Starts at 4pm. Enjoy a water ski show, live music, food, drinks, and fireworks along the waterfront at Sparkman Wharf.
Bayshore Boulevard (South of Davis Islands Bridge) – Starts at 7pm. Enjoy food trucks, live entertainment, and waterfront views. This is the largest fireworks show of the night. There will be a Sensory Zone here too.
Water Works Park: Starts at 4pm. There will be food trucks here and waterfront views of the fireworks.
Sensory-Friendly Zone for Fireworks in Tampa:
There will be a Sensory Relief Zone at the Bayshore Blvd fireworks viewing location located on Bayshore Blvd between S Newport Ave and S. Delaware Ave. Families will be able to enjoy the fireworks from this quieter location and have access to ear buds, fidget items, and a place to take a break from the crowds. This is a collaboration between the city, Mayor's Alliance for persons with Disabilities and thee Autism Friendly Tampa Advisory Board.
Here's what to expect at the big Boom by the Bay special event locations: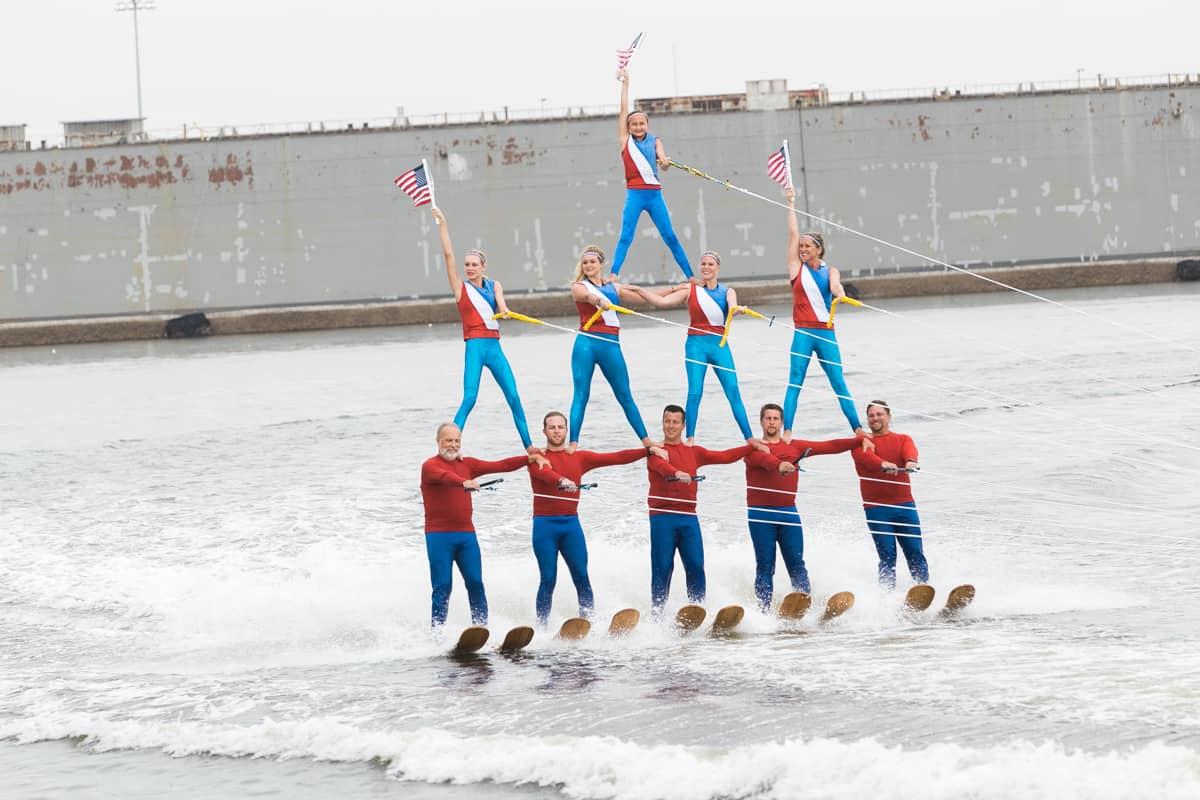 Sparkman Wharf is celebrating Independence Day with Star Spangled Sparkman. In celebration of the City of Tampa's Boom by the Bay, guests will have a spectacular waterfront view of the fireworks show. The festivities kick off at 4:00 p.m. with family-friendly activities including live entertainment, a game zone on the Wharf by Busch Gardens, roaming entertainment, food and beverage specials, and more.
Guests can also enjoy optimal viewing of the annual Blessing of the Fleet, followed by the Friends of Tampa Riverwalk's Boat Parade and Water Ski Show.
This event is free, but Sparkman is limiting capacity so get there early! Sparkman Wharf opens at 11 am. Outside food, beverages, personal chairs, or fireworks are not permitted. 
Head to Armature Works for one of the biggest and best Fourth of July events in the bay. Presented by My Doctor's Live and benefiting K9's for Warriors, this will be one of the featured locations participating in the city's Boom by the Bay.
Festivities include a large-scale riverfront concert, fireworks display overlooking downtown Tampa, Friends of the Riverwalk Boat Parade, Hot Dog Eating competition, Kid's Zone, and American-inspired art that will be auctioned off during the event.
The celebration begins at 3pm and will run until 10pm. Free public access, general admission, and VIP access are all available.
Curtis Hixon Waterfront Park: Boom Bar opens at 12 pm and entertainment from 4 pm-8 pm
We'll start by reminding you that Curtis Hixon Waterfront Park is NOT a fireworks viewing location, but it is a place to celebrate BEFORE the fireworks! There will be a Boom Bar that opens at noon featuring a "Boozy Boom Pop", a family fun area, food trucks, and music.
Straz Center for the Performing Arts from 5 pm-9 pm
The Straz is joining in on the Boom by the Bay festivities with a free musical event! Indulge in fresh libations at SIP and party with powerhouse vocalist Jennifer Real at The Straz's Riverwalk.
The Boat Parade, presented by Freedom Boat Club, will feature imaginatively decorated vessels that will start at the southern tip of Harbour Island and sail 7.5 miles on the Hillsborough River. During the Parade, boaters will participate in Friends of the Riverwalk's inaugural Valley Bank Digital Poker Run. Boaters can scan QR codes located at several locations along the Hillsborough River.
Participants who successfully check into each location will be entered into a random drawing for several prizes, including a grand prize. At Sparkman Wharf, boats in the parade will be able to take part in the Blessing of the Fleet.
This centuries-old tradition draws its heritage from Mediterranean fishing communities and is celebrated around the globe. Local clergy will bless the vessels to help ensure a safe and bountiful season.
For public viewing of the boat parade, guests can visit these locations and designated times:
6:15 p.m. – Tampa Convention Center
6:30 p.m. – Curtis Hixon Waterfront Park
6:45 p.m. – Armature Works
7:15 p.m. – Davis Islands and Channel Drive
7:30 p.m. – Sparkman Wharf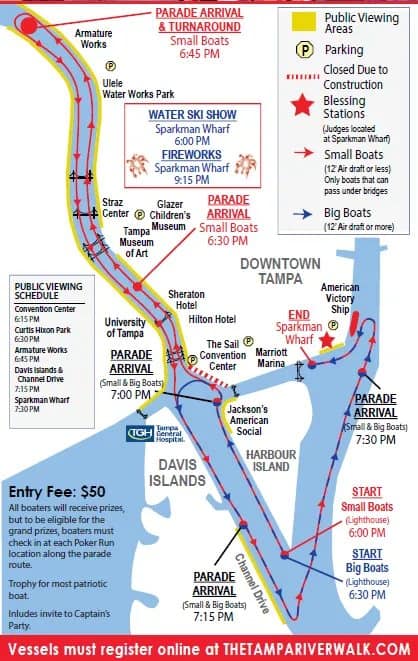 Where to park for Boom by the Bay
All of the city's parking garages will be open for parking for $10. See the interactive map here. You also have the option to take a FREE shuttle service to Bayshore Boulevard which is where the night's largest fireworks show will be. The free shuttle by Jolley Trolley will run from 6pm to 11pm in a continuous loop.
Jolley Trolley shuttle stop locations include:
Fort Brooke Garage (intersection of Whiting St & Franklin St)
Marion Street Transit Center (1211 N Marion St)
Curtis Hixon Waterfront Park (600 N Ashley Dr)
Bayshore Boulevard (near Swann Ave)
Other ways to get around include parking in the Ybor City garage and the hopping on the TECO Line Streetcar. You can even get around by boat on the Pirate Water Taxi!
How to view Boom by the Bay fireworks ON the water:
Celebrate the stars and stripes on the water with a spectacular Fourth of July Fireworks Cruise! They have several different cruise options that allow you to enjoy a delicious meal, drink from an open bar that's free at sea, and dance on the top deck with a spectacular fireworks finale. All ages are welcome.
Celebrate our nation's independence with a bang! Hop on the Pirate Water Taxi for an hour-long cruise where you'll view Tampa's city fireworks right above your head. Fireworks start at approximately 9pm. Water taxi rides are $50 per person.  Beer, wine, and non-alcoholic beverages are available for purchase. Water taxi rides are $50 per person.
Click here for even MORE Fourth of July FUN in Tampa Bay!