How to plan your visit to Caladesi Island, one of America's Top 10 Beaches
Caladesi Island has long been one of our favorite family-friendly beaches in Tampa Bay and it's among the beaches we always recommend first when people ask where to take their kids to the beach.
So it was no surprise to us when Dr. Beach included Caladesi Island State Park in his 2023 list of Top 10 Best Beaches in America –-with our local beach coming in fourth place. St. George Island State Park in the Florida panhandle took the top spot this year.
It's a tough competition to make the Top 10 List of Best Beaches in America. Dr. Beach, whose real name is Dr. Stephen Leatherman, judges the beaches using 50 different criteria from the quality of the sand, water temperature, noise, and safety records.
Now that we're officially on summer break in Tampa Bay, let's dig into the details so you can plan your family's adventure to Caladesi Island!
Where is Caladesi Island State Park?
Caladesi Island State Park is "one of the few untouched islands on the Gulf Coast" located right off of Honeymoon Island State Park in the Dunedin and Clearwater areas of Tampa Bay.
First, you drive into Honeymoon Island State Park via the Dunedin Causeway and then head toward the ferry where you park your car, get your ferry tickets, and board the ferry for a peaceful boat ride to the beach park. It sounds like a lot of work, but it's well worth it, we promise!
How do you get to Caladesi Island?
As we just mentioned, the only easy way to get there is by ferry or private boat. The Caladesi Island Ferry is located inside Honeymoon Island State Park (which is equally as beautiful, by the way!).  There are two ferry boats that depart at 10 am every day and run every half hour.
Keep in mind that there is an $8 fee per vehicle to enter Honeymoon Island State Park. Once you pay the fee at the booth, keep driving and look for the signs for Caladesi Island Ferry–it's only a few hundred yards away. Find a parking spot and then head for the ticket booth.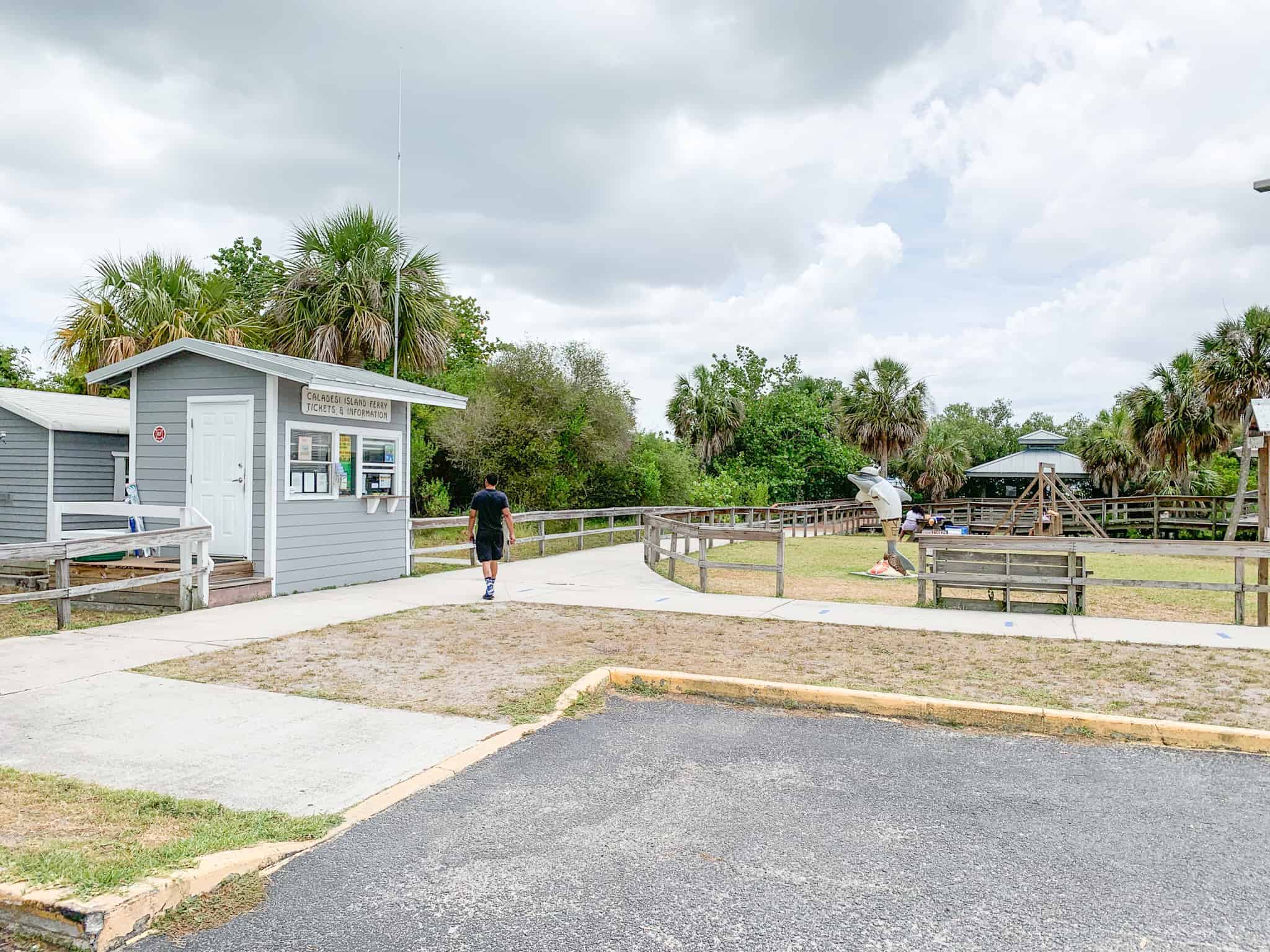 Roundtrip tickets are $18 for adults, $9 for kids ages 6-12, and kids 5 and younger are free. (prices are subject to change)
Once you've got your tickets in hand, head to the dock for the 15-20 minute ferry ride over to the marina at Caladesi Island. Keep in mind that they no longer allow beach carts or wagons on board the ferry due to safety reasons, but strollers and wheelchairs are still allowed.
The marina is where you will find a cafe, gift shop, and restrooms/showers. From there, you will walk the boardwalk to the beach where you'll find your spot for the day.
It's worth mentioning that you CAN get to Caladesi Island by foot from Clearwater Beach during a very long walk, but why go through all the trouble when you can enjoy a pleasant ferry ride over?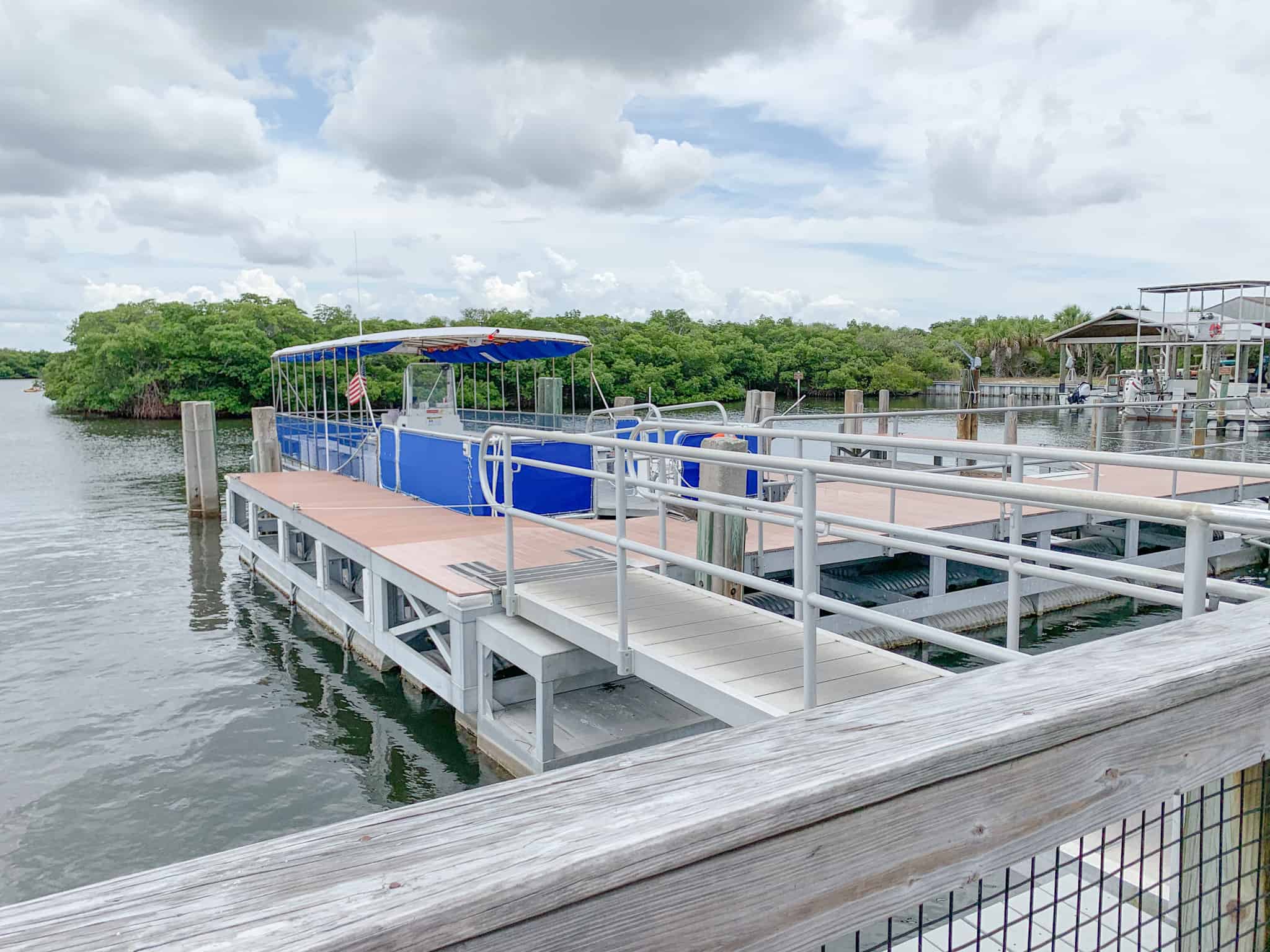 Things to Do at Caladesi Island
There's more than just the four miles of pristine beach at Caladesi Island to enjoy. You can hike along the nature trail, rent a kayak and paddle through the three-mile-long mangrove trail, or even go fishing where your catch of the day may be snook, redfish, trout, or flounder! A Florida fishing license may be required, so keep this in mind.
Shelling is another popular activity along Florida's beaches and especially at Caladesi Island State Park. We hear you'll have the best luck if you look for shells around low tide. Live shelling is not allowed, so leave those babies at the beach.
There is also a playground for the kiddos and plenty of picnic tables. If you want to ensure your group has a spot for a gathering at a specific time, there are two picnic pavilions available for rent–call the Ranger station at 727-469-5918 to reserve your spot.
But, you probably have one thing on your mind for this visit…the beach!
While you can bring your own chairs and umbrella, we found it MUCH easier to rent the chairs and umbrella at Caladesi Island. It was $29 during our last trip there and while the price may change, it will likely to stay within that range. They do accept credit cards if you don't have cash on hand. You can bring your own beach gear, of course–just remember you'll have to carry it onto the ferry and walk across the boardwalk.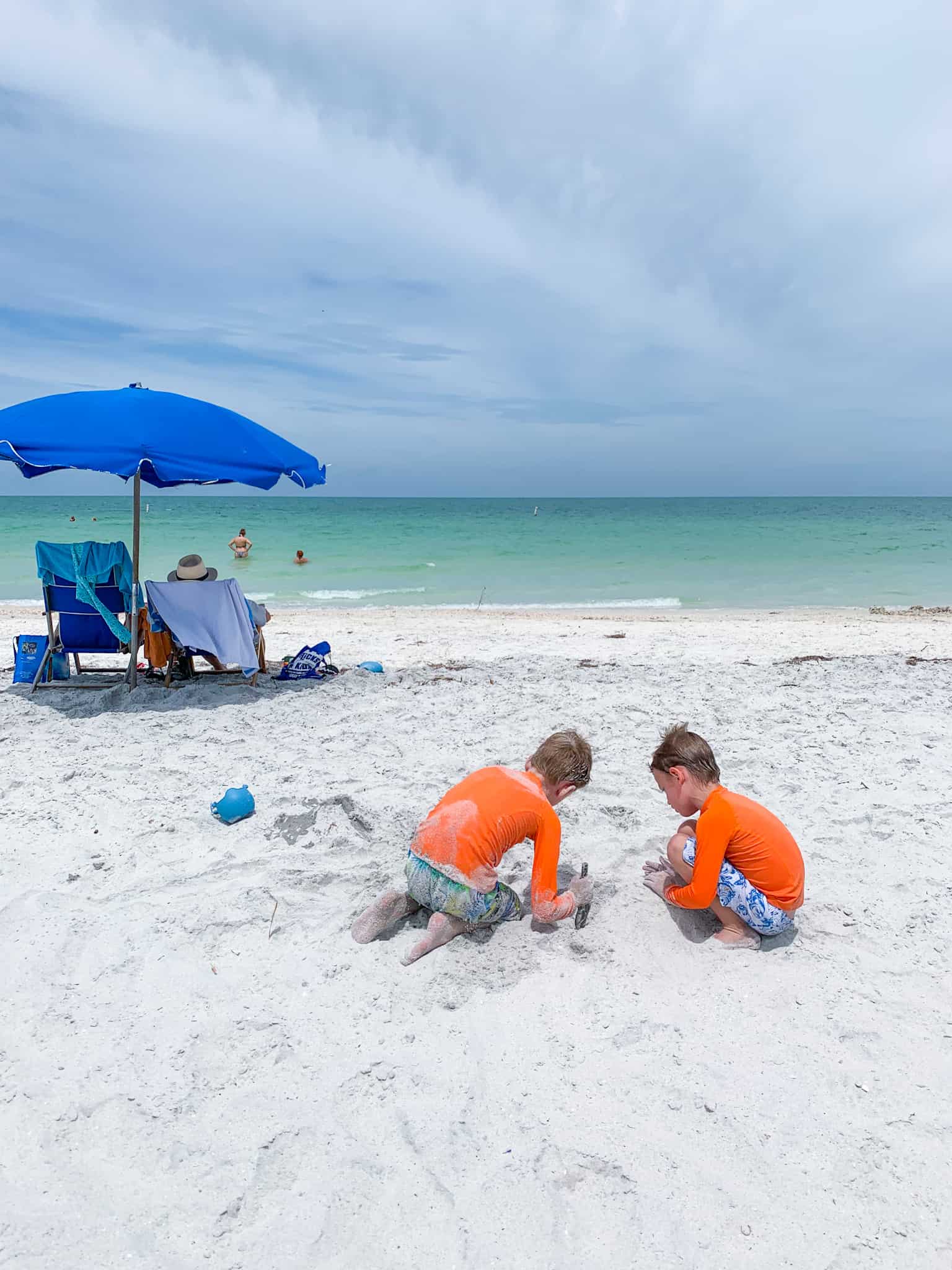 The water and sand are simply gorgeous and the atmosphere at Caladesi Island is serene. While we do have a special place in our hearts for Clearwater Beach, it's sometimes a bit too much when it comes to crowds. You'll have people joining you on the beach at Caladesi Island, but it's way less crowded and you don't have masses of condos and hotels lining this beach.
You truly feel as if you're on your own island.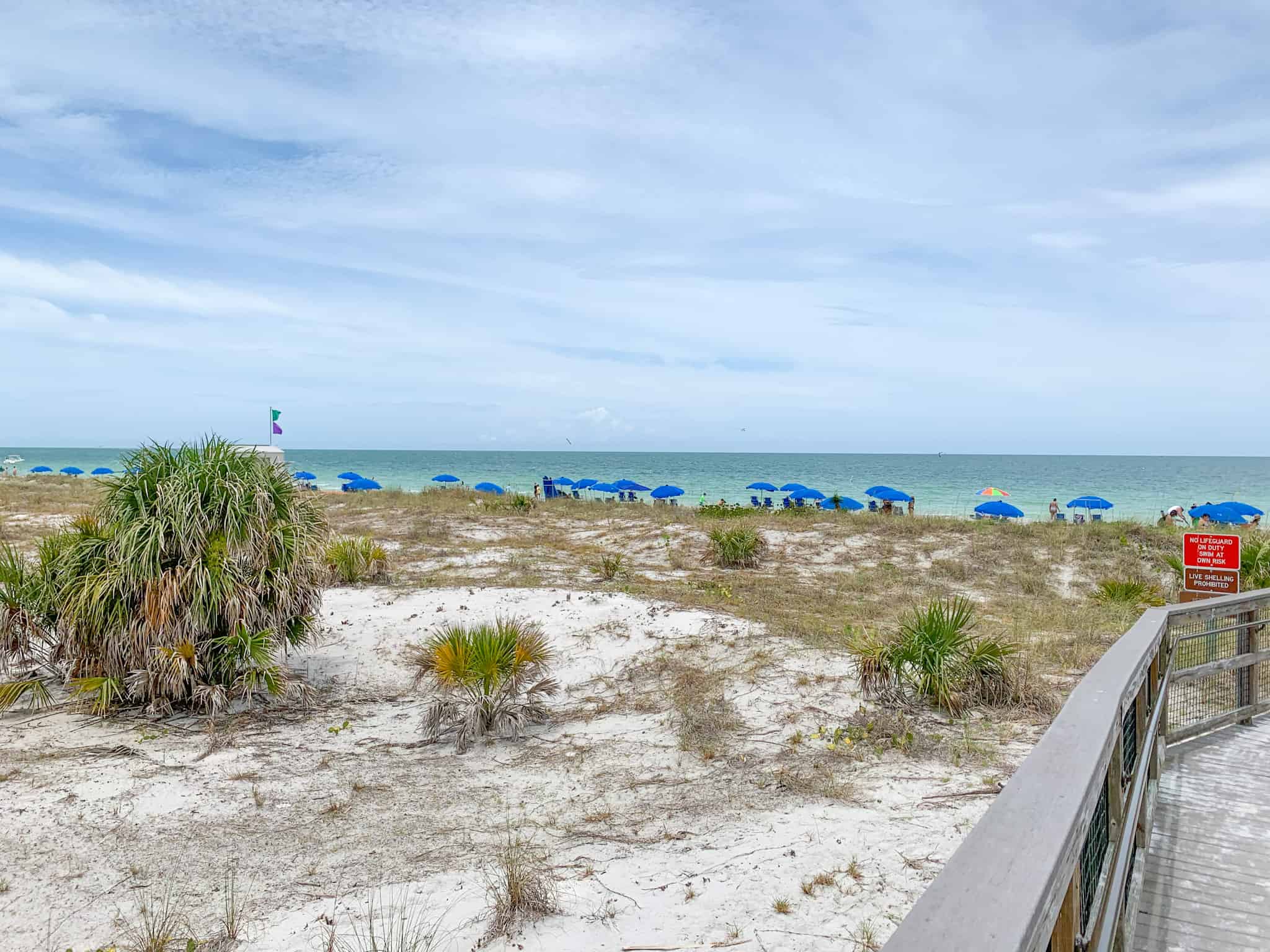 Cool facts about Caladesi Island State Park
Caladesi Island is brimming with wildlife and happens to be on the Great Florida Birding Trail. It provides sanctuary for birds like American oystercatchers, black skimmers, great blue herons, snowy egrets and more. Loggerhead and green sea turtles often nest at the beach and gopher tortoises make their home on land.
Caladesi Island was once home to homesteader Henry Scharrer and his daughter Myrtle. In fact, Myrtle wrote a book about her family's time living on the island called, Yesteryear I Lived in Paradise. She was the only child born on the island. We think this would make for a fascinating beach read about life in Florida before it became what it is today!
Before the hurricane of 1921, Honeymoon Island and Caladesi Island were one big island called Hog Island. The hurricane created a what's called a Hurricane Pass, dividing the island.
What else is there to do near Caladesi Island?
Once you've enjoyed your day on the beach and ferry back to your car at Honeymoon Island State Park, you can opt to enjoy the park OR drive across the Dunedin Causeway into Dunedin where there is no shortage of delicious restaurants to enjoy!
Tip: Bring sample sized soaps to clean up after the beach and clean pair of clothes if you plan to dine after a day at the beach.
We went to Frenchy's Outpost Bar & Grill located at 466 Causeway Blvd. with the kids after our visit since we've always loved Frenchy's restaurants. If the kids would rather head home, then make a pit stop across the street at Frenchy's Stone Crab and Seafood Market at 501 Causeway Blvd. They have food ready to order if you're starving, but you can also pick up fresh seafood to make at home.
Dunedin is known for its restaurants and boutiques, but they also have pretty robust brewery scene too. Our media partners at Tampa Bay Date Night Guide went to experience the spots and created the Beer Loves Guide to Dunedin Breweries to help you plan your next adventure.
Ocracoke Lifeguarded Beach in the Outer Banks North Carolina.
Caladesi Island State Park
Coopers Beach, South Hampton, New York
St. George Island State Park, Florida Panhandle
Duke Kahanamoku Beach, Oahu, Hawaii
Lighthouse Beach, Buxton, Outer Banks North Carolina
Coronado Beach, San Diego, California
Wailea Beach, Maui, Hawaii
Beachwalker Park, Kiawah Island, South Carolina
Coast Guard Beach, Cape Cod, Massachusetts
---
More stories we think you'll LOVE:
The BEST Things to Do in Tampa Bay with the Kids