The Pier 60 Sugar Sand Festival is BACK in 2022
After a two-year hiatus due to the pandemic, the Pier 60 Sugar Sand Festival presented by Visit St Pete Clearwater returns April 8 through 24 for 17 days of awe and wonder!
We caught up with Angela Benak, one of the event organizers, to find out how they do it all and we're sharing what you need to know before you go—which you should because it's an event designed with families in mind.
It must feel so good to be able to bring the Pier 60 Sugar Sand Festival back this year!
Angela Benak: We are thrilled to be back! It really is more than a festival. It affects the entire community. It has a huge economic impact on the community so cancelling it the last two years wasn't as simple as, 'no big deal, you're just not going to have it." There are a lot of artists, crafters and vendors that depend on this for their livelihood. It also has a substantial impact on the tourism industry.
So—how do the artists do it?? How do the sand sculptures stay together?
Angela Benak: It is all a result of surface tension. Custom wood frames and forms are built to accommodate the sand sculpture, the sculptors then fill and compact tons of layered sand into the custom forms alternating between sand, water, and pressure. Each layer of sand is moistened and firmly packed into the wooden forms using a tamper tool, some of the larger sculptures use jackhammers to tamp the sand into place. They start carving from the top, sand, removing the wooden layers as they progress.
People always thing they're super fragile and super soft, but they're not because of the amount of water and surface tension—they're pretty firm and after they sit there for 17 days–they are really firm.
Let's talk about the SAND. It's super unique along Clearwater Beach, right?
Angela Benak: Our sugar sand is very unique, and it all has to do with the texture. There are beautiful beaches all around the globe, but Clearwater Beach honestly has one of the most beautiful because the sand is pure and white and fine like a powdered sugar.
It is actually quartz crystal and the quartz trickles down from the Appalachian Mountains. There's an undertow that brings it down from the rivers and it swirls around (in the Gulf of Mexico), and it finds its way to Clearwater Beach.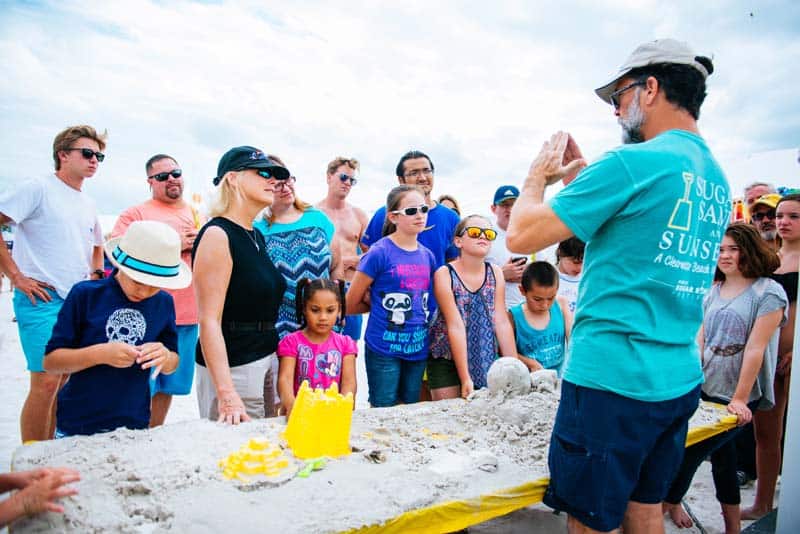 What you need to know before you go to the Pier 60 Sugar Sand Festival:
TICKETS:
General admission tickets are best for families with kids according to Benak. Tickets are $12 for everyone 3 and older. There are discounts offered for some groups like on Frontline Fridays for teachers, fire fighters, police and healthcare workers. To purchase tickets and research events for the day you're planning to go: www.sugarsandfestival.com
HOURS:
The hours are a bit different this year if you've been in the past.
Sunday-Thursday: 10 a.m. – 9 p.m.
Friday & Saturday: 10 a.m.-10 p.m.
WHERE TO PARK:
You can absolutely try to find a parking spot along Clearwater Beach, but another option that could be a lot of fun for the kids is the Park & Ride Jolley Trolley from downtown Clearwater which is FREE through April 30. Park in downtown Clearwater and then hop onto the Jolley Trolley which will take you right to Pier 60.
THIS YEAR'S THEME:
SANDimals–An Animal Adventure. You'll be invited to find your favorite animal in the sand sculptures, whether it's inspired by a real, extinct or fantasy one.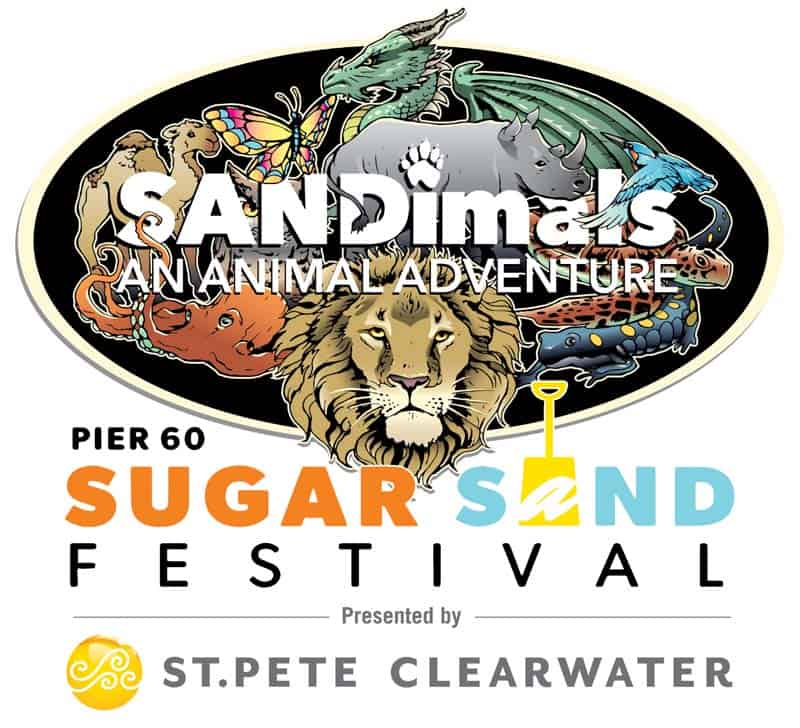 FUN FOR FAMILIES:
In addition to exploring the sand sculptures, there are rotating activities and classes each day of the event. There will be daily sand sculpting classes with a master sculptor; sculpting competitions to raise money for two Title 1 schools in Clearwater; a giant sandbox area where kids can build their own masterpieces; and live entertainment, a giant Ferris wheel, an expanded food court and daily meet and greets with the animals of the Alligator and Wildlife Discovery Center—a perfect fit with the SANDimals theme!
GETTING AROUND:
This year, the festival is introducing two electric sand wheelchairs and bringing back two manual sand wheelchairs on a first come, first served basis.
*Originally published in the April 2022 issue of Tampa Bay Parenting Magazine | Photos provided by Pier 60 Sugar Sand Festival
---
Relates stories we think you'll LOVE: