Despicable Me Minion Mayhem and Other Minions Fun at Universal Orlando
With Minions: The Rise of Gru on your kids' list of favorite movies since its release in 2022, there are more opportunities than ever to get in on a little minion fun at Universal Orlando. Here's everything you need to know about the main attraction, Despicable Me Minion Mayhem, and more minion fun at Universal Orlando Resort.
For months fans circulated rumors that a new Minions ride is in the works for the old Shrek 4-D space. Now a full announcement has been made!
The highly anticipated Minion Land on Illumination Ave. – an immersive new area created in partnership between Universal's award-winning creative team and the acclaimed filmmakers from Illumination.
Opening this summer at Universal Studios Florida, the new land expands upon the wildly popular Despicable Me Minion Mayhem attraction and will debut a new collection of experiences for guests of all ages inspired by the beloved Minions franchise.
Minion Land with include:
Illumination's Villain-Con Minion Blast
Illumination's Minion Cafe
Bake My Day
Pop-a-Nana
Freeze Ray Pops
Illumination Theater
Illumination Theater sounds like a fun time for young kids with meet, greet and interactions with beloved characters like the Minions, Gru, Margo, Edith and Agnes, plus new additions from the hit film "Sing" – Rosita, Gunter and Johnny – at an outdoor Illumination Theater facade.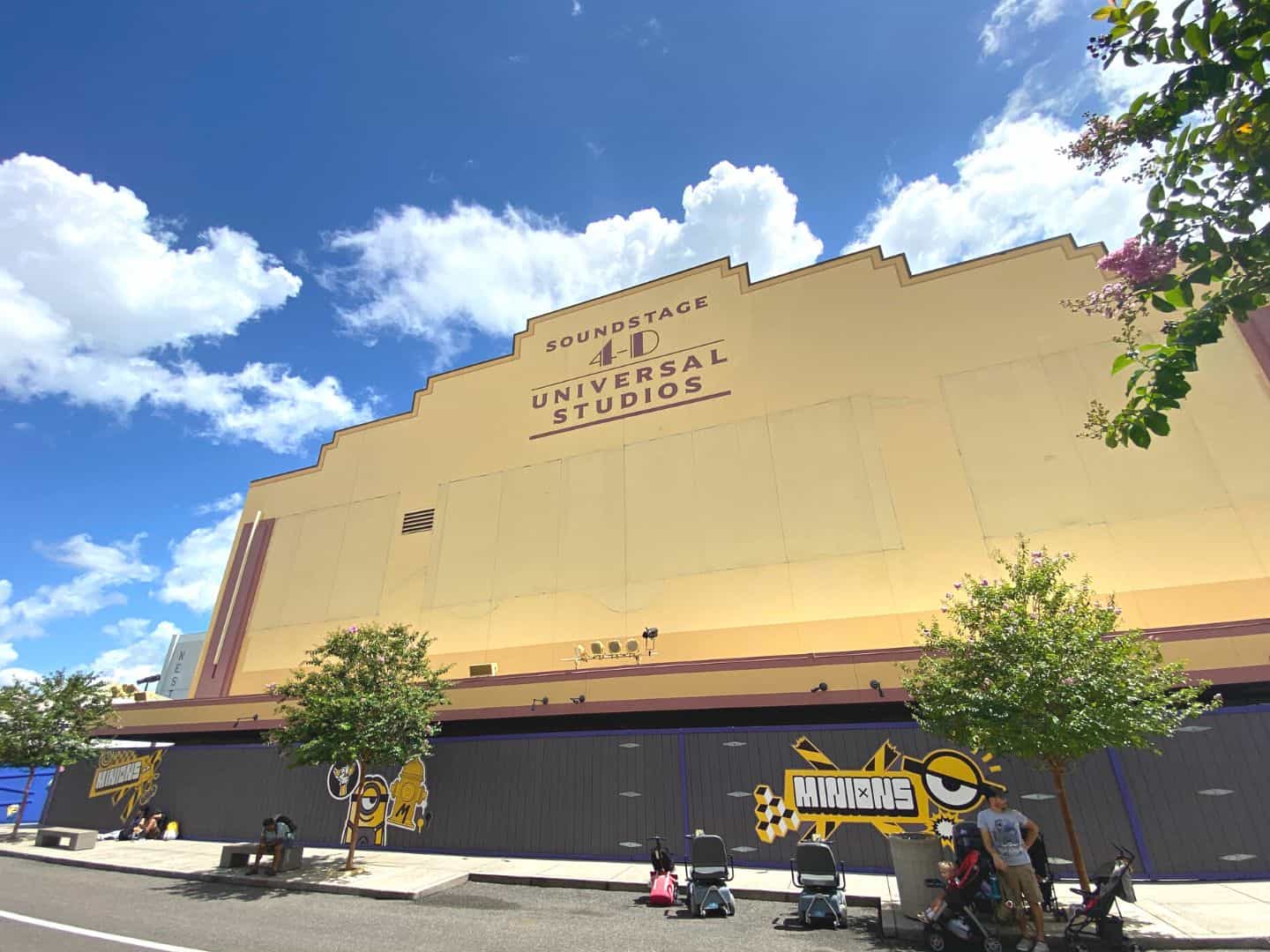 Step inside Gru's super-villain laboratory for minion training, led by Gru's kids and accompanied by a crew of mischievous minions. Despicable Me Minion Mayhem is a screen-based motion simulator that's more cute than scary, featuring plenty of silly minion antics and literal fluffy unicorns.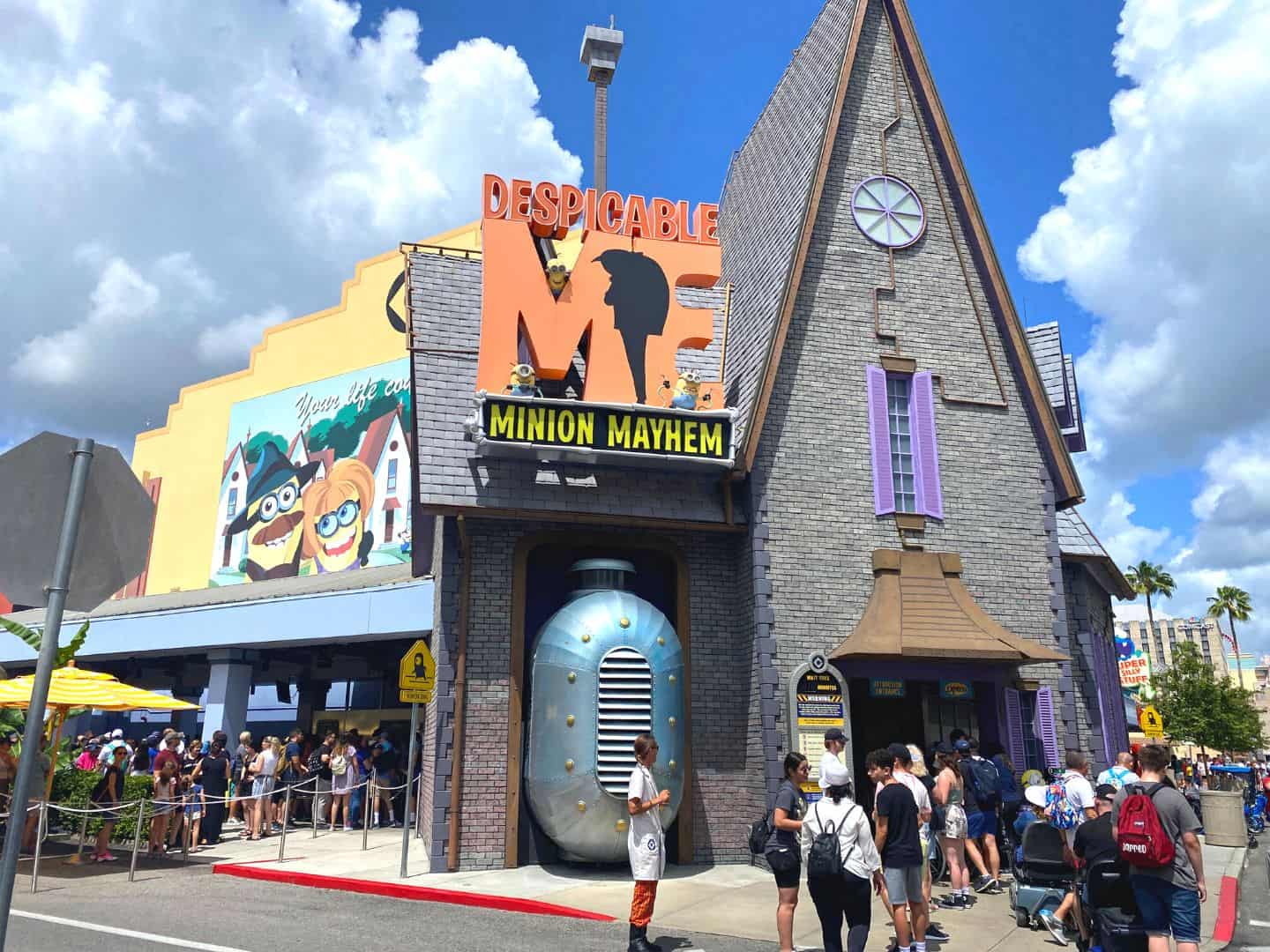 It's housed in a large theater, with guests seated in motion base simulators that shake, rock, and glide along with the action on screen. In Gru's latest scheme, you'll shrink down to the size of an actual minion. Then enter the minion training grounds, where the girls have laid out a wacky series of tests.
Bonus: Before the ride even begins, the queue winds through Gru's living room, where you can see framed photos and family mementos.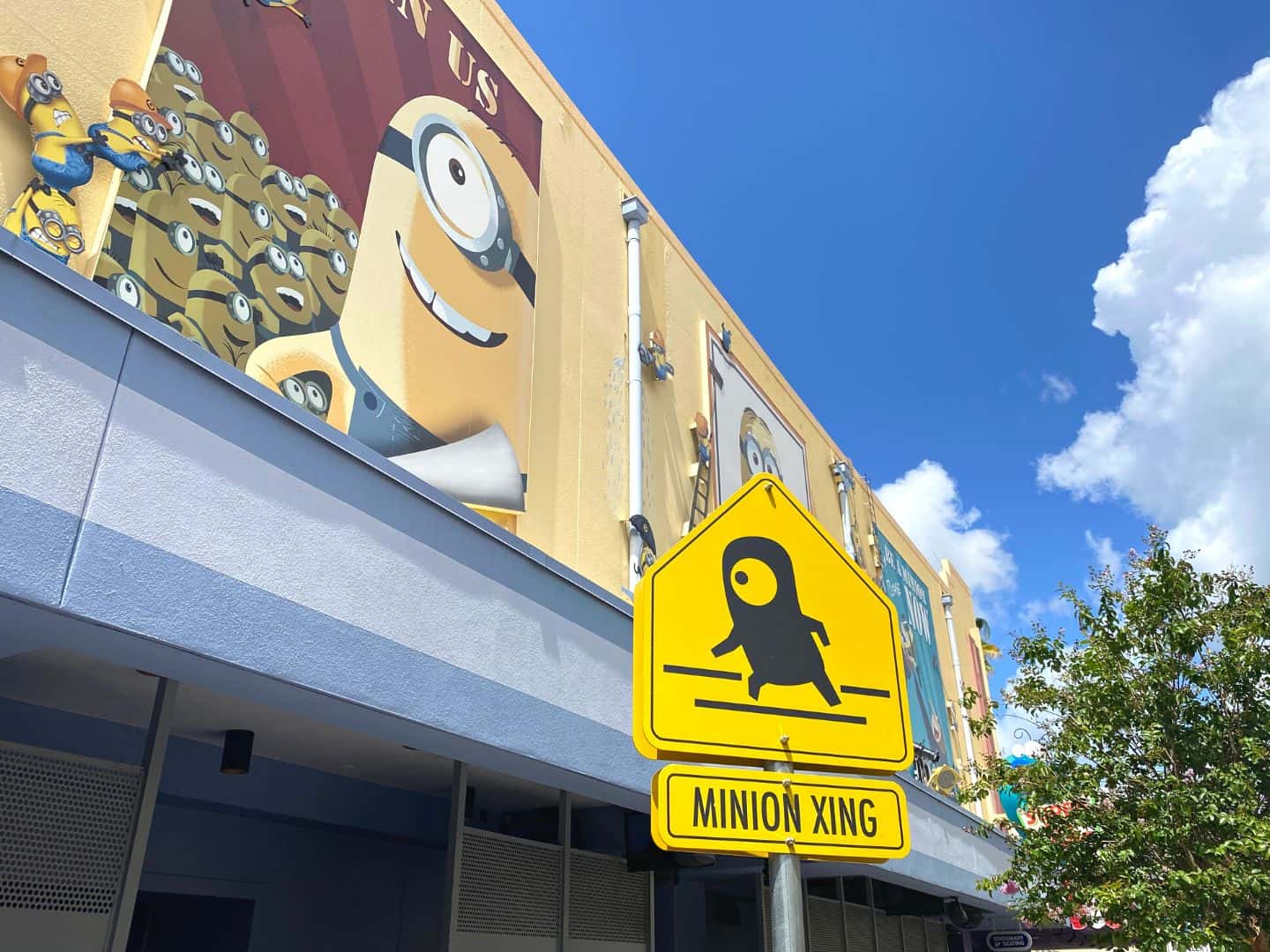 Some brief scenes of peril, combined with the vehicle's motions might be a little intense for some kids. The 3D elements of the ride were removed a few years ago, and accessible stationary seating is available.
The stationary seating is also helpful for guests with motion sickness concerns. This stationary seating can also be helpful for warry kids for which the full experience may be too much. This small seating section is right in front of the screen, so it can be a little tough being so close.
Another Bonus: Waiting in line in the hot sun is no fun, but there are some great details in the queue – including banana trees. Everyone knows Minions love bananas.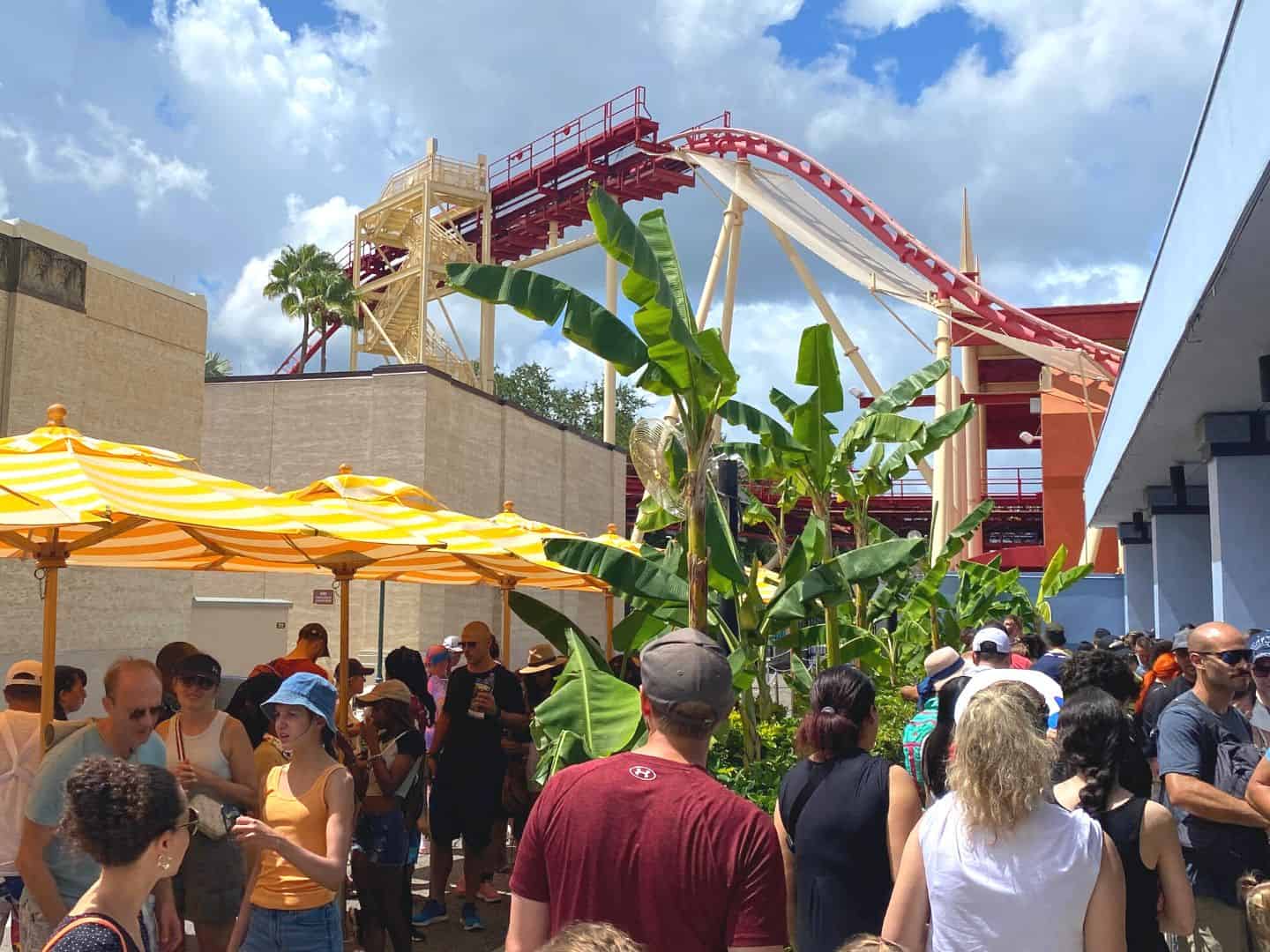 Minion Mayhem FAQ
Where is Despicable Me Minion Mayhem located?
In Universal Studios Florida, near the park entrance. Just go straight and you'll see Gru's home to the left, just after the Universal Studios Store.
How many people can ride Despicable Me Minion Mayhem?
Up to four guests can sit in one row, with individual seats for each guest. Larger parties will be split up across multiple vehicles.
What is the height requirement for Despicable Me Minion Mayhem?
The minimum height requirement for Minion Mayhem is 40 inches, however, guests under 40 inches can ride in stationary seating provided that they are able to sit up and support themselves. Guests under 48 inches must be accompanied by an adult. Lap sitting is not allowed.
Where Can I Meet the Minions at Universal?
Party Like a Minion at the Super Silly Stuff Store
After exiting Despicable Me Minion Mayhem, join a minion dance party featuring some of your favorite minion friends! Located between the Minion Mayhem ride exit and the Super Silly Stuff Store, this minion-hosted dance party features a live audience feed wrapped across several large TV screens.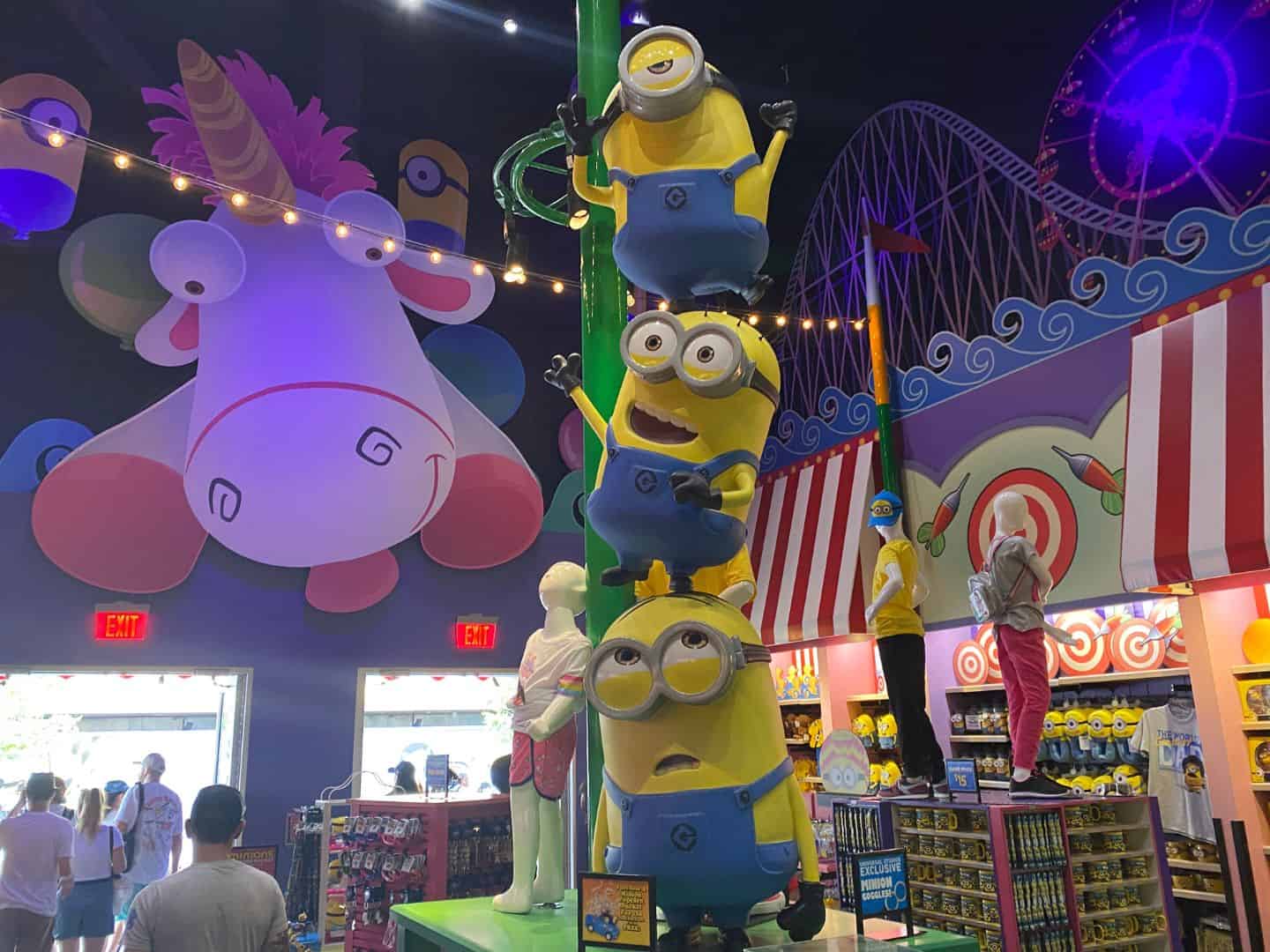 Kids will love seeing themselves on camera, accompanied by onscreen minions in psychedelic 70s dance outfits. If you don't want to ride Despicable Me Minion Mayhem, just head straight to the gift shop and enjoy a little dance break every time the ride exits.
There is also a minion meet and greet location at the dance party. Show times are not published on the app, so consider yourself lucky if you happen to see an actual minion out on the dance floor!
Parenting Pro-Tip: It may be best to not set expectations with your kids about meeting the Minions. We've been to the dance party / Minion meet and greet area at Super Silly Stuff Store plenty of times without there being any Minions present. The decorations and music are enough fun without the Minions. It may be best to just leave it as a surprise if you are lucky enough to be there when the Minions are there.
Boogie Down at a Despicable Me Street Party
Join Gru and the gang in an energizing street party, held several times a day in the Hollywood area of Universal Studios Florida.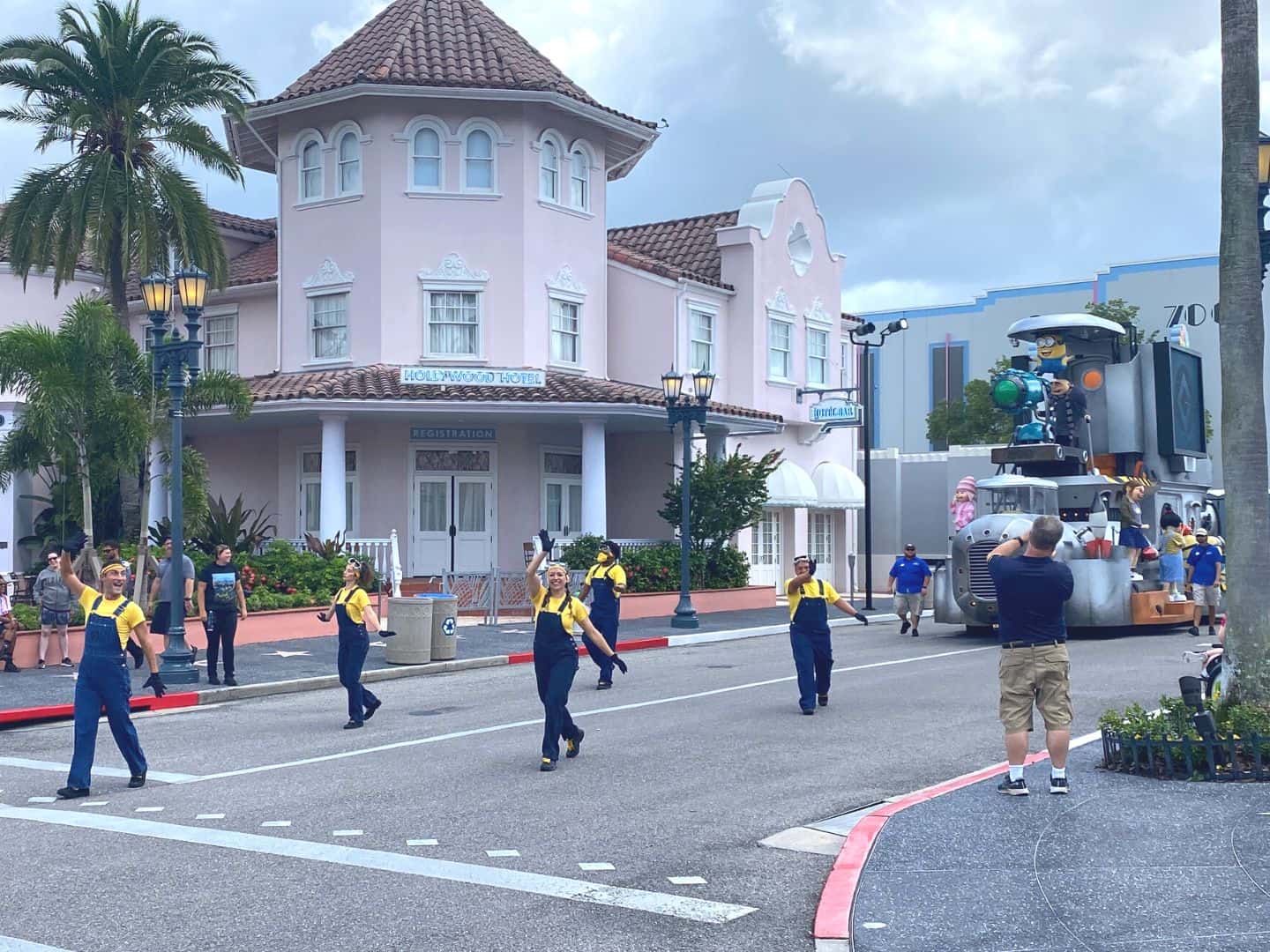 Find showtimes under "Character Party Zone" in the official Universal Orlando app. This dance party near Café La Bamba is packed with fun music and features parade floats from the old Superstar Parade. Boogie down with Gru, Margo, Agnes and Edith for some unforgettable character fun.
Note, the Superstar Parade is no longer performing, and at this time there is no replacement parade at Universal Studios Florida. So the "Character Party Zone" is as close to a parade as you're going to get right now.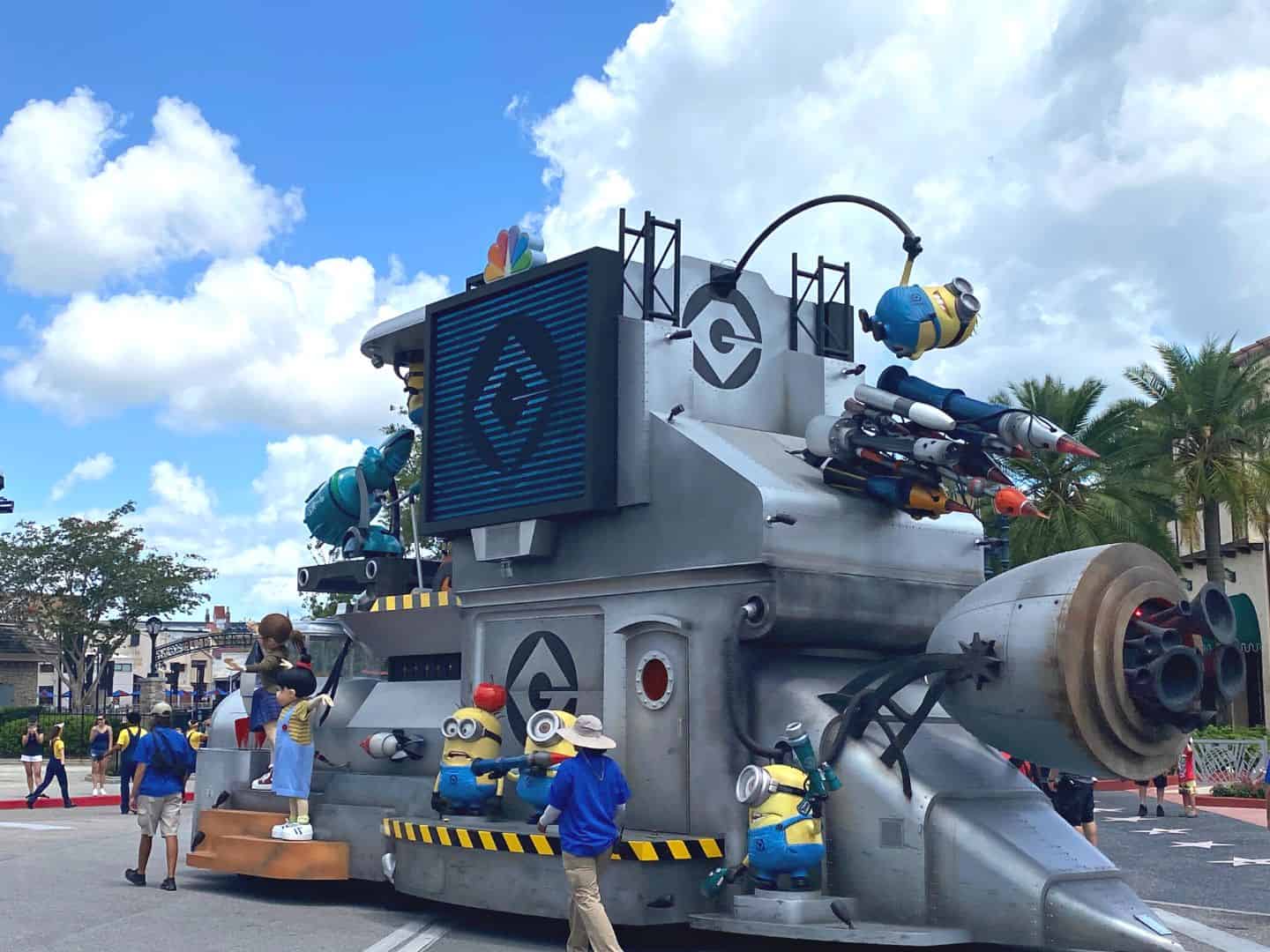 Keep in mind, that the character party zone features a rotating assortment of Superstar Parade floats and characters. You might also see characters from SpongeBob SquarePants, Dora the Explorer, and The Secret Life of Pets throughout the day.
The app doesn't say which characters will be out at any given time. Be sure to ask a character attendant for details if you want to see a specific float.
Vacation Like a Minion: Spend the Night in Gru's Lab
If your theme park visit includes an onsite hotel stay, check out the Despicable Me Kids Suites at Loews Portofino Bay Hotel.
The 650 – 675 square foot specialty suites include all the stylish features of a standard king bedroom and a separate minions-themed bedroom for kids. Kids will love the missile-shaped twin beds, colorful yellow accents, and cheerful minions bouncing off the walls. The kids' room does not open into the main hallway, so you can rest easy.
To reserve the Despicable Me Kids Suites, book online or call (888) 273-1311.
RELATED: Best Orlando Hotels For Families Close To Theme Parks
Minions Merchandise at Universal Orlando
The Super Silly Stuff Store, which is next to Despicable Me Minion Mayhem, is packed with Minions merchandise. There are Minions shirts, plush dolls, mugs, toys, and so much more.
With the success of Minions: The Rise of Gru in theaters, the Universal Orlando CityWalk movie theater featured a cart of Minions merchandise. This merchandise cart changes throughout the year.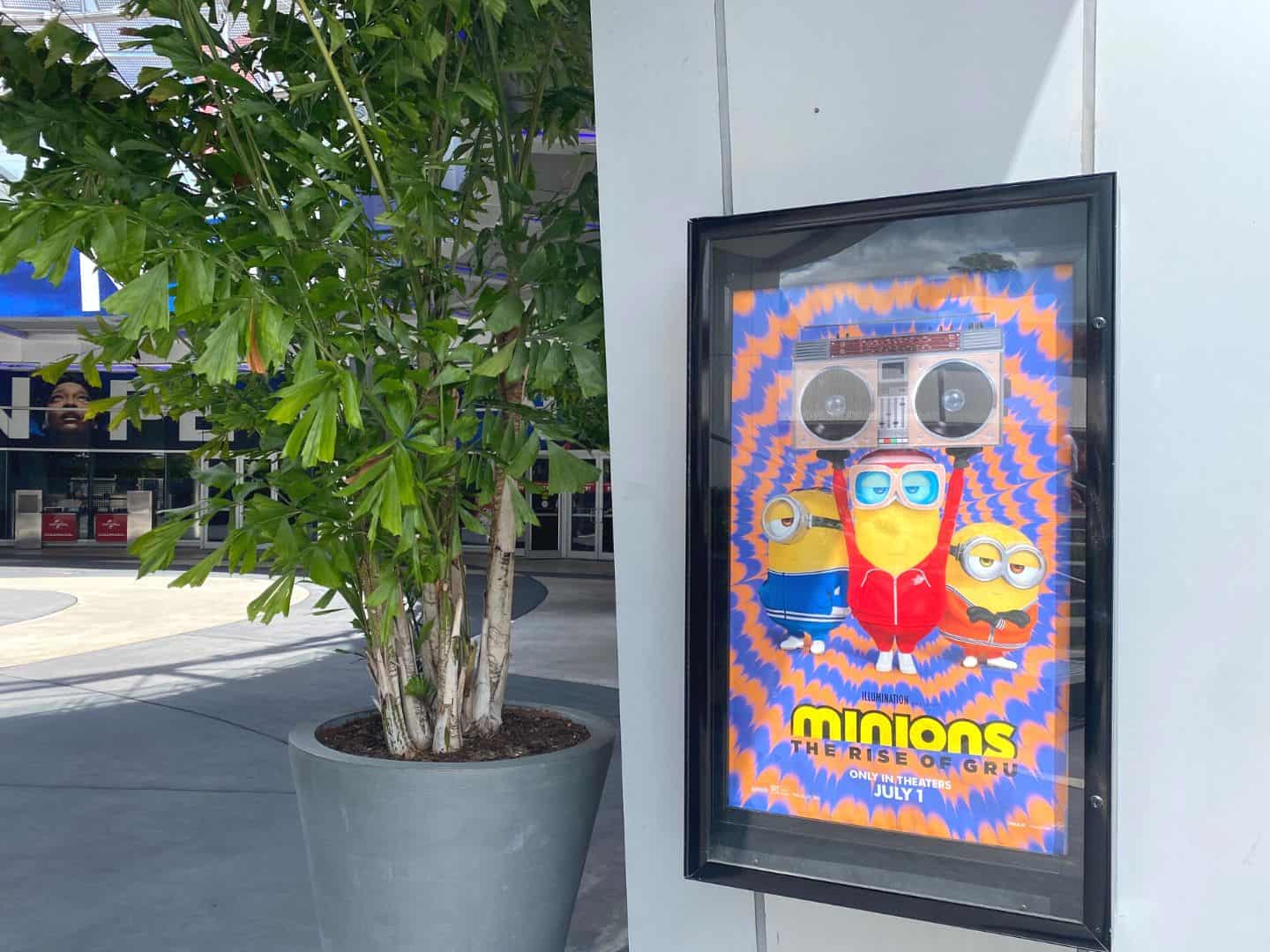 There are other spots around Universal Orlando with Minions merchandise including the Universal Studios Store at CityWalk – no theme park ticket required!
Universal's Holiday Parade featuring Macy's
During the holiday season, Universal hosts a heartwarming holiday parade featuring some of the resort's best-loved characters. Catch Gru looking uncharacteristically cheery, accompanied by his kids and some of his most recognizable minions. Our favorite? A supersized balloon of Bob the minion dressed in his holiday best.
If you're thinking of heading to Universal Orlando during the holidays, here are our Top 5 Kid-Friendly Things to do at Universal Orlando Holidays.