INSIDE LOOK Aboard Disney Cruise Line's 25th Anniversary at Sea
Since 1998, the Disney Magic has been enchanting families with an unparalleled cruise vacation experience featuring captivating entertainment, immersive Disney storytelling, and exceptional hospitality at sea. Disney Cruise Line was born. It's the perfect family vacation! And now with the 25th anniversary celebration taking place this summer, it's the perfect time to sail the shimmering seas.
Whether you've booked a Disney Cruise to take part in this celebration, or you're considering it – or perhaps you just want to take a peek through the porthole at what's happening, anchors away!
My family and I just got back from a family vacation aboard the Disney Fantasy – the first Fantasy sailing to include the 25th anniversary enhancements. We're sharing all the details on what's happening during Disney Cruise Line's 25th Anniversary.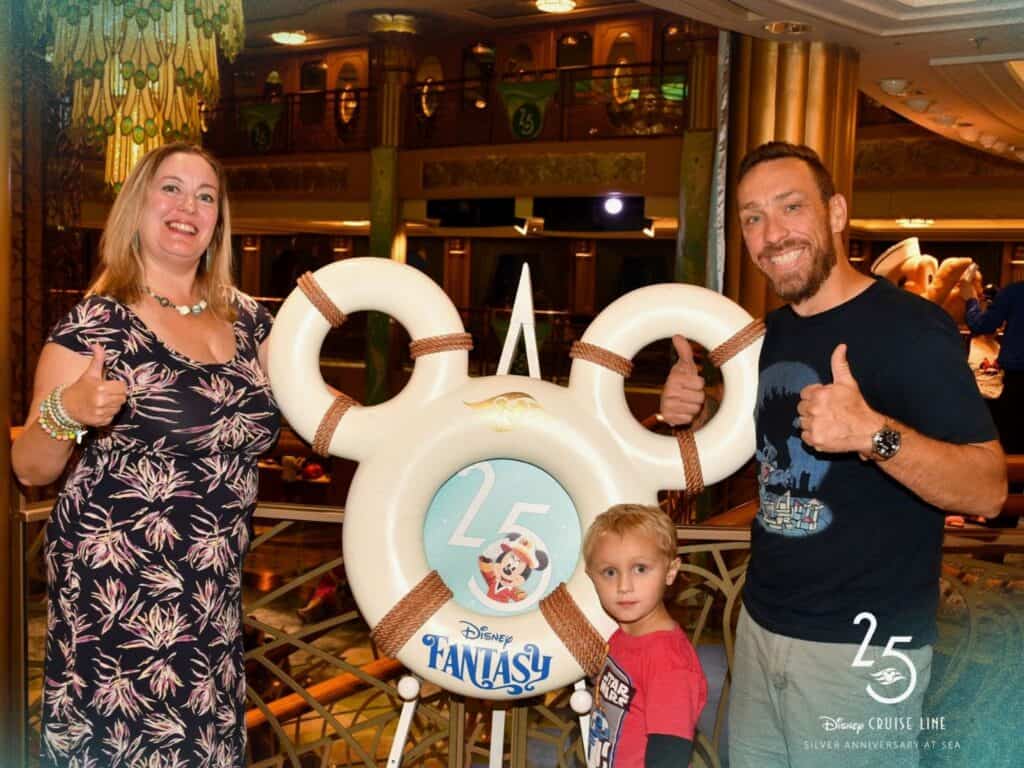 By the way, here's what to know before booking a Disney Cruise Line vacation.
Disney Cruise Line's 25th Silver Anniversary
When is Disney Cruise Line's 25th Anniversary?
In 2023, Disney Cruise Line will celebrate its 25th anniversary in grand style with special entertainment, merchandise, and celebratory experiences. The limited-time "Silver Anniversary at Sea" offerings across all five Disney Cruise Line ships from May through September 2023.
The "Silver Anniversary at Sea" celebration is featured on summer cruises aboard all five Disney Cruise Line ships.
During these sailings, guests will encounter new entertainment, limited-time enhancements, eye-catching decor, whimsical merchandise, and other delightful surprises, all imbued with the magical spirit of this once-in-a-lifetime event.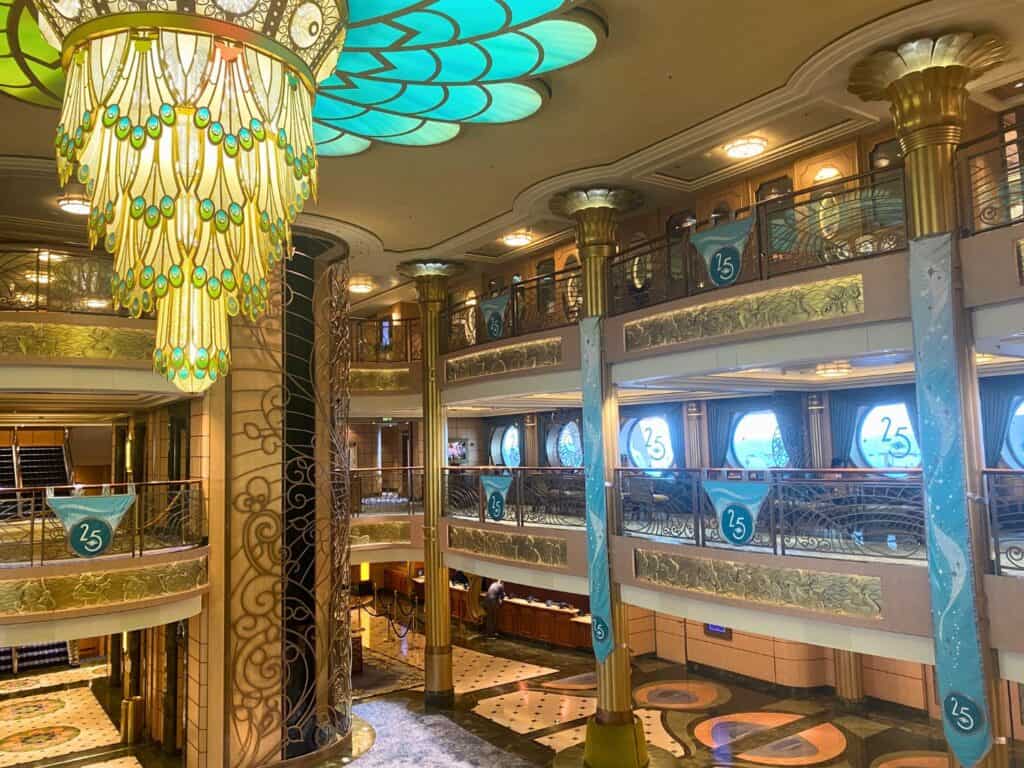 During sailings that have a day at sea there is special entertainment. During my family's 7 Night Western Carribean cruise on the Disney Fantasy we experienced the following 25th anniversary entertainment on our first day at sea:
Disney Characters in 25th anniversary attire
25th Anniversary craft session (make your own 25th anniversary buttons)
Disney Cruise Line 25th anniversary trivia
Shimmering Seas Soiree at 7:30pm
Shimmering Seas Fireworks at Sea at 10:30pm
Silver Anniversary at Sea Disney Cruise Line Characters and Entertainment
Captain Mickey Mouse and Captain Minnie Mouse don dazzling new ensembles to mark the occasion, featuring shimmering, multi-toned fabric and swirling designs reminiscent of ocean waves.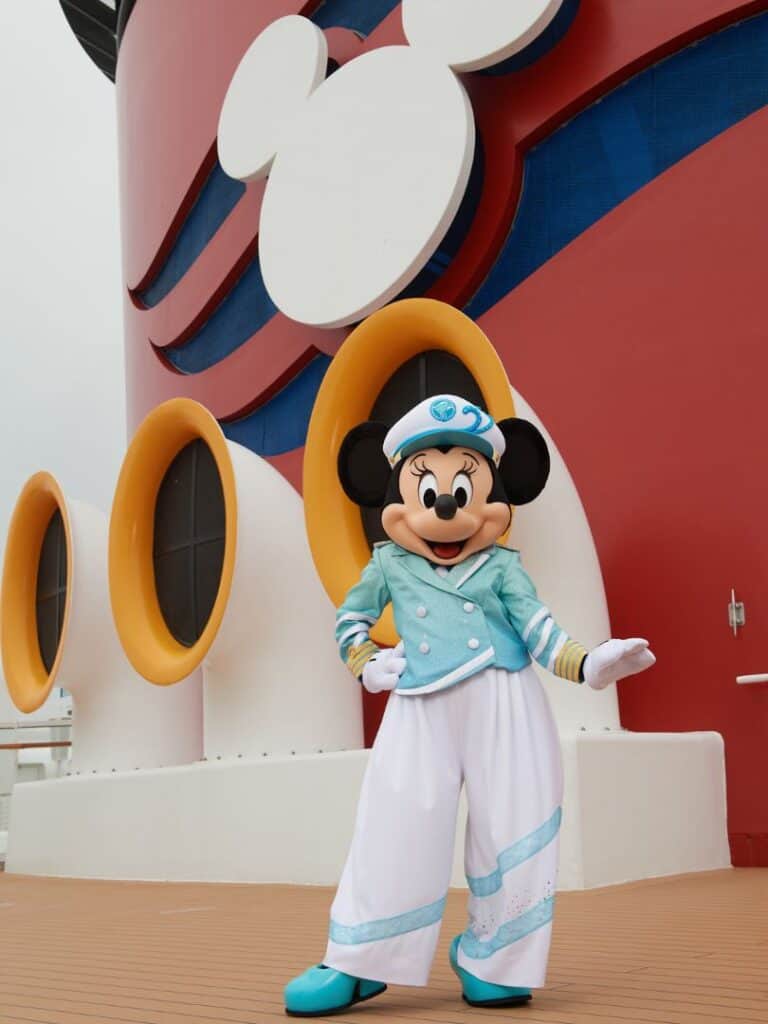 When we arrived aboard the Disney Fantasy we noticed the 25th anniversary decor all around the atrium lobby, and then I gasped with delight. To my surprise, Minnie Mouse greeted guests in her special Shimmering Seas costume at the balcony overlooking the lobby.
We dashed upstairs. However, Minnie's appearance came to an end. And yet, just moments later Daisy Duck appeared in her glamourous Shimmering Seas dress. My favorite!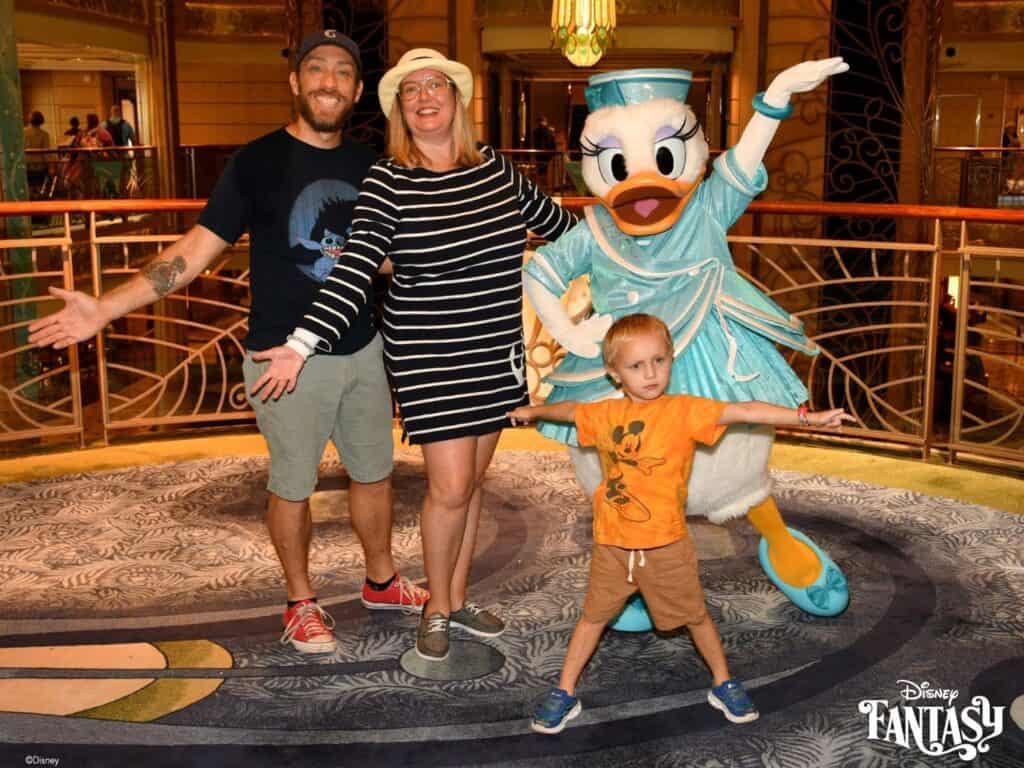 What a magical way to start our voyage! I have been sailing with Disney Cruise Line since 2006, and this voyage marked the completion of sailing aboard all 5 Disney Cruise ships! And experiencing the anniversary enhancements meant a lot to myself and my family.
Shimmering Seas Light The Sky – 25th Anniversary Fireworks
On the second night of our 7 night cruise, our day at sea, we headed to the pool decks for a fireworks celebration. The Disney Cruise Line fireworks are a special treat. In fact, fireworks at sea did not exist until Disney Cruise Line started them 25 years ago.
The Shimmering Seas Light the Sky fireworks display is set to the special song created for the anniversary. The display lasts about 5 minutes.
For any Disney cruise line fan, they are a special moment. I got a little choked up thinking about all the memories made over the years, and those being made right now on this voyage.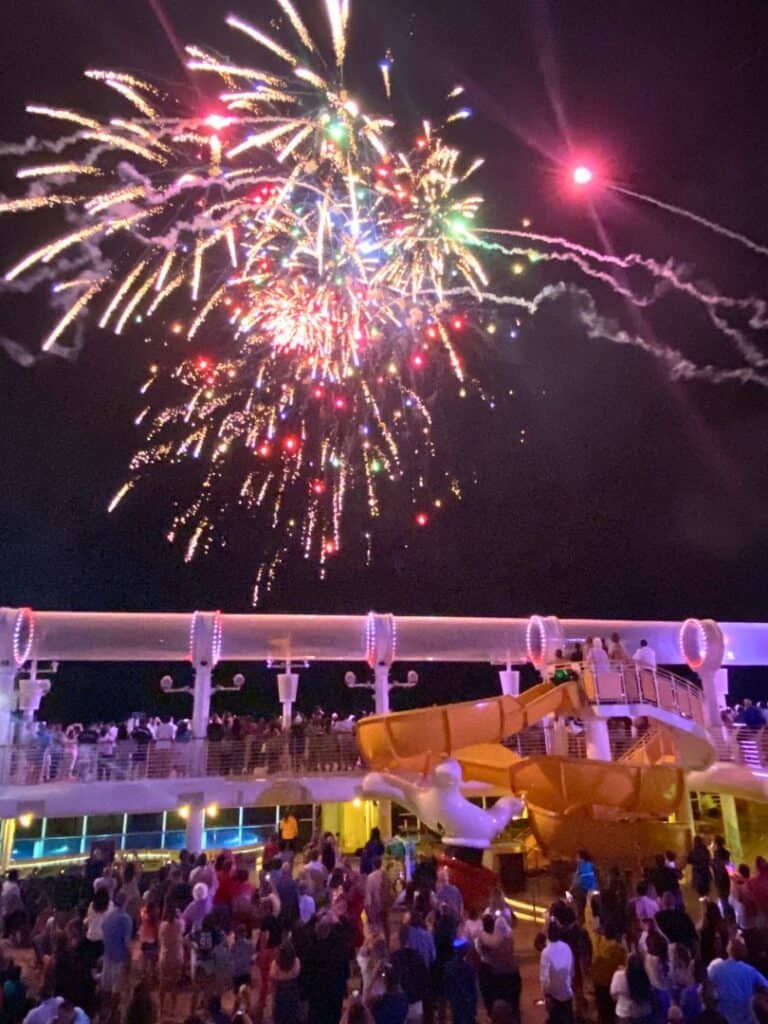 The schedule indicated that the fireworks started at 10:15pm. However, the fireworks are preceded by 15 minutes of guests being selected from the audience to share their favorite Disney Cruise Line memories. Something to be aware of if you have antsy kids, or antsy adults for that matter.
Shimmering Seas Soiree
Also during the day at sea a special party takes place at the atrium lobby. The Shimmering Seas Soiree is short, but definitely sweet and worth attending.
At 7:30 pm the lobby atrium becomes the venue of a gathering of Disney characters and Disney Cruise Line officers. Special beverages are passed and offered to guests complimentary during this elegant soiree.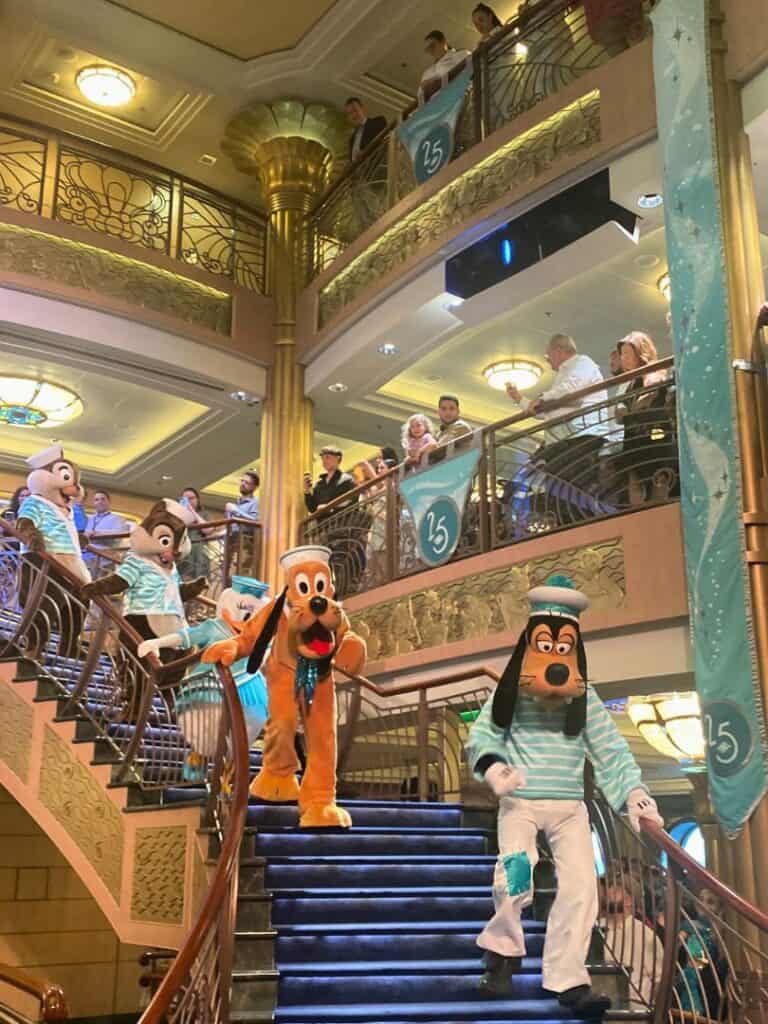 Mickey Mouse and the whole gang appear in their Shimmering Seas costumes. If you're interested in making the most of the 25th anniversary celebration, this soiree is not to be missed!
Shimmering Disney Cruise Line Anniversary Treats
During our sailing, we took advantage of the special 25th-anniversary souvenir glass beer mug. Not only is it a special moment of the anniversary, but it provided discounted refills throughout the cruise.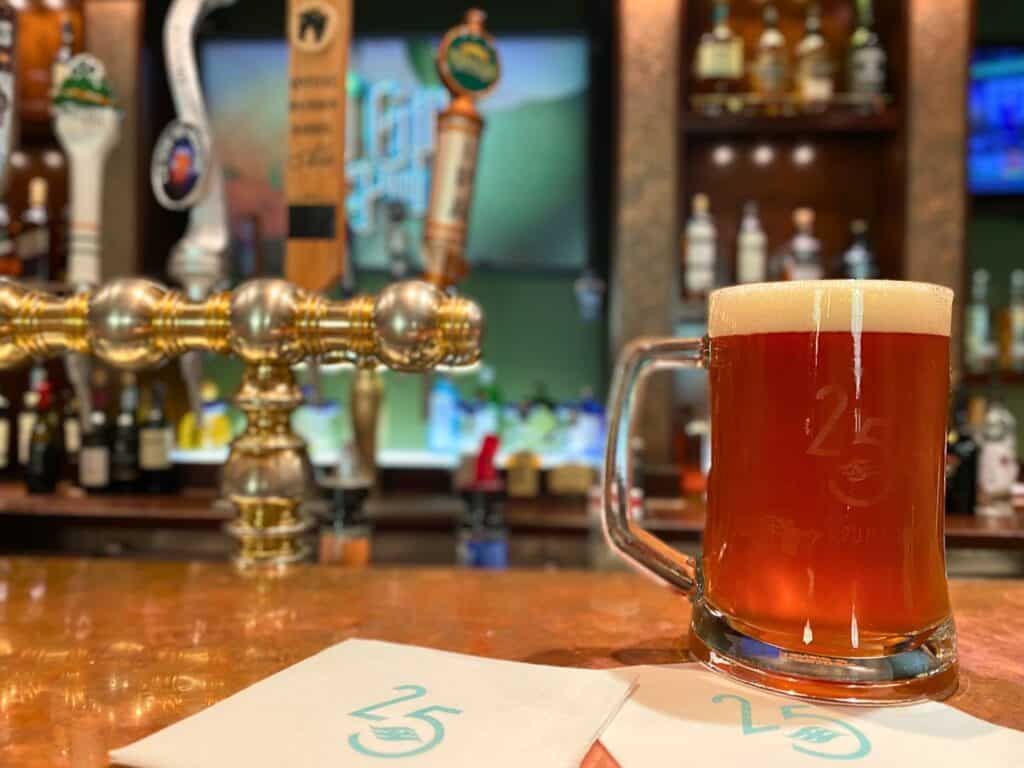 We also added the 25th anniversary popcorn bucket to our collection. The initial purchase of $10 came with popcorn. Then each refill was just $1.50 – perfect for the evening shows. And the bucket is a must have for Disney Cruise Line fans as it features all five of the Disney Cruise ships.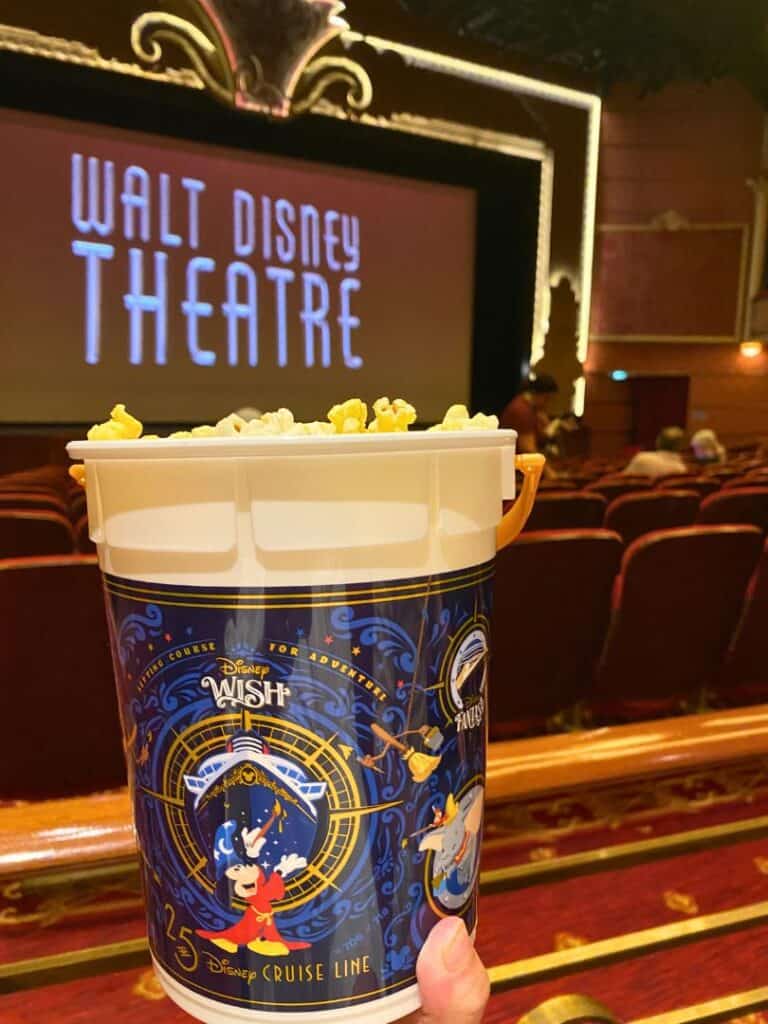 We also spotted special 25th anniversary desserts at the on board sweet shop. Plus beverage napkins, food signage, and more featured the anniversary logo.
25th Anniversary Merchandise
Guests can commemorate Disney Cruise Line's "Silver Anniversary at Sea" with the Shimmering Seas Collection, a line of dedicated merchandise featuring a new signature color. Inspired by the magical glow of sunshine reflecting upon turquoise waters, the Shimmering Seas Collection will include an assortment of apparel, accessories, drinkware, keepsakes, and more.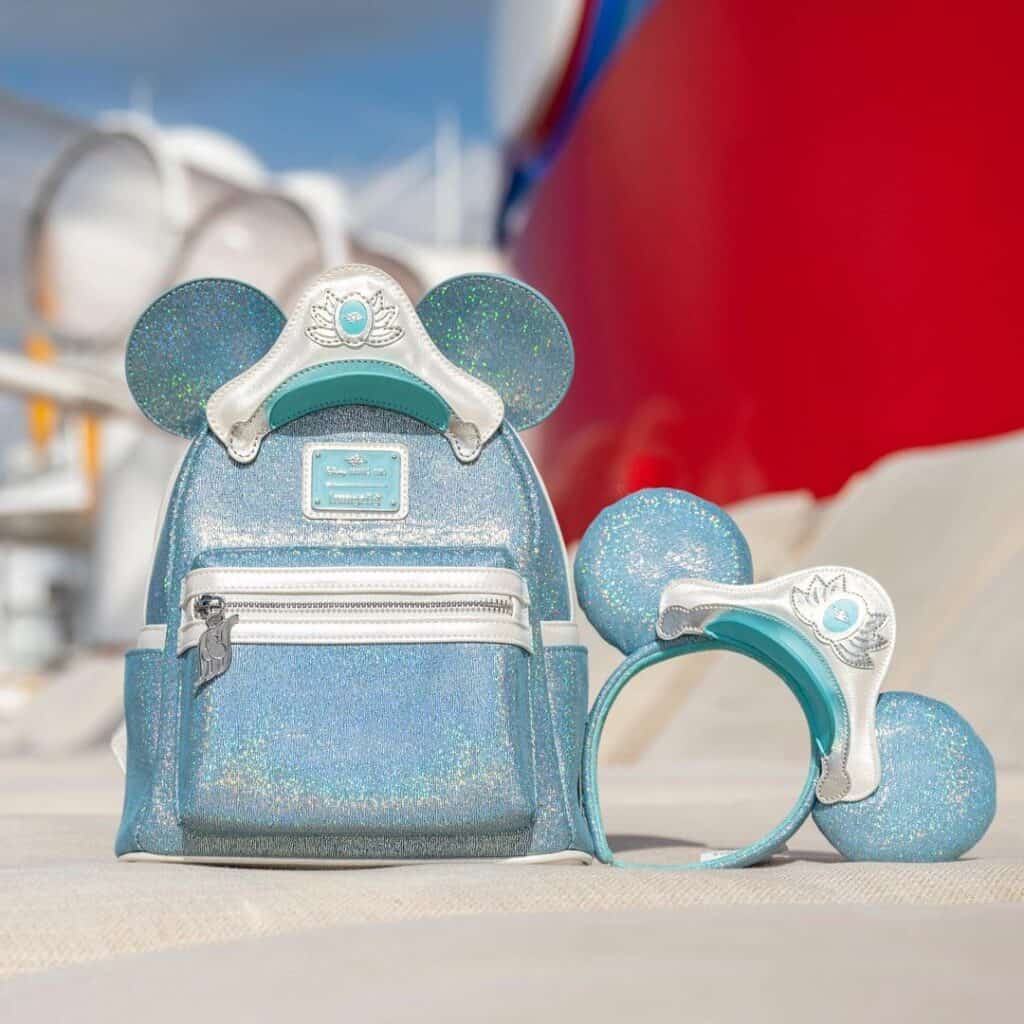 25th Anniversary Disney Cruise Line Sailings
The Disney Magic will visit destinations in the Bahamas and Caribbean, including Disney's private island, Castaway Cay, departing from Miami May 24 to Sept. 4.
The Disney Wonder will depart on Alaskan voyages from Vancouver, Canada from May 15 to Sept. 11 with stops in Juneau, Skagway, Ketchikan, and more.
The Disney Dream will sail transatlantic and European itineraries, including the Mediterranean, Northern Europe, and the Greek Isles, from May 7 to Sept. 17.
The Disney Fantasy will set sail from Port Canaveral, Florida, from May 6 to Sept. 2 to the Eastern and Western Caribbean, each with a day at Castaway Cay.
Disney Cruise Line's newest ship, the Disney Wish, will depart on sailings to Nassau, Bahamas, and Castaway Cay from May 1 to Sept. 8 from Port Canaveral.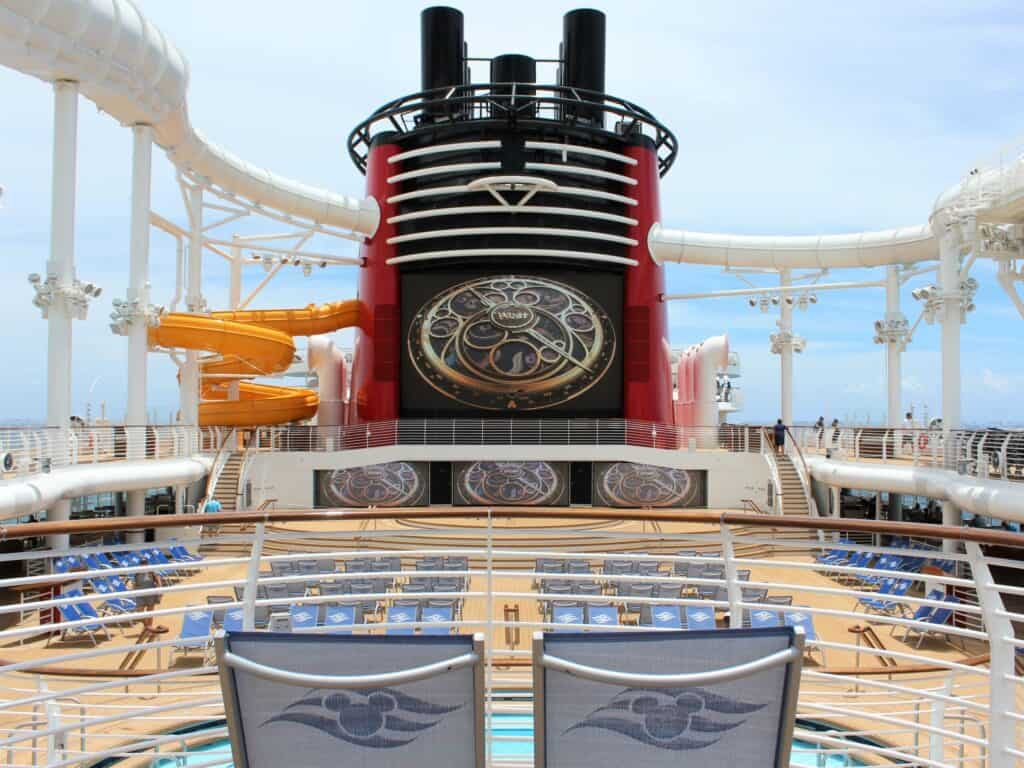 Castaway Club Pearl Level
The anniversary of Disney Cruise Line also heralds the unveiling of a brand-new membership tier for Castaway Club, which recognizes returning Disney Cruise Line guests with exclusive rewards and perks. Honoring 25 years of Disney magic at sea, members will now earn the distinction of Pearl status after 25 Disney Cruise Line vacations.
As the line's biggest fans, Pearl members will unlock new at-home and onboard benefits.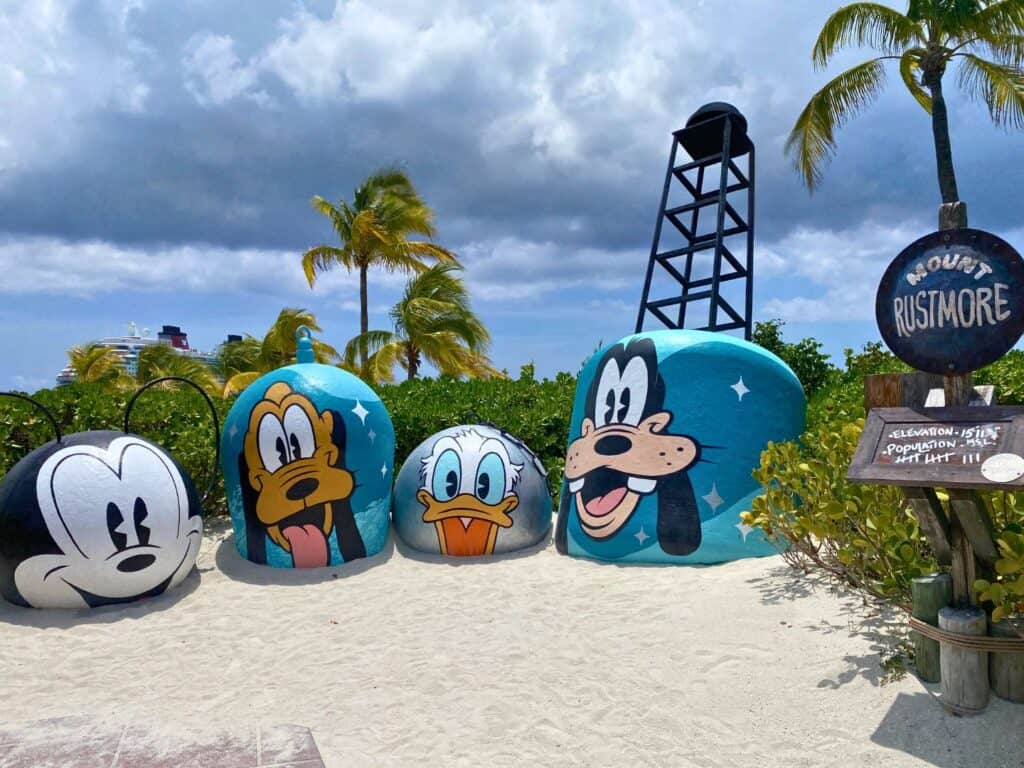 Additional 25th Anniversary Enhancements
25th Anniversary themed stateroom key cards
Anniversary decorations throughout the atrium lobby
Mount Rustmore on Castaway Cay has a Shimmering Seas makeover