The Sweetest Donut Shops in Tampa Bay Your Family Has to Try!
Donut Shops in Tampa Bay that will win over your kids and your taste buds! 
We set out to find Tampa Bay's best donuts.  And boy, did we!  But something else happened, too.  With every succulent bite, similar stories began to emerge at every donut shop.  Stories of risk and reward, of passion and perseverance. It became clear that the more involved and invested the shop owner, the better the donuts.
They say that success tastes sweeter the harder you have to work for it.  In this case, that's definitely true.
Datz Dough in South Tampa
2602 S MacDill Ave, Tampa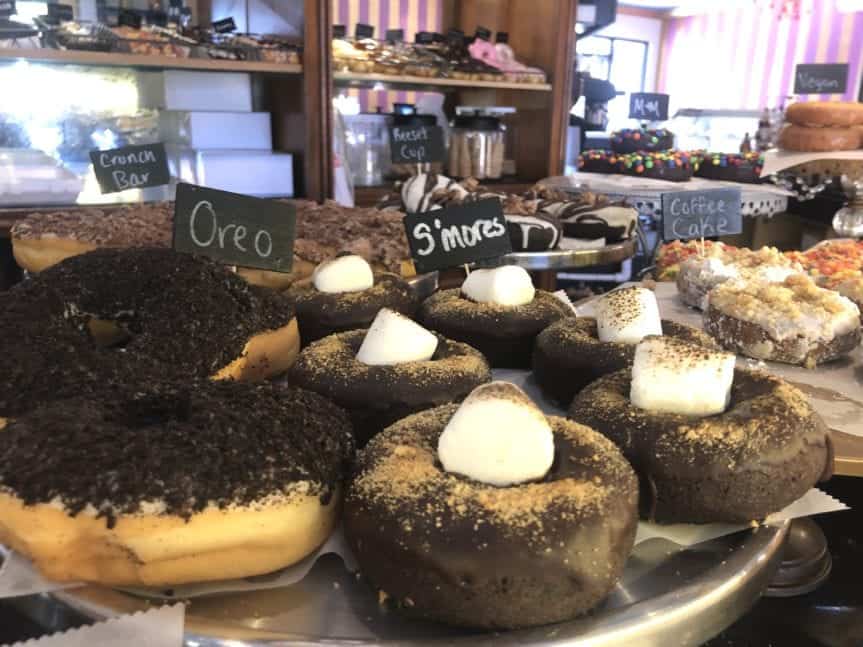 Because fresh, delicious donuts should be available from the early morning until the late night, there is Dough.  Located on the side of busy S. MacDill Avenue in South Tampa, the popular spot has been a local favorite since 2012.
Owners Suzanne and Roger Perry started making desserts in-house at their first restaurant, Datz.  They quickly found that the kitchen wasn't big enough, so they purchased the bakery next door and reimagined it as a late-night spot where Datz customers could go for dessert.
Dough was born, and customers began pouring in throughout the day.  During our lunchtime visit, we sample the three top-sellers: creme brûlée, maple bacon and stuffed birthday cake— which tastes like Neapolitan ice cream.
We can see why the team at Dough describes their donuts as  "sweet, round masterclasses in delight."   They pride themselves in their product, which they bake on-site overnight, every night. But they don't take all the credit, insisting that " some of our most popular seasonal donuts have been suggested by our customers."
Nicola's Donuts in North Tampa 
902 W Busch Blvd, Tampa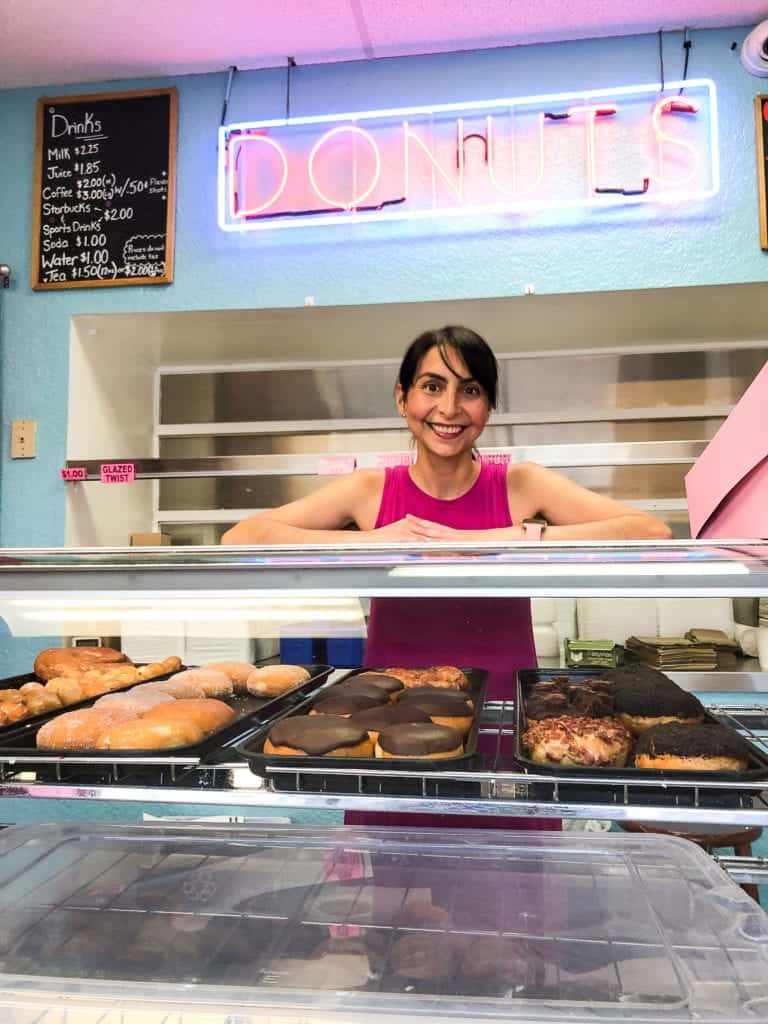 Diane Rosario never liked donuts.  "I would always get that lardy taste in my mouth," she remembers of eating "commercial donuts" throughout her life.  That changed the day she walked into Nicola's Donuts as a customer and tasted her first hand-made donut. "I couldn't believe the difference."
Two years later, she owns Nicola's and makes the kind of donuts that turned her from detractor to devotee, from critic to connoisseur.  It was a turn Diane never expected, but after teaching Kindergarten for 22 years, she decided she was ready to try something new. "The opportunity to buy Nicola's became available and I took it," she says of her life-changing decision a year ago.  "Everything was a learning curve— from making donuts to creating recipes to handling commercial clients."  Diane enlisted the help of her nephew, a culinary-trained chef, and quickly mastered the trade.
She spends most nights at the shop— singing karaoke with her team of four and making donuts— including original creations like Oreo-fried and guava-filled—from scratch until the morning hours.  Diane's business is thriving, but she says the best reward is the reaction from customers: "People always say, 'I can taste the love'."
Hole In One Donuts in Tampa, Brandon, Tarpon Springs
14406 N Florida Avenue, Tampa
923 Lithia Pinecrest Rd, Brandon
39024 US HWY 19 N, Tarpon Springs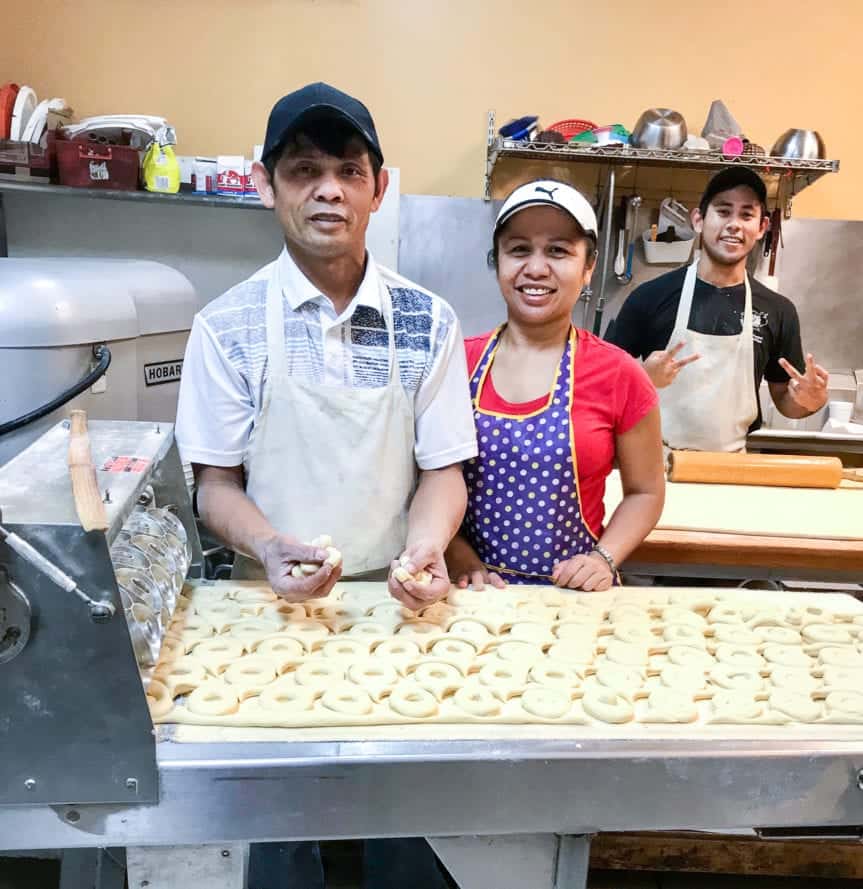 His donut shop may be called "Hole In One", but An Pum definitely wasn't that lucky when he first opened his doors for business.  "The first day, we had $151.00 in sales.  That doesn't even cover raw materials. The slowest day, we had $12.59," he remembers of the rough start 15 years ago.
When his landlord raised the rent, the Cambodian immigrant decided to close up shop and give up on his American dream.  But a storefront for rent at a busy corner caught his eye and he decided to give it one more try.  His luck changed immediately.  "We made $759.18 at that grand opening," he exclaims. Business has been booming ever since, and it's become a family affair.
An's wife, brother, nephew, and cousins are all on the payroll.  Having learned the art of donut-making from an aunt who ran a bakery in Plant City, An personally makes the donuts every day— beginning at 2:00 AM and continuing long past opening time at 5:00 AM.  On the morning we visit, he is still bringing out fresh trays of their popular "cronuts"  at 10:00 AM and greeting long-time customers by name.
A customer of 13 years reassures him that she will remain loyal because  "you are a friend, and you make the best donuts."
Fray's Donut House in Pinellas Park
4900 Park Blvd N, Pinellas Park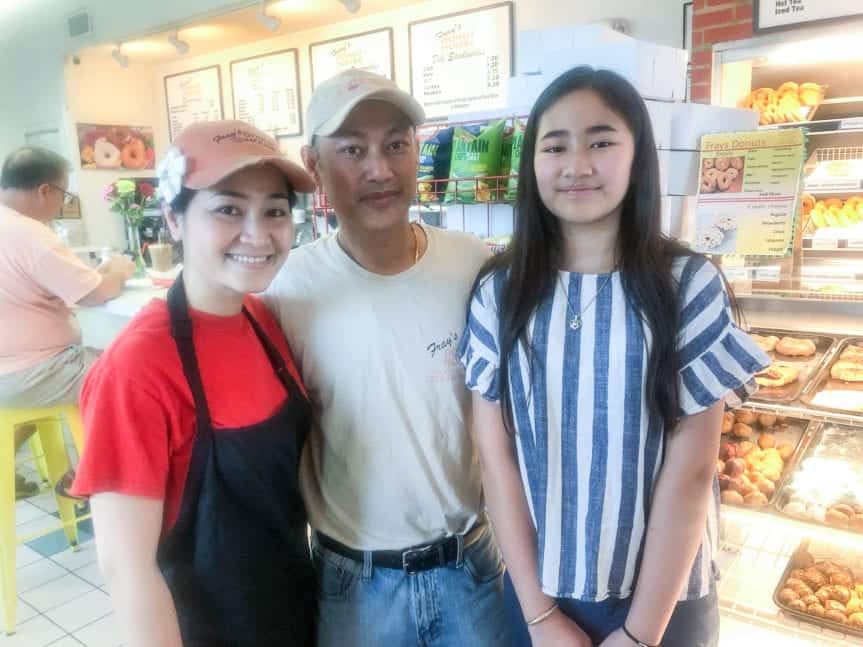 Tim Siev grew up in a donut shop in California. His parents were the owners; His uncle was the baker; And he was the curious kid who observed, memorized and absorbed the intricacies of donut-making.
After working as a baker for 31 years in Lake Tahoe, he decided to leave the snow for year-round sun and open his own shop in Pinellas Park.  "I bought this place from Mr. Bill Fray as soon a I moved here 10 years ago,"  Tim tells us during our recent visit to Frays Donut House. Working alongside his wife, they have built a fruitful business with a loyal following.
"People come from Tampa and as far as Palm Harbor to buy our donuts, especially the apple fritters and honey-dipped," he says with pride.  Tim makes all the donuts himself and his wife "controls the quality" of the breakfast sandwiches— which are just as popular.
He says he owes his success to hard work and meticulous attention to detail. "I even take the weather into consideration when making my donuts. If it's too hot, I add ice to control the yeast."
*Originally written in October 2021 for Tampa Bay Parenting Magazine. Updated in June 2022.
---
More stories by Maggie Rodriguez:
The Family's Anchor: Life after TV News is Beautiful for Maggie Rodriguez
Back in Time: A Day Trip to Anna Maria Island