The BEST Things to do with Kids at EPCOT's Festival of the Holidays
The magic of the holidays is about to descend on Walt Disney World Resort and a favorite for Disney family's like mine is the EPCOT Festival of the Holidays presented by AdventHealth which returns November 24, 2023 through December 30, 2023.
My family loves this festival because it is full of holiday fun, about as full as Santa's sleigh on Christmas Eve.
Related: The BEST Hotels at Disney World for the Holidays
We've attended for several years and will be back again this year. Our guide will walk you through our previous experiences and what Disney has announced so far for this year's event. So let's dive in!
The Best Live Entertainment for Kids at EPCOT's Festival of the Holidays 2023
The EPCOT International Festival of the Holidays 2023 is a great way to teach your kids about some of the holiday traditions around the world, through food, storytelling, and decorations. It's one of the best parts of the holidays at Walt Disney World.
You can dance along to the live music of 'JOYFUL! A Celebration of the Season featuring upbeat gospel and R&B holiday tunes and even take pictures with Santa at The Odyssey Pavilion.
But, that's not all! One of our favorites is listening to the Holiday Storytellers!
Holiday Storytellers
If your kids are young, like my four-year-old son, live entertainment may not keep their attention for too long – and that's okay. That's why I love the Holiday Storytellers at each World Showcase Pavilion at EPCOT.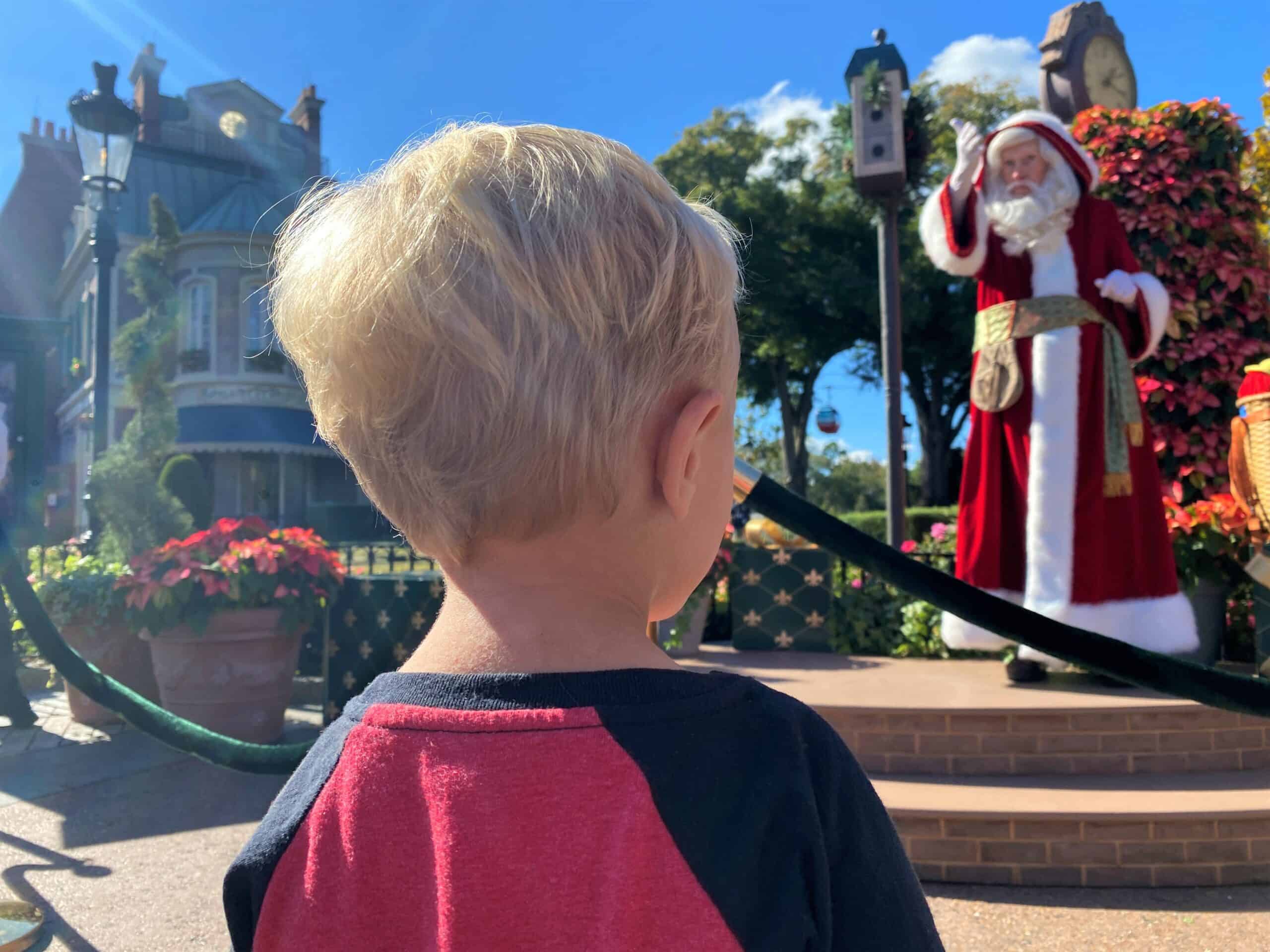 I love that each one is positioned near the main promenade so they are easy to find. You can look up the showtimes of the Holiday Storytellers in the My Disney Experience app. Usually, the showtimes enable you to watch 2-3 storytellers in a row, moving from one pavilion to the next, but it does take some planning.
And if you find that your kid(s) aren't up to watching the entire presentation, it is pretty easy to politely scootch your kids away and onto the next thing.
Here are the Holiday Storyteller locations for 2023:
Mexico Pavilion – Las Posadas Celebration: Sunday through Thursday
Norway Pavilion – A Mischievous Magical Barn Santa: Daily
China Pavilion – Chinese Lion Dancer: Daily
Italy Pavilion – La Befana: Daily
Japan Pavilion – Daruma Storyteller: Daily
Between the Morocco and France Pavilions – Hanukkah Storyteller: Daily
France Pavilion – Pere Noel: Daily
United Kingdom Pavilion – Father Christmas: Daily
Canada Pavilion – Canadian Holiday Voyageurs: Daily
The Odyssey Pavilion – Santa Greeting: Daily through December 24, 2023
Olaf's Holiday Tradition Expedition Scavenger Hunt
Another must-do activity with kids is Olaf's Holiday Tradition Expedition Scavenger Hunt. This annual tradition is all about finding holiday traditions around the world, with Olaf as your guide. If your family has ever watched the holiday special "Olaf's Frozen Adventure" this scavenger hunt is for you.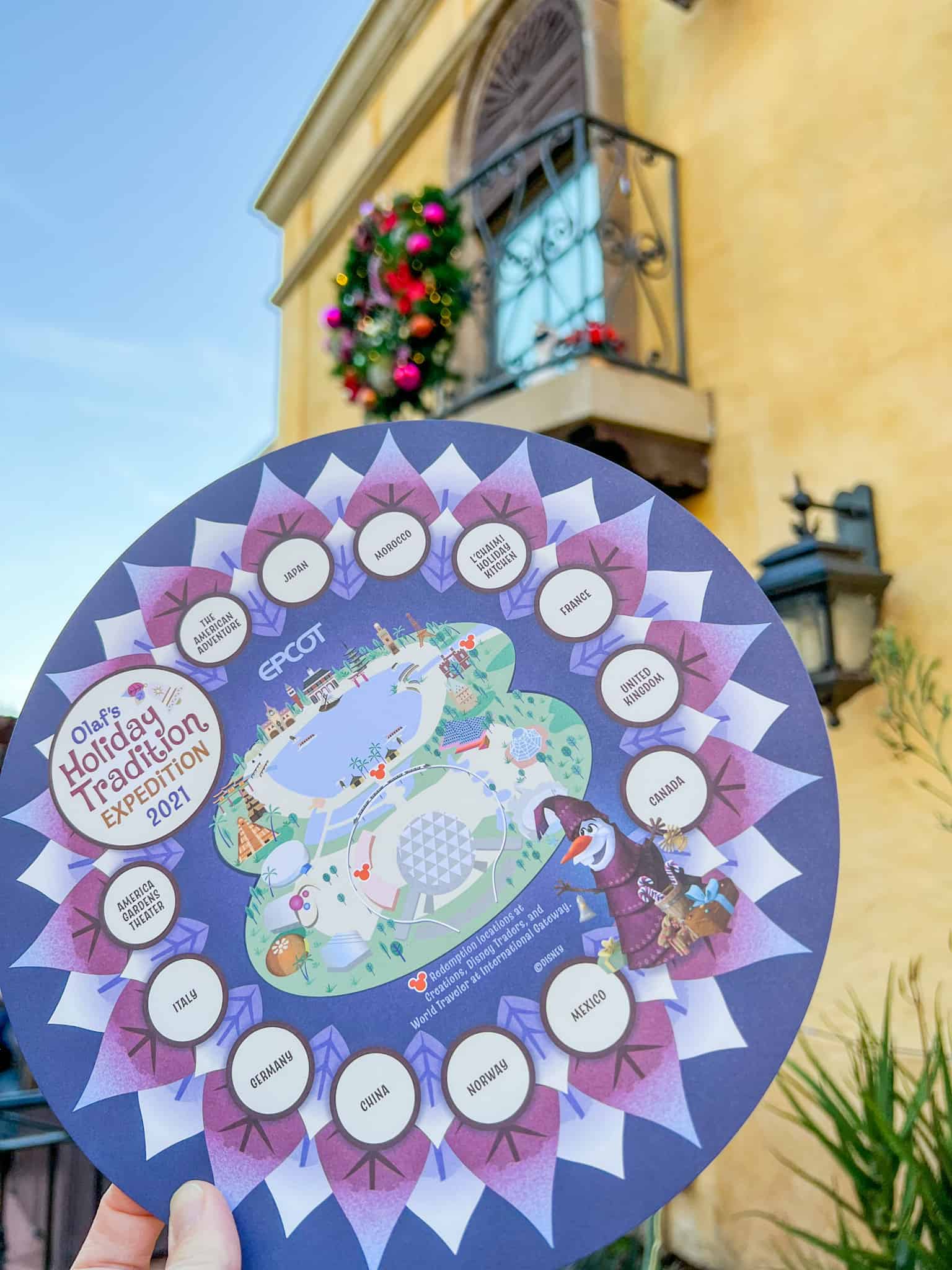 For $9.99 you can purchase a special map. The best spot to pick this up is the Disney Traders shops. These twin shops flank both sides of the main plaza to World Showcase. Picking up an Olaf's Holiday Tradition Map here will enable you to get started without missing any of the pavilions.
As you and your kids spot Olaf throughout World place the sticker with the correct holiday tradition on the corresponding World Showcase location on the map.
Pro Parenting Tip – be sure to read the short description of each tradition next to each sticker so you and your kids can learn what each tradition means.
The Candlelight Processional 
The main event of the International Festival of the Holidays 2023 is the Candlelight Processional. For many, this is a favorite holiday tradition. It can be a little long for some kids so before you book that all-important dining package that includes reserved seating, think about your individual child's needs.
The Processional is about 30 minutes and includes an incredible orchestra and choir. It can feel a little bit like attending church or a religious service so if your child(ren) has difficulty sitting still during such an experience it may make more sense for your family to enjoy bits of the presentation as you stroll along World Showcase promenade rather than spending the money for a dining package or waiting an hour in line to hopefully get seating.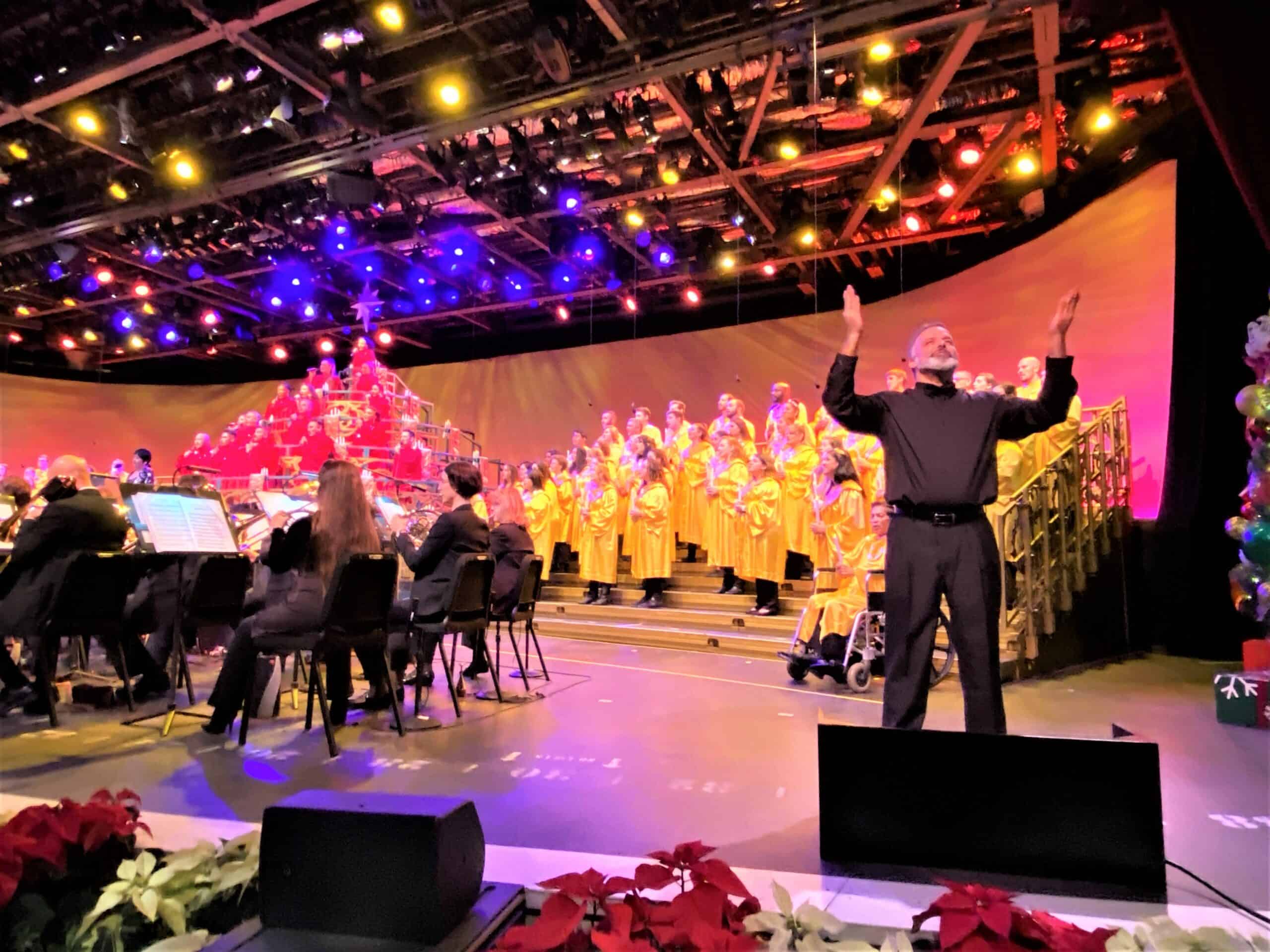 If you do decide to partake in the Candlelight Processional, consider pointing out the American Sign Language interpreter to your kid(s). Each interpreter tends to perform the show with much enthusiasm, and it is a great way to help your family witness how others around you may experience this spectacle.
The 2023 lineup of celebrity narrators:
11/24 – 11/25: Chrissy Metz (NEW)
11/26 – 11/27: Luis Fonsi (NEW)
11/28 – 11/29: Ann-Margaret (NEW)
11/30 – 12/2: Simu Liu
12/3 – 12/5: TBA
12/6 – 12/8: Neil Patrick Harris
12/9 – 12/11: Marlee Matlin
12/12 – 12/14: Brendan Fraser (NEW)
12/15 – 12/16: TBA
12/17 – 12/18: Joey McIntyre (NEW)
12/19 – 12/20: Sterling K. Brown (NEW)
12/21 – 12/23: Jordan Fisher (NEW)
12/24 – 12/26: Steven Curtis Chapman
12/27 – 12/28: Audra McDonald (NEW)
12/29 – 12/30: Lisa Ling
The Best Food for Kids of the EPCOT Festival of the Holidays
Can we just acknowledge how tough it can be to get your kids to eat? That's part of why I love festival time at EPCOT, which is practically every day of the year these days. Buying 3-4 food items from the festival booths is a great way to help your kid(s) try something different without spending money on a full meal. And, if you're the type of parent that will eat literally anything like I am, then whatever they don't eat is all yours to enjoy.
The Holiday Kitchens at the EPCOT Festival of the Holidays:
American Holiday Table (American Adventure Pavilion)
Bavaria Holiday Kitchen (Germany Pavilion)
Bubbles & Brine (near Port of Entry)
Char & Chop (near Disney Traders)
Holiday Hearth Desserts (The Odyssey Pavilion)
Holiday Sweets & Treats (near Port of Entry)
L'Chaim! Holiday Kitchen (between the Morocco and France Pavilions)
Las Posadas Holiday Kitchen (Mexico Pavilion)
Le Marché de Noël Holiday Kitchen (France Pavilion)
Nochebuena Cucina (near Test Track presented by Chevrolet)
Shanghai Holiday Kitchen (China Pavilion)
Shi Wasu Holiday Kitchen (Japan Pavilion)
Swirled Showcase (near Port of Entry)
Tangierine Café: Flavors of the Medina (Morocco Pavilion)
Tuscany Holiday Kitchen (Italy Pavilion)
Wine & Wedge (near Disney Traders)
Yukon Holiday Kitchen (Canada Pavilion)
Once the full menu is released and I've had a chance to taste my way around the festival, I'll update here to share our family favorites!
The EPCOT Holiday Cookie Stroll
Let's not forget about a favorite tradition of the EPCOT International Festival of the Holidays – the Cookie Stroll! Visit each one of the five Holiday Kitchens that offers an eligible cookie and commemorate your visit with a stamp in your Festival Passport.
Once you've collected all 5 stamps, you can present your Festival Passport at Holiday Sweets & Treats to receive a special Walt Disney World 50th Anniversary cookie, complimentary.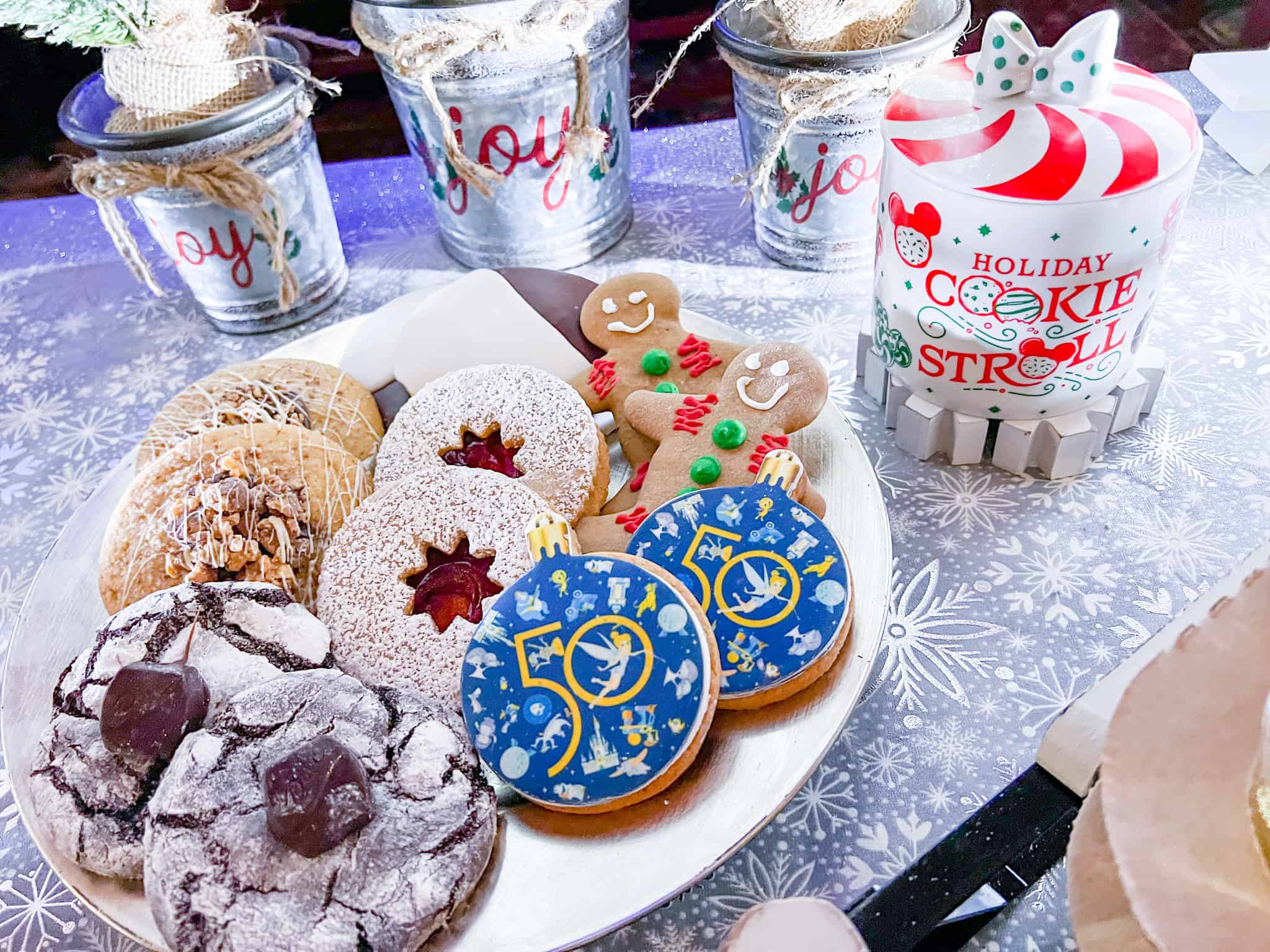 2022 Official Holiday Cookie Stroll Locations (we'll update with the 2023 locations once announced)
Yukon Holiday Kitchen – SNICKERS®-Doodle Cookie made with SNICKERS® bar pieces
L'Chaim! Holiday Kitchen – Black and White Cookie
American Holiday Table – Chocolate Crinkle Cookie made with DOVE® Dark Chocolate
Bavaria Holiday Kitchen- Linzer Cookie
Holiday Hearth Desserts – Gingerbread Cookie
These food items are from the 2021 festival, and we will be sure to update our 2022 food and drink selections soon. 
Pro Parenting Tip – You do not have to complete the EPCOT Cookie Stroll in one visit. Just complete it before the 2022 Festival of the Holidays ends on December 30, 2022 (and while supplies last).
Other Fun for Kids at EPCOT's Festival of the Holidays
The Festival of the Holidays at EPCOT is jam-packed with fun and you may be tempted to push yourself to go all day long. If you haven't been to EPCOT in a while, there have been some exciting new additions including the new Journey of Water Exhibit inspired by Moana.
My family loves having quiet time inside the aquarium at the Seas with Nemo and Friends. You don't have to ride the ride to browse the aquarium, just walk around the side of the building to enter through the gift shop.
The Nursery upstairs at the Seas with Nemo and Friends is a quiet spot and often has at least one tank with holiday decorations inside.
During Hanukkah this year one tank had a menorah in which a new additional piece of red-colored kelp was placed as each night of Hanukkah arrived.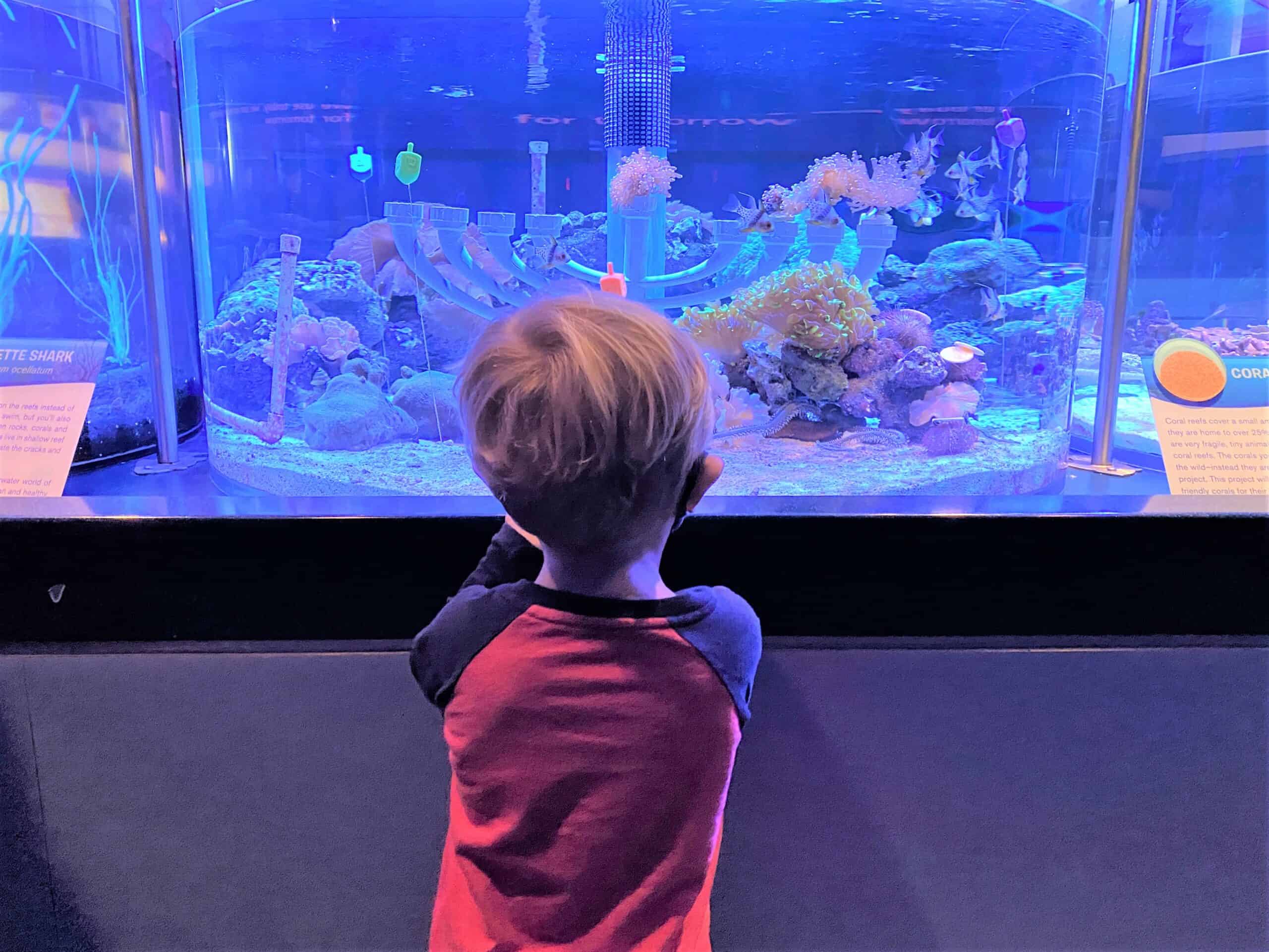 Another great way to rest your feet is to take a ride aboard Living with the Land boat ride. During the Festival of the Holidays, the last half of the ride is packed with festive decorations and touches, and the ride's narration is updated for this merry season.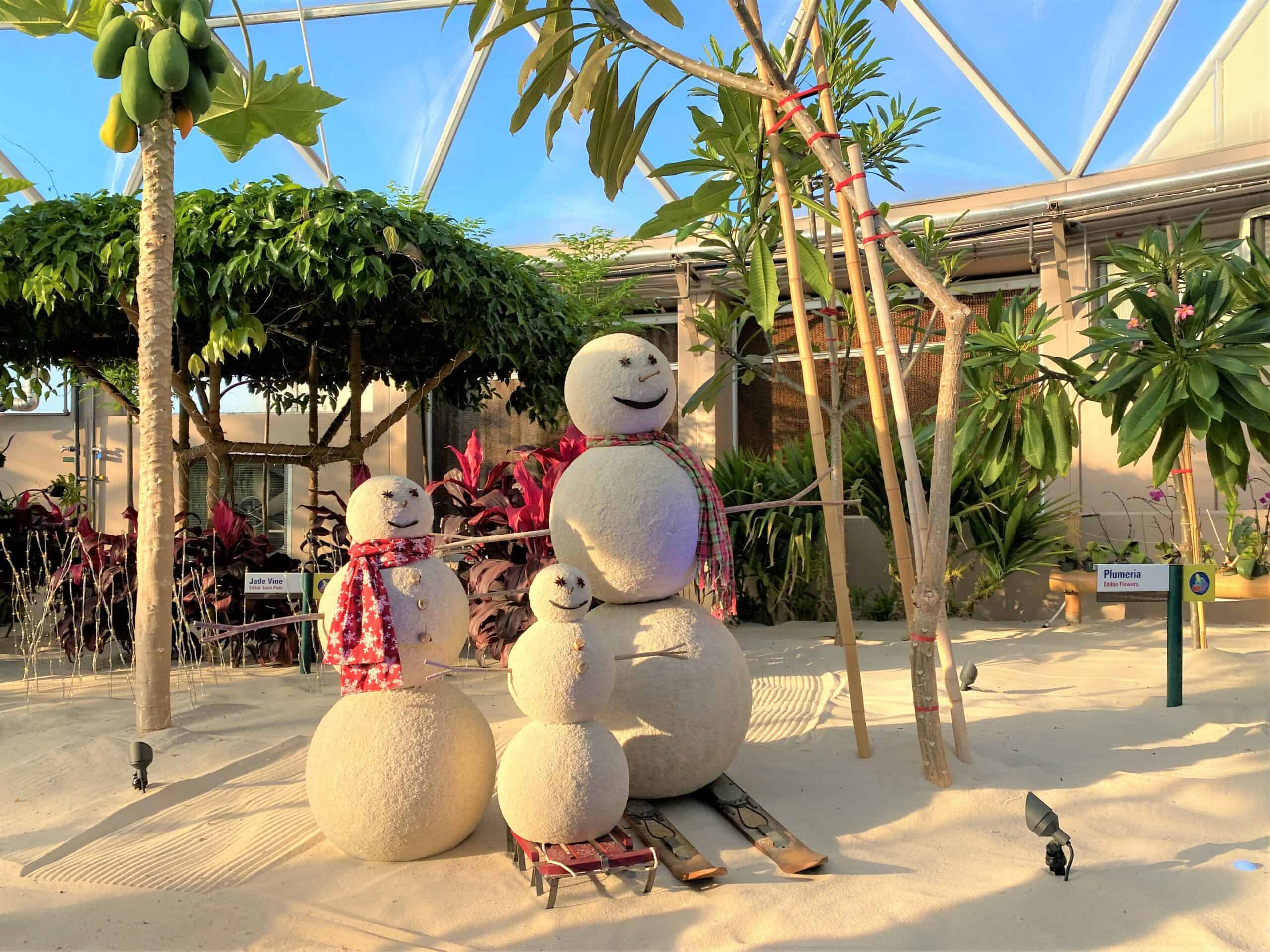 Things to Remember About the EPCOT International Festival of the Holidays
The fireworks show is usually not until 9:00 pm which can be tough on many kids. Pace yourself and take breaks.
Don't forget to take time to stroll around some of the World Showcase Pavilions to view the decorations.
The holidays are a busy time at all Orlando theme parks. Get there early and do your best to remain patient.
Park Pass Reservations are required.
---
Related stories we think you'll LOVE:
Top 5 Things to Do at Universal Orlando for the holidays with the kids
Where to find Santa at Walt Disney World