Everything You Need to Know About Going to the EPCOT International Food and Wine Festival with Kids
International getaways are probably not happening for many of us this year, but that doesn't mean you and the kids can't go on an epic culinary adventure around the world within a short drive from Tampa Bay.
EPCOT's International Food and Wine Festival is back with NEW sips and tastes and it just so happens to coincide with new experiences in celebration of Magic Kingdom's 50th anniversary, a resort-wide event! There's also a new fireworks show Harmonious debuted last October along with the Beacons of Light that spectacularly illuminate Space Ship Earth.
If you've been before, it's not the same festival you've experienced in the past. In fact, nearly 1/3 of the menu offerings at a the more than 25 food and wine marketplaces are brand NEW!
This festival is a great way to introduce your kids to new flavors and cultures around the world while enjoying the magic of Disney.
What's NEW at EPCOT's International Food and Wine Festival: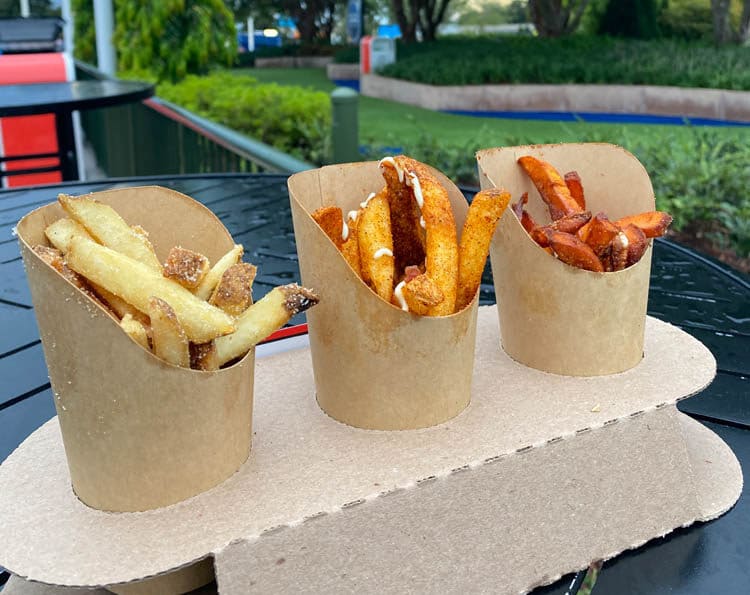 The Fry Basket (near Test Track) is the only new Global Marketplace this year and it was a team favorite! We ordered the Fry Flight to get a taste of them all which included Sea Salt and Malt Vinegar Fries (vegan), Barbecued Bacon Fries with Smoked Aioli, and Sweet Potato Casserole Fries with Candied Pecans, Toasted Marshmallow Cream, and Carmel Whisky. They also offer a vegan AND gluten free option, Adobo Yuca Fries with Garlic Cilantro Aioli.
The 21+ crowd can chase down the fries with sips from a Tampa brewery beverage, 81Bay Brewing Co. Key Lime Lager from The Fry Basket.
More of our favorite NEW menu items at EPCOT's International Food and Wine Festival: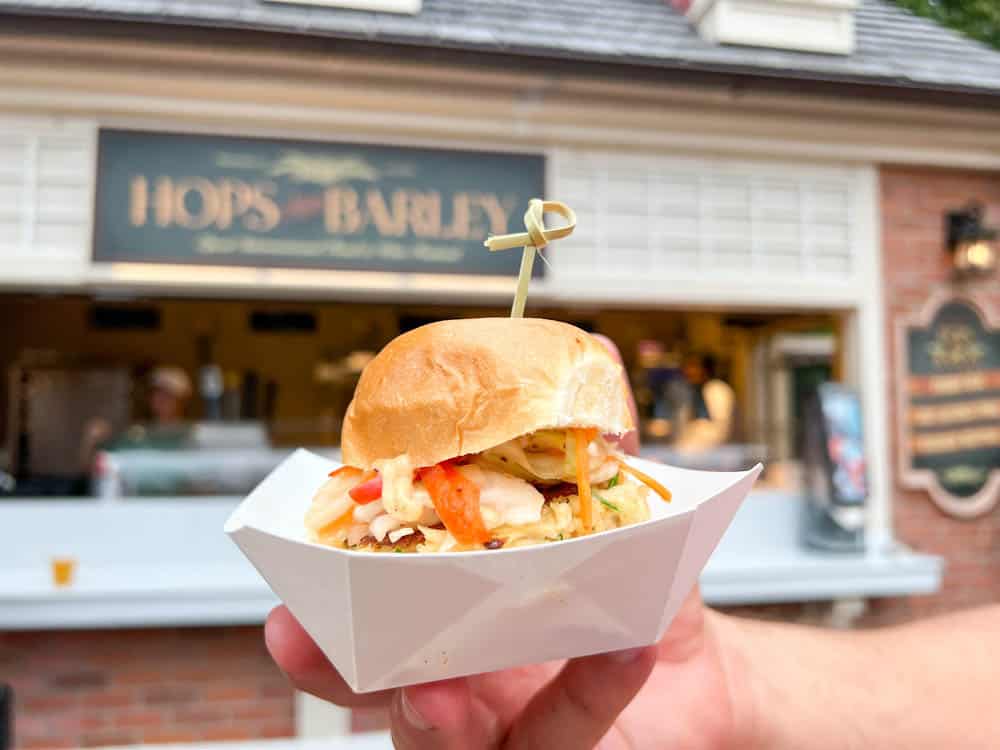 Hops & Barley (in the American Adventure): Chesapeake Crab Slider with Tangy Coleslaw and Cajun Remoulade. This was voted on as the BEST thing we tasted this year if we had to rank an absolute favorite! They don't skimp on the crab meat.
The Swanky Saucy Swine Grilled Pork Shoulder Lettuce Wrap with Charred Corn Salsa, Pickled Red Onion, and Cilantro-Lime
India (near China pavilion): Chicken Tikka Masala with Fennel-spiced Yogurt and Naan Bread
Belgium (between France and Germany pavilions): This one opens early at 8:30 a.m. daily before the rest of the World Showcase at 11 a.m.! Here you can nosh on yummy Belgian Waffles topped with Warm Chocolate Ganache or a Berry Compote and Whipped Cream. There is also a Chilled Mocha Coffee on the menu which is necessary in the Florida heat.
The Alps (near the Germany pavilion): You can smell this booth before you even walk up. There are three Warm Raclette Swiss cheese options that are freshly skimmed off the top of a bubbling chunk of Swiss cheese. We liked the Warm Raclette Swiss Cheese with Riesling-poached Pears, Red Wine-braised Figs, Candied Pecans, Honey, and Cranberry Toast.
Tangierine Café: Flavors of the Medina (in Morocco pavilion): We LOVED the Stone Baked Moroccan Bread with Hummus, Chermoula, and Zhoug Dips and the Pistachio Cake was delicious. Fresh from the stone oven, the bread is crispy on the outside and chewy on the inside–it's soooo good. As you can see, kids love this dish too: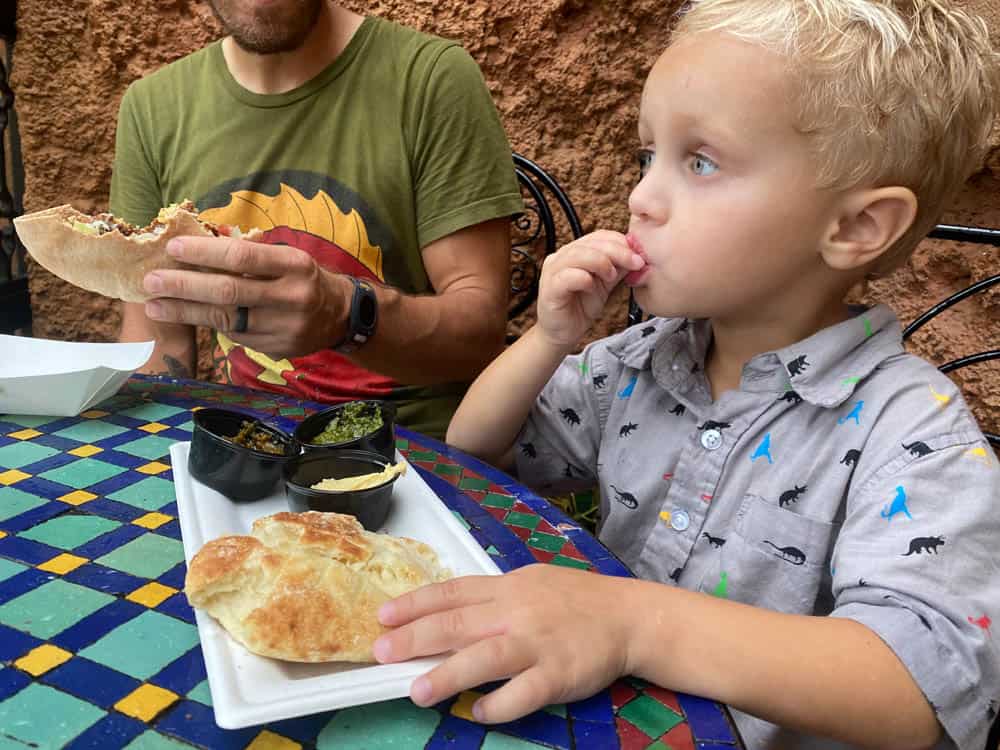 There are also plenty of gluten-free and meatless options too! At Earth Eats near Imagination!, you can nosh on Impossible Burger Sliders and the new Impossible Meatball.
Our favorite NEW gluten-free dish was the Grilled Sweet-and-Spciy Bush Berry Shrimp from Australia which you'll find near the Port of Entry. We also liked the Roasted Lamb Chop from this marketplace which is also gluten-free.
When it comes to old favorites, you can't be a the gluten-free 'Le Cellier' Wild Mushroom Beef Filet Mignon in the Canada marketplace. The Paella from Spain is another delicious option!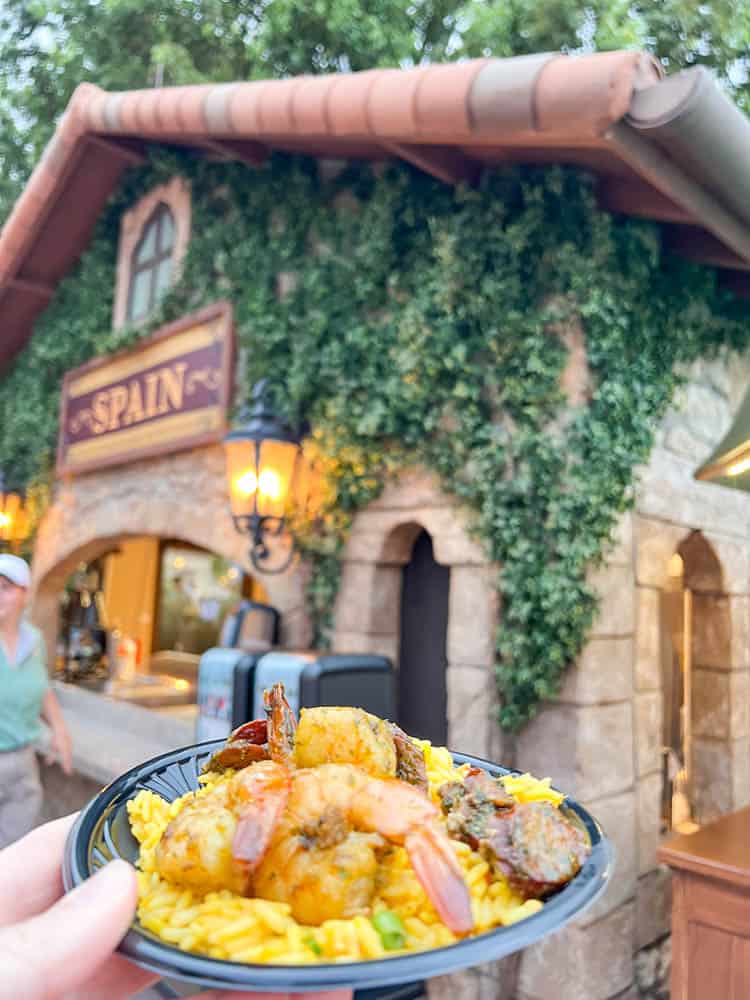 We have so many favorites, but since no two taste buds are the same we highly recommend perusing through the food guide on the My Disney Experience app or visiting TasteEpcot.com to map out your culinary adventure! You will also want to definitely pick up the Festival Passport to keep track too.
You can also use the passport to track your progress in Emile's Fromage Montage--buy 5 cheese menu items rom a list of 10 and get a tasty prize at the end!
Global Marketplaces opening in August:
The Noodle Exchange-opens in August (near Traveler's Café)
Hawaii-opens in August (near Port of Entry)
Coastal Eats-opens in August (near Mission: SPACE)
Mac & Eats-opens in August (near Mission: SPACE)
MORE Best Places to Eat at EPCOT
In addition to the 25+ Global Marketplaces that are exclusive to the EPCOT International Food and Wine Festival, there are 43 different dining options within the theme park itself that are there year-round.
If you're not going on an annual pass, don't miss a chance to dine at some of these spectacular restaurants–and plan ahead and book your dining reservation in advance via the My Disney app.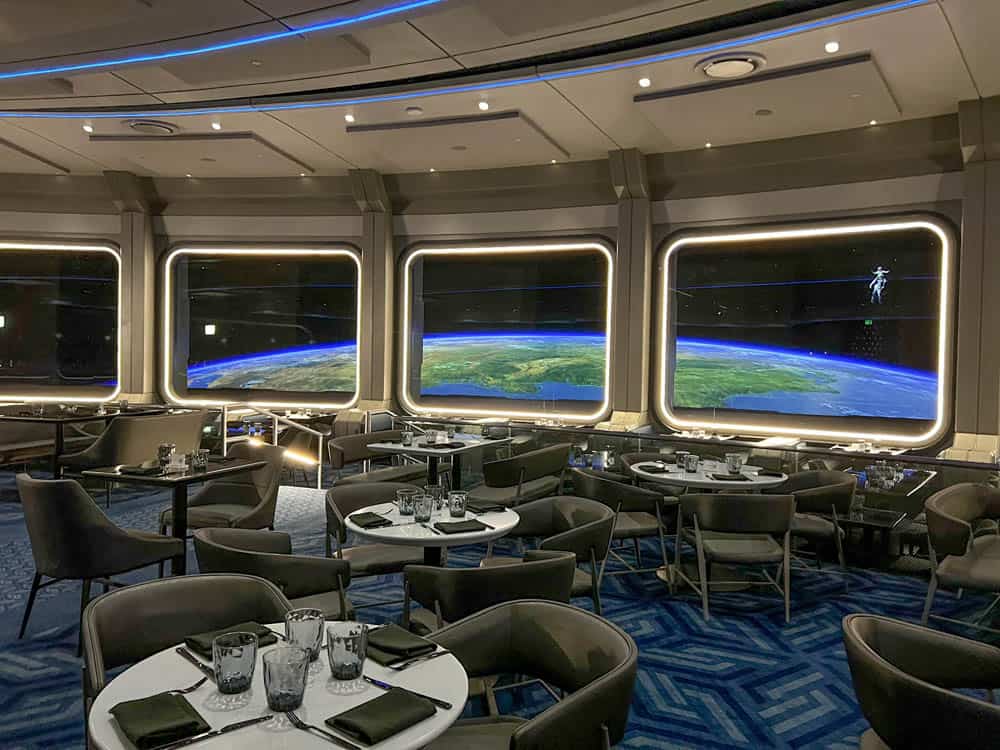 One of our favorites is Space 220 which is brand-new and can be found next to Mission: Space in World of Discovery. Kids will love this restaurant too as you board an elevator that will blast you into outer space to dine above the Earth.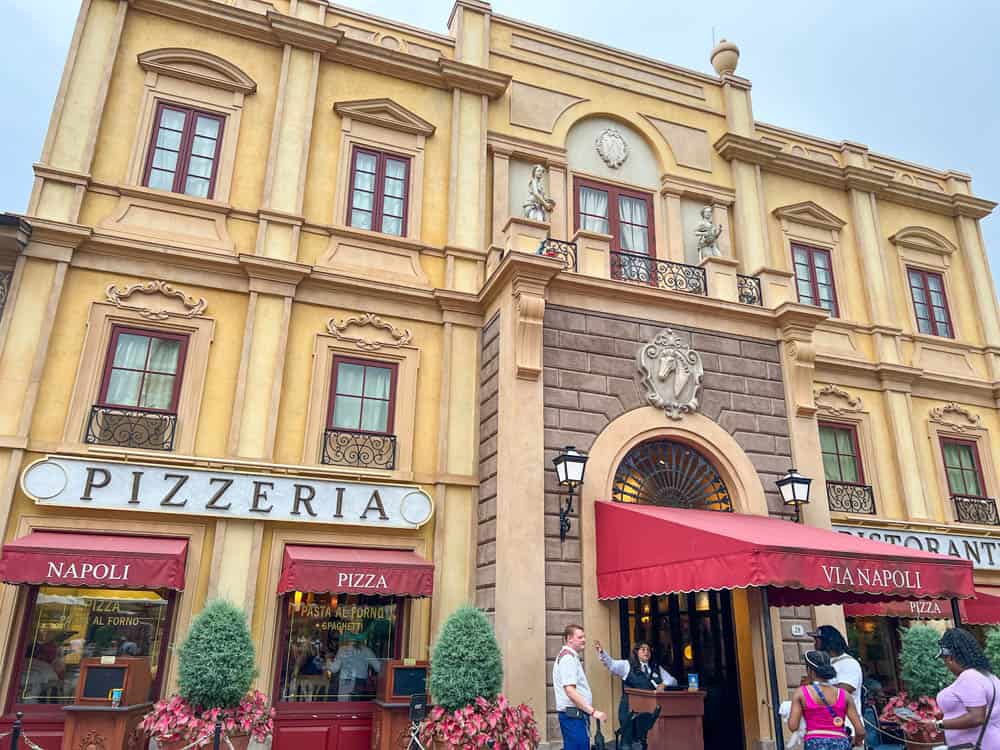 For incredible pizza that most certainly does NOT taste like theme park pizza, make a reservation or try your luck with stand-by at Via Napoli Ristorante in the Italy pavilion. We are picky when it comes to pizza and stone fired pizza here is among the best we've ever tasted.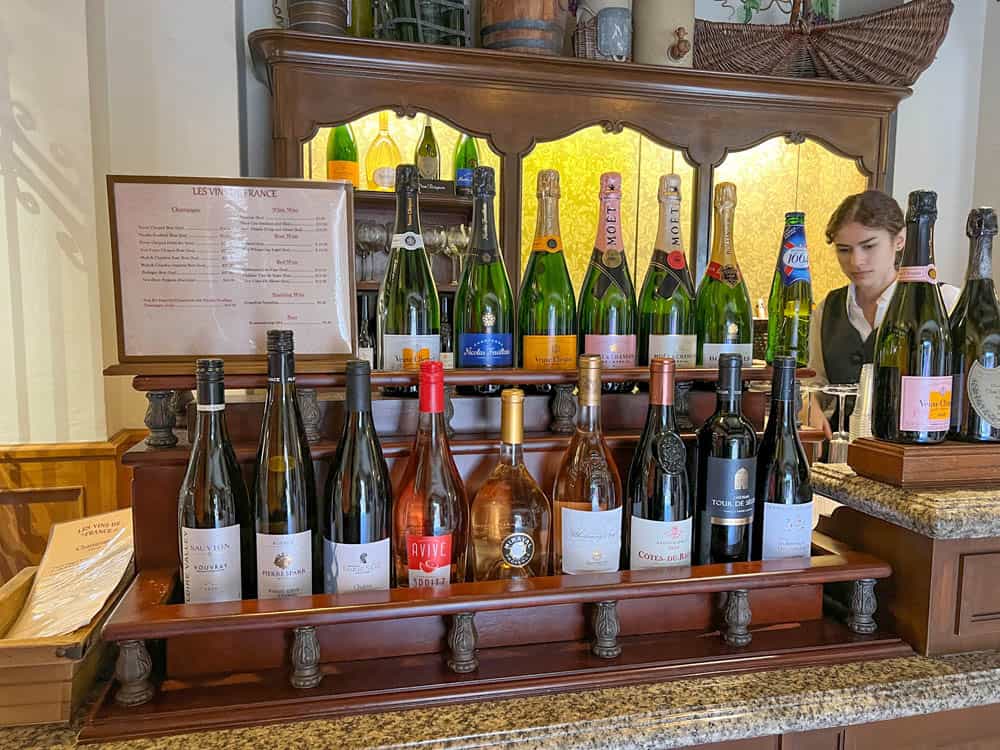 If you have a craving for a cold glass of champagne, head to the France pavilion and pop into Les Vins Des Chefs de France. They have a great selection of delicious French wines including Moet champagne, Veuve Clicquot, and even Dom Perignon by the glass.
The ice-cream shop across the way, L'Artisan des Glaces has the best macaron ice-cream sandwiches and you can get your ice-cream spiked if you're 21 or older!
Things to Do with the Kids at the EPCOT Food and Wine Festival 
While the festival is a fun weekend foodie getaway for the parents, it's also a great family adventure and wonderful opportunity to allow your child to taste the spices and flavors from countries around the world. We highly recommend sharing each dish so you can sample even more tastes together.
But, we also know kids need a chance to …play!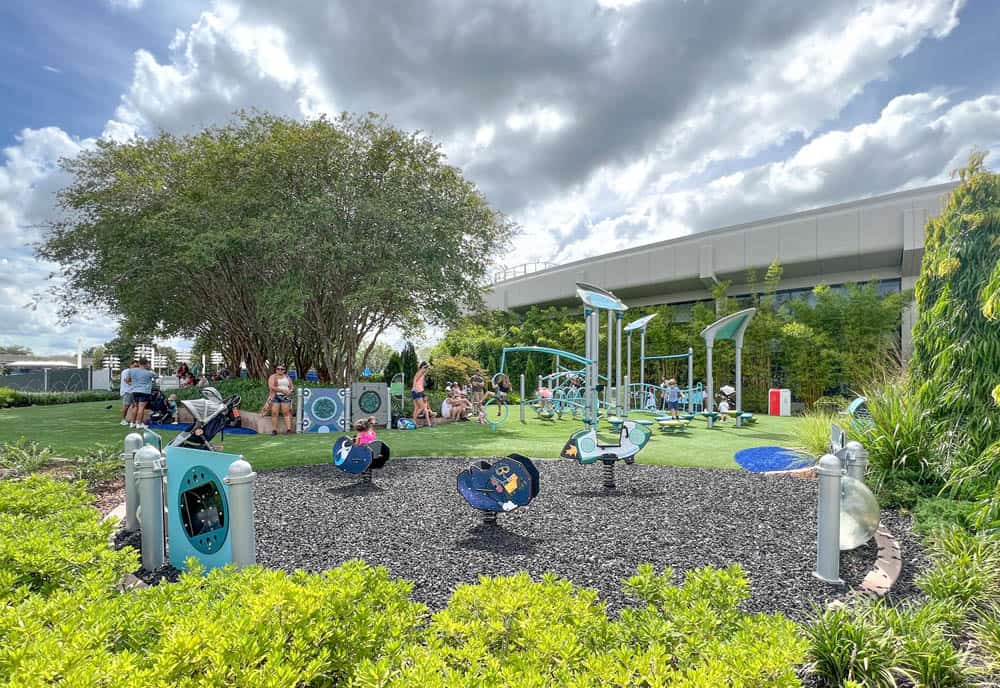 When the moment arrives and the kids need to get the wiggles out, head over to the World of Discovery to play at the Green Landing Play Zone playground.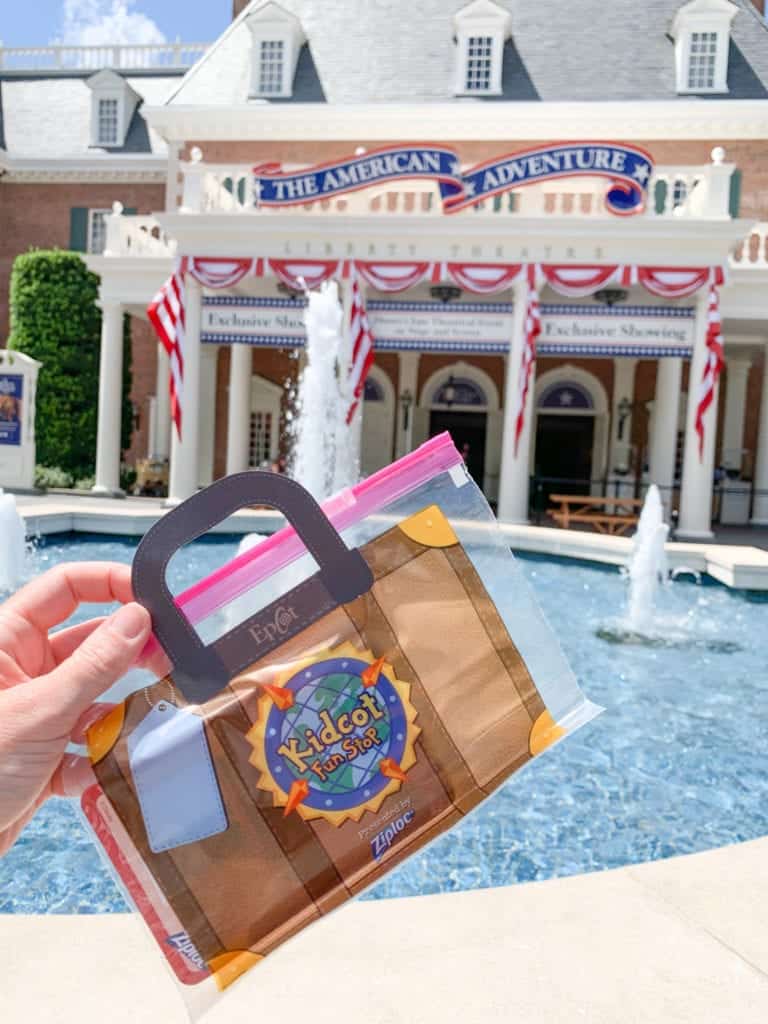 You can also make the visit a learning experience too! Be on the lookout for the Kidcot stops at each of the country pavilions where your child can pick up an info card with fun fact about each country—this is ongoing all year long, but still a must do. They'll store the cards in a Ziploc suitcase themed bag.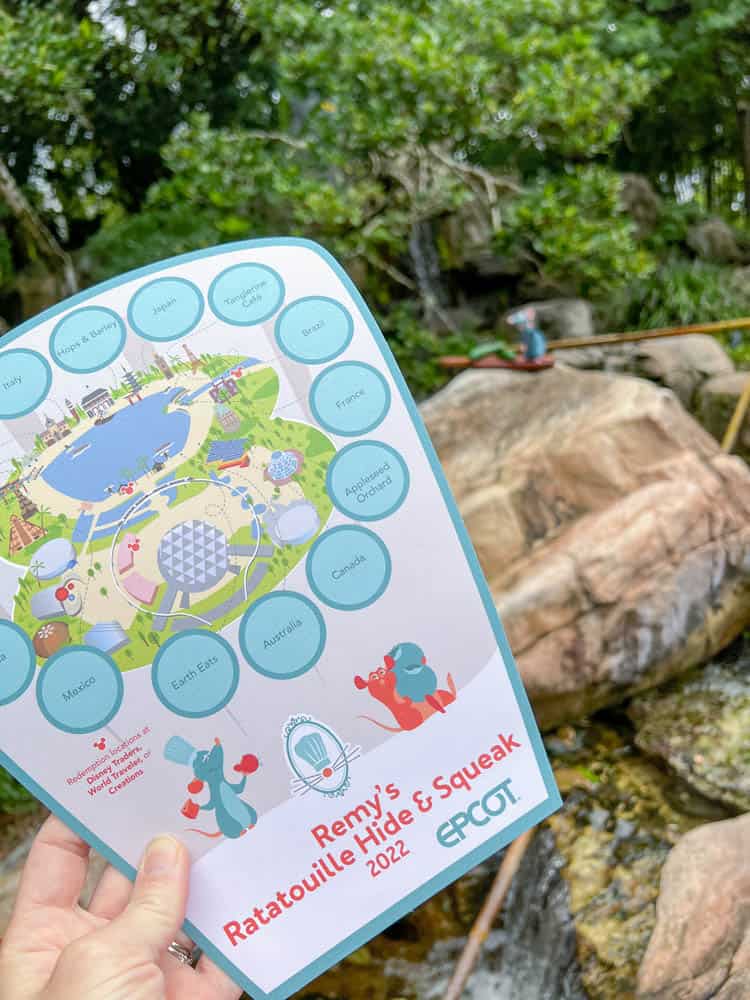 Last, but not least….we also LOVE Remy's Ratatouille Hide & Squeak scavenger hunt—you can purchase the scavenger hunt card at select merchandise shops for $9.99, or simply track on your own. He has new hiding spots this year, so don't look where you found him last year!
You can still get your prize, regardless of whether you finish the scanner hunt. It was a cute cup when we were there.
Pluto's Pumpkins Pursuit will debut next month for the Halloween season, so be on the look out for that fun scavenger hunt too!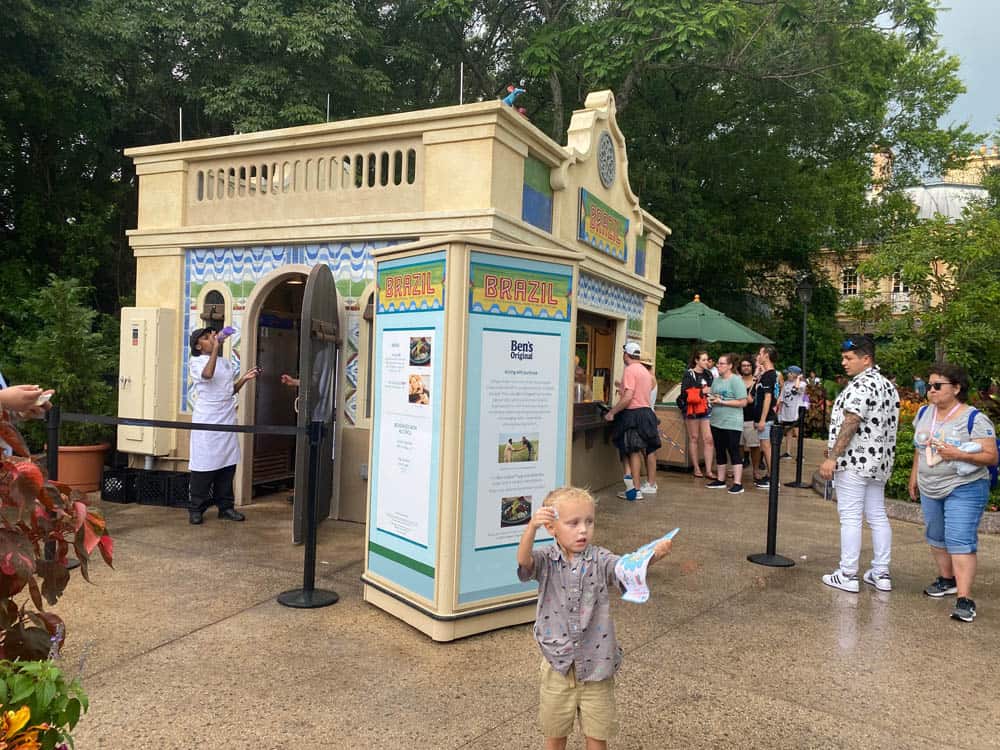 Speaking of Ratatouille…
If it's been awhile since you've been, be sure to explore the newly expanded France pavilion which features the NEW Remy's Ratatouille Adventure ride!
In addition to the new ride, you'll also get have the option of a table service or quick service at the new restaurant, La Crêperie de Paris.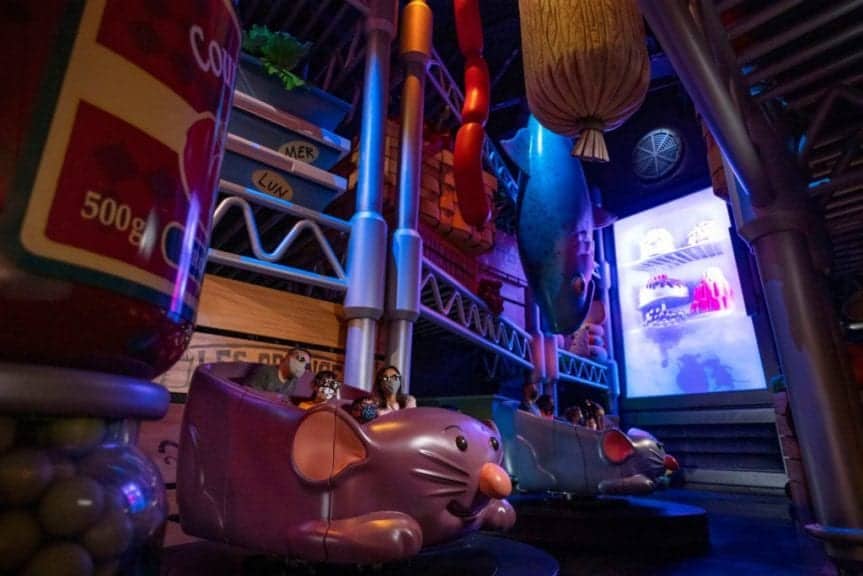 Also, the highly anticipated Guardians of the Galaxy ride also just opened at EPCOT, so make sure you use the My Disney Experience app to get int the virtual queue. We're sharing more details about that and what to expect on the new Guardians of the Galaxy ride here.
The Eat the to Beat Concert Series is BACK!
We're super excited about the return of the Eat to the Beat concert series which features some nostalgic big names for moms and dads! I mean…they've got Boyz II Men, Tiffany, and 98° on the schedule, so yeah…you'll be channeling your inner kid/teen too! Here's what's on schedule for this year's Food and Wine Festival:
Baha Men: July 14 and 15
Big Bad Voodoo Daddy: July 16 to 18
Tonic – NEW!: July 22 and 23
Jeremy Camp – NEW!: July 24 and 25
Taylor Dayne: July 29 and 30
Tiffany: July 31 and August 1
Joey Fatone & Friends: August 5 to 8
The Devon Allman Project: August 12 and 13
Christopher Cross: August 14 and 15
Journey Former Lead Vocalist Steve Augeri: August 19 and 20
Air Supply: August 21 and 22
Blanco Brown – NEW!: August 26 and 27
98°: August 28 and 29
Southern Avenue: September 2 and 3
Kris Allen & David Cook: September 4 and 5
Hoobastank – NEW!: September 9 and 10
Jimmie Allen: September 11 and 12
Los Amigos Invisibles – NEW!: September 16 and 17
American Authors: September 18 and 19
BBMAK: September 23 and 24
Postmodern Jukebox: September 25 and 26
Stokley – NEW!: September 30 and October 1
Shelia E.: October 2 and 3
Mark Wills: October 7 and 8
38 Special: October 9 and 10
Robert Randolph Band: October 14 and 15
Newsboys – NEW!: October 16 and 17
Ray Parker Jr. – NEW!: October 21 and 22
Billy Ocean: October 23 and 24
Hanson: October 28 to 31
Boyz II Men: November 4 to 7
Kenny G: November 11 and 12
Sugar Ray: November 13 and 14
For more date night ideas and fun adventures around town for the entire family: TampaBayDateNightGuide.com and OrlandoDateNightGuide.com.