Pickle Milkshakes and more tasty fun at the EPCOT International Food and Wine Festival
Pickle Milkshakes and Peanut Butter and Jelly Sticky Wings…just a few of the unique flavors your tastebuds will explore at this year's EPCOT International Food and Wine Festival at Walt Disney World!
This year's event runs July 27 through November 18, 2023, with 114 days of flavor, fun, and live music.
The Food and Wine Festival is one of our favorite foodie events of the year for so many reasons, but mostly because it's a great way to introduce your kids to new flavors and cultures around the world while enjoying the magic of Disney.
What's NEW at EPCOT's International Food and Wine Festival:
On opening day, 25 Global Marketplaces will be ready to serve you with six more opening later in the festival. 35% of the food and drink offerings are new this year along with a reimagining of old favorites like the filet mignon.
But, one of our favorite new things is the epically quirky Brew-Wing Lab at the Odyssey where you'll find the Pickle Milkshake.
So, let's dive in friends!
The Brew-Wing Lab at the Odyssey: Home of the Pickle Milkshake
This is where you need to go when you need to cool off indoors…and taste some pretty quirky flavors.
Dr. Bunsen Honeydew and Beaker are the stars of this Muppet Lab where flavor meets mishap in unexpectedly delicious ways. Pay close attention to the decor on the walls and tables — you'll learn that pickles can conduct electricity and other fun facts about how all these crazy flavors came together in the lab!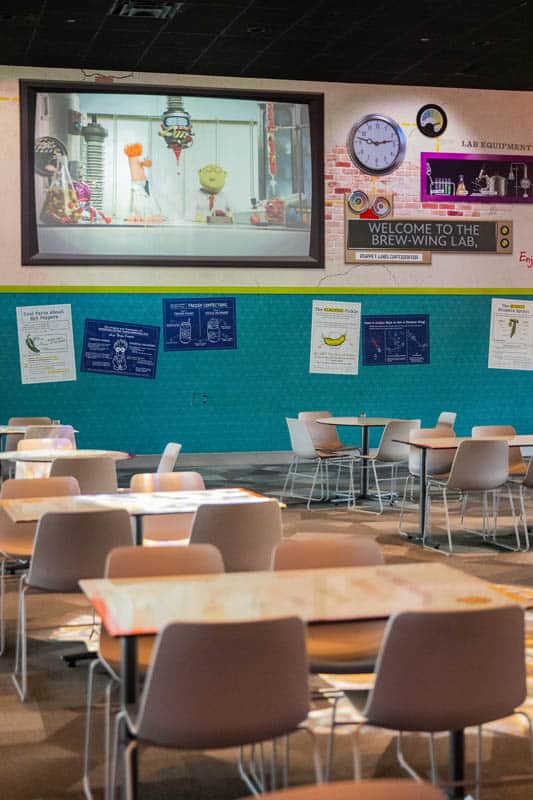 The Pickle Milkshake (nonalcoholic) seems to be getting the most buzz and while this sounds like an unlikely flavor combo, it's actually quite tasty. You definitely get the essence of pickles and dill, but it's not overpowering and for some reason…it just works as a milkshake. We really can't explain it–you simply need to try it for yourself!
We also loved the Peanut Butter and Jelly Sticky Wings (who knew this flavor mashup would taste so good!) and Brussels Sprouts with Buffalo Sauce.
Other new items at Brew-Wing Lab include:
Orange-Cardamom Wings
Unnecessarily Spicy, Yet Extremely Tasty Scotch Bonnet Pepper-Curry Wings with Cool Cucumber Yogurt
Impossible™ Buffalo Chicken Tenders with Plant-Based Blue Cheese, Plant-Based Ranch and Celery (plant-based item)
Frozen Fusion: Twinings Pomegranate and Raspberry Herbal Tea fused with Orange Ice Cream Molecules (nonalcoholic)
You can also sip on Tampa Bay brews from 3 Daughters Brewing. The Pickle Milkshake was a great pairing with the spicier flavors and one kids can enjoy too!
More of our favorite NEW menu items at 2023 EPCOT's International Food and Wine Festival: 
When it comes to old favorites, you can't beat the 'Le Cellier' Wild Mushroom Beef Filet Mignon in the Canada marketplace. There's a new spin this year with flavors of Boursin Black Truffle and Sea Salt Mashed Potatoes, and a Boursin Black Truffle and Sea Salt Whipped Butter on the side.
Another old favorite got a makeover too! The Pistachio Cake with Cinnamon and Candied Walnuts at the Tangierine Cafe: Flavors of Medina.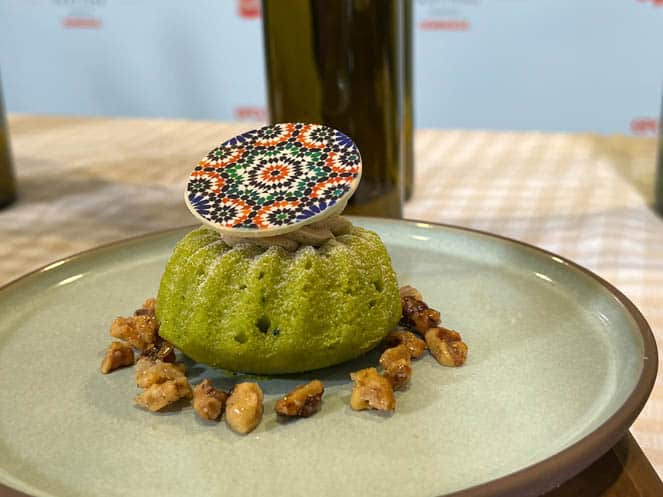 More NEW items we can't wait to try:
Pickle Fries with Dill Ranch at The Fry Basket
Crispy Duck Bao Bun with Hoisin Sauce in China

Focaccia Ripiena: Freshly Baked Focaccia, Beef Meatballs, Tomato Sauce and Burrata Cheese in Italy

Cioppino: Seafood Stew with Saffron-infused Tomato-Fennel Broth and Crostini in Flavors of America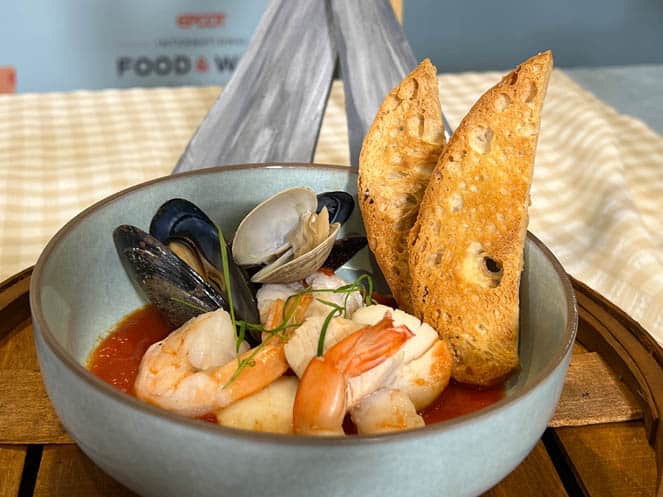 We have so many favorites, but since no two taste buds are the same we highly recommend perusing through the food guide on the My Disney Experience app or visiting TasteEpcot.com to map out your culinary adventure! You will also want to definitely pick up the Festival Passport to keep track too.
You can also use the passport to track your progress in Emile's Fromage Montage--buy 5 cheese menu items from a list of 10 and get a tasty prize at the end!
Gluten-free, meatless, and other food allergy-friendly options 
There are also plenty of gluten-free and meatless options too! At Earth Eats near Imagination!, you can nosh on Impossible Burger Sliders and the new Impossible Meatball.
Our favorite NEW gluten-free dish was the Grilled Sweet-and-Spicy Bush Berry Shrimp from Australia which you'll find near the Port of Entry. We also liked the Roasted Lamb Chop from this marketplace which is also gluten-free.
The Paella from Spain, a new addition last year, is another delicious option!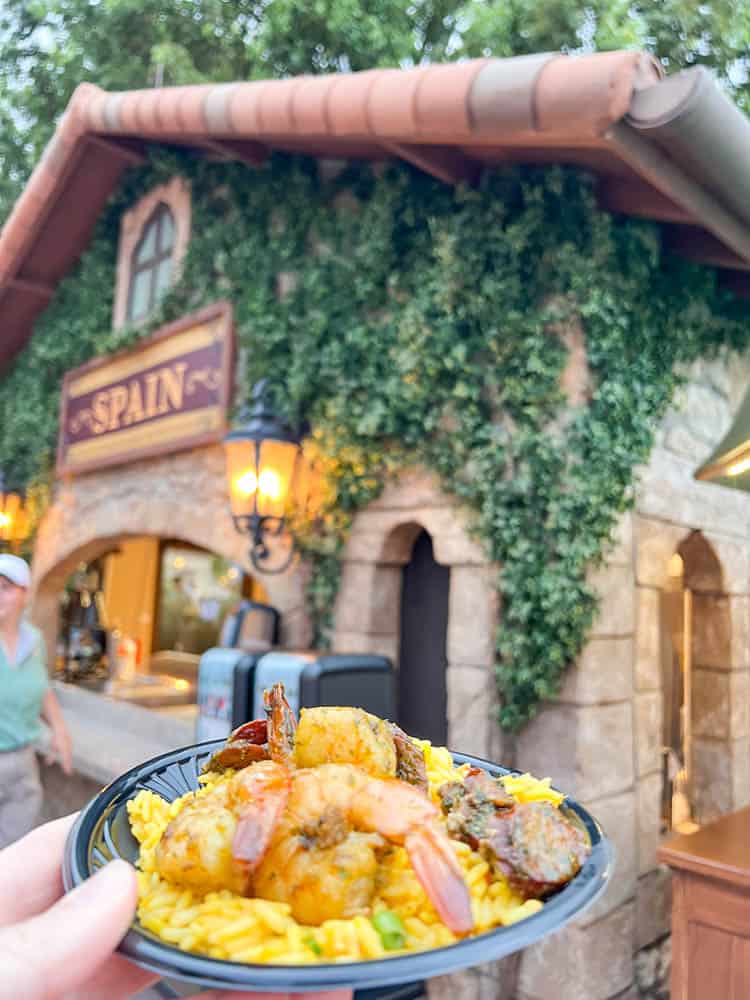 Map of EPCOT International Food and Wine Festival 2023
Since we got the sneak peek before opening day, we didn't have the book quite yet, but wanted to share this picture of the Food and Wine Festival map with you to help you plan your culinary adventure!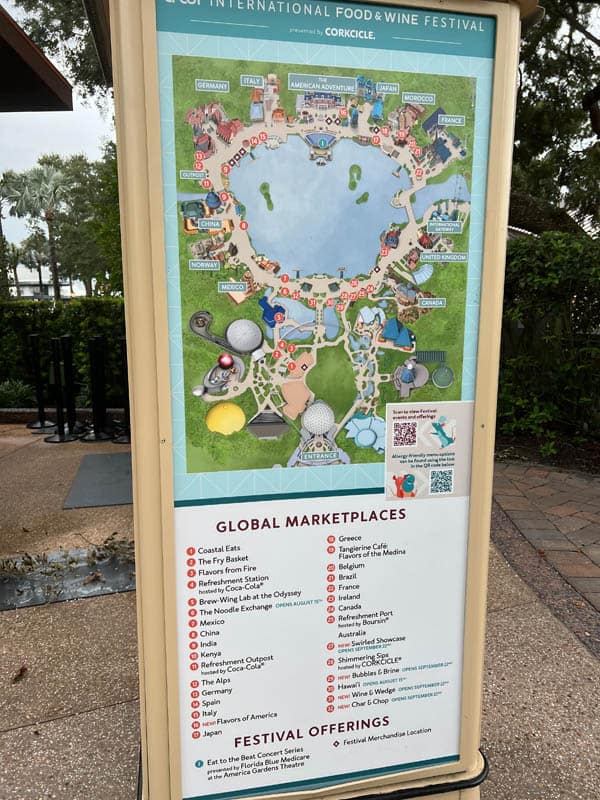 Global Marketplaces opening in August and September:
There are several Global Marketplaces that will debut after the festival kicks off to keep you coming back for more!
Hawaii – Available August 15, 2023
The Noodle Exchange – Available August 15, 2023
Bubbles & Brine – Available September 22, 2023
Char & Chop – Available September 22, 2023
Wine & Wedge – Available September 22, 2023
Swirled Showcase – September 22, 2023
MORE Best Places to Eat at EPCOT
In addition to the 25+ Global Marketplaces that are exclusive to the EPCOT International Food and Wine Festival, there are 43 different dining options within the theme park itself that are there year-round.
If you're not going on an annual pass, don't miss a chance to dine at some of these spectacular restaurants–and plan ahead and book your dining reservation in advance via the My Disney app.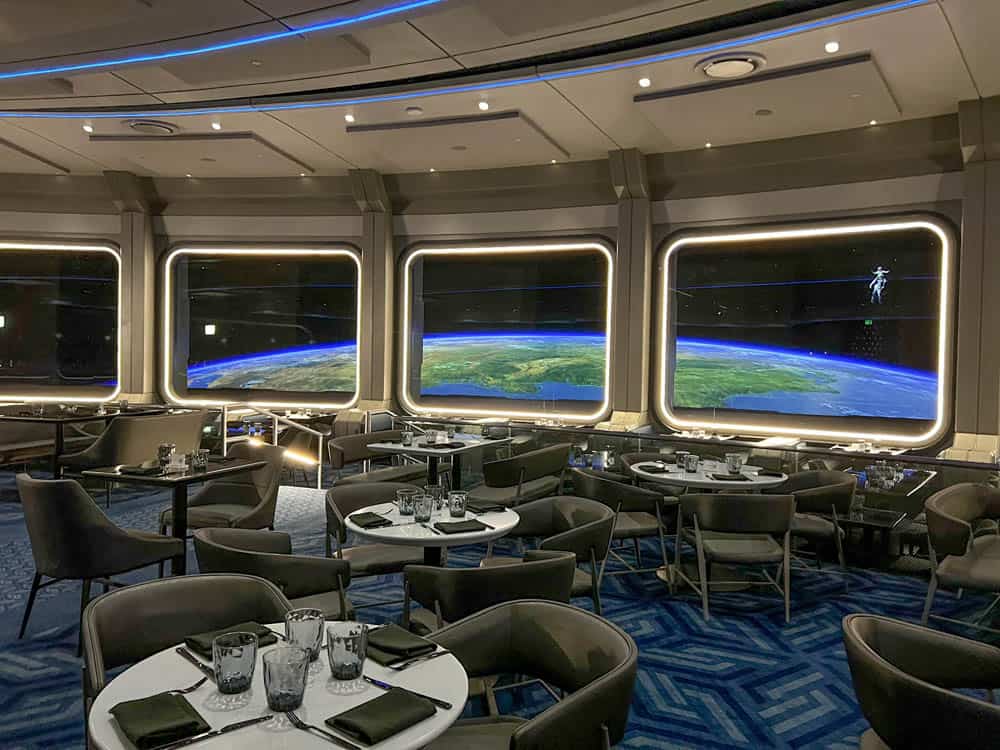 One of our favorites is Space 220 which is brand-new and can be found next to Mission: Space in World of Discovery. Kids will love this restaurant too as you board an elevator that will blast you into outer space to dine above the Earth.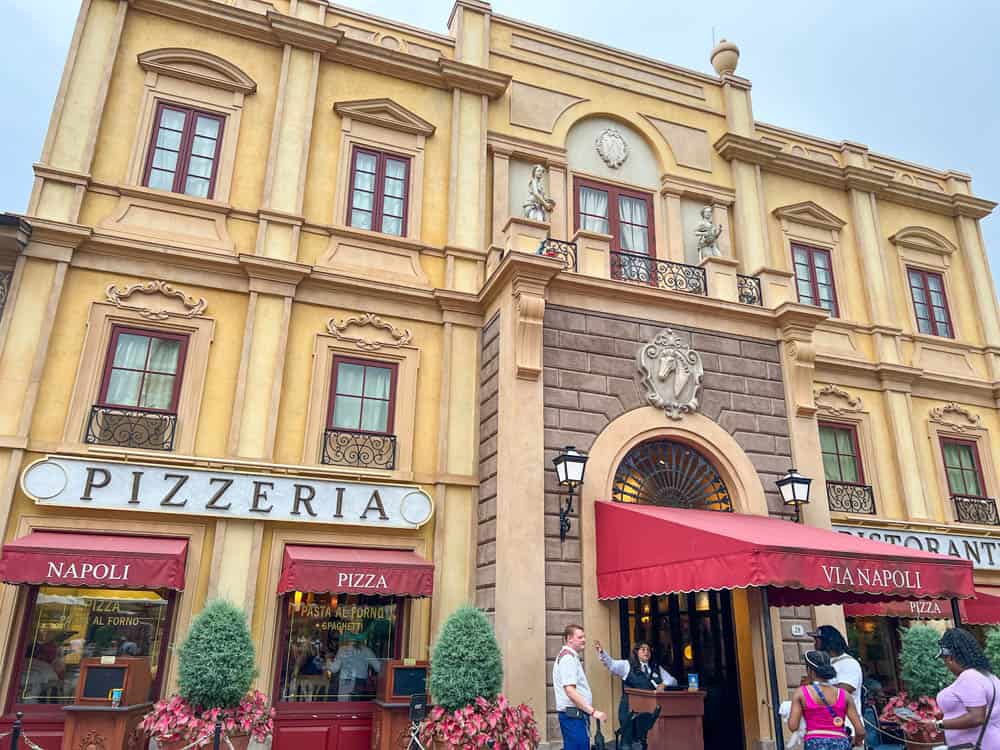 For incredible pizza that most certainly does NOT taste like theme park pizza, make a reservation or try your luck with stand-by at Via Napoli Ristorante in the Italy pavilion. We are picky when it comes to pizza and stone-fired pizza here is among the best we've ever tasted.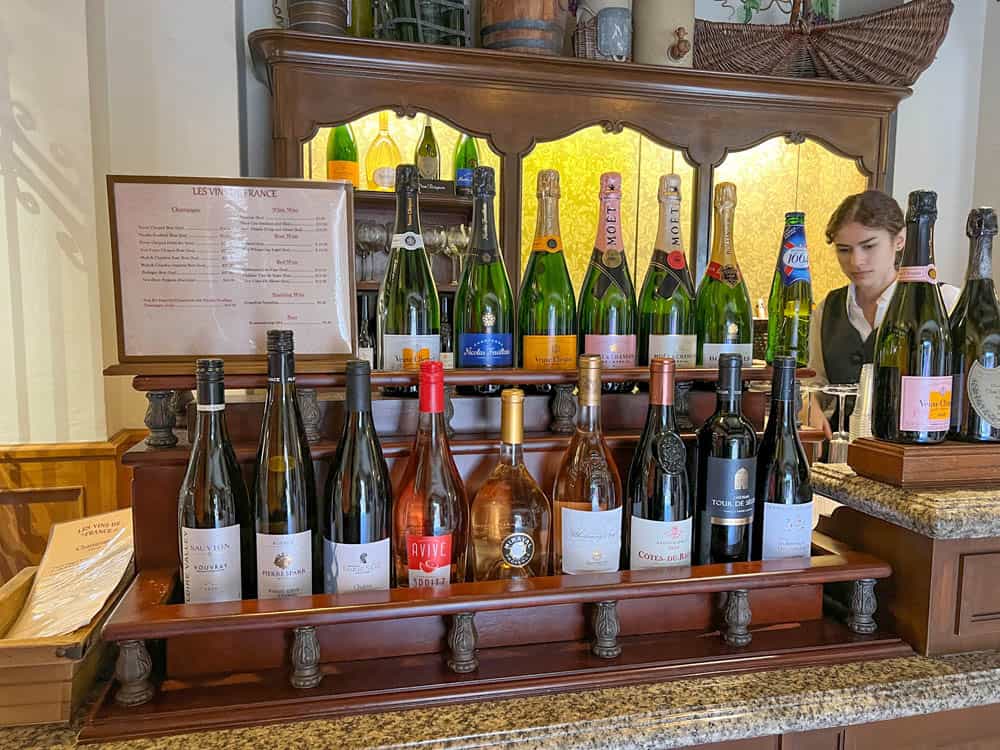 If you have a craving for a cold glass of champagne, head to the France pavilion and pop into Les Vins Des Chefs de France. They have a great selection of delicious French wines including Moet champagne, Veuve Clicquot, and even Dom Perignon by the glass.
The ice-cream shop across the way, L'Artisan des Glaces has the best macaron ice-cream sandwiches and you can get your ice-cream spiked if you're 21 or older!
Things to Do with the Kids at the EPCOT Food and Wine Festival 
While the festival is a fun weekend foodie getaway for the parents, it's also a great family adventure and a wonderful opportunity to allow your child to taste the spices and flavors from countries around the world. We highly recommend sharing each dish so you can sample even more tastes together.
But, we also know kids need a chance to …play!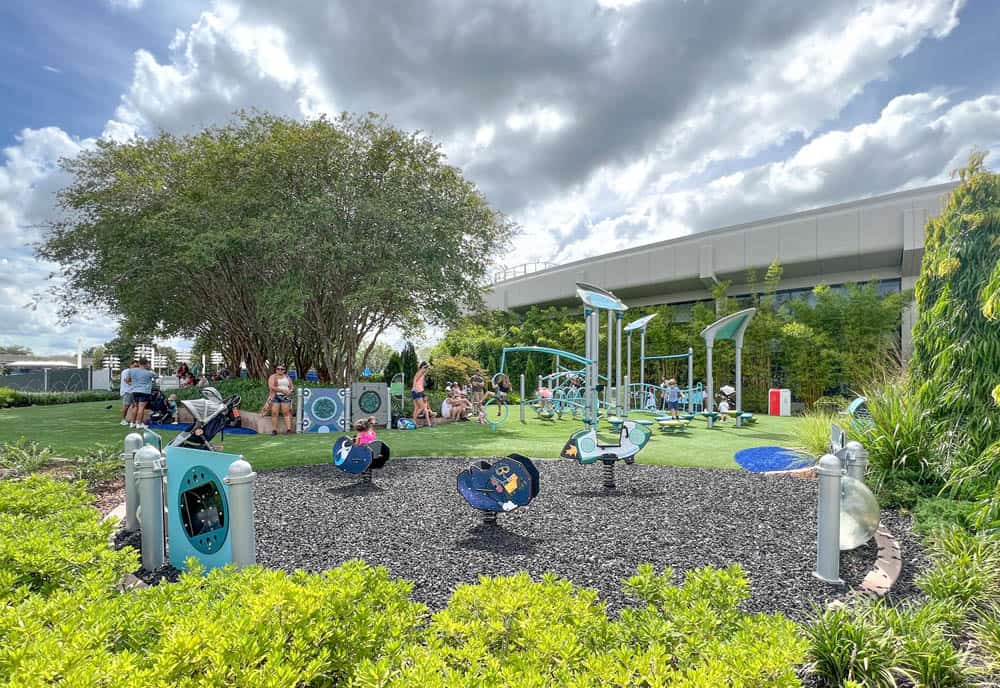 When the moment arrives and the kids need to get the wiggles out, head over to the World of Discovery to play at the Green Landing Play Zone playground.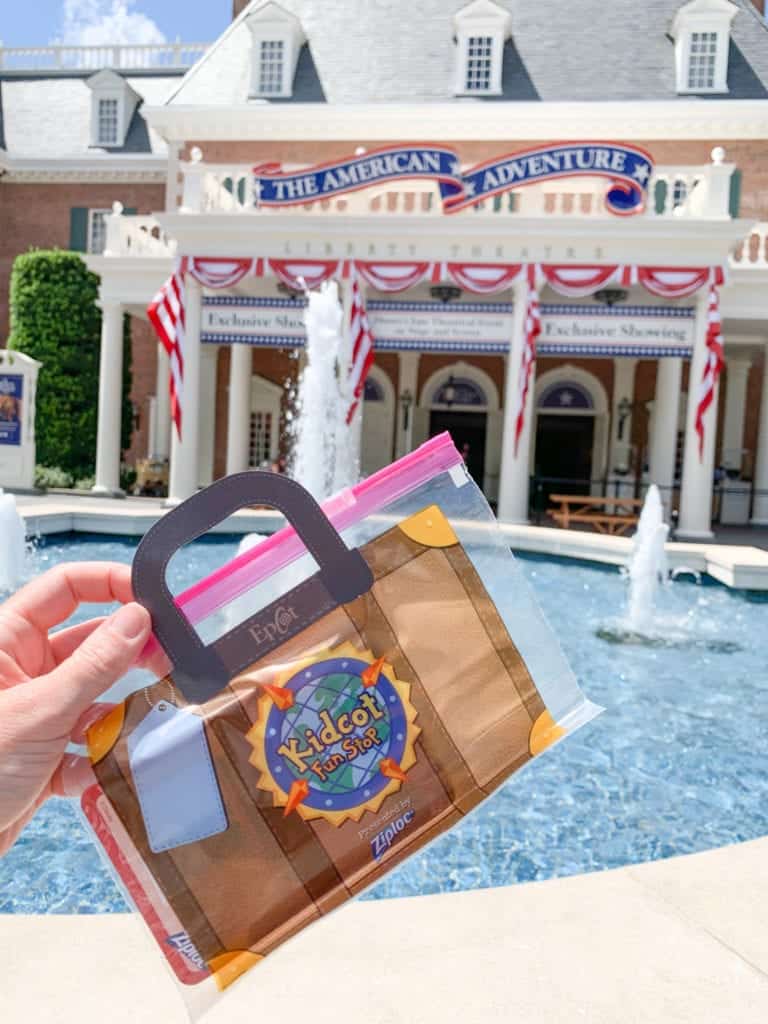 You can also make the visit a learning experience too! Be on the lookout for the Kidcot stops at each of the country pavilions where your child can pick up an info card with fun facts about each country—this is ongoing all year long, but still a must-do. They'll store the cards in a Ziploc suitcase-themed bag.
Last, but not least….we also LOVE Remy's Ratatouille Hide & Squeak scavenger hunt—you can purchase the scavenger hunt card at select merchandise shops for $9.99, or simply track it on your own. He has new hiding spots this year, so don't look where you found him last year! We love the new folding napkin shape of the card.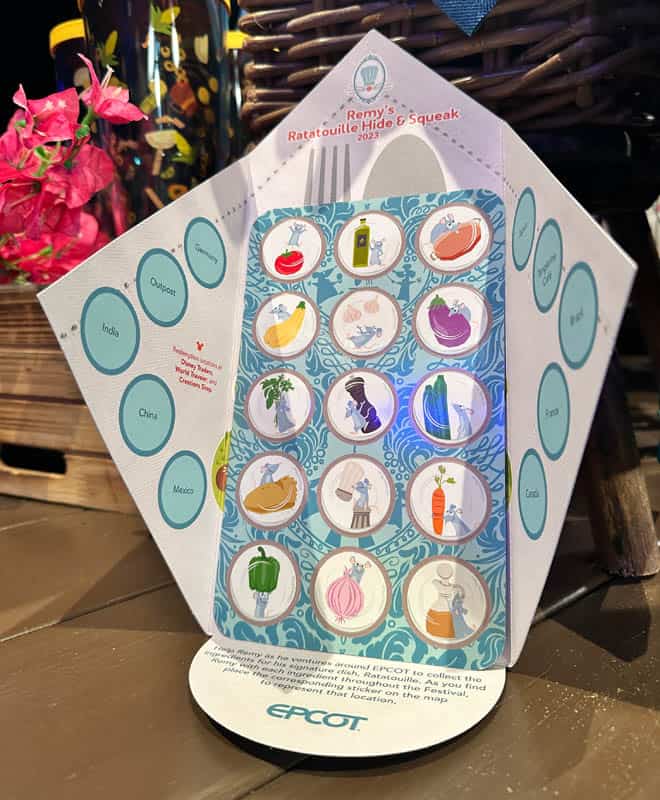 You can still get your prize, regardless of whether you finish the scanner hunt. This year's prize is an insulated lunch bag.
Pluto's Pumpkins Pursuit will debut next month for the Halloween season, so be on the lookout for that fun scavenger hunt too!
Speaking of Ratatouille…
If it's been a while since you've been, be sure to explore the newly expanded France pavilion which features the Remy's Ratatouille Adventure ride!
In addition to the new ride, you'll also get the option of table service or quick service at the new restaurant, La Crêperie de Paris.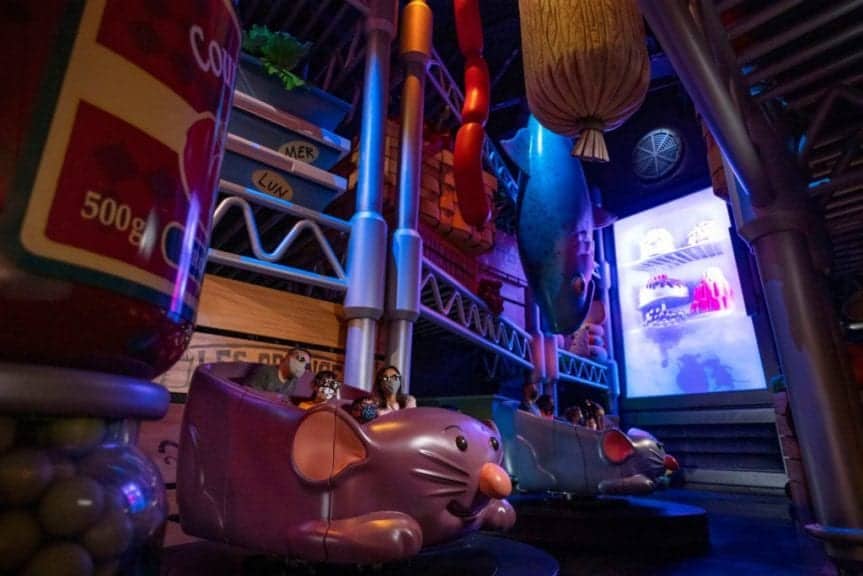 Also, the highly anticipated Guardians of the Galaxy ride also just opened at EPCOT, so make sure you use the My Disney Experience app to get int the virtual queue. We're sharing more details about that and what to expect on the new Guardians of the Galaxy ride here.
The Eat the to Beat Concert Series
We love the Eat to the Beat concert series which features some nostalgic big names for moms and dads! I
Here's what's on schedule for this year's Food and Wine Festival:
July 27: Funkafied
July 28 & 29: Orianthi (NEW)
July 30 & 31: FOR KING + COUNTRY (NEW)
August 1 – 3: Funkafied
August 4 & 5: Southern Ave
August 6 & 7: Tiffany
August 8 – 10: The Champagne Orchestra
August 11 & 12: Ruben Studdard with Haley Reinhart (NEW)
August 13 & 14: TBA
August 15 – 17: M-80's
August 18 – 21: Joey Fatone & Friends
August 22 – 24: The Female Collective
August 25 & 26: Ayron Jones (NEW)
August 27 & 28: Phillip Phillips (NEW)
August 29 – 31: Element
September 1 & 2: Baha Men
September 3 & 4: Mercy Me
September 5 -7: Foreigners Journey
September 8 & 9: Ray Parker, Jr.
September 10 & 11: Toby Mac
September 12 – 14: Hooligans
September 15: Monsieur Perine
September 16 & 17: Raul Acosta and Oro Solido (NEW)
September 18: Bacilos (NEW)
September 19 – 21: Audio Exchange
September 22- 24: Los Amigos Invisibles
September 25 & 26: 98°
September 28 & 28: Latin Ambition
September 29, 30 and October 1 & 2: Boyz II Men
October 3 – 5: Wish Radio
October 6 & &: Mark Wills
October 8 & 9: Sugar Ray
October 10 – 12: Icon Party Band
October 13 & 14: Hoobastank
October 15 & 16: Air Supply
October 17- 19: Evolution Motown
October 20 & 21: Taylor Dayne
October 22 & 23: Billy Ocean
October 24 – 26: Sound Up
October 27 – 30: Hanson
October 31 and November 1 & 2: Rexine
November 3 & 4: We The Kings (NEW)
November 5 & 6: Sheila E.
November 7 & 9: Epic Live
November 10 & 11: Big Bad Voodoo Daddy
November 12 & 13: 38 Special
For more date night ideas and fun adventures around town for the entire family: TampaBayDateNightGuide.com and OrlandoDateNightGuide.com.