The Best St. Patrick's Day Events in Tampa Bay for Families
You don't have to be Irish to gather up your little leprechauns for a sham-ROCKING awesome St. Patrick's weekend! There are several kid-friendly celebrations this weekend…even though St. Patrick's Day is actually on Friday, March 17!
There are a ton of St. Patrick's Day related events being hosted at restaurants throughout Tampa Bay, so you'll easily find an event near you.
If you are looking for something with more to do for the kids, check out our top picks of family friendly St. Patrick's Day events we think the entire family will enjoy!
Paddy Fest St. Pete is bringing a full day of festivities to Williams Park! The entertainment lineup includes Dunedin Pipe Band, The Gilleoghan Irish Dancers, Stormbringer and more. Chef Sean Ford and Mary Margaret's Olde Tavern are collaborating to serve up Corned Beef and Cabbage as well as other Irish classics like Fish n Chips. The food trucks will include Pamz Pizza Conez, La Strada Pizza Kitchen, Slammer Shop and Mini Mouthful, and Ty Ty's Backyard BBQ.  Admission is $5 and includes a free green beer for adults. Must be 21 and up to enter after 5pm.
St. Petersburg
Wear your green and head to Great Explorations in St. Pete for a day filled with St. Patrick's Day activities and crafts. There will also be a pot of gold sensory bin!
Top O' the morning! Climb aboard the Yacht StarShip in your best green attire to celebrate the luck of the Irish on the water! Enjoy a festive lunch buffet with Irish fixings and DJ entertainment that is sure to keep you moving! Boarding begins at 11:30am and the cruise will set sail at noon. Tickets range from $39.95-$104.95.
Join the largest St. Paddy's Day Festival in Florida and celebrate Flanagan's 30th anniversary in Dunedin! There will be live music and entertainment, delicious food and cold brews. There will also be arts, crafts, vendors and fun for all ages at this FREE event!
Join the St. Patrick's Day fun with a family-friendly celebration featuring Leprechaun face painting in Raybon Plaza, a special 'Luck of the Irish' flavored ice cream from Chill Bros Ice Cream, Irish themed music and more!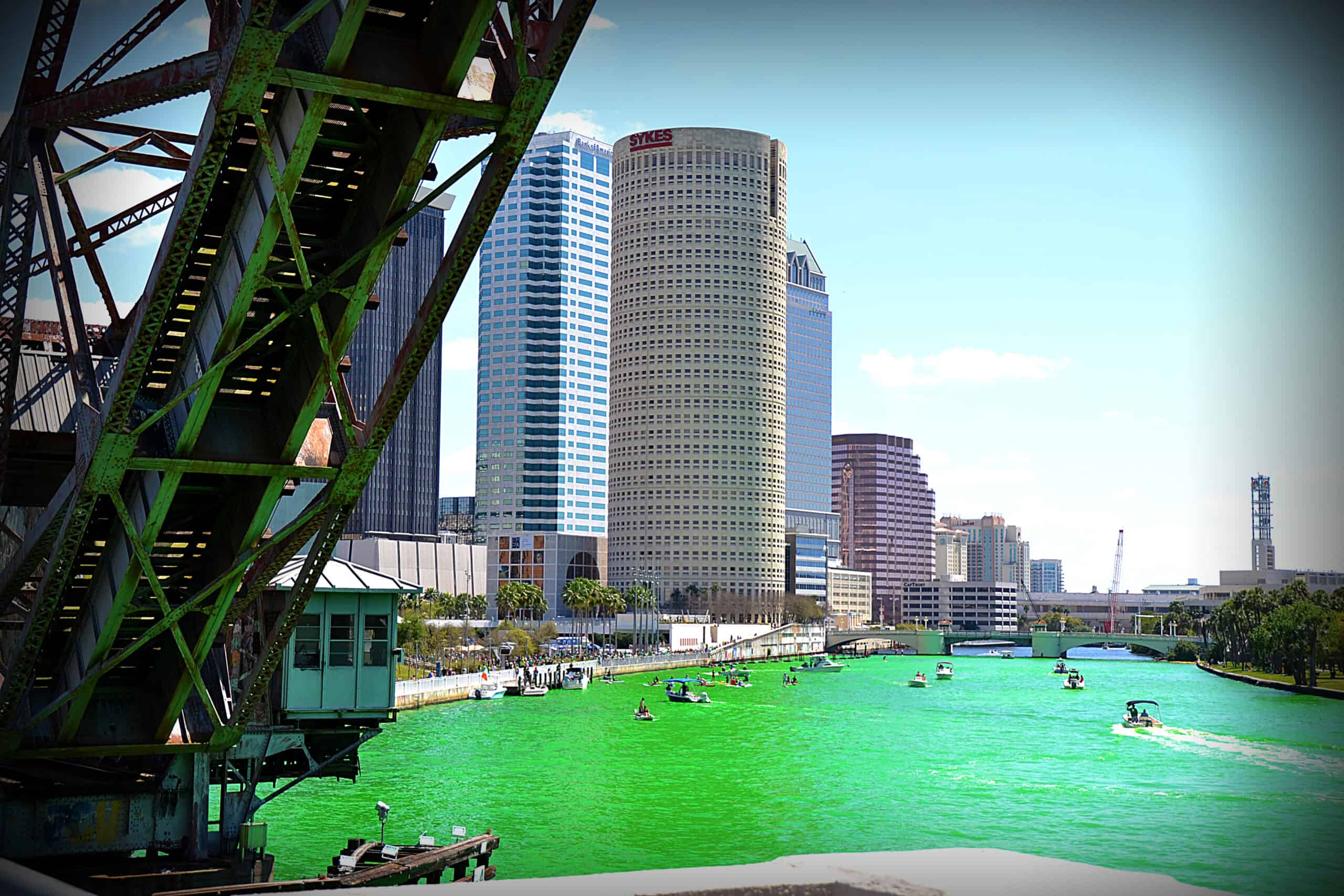 This is our favorite annual St. Patrick's Day event in Tampa Bay for families! The River O'Green Fest is a 'picture perfect' way to spend the day with the family as you enjoy live music, food trucks, games, activities for kids and the highlight of the day—the dyeing of the Hillsborough River a shade of Kelly Green (with environmentally safe dyes, of course)!
NEW this year, Freedom Boat Club will be offering a limited number of free boat rides along the Hillsborough River! "This makes one of Tampa's best events even more memorable, with free boat rides along the green Hillsborough River for potential Freedom Boat Club members," said Tampa Downtown Partnership President and CEO Lynda Remund. "Getting out on the water brings a unique perspective. You'll get an up-close look at the bright green river and incredible views of our beautiful downtown skyline."
Pirate Water Taxi will be running throughout the day so why not hop on the boat and take a tour to the River O' Green Fest and explore St. Patrick's Day along the Riverwalk!??! Normal day rates are $25-$30 adults, $20-$25 kids.
Armature Works is hosting its annual St. Patrick's Day celebration on the river with live music, green beer from Stone's Throw, frozen Irish Coffee from Tullamore Dew Irish Whiskey Pop-Up, Irish dancers, giveaways and MORE! The river will be GREEN as part of the 2023 River O Green Fest, so there will be plenty of photo ops as well.
Events that have already happened in 2023:
Head to Irish 31 in Westchase for the ultimate family-friendly St. Patrick's Day event! Enjoy a 52′ warrior obstacle course, box hockey, gaga ball, whack-a-wall game, axe throwing, dart shot, giant pong, spikeball, skeeball, and more! There will also be live music, a raffle and tons of Irish food and Guiness.
The annual parade starts at 7pm and will march down Ybor City's 7th Avenue. You can even take a Streetcar from downtown after the River O Green Fest and head to Ybor to continue to the St. Patrick's Day celebration. Given the start time of the parade, it's probably best for older kids or even a date night after dropping off the kids with a sitter!
---
Related stories we think you'll LOVE: