A First Look at the ALL-NEW Ringling Bros. and Barnum & Bailey Circus
Six years after taking what we thought was the final bow, the Ringling Bros. and Barnum & Bailey Circus is roaring back to life…without the roars of real animals. The roar of laughter though; that's guaranteed.
The historic circus entertained generations of families for 146 years before the final performance in 2017. A changed audience and outcry from animal rights activists were among the factors that brought the show to a close, but The Greatest Show on Earth was not quite ready for that final bow. The show must go on, as they say.
After a few years of research and soul searching, the Feld family, owners of the circus, were left asking, what was the heart of Ringling? Juliette Feld Grossman says it was change. Evolution was the reason the circus was able to survive for as long as it did, so if they wanted to bring it back, it needed more than change. It needed to be reimagined altogether.
Over the last few years, the Ringling Bros. Barnum & Bailey Circus has undergone a massive reinvention and it's all been happening at Feld Entertainment headquarters, just south of the Sunshine Skyway in Palmetto.
They scoured the globe to find the world's best performers and after going through more than 4,000 applications, they selected 75 people from 18 countries to bring this immersive show and jaw-dropping show to life in ways you've never experienced before.
We got a sneak peek of the show and it was everything they promised it would be. There were no dull moments. Something was constantly happening and music and Show Guides (rather than a Ringmaster) lead you through the spectacular performances that leave you asking, how'd they do that??
The Ringling Bros. and Barnum & Bailey Circus kicks off its 50 city tour in North America later this month. It includes a stop in Tampa at Amalie Arena January 5-7, 2024. Tickets start at $25 each. You can purchase now at Ringling.com.
We met with Juliette Feld Grossman, who teamed up with her father Kenneth Feld to produce The Greatest Show on Earth, to talk about this evolution and their unique family business.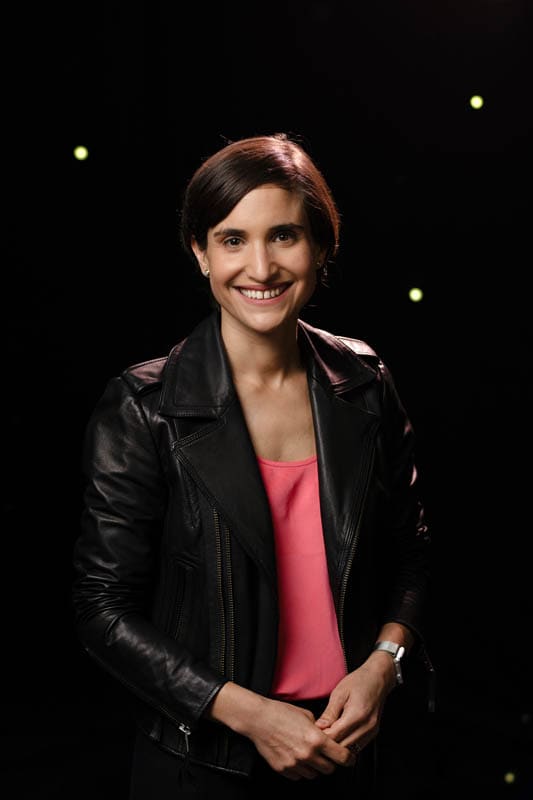 What makes this new production of The Greatest Show on Earth so unique?
Juliette Feld Grossman: One of the things that is great about this production is that it's 360 degrees, so we're 'playing in the round' which means that no matter where you sit, you're going to have a different experience, and point of view, but you're going to have a great opportunity to see the performers from all different vantage points. We think that's an important part in terms of really great value also for families.
It has been exciting and really fun to look at what is really important about Ringling and reimagine it for today's audiences. We looked at a balance of comedy, thrills, and artistry; in terms of the acts we brought into the show. Making sure we had those elements that leave everyone feeling like they had a different favorite moment and making sure we had a balance too that would reach different generations, so that we've got a show that's fun for kids, for parents, and for grandparents.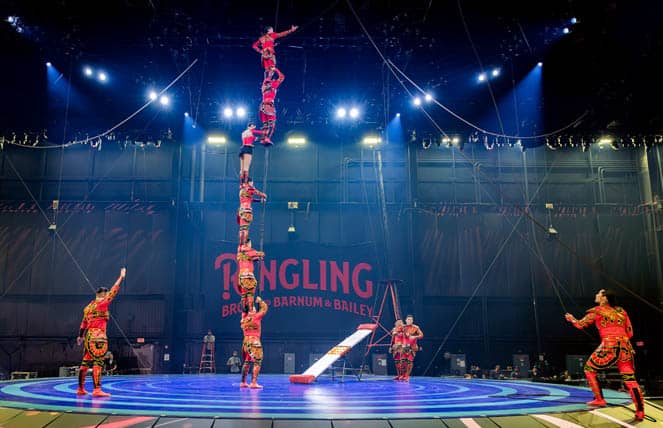 While the show has been reimagined, there are some iconic performances returning.
Juliette Feld Grossman: We have a lot of iconic forms of performance, but we brought them back in a completely new way. For example, with our high wire, we now have a triangular apparatus, so it's incredibly daring to see four performers on this triangular apparatus because as they walk across one, the apparatus has a vibration to it so it really heightens the level of skill required to perform.
We also have this incredible criss-cross trapeze so when we talk about performing 360 degrees, we wanted to make sure our acts could connect in that wide, huge space and so we created this action-packed trapeze I think people will love and it's going to be unlike anything they've seen before.
Technology is such a big part of our lives now and it's something you've tied into the show.
Juliette Feld Grossman: What we created here is an environment that highlights our performers, that puts them on a pedestal in many ways, and brings us in closer to provide that connection to not only the people you came with but the performers. So, we used technology to connect people with our performers, whether it's bringing in video elements into the show which you'll see around the base of our center stage. Also in the air, we can see things we've never seen before like feet walking across our triangular highwire for the very first time.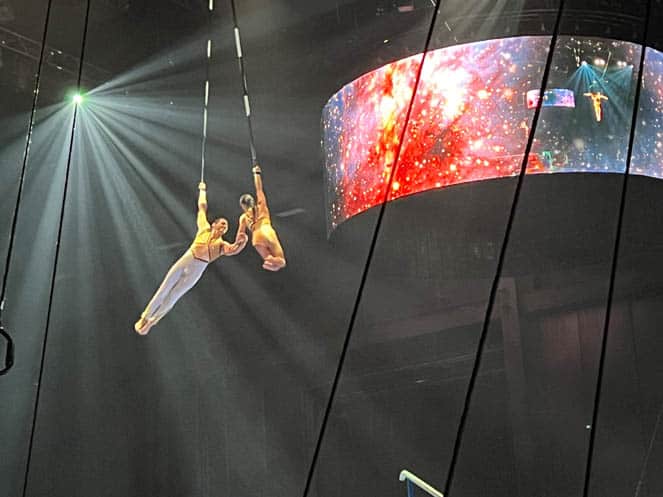 What has it been like to work with your dad on this project?
Juliette Feld Grossman: It's a lot of fun because my dad is the most experienced and knowledgeable person in terms of creating live shows and particularly circus; he has over 50 years of experience, so for me to get to work with him as my dad and as my mentor, is just such an incredible opportunity. We're a really good team because we listen to each other, we work together, and we bring different vantage points together to create something that can connect.
As a mom of three, you've also made your own kids a part of the experience.
Juliette Feld Grossman: I have three kids and I do bring them in sometimes to check out things we're doing. I also show them elements of the show, I play the music for them to see how they respond and it's been fun for me to share this process with them and also I've learned a lot from hearing their feedback.
Do you think they'll follow in the family's footsteps in the entertainment business?
Juliette Feld Grossman: Too early to tell…
There's a lot of balance happening in the show, literally! But what's it like finding balance as a working mom (if there is such a thing!)
Juliette Feld Grossman: I think I stopped looking for balance, but I have a wonderful husband and partner, so we work together to plan out every week and to look ahead and to make sure, even though we both work really hard, that the kids are central to our lives.
Your family business, Feld Entertainment, is literally in the business of creating unforgettable moments for other families around the world through brands like Monster Jam, Disney on Ice, and Jurassic World Live. What has made working on the Ringling project so special?
Juliette Feld Grossman: We know that Ringling, while it might be our family business, it's an important part of a lot of families' lives and memories and experiences and so it is really special to get to bring that back for so many families and to see within our performers, our crew, and even our entire company, so many families working together to create this production.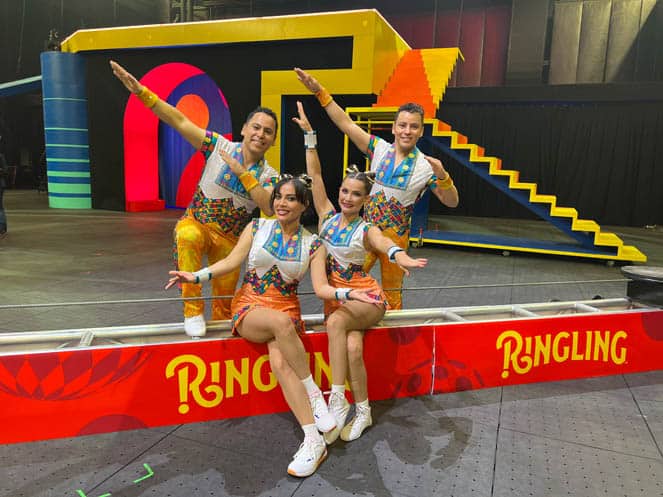 You are raising your family here in the Tampa Bay area in Sarasota. What are some of your favorite things about living here?
Juliette Feld Grossman: We like spending time outside. We moved here from Chicago where you certainly have to be inside a lot when super cold, so it's been fun to spend more time outside. We've really enjoyed getting to know the area and there are a lot of great places within the state that we road trip to and enjoy getting to explore together.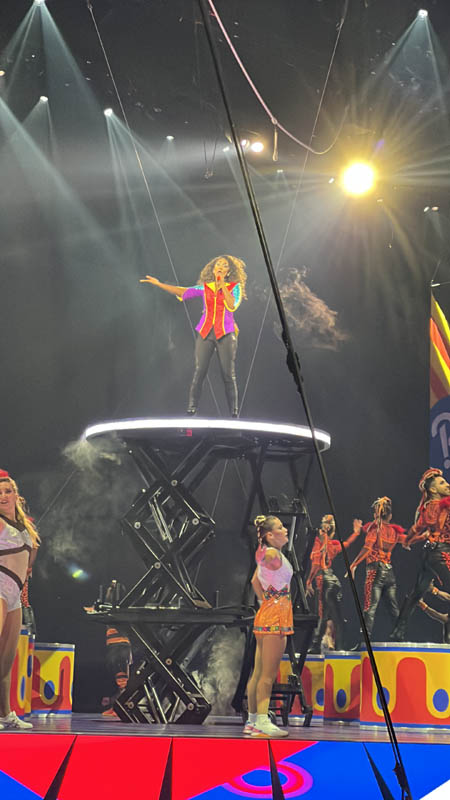 Performances you can expect to see at the reimagined Ringling Bros. and Barnum & Bailey Circus:
Live musical performances by Show Guides Aria and Stix
Triangular High Wire with the Lopez Family
Criss-Cross Trapeze
BMX Stunt Bikes
Tallest Uniccycle
Double Wheel of Destiny
Human Rocket with Skyler
Robotic performer, Bailey, a robotic dog!
and so much MORE!
Related stories we think you'll LOVE: