Let's Play Ball: September Game Day Fun with the Kids in Tampa Bay
Nothing says 'It's FALL, Y'ALL!" like settling into the stands, and aren't we lucky with our sports scene in Champa Bay! There are several home games families can experience this month with the kids. In fact, you can pretty much fill each week with a chance to cheer on the home teams.
Tampa Bay Rays: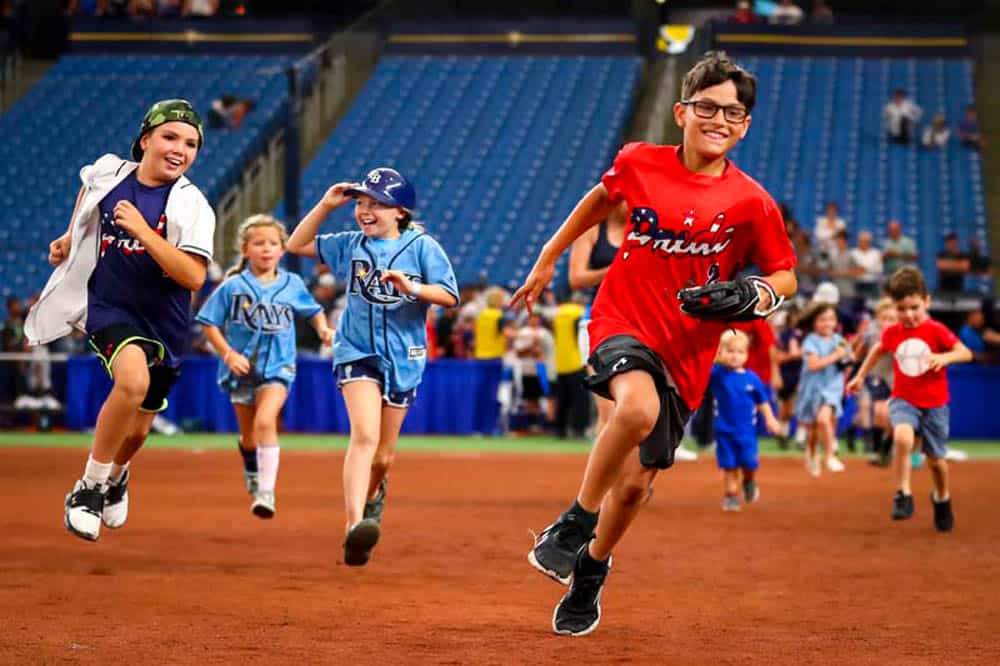 Tampa Bay Rays September Home Games:
Sept. 4, 5, 6 vs. Boston Red Sox
Sept. 7, 8, 9, 10 vs. Seattle Mariners
Sept. 19, 20, 21 vs. Los Angeles Angels
Sept. 22, 23, 24 vs. Toronto Blue Jays 
Tampa Bay Rays Quick Facts:
Children ages 2 and older must have a ticket.
Be sure to check out the Rays Touch Experience—a 10,000-gallon touch tank exhibit in partnership with the Florida Aquarium. It's located just beyond the right-center field fence.
Check out their promotions scheduled on raysbaseball.com for a list of themed games and giveaways like bobbleheads, hats, and more this season.
Tampa Bay Rowdies: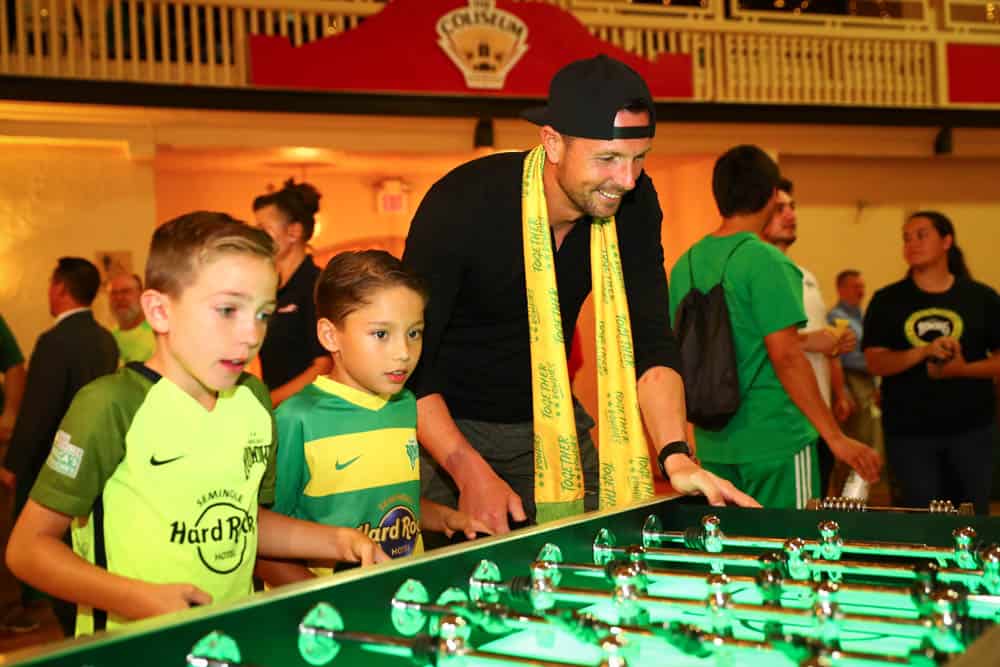 Tampa Bay Rowdies Home Games:
Saturday, Sept. 2 at 7:30 p.m. vs. Hartford Athletic
Saturday, Sept. 9 at 7:30 p.m. vs. Louisville City FC
Saturday, Sept. 23 at 7:30 p.m. vs. Memphis 901 FC
Saturday, Sept. 30 at 7:30 p.m. vs. Loudoun United
Tampa Bay Rowdies Quick Facts:
All children ages 2 and older must have a ticket.
Al Lang Stadium is cash-free.
No bags are allowed into Al Lang Stadium with the exception of diaper bags, medical bags, and bags smaller than 5×8 inches.
Tampa Bay Buccaneers: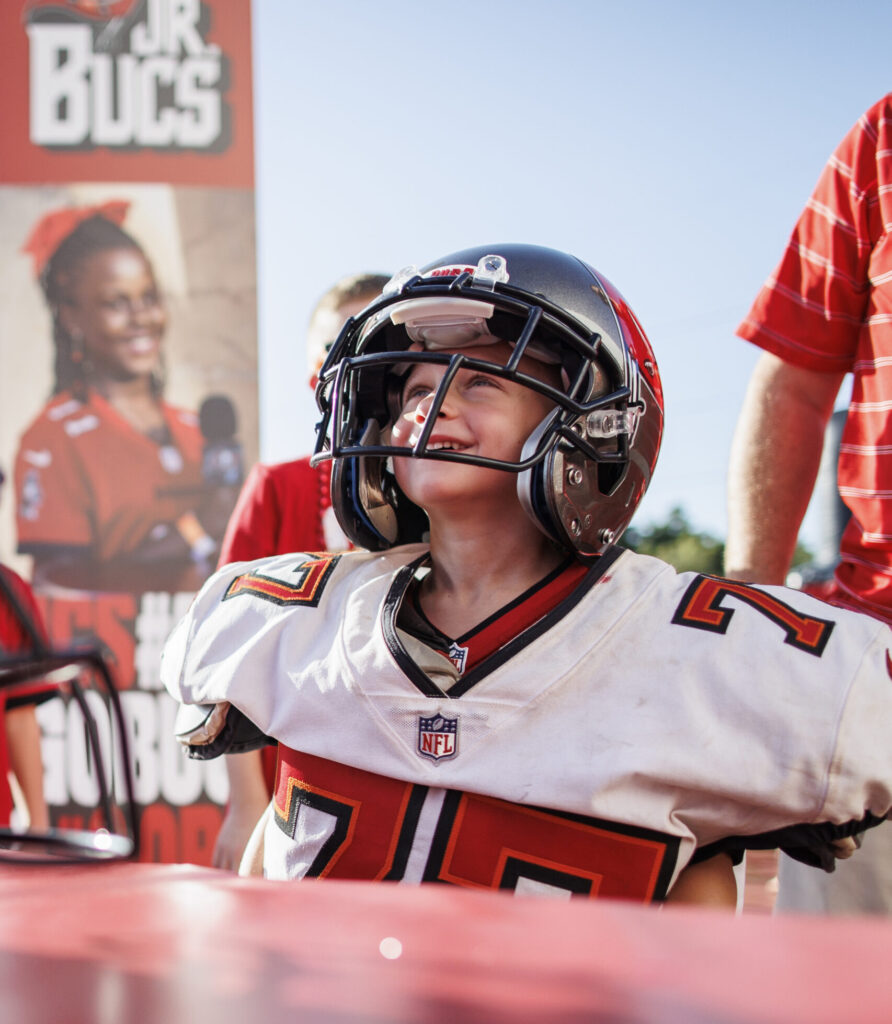 Tampa Bay Buccaneers September Home Games:
Sunday, Sept. 17 at 1 p.m. vs. Chicago Bears
Monday, Sept. 25 at 7:15 p.m. vs. Philadelphia Eagles
Tampa Bay Buccaneers Quick Facts:
All attendees must have a ticket due to NFL policy. Tickets are accessible via mobile device only.
Go early to check out Bucs Beach on the side of the stadium along Tampa Bay Boulevard. There are plenty of photo ops, performers, music and more!
Check out the Jr. Bucs Kids Zone too. Kids can test their skills in the inflatable obstacle course, try on a real Bucs uniform, toss a football and more!
Tampa Bay Lightning: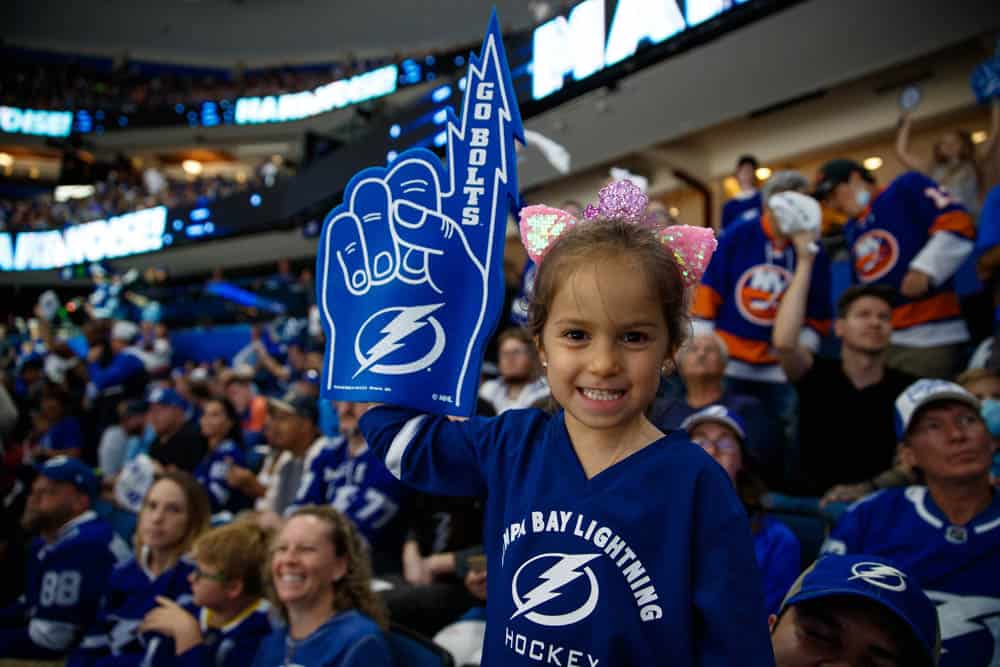 Tampa Bay Lightning Preseason Home Games in September:
Friday, Sept. 29 at 7 p.m. vs. Carolina Hurricanes
Saturday, Sept. 30 at 5 p.m. vs. Nashville Predators 
Tampa Bay Lightning Quick Facts:
Children under 2 do not need a ticket as long as they can sit on a lap.
The Kids Club table is typically located in section 128 during games.
Get your camera ready! ThunderBug is at every game.
Kids 14 and younger can become a super fan with the Tampa Bay Buccaneers! There is a one-time registration fee of $24.99 which includes your child's welcome kit full of Bucs swag like an official membership card, Bucs hat, and more. Your child will also get priority invites to future Jr. Bucs events. Join today at buccaneers.com/fans/jr-bucs.
Membership for the current season is FREE. You'll get notifications about special events for Kids' Club members and take advantage of some of the online fun like coloring pages, games, and more. Kids Club members also get one FREE kids' admission to MOSI with a paying adult.  Join at nhl.com/lightning/fans/kids-club.
Although Rays Rookies Kids Club memberships are sold out for 2023, you can sign up for Rays Newsletters using this link to be notified by email when information is available about the 2024 Rays Rookies Kids Club. Kids receive Rays swag and discount tickets.
Related stories we think you'll LOVE: