7+ Spooky Kid-Friendly Halloween Party Snack Ideas
Hello, I'm Jenny!  Halloween season is my favorite, and I'm here to help you bring some spooky vibes to your spooktacular celebration with these fun Halloween party snack ideas that even work as a fun treat in your kid's lunchbox.
Be sure to visit @Lunchboxmafia on Instagram and Facebook for video tutorials and tons of lunchbox inspiration.
---
SCARECROW HUMMUS SNACK BOARD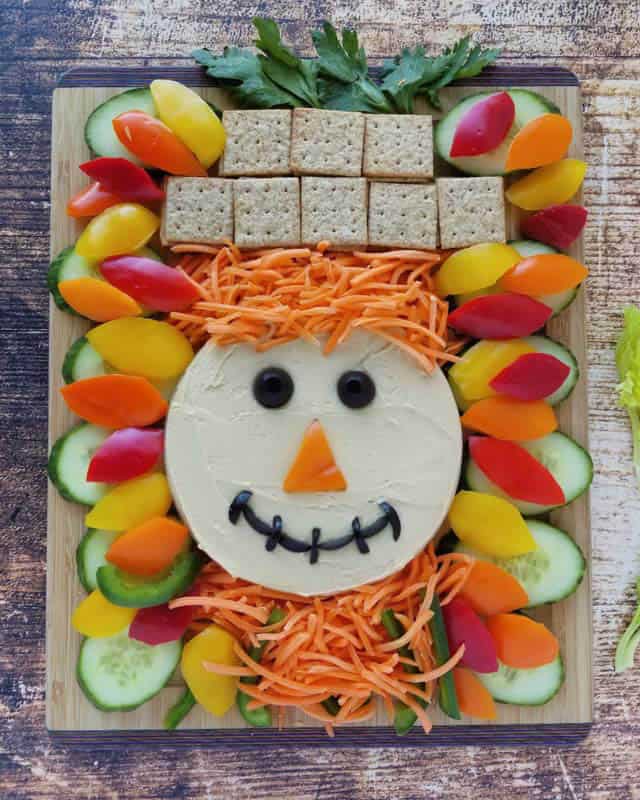 Snackboards are a great way to get everyone gathered around the table to eat.
Some kids will be so excited, they won't be able to eat a full meal so make this
Scarecrow snackboard with hummus (or their favorite veggie dip).
What you'll need:
Shallow plate to create the face.
Olives for the eyes
Pepper triangle for the nose
Sliced Olives for the mouth
Shredded carrot for his hair/hay
Whole wheat squares for his hat
Sweet peppers and cucumbers for dipping
This will satisfy their hunger, the crunchy veggies will satisfy the craving for snacks, and they'll be full with good fiber and protein from the chickpeas (or whatever dip they like!)
TIPS:
If your kids are new to peppers, cut them in small rings. Let them put the pepper rings and olives on their fingers. Incorporating play helps with learning and discovery!
Kids love to dip! If they are new to hummus, let them DIP their favorite veggie into it and try a tiny bit first.
When it comes to snacking platters, always serve at least 1 food you know they love.
Get them in the kitchen! Not only does it foster independence, but they're invested in the experience. They usually eat more when they're a part of the process!
MORE Halloween charcuterie boards for sharing at your next party!
To create a fun Halloween board, grab some of your favorite seasonal snacks like jack-o'-lantern goldfish crackers, seasonal M&Ms, bright green olives, orange cheddar cheese and blackberries.
Use cookie cutters to cut cheese and fruits into spooky shapes. Your kids will be so excited! Here are a few of my favorite creations: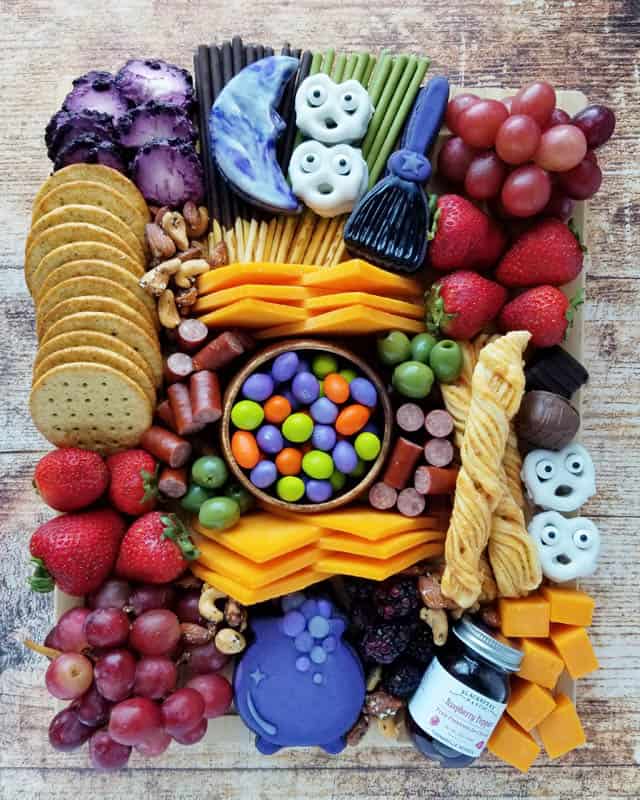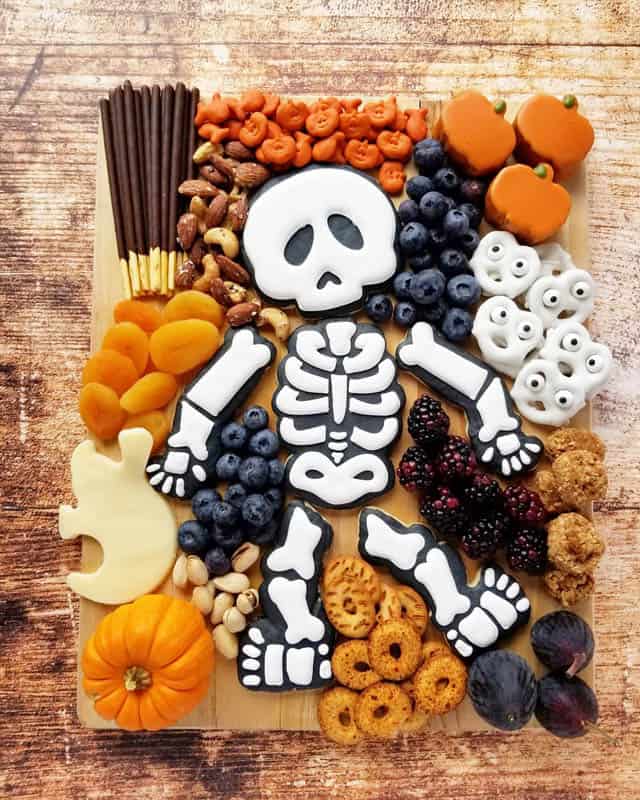 ---
2 INGREDIENT DONUTS
So easy to make and so YUMMY to eat! These 2 ingredient donuts will be an instant hit at your Halloween party.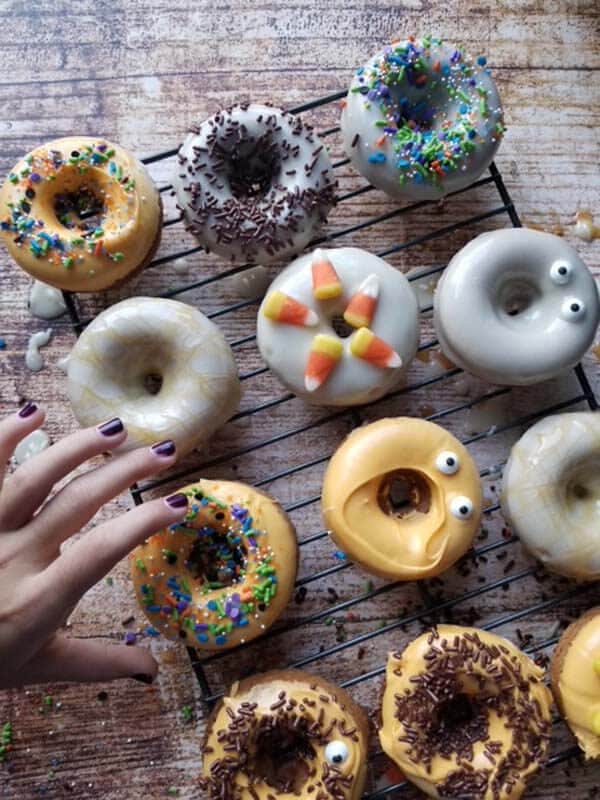 What you'll need:
1 box of cake mix (we used spice cake)
2 cups of applesauce (or pumpkin puree)
Directions:
Spray your donut pan with Baker's Joy.
Mix the contents of the boxed cake mix with the applesauce or pumpkin puree.
Bake at the temperature and time according to the box directions.
Decorate with festive sprinkles or add orange food coloring to your plain frosting!
---
SKULL PUFF PASTRY PIZZA (great for parties and lunchboxes!)
Who doesn't love a snack that can double as a lunchbox treat?? I've got a few ideas for you that not only work great for parties, but also kids' lunches.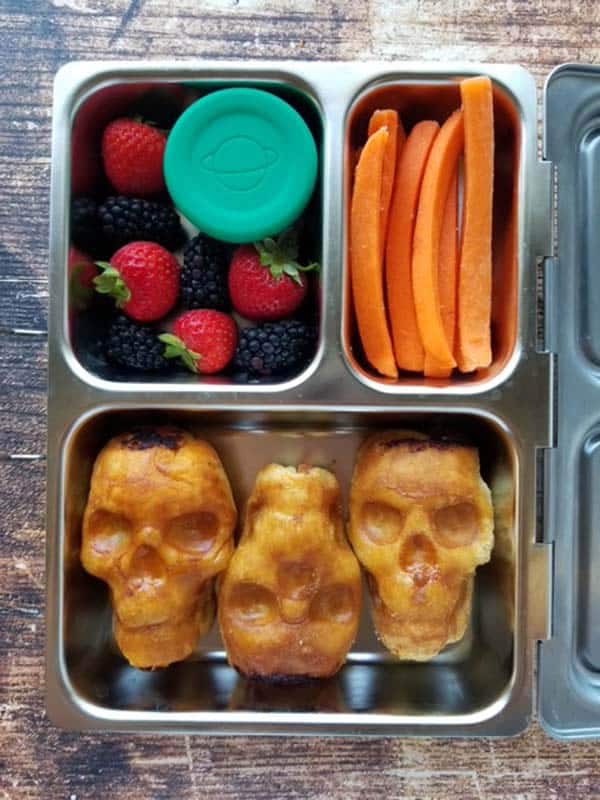 What you'll need:
1 sheet of puff pastry
Your favorite filling (I used shredded cheese and mini pepperoni)
Spooky Nordicware pan (linked in my bio)
Baker's Joy spray for your pan
Egg wash
Directions:
Spray your skull pan with Baker's Joy and set aside.
Unfold your sheet of dough. Cut along the folds in the pastry to form three long strips, and then cut each strip in half to form six equal rectangles.
Place each rectangle on one of the skull shapes on the pan. Place the cheese and pepperoni in the center of the rectangle. Fold the sides in to seal the contents.
Brush with egg wash.
Bake at 400 degrees for 20-22 minutes. When you pull these apart at the mouth, you get a crazy cheese pull and they look like they're screaming. So spooky!
This spooky pan is linked in my bio on Instagram @Lunchboxmafia
---
DIA DE LOS MUERTOS (another party pleaser and lunchbox-friendly idea!)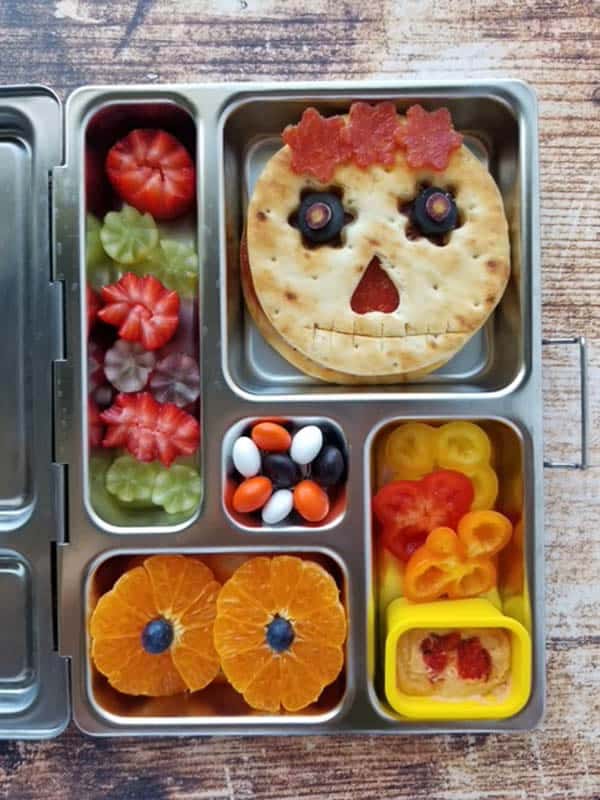 What you'll need:
2 pieces of Naan rounds (find them at Publix in the deli area).
Protein (I used salami) and cheese
Mini flower food cutters to create eyes
Heart shaped food cutter (upside down) to create the nose
Directions:
Press the flower cutters into the bread to cut out the eyes.
Place the heart-shaped cutter upside down so the tip is between the eyes, and press into the bread to cut out the nose cavity.
Cut some lines for the mouth and that's it! Food cutters are available on Amazon and at most craft stores.
---
GHOST SANDWICH 
Good ol' sandwich cutters can be found at Dollar Tree or any craft store. They make it so easy to bring a festive touch to any lunchbox!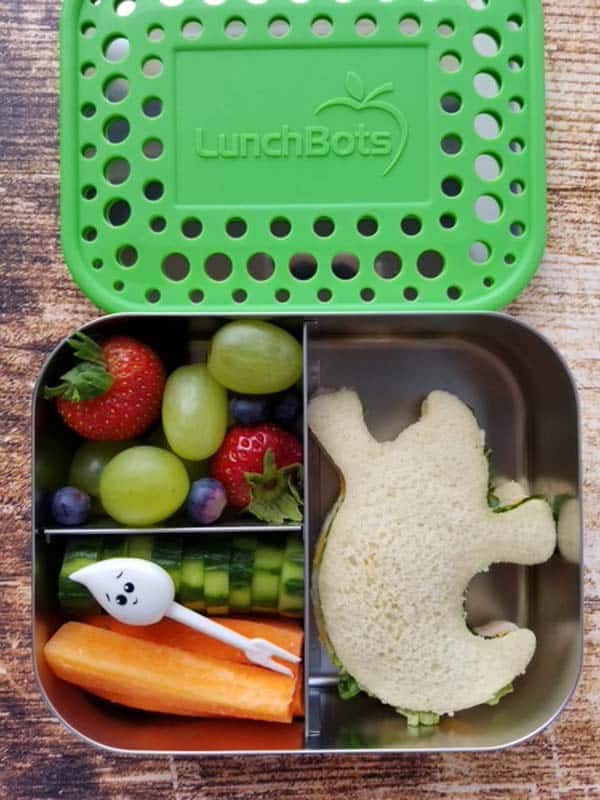 ---
MORE stories we think you'll LOVE: