Howl-O-Scream Returns to Busch Gardens Tampa Bay with All-New Frights!
It's going to be a haunting Halloween season in Tampa Bay with the return of Howl-O-Scream at Busch Gardens Tampa Bay! This is one of our favorite events to celebrate Halloween for teens and adults and when we say this event is haunting, we mean it…
Prepare for a night of screams, startles, and even some ghoulishly good treats! We attend this event each year to bring you all the details to help you map out your night.
We're answering the top questions about what we know about this year's event. And don't forget to check out our Ultimate Guide to Pumpkin Patches and Fall Festivals in Tampa Bay for your best season ever!
When is Howl-O-Scream at Busch Gardens?
The thrills kick off on Friday, September 8, 2023, and continue on select evenings before the final scare on Tuesday, October 31, 2023. This is a separately ticketed event that runs from 7 p.m.-1 a.m. on Fridays and Saturdays and from 7 p.m.-12 p.m. on Thursdays and Sundays.
Can kids go to Howl-O-Scream?
This event is designed for adults and older teens, but the night we attended, we saw several kids who looked to be about 10 years old or older. Busch Gardens will not turn kids away at the gate, so the decision is solely up to you as a parent on whether you think your child can handle the event.
What to expect at this year's Howl-O-Scream
Did you know the creative teams literally spend all year thinking and planning for this event? in fact, they're probably already dreaming up NEW ways to scare you next year right now!
There are some returning favorites plus NEW additions to this year's event including a new Haunted House and new Scare Zone!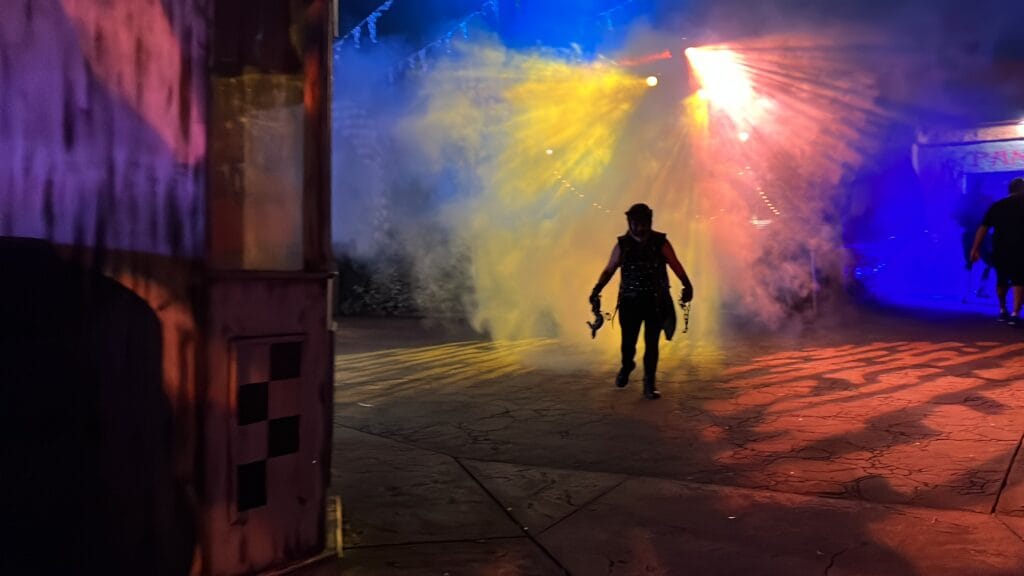 2023 Haunted Houses at Howl-O-Scream
NEW D.H. Baggum's Circus of Fear
Come one, come all, to the most terrifying show you've ever seen! D.H. Baggum is bringing all his monstrosities that are sure to make your spine tingle and your blood run cold.
Revamped: The Forgotten: Uprising
Be Brave. Be Fearless. Survive the Night. Rise up against the vampires before they take back the city and kill every human in their way.
Returning Favorite: The Residence: Home for the Holidays
Christmas has arrived earlier than ever this year, but this is one present you don't want to unwrap, and let's just say it's a not-so-silent night in this house of chills.
Returning Favorite: Stranglewood Estate
In a nutshell, the story of this haunted house centers around: "a once lively home filled with laughter and parties is now filled with darkness and the spirit of evil." Gulp…
Returning Favorite: Witch of the Woods
The witch is back and just as wicked as ever. Curiosity as brought many travelers into this dark forest and abandoned village, but only bone-chilling stories and dying screams make their way out…
2023 Scare Zones at Busch Gardens Tampa Bay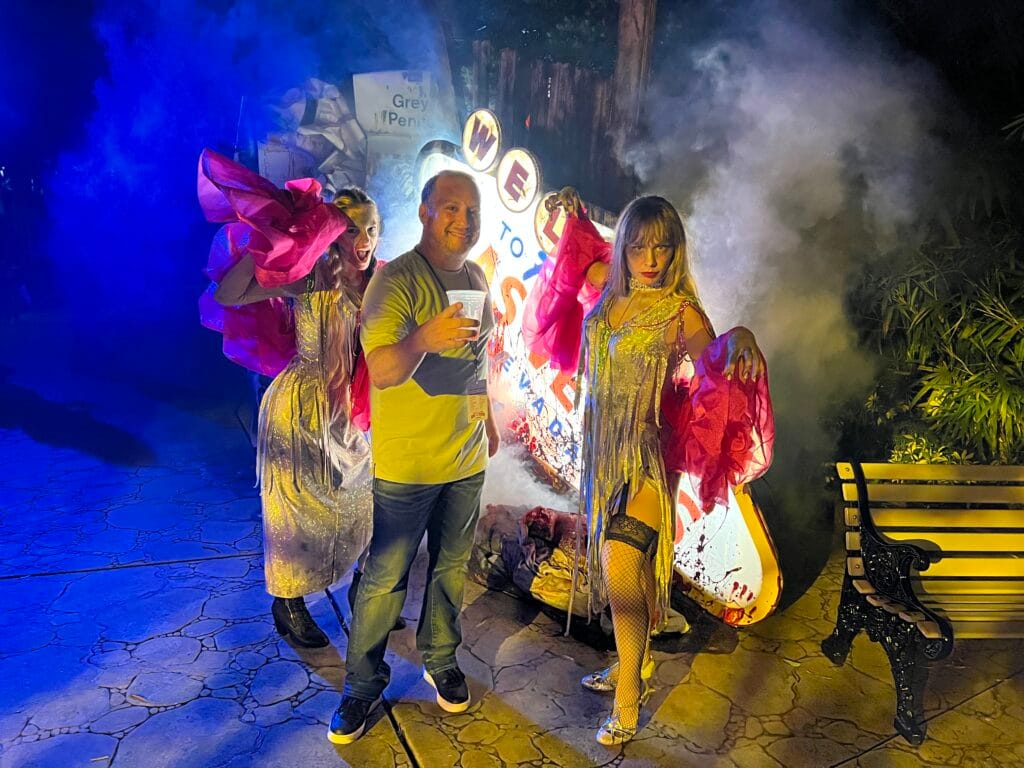 NEW Sin City Zombies
On the outskirts of the Vegas Strip lies a small town that is home to some of the best entertainers to ever live and is overrun by zombies who run rampant.
NEW Big Ed's Demolition Derby
Step into the twisted and adrenaline-fueled world of Big Ed's Demolition Derby. He's pulling together some of the roughest, toughest, and meanest baddies from all over Howl-O-Scream and bringing them there to compete. See how long you can survive this automotive nightmare.
Raven's Mill
Ravens Mill is a place to venture if you dare–a place where the scarecrows lurk among the walls of the cornfield waiting to scare YOU.
Beyond the Veil
The dark fairies and orcs are dying for you to experience the depths of their magically sinister forest. 
The Junkyard
You'll find more than spare parts as your rummage through this surly scrap site. Will you make it out in one piece or be devoured by the haunted rubble?
Entertainment at Howl-O-Scream
There are three live shows you can enjoy throughout the night including:
ALL NEW SHOW! Rock the Grave at the Festival Field Stage
Become mesmerized with the all-new Rock the Grave, an explosive, high-energy live stage show that merges the worlds of alternative and classic rock and pop hits into an unforgettable experience.
"The Rolling Bones" light up the stage at Dragon Fire Grill
As guests fuel up on a pre-fear feast, the live performance of this skeleton band lights up Dragon Fire Grill with epic covers of classic rock anthems.
Cirque Scream
Cirque X-Scream features exhilarating acts and stunts, including trampoline tricks and aerial performances.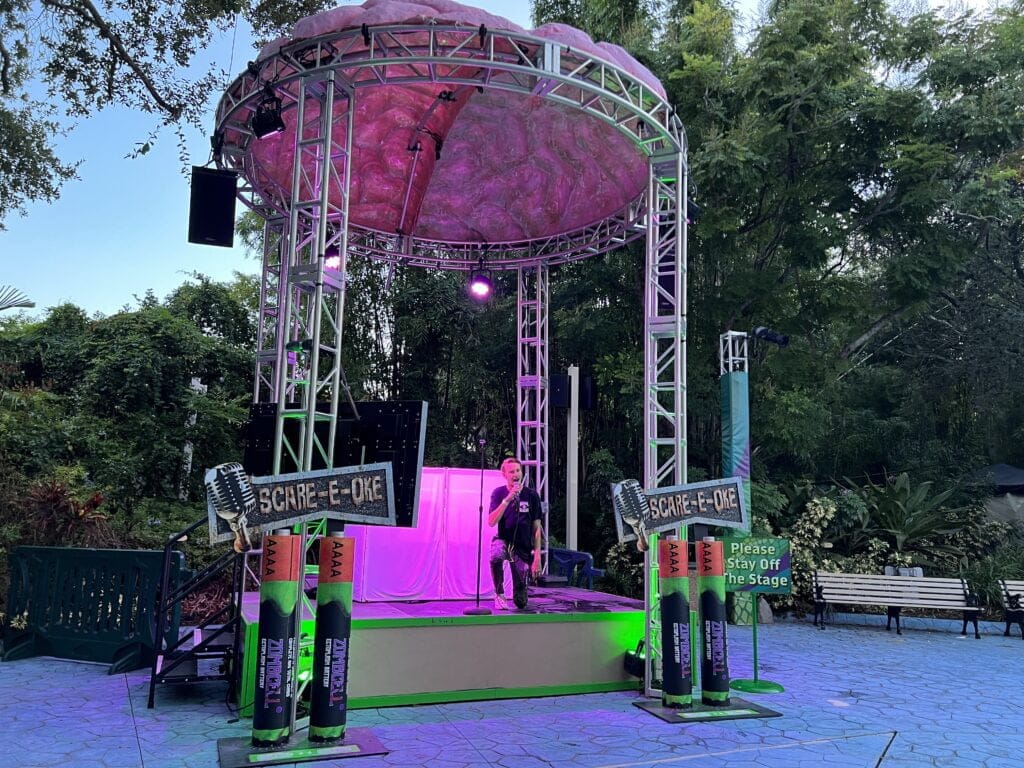 How much are tickets for Howl-O-Scream?
There are several different ticket options for Howl-O-Scream. As we mentioned, you will need a separate ticket to attend Howl-O-Scream, so don't plan on trying to go to Busch Gardens earlier in the day and trying to sneak your way in later.
If you do plan to visit the park during the day and have your Howl-O-Scream ticket for later, there will be designated holding areas where you can get your event wristband.
Single Night Ticket: Starting at $34.99
Unlimited Admission Ticket: Starting at $94.99. Includes unlimited visits on select nights from September 8-October 31. Valid after 5 p.m.
Two Park Ticket: Starting at $94.99. Includes one visit to Howl-O-Scream at Busch Gardens and one visit to Sea World Orlando on select nights.
Two Park Unlimited Ticket: Starting at $156. Includes unlimited visits to Howl-O-Scream at Busch Gardens and nighttime visits to Sea World Orlando between September 8-October 31.
Single Night Group Tickets: Starting at $32.99. Includes single night entry to Howl-O-Scream for groups of 15 or more.
Do Busch Gardens Pass Members get a discount on Howl-O-Scream tickets?
Yes! It's one of the many perks of being a pass holder. All you have to do is log into your pass member account and you can purchase tickets. Ticket prices for pass members start at $32.99. This discount applies to Bronze, Silver, Gold, and Florida Platinum pass holders.
You can absolutely purchase an annual pass and THEN buy your Howl-O-Scream tickets. Annual passes include entry to other special events at Busch Gardens Tampa Bay including Christmas Town, so it might be worth it for you to buy now and then enjoy the perks for an entire year.
Fear not, there are some ghoulishly good ways to upgrade your night at Howl-O-Scream!
Who doesn't love a ghoulishly good upgrade?? Along with the Unlimited Passes, you can purchase to attend as many times as you want, there are also some other VIP upgrades you might want to take advantage of!!
Ultimate VIP Tour
Create your own up to 7-hour experience with a private tour guide, exclusive experiences, and unlimited access to haunted houses and thrill rides (minimum 2 guests). Includes admission, complimentary beverages at select locations, complimentary dinner at Dragon Fire Grill, preferred parking, and more! Prices start at $249 per person.
Behind the Scenes Tour
Find out what goes into the scares on this daytime, lights on tour. See one of their iconic houses in a new light with a unique photo opportunity. Includes a one-time/one-house priority access to one of their houses at night during the event. Maximum of 10 per purchase. Daytime park admission is not included but is required. $29.99 per person
Front Line Fear
Get front-of-the-line access to five haunted houses of your choice. Includes single-use access to five houses. Howl O Scream admission is not included but is required. $69 per person
Front Line Fear Extreme
Get front-of-the-line access to five haunted houses and nine major thrill rides of your choice, including Serengeti Flyer! Howl O Scream admission is not included but is required. $79 per person
Make it an all-night event with a Howl-O-Scream Hotel Package 
Wanna make it a weekend staycation or heading to Tampa from out of town? Busch Gardens has two different package options to choose from.
Howl-O-Scream Overnight Fright Package
Valid on all event dates, bundle your ticket with a stay at a hand-selected hotel partner. Book here. 
Howl-O-Scream Wild & Wicked Weekend Package
Includes unlimited admission to Howl-O-Scream event nights on your selected weekend and daytime admission to Busch Gardens Tampa Bay for four consecutive days (Thursday-Sunday). Your choice of accommodations from hand-selected hotel partners. Free parking. Two adult minimum, two-night minimum. Book here.
Can I wear a costume to Howl-O-Scream?
Unfortunately for those of you who love to get dressed up, the answer is no.
Howl-O-Scream is intended for a mature audience. This event contains intense adult content such as violence, gore, and blood. Howl-O-Scream 2023 is a separately-ticketed nighttime event. No costumes are allowed.
Related stories we think you'll LOVE: