Take Me Out the the Ball Game: Join the Club with the Rays Rookies!
Baseball is back and the Tampa Bay Rays have an exciting club designed just for kids-the Rays Rookies!
You can sign up your kiddo now–or even gift it to a child in your life! Rays Rookies is open to all fans ages 14 and younger. For $30, your child will receive some pretty awesome Rays swag like 2020 American League Championship socks, a duffle bag, Snapback Hat, lanyard and membership card.
Rays Rookies members also get exclusive access to their very own online membership portal where they can participate and view in digital experiences with Tampa Bay Rays players and staff, play games, take quizzes, and more!
When you sign up for Rays Rookies, it'll take about 2 weeks to receive your swag.
Sign up to join Rays Rookies here.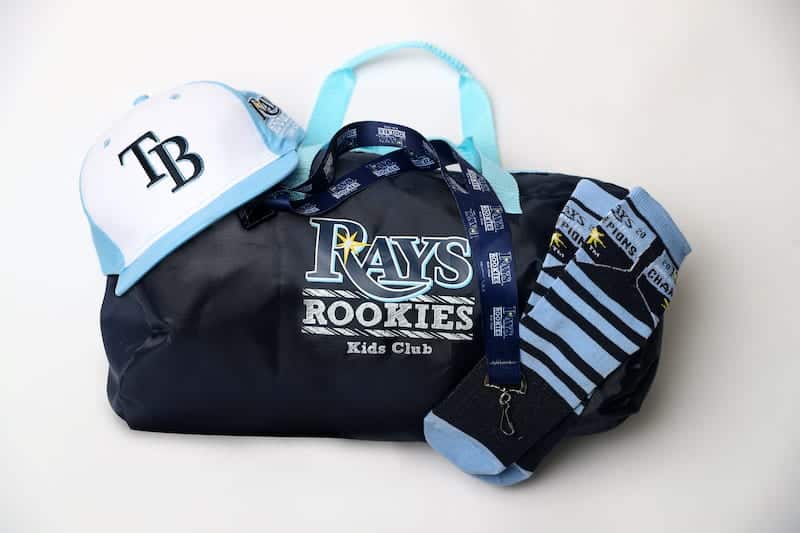 By the way, you can also purchase single game tickets if you don't have season tickets. The Rays have teamed up with the MLB and health experts to ensure your family stays healthy when you attend a game.
Tropicana Field is using high tech systems to clean the air you breathe using UV technology and specialized filters. Unvaccinated fans ages 2 and older will also have to wear a mask when not actively eating or drinking. Learn more about these and additional safety measures here.
Capacity at games is increasing to 20,000 fans in June and there will still be the option to purchase socially distanced seats sold in pods. Single game tickets are on sale via the MLB's Ballpark app or at RaysBaseball.com.
Since we're on topic, there are other kids clubs your kiddos can join now with our hometown champion teams (Hey, hey CHAMPA BAY!!):
Jr Bucs Fan Club
Kids under the age of 14 can join the fan club designed just for them! For a one-time registration fee of $24.99 + shipping, your child will receive a Jr. Bucs Fan Club welcome kit which includes:
Official Membership Card
Buccaneers Hat
Jr. Bucs Notebook
Jr. Bucs Football
Jr. Bucs Lanyard
Join today by clicking here!
Related: Family and Football: Mike Evans on the lessons from the field to home
ThunderBug Kids Club
The memberships for the current season are FREE and totally virtual this year since the Lightning are not playing in front of fans at Amalie Arena. ThunderBug is sharing all sort of cool things virtually including virtual lessons and field trips, coloring pages, games, and MORE! Learn more about ThunderBug Kids Club here.
Related: Lightning Made Hockey: Cool programming families like yours can participate in right now