What You Need to Know About Kayaking on the Weeki Wachee River
Kayaking on the Weeki Wachee River is a magical experience every kid and family should experience at least once in their lifetime.
As your kayak floats on top of the turquoise clear water of the spring-fed river, you'll feel transported into another world, far from the concrete jungle hustle of city life. The air is fresh and the water is crisp at a steady 72 degrees.
You might even spot a manatee or an otter swimming by if you're lucky.
It's this majestic natural beauty of the Weeki Wachee we want to ensure is around for generations to come so our children can share it with their own children and grandchildren.
But, that's in danger.
We don't mean to be a party pooper, but the way some of us are using the Weeki Wachee River for recreation is harming the river. If we want our kids and grandkids to be able to enjoy this beautiful river in the future, we need to start taking steps now to protect it and the good news is, it's super easy!
A little bit about the Weeki Wachee River
The water of the river flows from its headspring at Weeki Wachee Springs State Park which is not only the deepest natural spring in the country, but a first magnitude spring, meaning more than 64.6 million gallons of water flows from it each day. At Weeki Wachee, more than 117 million gallons of fresh spring water flows from the depths every single day. Incredible, right?
Fun Fact: The bottom of the Weeki Wachee Springs is so deep, it has never been found!
This cavernous system is also where the world-famous Weeki Wachee mermaids perform in their underwater theater at the state park.
From this point, the river meanders 7.4 miles until it reaches the Gulf of Mexico. All those twists and turns is how Weeki Wachee got its name from the Seminole Indians and when translated, means "little spring" and "winding river".
Human Impact on the Weeki Wachee River
A pre-pandemic study showed that as many as 200-400 people were launching per day from the headsprings area of the Weeki Wachee and another 700-1,000 people launched per day from Rogers Park a few miles downriver.
Southwest Florida Water Management District springs scientist, Madison Trowbridge, Ph.D., says those numbers are likely even higher now as even more people get out and explore Tampa Bay's great outdoors.
The problem is, we haven't changed our old habits and the river is suffering as a result of that.
BUT– there are ways we can be good stewards of the river, and it's as simple as staying inside your vessel whether that be a kayak, paddleboard, canoe, or boat.
Here's why: An ecological study of the Weeki Wachee River discovered that even a small amount of trampling when you exit your kayak or paddleboard can greatly impact vegetation and organic soil—to the point it may not grow back. That's bad news for the animals who rely on that vegetation for food.
Take a look at these aerial images from the study of one small section of the river: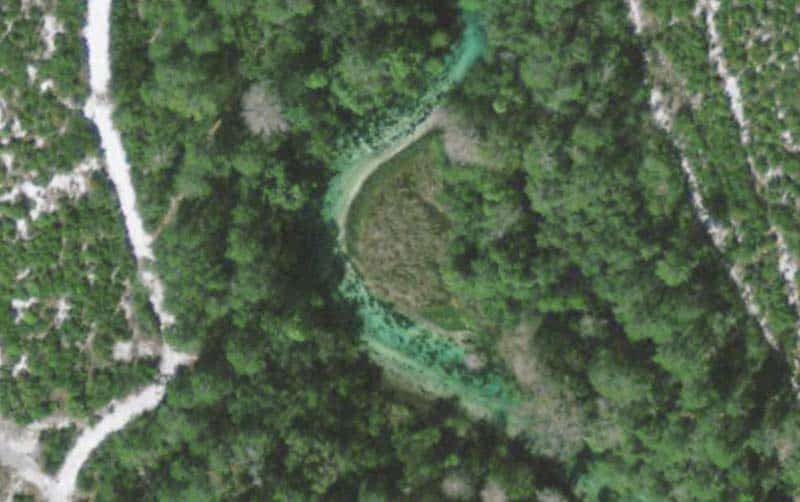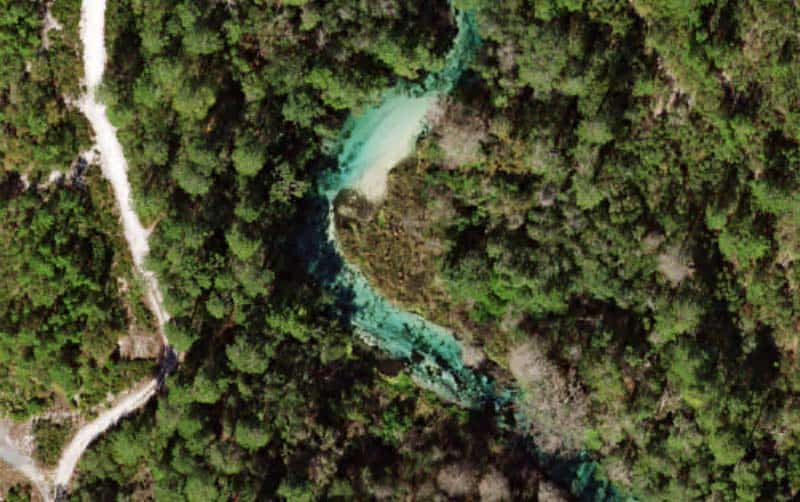 Notice how in 2008, you can see a lot more green vegetation. Fast forward to 2017, you can see what looks like a sandbar, which is a loss of 1,600 square feet of vegetation.
Dr. Trowbridge tells us you're not supposed to see sand bars on a spring run. As tempting it may be to stop and swim (and take that Insta-worthy picture), she's urging you to think twice for the sake of the river's health.
This goes for jumping and swinging off trees too.
"It causes damage because we are getting erosion on the riverbanks, and when we're climbing on the trees, it will eventually not only cause damage to them, but can cause them to lean, and they can fall into the river. We want folks to stay in the vessel when possible," said Dr. Trowbridge.
In a joint campaign with Hernando County, the Florida Department of Environmental Protection, Florida Fish and Wildlife Conservation Commission , and other agencies, the Southwest Florida Water Management District is sending out seven simple tips we can follow when recreating on the Weeki Wachee River:
1.         Stay in the vessel when possible.
2.         If you have to leave the vessel, tie off in shallow waters.
3.         Avoid docking on riverbanks.
4.         Don't trample vegetation or kick up silt.
5.         Avoid climbing on banks and walking on sand point bars.
6.         Don't climb trees or use rope swings.
7.         Don't throw out litter or leave anything behind.
Kayaking on the Weeki Wachee River with Kids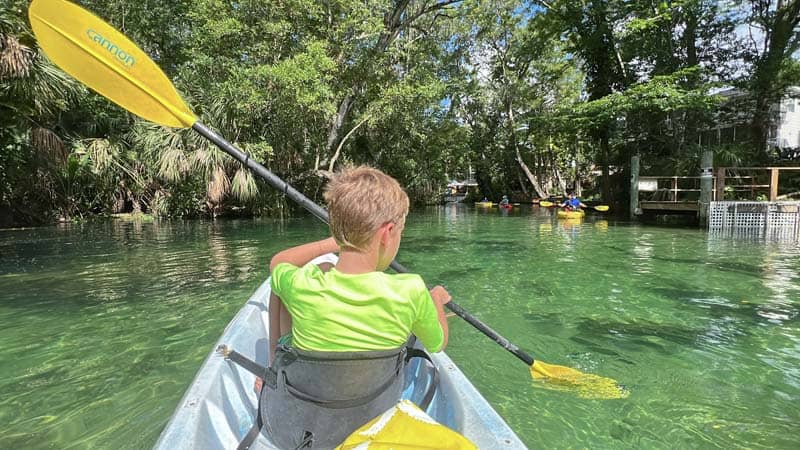 A morning kayaking adventure on the Weeki Wachee River is an experience kids will love, especially if they are big enough to paddle themselves. They'll feel as if they're in control of the kayak–even though you're in the back navigating.
Dr. Trowbridge and her team invited us out on a kayaking tour of the Weeki Wachee River because they wanted us to see the human impact on the river for ourselves. It was also good for our kids to see and learn how to be a kind kayaker.
What to bring to go kayaking with the kids:
Before we left the house, we made sure to pack towels and swimsuits because your bums will get wet during your kayaking adventure. We also brought the other Florida basics like sunscreen, insect repellent, and water shoes.
If you have a wet bag, this is also a great idea to store your keys, wallet, and phone.
Here's the most important tip when it comes to being good stewards of the river (or any waterway in Tampa Bay): we packed our water and snacks in reusable, non-disposable containers.
NOTE: When you're kayaking or enjoying the river within the Weeki Wachee Springs State Park, disposable containers of any kind are prohibited. So, bring your reusable water bottles and pack snacks in a non-disposable container. Alcohol is also prohibited.
You are also not allowed to get out of your vessel to swim when within the Weeki Wachee State Park boundaries.
Where to rent a kayak at Weeki Wachee River
You can rent a kayak at Weeki Wachee Springs State Park. 1.5-hour-long rentals for single kayaks or paddle boards start at $32 plus taxes and fees. Tandem kayaks start at $48 plus taxes and fees.
Another option, which we did, is to rent and launch from the Kayak Shack in Spring Hill. It is right across from Rogers Park, a couple of miles downriver from the headsprings of Weeki Wachee Springs State Park.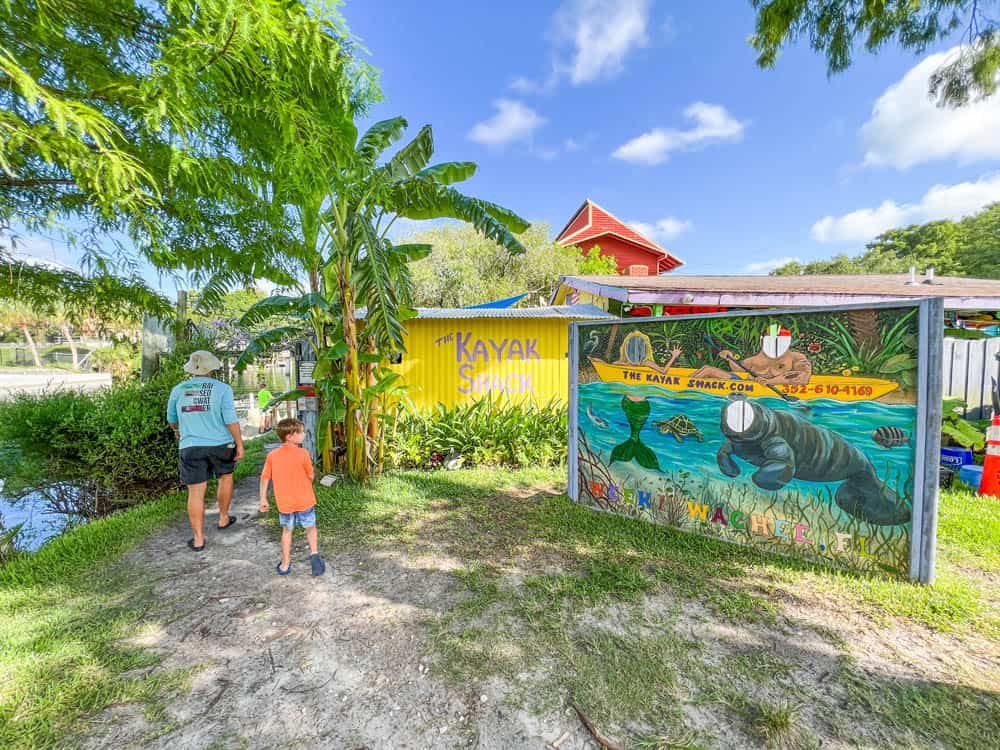 Single kayak and paddle board rentals at Kayak Shack start at $40 and tandem kayaks are $50. The kayak rental includes life jackets if needed (they are required for kids under age 6) and free parking. Keep in mind, they only launch from 8 am-12 pm and you must be back by 5 pm.
If you want a clear kayak experience, consider booking an eco-tour with Get Up and Go Kayaking-Weeki Wachee.
A Kayaking Experience on the Weeki Wachee River
As we launched from the Kayak Shack, we easily floated along with the current of the crystal-clear water.
It didn't take long to see the human impacts on the river. We saw several dangling ropes from trees that people used to swing into the water. As fun as this may sound and cool of a picture it may be, this is a big no-no. As Dr. Trowbridge pointed out earlier, it's harmful to the trees and potentially dangerous for humans.
The Hernando County Sheriff's Office will patrol the river and cut any rope swings they come across.
As we kept paddling along with the current, we also spotted people docked on the riverbanks with their kayaks snapping pictures on the sand bars that shouldn't be there.
We didn't take pictures to post here. The thing is, they probably didn't know any better because they're only doing what they've seen published in other blog articles online or emulating those perfect "Insta-worthy" photos they've seen on social media.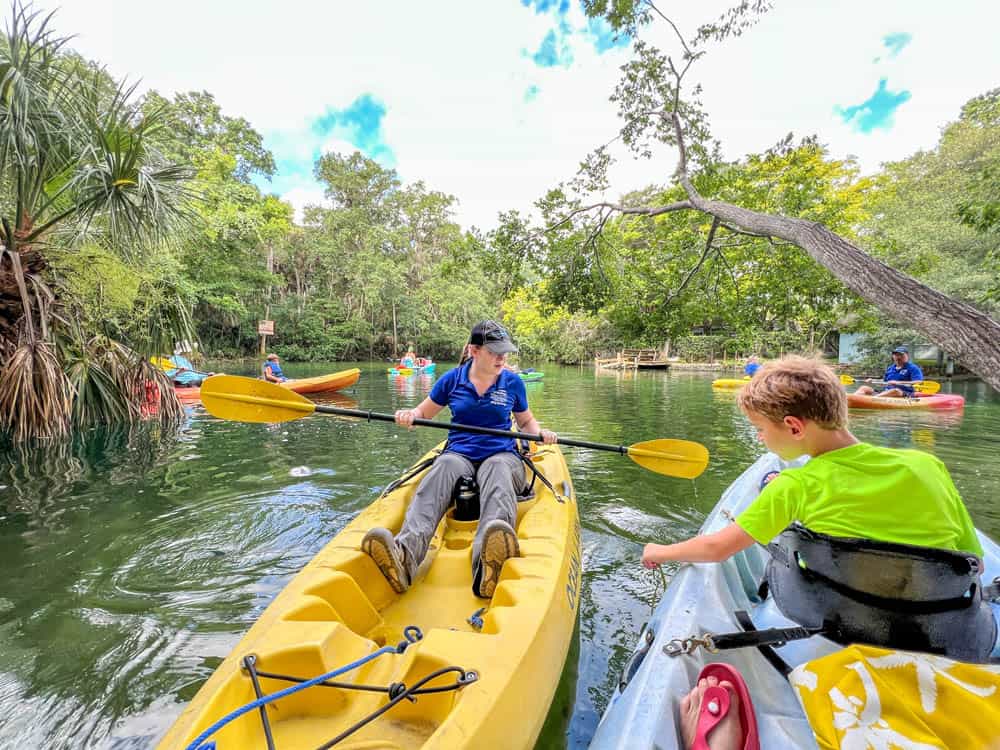 This is why the educational campaign to protect the Weeki Wachee River is so important and why it's so important we teach our own children about how to respect the river.
Where to go swimming on the Weeki Wachee 
If the crystal-clear water of the Weeki Wachee River is too tempting not to take a dip, head on over to Rogers Park in Spring Hill where there is a 3-acre beach area, OR even better, go to Weeki Wachee Springs State Park and play in Buccaneer Bay.
We had plenty of time left in our afternoon to stop by to play at Buccaneer Bay after our kayaking adventure. It took less than 10 minutes to get to Weeki Wachee Springs State Park from the Kayak Shack and it was on our way home to Tampa anyway.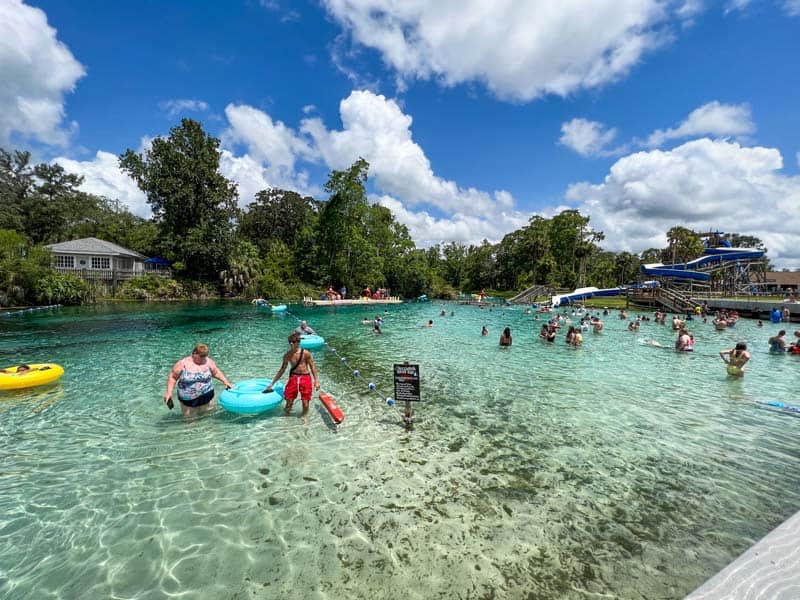 There are waterslides kids and adults love, a swimming area, tubing, and more fun things to do for families. Oh, and let's not forget the mermaids!
The park does get very busy, especially on weekends, so aim to go on a weekday if you can. This same tip goes for kayaking on the Weeki Wachee River since weekends get crowded there as well.
Kayaking upstream on the Weeki Wachee River
The paddle down the river is easy since you are flowing with the current, so try to save your energy for the paddle back to the Kayak Shack or wherever it is that you launched. It's not super strenuous, but it does take some work to stay on track. This is something else to keep in mind as you decide how far down the river you'll go.
Let's all be good stewards of the Weeki Wachee River
We want to make sure this beautiful 7.4-mile-long spring-fed river is around for generations to come. We can do that simply by being good neighbors and good stewards of our beloved Weeki Wachee River.
Before your visit, consider talking to your kids about the importance of protecting our environment.
For more information, visit WaterMatters.org/ProtectWeeki.
*A version of this article was originally published in the July 2022 issue of Tampa Bay Parenting Magazine.