Ask the Expert: How to help kids handle holiday stress and sensory overload
It's the most wonderful time of the year…until it isn't.
For three months, stores are flooded with Christmas and Hanukkah decor and gift ideas. It seems the same house that passed out spooky treats one October evening is adorned with twinkly holiday lights only a few November days later.
Between the traditions and the travel, the schedule hustle and school bustle, this season can be overwhelming for everyone in the family. However, there are things we can do to support the youngest among us as they are thrown into the shuffle and out of their normal routines.
Kristina Madden, owner and founder of Madden Therapy Solutions, is a licensed pediatric speech-language pathologist and certified lactation counselor with over 15 years of experience in both inpatient and outpatient settings in a variety of specialties.
With training and experience from Johns Hopkins All Children's Hospital, Duke University Medical Center, Medical University of South Carolina, and Children's Hospital of Philadelphia, Kristina offers a global and functional approach to improve the quality of life of both her patients and their families. Here, she takes on the holiday season for us.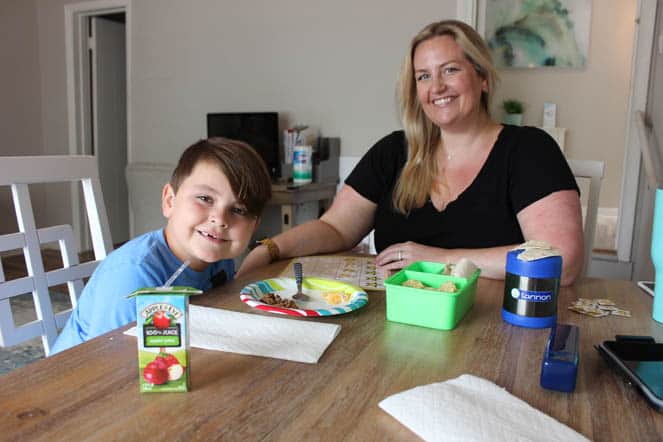 TBPM: What are some of the more common ways that children demonstrate stress, overwhelm or anxiousness at this time of year? In particular, how can the holidays be stressful for kids?
Madden: Children show that they feel stress and a sense of being overwhelmed with tantrums/ meltdowns, avoidance, and/or being tired. Kids are like sponges and can feel their parents' energy, so a stressed and anxious parent can lead to the same for their children.
Breath work, yoga, a bath, soothing music, being in nature, snuggles, bare feet in the sand/grass, meditation can all help calm the family. This time of the year is super busy and we are all off of our normal routines, so giving ourselves a little down time is important for everyone.
Saying "no" to events and having restful/ routine time at home can help regulate children and adults alike. Children can even become overwhelmed with the excess of presents, so spreading them out when they open them, storing some away for later, or having family members give the gift of experiences (what every child needs and remembers the most) are some ideas to avoid stress.
Additionally, making sure children are eating healthy foods and avoiding a lot of sugar can help their immune system, and getting a good amount of sleep over holiday vacation will allow for more balance should things become disorderly.
TBPM: Given that some of the sensory overload in December may be unavoidable, what can we do at home to help our children reduce the pressure or avoid it altogether?
Madden: The biggest thing a parent can do is to communicate the plans, have children help/ be involved with activities and planning as much as possible, and think about what things might upset them or be "triggers" ahead of time.
Ways to help calm children are by giving strong/deep hugs, holding a preferred stuffed animal/toy, drinking cold water, rocking, playing calming music, or going to a quiet location while out to regroup to share an intimate discussion.
Doing new things and having novel exposure are ultimately beneficial for children, but planning ahead to make sure everyone has had some "down time" between events, a snack, or nap will maintain the joy.
When going to events, have low expectations, leave early if needed, or just decline if the parent and child need a break. Giving the child choices can help them feel like they are in control, and that helps for making the best memories this month.
TBPM: What about children that are sensitive to overstimulation like lights and sounds, those that are uncomfortable with social interaction, or become upset easily when there is disruption to routine – are there ways to get ahead of the chaos now so that everyone can enjoy the holidays together in the coming weeks?
Madden: Yes, we are all unique, as some kids and adults like/dislike sensory stimulation (flashing lights, spontaneous or loud sounds, crowds of people, dark places, being around or touching strangers (ie. Santa)). Knowing what your child likes and dislikes, talking to them about it, role playing, trying it out first (ie. going to see lights in the car vs. walking on a busy street) can be helpful.
Making sure your child is not tired or hungry can help with their ability to tolerate more sensory input too. We all function best with good food, good sleep, and lots of movement. Having them know that if they are out of the house, they are still safe, and reviewing ways to calm themselves while at home and out of the house ahead of time can be very useful.
Knowing your child's limits, how to redirect their attention away from something they dislike, being a model for them to know it is safe, discussing expectations with your child, and talking with family to see what accommodations are available are all good options so that everyone is able to enjoy being together as much as possible.
TBPM: In what ways do you get involved to support children and their families around high stress seasons and other times during the year when there are other challenges?
Madden: We are excited to begin offering a parent mindfulness virtual group in the near future, as all parents need to practice self-care before they can help others to the best of their ability. Our occupational therapists support parents and our patients by educating them on ways to help calm themselves at home (and in the community) to be successful during stressful times.
We also plan to start holiday/ themed sensory activities for our patients and families to come into a safe space and engage in sensory activities with the guidance of highly trained therapists.
TBPM: Please share what inspired you to create Madden Therapy Solutions, and what you love most about working with families in Tampa Bay.
Madden: First and foremost, I started Madden Therapy Solutions because I LOVE helping people, and I'm extremely passionate about supporting the children and families in our community. I worked in the hospital system for 11 years prior to opening my practice, and saw that there was a real need in the community for smaller, personal, top-notch care out in the "real world," where we could focus on functional therapy, functional skills, and problem solving real life situations.
If your child has trouble with social skills, we might meet at the park; if he has trouble with eating and anxiety around food, we might go to a restaurant for therapy. In addition, it has always been extremely important to me that I can guarantee parents that ALL of my therapists share that same passion and that same "heart" in everything we do; we live and breathe our mission every day.
The thing I love most about working with families in Tampa Bay is the sense of community here; we grow extremely close to the children and families we serve, and it's just such an honor to be entrusted to the care of the things these families hold most dear—their children.
TBPM: How can parents reach your team to get support for their children?
Madden: Call us! I am the first point of contact for every family because I like to get to know their situation myself in order to see which therapist might be the best fit for their child. Our main number (727.240.6209) is my direct number. Because I do get busy with my own patients and running the practice, another option is to visit our website, www.maddentherapysolutions.com and schedule a free consultation with me to discuss any concerns and see how we can help!
TBPM: What is your favorite thing to do in Tampa Bay in December?
Madden: Where do I start?! This is my favorite time of year in Tampa Bay; the weather is incredible! My wedding anniversary is actually in December, so I love wandering down Beach Drive in St. Pete with my husband and looking at all the Christmas lights in Straub Park, or heading to Pass-A-Grille to catch one of our gorgeous sunsets!
---
Related stories we think you'll LOVE: