Everything You Need to Know About the NEW Pirate River Quest Ride at LEGOLAND Florida
Shiver me timbers! Pirates aren't just taking over Tampa this month for Gasparilla; your beloved LEGO® Pirates are heading to LEGOLAND® Florida Resort in Winter Haven to launch their very own ride!
Related: Check out LEGOLAND Florida Resort's Totally AWESOME Hotels!
Pirate River Quest is a swashbuckling adventure through the historic Cypress Gardens that promises to delight landlubbers and old salts of all ages.
A few must-knows for parents
This ride was created for kids of all ages…and kids at heart. However, since it is a free-floating boat ride, kids under the age of 6 must to wear a life vest which they can pick up at the ride entrance. The roughly 20 minute long ride is not a scary ride and you won't get wet.
We thought the LEGO Pirate twist on the historic ride was adorable and we thoroughly enjoyed reliving our experience as kids riding a boat through the historic Cypress Gardens with our own children. So, let's get to the details…
Pirate River Quest: A Nod to the Past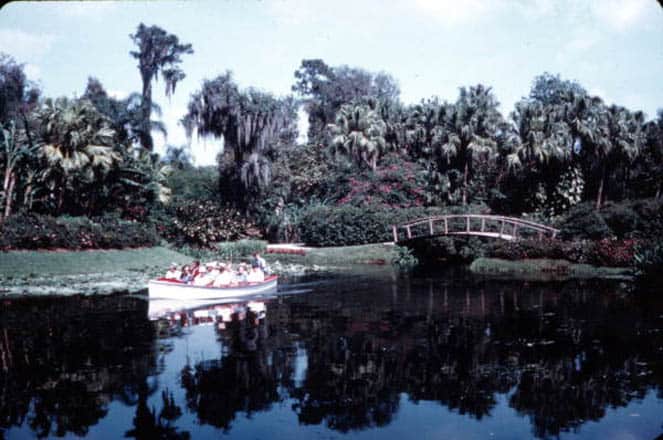 While Pirate River Quest is new, boat rides in Cypress Gardens are not. Many decades ago, an electric boat tour of Cypress Gardens was a must-do at what was once Florida's first theme park.
In fact, the first boat tours set sail in the gardens in 1938 and continued through 2003. So it's safe the say, the reimagination of this historic ride is one that has been a long time coming.
Speaking of time…time had taken a toll on the canals throughout the gardens, but it was always a part of LEGOLAND's vision to restore and revive the waterways and bring back the boat rides that entertained generations of families—but with a LEGO twist, of course.
"We've always been maintaining the botanical gardens since 2011, but that was from a pedestrian pathway point of view," Rex Jackson, the managing director of LEGOLAND Florida Reports told us. "As we went to reopen the canal ways, we realized that requires a whole new perspective we need to look at which required a lot of work and preparation before the opening."
After a few years of hard work, and even a hurricane or two that resulted in a few delays (would it even be a pirate adventure without a hurricane?), the boat rides are finally back for a new generation to experience… with the community in mind.
"Yes, this is part of the LEGOLAND experience for our guests, but it is also meant to be a gift to the local community. We know how important the Cypress Gardens and botanical gardens are to the city of Winter Haven, the county of Polk County and Central Florida at large, we're so proud to be able to bring boats back to the gardens," Jackson told us.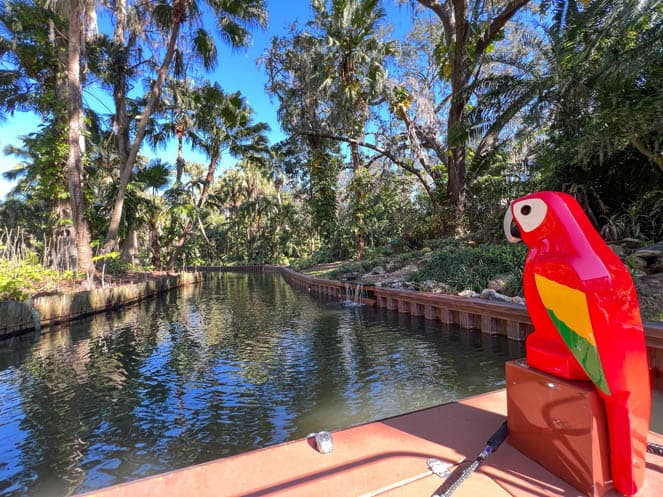 About the Pirate River Quest Ride
Pirate River Quest is not a thrill ride, but it is one with a big ad-venture in store for you. As you board the boat, you will embark on a quest to help find Captain Redbeard's lost treasure. And since all good treasure hunts are met with adventure and mishaps, you'll encounter a mischievous troupe of monkeys and even a fearsome kraken as the story unfolds.
We love that this is a ride built with all ages in mind. It's not scary and you won't get wet. It's also a trackless ride and driven by an experienced boat captain—in fact one of them, Morris Mcaulay, is an original Cypress Gardens boat captain!
We had a chance to catch up with him before opening day and we had to ask…what it was like to be back on the water again.
"It's great. it really is," he told us. "I'm glad they revived the canals. It's like coming home. Like RedBeard says, I'm coming home."
He was a driver for Botanical Boat Cruise at Cypress Gardens for 10 years and then continued to work with LEGOLAND when it opened up until the pandemic. He came back to the theme park when he got word the boat rides were about to disembark once again.
"The Gardens are on the historical registry, they need to be preserved and they look as good now as they did back in the day," he said.
That's one of the special things about this ride. Parents and grandparents who remember the original botanical cruises will feel somewhat at home on Pirate River Quest.
Storylines may have changed, but when you embark on this voyage, you will retrace the journey generations of kids have taken upon these very same canals.
We don't want to spoil too much of the ride for you, but be ready to actively take part in the quest as you count jewels, search for the Golden bricks, and more!
What's also extraordinarily unique for a theme park attraction in Florida is the experience of being in the natural environment. They didn't have to build it. It was already there.
"What we're able to offer through this ride is what the Florida wildlife looks like," explained Jackson. "When you think about the theme park experience, you don't think of natural Florida and we have a lot of tourists who come from outside of Florida and as part of Pirate River Quest, you are getting to see the cypress trees, the osprey, the egrets, there's a lot of wildlife that is part of this experience that is very unique as a theme park attraction."
Pirate River Quest Rules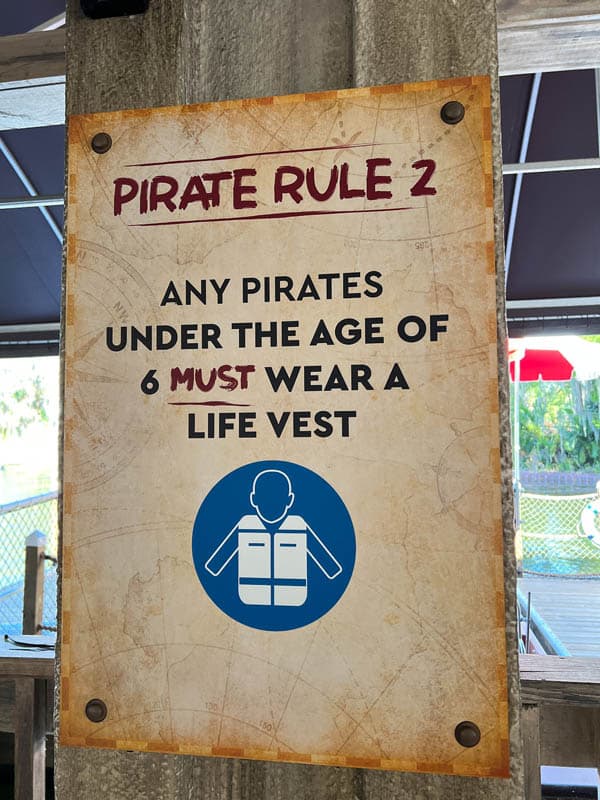 Just like any ride at a theme park, there are some rules to follow.
Pirate Rule 1: When you get on your boat, ALL pirate children must sit in the middle of the rows.
Pirate Rule 2: Any pirates under the age of 6 MUST wear a life vest.
Pirate Rule 3: When you are in the boat, all pirates must remain seated at all times.
Pirate Rule 4: When you are in the boat, all pirates must keep their hands and feet inside the boat at all times.
Pirate Rule 5: All pirates must follow rules 1-4.
Fun Facts About the Pirate River Quest Ride at LEGOLAND Florida:
The ride's entrance is next to Brickbeard's Watersport Stunt Show in Pirates' Cove and the Cypress Gardens entrance. The queue is shaded with fans.
All ages are welcome to ride, and there is no height requirement.
Children under the age of 14 must be accompanied by a responsible adult, and all children under the age of six must wear a life vest. Life jackets will be provided.
Each boat has a weight limit and can accommodate up to 12 passengers.
The ride is just over 20 minutes long.
If you're planning to stay at the Pirate Island Hotel on property, be on the lookout for small nods to the hotel and even to the Brickbeard's Watersports Stunt Show.
Take note of the boat names! A few are named in honor of Cypress Gardens and LEGO history like: The Cypress Belle, Pope's Plunder (named after the original founders of the gardens, Dick and Julie Pope), and Kristiansen's Ketch (named after the founder of the LEGO Gourp, Ole Kirk Kristiansen)
You'll also get a view of the historic Florida Pool at the end of the ride! It was created for the 1953 film "Easy to Love".
The LEGO Pirates Theme was introduced in 1989.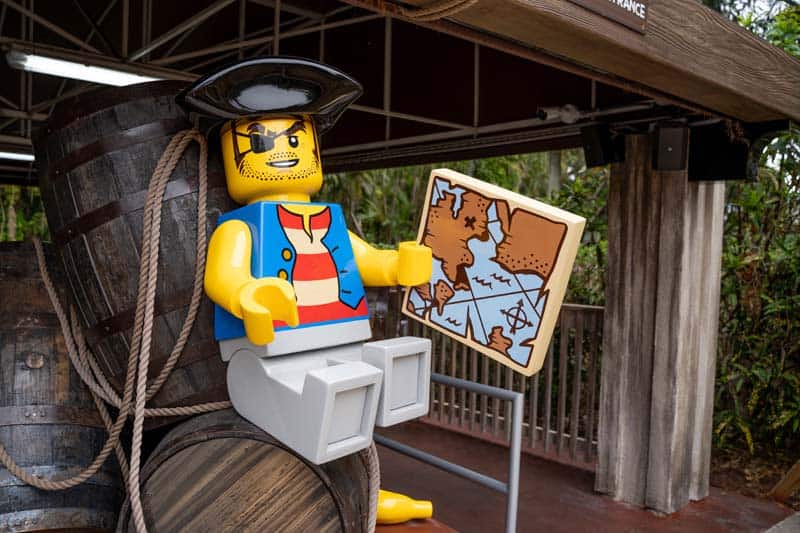 AHOY! PIRATE FEST WEEKENDS RETURN JAN. 21 THROUGH FEB. 19!
Party with the pirates on Saturdays and Sundays! LEGO® Pirates invade the theme park on weekends to fill it with exclusive LEGO character meet-and-greets, pirate themed shows, LEGO build activities, specialty food and more.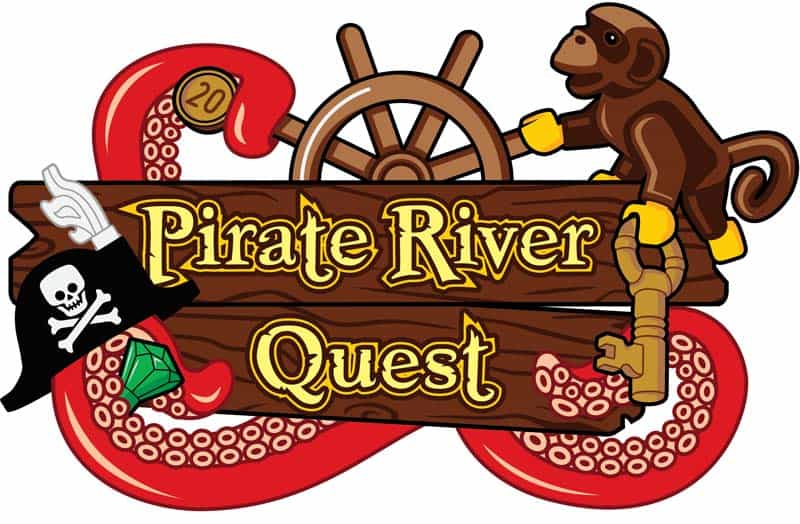 ---
*Presented by LEGOLAND® | Originally published in January 2023 of Tampa Bay Parenting Magazine.