On Exhibit: "Picasso and the Allure of the South" at The Dali in St. Pete
"Picasso and the Allure of the South" will be on display at The Dali in St. Petersburg from January 29, 2022-May 22, 2022.
Do you want to see some of the original works that sparked an artistic movement that changed modern art in the 20th century?? Then step right into The Dali in St. Petersburg to experience the new exhibit, "Picasso and the Allure of the South" where from floor to wall, to even as high as the ceiling, you'll walk through the history and the life of one of the most influential artists of the last century, Pablo Picasso.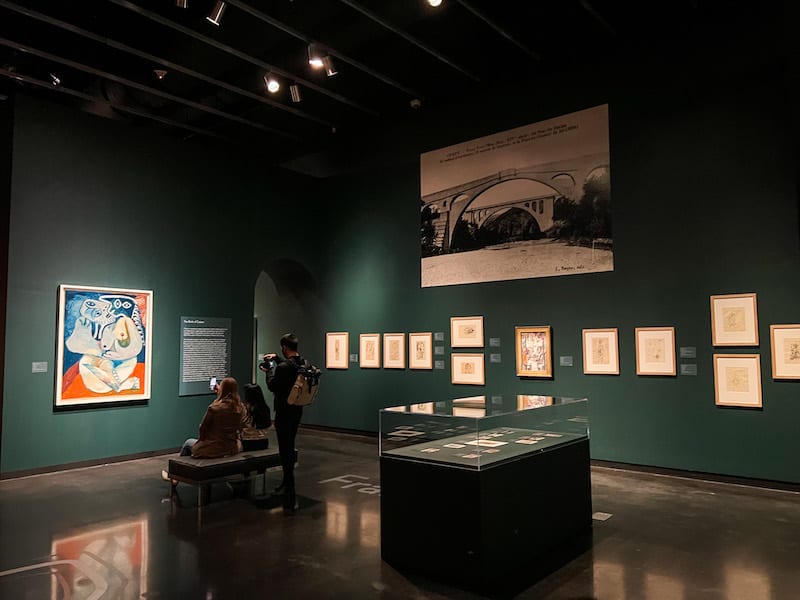 "Picasso and the Allure of the South" features 79 works of art including paintings, drawings and collages created during particular points in Picasso's life when he experienced "the most productive and creative periods" of his artistic life…times when he was on a retreat so to speak, to the Mediterranean regions of southern France and northern Spain. What's most exciting is that many of these pieces–about half–have never been on display in the United States. (The pieces are on loan form the Musee national Picasso-Paris and the Leonard A. Lauder Cubist Collection in New York.)
Related: 'Tampa Fresh Foods', a deliciously immersive art experience arrives in Tampa, but only for a very limited time
"This exhibition is really a rare opportunity to look at this great artist through a very particular lens—the lens of place and culture. So, we've chosen this zone, this border between France and Spain a place of the Pyrenees, the Mediterranean-this place with a very special culture to show how Picasso went again and again to this area for inspiration," explained Hank Hine, executive director of The Dali. "This exhibit explores what that thing was—that magnetic attraction–what the nature of the place was that inspired him so much."
"You will see the names of these towns on the floor as kind of a map, so as you move through the exhibit, you will essentially travel through this zone, the mountains and see and feel together from the floor up and into the art and back into your eyes and heart this energy—that's our goal and we're really excited to have you experience it," said Hine.
The Birth and Evolution of Cubism to Surrealism
The works you'll find inside "Picasso and the Allure of the South" span decades from 1909 to 1972. Along with the art, you'll also see historical photos showing Picasso in his studios, so don't move by the photo displays too quickly.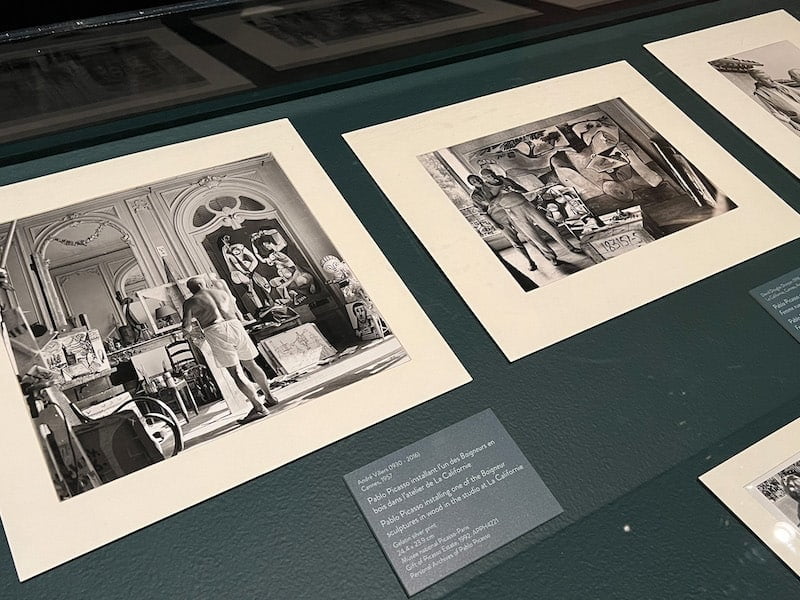 One particularly exciting painting is "Le Reservoir de Horta" (The Reservoir at Horta), which is among the first pieces you'll encounter. Picasso painted it on 1909.
"He was staying amongst the mountains and he started to think about using photography to split up a way a picture can be presented so this is one of these first radical moments he started thinking about a building simultaneously from the sides, from the bottom, from a round backside," explained Peter Tush, Senior Curator Education at The Dali, "You start to see buildings that are no longer regular geometries, but we're looking at roofs, looking at strange passages—not sure if it's a tree or chimney—it all gets rather confused and it liberates what an artist is able to paint."
Tush says it was changing moment in the 20th century. It was the birth of Cubism.
"Cubism changed the world; it changed the way we see the world and Picasso was primarily responsible for that," said Tush.
As you continue to move through the sketches and paintings, you'll come across an almost child-like work of art. A collage called "Landscape of Ceret".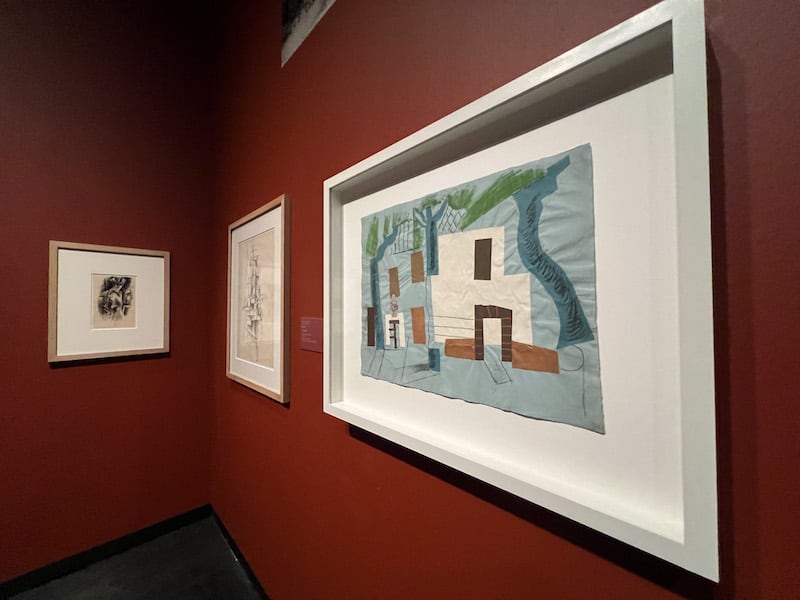 "By the time you get into this section about 1913-1914, we switch into what is known as Synthetic Cubism and this is where he really becomes fascinated by collage, revolutionized the way art was produced. Nobody ever thought collage was something was appropriate for high art and Picasso starts to explore it and one of the best examples is, "Landscape of Ceret", Tush told our group.
We pulled Tush aside to dig a little deeper on this piece since it is one we know children will be immediately drawn to because it is so familiar to them.
"You can see him taking the most extraordinarily arbitrarily pieces of paper and recognizing this could be a tree—this could be a window, perhaps this is a mat. With very rudimentary detail, he creates something that is recognizable. You could go to the city of Ceret and you would know which two buildings he has created.  There's something very childlike about his approach to art that I think kids understand and I think they'll be both delighted by these pieces and encouraged to do their own exploration of the language of Cubism," Tush told us.
Tip: If you go with the kids, be sure to have them drop by the first-floor activity room where they can create their own masterpieces inspired by Picasso and of course, Dali.
As you continue your tour, you'll also encounter a painting that seems so unlike the Picasso works that immediately come to mind when you hear the name Picasso.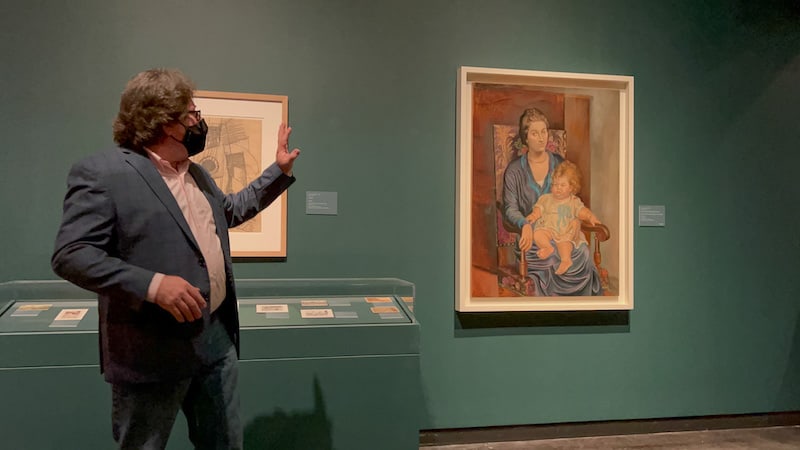 World War I changed the art world and Tush brings us to "Portrait de Madame Rosenberg et sa fille" (1918) to show how. This is the first time this piece has been on display in the United States.
"There was suddenly great suspicion about anything Avant Garde—it was thought in France that anything Avent Garde was associated with Germanic thought regardless of who created the Avant-Garde ideas—anything that was new or radical was thought of as being part of the problem and it was a return to classicism and that is exactly what we have here—a very Neoclassical style.  You can see this kind of facility he has and ability to pivot," he explained.
How to Experience 'Picasso and the Allure of the South'
We highly recommend downloading The Dali's app because it's here you can access the free audio tour—and even give it a listen before you go. The app is a must to experience the entire Dali museum, so you'll be glad to have it preloaded on your phone when you arrive. We promise.
Also, keep in mind that you will need an advanced reserved timed ticket to experience "Picasso and the Allure of the South", so it'll take some planning ahead. Tickets are $29 for adults and $12 for kids ages 6-12. There are discounts for seniors, students, and museum members. Face masks are also required when indoors.
The exhibit is organized in four parts:
The Birth of Cubism
From Cubism to Realism
Corridas de Sud (bullfighting)
Surrealism and Beyond
Hank Hine explains, "First it's The Birth of Cubism and how these towns gave rise—perhaps the steeples of their churches, the regular white on white buildings, something prompted this move toward the geometry of Cubism. Then you will see how Picasso went From Cubism to Realism and how this time in his life he started celebrating—perhaps it was the landscape, perhaps it was the people, he started celebrating the classical impulses that were still there in the Mediterranean that were remnant from the old Latin cultures."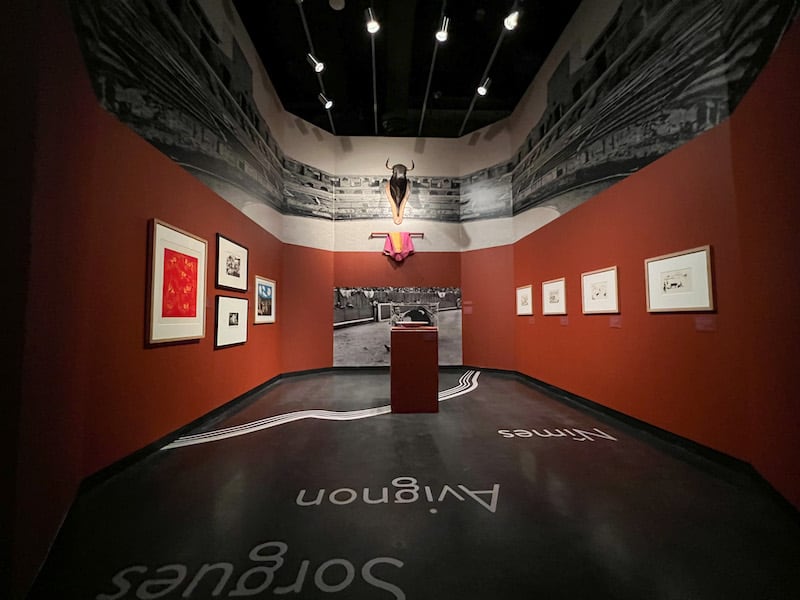 He went on to say, "Then you will see the infatuation with The Bullfight (Corridas de Sud). This was a lifelong obsession. It meant something completely different to Picasso then it might mean today. Bull fighting represented the age-old culture, at least the age-old forces for Picasso. And finally, you will see Surrealism enter into Picasso's vocabulary and he filtered the world through his own subconscious at this point and created new forms and these are some of the most indelibly amazing paintings."
YOUR PORTRAIT
Don't step out of "Picasso and the Allure of the South" before experiencing one last thing…YOUR PORTRAIT. Notice how AI is in bold?
This is intentional because you'll take a seat and watch as your own portrait is transformed into a Cubist piece of art using artificial intelligence. As the features of your face are moved and transformed, the experience explains why and how this being done so you can learn more about how Cubist art was created. In the end, you can text or email your portrait to yourself. And the coolest part is, each time you do it…the result is different! It's pretty cool and not to miss.
Special Events and More
There will be special events planned around this exhibit with wine tastings, lectures and more. You can visit thedali.org to stay up to date. If there is an event that piques your interest, you'll want to book as soon as possible because events like the wine tastings sell out fast.
Just like with the Van Goh Alive exhibit, the café will feature menu items inspired by the exhibit and the gift shop will have plenty of prints and more so you can bring a piece of your experience home with you.
We couldn't leave home without a print of 'Homme au chapeau de paille et au cornet de glace" (Man with a Straw Hat and and Ice Cream Cone) painted in 1938.
Tush tells us it was inspired by Van Gogh's famous self-portrait, but Picasso put his own spin on this Surrealist piece featuring a grotesque creature something some quite common. Eating an ice-cream cone, "It's like that incredibly dainty thing that connects everybody, the joy of ice-cream on a summer holiday.
If you're debating whether to bring the kids, yes. Yes, you should. As Tush points out, it is important to expose our children to art, "It helps create a mature and create a well-rounded understanding of the world. I think without art, half of your brain is not being challenged or utilized, so it's really important component to balance out the obsession with science and math –that's part of what Dali shows us and part of what Picasso also really brings forward."
---
More artful stories we think you'll LOVE: