20+ Best Pumpkin Patches in Tampa Bay to Visit with the Kids
20+ Pumpkin Patches
The Best Pumpkin Patches in Tampa Bay!  Hooray!
Oh, my gourd, the 2023 list of our favorite pumpkin patches in Tampa Bay is ghoulishly good!
So, get your calendar out, and let's start scheduling some fall family FUN!
Keep in mind that the owners of the pumpkin patches work really hard to organize these amazing events for you, so make sure you are keeping a close eye on your kids when visiting. We all know how excited little ones can get and we want everyone to stay safe.
We are continuing to update and tweak this list as 2023 events pop up but check out some awesome pumpkin patches that have piqued our interest so far!
Related: Halloween Events for Grown-Ups and Fall Fun for Grown-Ups – THE list of pumpkin patches and corn mazes and craft beer foodie things and fall festivals for your adulting pleasure!!
Cover photo provided by WTSP 10 Tampa Bay's Traffic Anchor Sarah Rosario with her family at Armature Works. Photo by Rickey Kim Photography
Have an event you want to add to our list? Email us at calendar@tbparenting.com.
2023 Pumpkin Patches in Tampa Bay!
(Dates, times, and ticket prices are subject to change. Check with your chosen farm's social media sites before you go because some do sell out of tickets on certain days.)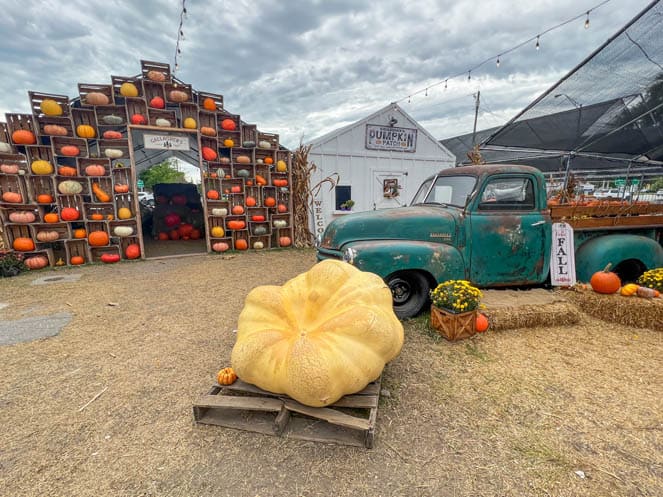 Updated September 2023.
Opening September 16, 2023
Location: 7401 4th St N, St. Petersburg, FL 33702
Located in St. Pete for more than 30 years, this family-owned business is the perfect spot to capture super cute photos of your little pumpkins while you select the best of the 'patch'! You can also pick up a yummy homemade pie and even feed goats in the goat pen. Before you leave, be sure you snap a photo in front of the popular vintage pickup truck.
September 15-November 12, 2023
Location: 950 Tavares Rd., Polk City, FL 33868 – about 30 min east of Tampa
Cost: $15 for ages 13-64, $12 for ages 2-12, seniors 65+, and active-duty military
It's an easy ride from Tampa – just about a half hour east on I-4 – and suddenly your at Farmer Jerry and his family's Harvest Holler Farm.  Come out for a fun fall tradition and stroll the fields of this year's corn maze and pumpkin patch at Harvest Holler Farm, a working family farm! You can explore the pumpkin patch, go on a hayride, enjoy some country eats, meet live farm animals, and more! There's also a cow train, corn hole, and many more activities.
Fridays-Sundays, September 22-October 29 and Saturdays and Sundays November 4-19, 2023
Location: 16907 Boy Scout Rd, Odessa, FL, 33556
Cost: $16.95 when purchased in advance for ages 3 and up, children 2 and under are free. Parking is free.
Raprager Family Farm's Fall Festival is BACK for 2023 with even more fall fun on the farm! Attractions this year include axe throwing, pumpkin painting, a 900ft inflatable maze, a baby cow, and more.  The haunted barn is back along with the hay rides, petting zoo, hay chute slide, and other favorites. The farm is kid-friendly all day but does get scarier after 6:00 p.m.
Weekends from September 23-November 5, 2023
Location: 17250 Benes Roush Rd. Masaryktown, FL 34604
Cost: $11.75 + tax ages 3 and up, 2 and under are free 
Come out for corn maze fun at Sweetfields Farm in Masaryktown, but stay for the Pitcher Pump Duck Race, hayride, pumpkin patch, farm animals and free craft of the season. Buy your tickets ahead of time to secure your spot because this event often sells out. This year's maze design is inspired by the new farm dog who you just might meet during your visit to Sweetfields!
September 23-November 12, 2023, Thursdays-Sundays from 11 am-7 pm
Location: 16651 Schofield Rd, Clermont, FL 34714
Cost: $24.95 for ages 3 and up (tickets must be purchased in advance)
About an hour east of Tampa, just north of Walt Disney World is the cutest farm/fall festival for families! This year's 8th Annual Fall Festival at Southern Hill Farms will feature a new 5-acre corn maze, u-pick sunflowers and zinnias, a pumpkin patch barn, a kids zone, and more. There will be live music and even flat-screen TVs to make sure you don't miss your favorite game. You can even taste the yummy apple cider donuts, blueberry lemonade, frozen and hot apple cider, pumpkin muffins, and more. This event is cashless and tickets must be bought in advance.
Weekends from September 29-October 29, 2023
Location: 475 North Avenue West, Brooksville, FL 34601
The Brooksville farm has hundreds, if not thousands of pumpkins–to choose from! The farm says most of their pumpkin deliveries are a few days off the vine, so they should last you through the holiday…and maybe even grab some cute ones for decor for Thanksgiving. They also have food vendors, produce, a petting zoo, bounce house, games, and more.
October 7,8, 14, 15, 21, 22, 28, and 29, 2023
Location: 1603 Hawks Griffin Road, Plant City, FL 33565
Cost: Free 
Keel Farms in Plant City is hosting this second annual pumpkin patch event in Tampa Bay that will feature a four-acre corn maze for you and the kids to navigate as you find hidden clues and solve a riddle with the rooster mascot, Corky and pals. There is also a pumpkin patch, hayrides, kids zone, and more!
September 30-November 5, 2023 Sat-Sun: 10 am-5 pm and select weekdays
Location: 15990 Stur St., Masaryktown, FL 34604
Cost: $14.95 + tax ages 3 and up
You'll want to pre-purchase a ticket online to secure your spot to navigate the 5-acre corn maze, explore the many attractions like a cow train, pedal cars, jumping pillow, and barnyard games. There's also a petting farm and tree house. Bring some extra cash in case the little ones decide they want to participate in gem mining or even pick out their own pumpkins in the pumpkin patch! They even host a Flashlight Night and Haunted Trail (separate admission required).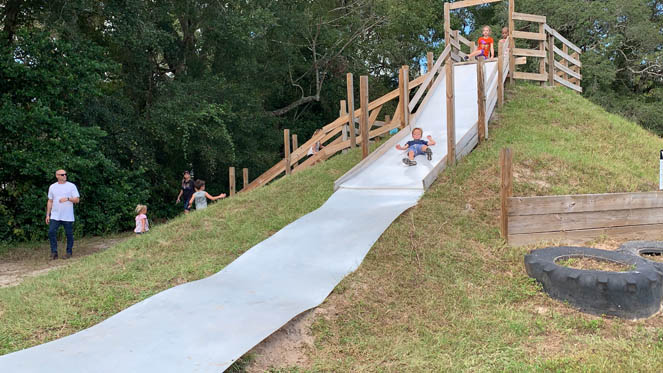 October 7-November 5, 2023, Sat-Sun: 10 am-5 pm 
Location: 6151 Varn Road, Plant City, FL 33565 (NEW LOCATION this year!)
Cost: $12. Ages 3 and under are FREE
Take part in exciting, family-friendly fall games and activities during the annual Fox Squirrel Corn Maze! Navigate the corn maze and see how quickly and you can find your way through and then go check out the duck races, challenge your kids to a game of corn hole, go on a hayride, and select the perfect pumpkin for your front porch in Tampa!
Fall Kick-Off event on Saturday, September 30, 2023 from 9 am-3 pm, then open daily
Location: 2311 S. Parsons Avenue, Seffner
Kerby's Nursery has a variety of beautiful pumpkins to select from including Cinderella, gladiator, jack-be-little, and more! Enjoy a scarecrow treasure hunt and free decorating seminars. While you're there, be sure to snap a photo in front of the pumpkin wall!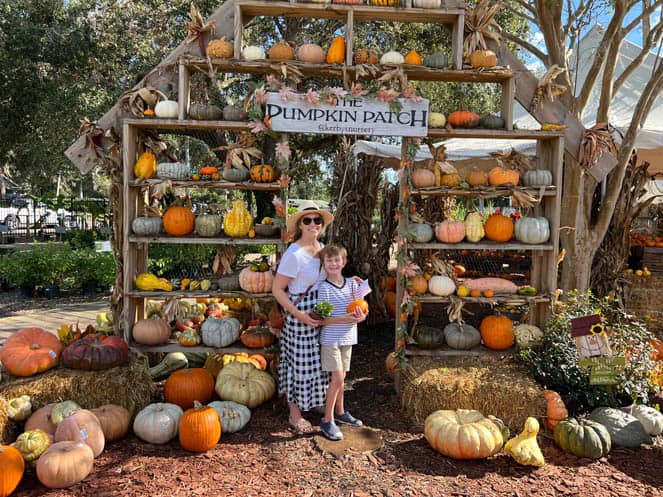 October 4 – October 26, 2023
Location: 1602 W. Snow Circle, Tampa, FL
Come pick out the perfect pumpkin at Hyde Park Village. Proceeds benefit the Humane Society of Tampa Bay. The pumpkin patch will be located by the fountain near Pottery Barn.
October 1-31, 2023 Mon-Fri: 1 pm-8 pm, Sat-Sun: 9 am-9 pm
Location: 106 E Lumsden Avenue, Brandon, FL
Cost: Pumpkins $4 and up
It's not officially fall until you've visited our pumpkin patch in October! Bring your friends and family out to wander through our rows of pie pumpkins, mini pumpkins, white pumpkins, gourds, corn stalks, highly stacked hay bales, garden mums, and much more. Bring the whole family and take as many photos as you like!
September 30-October 22, 2023 on Saturdays and Sundays
Location: 20175 Manecke Road, Brooksville, FL 34601
Cost: $20 per vehicle – includes activities
There will be lots of kids' games, big kids games, corn hole, pumpkin painting, hay rides, "Moo" train barrel ride, a wide variety of craft & food vendors, shaved ice, ice cream, corn shucking contests, and a pumpkin patch!
Every weekend from September 30-October 29, 2023 Sat-Sun: 10 am-5 pm
Location: 7410 Fruitville Road, Sarasota, 34240
Cost: $5 parking, admission is free. Activities range from $1-$10
A quick hop down to Sarasota to check out Fruitville Grove's 35th Annual Pumpkin Patch Festival might be just the change of pace and scenery you and your bunch of little pumpkins need!  Held every weekend throughout October, it includes fun family-friendly activities, a butterfly garden, pony rides, a family circus, and of course, a Pumpkin Patch! There will be a children's costume contest every Saturday at 2 pm.
October 7-15, 2023 
Location: St Pete Pier
Cost: FREE to attend
Pick out your perfect pumpkin at the Family Park at the St. Pete Pier and pose for adorable photos. While you're there, stay and play at the nearby playground and even tour the Tampa Bay Watch Discovery Center.
October 6-30, 2023
Location: 6111 N Central Avenue, Tampa
Cost: Free to attend
Boasting one of the area's largest pumpkin selections, the Seminole Heights Pumpkin Patch is a must-visit! More info coming soon!
Beasley Farm's Fall Festival and Pumpkin Patch
October 14-15, 21-22, and 28-29, 2023 
Location: 10137 Preston Road, Brooksville
Beasley Farms is hosting its second pumpkin festival that will include a ton of fall fun on the farm including a field maze, u-pick sunflowers, farm animals, fresh farm produce for purchase, and MORE!
September 30-October 29, 2023
Location: 1750 Lake Ave SE, Largo, FL 33771
Cost: $10 weekdays/$15 weekend
Explore and pick up a pumpkin at their patch, take a hayride, and enjoy the great fall decorations or hang with some new friends at the petting zoo. There's a ton more to do and lots of fun for the whole family.
Pumpkin Patch: October 6-31, 2023
Fall Festival: October 21, 2023 from 4pm-7pm
Location: 19509 N Dale Mabry Hwy and 3703 W McKay Ave
Get ready for pumpkin season in Tampa Bay! Watermelon Swim's annual Pumpkin Patch opens on October 6, offering a variety of perfect pumpkins at four locations. Lutz and South Tampa have large outdoor patches, while Wesley Chapel and Riverview offer cozy indoor setups. Each location boasts charming fall photo spots for your family to capture the spirit. Admission is free, and they are open from 8 am to 8 pm throughout October. Join them on October 21 for their FREE Fall Festival at Lutz and South Tampa, featuring trunk-or-treating, games, food trucks, and more. Visit their Facebook page for sneak peeks and to share your pumpkin patch photos!
Dates: Saturday and Sunday, Oct 14 & 15 and Oct 21 & 22, 2023
Location: Armature Works, Tampa
Cost: Free to attend
The Heights Fall Festival will take place across two weekends in October and will feature a pumpkin patch, petting zoo, face painters, activities for the whole family, and live music. There will also be a food drive benefiting Metropolitan Ministries.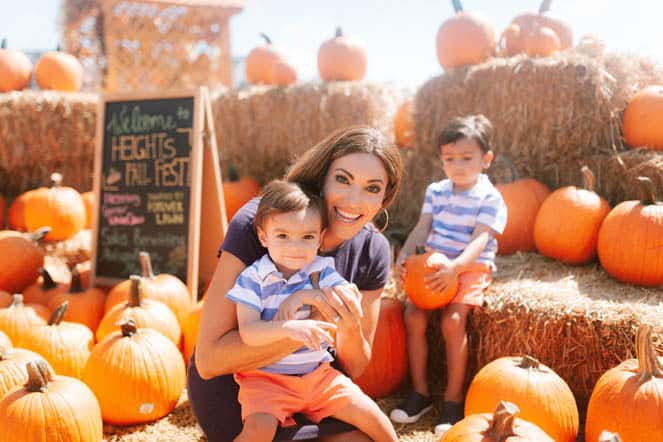 October 14-29, 2023 on Saturdays and Sundays from 9 am-5 pm
5500 C.R. 675, Bradenton, FL 34211
Cost: $15 ages 11 and up, children under 10 are free. $5 for parking (cash only)
Make the drive south of Tampa Bay to experience the 32nd annual Pumpkin Patch Festival on select weekends in October. There will be hayrides, a petting zoo, games, a pumpkin patch, and more! The main attraction is the corn maze which is an additional $2 per person. Make sure to bring cash for other cool activities like a children's train ride, Butterfly Experience, zip line, and more!
October 28 & 29, 2023 from 9 am-4 pm
17500 Elridge Avenue, Spring Hill
Green Acres Farm in Spring Hill is hosting its first Fall Festival and they can't wait to host you for a day on the farm with local vendors, pumpkin patch, and food trucks. This is the same location as the You Pick Blueberries farm you may be familiar with already.
October 21, 22, 28 and 29, 2023 at various times | Tickets are on sale now 
12210 83rd St East Parrish, FL 34219
Cost: Tickets start at $20
The Florida Railroad Museum is calling "all aboard" for young and old train enthusiasts as you embark on the Pumpkin Patch Express to a field full of pumpkins to pick, as well as kid-friendly activities on your 2.5-hour journey. Children are invited to pick their own pumpkin to take home. Everyone is also invited to participate in other crafts and activities.
Through October 7-29, 2023 from 10 am-4 pm
Location: 18150 Commonwealth Ave N., Polk City, FL
Cost: $14 per person
OVER 20 ACTIVITIES INCLUDED WITH THE ALL DAY PASS, 200 animals that you can hold touch, and feed (Food to feed animals included) Pumpkin Patch, 1 FREE Pumpkin per Family (While Supplies Last), Petting Farm, a 70-foot jumping Pillows, Inflatable Slides, Bounce House, Haunted Trail, Bird Aviary, a Scavenger Hunt and more. Lots of New Activities. FREE PARKING.
October 27, 2023 at 5:30 pm 
Location: 400 Alt Keene Road, Largo, Clearwater
Cost: $10 per person
Come on out to the Largo Community Center to carve a pumpkin at the pumpkin patch with all the tools you'll need on hand along with some expert tips on how to carve a pumpkin.
Saturday, October 21, 2023, from 12 pm-4 pm
Location: 12211 Walsingham Rd., Largo, FL 33774 Clearwater Pumpkin Patch
Cost: Free admission, $10 per pumpkin
The 8th Annual Pumpkin Fest returns to Florida Botanical Gardens in their new Majeed Discovery Garden with a pumpkin patch, pumpkin carving, spooky activities, and more. Enter the event through the Walsingham Rd entrance. You can learn more about Pumpkin Fest at the Florida Botanical Gardens here.
The Pickin' Patch announced it will have a new location in 2023. Dates and info are still TBD. 
11000 Rolling Hills Road, Dunnellon, FL
2023 Date TBA
Location: Polk City, east of Tampa
Celebrate fall with live music, a bounce house, guest animals, a smores bar, a vendor market, a petting farm, and more! Free admission and free parking.
2023 Dates TBD
14316 Lake Magdalene Blvd, Tampa
Cost: Free
Bearss Groves has done it again! They are once again home to Florida's largest pumpkin, weighing in at 969 pounds. They are open Wednesday-Sunday from 9 am-7 pm, so stop by and take an Insta-worthy photo and pick out a favorite pumpkin for purchase!