What's so Different About the Pools on the Disney Wish
What's a Disney Cruise vacation without lots of time in the pool? I've been on every Disney cruise ship, except for the Fantasy, and when Disney invited our publications to experience the new Disney Wish I couldn't wait to explore. Many things are different on this ship including the Disney Wish pools for families, and adults too.
Whether you've been on a Disney Cruise before, or not, it's helpful to know what to expect before you step aboard. We'll go over what's so different about the pools on the Disney Wish, including the six pools for families, and a quiet pool, the waterslides, the splash area and pool for toddlers, and the adults-only pools.
Please note, our team was invited by Disney to the Disney Wish Christening sailing. Our cruise experience, aside from specialty drinks and certain experiences, was complimentary.
With a new ship comes new opportunities to make improvements. On the new Disney Wish there are SIX pools for families. These pools vary in size and depth. Plus there is a wading pool at the front of the ship.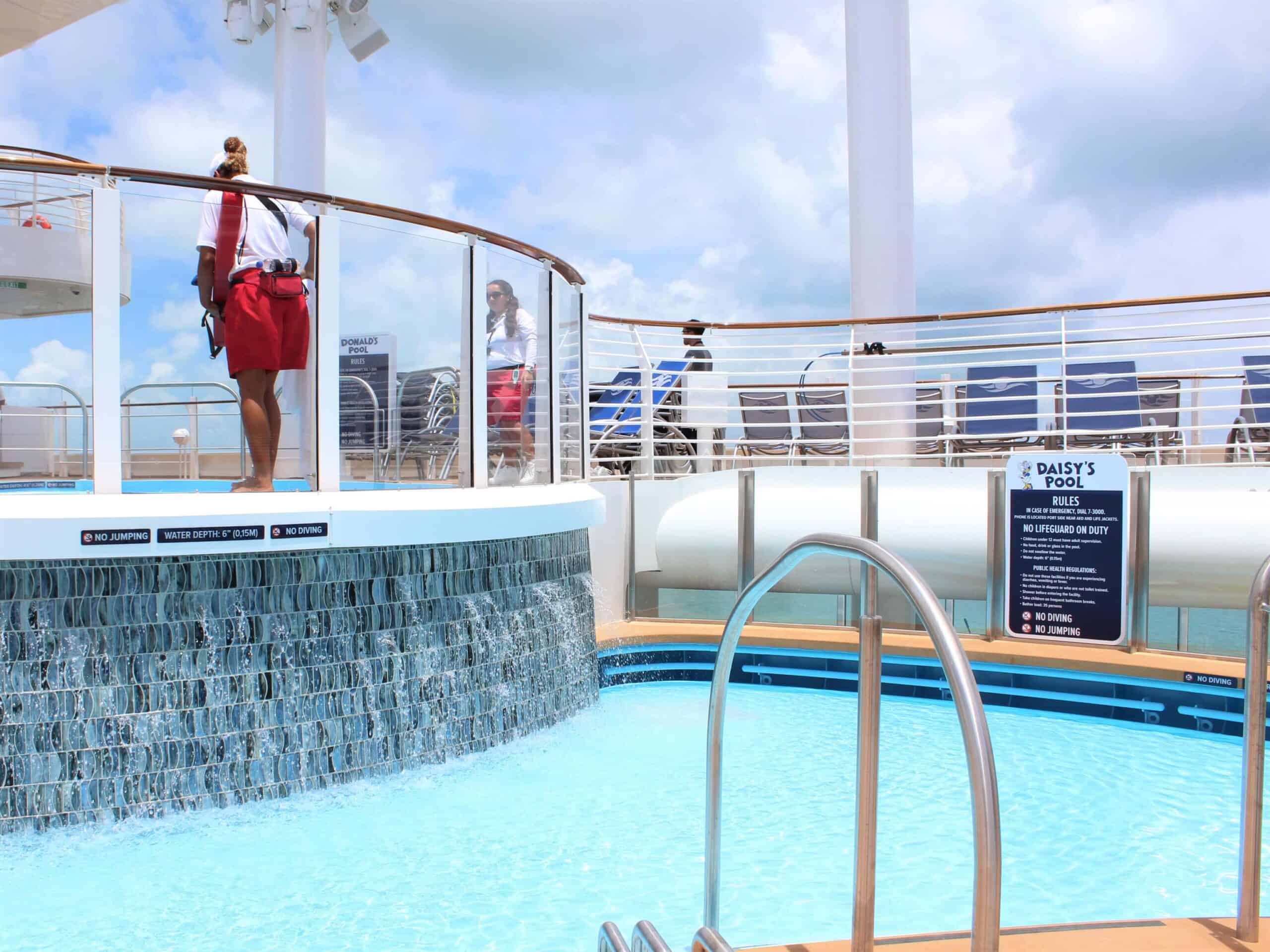 Starting on deck 11 the Mickey's Pool and Minnie's Pool are the largest pools. They are surrounded by lounge chairs and offer the closest view to the funnel vision screens which show Disney films and other fun features throughout the day, and into the night.
Mickey's Pool, and to a lesser extent, Minnie's Pool, can often be covered up due to entertainment. Mickey's Pool is covered up to become a stage during certain shows, including the Sail Away Deck Party.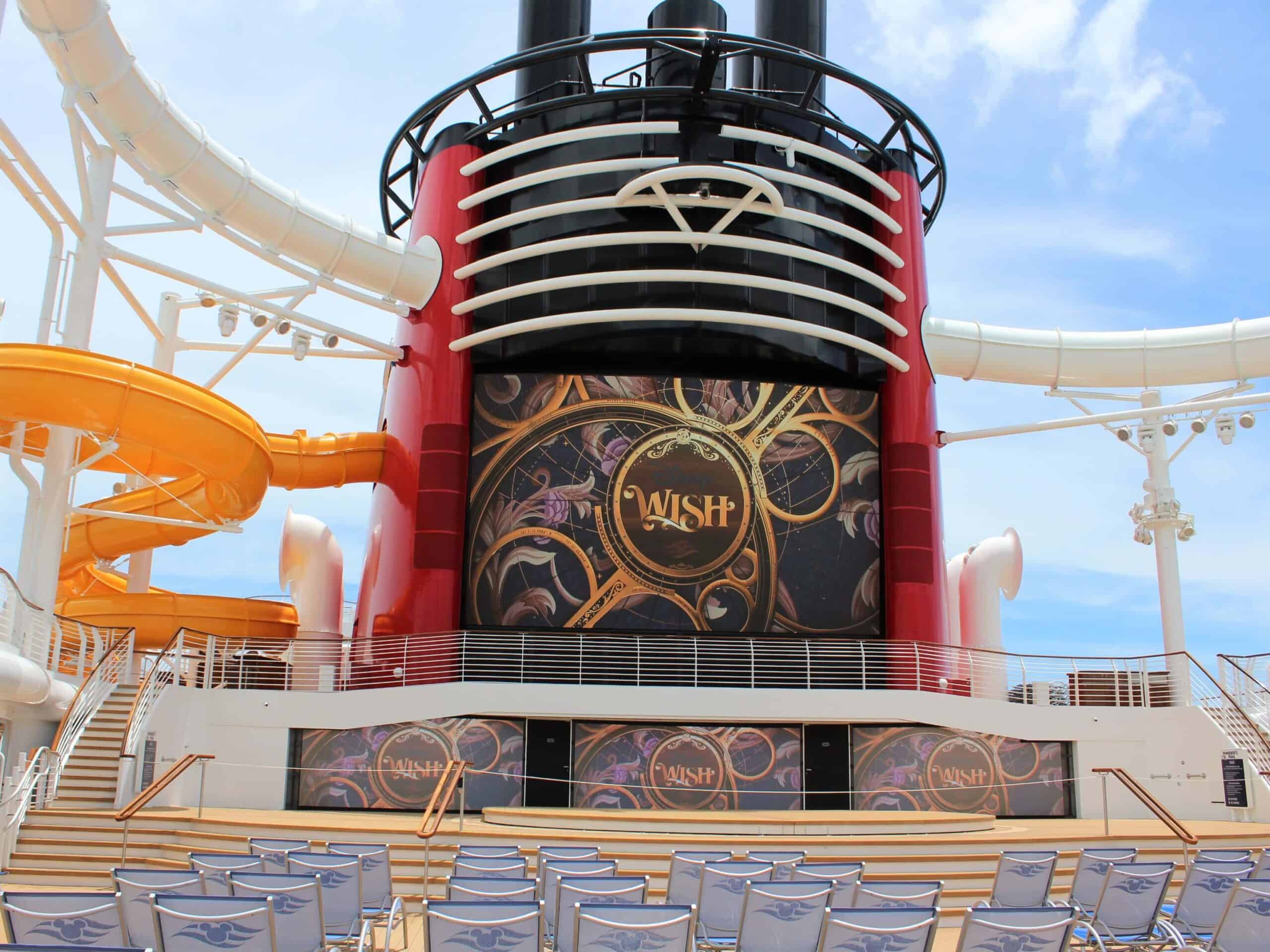 Smaller Pools – Daisy, Pluto, Donald, and Goofy Pools
On an upper level, just a few steps above Minnie's Pool are two more tiers of smaller pools. Daisy's Pool and Pluto's Pool mirror each other and are small shallow pools, only 2′ deep with a gentle waterfall at the back. These two pools are perfect for sitting and enjoying the relaxing waterfall, and a nice choice for little kids still working on their comfort around the water.
Note – complimentary life jackets are available at racks near the pools. I encourage all families to use these, even if your kiddo(s) has some strong swimming skills. It helps put your mind at ease and helps them not tire out as quickly.
At the highest tier are Donald's Pool and Goofy's Pool. These pools are almost like cylinders. They are perfectly round and 4′ deep – the deepest of the family pools.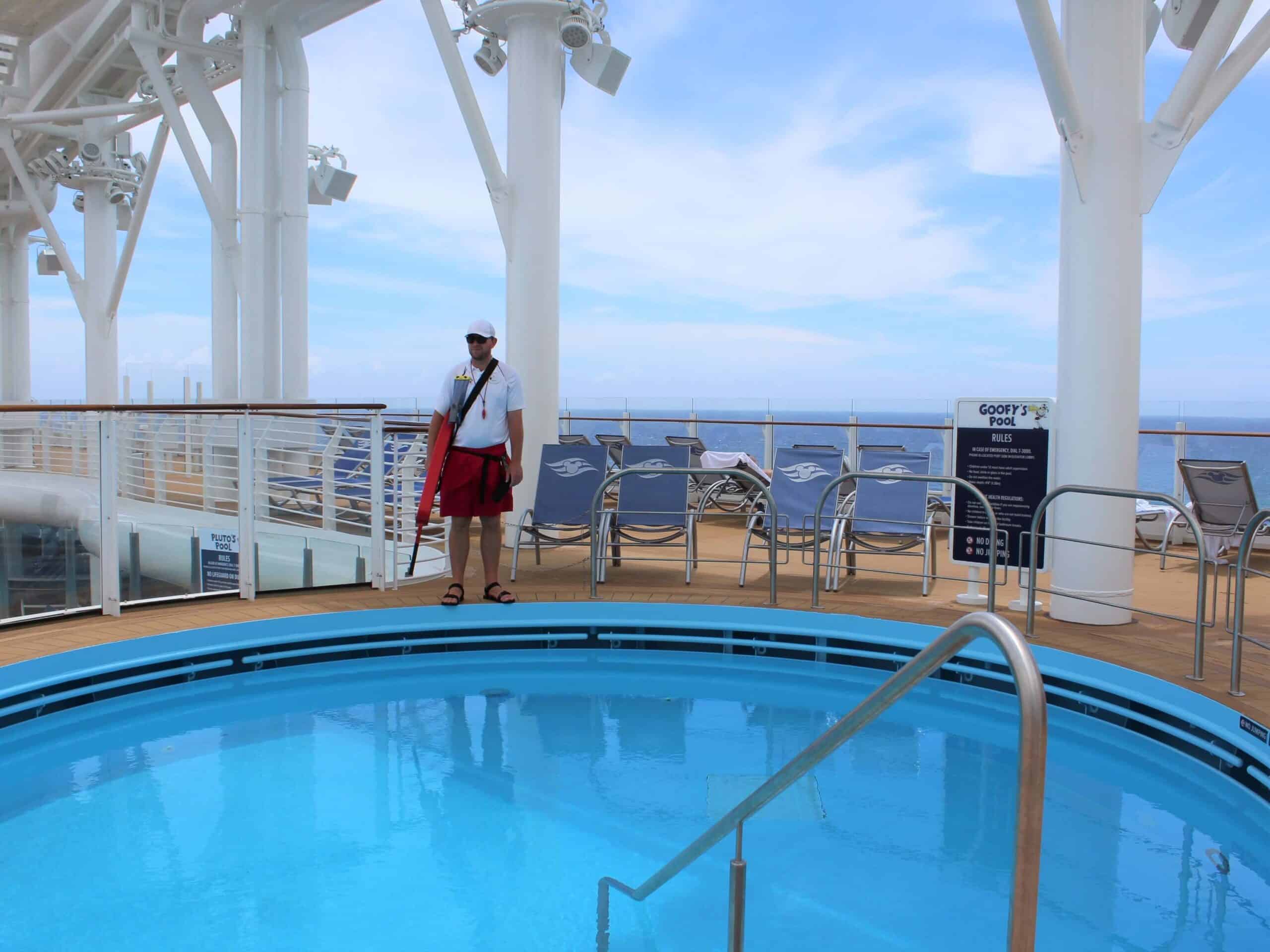 This new tiered system makes the pool area on the Disney Wish much less chaotic than the other Disney Cruise Ships. The action is spread out and each pool feels like its own special area.
The viewing for deck parties and shows is also improved by having these smaller tiered decks.
Cip N' Dale's Quiet Pool on Deck 14
If you're willing to make a little bit of a trek, you'll be rewarded with a pool that is often overlooked. It is far away from the main family pools and is relatively quiet. This wading pool, only 2′ in depth, but it is wide, round, and offers beautiful views from the front of the ship.
This area was used for filming during the media sailing so we were unable to get to it and photograph it. But if you are looking for a pool away from the action and a more relaxed atmosphere this Chip N' Dale's pool on deck 14 is a great option.
Lounge Chairs on the Disney Wish
The big disadvantage of this new layout is keeping your spot if your kiddo wants to move from pool to another. There is nothing wrong with keeping your lounge chairs and your items there as you move around, but it can be annoying.
And I can only imagine what happens if one sibling wants to be in one pool and the other wants to be in a different one.
Still, after multiple sailings on multiple Disney ships, I prefer this new tiered setup.
Toy Story Splash Zone
Back when the Disney Dream and Disney Fantasy came aboard the Disney Cruise Line fleet a new design for the littlest of swimmers emerged. This new design for the splash zone continues with the Disney Wish.
The Toy Story Splash Zone is adorable. It features all your favorite Toy Story characters, but in a cute style that resembles Fisher Price's Little People toys. There are multiple water nozzles and sprayers, plus two short slides. It is completely shaded and there is only one entrance – making it easy for parents to keep an eye on their little cruisers.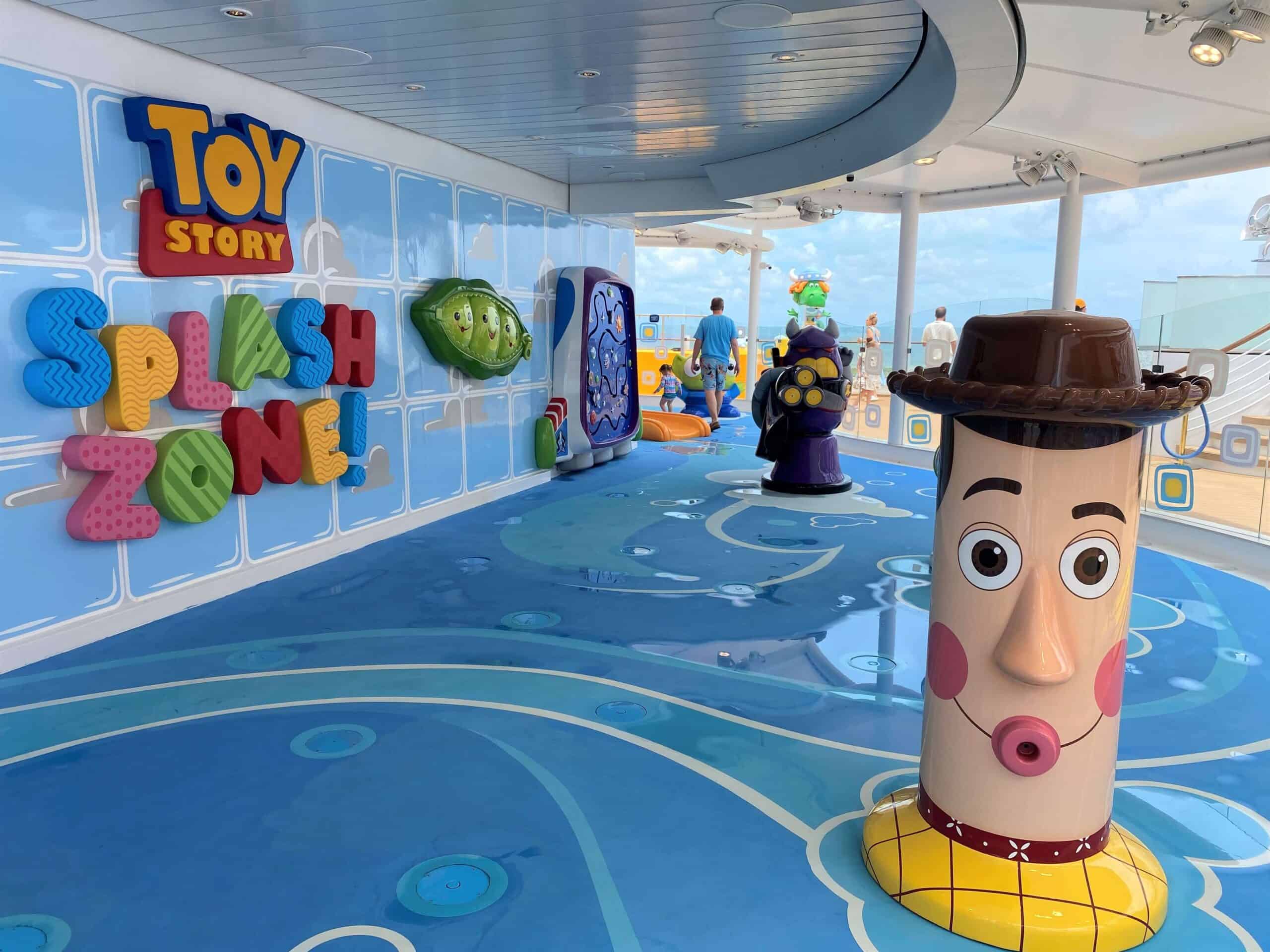 I love that this Splash Zone is away from the Funnel Vision screens on the Disney Wish. Sometimes the movies are too loud or too intense for little littles. Plus, there is a wading pool for just littles right next to the Splash Zone.
Aqua Mouse and Waterslide
It's become a tradition for Disney cruise ships to have at least one waterslide. On the Disney Wish there is a new waterslide, in fact, it is the first Disney attraction at sea. The Aqua Mouse is more like a ride than a water slide. It features Mickey and Minnie in the style of the new cartoon series. According to Walt Disney Imagineer, Danny Hadke, there are about 60 nozzles or water jets ready to get you soaked.
The minimum height requirement for Aqua Mouse is 42″ so it is good for school age kids and older. Our four year old son is not tall enough so we did not get a chance to personally experience Aqua Mouse, but everyone we talked to loved it and had a great time.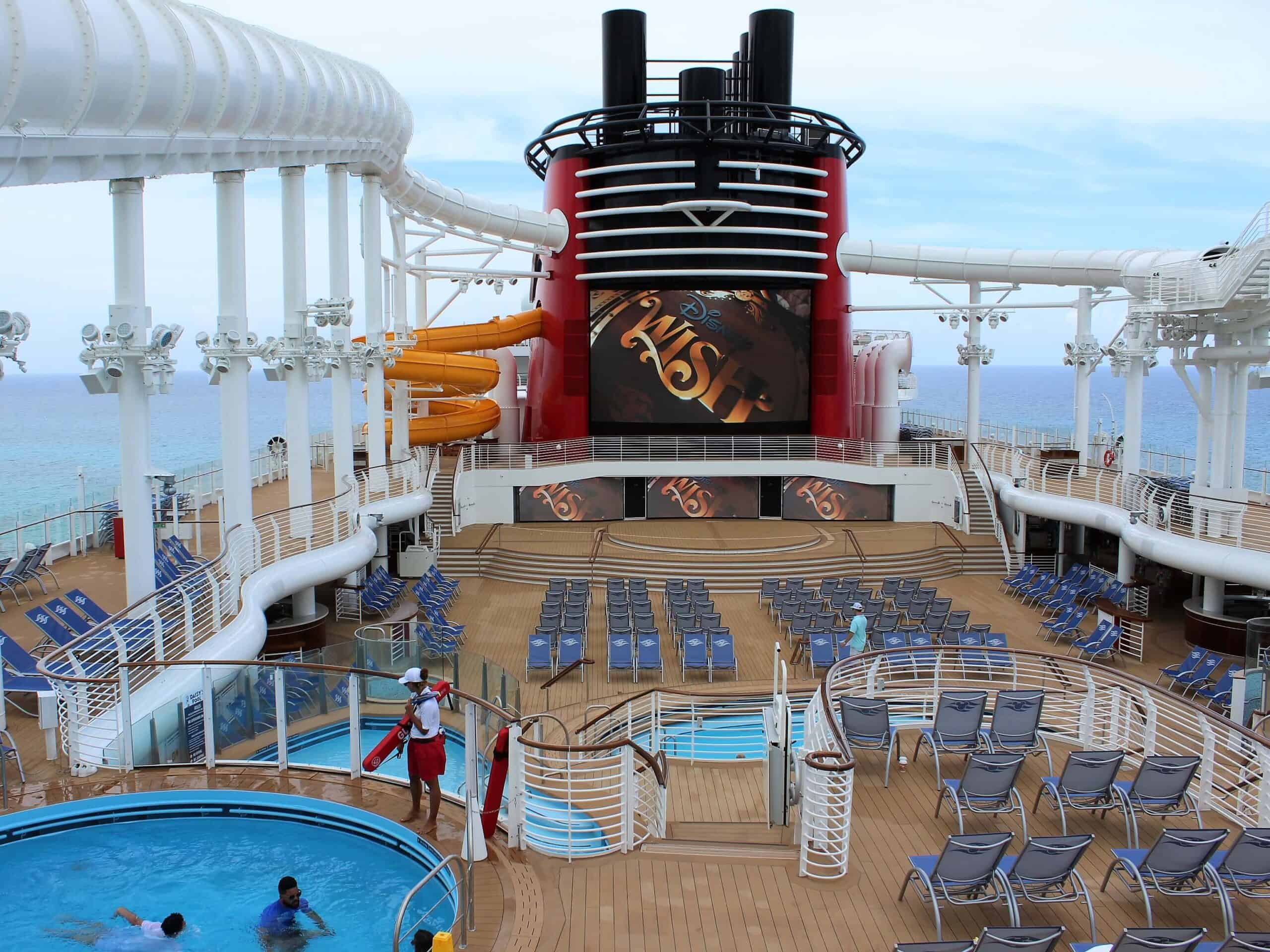 For a more traditional waterslide experience, there is Slide-A-Saurus Rex. This bright yellow slide matches the theme of the Toy Story Splash Zone, but it is a slide for anyone 38″ inches or taller.
Nearby Dining and Drinks
You'll never go hungry or thirsty on a Disney cruise, or any cruise for that matter. On the same deck as the pools you can get unlimited soft drinks at the multiple drink stations.
Parenting Pro Tip – Look for the small silver buttons on the lower part of the drink stations. These buttons are on kid-level so kids can push the buttons themselves and fill up their own cup!
There is also unlimited soft serve ice cream on this deck!
For quick eats visit Mickey and Friends Festival of Foods. Our son LOVED Donald's Taco Cantina where we made a bowl of white rice, shredded pork, and veggies. And my husband loved Mickey's Smokehouse BBQ. This new quick-service food on the Disney Wish is somehow a big improvement on the quick-service food on the other Disney ships.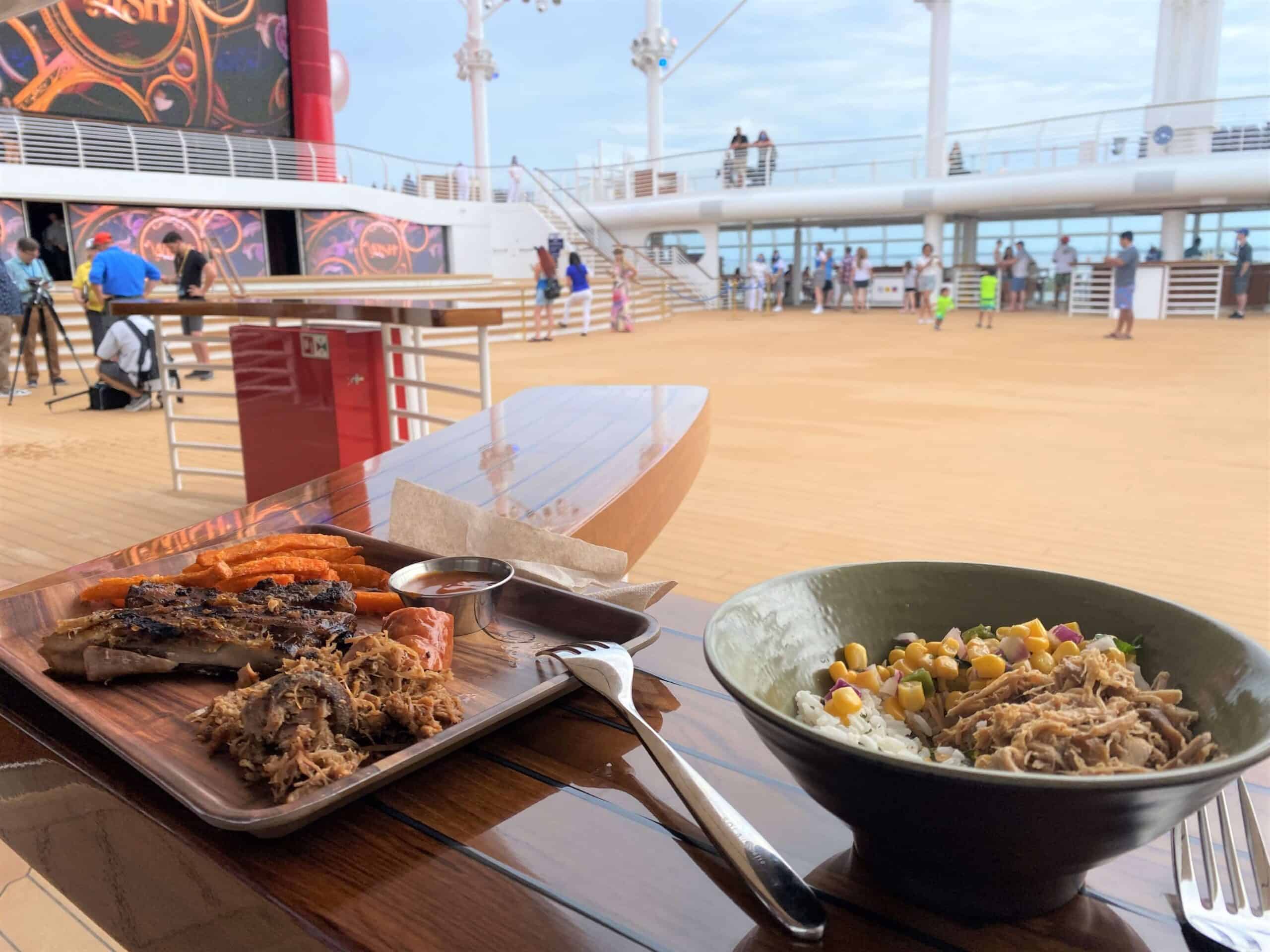 If you want something even more satisfying then Marceline Market is the buffet-style restaurant on the Disney Wish. Instead of being a traditional buffet, the servers will hand you whatever selection you desire. There are multiple stations so be sure to walk around and get your fill. This is also on the main pool deck.
RELATED: Inside Arendelle Frozen Dining Adventure
Parents need their own time. And what I love most about Disney Cruise Line is it perfectly balances the needs of kids as well as the desires of parents. Every Disney Cruise I've experienced has allowed me to have it all.
I get quality family time, a little solo time, and enjoy some romantic moments just my husband and me.
One of the best places for quality adult time is deck 12 aft (the back of the ship). Here adults can enjoy a massive wrap-around sun deck with plenty of plush seating.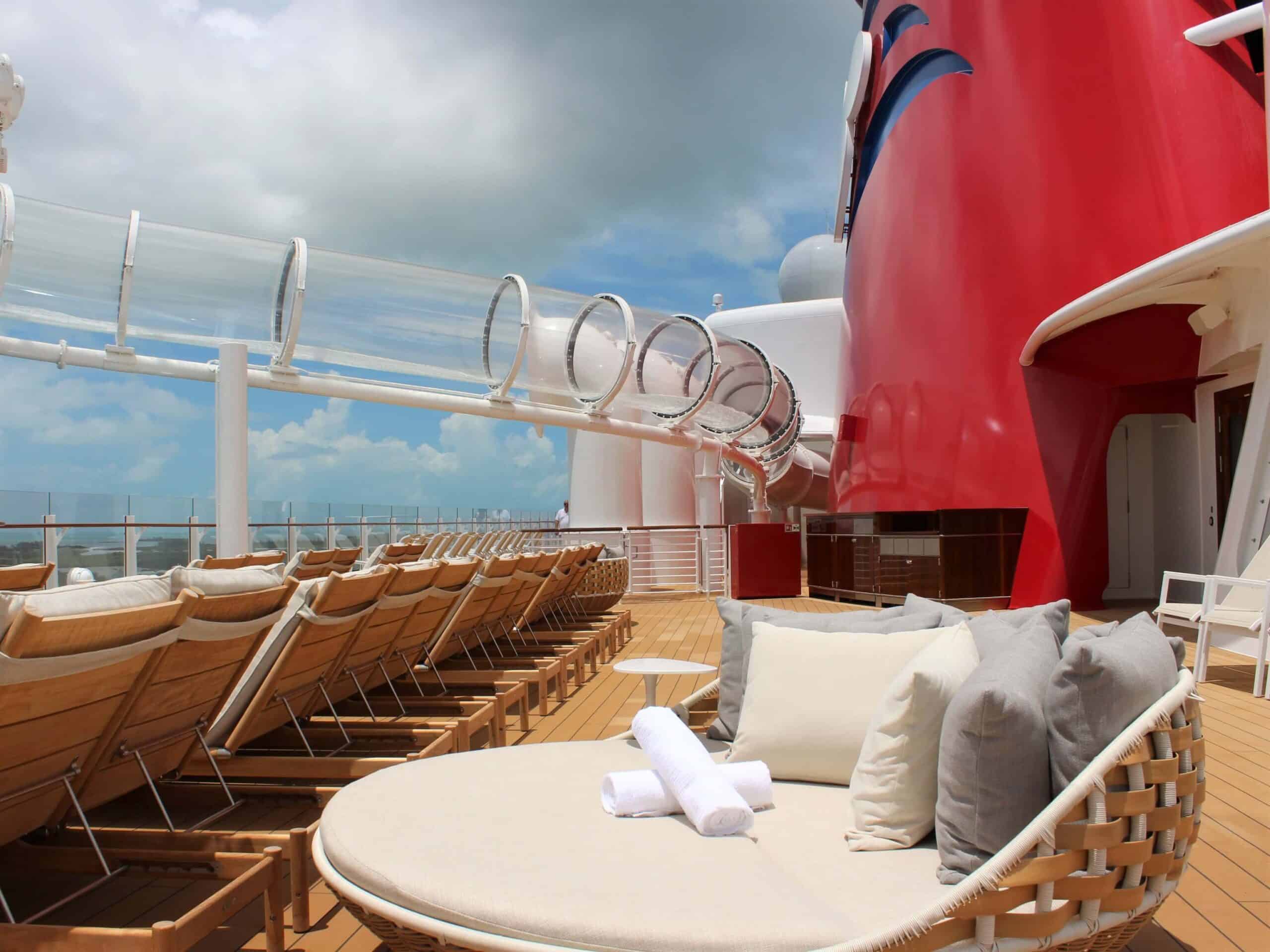 The Disney Wish offers the first ever infinity pool on a Disney cruise ship. Admittedly the adults-only pool area is small. In fact, it feels smaller than all the other Disney ships. There is an infinity pool that overlooks the ocean and the back of the ship, and two shallow wading pools with gentle waterfalls flank it on either side.
An outdoor bar and Cove Cafe right around the corner, provide plenty of libations. Even if you only give yourself an hour or so in the adults-only pool deck while your kids enjoy the Oceaneers Club, Edge, or Vibe, it will be worth it.
RELATED: 5 BIG Changes on the Disney Wish Cruise Ship for Adults
A Disney Cruise is all about fun for every member of the family. So don't forget to make time for yourself too.