5 Reasons We LOVE Roundup Rodeo BBQ for Disney Dining
When it comes to Walt Disney World restaurants you have lots of choices. The challenge is that many of the popular Disney restaurants book up. And some restaurants are more kid-friendly than others. That's where Round Rodeo BBQ Restaurant comes in.
New to Disney's Hollywood Studios, this Toy Story restaurant is a welcome addition. Let's face it, little space rangers love Toy Story Land. And having so much fun at Walt Disney World can easily work up an appetite. Get your fill at this all-you-care-to-eat family style restaurant.
After dining here we've got some tips and info on making Roundup Rodeo BBQ a dining experience that's to infinity and beyond.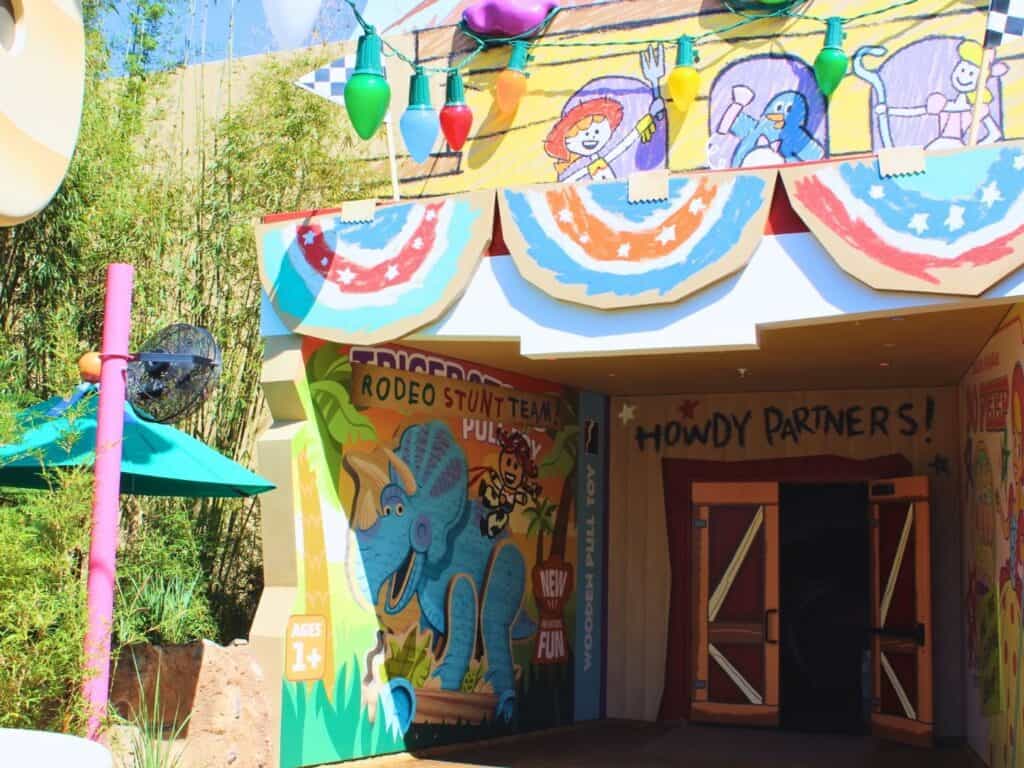 5 Reasons We LOVE Roundup Rodeo BBQ as an alternative to Disney Character Dining
It's open for lunch and dinner
Toy Story decor, props, and detail are everywhere
Delicious family-style food
Kid friendly atmosphere
Less pressure than character dining
And perhaps most of all we LOVE The Prospector's Homemade Cheddar Biscuits with Sweet Pepper Jelly!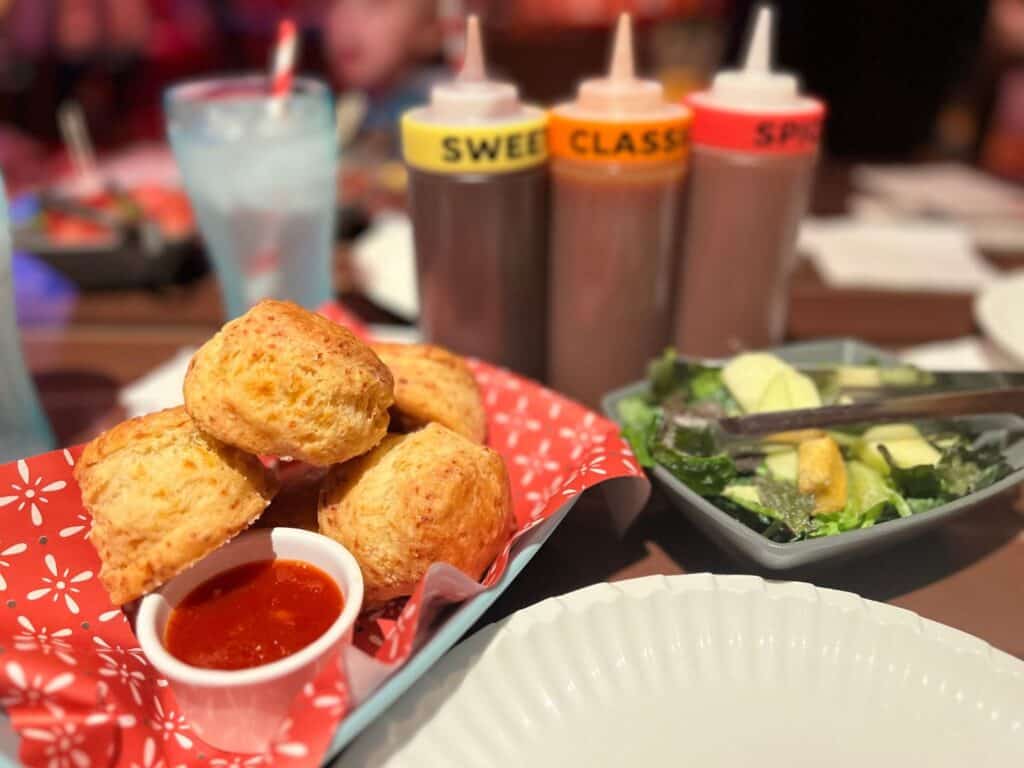 What to Expect
The fun of dining at Roundup Rodeo BBQ started the moment we walked through the barn door style sign and checked-in at the podium out front. Although the waiting area is outside, you can have fun spotting some familiar toys. I adored the oversized wooden train tracks just like the ones we have at home.
Soon the Disney cast member informed us that "the claw" had selected my group of toys next.
My five-year-old's attention was piqued at hearing this. Then a cast member handed him a hobby horse so he could gallop to our table. They also explained that Sarge would be on the look out to make sure Andy didn't interrupt us toys having fun at his "pretend" BBQ restaurant he created after his time at cowboy camp.
If you've ever experienced a Disney Cruise Line vacation you may find this experience to be similar to the dining experience there – I know I did. Similar to some of the Disney Cruise Line restaurants like Worlds of Marvel restaurant on the Disney Wish, there is interaction and fun even without there being traditional Disney character interactions.
Our dining experience lasted about an hour and a half. It should be noted that we were leisurely about our order and wanted to snap lots of photos (occupational hazard). During that time Sarge informed us that "Andy is coming" twice.
During these "Andy is coming" moments everyone in the dining room is meant to freeze – we are toys after all. There are other fun moments that I won't disclose so you can have a few surprises.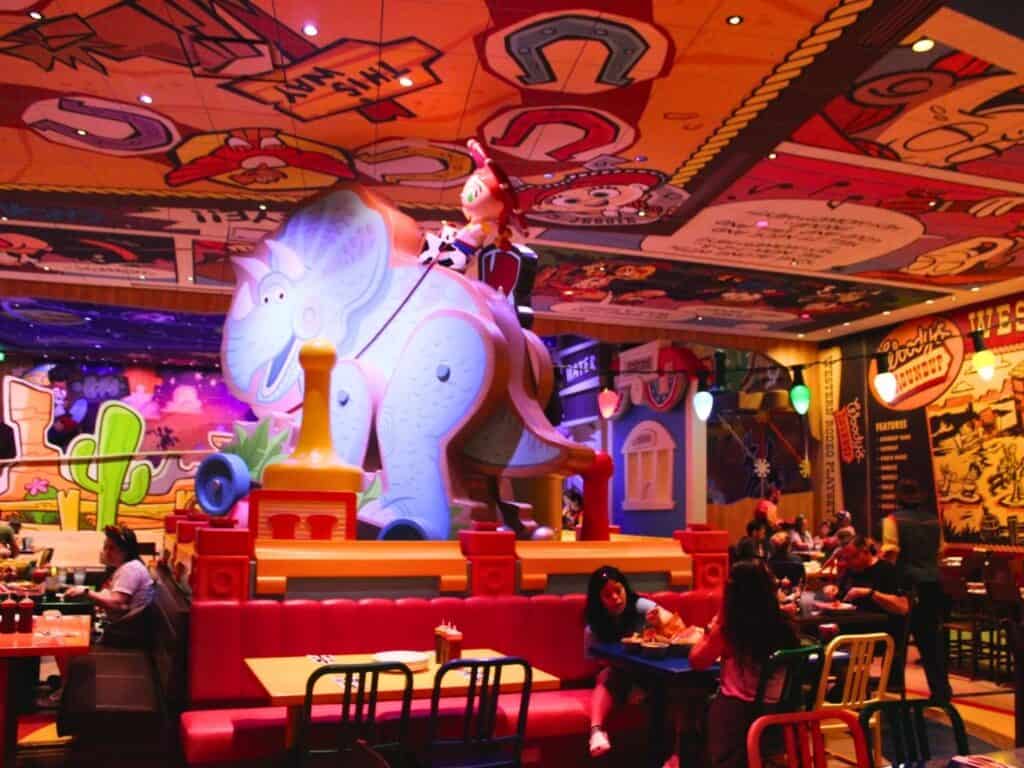 Important Info about Roundup Rodeo BBQ
When is the best time to go to Roundup Rodeo BBQ? Lunch is the busiest time as everyone wants a delicious break in the middle of the day. Dinner is a great way to end the day.
What is the walking time from the Hollywood Studios entrance to Roundup Rodeo BBQ Restaurant? It takes about 10 minutes to walk from the park's entrance to Roundup Rodeo BBQ which is in the middle of the park.
Details of Toy Story and other Pixar characters abound throughout the dining room.
Roundup Rodeo BBQ Lunch and Dinner Price: $25 per child ages 3-9 and $45 per adult
Food at Roundup Rodeo BBQ (Lunch and Dinner)
Get ready to fill up on delicious BBQ. This family-style Disney dining experience is all-you-care-to-eat of salads, sides, and the main dishes. Like all Disney restaurants, there is great care taken in creating allergy-friendly options.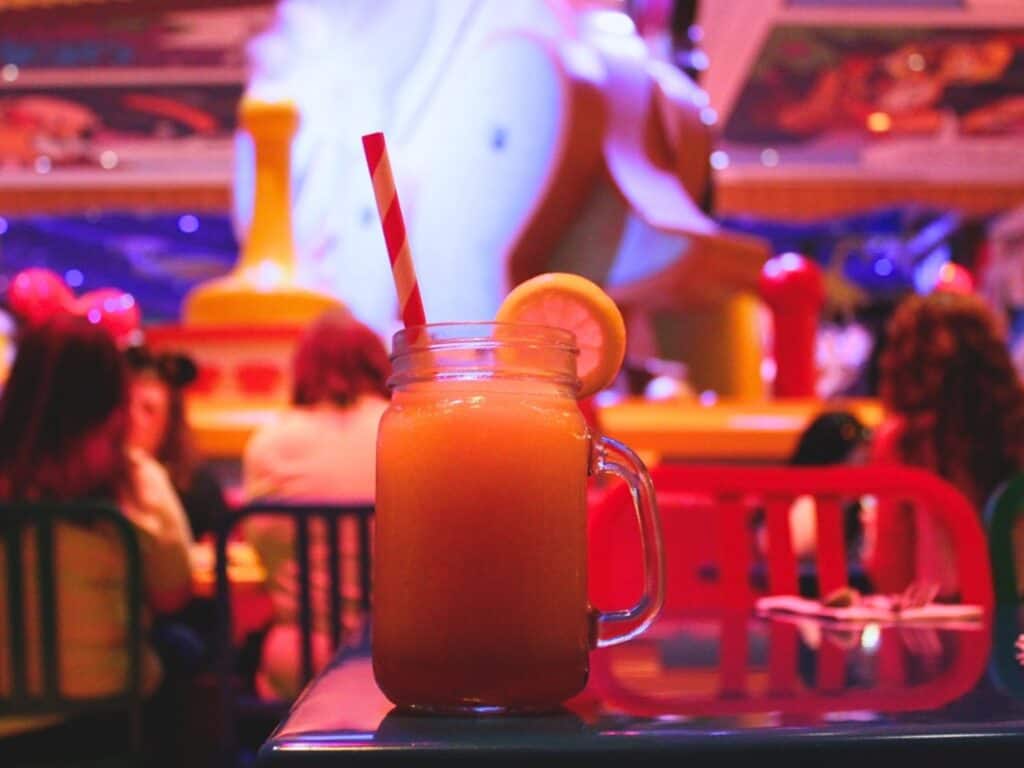 And on top of it all, there is an entire plant-based platter available for the main course, as well as a selection of sides and salads.
Speaking of sides, you'll start by selecting which four sides you want. But here's the great news, you can certainly order additional sides and try other sides once your initial four have been served.
Salads to start
Rootin' Tootin Tomato Salad: Cucumbers, Pickled Red Onion, White Balsamic Vinaigrette (Plant-based)
Rex's Romaine and Kale Salad: Apples, Dried Cranberries, Pumpkin Seeds, Green Goddess Dressing
Wheezy's Watermelon Salad with Fresh-torn Mint (Plant-based)
Our party consisted of 3 adults and one child, my five-year-old and all the adults loved the romaine and kale salad!
Sides for sharing (select four)
Mean Old Potato Salad – Homestyle Red-skinned Potatoes
The Married Spuds – Loaded Potato Barrels (tots)
Veggie Slaw (Plant-based)
Force Field Fried Pickles
Campfire-roasted Vegetables (Plant-based)
Slinky Doooooooooog's Mac & Cheese
Buckin' Baked Beans (Plant-based)
Cowpoke Corn on the Cob – Grilled Street Corn
Our table loved the potato salad and the mac & cheese. My son has multiple food allergies and admittedly the lack of french fries disappointed us both. We did order plain corn on the corb and plain potato barrels. The corn ended up being the star of his meal.
Despite my best efforts, my son is currently very choosy about his food. It is no indication of the quality of the food that all he ate was corn on the cob and a couple of bites of salmon (more on that later).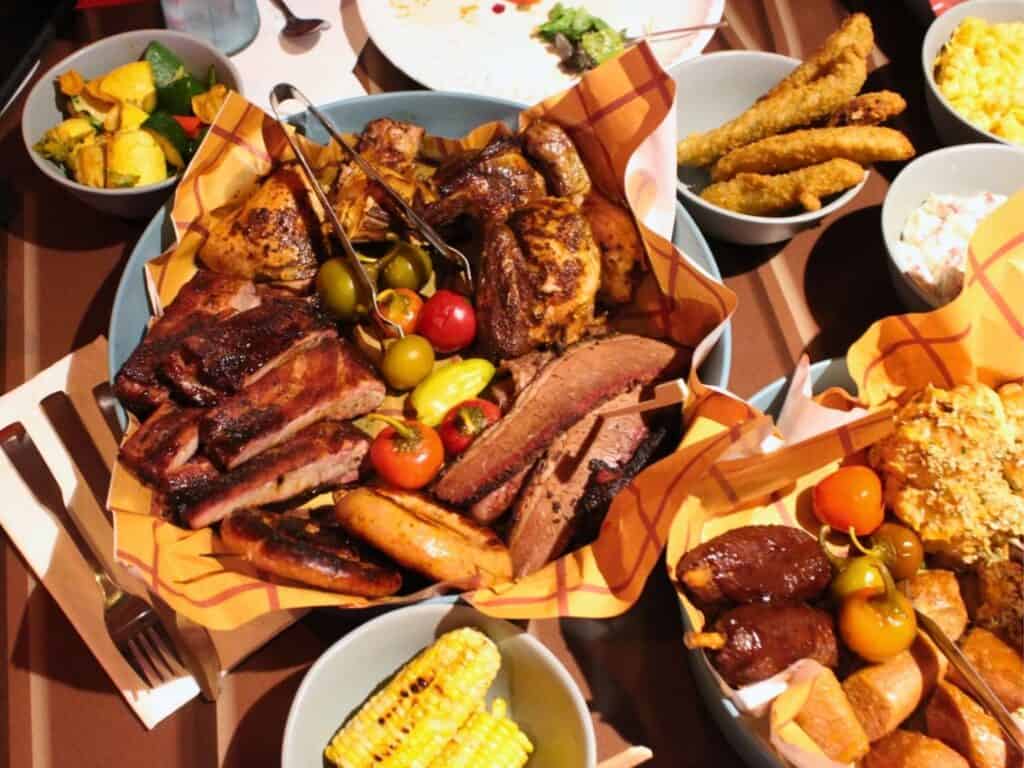 Enjoy a Platter of all the Following House-Smoked Items
Evil Dr. Smoked Ribs
Beef Brisket
There's a Sausage in my Boot – Fire-grilled Pork Sausage
BBQ Chicken
Trixie's Plant-based Trio
Combat Carloflower with Harissa Drizzle and Walnut Gremolata
Scrumptious Bratwurst
Rip Roarin' Rib Chop
Our party tried both platters. The Beef Brisket and the Pork Sausage stood out as well as the plant-based Rip Roarin' Rib Chop.
Our brilliant cast member offered salmon as another option for my son – which was perfect. I should have asked for it plain as it does come with a maple glaze, and my son wants things as plain as possible. Still, he had a few bites and I was grateful that one of his favorite proteins to eat was available at this BBQ restaurant.
The salmon is not listed on the menu, so if it is something that interests you ask your server if it is available.
Individual desserts
Bo's Lemon and Blueberry Cheesecake
Billy's Chocolate Silk Pie
Goat's Apple Pie
Gruff's Peach-Strawberry Pie (Plant-based)
Cupcake à la Forky – Gooey Chocolate Cake, Graham Cracker, Buttercream, Sugar Cookie (for kids)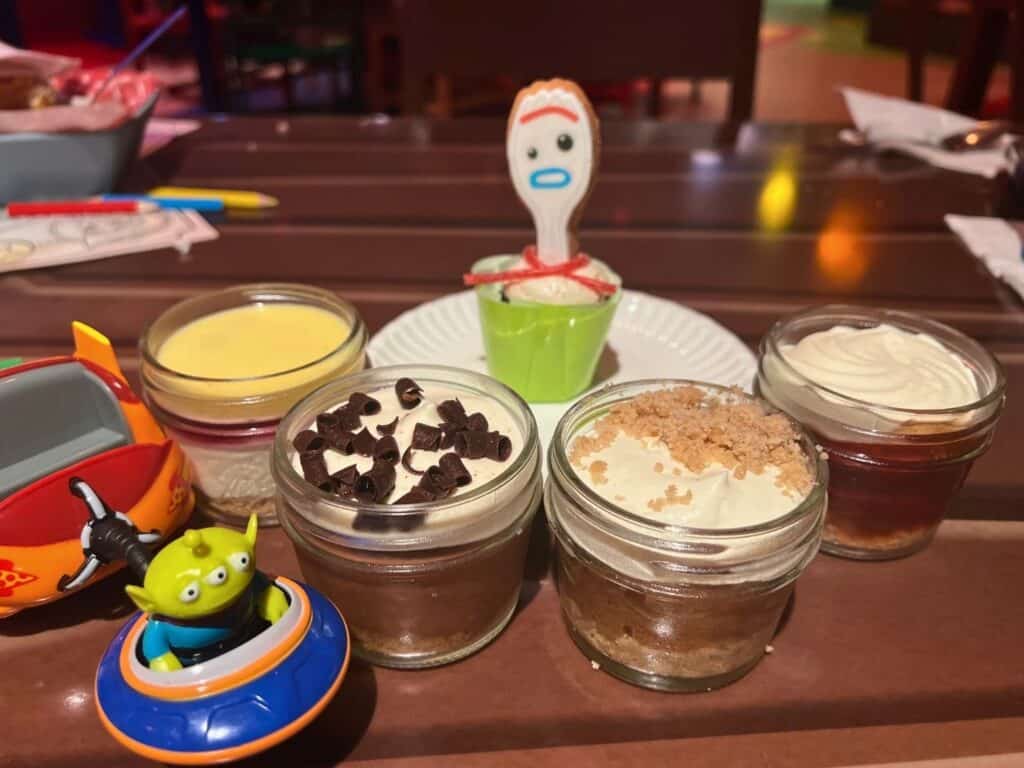 Disney always excels when it comes to allergy-friendly food. In this case, my son experienced some disappointment when the only dessert that was allergy free for him was the plant-based Peach-Strawberry Pie. A plant-based cookie would be a nice option for kids who can't do dairy or egg.
Still, the Lemon and Blueberry Cheesecake got two thumbs up from everyone at our table. Billy's Chocolate Silk Pie followed in a close second place.
Tips
Check-in for your meal at the host stand outside
Make sure your phone number is provided to be texted when your table is ready
Turn on your notifications for the MyDisneyExperience app to be notified that your table is ready
Strollers need to be parked outside just before entering the restaurant
Make sure your kids are comfortable and ready to dine in an environment that is a little loud and very lively
Walk them around first so they can see the entire restaurant and all the fun details