Where to Take Pictures with Santa in Tampa Bay in 2023
It's that time again to answer the question…where can I take pictures with Santa in Tampa Bay? Lucky you for calling Tampa Bay home because the jolly old elf is making his rounds throughout the area, so there's no shortage of ways to experience the magic of Santa. (Can you blame him? Tampa Bay is AWESOME!)
Each year, we put together a list of our favorite places to see Santa in Tampa Bay, and each year, the list grows!
Related:
Keep in mind that it may take some extra planning as reservations are strongly recommended or even required at some places. We'll continue to update this page as new dates and visits are added. Dates and events are subject to change.
Photos with Santa in Tampa Bay: Featured Favorites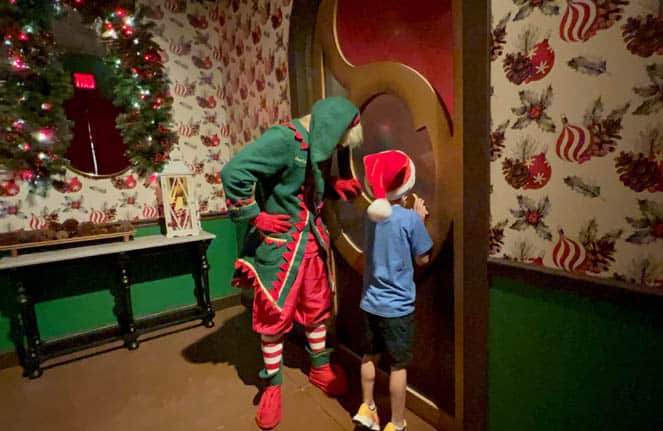 Dates: November 11, 2023 through January 7, 2024
Santa's North Pole Experience: Wander through the sparkling lights around the park as you make your way to the North Pole for this sweet Santa experience! Jolly elves will guide guests to visit Santa in his workshop as he prepares for the holiday season. It's one of the sweetest ways to visit with Santa and his elves!
Dates: November 24 -December 30, 2023 on select nights
Christmas in the Wild: Be sure to make your way to Twinkle Town Marketplace to meet Santa and take a photo with him in front of his sleigh.
Date: December 3, 9:00 am-12:00 pm
Meet Santa under the sea! Tickets include

a gourmet breakfast buffet in the enchanting aquarium, Holiday crafts, a hot chocolate and mimosa bar, and a

Picture with Santa, who makes a special underwater appearance! Access to the aquarium for one hour before regular guest admission is also included.
Dates: December 2-3 & December 9-10, from 11 am to 2 pm
Indulge in a delectable brunch menu filled with your favorite treats and capture the enchantment with a FREE picture with Santa! Reservations are filling up fast, so don't miss out on this jolly good time. Visit meltingpotsocial.com

 to secure your reservation.
Dates: November 24 through December 31, 2023
Wander through the incredible dazzling display of lights, spin around on the ice-skating rink, and create some fun holiday crafts. Head over to Santa's Landing to meet Santa himself. Nestled in a serene snowscape below a sky full of twinkling stars, it is an enchanting and memorable setting for a one-of-a-kind Christmas experience.
Dates: November 9 through December 24, 2023.
Times: can be found HERE
International Plaza returns with Santa's Flight Academy, an immersive Santa experience for kids and kids at heart. A beloved community tradition, attending "cadets" will have an opportunity to be elite members of Santa's flight crew, experience a snowfall dance party, and spend time with Santa. Sensory Santa and Pet Photos with Santa are also available. Visit online to learn more and make a reservation in advance.
Dates: November 23 through December 31, 2023.
Tampa Bay's Festival of Lights & Santa's Village immerses everyone in holiday fun with family favorites and new attractions, making it bigger and better than ever! The fairgrounds are enveloped in 1 million lights with a 2-mile drive-thru of elaborate displays. The expanded Santa's Village will feature an Arctic Plunge Inflatable Snow Tube, holiday-themed rides, a self-guided walking tour of Hometown Hillsborough Historical Village, visits with Santa, camel rides, holiday movies, tasty treats, and more!
Visit hillsboroughcountyfair.com/festival-of-lights for details on hours and ticket prices.

Santa's Workshop at MOSI
Santa's Workshop 2023 dates TBA. 

Join MOSI and the jolly old elf in a mixture of science and holiday spirit.  Feel free to take your own picture with Santa, join in the hands-on activities, and even mail your letter to the North Pole to make sure Santa doesn't forget those special requests! Santa's Workshop is included with MOSI admission.
Dates: November 24-26, 2023 from 11 am – 3 pm and then weekends through December 17, 2023 from 11 am-3 pm.
A Sensory-Friendly Santa event will be held on Saturday, December 2 from 8 am-9:30 am.
2023 Dates TBA
Santa will be popping in at Hyde Park Village for visits and photos at various shops throughout the village. Each shop will host Santa on their designated day, so check here for updates: hydeparkvillage.com 
Dates: November 4-December 24, 2023
FREE reservations are strongly suggested at all locations to secure your spot. Reservations may be made within a 7-day timeframe. Reserve your Santa visit time slot.
Santa is back at Bass Pro Shop's FREE Santa's Wonderland experience! There will also be games and events for the whole family, carousel rides, and holiday craft gift bags to take home.
---
Santa Photos at Tampa Bay Area Shopping Centers
Santa's visit at several Tampa Bay Area malls and shopping centers is being orchestrated by Cherry Hill Productions to ensure memorable photos with Santa! Advanced reservations are strongly encouraged.
Santa arrives at the following locations on November 9, 2023, and will visit daily through Christmas Eve–there are some days off and varying hours, so check with each location when you make your online reservation.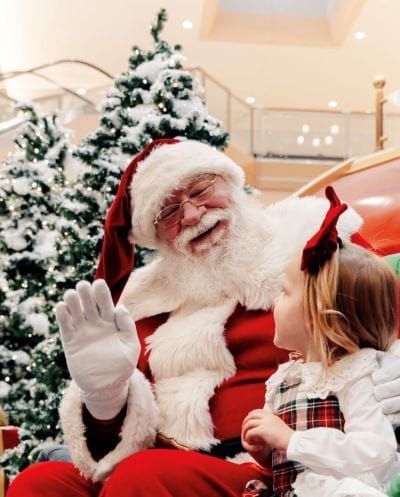 Santa at International Plaza
2223 N Westshore Boulevard, Tampa
Santa at Westshore Plaza
250 Westshore Plaza, Tampa
Santa at Westfield Brandon
459 Brandon Town Center, Brandon
Santa at The Shops at Wiregrass
28211 Paseo Drive, Wesley Chapel
Santa at Tyrone Square
6901 22nd Avenue N, St Petersburg
Santa at Gulf View Square
9409 US Highway 19, Port Richey
Santa at Lakeland Square
3800 US Highway 98 N, Lakeland
---
MORE Special Events Featuring Santa Claus in Tampa Bay
NOW OPEN
Head to the Insta-worthy Gallagher's in St. Pete to pick up your Christmas Tree and experience more holiday fun like the snow machine, visits with Santa on select dates and times, apple cider with donuts, poinsettias, and more!
Dates: November 17, 2023-January 1, 2024
Celebrate the magic of the holiday season at Curtis Hixon Park in downtown Tampa with festive lights, ice skating, and more. Keep an eye out for Santa – he'll be making a few surprise visits at Winter Village! Be sure to stay off the naughty list and stay tuned to the @WinterVillageTampa Facebook and Instagram pages for clues as to when you might be able to catch a glimpse of the man in red yourself. Bring your camera and prepare for a Santa experience like no other.
Dates: December 1 – December 30, 2023
This is a drive-through Christmas lights event in Tampa!  First, you and your family will drive through Christmas lights for a mile to experience spectacular lights, and next, if you choose, after seeing the drive-through Christmas lights you can make a visit to Santa's Village at the end of the drive-through Christmas lights!  Santa's Village features rides, entertainment, a visit with Santa, and Holiday activities for children and adults of all ages! The International Market World, 1052 US-92 in Auburndale.
Select dates from November 17 – December 30, 2023
Visit the most festive Chick-Fil-A in Tampa Bay and check out their annual Christmas lights display! Santa will be there on select dates so be sure to stop by and say hello.
Dates: November 24 – December 23, 2023, select dates and times. Santa arrives at 3 pm.
Raprager Family Farm is exploding with Christmas cheer! Lights and decorations blanket the farm. Hear stories from Mrs. Claus and then pay a visit to Santa and take pictures with him at his workshop.
Dates: Select nights from November 24- December 24, 2023
The Florida Strawberry Festival fairgrounds is transformed into an enchanting winter wonderland with 1.5 million lights that adorn 200 Christmas trees from 4 to 40 feet. They will have rides, food, live entertainment, and a kids' zone. Santa, Mrs. Claus, and Rudolph will be there to celebrate and take festive photos with guests.
Dates: Select nights from November 30 through December 21, 2023
Climb aboard the North Pole Express and ride to the North Pole station, where Santa awaits your visit! He even has a special gift to give each child before they leave. There will be thousands of Christmas lights, hot cocoa, and activities as well. This popular event sells out quickly, but there are a few more open spaces available.
DK Farm's Christmas at The Farm

Dates: Select nights December 1-18, 2023
Enjoy the farm in a whole new perspective! There will be tons of entertainment designed for all ages. There will be photo ops with Santa (weekends only), campfires, hayrides, a bounce house, a snow machine, and more. Tickets start at $15.
Date: December 2, 2023
Cheer on the sights and sounds of the holiday season at this mile-long parade boasting brightly colored floats, bands, drum lines, characters, and more! Watch Santa and his elves as they arrive in Tampa Bay. Head to Curtis Hixon Park after the parade for holiday entertainment, games, and activities, and get your picture taken with Santa.
Santa and Mrs. Claus at Armature Works 
December 2 from 5 pm-9 pm and December 9 and 16 from 1 pm-4 pm, 2023 
Kids can visit with Santa on the South Lawn near the Armature Works Christmas Tree. Don't forget to bring an unwrapped toy to donate for the Toys for Tots toy drive.
Dates: December 9-10, 15-23, 2023 from 6-9 pm
Be sure to bring your own camera.
December 9, 2023, from 10 am-2 pm
Want a picture of Santa along with your favorite four-legged friend? Santa is heading to the Humane Society of Tampa Bay! Suggestion donation of $10 per person.
Date: December 10, 2023, from 9 am-11:30 am
Santa and the Conductor are requesting your presence at The Library Restaurant for photos with Santa, story time, and cookies with Santa. Tickets are required for children. 2 adults are complimentary.
Dates: December 15 and 16, 2023, from 5:30 pm – 8:00 pm
Decorate gingerbread cookies, meet Santa and his elves, and purchase small gifts (all items $5 and under) for friends and family! Free gift wrapping is provided. $5 per person. Space is limited so be sure to reserve your spot here.
PJ's, Popcorn, and Pictures with Santa at The Woodson
Date: December 16, 2023, from 10 am- 1 pm
Location: Dr. Carter G. Woodson African American Museum, 2240 9th Avenue S, St. Pete

To register, email woodsonmuseum@gmail.com.
---
Breakfast with Santa is a great way to let your kids see the big guy up close and personal. Fill the season with holiday cheer with one of these great breakfast with Santa options.
When: December 2-3 & December 9-10, from 11 am to 2 pm
Where: Melting Pot Social, 104 W Tyler St
Step into a heartwarming holiday wonderland that promises to make your season merry and bright! Indulge in a delectable brunch menu filled with your favorite treats. But the real magic happens when you meet the man in red himself—Santa Claus!
Capture the enchantment with a FREE picture with Santa and make even more memories at our digital photo booth. Reservations are filling up fast, so don't miss out on this jolly good time. Make your holiday season extra special and reserve your spot now. Call 813-683-5707 or visit meltingpotsocial.com to secure your reservation.
Come and experience the joy of the season with Brunch with Santa. Melting Pot Social can't wait to share the magic with you!
When: December 10 & 17, 12:30 pm – 2:30 pm
Price: Tickets start at $59.95 for adults and $44.95 for kids 2-12
Santa is soaking up a little sunshine with brunch on Yacht StarShip. Cruisers get a chance to snap a special photo with Santa at boarding, followed by tasty brunch and great views from the deck.
The whole ship will be decked out with holiday cheer. Yacht StarShip promises enchanted surprises during the two-hour cruise.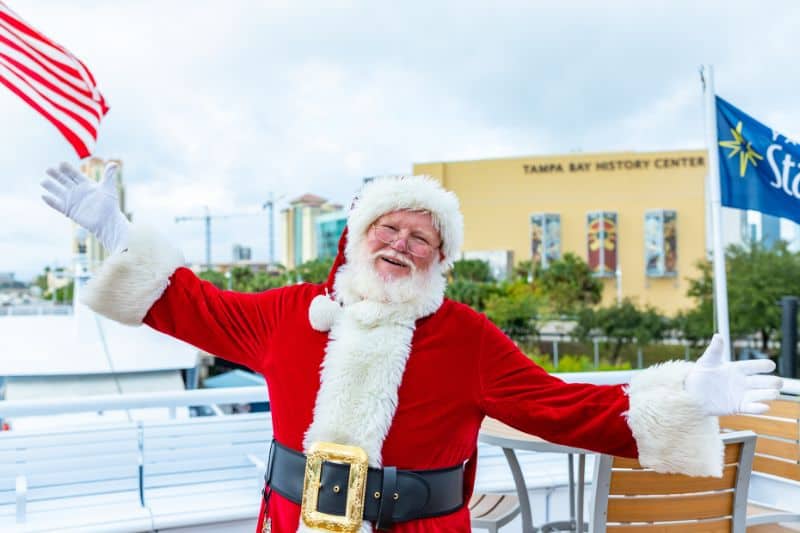 December 9, 10, 16, & 17, 2023 from 8 am-10 am
Breakfast with Santa is back at Weeki Wachee Springs State Park! This is a chance to join the jolly old elf at the beloved state park for a morning of pancakes, eggs, and more! There will be plenty of photo opps with Santa, the elves, and of course…the mermaids!
READ MORE: Where to Have Breakfast with Santa in Tampa
---
Other Ways To Interact With Santa
Your child can write a letter to Santa and send it directly to the North Pole and even receive a letter back from the jolly old elf with a North Pole postmark! You'll want to get the letter in the mail by December 1, 2023 and it'll take a few extra steps on your end as the parent, but well worth the effort!