2023 Scalloping Season in Florida: It's a Must Do Family Adventure
Your cure for the summer boredom blues is here! Florida's 2023 scalloping season has officially kicked off and we're here to help you plan your family's adventure!
The 2023 scalloping season in the Tampa Bay area for Citrus, Hernando, and Levy counties is July 1 through September 24, 2023. Pasco County's season is open July 1 through August 6, 2023 (this is an extension from previous years, so you've got more time to go scalloping!).
Related: See what it's like to walk underwater with SeaTREK at The Florida Aquarium
Florida's 2023 Bay Scallop Seasons:
Levy, Citrus, Hernando Counties: July 1-Sept 24, 2023
Pasco County: July 1-August 6, 2023
Gulf County: Aug 16-Sept 24, 2023
Franklin to NW Taylor County: July 1-Sept 24, 2023
St Joseph Bay and Gulf County: Aug 16-Sept 24, 2023
If you've never been scalloping before, you probably have questions. We did too, so let's get to it!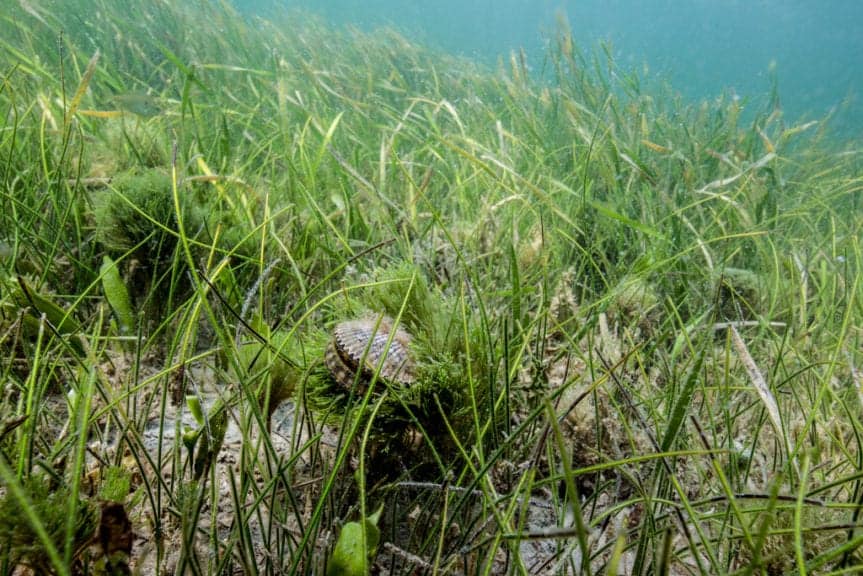 Photo Courtesy of Carol Grant, Oceangrant Images and Discover Crystal River Florida
First, what exactly are scallops and what kind of scallops will I find in Tampa Bay?
Scallops are bivalve mollusks like clams, mussels, and oysters. But, unlike clams and oysters, scallops can swim!
In the Tampa Bay Area, you'll find…surprise, surprise, bay scallops! They're smaller than the sea scallops you may be accustomed to ordering at your favorite restaurant, but they are just as tasty. Bay scallops are also more tender on the bite than sea scallops.
Where can I go scalloping in the Tampa Bay area?
Scalloping season in Florida opens in the summertime from Pasco County, north through the Florida panhandle!
There are so many spots to go scalloping! Some of our local favorites are Crystal River, Homosassa, and Pasco County.
Pro Tip: Weekdays are best if you want to avoid the crowds. Later in the season also tends to produce larger scallops.
Read: Here's what it's like to go scalloping with the Adventure Center in Crystal River
One added bonus, you can even book a tour to swim with the manatees – Crystal River is one of the few spots where you can legally book a tour to swim with the beautiful and gentle animals.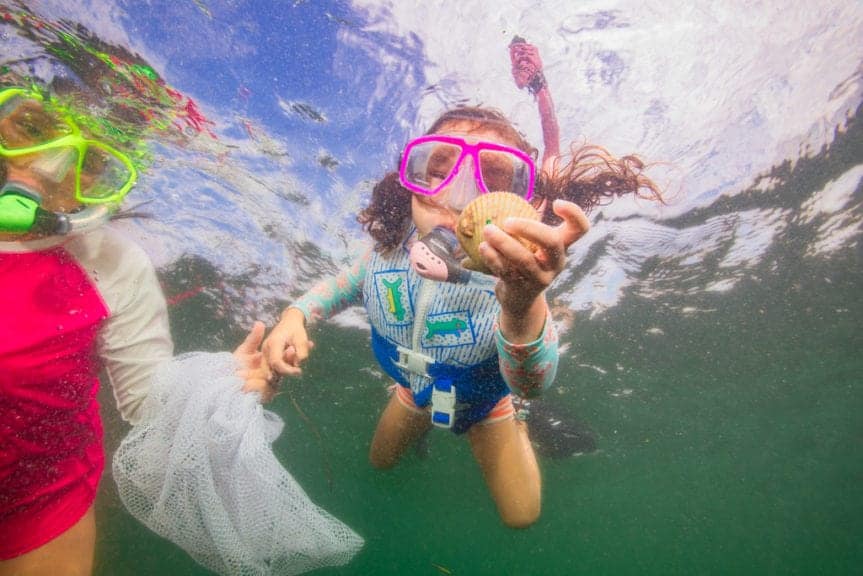 Scalloping in Homosassa. Photo Courtesy of Romona Robbins, Romona Robbins Photography
Is scalloping a kid-friendly activity?
Absolutely! Babies and toddlers may not be able to enjoy the full experience, but elementary-aged kids and older will love it! Make sure they are wearing life jackets in the water if they are not strong swimmers or as an extra layer of security. The current can sometimes be strong depending on where you are in the water.
Do I need a permit or saltwater fishing license to go scalloping?
If you decide to go out on your own boat, then yes, you will need a saltwater fishing license. Register here. But, if you go on a guided tour like the one we booked, they take care of that for you. Tours and charters are definitely the hassle-free way to go!
You can also go through this list from Visit Florida to find out more about other guided tours.
What do I need to bring with me to go scalloping?
A can do attitude, snorkel, mask, fins, mesh bag, and dive flag so other boaters know you are in the water. Safety first! If you book a tour, your boat captain will likely take care of these items for you and will have most likely packed some water, but you can bring your own water and snacks too.
Yet another reason a guided tour is so much better! Plus, they know all the secret spots on where to find the most scallops!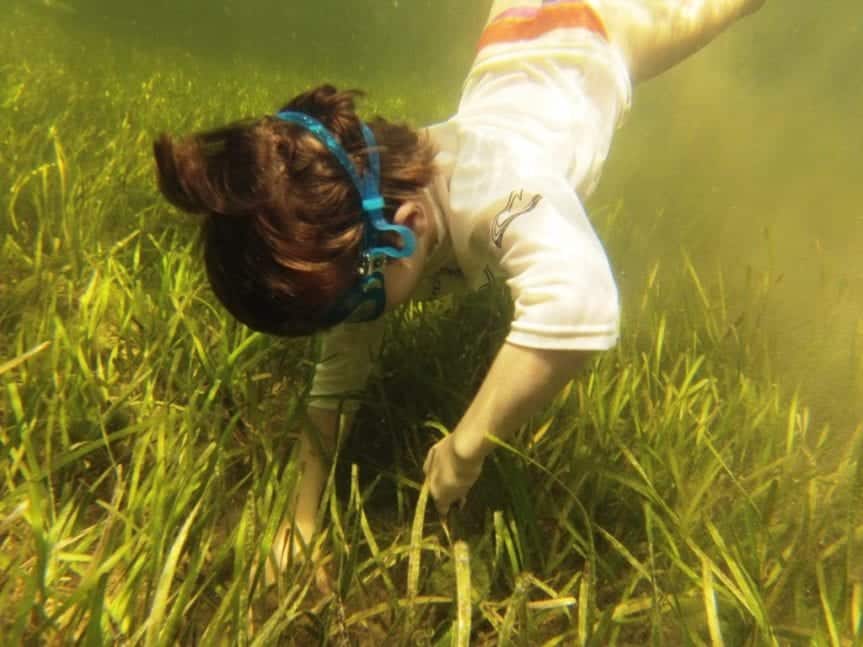 Photo courtesy of Plantation on Crystal River.
How do I catch a scallop?
You'll typically find the bay scallops among the sea grass in about 3-6 feet of water. Be on the lookout for the row of blue, beady-looking eyes around the rim.
Scalloping is often compared to an underwater egg hunt, only more challenging because scallops can swim! That's right! You'll want to go in for the catch quickly when you spot the scallop. They are able to make swift movements by opening and closing their shells.
Careful, because the quick open and close movements can snap at fingers. It won't take off fingers, don't worry, but you'll definitely might feel the pinch.
You can catch scallops by hand or use a small dip net.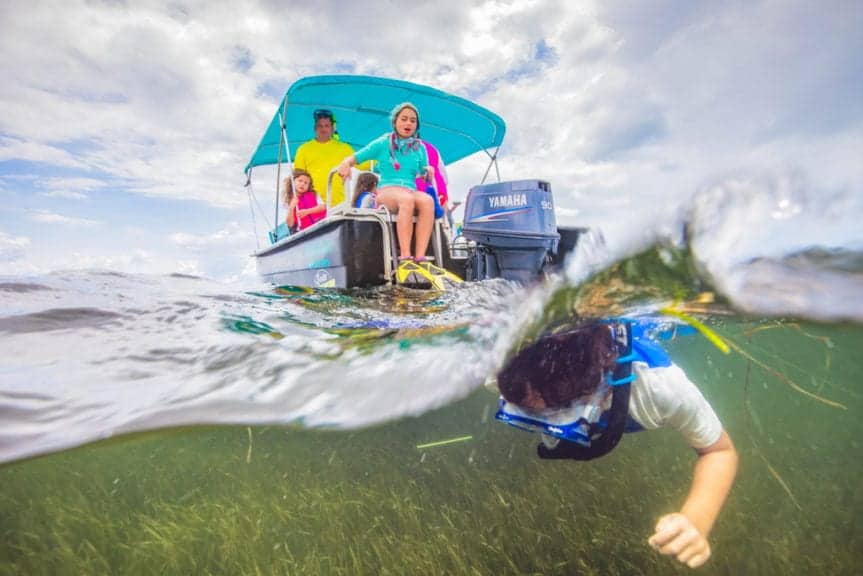 Photo Courtesy of Romona Robbins, Romona Robbins Photography
Is there a limit on how many I bay scallops I can collect?
You betcha and this is to help protect the species and future scalloping seasons.
The current daily bag limit in the Tampa Bay Area which includes Pasco and Citrus counties is 2 gallons of whole bay scallops per person. One boat cannot have more than 10 gallons of whole bay scallops.
Once I've caught the scallops, then what?
Clean, shuck, and cook them! If you'd rather leave that up to the pros, there are places that will do it all for you.
At Plantation on Crystal River, there is a family onshore at the marina who will clean and shuck your scallops for a fee. You can then take your bag of scallops to the restaurant West 82° Bar & Grill where the chef will cook them for you! The meal is $14.95 and comes with your choice of sauce and two sides.
FYI: The lemon butter sauce is absolutely delicious. We are still dreaming about it!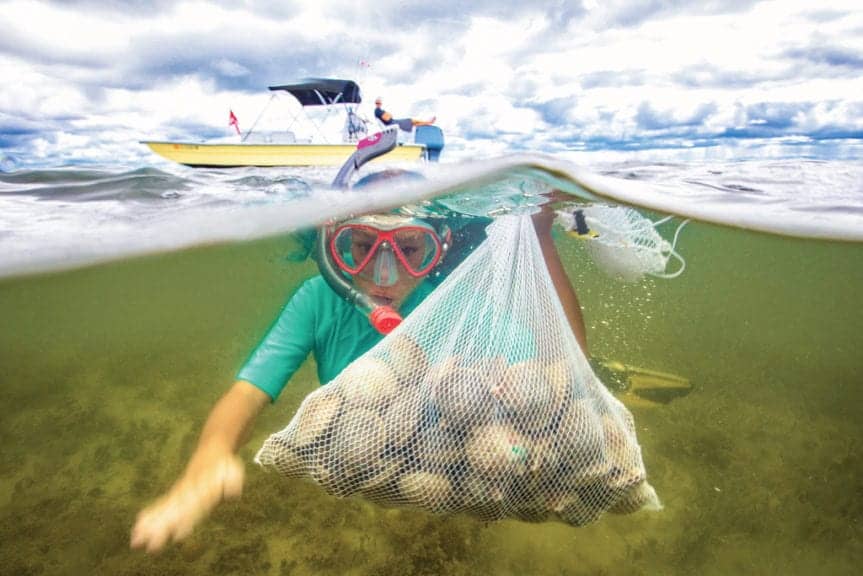 Photo Courtesy of Romona Robbins, Romona Robbins Photography
When is the best time to scallop in Florida?
The time to go scalloping in Florida is obviously during scalloping season, but the best time to go if you want to avoid crowds and other boats is during the weekday mornings. Mornings are also preferred so you avoid the afternoon thunderstorms that often pop up in the summertime.
As far as catching bigger scallops, if you can plan your scalloping trip closer to the end of scalloping season it will not only be less crowded because kids have headed back to class, but the scallops are also bigger since they've had the season to grow larger.
What else is there to do in Crystal River?
Enjoy all that Florida's Nature Coast has to offer, especially if you and the kids are city slickers! During our short staycation to Crystal River, we made a stop at Homosassa Springs Wildlife Park to explore the wildlife and see what it was like to be a tourist in Florida many decades ago! It's a charming state park and one we highly recommend you visit at least once. Don't forget to stop by and see Lu the hippo!
Weeki Wachee Springs State Park is also close by. If you haven't experienced this iconic park with the kids, try to squeeze a visit in during your trip. It's home to real mermaids, amazing kayaking, Florida's only natural water park, and more!
Florida's natural springs are part of what makes Citrus and Hernando counties such great spots for scalloping. Our scalloping tour guide told us this area of Gulf offers the perfect blend of fresh and saltwater thanks to the many rivers and springs that feed into this area. He also pointed out it's these same rivers that have discouraged red tide in this area.
And–where there are natural springs, there are amazing places to go kayaking, tubing, hiking, and well–anything your outdoorsy heart desires!
You can learn more about scalloping season by visiting:
---
More Outdoor Adventures Your Family May Enjoy: