Our Favorite Kid-Friendly Spots to Social Distance in Tampa Bay
Even as the COVID-19 pandemic continues to impact Florida, families still want to venture outside of their homes…we get it. It's been a very long almost 2 years of dealing with the pandemic.
While you'll want to maintain a safe distance from others to be safe and bring the hand sanitizer and face masks with you…there are some really great places to explore and things to do while avoiding crowds.
Here are some of our favorite spots to take the kids and social distance in Tampa Bay!
HEAD TO A LOCAL NATURE PARK OR PRESERVE:
Go for a hike on a nature trail! Nature preserves in Pinellas county like Weedon Island Preserve in St. Petersburg remained open during the Safer at Home order as a way to seek respite from sitting at home. Some local family favorites in Pinellas: Weedon Island Preserve, Brooker Creek Preserve and Shell Creek Preserve. Here are other kid-approved nature trails to try: Boyd Hill Nature Preserve in St. Petersburg and Boca Ciega Millennium Park in Pinellas. Fort De Soto State Park is another family favorite.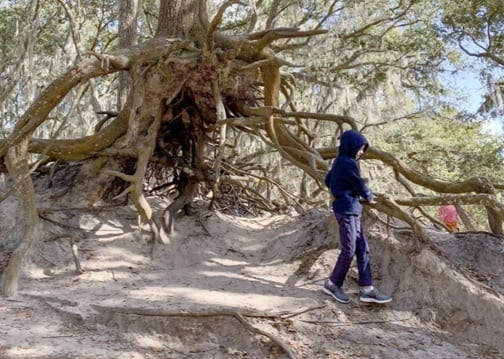 Hillsborough County has some pretty spectacular parks, too! One of our favorites is Edward Medard Conservation Park in Plant City (pictured above) with it's almost dreamlike hikes through giant trees with exposed roots and hills from an old phosphate mine that has eroded away over the decades. It's been a kid favorite for generations.
Lettuce Lake Conservation Park in Tampa is one of the county's most visited parks with a 3,500 foot long boardwalk and 1.25 paved walking trail. We also really like Eureka Springs Conservation Park because it's so picturesque-it was originally established as a botanical garden in 1938.
Here's a great resource for hiking trails in Tampa Bay!
When it comes to state parks, we've already mentioned Fort De Soto since it's in Pinellas County. It has one of the top beaches in the country, North Beach at Fort De Soto which is a family favorite, but the park also features many trails, bike trails, kayaking, and more! Discover state parks to explore here. If your kids like the challenge of mountain biking or climbing, they might like the Alafia River State Park in Lithia which is on a former phosphate mine and has 'radical' changes in elevation as a result.
Bring snacks and plenty of water for an all day adventure among nature and in the shade of beautiful trees!
Related: 8 Outdoor Adventures in Tampa Bay with the Outdoorsy Diva
GO TO THE BEACH:
It seems like a distant memory, but our beaches did close for short time in 2020 to encourage people to stay safer at home, but when they reopened in May 4, 2020, it's safe to say we all had a new appreciation for the beautiful beaches in our own backyards. If you're looking to avoid the busier beaches as the days begin to warm up again, aim to visit the less crowded beaches like Honeymoon Island and Caladesi Island.
In general, most beaches encourage you stay at least six feet away from the people over on the next towel.
If you want to explore a beach town, you can check out what it's like to bring the kids to Boca Grande which is a short drive south from Tampa Bay or even a day at Anna Maria Island.
Some other family favorite beaches in Tampa Bay: 
GET UP CLOSE WITH LAND AND SEA ANIMALS, BUT NOT TOO CLOSE
ZooTampa is a great option since it's mostly all outdoors. This is a great place to get outside while practicing social distancing, especially on a weekday. We love upgrading our day with animal encounters like the Indian Rhino Feeding! You might even spot baby Gronk the rhino there! Go Bucs!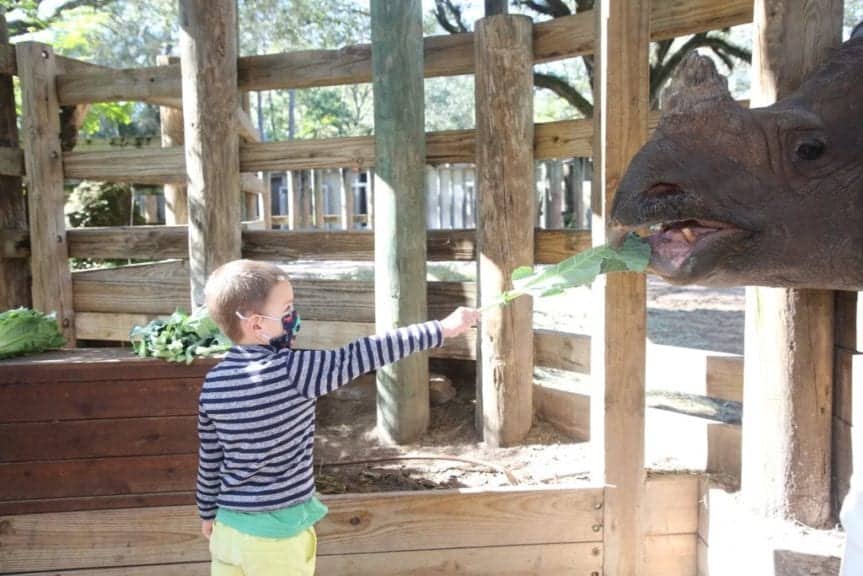 Safari Wilderness in Lakeland offers a customized vehicle safari and even a kayak safari. Learn more here!
If you love elephants, the Myakka Elephant Ranch is a non-profit conservation center that offers unique encounters, including an opportunity to help bathe an elephant.
EXPLORE BY BOAT!
Pirate Water Taxi in Tampa is a great way to explore and it's limiting the number of guests on the boats to allow for social distancing. Stay up to date on new routes and times here! We also love boarding the Lost Pearl, Tampa's only pirate ship! Your little swashbucklers can channel their inner-pirate as you set sail in Downtown Tampa for a 1.5 hour pirate cruise! E-boats in Tampa is another fun way to explore!
Kayaking is a a must-do in Florida with our many waterways and natural springs. Our monthly contributor Maggie Rodriguez went kayaking with her kiddos in Crystal River to Three Sisters Springs and is sharing their experience here! Also, our media partners at TampaBayDateNightGuide.com are sharing 10 Great Spots to Go Kayaking in Tampa Bay.
One of our bucket list items is to go on a bioluminescent kayaking tour. Get and Go Clear Kayaks says the season is from June through October, so you can book ahead now!
GO FOR A DRIVE-THRU EXPERIENCE:
If you don't mind the drive,  Wild Florida's Safari Drive-Thru in Kenansville is still offering a drive-thru experience. You can purchase tickets online and you stay in your car the whole time, so you don't have to worry about too much person to person contact. Tickets are $22 for adults and $17 per child. Learn more about Wild Florida here. 
The Giraffe Ranch in Dade City is offering Drive-Thru Safari experiences. The reservation only tours are $125 per vehicle on weekdays and $150 on weekends. As you stay safely in your car, you tune into an FM radio station to be guided through the tour. You can also opt to park and explore, too! The ranch also has camels, llamas, and more!
COZY UP AT THE DRIVE-IN THEATRE:
The Ruskin Family Drive-In Theatre has long been a family go-to. You can back up into spot and snuggle up with the kids in the trunk, or bring chairs and sit next to your car to enjoy the movie! You can learn more here on their Facebook page to stay up to date on movies and times. Tickets are $6 per person ages 6 and older. Admission for kids 5-8 are $1. Kids 4 and younger are free.
GO FOSSIL HUNTING!
The Tampa Bay Fossil Club is a great resource for fossil hunting in Tampa Bay. Popular spots include the Peace River and Venice Beach which has been deemed the "Shark Tooth Capital of the World"!
Want to get up close with the dinosaurs! Head to Dinosaur World in Plant City–the hands on activities will be closed for now, but you can walk the winding trails and boardwalk to see hundreds of life-sized dinos.
The Tampa Bay History Center has a new fossil exhibit featuring fossils from Florida (Tusk to Tails: A Fossil History of Florida) that date back millions of years. It ends soon, so don't miss out. It's a really cool exhibit that walks you through the history of Florida, but make sure to wear the face mask.
HEAD TO A U-PICK FARM
Inhale all of the fresh air and take in the sun's rays as you and the kids hunt for the best strawberries, sweetest oranges and greenest veggies! There are so many unique farms in Tampa Bay to discover! We're sharing some favorite spots here! Be sure to check with each farm's website or social media pages as u-pick hours and days vary.
The u-pick season doesn't really get started until about March, but there are some weekly events now which we're updating on our 10+ Things to Do This Weekend in Tampa Bay post. U-Pick citrus at Dooley Groves in Ruskin has been a recent favorite!
Keel & Curley Farm in Plant City has been offering some strawberry u-pick lately, but you'll want to check in on their Facebook page to find out current dates. They have a great outdoor seating area at the restaurant and it's right near Dinosaur World, so it' makes for a really cool day trip adventure!
GO SCIENCE!
We're adding the Museum of Science & Industry, MOSI, to our list since they have a face mask requirement, outdoor activities, and it hasn't been overly crowded when we've been. We also really like their outdoor ropes course which is so much fun to navigate!  They also offer Minecraft classes for kids on Saturdays so they can brush up on their gaming skills and even a periodic SkyWatch Night to explore the stars! Discover more at MOSI here.
ENJOY AN OUTDOOR DINING EXPERIENCE
We have a couple of favorite spots to take the kids to eat an play outside. Our top pick is the St. Pete Pier because they have several dining options, including a pizza and ice-cream shop that's completely outdoors. The Glazer Family Playground is so much fun and it's really just a cool area to explore.
We also love Sparkman Wharf in Tampa. You can check out one of the restaurants in the dining garden like the new Murph's Barbecue or The Corners for pizza. If you prefer a sit down, table service restaurant, Jotoro has a large outdoor seating area.
Armature Works is in Tampa is another spot–you can grab the food from inside and then enjoy it outside! Not far from Armature Works is Ulele which has a great outdoor area and even some fun statues from the former Fairyland like Humpty Dumpty and the Three Little Pigs. It's a short walk to Water Works Park if you need some playground time.