Splash Pads in Tampa Bay to Keep Your Cool
There's no better way to keep your cool than a skip through a splash pad or spray ground! Lucky for us, there are tons of awesome ones to check out around the Tampa Bay area.
Whether you want to cool off after a day at the zoo or just head straight for some water fun on a hot afternoon, here are some of our picks for splash pads you'll love!
701 Channelside Dr, Tampa, FL 33602
This outdoor water play zone features a zero-depth water area with water dump buckets and spray zones for children 11 and under. There's also a designated play area for toddlers. Access to the splash pad is included with general admission. Children must be supervised by a parent or guardian at all times. Foot protection is not required but is highly recommended, especially in the hot summer months!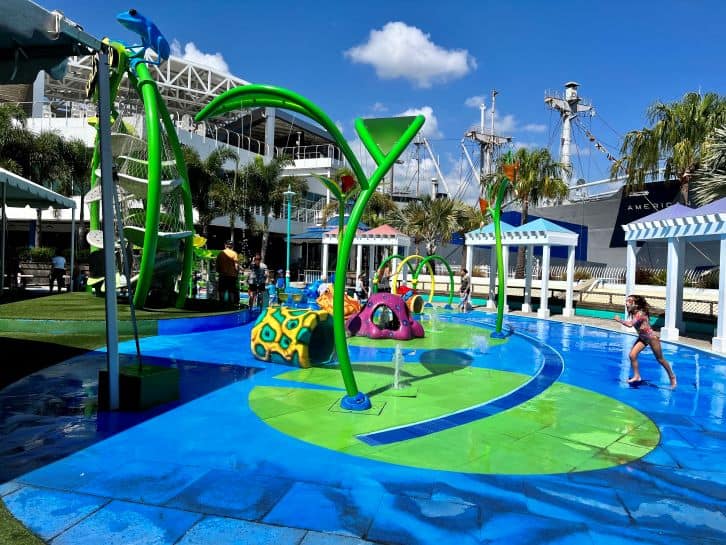 10001 McKinley Dr, Tampa, FL 33612
Kids will love splashing around in the new interactive Shaka-Laka Shores! This zero-depth aera features 25 play elements and a central kid-friendly play structure that's perfect for even the youngest of guests. There's also a variety of interactive aquatic components as well as additional shaded sections. 
Bigger kids might have more fun running around Splash Attack, a maze of water-filled fun with a surprise centerpiece and a huge tree house with more than 50 water play toys. Watch out as the 1,000-gallon wooden bucket empties every seven minutes or spiral down the 500 feet of twisting open flumes and closed tubes gushing with water. The tree house is filled with water toys like jets, levers, and rope pulls, plus twisting slides, bridges, cargo nets, and web crawls.
(Featured photo provided by our friends at Adventure Island)
10165 McKinley Dr, Tampa, FL 33612
Head over to the Sesame Street Safari of Fun area at Busch Gardens to splash around in Bert and Ernie's wildy fun water adventure! Filled with bubblers, geysers, jets, dumping buckets, and more!
1101 Sligh Ave, Tampa, FL 33604
ZooTampa has two places to cool off – the front of the park and the Wallaroo section. Water sprays and buckets drench kids as they run and play around the Wallaroo area and large fountains of water are scattered around for kids to splash through at the front of the park (this is closed at Christmas time to use as a space for the giant lighted tree).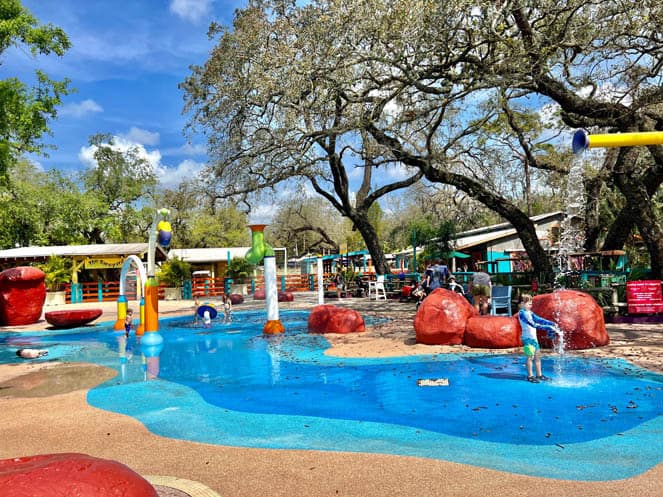 1 LEGOLAND Way, Winter Haven, FL 33834
Head over to LEGOLAND and check out their epic splash pad and water park after exploring the theme park! There are several water slides, a wave pool, and lazy river! You can even make it a high seas adventure and book a stay in the Pirate Island Hotel for a swashbuckling great time!
300 Cleveland St, Clearwater, FL 33757
The all-new Coachman Park in Clearwater has tons of new activities – including a splash pad. Kids will have a blast playing in the new pirate-themed playground and then cooling off in the splash pad, located just outside the playground. Challenge a friend to a game of giant checkers or chess as you're drying off.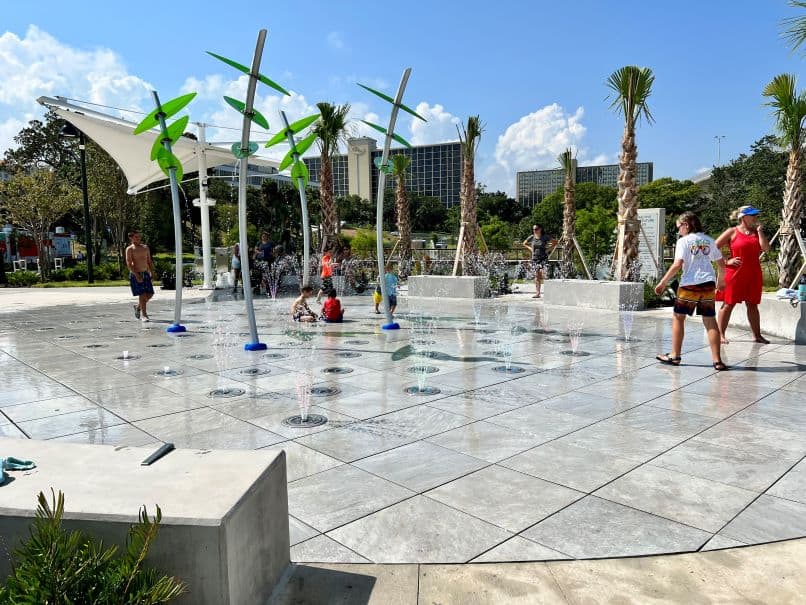 600 2nd Ave NE, St. Petersburg, FL 33701
Spend the morning riding bikes or strolling along the St. Pete Pier and then cool off for a bit at the Majeed Fountain Splash Pad! Just a few steps away is a great spot to buy some ice cream and snow cones! It's best to arrive early before it gets too crowded. The playground is also pretty awesome!
1710 N Highland Ave, Tampa, FL 33602
Water Works Park is located along the Riverwalk and has a big open space, playground, and splash pad. Cool off as you run through the spray areas and get splashed by the giant water dump bucket.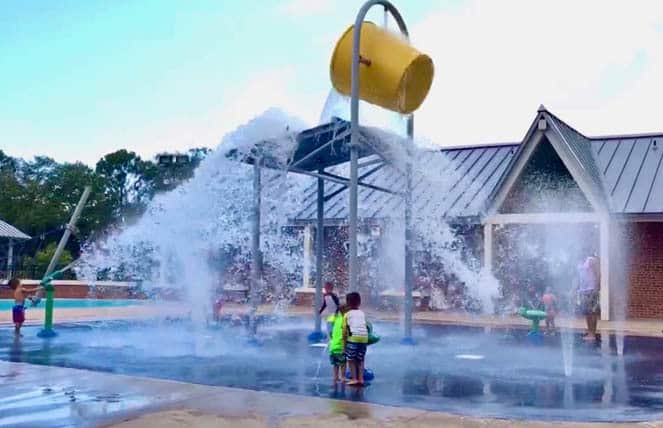 400 Highland Ave N, Largo, FL 33770
This awesome aquatic center includes and activity and multipurpose pool along with some super fun water activities. Go down the 214-foot corkscrew water slide and the three-story speed slide. Enjoy a zero-depth area with play structure and sprays, an all-ages double slide, water basketball and volleyball, and more! Wristbands are available for purchase and are required for splash pad use.
31885 Overpass Rd, Wesley Chapel, FL 
Located in Wesley Chapel, Epperson Lagoon is a huge 7.5-acre pool complete with a waterslide, floating obstacle course, swim-up bar, live music, and so much more to ensure you have the perfect day under the sun. Read the full story about how to plan your day at Epperson Lagoon.
16881 Lagoon Shore Blvd, Wimauma, FL 33598
Southshore Bay Lagoon in Wimauma is the area's newest lagoon that's open to not just the residents, but the public via a day pass. The lagoon features a family beach, splash pad, swim-up bar and food services, paddle boarding and kayak rentals, a floating adventure course, and more! Toddlers and younger children will love the Gasparilla Island which they can easily get to by wading in shallow water. They can play in the sand here and even cool off in the splash pad. There are also little kid sized beach chairs if they want to sit back and recharge their batteries before heading back out to play!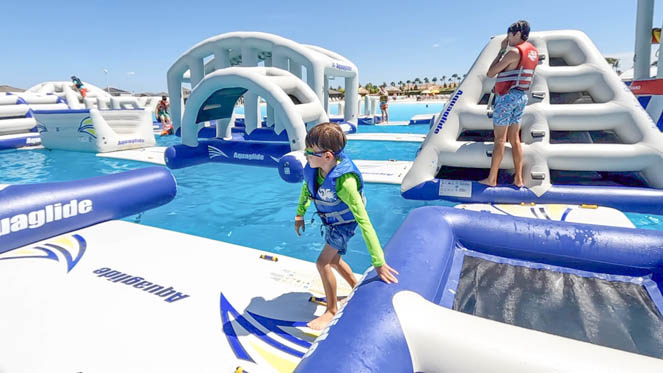 31461 Mirada Blvd, San Antonio, FL 33576
This all-new lagoon has fun for the whole family! A day pass includes access to the beach, where you can swim in crystal blue waters and enjoy waterslide thrills and a water splash zone. Guests also get access to the swim-up bar. Additional experiences are available for a separate fee and include a water obstacle course, kayaks, and paddle boards.
821 S Rome Ave, Tampa, FL 33606
Kids of all ages will love cooling off at this simple splash pad at Kate Jackson park. Water streams shoot up through the ground surrounded by giant lion statues that guard the area.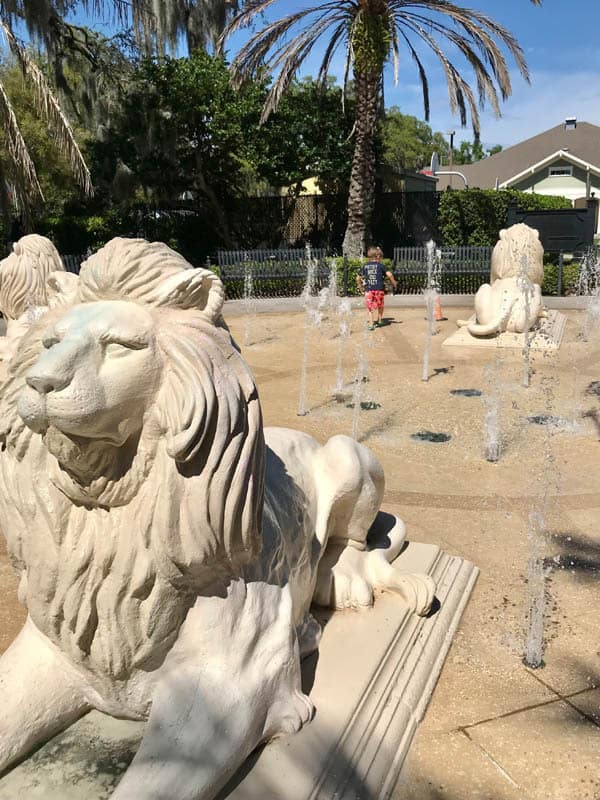 1937 Ed Eckert Dr, Dunedin, FL 34698
Kiwanis Sprayground is filled with several water features to beat the summer heat. The 3,000 square-foot play area features colorful action-packed features that spray, gush, dump and pour water from a variety of whimsical devices. Kids can dodge a crocodile that shoots water out of its mouth, slide down the pirate ship, circle the tumble buckets, and dance in and out of the flower water showers throughout the Sprayground. The Sprayground is ADA accessible, has a non-slip surface, and no standing water. It also has a lightning detection system with automatic water shut off and security cameras.
399 Second Street, Indian Rocks Beach, FL 33785
The waterpark attached to a hotel features water slides, lazy river, extra-large pool deck, splash zone, and more. Their Treasure Cove Splash Zone features 3 slides, interactive water activities, a dumping bucket, and more.
6341 Bank St, New Port Richey, FL 34652
The splash pad at Sims Park is drained daily and refilled to maintain safe levels in the water, along with testing 3 times a day. In addition to the splash pad, there's a playground, boat dock, pavilions, walking paths, and more!
More on the water FAMILY FUN in Tampa Bay:
The BEST Water Parks in Tampa Bay: Keep cool and have FUN!