The BEST Water Parks in Tampa Bay: Keep cool and have FUN!
As the days of winter pass behind us and we head into springtime, we're sharing our favorite ways to stay cool in Tampa Bay and have fun as a family! There are so many water parks and different types of water parks–so whether you're looking for a day floating down the lazy river or looking for something a bit more thrilling, we've got some ideas for you!
Our Favorite Water Parks in Tampa Bay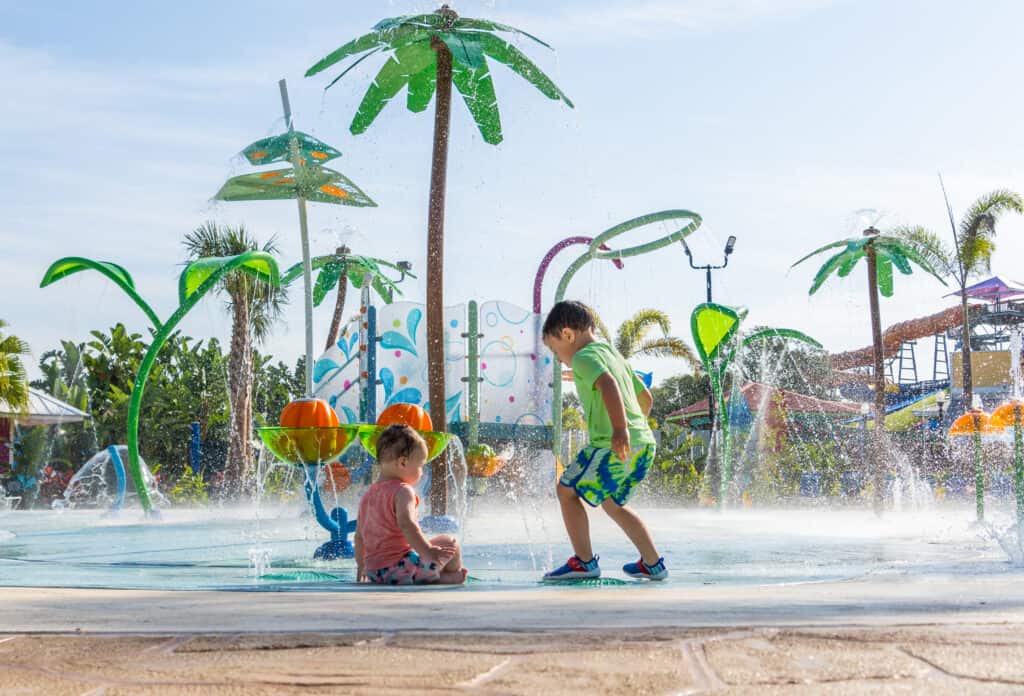 Adventure Island in Tampa
10001 N McKinley Dr., Tampa, FL 33612
Open daily at 10 am
Adventure Island is at the top of our list of the best water parks in Tampa Bay because it's the largest in our area. Keeping up with new additions in the last few years, the water park just opened a new splash pad area called Shaka Laka Shores which features 25 different ways to get soaked!
There are so many ways to keep your cool and we also love that there is something for every age range. Whether you want to relax with the kids down the Rambling Bayou, splash in one of the splash and play areas, swim in one of the multiple pools in the park, slide down the waterslides, or play some volleyball in the Spike Zone, there truly is something for everyone!
There are also two new waterslides which opened last year: Wahoo Remix and Rapids Racer.
---
LEGOLAND Florida Water Park in Winter Haven
1 LEGOLAND Way, Winter Haven, FL 33834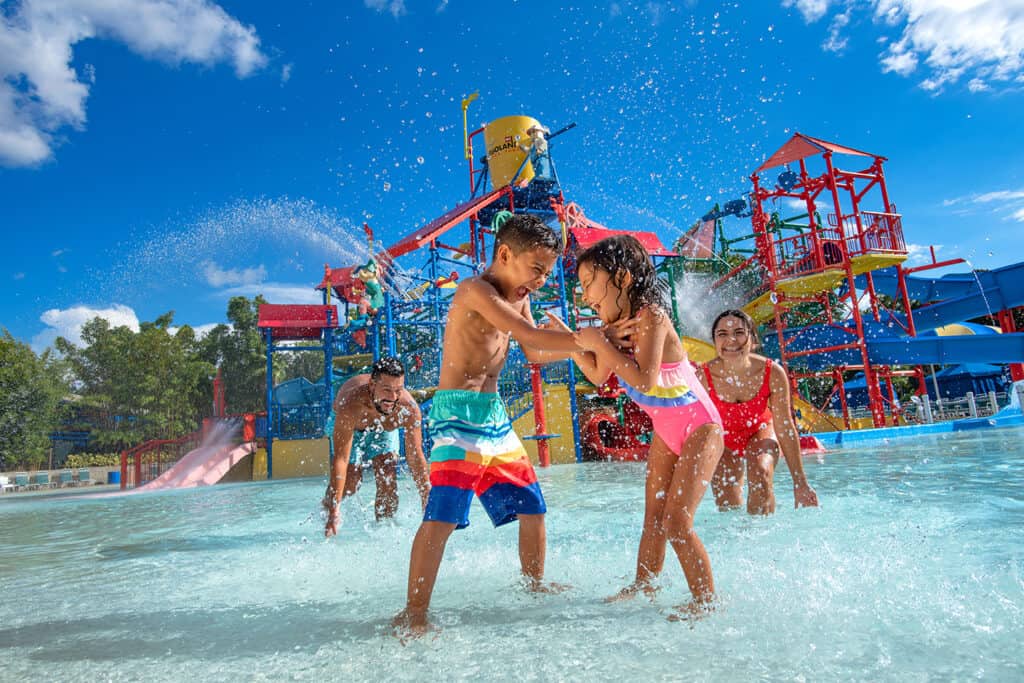 Open daily at 11 am June-August. Seasonal hours begin late August starting at 12 pm on weekdays and 11 am on weekends.
After sweating it out at LEGOLAND, head toward the back of the park to cool down at the LEGOLAND Florida Water Park. You will need to ensure you've added this experience to your ticket.
There are several water slides for the kiddos and kids at heart. And, it wouldn't be LEGOLAND if there weren't plenty of opportunities to build with oversized floating bricks as you float down the lazy river or even build a LEGO boat in Creative Cove (pictured)!
There is so much to do at LEGOLAND Florida Water Park. Your youngest child can splash and play in the Duplo Splash Safari and the older kids can test their adventurous side with a slide down the waterslides. There is no shortage of water play fun
---
TradeWinds Island Resorts STAYCATION in St. Pete Beach
5500 Gulf Blvd., St. Pete Beach, FL 33706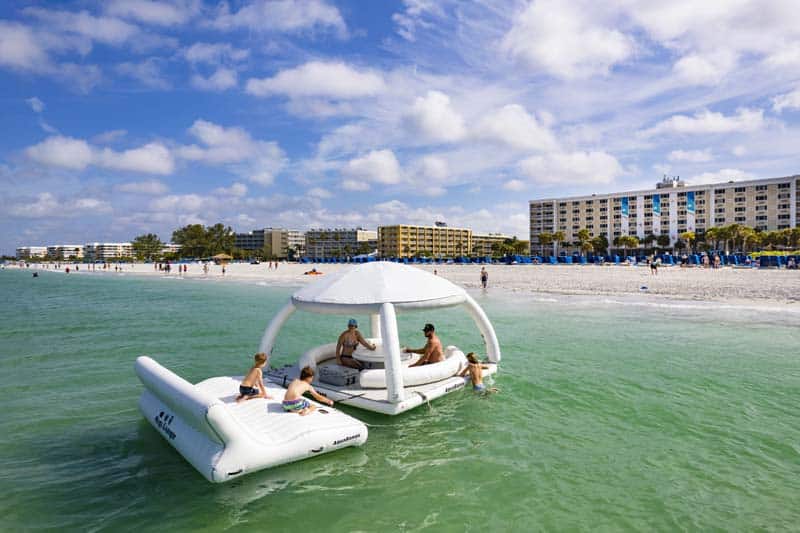 Stay the night and play like a tourist!  The resort features seven swimming pools, the High Tide inflatable waterslide, an inflatable water park, floating cabana, surfing challenge, and more!
They've even added a NEW beach zip line! While you're there, relax on the sugary white sands of St. Pete Beach or rent the luxurious Aquabana! We're sharing all the fun things to do at the TradeWinds Island Resorts with the kids here during your staycation adventure!
---
Florida Aquarium's "The Splash Pad"
701 Channelside Dr., Tampa, FL 33602
Open daily from 9:30 am-5 pm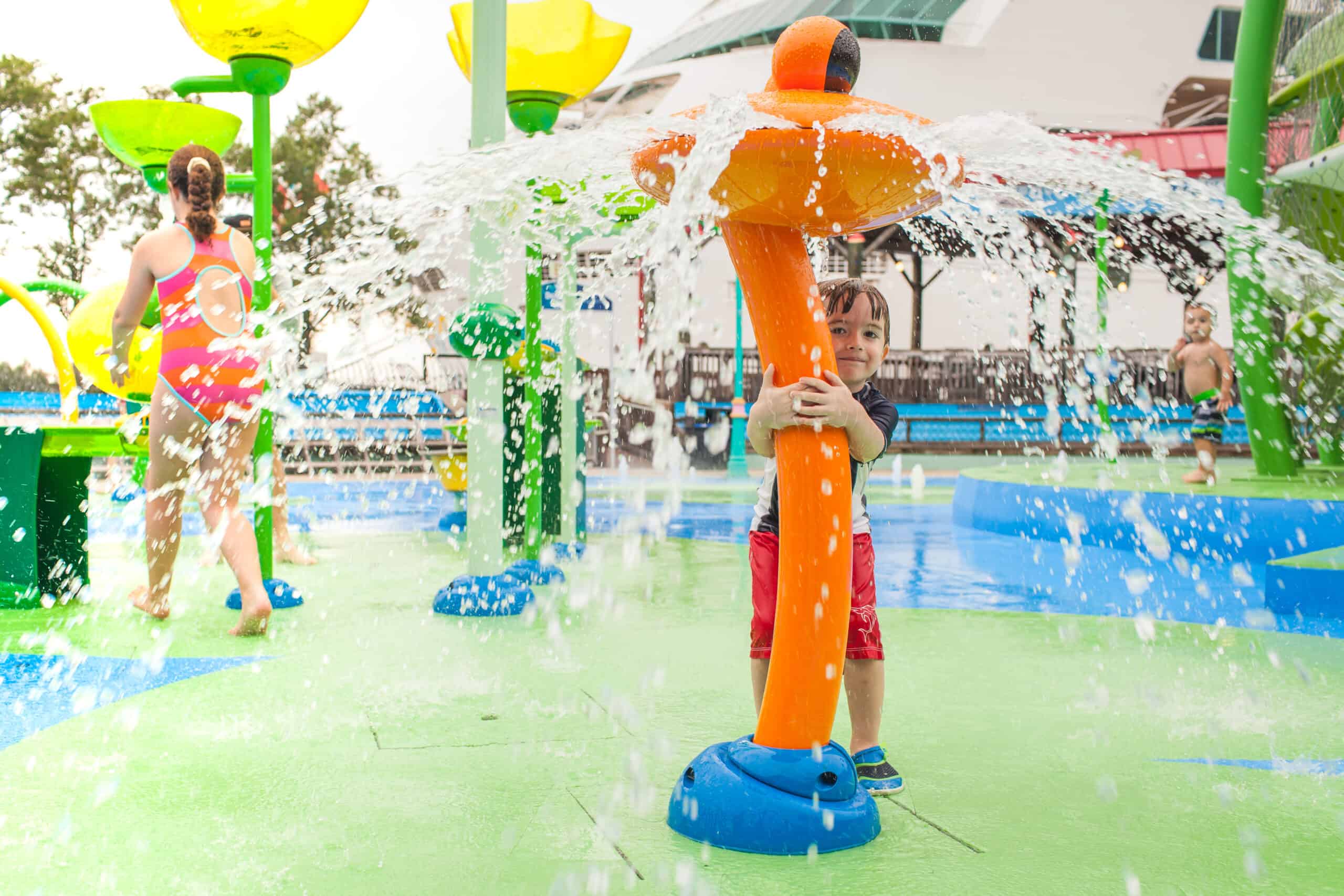 If you haven't had the chance to explore The Florida Aquarium's new Splash Pad, we highly recommend checking it out, so don't forget the swimsuits, water shoes, and towels the next time you visit! You can read our Inside Look at The Florida Aquarium's Splash Pad here.
---
ZooTampa at Lowry Park in Tampa
1101 W. Slight Ave, Tampa, FL, 33604
Open daily from 9:30am-5pm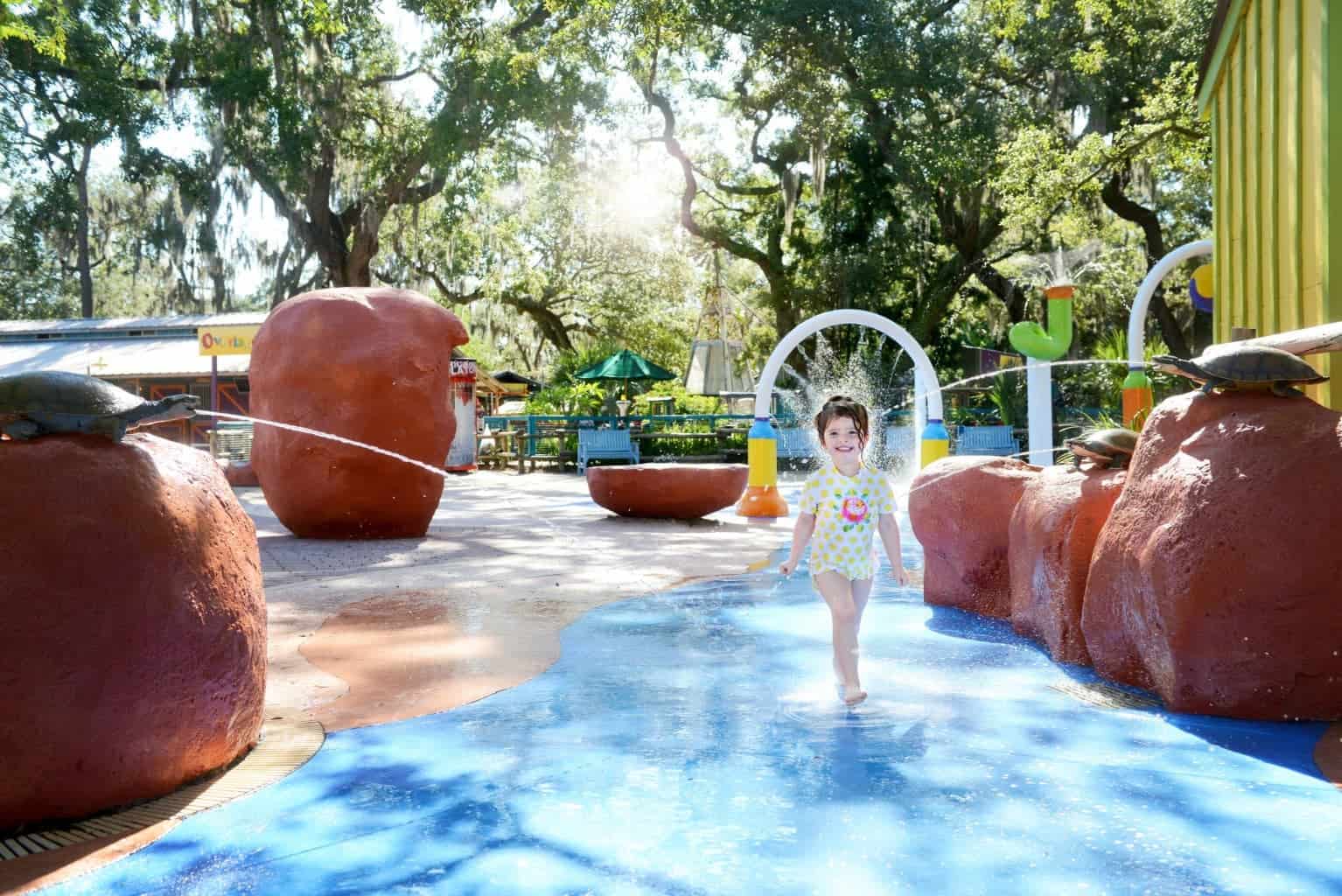 Cool off in the splash area at Wallaroo Station at Lowry Park Zoo. Bring your child's bathing suit, pool shoes and towel so they can cool off after visiting with their favorite animals at the zoo! You can also take a ride down Roaring Springs for a splash down to keep your cool!
---
Weeki Wachee Springs State Park
6131 Commercial Way, Spring Hill, FL 34606
Open daily from 9 am-5:30 pm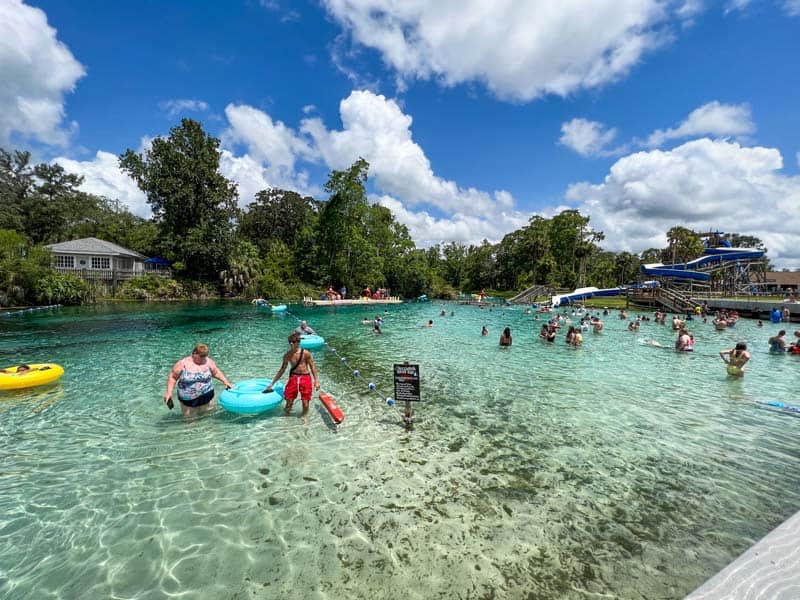 Nature has another gem in store for you…Weeki Wachee Springs! Meet a few live mermaids and don't forget to bring your bathing suits to take a dip in the crystal clear springs in Buccaneer Bay. There's even a waterslide, kiddie pool and lazy river! Weekiwachee.com. The water park opens for the season just in time for spring break March 11-19 and then after from March 20-May 26, the water slides will only be only open on Saturdays and Sundays. Everything reopens daily beginning May 27 in time for summer break.
Related: How to Have a COOL Day at Weeki Wachee Springs State Park
---
SouthShore Bay Lagoon in Wimauma
16881 Lagoon Shore Blvd, Wimauma, FL 33598
Open daily from 10 am-8 pm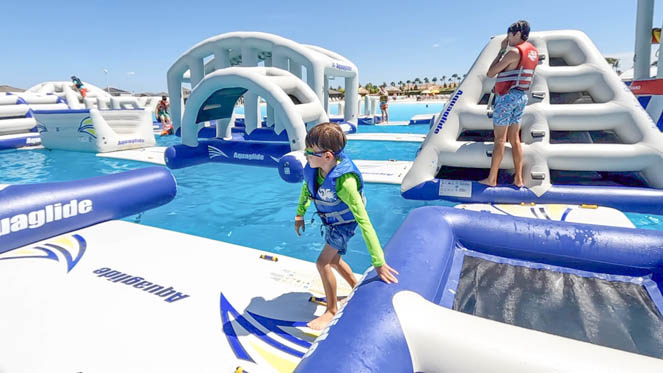 The wait is over! Hillsborough County finally has a man-made lagoon water park. Southshore Bay Lagoon in Wimauma is the area's newest lagoon that's open to not just the residents, but the public via a day pass. The lagoon features a family beach, splash pad, swim-up bar and food services, paddle boarding and kayak rentals, a floating adventure course, and more!
Epperson Lagoon in Wesley Chapel
31885 Overpass Rd, Wesley Chapel, FL 33545
Open daily from 10 am-8 pm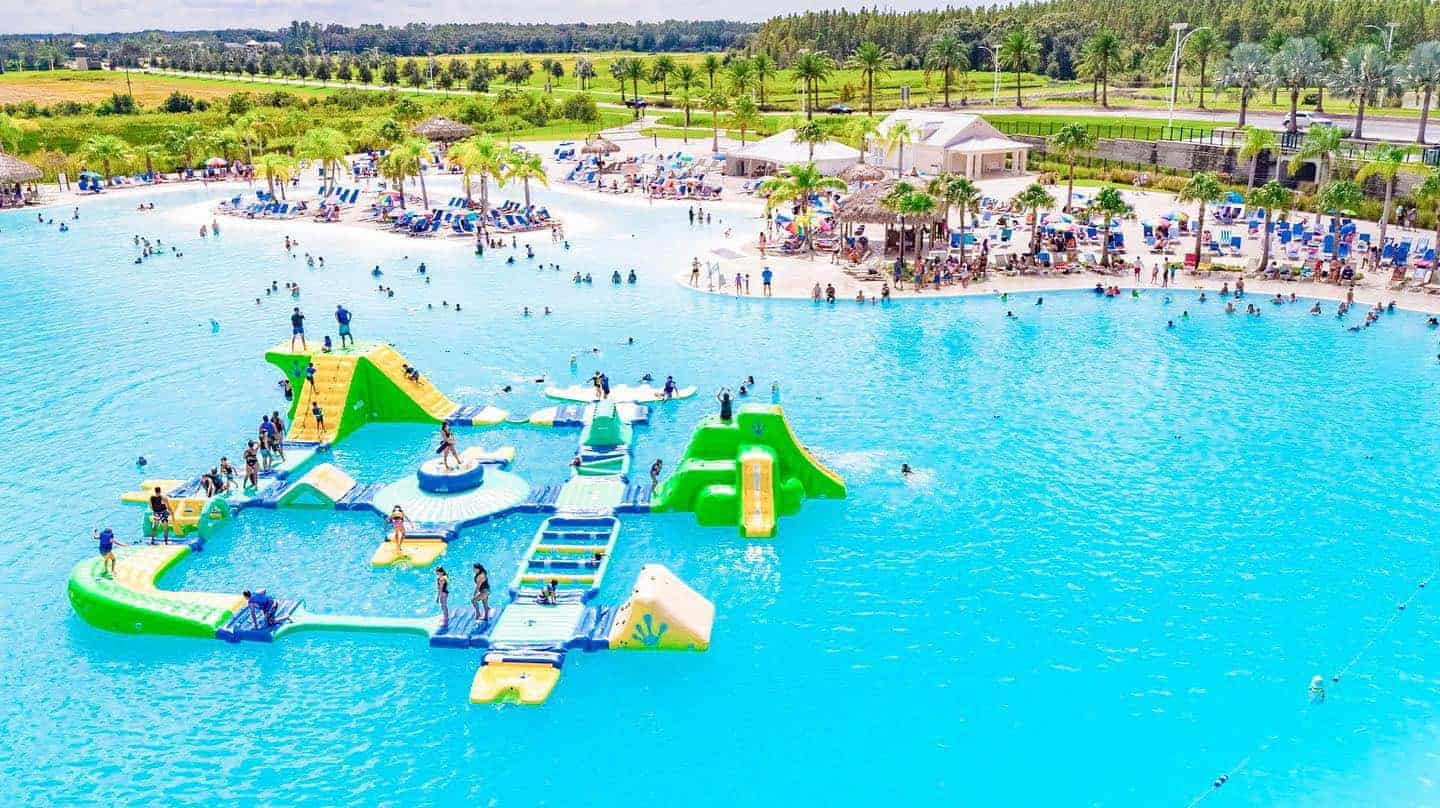 If you're looking for a slice of paradise in the middle of the city, pack up your swimsuit and sunscreen and head over to Epperson Lagoon. It encompasses the Florida lifestyle with its clear blue waters, sandy beaches, and various spots to relax under the sun.
Located in Wesley Chapel, Epperson Lagoon is a huge 7.5-acre pool complete with a waterslide, floating obstacle course, swim-up bar, live music, and so much more to ensure you have the perfect day under the sun. Read the full story about how to plan your day at Epperson Lagoon.
31461 Mirada Blvd, San Antonio, FL 33576
Open daily from 10 am-8 pm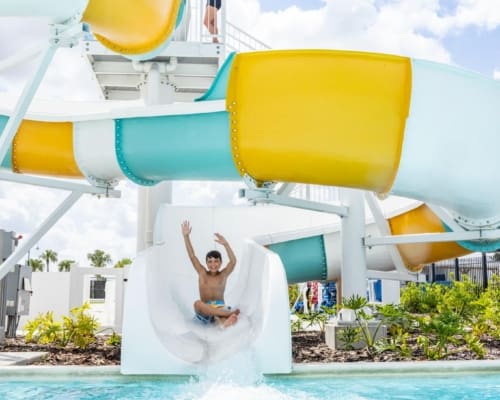 This all-new lagoon has fun for the whole family! A day pass includes access to the beach, where you can swim in crystal blue waters and enjoy waterslide thrills and a water splash zone. Guests also get access to the swim-up bar.
Additional experiences are available for a separate fee and include a water obstacle course, kayaks, and paddle boards. All-day passes are available for $20-$40 and Late-Day (after 3 pm) passes are available for $13-$32.
---
The Lift Adventure Park
 in Hudson
17362 Old Dixie Highway, Hudson
theliftadventurepark.com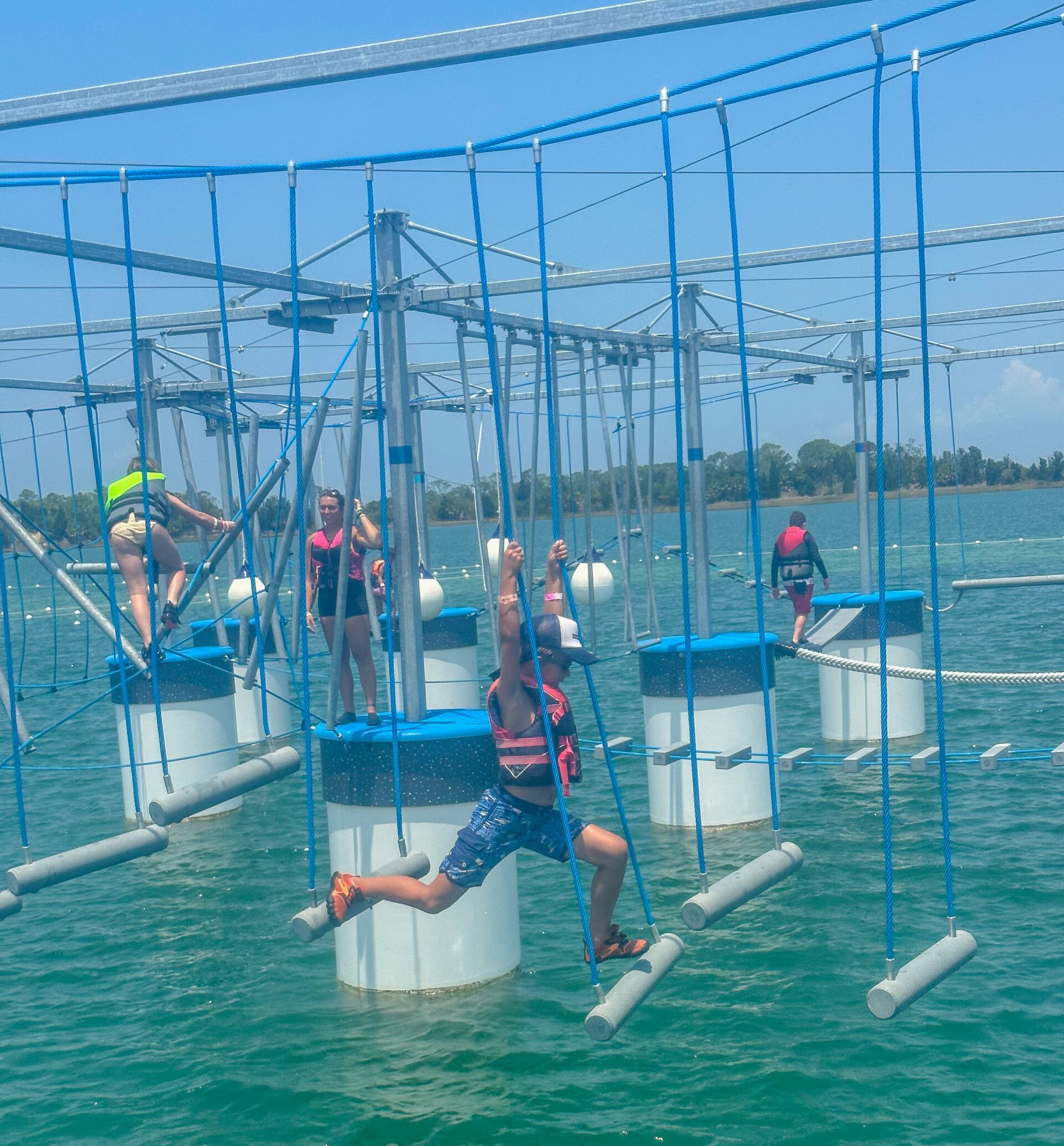 Adventurous family? The Lift Adventure Park is for you. Located on a spring-fed lake, The Lift offers a wake park, kayaking, paddleboarding, and two courses: the Aqua Park and the Aqua Chimp. The Aqua Park, an inflatable, on-water playground, is open to children ages 7 and up. It presents opportunities for climbing, running, jumping, swinging, and sliding. It's an ideal space for parents to be kids again.  
Aqua Chimp, a more ninja-style course, contains a climbing wall and various rope challenges. Participants don't wear restraints, as falling into the water is part of the fun. There's an easy, medium, and hard path as well as a zip line that leaves riders submerged in the lake. Water shoes are required for the Aqua Chimp, and life vests are provided by The Lift. Lift employees are always present and offer assistance as needed.  
The Wake Park is The Lift's most unique feature. Novices can try knee boarding and more experienced wakeboarders can use the full-sized cable for trick work. Check The Lift's website for details on required wakeboarding gear (available for rental).  
---
399 Second Street, Indian Rocks Beach
Splash Habour in Indian Rocks Beach has plenty of attractions to keep water lovers and thrill seekers busy. Check out the 42-foot tall Smugglers Run Slide or head down the Pirate's Plunge. Splash around in the Treasure Cove Splash Zone or relax down the Great White Lazy River. Cabanas are available for rent and there are several restaurants on-site including the Splash Harbour Snack Shack and Cruzan Rum Shack. If you get water-logged, you can also check out the miniature golf course or Gecko's Game Room.
Daily admission starts at $25.95. There is a discount for visits after 3pm. Ages 2 and under are free. Annual passes are available starting at $130.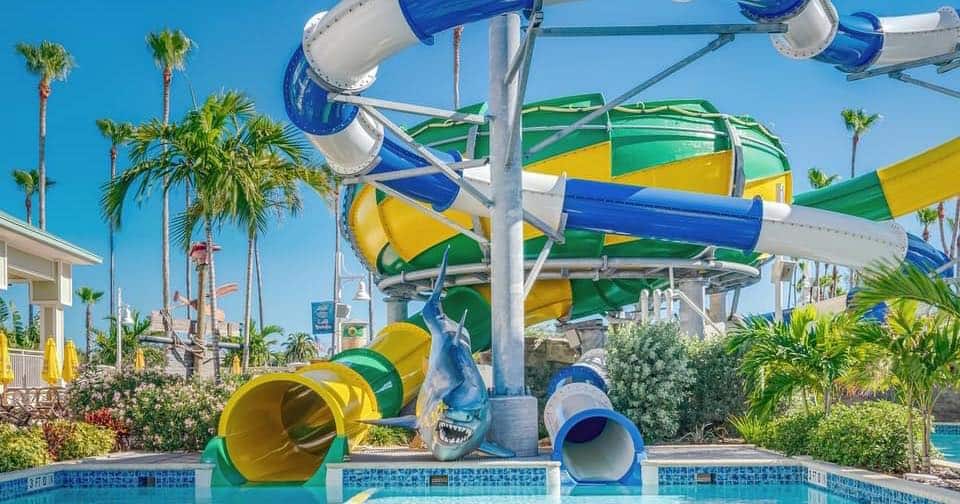 ---
Cool off at these splash pads in Tampa Bay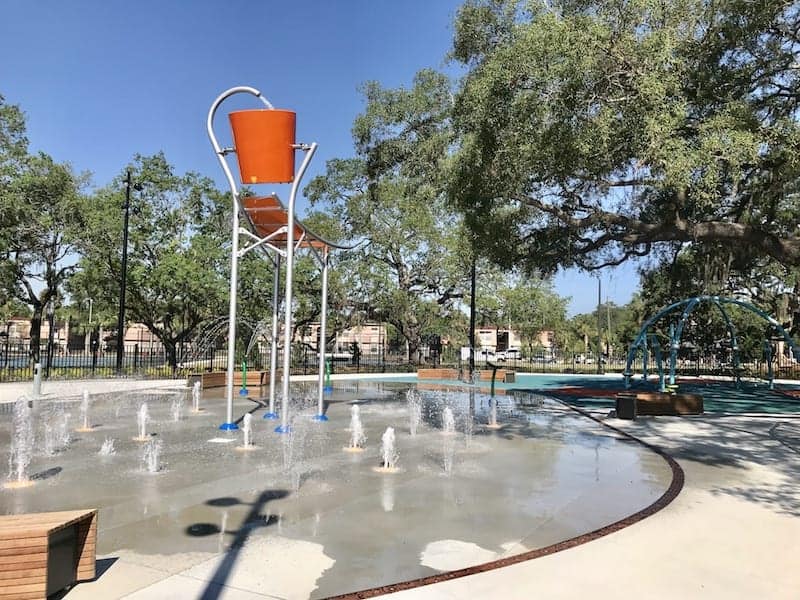 Speaking of splash pads, why not check out your local splash pad like Water Works Park or Julian B Lane Riverfront Park near downtown Tampa! There are some shaded areas where parents can keep an eye on the kids as they splash and play on the play structures!
Some of our other favorite splash pads are at Ballast Point Park in South Tampa and Highlander Park and Kiwanis Sprayground in Dunedin.
---
The beach is open year-round for endless fun!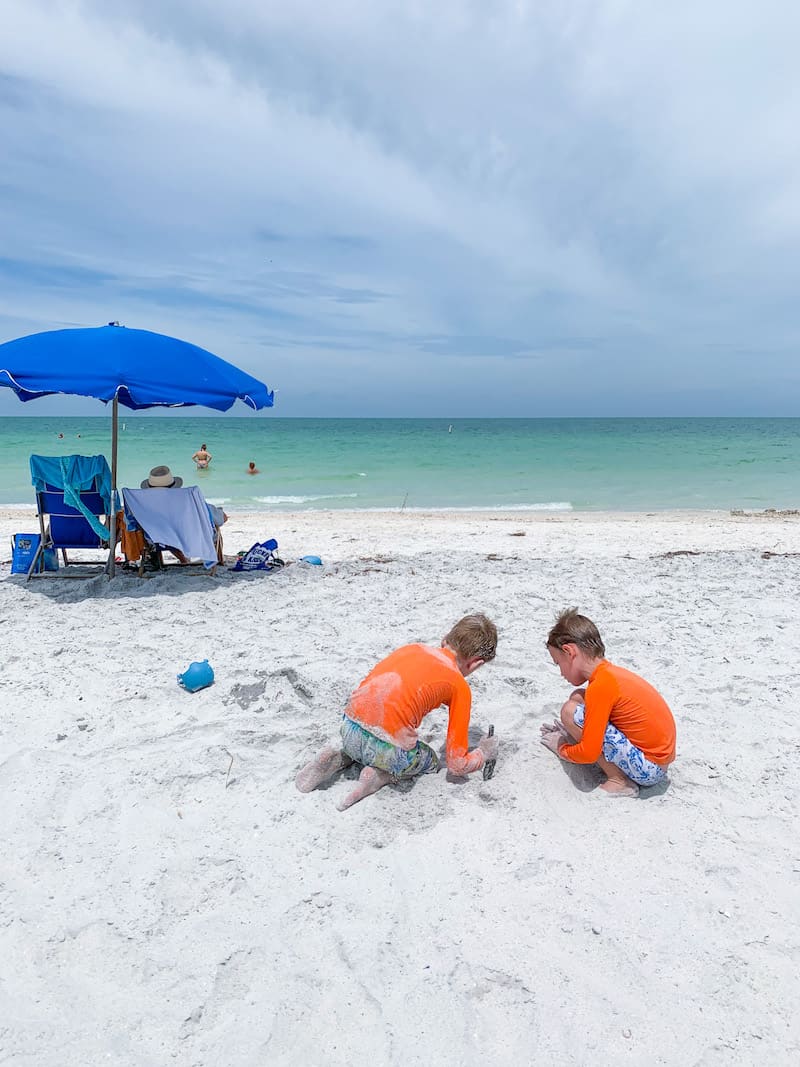 Explore nature's waterpark…the beach! Our Family Fun contributor Anna Tataris DeJesus of TheGreatEscapePlan.com shares her favorite hidden gems that are a little off the beaten path, but well worth the trip. You won't regret experiencing these beautiful local beaches like Shell Key and Caladesi Island with your family:discover Tampa Bay's BEST beaches by clicking here!
Related: How to Plan Your Visit to Caladesi Island State Park
---
If you're hitting the road to head to Orlando, you've got plenty of water parks from which to choose. And it can be hard to choose. Each water park in Orlando has its pros and cons, and it depends on what you're looking for that will help you determine the right fit for your family.
Starting with the Disney water parks, it is important to note that generally, one park is open for a few months while the other is closed for refurbishment. Typhoon Lagoon tends to be open in the spring and summer, while Blizzard Beach is open in the fall and winter.
A note from an Orlando native –
"If I had to pick the best water park in Orlando it would be Universal's Volcano Bay. I have been to every Orlando water park multiple times, and it is my choice because of the number of slides and attractions there, the beautiful landscaping and theme, the great food and drinks, and the kid's area is the most elaborate of all the water parks, and it is in the center of the park, with a perimeter around it to keep the kiddos secure in one spot! Plus the TapuTapu virtual queue system keeps you from waiting in line, and it is included in admission!" – Dani Meyering, Editor of OrlandoDateNightGuide.com and OrlandoParenting.com
Get super helpful tips and our picks for the BEST Water Parks in Orlando for Kids
Pros – beautiful tropical theme, great food, lots of shade, cute kids area, a few slides that families can ride together
Cons – kids area is relatively small, the park is spread out, and some slides can be hard to locate
Pros – adorable theme and storyline, great food, a variety of seating options, cute kids area including a new Frozen-themed area in Tike's Peak for the little ones!
Cons – slightly fewer slides than Typhoon Lagoon, kids area is small and tucked away, wave pool is smaller
Pros – TapuTapu virtual queue system and tap-to-pay system included in admission, largest collection of slides and attractions, massive kids area with a perimeter to keep kids in the area with seating and cabanas, multiple pools
Cons – parking is a bus ride away, most of the slides are thrilling, the layout can be confusing if you're not familiar
Pros – the only water park with aquatic animal areas, large kids area, large beach
Cons – most of the slides are fully enclosed which can be scary for some guests, food and beverage is not as good as other parks
Pros – the most affordable of the parks, fun kids area, interactive technology system, only water park with an adults only pool, least crowded
Cons – open seasonally, each ride and area is named based on social media references which can be confusing, small and near the highway
Pro-tip: the private cabanas at Island H2O Live! are pretty affordable and a great way to relax as a family.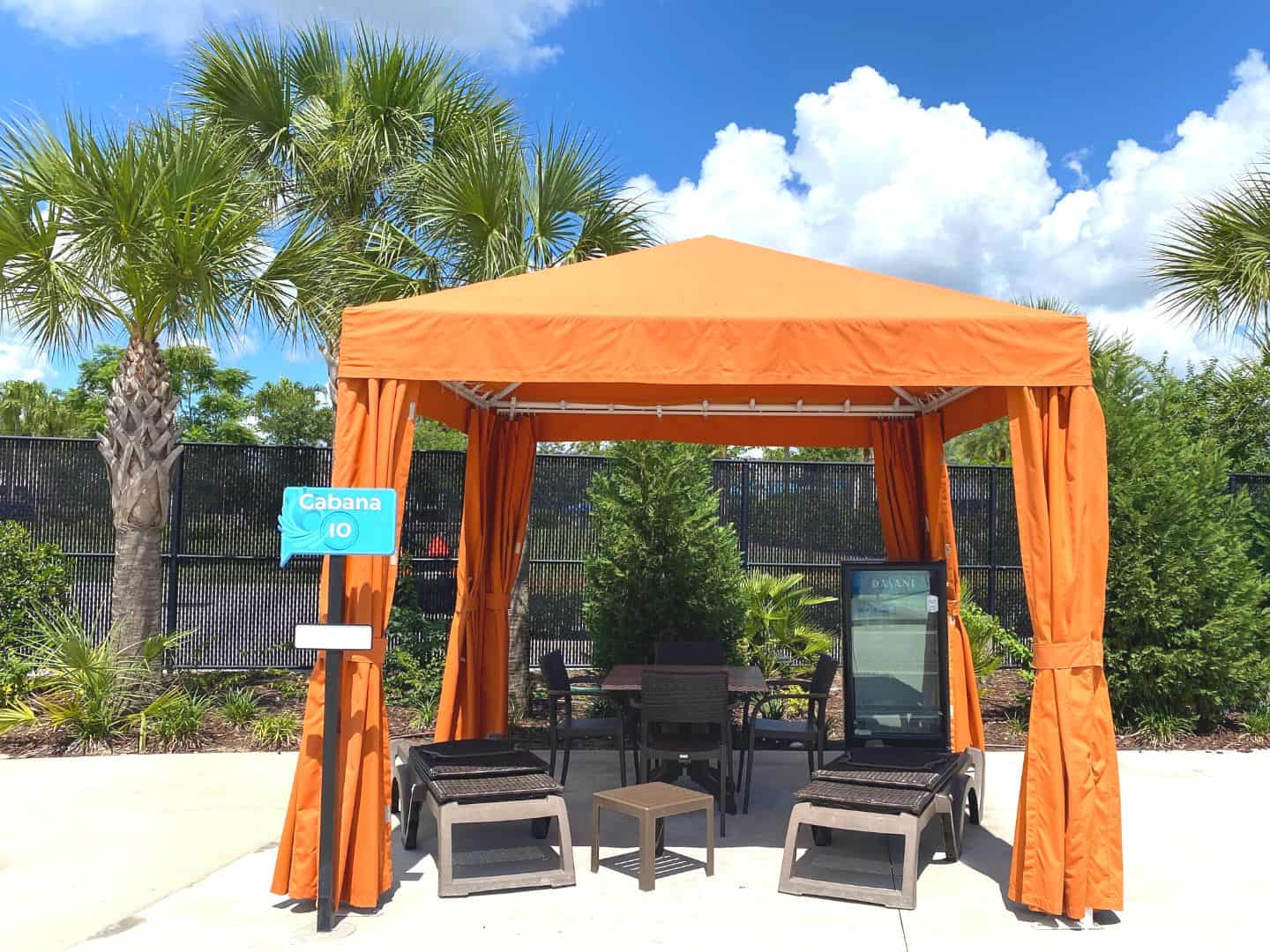 Get all the details and info in our guide to the BEST Water Parks in Orlando for Families.
Related stories we think you'll LOVE: