TECO Manatee Viewing Center Reopens for the Season
The TECO Manatee Viewing Center is open for the season from November 1, 2022-April 15, 2023 and they're ready to welcome you to walk the boardwalks and view the Florida manatees as they seek the warm water discharge from Tampa Electric's Big Bend Power Station in Apollo Beach.
Don't worry–the water is clean and not harmful to the manatees. In fact, the area is a state AND federally designated manatee sanctuary because it provides the warmth and protection manatees need to survive the coldest months of the year.
On some of the coldest days, you can expect to see hundreds of manatees from multiple different viewing vantage points at the center, so there is plenty of room to spread out. But. there is still plenty to do on a warmer day, too!
This is a wonderful place to bring the kids and it's stroller and wheelchair friendly. It's also a great spot to picnic, so bring your own lunch and snacks. There are plenty of picnic tables and outdoor seating areas for you and the family to enjoy.
TECO Manatee Viewing Center Location
The TECO Manatee Viewing Center is located at 6990 Dickman Road in Apollo Beach, just off of Big Bend Road and US-41.
Parking and Admission at the TECO Manatee Viewing Center
It is FREE to park and explore the TECO Manatee Viewing Center. There is the main lot by the center and then an overflow lot just down the street. It is open daily from 10 am-5 pm during the season from November 1, 2022-April 15, 2023 with the exception of Thanksgiving, Christmas and Easter. The Center will close at 3 pm on Christmas Eve.
Things to Do at the TECO Manatee Viewing Center
One of our other favorite things to do at the TECO Manatee Viewing Center other than watching the manatees is strolling along the nature loop and walking up the 50-foot high observation tower that offers stunning views. It's about a mile long, so make sure you and the kids are wearing comfortable shoes and have plenty of water, sunscreen, and bug spray handy (this is ALWAYS a good idea in Florida.)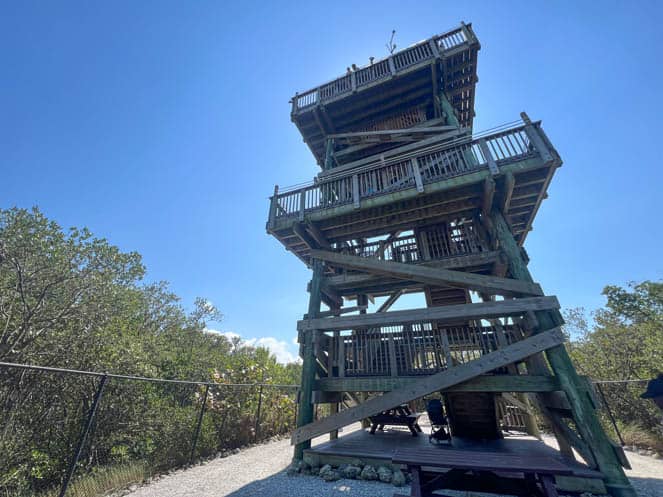 There are also picnic spots near the observation tower with TECO solar powered charging stations for your phone if you prefer to eat here.
Once you've checked in on the manatees, you can then head downstairs to see the Stingray touch tank which is operated in partnership with the Florida Aquarium. This is where the Tampa Bay Rays stingrays spend their offseason. Pretty cool, right?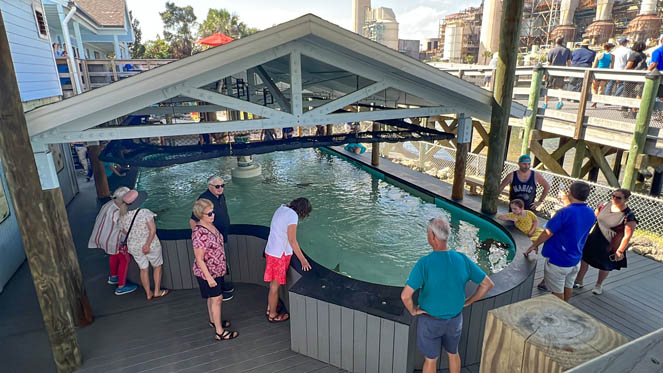 The main building is also where you will find the newly renovated Education Center where you can learn all about manatees and even take a sniff of what their breath smells like (hint: it's a lot like fresh cut grass!). This is also where you'll find the Restrooms, Cafe, and Gift Shop.
What's NEW at the TECO Manatee Viewing Center
There's so much more to do and explore at the TECO Manatee Viewing Center campus, so make sure to make some room in your day during your visit if you haven't been in awhile. Here's what's new:
Refurbished Education Center at the TECO Manatee Viewing Center: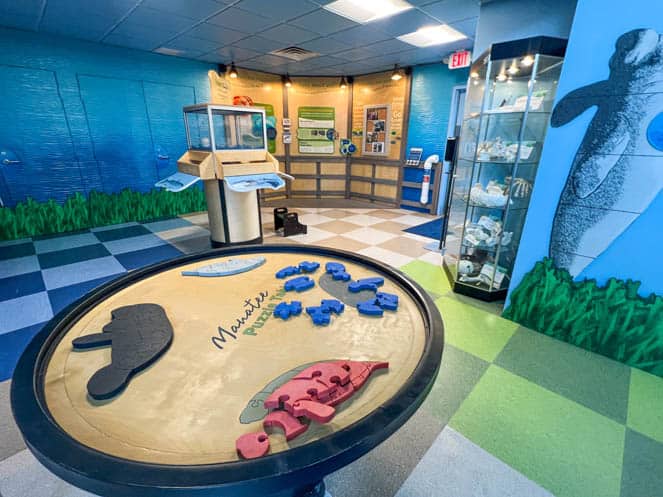 TECO put the time the center was closed due to COVID to good use by renovating the education building and adding new interactive games and displays. This is where you'll learn everything you need to know about these gorgeous creatures and how we can better protect them.
Tampa Electric Clean Energy Center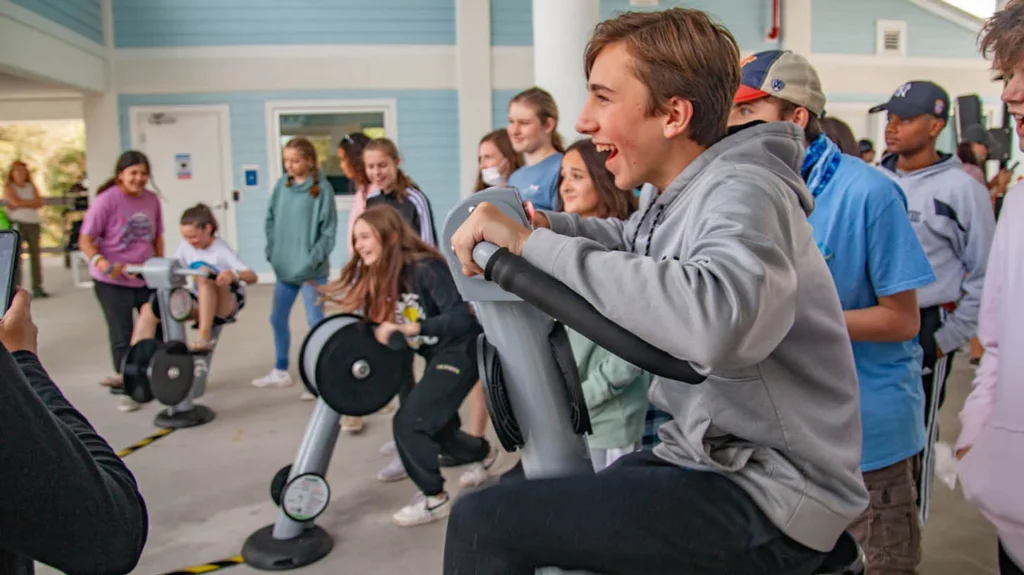 Learn all about clean energy in this open-aired center. There are interactive activities here for kids and families to learn all about solar and wind energy. It's pretty cool and who knows, it just might inspire your future scientist!
The Florida Aquarium Sea Turtle Rehabilitation and Coral Care Complex: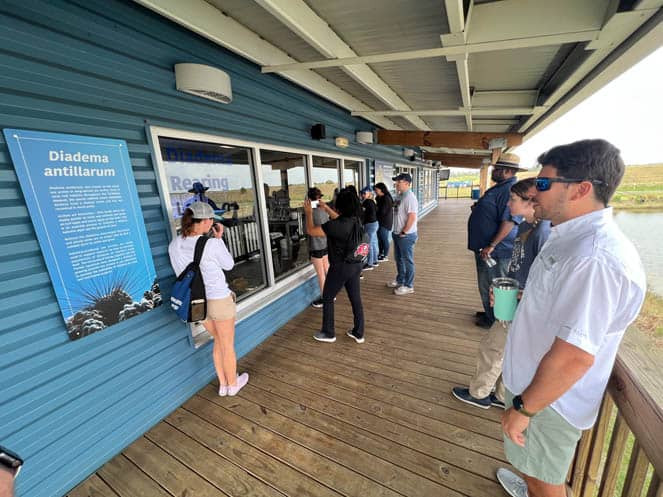 Some pretty incredible things are happening at this Florida Aquarium campus. Not only are they rehabilitating sea turtles, but scientists and volunteers are also growing coral–which is no easy fete. As you walk the balcony of the complex, you can peek inside the windows to see the conservation work in action.
The campus is also home to a deep dive aquarium where scientists can ensure a rehabilitated sea turtle can make the deep dives it will need to take to forage in the wild.
We also saw the Sea Urchin lab which is only of two places in the world where diadema antillarum (also known as black sea urchins or long-spiced sea urchins) are being grown in captivity. The hatchery is working to produce the urchins in captivity to hopefully increase the population on Florida's coral reef in a research partnership with the University of Florida.
Florida Fish and Wildlife Conservation Center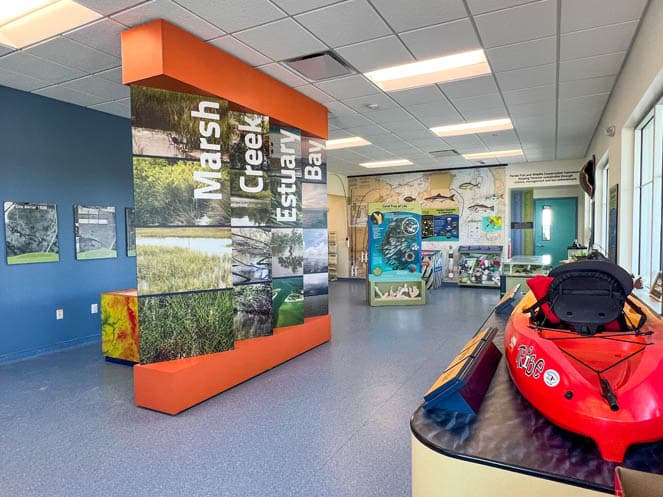 This is a popular field trip destination for local school children, but you can walk inside the center to explore displays that teach you all about the waterways in the Tampa Bay Area, safe kayaking and more. There are even a few live creatures on display as well.
Marine Fisheries Enhancement Center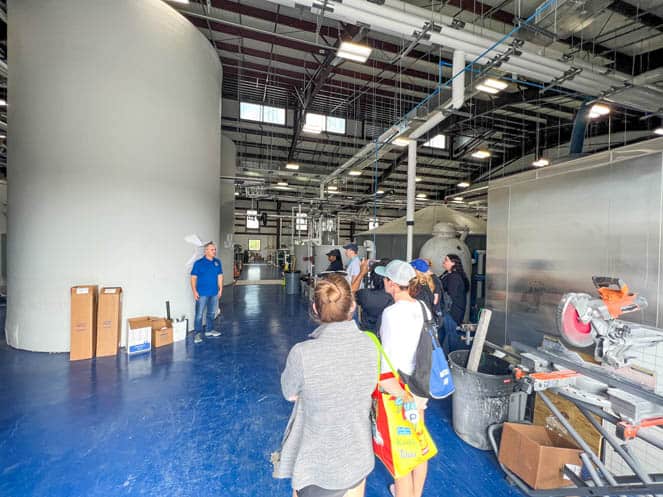 The Marine Fisheries Enhancement Center is still under construction, but they've come a long way and hope to start producing fish in 2024 at the earliest. The hatchery's goal is to breed and release Red Fish and Spotted Sea Trout in local waterways like Tampa Bay, Charlotte Harbor and Sarasota Bay to keep the sport of fishing ongoing in our area.
Looking to the future at TECO Manatee Viewing Center:
Once the center closes for the season, work will begin on extending the walkways to allow you an even better view of the manatees! Staff tell us they expect it to be ready for the next season that opens in November 2023.
---
More stories we think you'll LOVE: