Everything you need to know about The Super Bowl Experience Presented by Lowe's
*Follow us on Instagram for more family fun! instagram.com/tampabayparenting
UPDATE 4 (on Feb 2): The OnePass app says walkups will be permitted on Wednesday and Thursday, but NOT on the final two days on Friday and Saturday.
---
The Super Bowl Experience is one of the largest sports festivals in the world and this year, the Riverwalk takes center stage for pre-game the event! Super Bowl Experience will give the community and our visitors a chance to step inside the world of the NFL with an interactive experience for kids of all ages. That includes YOU, mom and dad!
There are three areas where you'll find Super Bowl Experience themed events along the 2.7 mile stretch of Riverwalk on select days January 28-February 6, 2021: Julian B Lane Riverfront Park, Curtis Hixon Park, and Technology Village.
While the main event with all of the football activities like obstacle courses and a 40-yard Dash is at Julian B Lane Riverfront Park,  there are plenty of other activations and activities along the entire stretch of Riverwalk to enjoy! Curtis Hixon Park and Technology Village Super Bowl Experience areas have more live music and plenty of photo opps!
Related: FUN Ways to Celebrate the Super Bowl with the Kids in Tampa Bay
Before You Go:
You'll need to download the NFL OnePass app at www.NFL.com/OnePass for FREE. Keep in mind, if you haven't already booked a reservation for the event at Julian B Lane Waterfront Park, it is SOLD OUT. Reservations reached capacity not long after the Bucs won't he NFC Championship. Capacity was set by health and safety experts to keep everyone safe and allow for space to social distance. However, we have heard from people that they've been able to get in via a standby line, so you can try, just know that entry is not guaranteed without a reservation. Walk ups will NOT be permitted on the final two days, Friday and Saturday, Feb 5 & 6.
No matter what, you'll still want the OnePass app because you use it to play the games, receive digital content, enter a virtual queue for autographs, and even register for prizes including tickets to Super Bowl LV.
Here's the other big DON'T FORGET: pack your favorite face mask because face coverings will be required for all guests ages 2 and older, even when taking photos. Mask wearing is mandatory except when eating and drinking–at Julian B Lane Park, there are several areas designated for eating and drinking with socially distanced tables so you're not close by the interactive activities.
Bag size will be limited too, so don't bring your giant purse—bags larger than 18" x 16" x 8" will not be permitted. Among the items you won't be allowed to bring in: selfie sticks, food and beverages, coolers, camcorders or video recorders, and more. Plastic baby bottles will be allowed. For a complete list of prohibited items, check the app or click here. Some parents have asked about small snacks for picky toddlers who don't eat big kid/people food. We asked and were told snacks for toddlers/babies will be allowed as well as refillable water bottles for the little ones. The park is also stroller friendly! Unopened/sealed plastic water bottles have also been permitted.
A good rule of thumb is to pack light—just bring yourselves and a small purse to carry wallets, keys, credit card (since cash won't be accepted at food vendors and NFL shops) and phone.
Where to Park for Super Bowl Experience
When it comes to parking, guests are advised to use the parking lots and garages along the Riverwalk. Plan for the time it will take to park and walk to Julian B Lane Riverfront Park so you arrive in time for your reservation–on average, it's about a 20 minute walk. Keep in mind it's event pricing in many locations, so expect to spend as much as $20-$30.
The Laurel Street bridge is closed between Doyle Carlton and North Boulevard, so you can use that to cross the river to access Julian B Lane. Pirate Water Taxi is another fun option–they're adding stops and increasing runs to help accommodate everyone.
There is also a FREE Super Bowl Shuttle running now through February 6, 2021 in Downtown Tampa to help move you around the area quickly from 11:00 am-11:00 pm with runs every 15 minutes. There are 9 stops along the way. You can also view map here.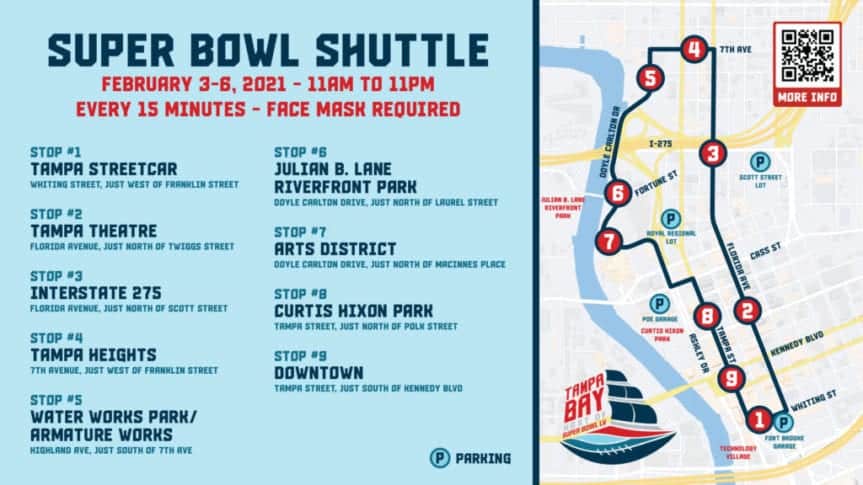 Here are a few 'Super Bowl Experience Friendly' Parking lots:
Anchor Garage
*Nights (after 6PM) / Weekends Only
Super Bowl Experience-Friendly Lot
109 W Fortune Street
Tampa, FL 33602
Scott Street Lot
Super Bowl Experience-Friendly Lot
1301 N Morgan Street
Tampa, FL 33602
1420 Lot
Super Bowl Experience-Friendly Lot
1420 N Tampa Street
Tampa, FL 33602
Royal Street Regional
Super Bowl Experience-Friendly Lot
1200 N Tampa Street
Tampa, FL 33602
Interstate Lot
Super Bowl Experience-Friendly Lot
1514 N Franklin Street
Tampa, FL 33602
For more parking options, click here.
What to Expect at the Super Bowl Experience:
The event is designed for social distancing and outdoors, with NFL activations and activities stretching 2.7 miles along Tampa's Riverwalk between Julian B. Lane Park and Sparkman Wharf. The interactive theme park will be at Julian B. Lane Park.
You'll get a chance to snap a photo with the Vince Lombardi Trophy, participate in interactive games like a 40-yard dash and vertical jump against NFL players on LED screens, take part in football clinics, and more. All 54 Super Bowl rings will also be on display. See a complete list of attractions and a map here so you can plan ahead.
There is an age limit to participate in some of the football clinics at the NFL Play Football Field–which is for girls and boys ages 6-14. You can register in advance via the OnePass app. All other activities are designed for all ages. If you have littles, they'll really enjoy the Play60 area and they'll even like running a race at the 40-yard dash. We checked and the playground is blocked off, so don't get their hopes up!
The lines do get long at certain points in the day, especially for popular spots like a photo with the Lombardi Trophy, so plan for this. The Play60 lines moved pretty quickly from our experience on a busy day which is good for kids!
For children and people who need a bit of a break from the action, there is a Sensory Zone tent where they can seek some quiet time. Other cool things to be on the look out for at the parks are the TECO picnic tables that are solar charging stations where you can wirelessly charge your cell phone–since you'll be taking so many photos and using the NFL OnePass app to track your progress on the activities! You can collect badges and photos via the app and even take part in virtual NFL player meet and greets and get a virtual autograph.
While you can walk the Riverwalk, another great way to check out other activities, and even get to your parked car, is to hop on the Pirate Water Taxi which stops along the way. You don't need a reservation to attend the activations and activities at Curtis Hixon Park and Technology Village, BUT you will need to download the NFL OnePass app. (Scroll to bottom of post to see the map.)
If you pop over to Curtis Hixon Waterfront Park, you'll find larger than life photo opportunities, live music, food, and sponsor activations, so it's definitely worth a stop!
Technology Village also features live music, the 10 News live broadcast set where you can see what happens behind the scenes, food, and roving entertainment.
See more FAQs here.
Want to attend last minute?
Walk ups will be allowed on Wednesday and Thursday, February 3 and 4 at at the SOLD OUT Julian B Lane Riverfront Park if space is available, but NOT on the final two days: Friday, Feb 5 and Saturday, Feb 6. Keep in mind that entry is not guaranteed.  You will still need the NFL OnePass app, so have the ready to be scanned before you head to the parks.
If you don't have a previous reservation at Julian B Lane Riverfront Park on Friday and Saturday, head over to Curtis Hixon Park and/or Technology Village to check out the Super Bowl Experience events there.
---
Super Bowl Experience Hours of Operation:
​Friday, Jan. 29: 5-10 p.m.
Saturday, Jan. 30: 10 a.m. to 10 p.m.
Sunday, Jan. 31: 10 a.m. to 8 p.m. ​
Monday, Feb. 1: CLOSED ​
Tuesday, Feb. 2: CLOSED
Wednesday, Feb. 3: 3-10 p.m.
​Thursday, Feb. 4: 3-10 p.m.
Friday, Feb. 5: 10 a.m. to 10 p.m.
Saturday, Feb. 6: 10 a.m. to 10 p.m.
*Dates and times subject to change.

*Photo courtesy of NFL
Related Super Bowl stories: