20+ FUN Things to Do in Tampa Bay this Weekend
Valentine's Day is just a week away and love is in the air! There are tons of fun Valentine's Day themed things going on around the area this weekend to spend with your loved ones.
There are also some exciting events taking place such as Monster Energy SuperCross and the return of The Florida State Fair!
Our Weekend Guide is divided up into multiple sections since there are SO many fun things to do around Tampa Bay! Scroll down for New Fun Things to Do This Weekend, What's on Exhibit, Ongoing Events, Parent's Night Out, and Save the Date!
So, keep scrolling to find your best day ever!
Related Tampa Bay FUN we think you'll love:
---
New FUN Things to Do This Weekend in Tampa Bay 
Tampa
Sesame Street® Kids' Weekends at Busch Gardens is the place for kids and parents to join in on the fun. Now including Fridays, families have an additional option to meet and greet their favorite furry friends at the Sesame Street Safari of Fun area for storytime, interactive dance parties, arts & crafts and much more. New limited-time festivities happen each weekend of the event, all included with park admission, Annual Pass or Fun Cards. Don't forget to take advantage of the FREE Busch Gardens Preschool Card for free admission for the rest of the year.
Winter Haven
Pirates aren't just invading Tampa this weekend…they're heading to LEGOLAND Florida for a swashbuckling good time during PirateFest Weekends! There will be event exclusive character meet and greets, new and returning themed shows, pirate treats and more! Celebrate with a ride on the NEW Pirate River Quest ride and even book an overnight stay in the Pirate Island Hotel to really go all out!
Bounce the Mall St. Pete | Now through February 19
St. Pete
Bounce, slide, and dance your way through a surreal candy-colored wonderland featuring huge
inflatables, silent disco dome, 600 foot long obstacle course, giant ball pit, inflatable sports arena, and
more. At Tyrone Square Mall through February 19.
Bradenton
Towers of Tomorrow features 20 astonishing and dazzling skyscrapers from North America, Asia, and Australia constructed with the world's most popular brick! The exhibit is created in breathtaking architectural detail by Ryan McNaught, one of only twelve LEGO-certified professionals in the world.
Tampa
There's a new exhibit on the second floor of Glazer Children's Museum that's all about measuring in a hands on and super fun way for kids! They can pull out a life-sized tape measure, find out how many chickens they weigh and so much more!
Various Locations
Join Super Cat and Reptile Robot for this interactive tale of boundaries and superheroes. Nearly-ten-year-old Cass (aka Super Cat) and ten-year-old Ray (aka Reptile Robot) embark on the most awesome sleepover in recorded history, grapple with who gets to call the shots and how to tell someone when something just isn't your thing. Larger groups wishing to attend together should contact the library in advance to confirm available space. Super Cat and Reptile Robot by Rachel Bublitz is presented by Creative Arts Theatre Company, the City of Tampa's professional theatre company for young audiences. Best for ages 6+.
Florida State Fairgrounds, Tampa
Ride your favorite midway rides, come face to face with some of the world's most majestic creatures at the Giraffe Menagerie, and enjoy entertainment featuring musical, thrill, and animal acts at the Florida State Fair! Of course, what would a trip to the fair be without trying some outrageous food concoctions? New items this year include the The Walkin' Nacho Dog, Mexican Street Corn Sundae, Fried Key Lime Pie, and Tampa Cuban Funnel Cake Sandwich.
Read More: Our Favorite Things to Do with the kids at the Florida State Fair!
Straz Center
Seven-time Grammy-nominated comedian, actor, writer, producer, two-time New York Times best-selling author, two-time Emmy-winning top touring performer and multi-platinum selling recording artist, Jim Gaffigan, brings his latest tour to The Straz Center. His content is widely revolved around his observations on life and parenting. These performances will be filmed and recorded for Jim Gaffigan's next comedy special.
Ruskin
Calling all pizza lovers! Enjoy story time and make your own mini pizzas to eat! Includes class, juice, snack and open play! Registration required.
Oldsmar
Looking for the perfect way to end your week? Do it with an adventure! Featuring their two longest zip lines totaling over 1,200′ and stunning 200' suspension bridge. With a beautiful scenic view of Tampa Bay that you can't see anywhere else, this is a Friday night excursion you won't want to miss!
Oldsmar
Head to State Street in Oldsmar for local business vendors, craft vendors, food trucks, car show, live music, and fresh air.
Tampa
Reservations required. ALL families register online to confirm! We will cap the event for the best experience! Light refreshments will be served, music class begins at 9:30-10:00; playtime and crafts 10:00-11:00. There will also be an appearance by a special guest!
Various Locations
Your mini-DIYer will love this Valentine's workshop as they build their own Swan Love Note Holder. It's the perfect gift for Valentine's Day. Free while supplies last.
Oldsmar
Join Fat Beet Farm for an exclusive peek at the inner workings around the farm, including sustainability initiatives and wildlife preservation/restoration projects! This 1-hour walking tour includes vegetable gardens, composting and vermiculture, chickens, the biodigester, bees, microgreens, aquaculture systems, wetland, and coastal preservation areas, and more!
After the tour, you can shop their Market and Bakery to see how their chefs use all the produce from the farm.
Tampa
Bricks 4 Kidz offers Weekend Workshops at several locations all over Hillsborough County, where on Saturdays children can come for a Saturday full of LEGO building, LEGO Challenges, games, arts and crafts, and much more! Each workshop will be completely different, so you can come to one or all of our Weekend Workshops and it will be a brand-new experience each time! On Saturday, February 11, create a special LEGO Valentine!
Curtis Hixon Waterfront Park, Tampa
Enjoy some fun in the sun at this dog and family-friendly outdoor festival featuring adoptable animals, fun activities for the dogs, vendor booths, food trucks, libations, and music at Curtis Hixon Park in Downtown Tampa from 11am-3pm. To donate or fundraise to help homeless animals, visit their website.
Tampa
Monster Energy AMA Supercross is where the world's highest-caliber and most competitive off-road motorcycle riders compete for the 2023 Supercross Championship. Over the course of a 17-round season, these fearless athletes seek to outperform each other on custom-designed tracks inside the most prestigious stadiums across the country. These riders race handlebar-to-handlebar on technical dirt tracks featuring tight-banked corners, fast straightaways and challenging rhythm sections crafted to test their skills and endurance. In 2023, the Monster Energy Supercross riders will earn points towards the new and highly anticipated season-ending SuperMotocross World Championship.
Ybor City – 7th Avenue
The largest illuminated night parade in the South returns to Ybor City! Over 100 organizations will come together to celebrate an unforgettable night. The Knights of Sant' Yago will lead many of Tampa's illustrious Krewes, prominent businesses, and other social organizations. Come see marching bands galore, local political and social icons, and more.
Tampa
Enjoy this special Valentine morning featuring Princess Anna and Elsa! Wear your Princess outfits and take part in the Princess Parade featuring Disney music. Includes skate rental, slice of cheese pizza & small soda, ice cream sundae, plus a glow in the dark necklace.
Ruskin
Head to The Kids Social Club for a fun morning with Hello Kitty! Includes heart shaped pancakes, hot chocolate, Valentine's themed sensory bins, crafts, goodie box to take home and open play! Registration required.
Tampa
The Humane Society of Tampa Bay gives children who love animals a chance to spend time with them while catching up on their reading or improving their reading skills. Children are paired with homeless pets who love to hear the stories and look at the pictures. The program offered for children ages 5 and up. They'll provide reading stools, books and treats (for the animals), but children are welcome to bring their own books if they wish. Books provided include animal tales, stories of the animal-human bond and books that teach empathy to young readers. Supervised by a Florida state certified teacher.
---
Save the Date!
Eleven days of music, food and fun for all ages with paid concerts, free entertainment, shows, contests, pig races, livestock and much more. The Midway is packed with games and over 80 rides for the kids to enjoy or try the Kiddie Korral for youngsters and Moonlight Magic for the night owls. Don't forget the awesome festival foods including Florida Strawberry Festival's winning strawberry shortcake! Admission and ride discounts are also available. Visit flstrawberryfestival.com for details and Midway hours. Admission required.
New for 2023! Special Smiles Day, sponsored by Rotary Club of Plant City, welcomes all individuals with special needs on Friday, March 3 from 9 a.m. to noon. This unique event is reserved for celebrating and serving the most treasured guests in a safe, fun, and sensory considerate environment. All Special Smiles attendees and one companion will be admitted FREE. Entry at Gate 5. For questions or more details please call Florida Strawberry Festival at (813) 752-9194.

---
THINGS TO DO: See What's on Exhibit in Tampa Bay
Experience Clearwater Marine Aquarium's largest rescue mission ever! Dino Rescue will bring guests up-close to life-size dinosaurs, some as tall as 35 feet and 65 feet long. As guests walk throughout CMA, they will encounter prehistoric dinosaurs, which move and roar, as they rehabilitate from various ailments today's animals face – like habitat loss and entanglement. Dino Rescue is included with admission and roaring now!

LEGO City Space at LEGOLAND Florida | Now on Exhibit
Celebrate all things space at LEGOLAND and head to the Imagination Zone to fully immerse yourself on a LEGO Moonbase where you'll be challenged to build a rover or a rocket. This is not only a great way to inspire kids to use their imaginations, but also cool off in the air-conditioning!
Hop on over to the Tampa Bay Watch Discovery Center at The St. Pete Pier and learn about native and invasive frog and toad species in thematic displays in their all-new permanent exhibit. The Ribbit Exhibit will feature Florida's native frogs and toads, including green tree frogs, barking tree frogs and southern toads, which are increasingly threatened by invasive species, such as Cuban tree frogs and cane toads. In addition to The Ribbit Exhibit, the Tampa Bay Watch Discovery Center also hosts interactive programs such as mollusc and lionfish dissection, field trips, classroom visits, and sensory-focused events.
Florida Aquarium Penguin Habitat 
The Florida Aquarium has a new African penguin habitat! Located in the outdoor plaza, guests now have the opportunity to engage with penguins any time, included with general admission! African penguin populations are declining rapidly and it is The Florida Aquarium's goal to help save the species from extinction.
Fairgrounds St. Pete | Open Thursday-Sunday
A new immersive art experience has made its mark in Tampa Bay! Fairgrounds St. Pete recently opened its doors with a exhibit like you've never seen, heard or even smelled before! More than 60 artists were commissioned during the pandemic to bring it together. You can go and simply enjoy the whimsical art that celebrates weird, wacky, wonderful Florida or choose a different adventure and try to crack the codes and mysteries you'll find throughout. Learn more about what it's like here!
---
MORE Ongoing Events in Tampa Bay
Experience wonder in St. Pete's only magic theatre! The Zubrick Magic Theatre is a spectacular venue that gives audiences an intimate and unforgettable evening of magical entertainment. Illusionists Chris & Ryan Zubrick conjure up an exhilarating blend of sleight-of-hand, family-friendly comedy, and breathtaking grand-scale illusions in a 70-minute performance that captures hearts and imaginations. Conveniently located in downtown St. Petersburg, FL., the Zubrick Magic Theatre guarantees to stretch smiles and drop jaws with a performance that will leave you walking away scratching your head in disbelief saying, "How did they do that?!" Get your tickets now before they all… DISAPPEAR! 
Read More: Get your tickets to Tampa Bay's ONLY magic show before they all … disappear!
The Ruskin Family Drive-In Theatre has over 50 years of continuous service to the Ruskin and South Hillsborough County. It's been a community gathering place since its first movie, "Singing in the Rain" played in 1952. They offer great movies, good food, and peace and quiet on a continuous basis with a 2000 square foot screen, clean restrooms, snack bar and clean parking lot. Please note: you must bring a portable radio with you or use the radio in your car to hear the movie. There will be no showings on Monday and Tuesday.
The first weekend of every month, active Bank of America, Merrill, or Bank of America Private Bank (U.S. Trust) credit or debit cardholders with photo ID will receive one free general admission to the Tampa Museum of Art and The Florida Aquarium. This offer applies to the cardholder only and excludes ticketed and special exhibitions and fundraising events.
---
Parents' Nights Out!
While family time is fun, it's also important to carve some time out for yourself, whether it's a night out with your significant other, friends, or some solo time. Several places around the Tampa area are hosting Parents' Nights Out! For a fee, you can drop your kids off for some fun activities and playtime while you get an evening out!
Playgrounds of Tampa | Second and Fourth Friday of Every Month from 6pm – 10pm
For four hours, your kids will be entertained with games, movies and bounce houses galore (maybe even with some pizza) while you do whatever you want. Participants must be potty trained, ages 4 and up. Cost is $30 per child. Click here to register.
Humane Society of Tampa Bay | Last Friday of Every Month from 6pm – 10pm
Kids ages 5 and up will enjoy playing with the shelter animals, dinner, and watching a movie with furry friends! This program takes place monthly and registration is required. The dogs and cats can't wait to party! Cost is $50 per child. Includes pizza dinner and drinks. To register, click here.
Jubilee Gymnastics | Second and Fourth Friday of Every Month from 6pm – 9:30pm
Drop off the kids to eat, play, and have fun at Jubilee Gymnastics in Ruskin while you enjoy a night out. Pre-registration is highly encouraged as these will fill up quickly. For kids ages 4 and up. Cost is $30 per child for members/$35 for non-members. Includes pizza and drinks! Click here to sign up.
Cypress Forest Park | Last Friday of Every Month from 6pm – 10:30pm
Take a night off while your children enjoy themed fun at Cypress Forest Park in Oldsmar! Pizza dinner are included. For kids ages 5-12. Cost is $10 for kids with a rec card and $15 for kids without. Click here to learn more.
---
More ideas to spark a weekend of lifelong memories!
Have the ultimate family island adventure with A Boat Day!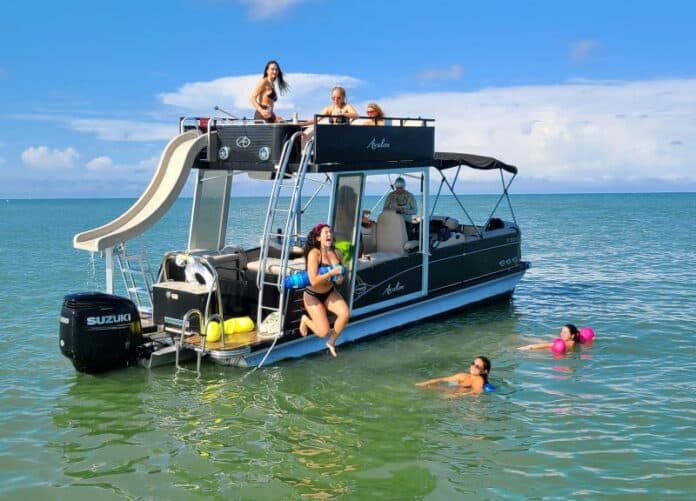 Enjoy a private boat excursion departing from the Clearwater, Indian Rocks Beach and Dunedin areas, this is a favorite for locals and travelers alike. See dolphins up close, explore sandbars and the pristine state park barrier islands, search for shells, snorkel for sealife, or just relax in the beautiful Gulf waters. Professional Boat Captains are at your service to provide a safe and relaxing day for all. Choose from 7 amazing family friendly boats, 4 FUNships which are very large, luxury pontoon boats featuring a second story and a waterslide, or 3 Deck boats which are suited to sport, speed and lounging. A Boat Day rental boats are perfect for family/friends reunions, Birthdays and Bachelor/Bachelorette parties. Their Clearwater area boat trips range from a 2 hour Sunset Tour to an all day 8 hour Adventure, and can accommodate 1-50 people including the baby and their grands. A Boat Day is TripAdivsors #1 Boat Tour in Clearwater and often described as the "best day of our vacation", come see why!
---
Paddle Pals with Get Up and Go Kayaking in St Pete
Get Up and Go Kayaking in St. Pete is offering a new kayaking tour designed just for kids and their families called Paddle Pals. The tour is an educational adventure with tour guide Hannah as you explore the mangroves and Shell Key Preserve. See what the experience is like here!
---

Upgrade your day at ZooTampa with an animal encounter! 
If you're planning a day at ZooTampa, we love upgrading our experience with the kids with an animal encounter like feeding the giraffes or rhinos. We recently booked a time to feed a Jamie the Indian White Rhino with our 5 year old and he had a great time. Baby rhino Gronk even hung out for snacks! You do have to wear a face mask during the encounter, but you can remove it for a photo. Learn more here.
---
Snap a mural selfie and help provide a free eye exam and glasses for a local child!
Head over to Armature Works to check out the NEW mural on the north end of the property created to promote the Glazer Vision Foundation's "Glasses For All Children" campaign. All you have to do is share a photo of the mural, a selfie in front of the mural, or selfie wearing any type of glasses, tag @glazervisionfdn, hashtag #OneShareOnePair and the foundation will give a local child a free eye exam and pair of glasses! Easy peasy! Learn more.
---
Check out the St. Pete Pier
Eat, drink, shop and play at the new St. Pete Pier. The new playground area is quickly becoming a family favorite in Tampa Bay, just make sure to bring plenty of hand sanitizer and/or hand sanitizing wipes with you. Stay late and look up to see the Bending Arc light up in a spectacular display. You will need to wear a mask inside the stores, restaurants and Tampa Bay Watch Discovery Center. The Glazer Vision Foundation just announced it is contributing $1.5 million to the Glazer Family Playground at the Pier to support the space for years to come!  Learn more.
---
Best Spots to Go Tubing in Tampa Bay:
We're sharing some of our favorite spots to sit back and relax on a tube whether it's at a Florida natural spring or lazy river at a nearby water park. It's the perfect way to wrap up the lazy days of summer.
---
FREE Resources to Explore!

Children's Board Family Resource Centers
The program provides parents and caregivers and their children an opportunity to participate in parent/child developmental playgroups, developmental screenings, and health and safety education classes at no cost. In addition, pediatric well-child visits, immunizations and hearing or vision screenings are provided for qualifying families.  To sign up for programs and services, and to find your neighborhood Children's Board Family Resource Center visit familysupporthc.org.
The program provides quality early learning experiences at no cost at the seven children's Board Family Resource Centers and other designated Hillsborough County sites.  The program also delivers weekly in-person and online virtual developmental classes and provides take home activities that promote early learning and school readiness at no cost. tampabayparenting.com/lets-play-tampa-bay/
---
Outdoorsy Things to Do in Tampa Bay
Head to the beach! 
The beaches are open, but you'll see plenty of reminders about social distancing. You'll also want to pack some extras in your beach bag like hand sanitizer and sanitizing wipes. Cloth masks are also a good idea in case you decide to visit an establishment that requires them. We're sharing some of
our favorite family-friendly beaches in Tampa Bay here.
Go for a hike! 
Lace up the hiking shoes and spend the day in nature with the kids! Many preserves and conservation parks are now open in Tampa Bay. Find a park near you or discover a new one:
---
Weekend Farmers Markets in Tampa Bay this Weekend
Experience one of the top farmers markets in the U.S.! Expect an estimated 170 vendors selling their goods and artisans selling their crafts. Add stellar food choices for dining and live music for entertainment and it's a perfect day in the Florida sunshine. Their Summer Market, located at Williams Park, typically runs from June to August.
The Dunedin Downtown Market at John Lawrence Pioneer Park features 40+ local merchants and vendors including fresh fruits and vegetables.
There are 60+ vendors expected at the Fresh Market at Wiregrass in Wesley Chapel including organic and hydroponically grown produce.
Corey Avenue Market features more than 70 local vendors and merchants selling everything from crafts, art, food and locally grown produce.
The Ybor City Saturday Market is the largest continually operating outdoor market in the Tampa Bay Area. Centered in Tampa's Historic District, the market is one of the most popular shopping destinations for locally produced items unique to the Tampa Bay Area. Features locally made arts, crafts, and gourmet foods representing the area.
Head to The Grove in Wesley Chapel for a unique evening market featuring tons of local businesses! Enjoy local vendors, live music, food, and more. themarketculture.com
Hyde Park Fresh Market features over 80 local vendors including produce, handcrafted goods, plants, and more. While you shop, enjoy live music by Gasparilla Music in Village Circle.
Head to the Carrollwood Cultural Center to explore 60+ local vendors and businesses.
Enjoy live music and over 30 vendors in Westchase Town Center every second Saturday of the month.
---
 Celebrate the weekend in Orlando!