20+ FUN Things to Do in Tampa Bay this Weekend
It's officially spring and there are plenty of awesome things to do in Tampa Bay! March is the height of u-pick season with plenty of farms offering berries, peaches and more. In fact, this weekend is going to be a big one with several farms opening their fields for u-pick blueberries–we're showing you where to pick blueberries in Tampa Bay.
Easter is also just around the corner and there are already some awesome Easter events kicking off this weekend! We've got your guide to all things Easter including where to meet the Easter Bunny, local egg hunts, and where to enjoy Easter brunch and dinner.
Our Weekend Guide is divided up into multiple sections since there are SO many fun things to do around Tampa Bay! Scroll down for New Fun Things to Do This Weekend, What's on Exhibit, Ongoing Events, Parent's Night Out, and Save the Date!
So, keep scrolling to find your best day ever!
MORE Tampa Bay family-friendly fun we think you'll love:
---
New FUN Things to Do This Weekend in Tampa Bay 
*Be sure to check with each event's social media pages or website to ensure there aren't any changes due to weather
Tampa
Giant larger-than-life BUGS have taken over ZooTampa! Guests will shrink down and be immersed in BUGTOPIA, the fantastic world of animals that slither, crawl, and fly. Join Professor Mo Alexander and his research assistants as they explore the important and fascinating role these tiny creatures have on the preservation of the world we share. Included with general admission.
Clearwater
This spring, CMA will have extended hours from 4:00pm-8:00pm to give guests more time to enjoy all the extraordinary animals and exhibits they have to offer plus tons of family-friendly entertainment! Groove with drummers, a DJ, and party dancers, get in the spring spirit with face painting, be amazed by a spectacular bubble show and enjoy games and activities throughout the aquarium.
Tampa Theatre's Family Favorites Classic Movie Series | Sundays in April at 3 pm
Tampa Theatre's Family Favorites Classic Movie Series returns for a 10th year, bringing kid-friendly classic movies back to the big screen for a new generation of fans. Tickets are $10 for adults, $8 for kids ages 3-12 and $7 for Tampa Theatre Members.
April 2: Bill & Ted's Excellent Adventure
April 9: The NeverEnding Story
April 16: Akeelah and the Bee
April 23: TRON
April 30: Toy Story
Dade City
Last chance! Join the Villagers of Fittlesworth as they invite one and all to the magical 16th Century European village featuring 15 stages of exciting entertainment including: musicians, magicians, jugglers and jousting. Over 100 artisans will fill the Festival marketplace to display and sell their handcrafted goods for a truly fabulous and endless shopping experience. Patrons will interact with memorable characters and enjoy full-contact live armored jousting, 7 theme weekends, and fabulous food fit for royalty!
St. Pete Pier
Locals and tourists alike are invited to roll over to the St. Pete Pier for the first ever Rockin Roller Rink! The 6000 square foot rink will host musical theme nights, live dj's, disco ball, lights, and more. Tickets to the Rockin Roller Rink include skate rentals and 75 minutes of skate time. Upcoming theme nights include Glow Night and Stranger Things Day.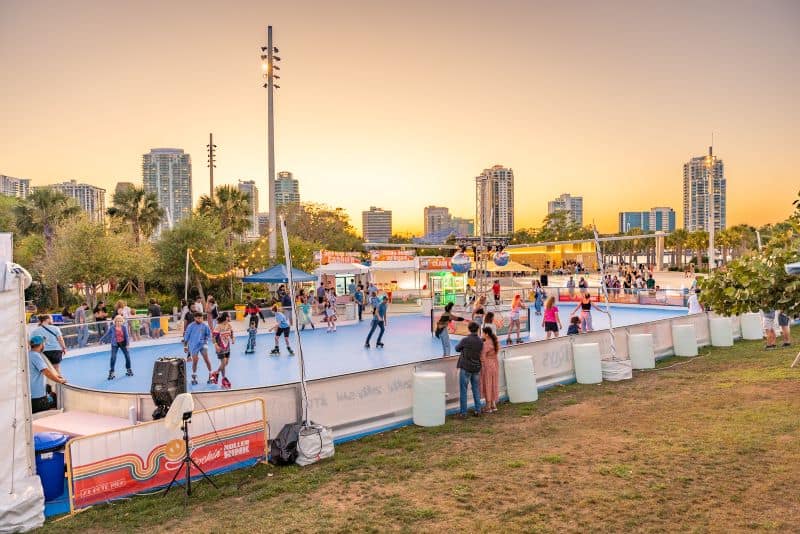 Tampa
Taste and sip your way through 20 food cabins featuring all-new globally inspired flavors and dance to the rhythm of live music during the concerts on Friday and Saturday nights. This weekend's concert line-up includes SWV on March 18 and Dustin Lynch on March 19 The festival and concerts are included with park admission, but you can upgrade your day with VIP seating.
Lakeland
SUN 'n FUN Aerospace Expo has grown into one of the largest and most successful aviation events on earth. This is Florida's largest annual convention of any kind, and each year over 200,000 visitors flock to what has become known as "Aviation's Season Opener" or "Spring Break for Pilots." Aircraft areas include Vintage, Homebuilt, Aerobatic, Warbird, Jet, and Light Sport. There will also be a tradeshow with over 500 exhibitors with an incredible lineup of products and services, hands-on workshops, and dozens of forums to educate pilots and maintainers about safety, new products, and an infinite number of other topics. Not just for pilots, SUN n FUN has STEM and Career Fair activities, plus a Family Fun Zone and their world-famous daily and night airshows that feature breathtaking displays from dozens of military and civilian performers.
Tampa
The Children's Board of Hillsborough City is celebrating family voices and wants to hear from you as you seek to understand the various needs and experiences of Hillsborough County residents, families, and children. Town Halls will include food, giveaways, and prizes. Registration is required.
St. Petersburg
Join Tall Ships® for a 4-day maritime celebration as the Port St. Pete becomes an Official Host Port of the TALL SHIPS CHALLENGE® Gulf Coast Series! Don't miss this rare chance to catch a glimpse, step aboard, and even set sail on their 2023 fleet of tall ships. Kids of all ages will love touring and exploring these majestic tall ships. Enjoy fine festival foods and food trucks, craft beers, music, street performers, kids activities and festival marketplace. Tall Ships® St. Pete promises to be an experience you and your family will never forget! Tickets are selling fast! Reserve yours now! Festival Tickets starting at $9.95. tallshipsstpete.com
Largo Central Park
It's the first weekend of the month which means it's your chance to take a ride on the adorable mini trains at Largo Central Park with Largo Central Railroad. Rides are free, but donations are appreciated.
Tampa
Going into its 9th year, the proceeds of the race benefit United Way Suncoast, a nonprofit organization that focuses efforts on community assistance, early learning and financial stability in the Tampa Bay region.
This year, the race will be held on runway 10-28. Participants will have the rare opportunity to complete a 3.1-mile race on a real airport runway alongside Fixed Base Operators and dormant aircraft.
Tampa
In partnership with Hillsborough Education Foundation,  join the 2nd Annual Race for Education 5K to move to improve mental and physical wellness while celebrating and supporting our students, teachers, and school district initiatives. Runners and walkers of all ages and fitness levels are invited for a fun-filled race down North Boulevard and over the Hillsborough River. There will be giveaways, snacks, refreshments, student performances, and music to amp you up as you race through downtown. There is also a 1-mile race option available for families, children, and walkers. Registration will include a swag bag with a race-day bib, freebies from our partners in education, a t-shirt, and a finisher medal.
Various Locations
The Home Depot's Kids Workshops create a hands-on learning experience that sparks creativity, promotes problem-solving and encourages social interaction for the youngest generation of DIYers. Each month a new seasonal-themed workshop will be offered. All tools and materials needed to complete the Workshop will be available and a Home Depot Associate will be there to assist families as necessary. Kids in attendance will receive a kid-sized Home Depot Apron, collectible pin and certificate of project completion for participation. This month, create your very own Poolside Birdhouse! While supplies last.
Odessa
Head to the farm to celebrate the holiday with photo ops with the Easter Bunny, an Easter cow, egg hunts, farm animals, farm tours and more! General admission tickets are $15 for all guests 2 and older. It's an extra $5 for the Easter egg hunt. They are also offering a Tea Party with Alice and White Rabbit for an additional $15 as well!
Largo
Every first weekend of the month, ride around beautiful Largo Central Park on their miniature railroad on the first full weekend of the month! The accurately modeled scale locomotives pull you and your family along a mile-long loop through great scenery, the spooky tunnel, and the waterfall pond. Fun for all ages! There is no charge for this family-fun activity, but donations are welcome. Your contributions keep the trains running.
Oldsmar
Join Fat Beet Farm for an exclusive peek at the inner workings around the farm, including sustainability initiatives and wildlife preservation/restoration projects! This 1-hour walking tour includes vegetable gardens, composting and vermiculture, chickens, the biodigester, bees, microgreens, aquaculture systems, wetland, and coastal preservation areas, and more!
After the tour, you can shop their Market and Bakery to see how their chefs use all the produce from the farm.
Bricks 4 Kidz | Saturday, April 1 from 10am-1pm
Tampa
Bricks 4 Kidz not only offers programming after school, but they also offer Weekend Workshops at several locations all over Hillsborough County, where on Saturdays children can come for a Saturday full of LEGO building, LEGO Challenges, games, arts and crafts, and much more! Each workshop will be completely different, so it will be a brand-new experience each time! On Saturday, March 25, create a LEGO Robolox!
Tampa
Celebrate Easter and snap photos with the Easter Bunny (pets are welcome, too!) for a suggested $10 donation. There will be other fun activities including an Easter egg hunt for $5 for dogs and kids -there will be several timed Easter egg hunts for kids, toddlers and dogs!
Wesley Chapel
KRATE and Life Church are teaming up to host a free community egg hunt along with a day filled with fun family-friendly activities! There will be 100,000 eggs hidden throughout KRATE for you to find, a rock climbing wall, obstacle course, carnival rides, and more!
U-Pick Peaches at Peachy Keen Orchard in Date City | Saturday, April 1 and Sunday, April 2
Dade City
Peachy Keen Orchard will begin offering u-pick peaches on April 1 and April 2 by appointment only– you can book a time slot from a post on the  Florida Sweeties Facebook page which is handling their bookings.
Wish Farms Blueberry U-Pick Blueberries | Saturday, April 1 from 9 am-1 pm
Wish Farms will open for blueberry u-pick on Saturdays in April: April 1 from 9 am-1 pm, 8, 15, 22 and 29 from 9 am-3 pm. You can check their events page here to stay up to date.
Related: MORE U-Pick Farms in Tampa Bay that are open this weekend
Tampa
Bake scrumptious springtime snacks alongside the whole family in this class! You'll practice making teatime favorites. Our chef instructor will walk you through mixing pie dough for tasty jam tarts and transforming puff pastry into palmier cookies. Plus, we'll show you a British take on grilled cheese called "toasties," starring English cheddar and ham. Join us for a fun-filled afternoon of making delicious food and precious memories. Menu Rainbow Jam Tarts Cinnamon Sugar Palmiers English Cheddar and Ham Toasties. For kids ages 7 and up.
Brooksville
Take a tour of the Mary-Stringer House and take part in one of two timed Easter egg hunts! It is free to take part in the Easter egg hunt, but you can also go on a tour and experience the indoor bunny hunt for $10 (ages 13 and up) and $5 (ages 6-12). Make sure to bring your own blanket and snacks.
Shady Hills
Head to Safety Town for an evening of Easter themed fun! There will be a glow-in-the dark Easter egg hunt, free Easter bunny photos, dinner, face painting, a petting zoo, touch-a-truck and so much more. Tickets are $18 for adults and $7 for kids.
Tampa
The Straz's annual eat and drink extravaganza returns featuring some of the best restaurants in the area. Guests will have access to the Bay area's best food, craft brews, cocktails, and more. There will also be multiple stages featuring live music all along Tampa's beautiful Riverwalk. Tickets start at $95.
Various Locations
There's something for everyone at Chuck E. Cheese. That's why every first Sunday of each month, they host Sensory Sensitive Sundays specifically for children with autism. By lowering the lighting and softening the arcade sounds, they turn their pizza arcade into a super fun – yet less overwhelming – autism-friendly play place at participating locations.
Tampa
PBJs Day School is offering FREE reading instruction for children ages 4 – 9 focusing on the building blocks of literacy. Thier mission is to prepare children to be strong readers and develop important early literacy skills through reading books, games, music, dance, and craft activities. This 60-minute program is to designed to teach foundational reading skills in a purposeful way. Space is limited – registration is required.
Tampa
All lanes are open to families on Sundays! Children ages 6 and up are welcome to participate or watch. Waivers are required and all children under 18 must be accompanied by an adult.
St. Petersburg
This year's Spring Fling with feature a sensory-friendly Easter Bunny, egg hunt, a critter encounter and more. It is free for special needs families.
Tampa
The Humane Society of Tampa Bay gives children who love animals a chance to spend time with them while catching up on their reading or improving their reading skills. Children are paired with homeless pets who love to hear the stories and look at the pictures. The program offered for children ages 5 and up. They'll provide reading stools, books and treats (for the animals), but children are welcome to bring their own books if they wish. Books provided include animal tales, stories of the animal-human bond and books that teach empathy to young readers. Supervised by a Florida state certified teacher.
---
Save the Date for these AWESOME Events in Tampa Bay!
On April 4, one of the most anticipated new rides at Disney will open to the public. Based on Disney's 2010 hit, TRON: Legacy, guests will climb aboard their very own Lightcycle and take off on a high-speed adventure. Located in Tomorrowland at Magic Kingdom, TRON Lightcycle/Run will be one of the fastest coasters at any Disney theme park in the world, launching guests at 59 miles per hour!
10,000 rubber ducks will race down the Hillsborough River in front of Curtis Hixon Park to compete for amazing prizes. The family event will feature games, food, and entertainment leading up to the big race. Ducks can be purchased in advance for $5 at TampaDuckRace.com, you don't have to be present to win. Benefiting The Tampa Kiwanis Foundation, which supports many local children's programs.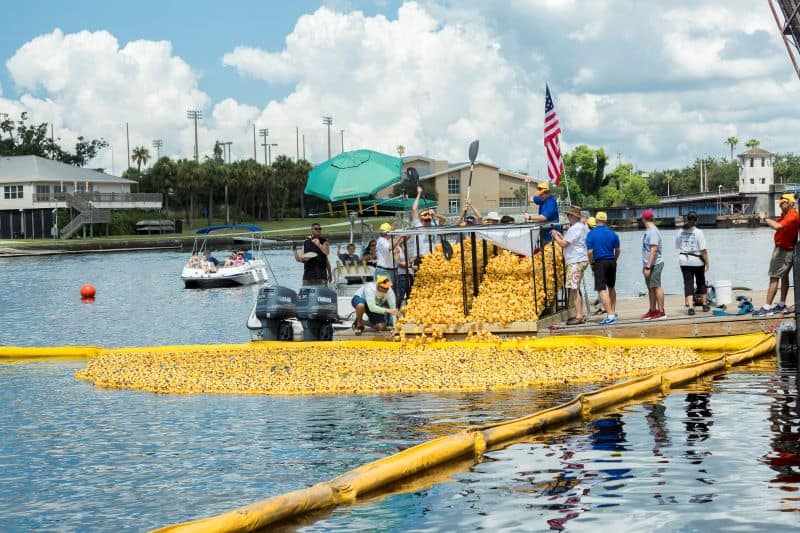 When Dad feels like a little bit of Sunday afternoon time out, Bluey and Bingo have other plans! Join them as they pull out all of the games and cleverness at their disposal to get Dad off that bean bag. Bluey's Big Play is a brand-new theatrical adaptation of the Emmy® award-winning children's television series, with an original story by Bluey creator Joe Brumm, and new music by Bluey composer, Joff Bush. Join the Heelers in their first live theatre show made just for you, featuring brilliantly created puppets, this is Bluey as you've never seen it before, brought to real life! strazcenter.org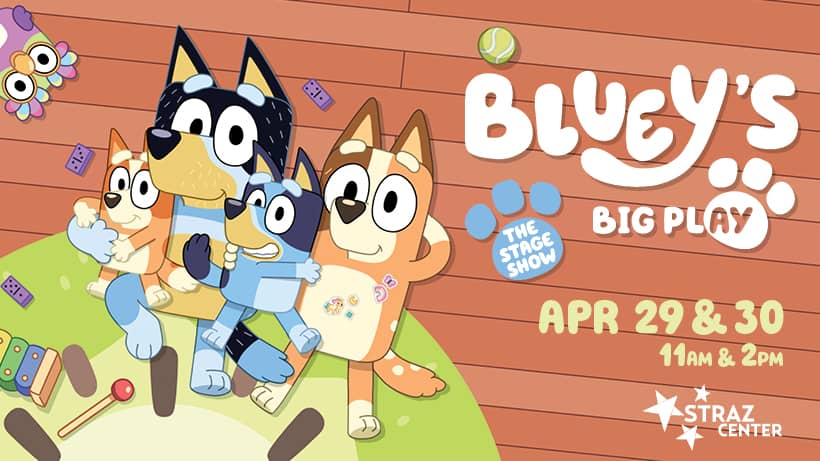 The 12th Annual Gasparilla Music Festival returns this month! This year's event features 30 bands at Curtis Hixon Waterfront Park. This popular family event has kids' activities scheduled throughout the day, including concerts and an instrument petting zoo. GMF is produced by the non-profit Gasparilla Music Foundation. gasparillamusic.com
---
THINGS TO DO: See What's on Exhibit in Tampa Bay
Toothpick World: Wonders of the World at MOSI | Now
See the world's largest buildings made entirely out of toothpicks and glue at a 1:64 scale! The exhibit expands the entirety of the museum. It's one of the many new things at MOSI you can experience with the kids.
Tampa
There's a new exhibit on the second floor of Glazer Children's Museum that's all about measuring in a hands on and super fun way for kids! They can pull out a life-sized tape measure, find out how many chickens they weigh and so much more!
Experience Clearwater Marine Aquarium's largest rescue mission ever! Dino Rescue will bring guests up-close to life-size dinosaurs, some as tall as 35 feet and 65 feet long. As guests walk throughout CMA, they will encounter prehistoric dinosaurs, which move and roar, as they rehabilitate from various ailments today's animals face – like habitat loss and entanglement. Dino Rescue is included with admission and roaring now!
LEGO City Space at LEGOLAND Florida | Now on Exhibit
Celebrate all things space at LEGOLAND and head to the Imagination Zone to fully immerse yourself on a LEGO Moonbase where you'll be challenged to build a rover or a rocket. This is not only a great way to inspire kids to use their imaginations, but also cool off in the air-conditioning!
Hop on over to the Tampa Bay Watch Discovery Center at The St. Pete Pier and learn about native and invasive frog and toad species in thematic displays in their all-new permanent exhibit. The Ribbit Exhibit will feature Florida's native frogs and toads, including green tree frogs, barking tree frogs and southern toads, which are increasingly threatened by invasive species, such as Cuban tree frogs and cane toads. In addition to The Ribbit Exhibit, the Tampa Bay Watch Discovery Center also hosts interactive programs such as mollusc and lionfish dissection, field trips, classroom visits, and sensory-focused events.
Florida Aquarium Penguin Habitat 
The Florida Aquarium has a new African penguin habitat! Located in the outdoor plaza, guests now have the opportunity to engage with penguins any time, included with general admission! African penguin populations are declining rapidly and it is The Florida Aquarium's goal to help save the species from extinction.
Fairgrounds St. Pete | Open Thursday-Sunday
A new immersive art experience has made its mark in Tampa Bay! Fairgrounds St. Pete recently opened its doors with a exhibit like you've never seen, heard or even smelled before! More than 60 artists were commissioned during the pandemic to bring it together. You can go and simply enjoy the whimsical art that celebrates weird, wacky, wonderful Florida or choose a different adventure and try to crack the codes and mysteries you'll find throughout. Learn more about what it's like here!
---
MORE Ongoing Events in Tampa Bay
Experience wonder in St. Pete's only magic theatre! The Zubrick Magic Theatre is a spectacular venue that gives audiences an intimate and unforgettable evening of magical entertainment. Illusionists Chris & Ryan Zubrick conjure up an exhilarating blend of sleight-of-hand, family-friendly comedy, and breathtaking grand-scale illusions in a 70-minute performance that captures hearts and imaginations. Conveniently located in downtown St. Petersburg, FL., the Zubrick Magic Theatre guarantees to stretch smiles and drop jaws with a performance that will leave you walking away scratching your head in disbelief saying, "How did they do that?!" Get your tickets now before they all… DISAPPEAR! 
Read More: Get your tickets to Tampa Bay's ONLY magic show before they all … disappear!
The Ruskin Family Drive-In Theatre has over 50 years of continuous service to the Ruskin and South Hillsborough County. It's been a community gathering place since its first movie, "Singing in the Rain" played in 1952. They offer great movies, good food, and peace and quiet on a continuous basis with a 2000 square foot screen, clean restrooms, snack bar and clean parking lot. Please note: you must bring a portable radio with you or use the radio in your car to hear the movie. There will be no showings on Monday and Tuesday.
---
Parents' Nights Out!
While family time is fun, it's also important to carve some time out for yourself, whether it's a night out with your significant other, friends, or some solo time. Several places around the Tampa area are hosting Parents' Nights Out! For a fee, you can drop your kids off for some fun activities and playtime while you get an evening out!
Playgrounds of Tampa | Second and Fourth Friday of Every Month from 6pm – 10pm
For four hours, your kids will be entertained with games, movies and bounce houses galore (maybe even with some pizza) while you do whatever you want. Participants must be potty trained, ages 4 and up. Cost is $30 per child. Click here to register.
Humane Society of Tampa Bay | Last Friday of Every Month from 6pm – 10pm
Kids ages 5 and up will enjoy playing with the shelter animals, dinner, and watching a movie with furry friends! This program takes place monthly and registration is required. The dogs and cats can't wait to party! Cost is $50 per child. Includes pizza dinner and drinks. To register, click here.
Jubilee Gymnastics | Second and Fourth Friday of Every Month from 6pm – 9:30pm
Drop off the kids to eat, play, and have fun at Jubilee Gymnastics in Ruskin while you enjoy a night out. Pre-registration is highly encouraged as these will fill up quickly. For kids ages 4 and up. Cost is $30 per child for members/$35 for non-members. Includes pizza and drinks! Click here to sign up.
Cypress Forest Park | Last Friday of Every Month from 6pm – 10:30pm
Take a night off while your children enjoy themed fun at Cypress Forest Park in Oldsmar! Pizza dinner are included. For kids ages 5-12. Cost is $10 for kids with a rec card and $15 for kids without. Click here to learn more.
---
More ideas to spark a weekend of lifelong memories!
Paddle Pals with Get Up and Go Kayaking in St Pete
Get Up and Go Kayaking in St. Pete is offering a new kayaking tour designed just for kids and their families called Paddle Pals. The tour is an educational adventure with tour guide Hannah as you explore the mangroves and Shell Key Preserve. See what the experience is like here!
---
Upgrade your day at ZooTampa with an animal encounter! 
If you're planning a day at ZooTampa, we love upgrading our experience with the kids with an animal encounter like feeding the giraffes or rhinos. We recently booked a time to feed a Jamie the Indian White Rhino with our 5 year old and he had a great time. Baby rhino Gronk even hung out for snacks! You do have to wear a face mask during the encounter, but you can remove it for a photo. Learn more here.
---
Snap a mural selfie and help provide a free eye exam and glasses for a local child!
Head over to Armature Works to check out the NEW mural on the north end of the property created to promote the Glazer Vision Foundation's "Glasses For All Children" campaign. All you have to do is share a photo of the mural, a selfie in front of the mural, or selfie wearing any type of glasses, tag @glazervisionfdn, hashtag #OneShareOnePair and the foundation will give a local child a free eye exam and pair of glasses! Easy peasy! Learn more.
---
Check out the St. Pete Pier
Eat, drink, shop and play at the new St. Pete Pier. The new playground area is quickly becoming a family favorite in Tampa Bay, just make sure to bring plenty of hand sanitizer and/or hand sanitizing wipes with you. Stay late and look up to see the Bending Arc light up in a spectacular display. You will need to wear a mask inside the stores, restaurants and Tampa Bay Watch Discovery Center. The Glazer Vision Foundation just announced it is contributing $1.5 million to the Glazer Family Playground at the Pier to support the space for years to come!  Learn more.
---
Best Spots to Go Tubing in Tampa Bay:
We're sharing some of our favorite spots to sit back and relax on a tube whether it's at a Florida natural spring or lazy river at a nearby water park. It's the perfect way to wrap up the lazy days of summer.
---
FREE Resources to Explore!

Children's Board Family Resource Centers
The program provides parents and caregivers and their children an opportunity to participate in parent/child developmental playgroups, developmental screenings, and health and safety education classes at no cost. In addition, pediatric well-child visits, immunizations and hearing or vision screenings are provided for qualifying families.  To sign up for programs and services, and to find your neighborhood Children's Board Family Resource Center visit familysupporthc.org.
The program provides quality early learning experiences at no cost at the seven children's Board Family Resource Centers and other designated Hillsborough County sites.  The program also delivers weekly in-person and online virtual developmental classes and provides take home activities that promote early learning and school readiness at no cost. tampabayparenting.com/lets-play-tampa-bay/
---
Outdoorsy Things to Do in Tampa Bay
Head to the beach! 
The beaches are open, but you'll see plenty of reminders about social distancing. You'll also want to pack some extras in your beach bag like hand sanitizer and sanitizing wipes. Cloth masks are also a good idea in case you decide to visit an establishment that requires them. We're sharing some of
our favorite family-friendly beaches in Tampa Bay here.
Go for a hike! 
Lace up the hiking shoes and spend the day in nature with the kids! Many preserves and conservation parks are now open in Tampa Bay. Find a park near you or discover a new one:
---
Weekend Farmers Markets in Tampa Bay this Weekend
Experience one of the top farmers markets in the U.S.! Expect an estimated 170 vendors selling their goods and artisans selling their crafts. Add stellar food choices for dining and live music for entertainment and it's a perfect day in the Florida sunshine. Their Summer Market, located at Williams Park, typically runs from June to August.
The Dunedin Downtown Market at John Lawrence Pioneer Park features 40+ local merchants and vendors including fresh fruits and vegetables.
There are 60+ vendors expected at the Fresh Market at Wiregrass in Wesley Chapel including organic and hydroponically grown produce.
Corey Avenue Market features more than 70 local vendors and merchants selling everything from crafts, art, food and locally grown produce.
The Ybor City Saturday Market is the largest continually operating outdoor market in the Tampa Bay Area. Centered in Tampa's Historic District, the market is one of the most popular shopping destinations for locally produced items unique to the Tampa Bay Area. Features locally made arts, crafts, and gourmet foods representing the area.
Head to The Grove in Wesley Chapel for a unique evening market featuring tons of local businesses! Enjoy local vendors, live music, food, and more. themarketculture.com
Hyde Park Fresh Market features over 80 local vendors including produce, handcrafted goods, plants, and more. While you shop, enjoy live music by Gasparilla Music in Village Circle.
Head to the Carrollwood Cultural Center to explore 60+ local vendors and businesses.
Enjoy live music and over 30 vendors in Westchase Town Center every second Saturday of the month.
---
 Celebrate the weekend in Orlando!