Peachy Perfect: U-Pick Peach Farms in Tampa Bay You Must Try!
Who's ready for the taste of sweet peaches? There are so many great u-pick peaches farms in Tampa Bay, so grab the kiddos and get ready to spend an afternoon collecting your own sweet, fuzzy peaches!

The Southern Peach Company
This fifth generation family farm in Lithia has all the charm peach picking has to offer, including a photo opportunity with an old fashioned truck as you enter the orchard. The century old farm offers plenty of peaches to go around for everyone. They are cash only, at $12 a bucket or two for $20.
If you are looking to make a day trip, Alafia River State Park is just up the road and offers relaxation and some shade under trees for a picnic.
Days and hours for picking: 
Wednesday, April 24, 8:00 a.m. – 2:00 p.m.
Thursday, April 25, 8:00 a.m. – 2:00 p.m.
Friday, April 26, 8:00 a.m. – 2:00 p.m.
Saturday,April 27, 8:00 a.m. – 2:00 p.m.
Florida Sweeties U-Pick Peaches
The friendly owners of Florida Sweeties have begun rotating between four orchards in the Dade City area, allowing pickers the best opportunity to go home with plenty of perfectly ripe peaches. Price per a bucket is $15 and holds seven to eights pounds, and they accept cash or credit. Below is this weeks open Orchards and times available for picking.
Keel & Curley 
The popular winery located off I-4 will be kicking off their season a Keel Farms with a Peach Festival this weekend. The event will feature u-pick peaches and blueberries, live entertainment, kids farm zone, as well as food and craft vendors. Admission is free, but parking is $5 per vehicle! They accept cash and credit; peaches are $4 a pound and blueberries are $6 a pound.
Related: Spring Bucket List: U-Pick Farms in Tampa Bay
PEACHY KEEN ORCHARD 
15701 Jessamine Rd
Dade City, FL 33523
Wednesday, April 24, 9:00 a.m. – 2:00 p.m.
Friday, April 26, 9:00 a.m. – 2:00 p.m.
GRIESHOP ORCHARD
32999 Grieshop Rd
Dade City FL 33525
Saturday, April 27, 9:00 a.m. – 4:00 p.m.
Sunday, April 28, 1:00 – 5:00pm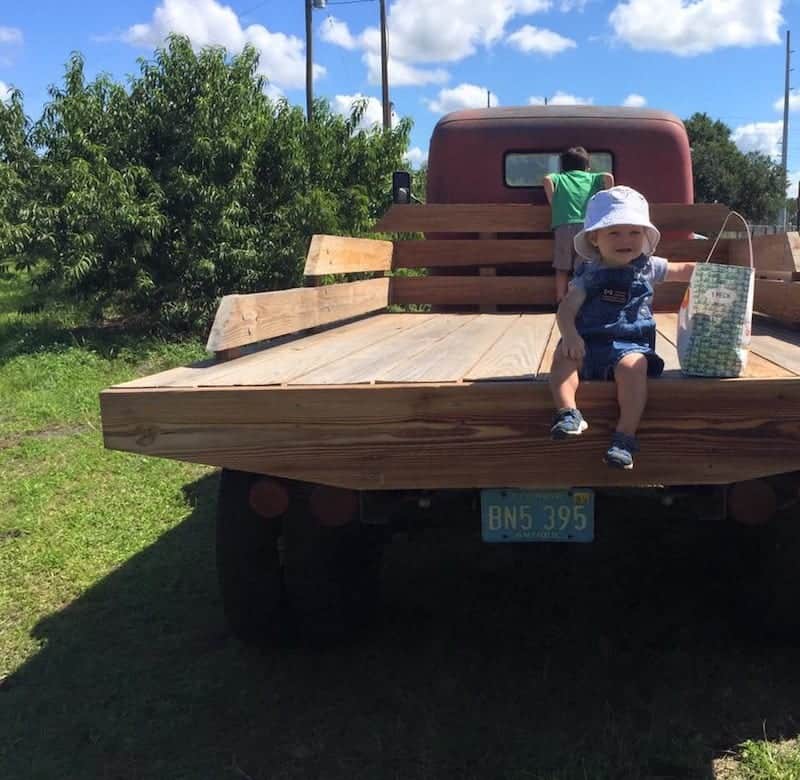 ---

About the Author: Heather is a fourth generation Tampanian and a graduate of the University of Tampa. She worked in news for ten years, from WFLA In Tampa to C-SPAN in Washington, DC. She left the fast paced news environment for an even crazier beast, taking on the roll of domestic engineer after having her second child. She now spends her days and nights planning fun and educational outings in and around the Tampa Bay area to keep her three boys busy and out of trouble.