The Magic and Wonder of Zubrick Magic Theatre
The magic we experience on stage at Zubrick Magic Theatre in St. Pete is the result of… an accident. Chris and Ryan Zubrick of Michigan met when the then-individual performers were double booked for an event. This could have easily been considered an entertainer's worst nightmare—but it turned out to be serendipity.
This magical mistake by an event planner allowed the magicians (and now husbands and fathers) to combine their talents and create a show that has left countless families in wonder and awe. As we continue our conversation with the magicians, we're learning more about their journey in magic.
---
How did you get involved in magic?
Chris: We both entered magic independently from a very young age. For me, I found a magic trick on the bottom of a cereal box, and that's how I first discovered magic.
FUN FACT: You can still find the curated magic set that includes the same first trick Chris found as a kid—it's a rope trick!
Ryan: I received a magic set for my sixth birthday, and I was hooked on the art after that. And we met in 2005 when event coordinators unknowingly double booked us for the same event.
Chris: I always knew from an early age that I eventually wanted to have our own theater. It's just come to fruition here in the Tampa Bay area in St. Petersburg, which is a great community
What was your "aha" moment that made you realize this is what you wanted to pursue as a career?
Chris: I think it was when as a child, you can fool an adult. You could do something that an adult could not do, and they had no idea how you did it. That was a lot of encouragement.
Ryan: I used to put on little shows for family birthday parties and family reunions, and it just kept growing and growing. My dad started building illusions because I wanted to get into some of the bigger stuff—I was doing shows for Boy Scout groups and different fundraising events, and it never stopped.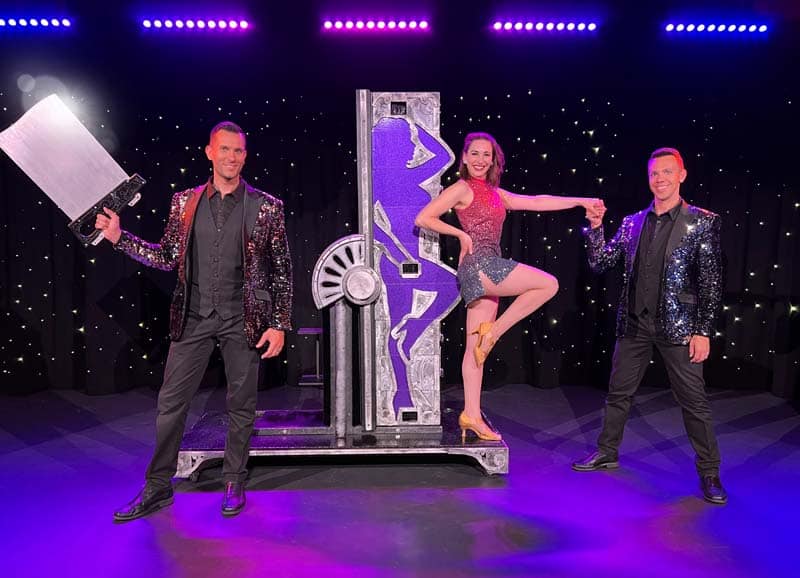 You've performed around the world and could have brought your show anywhere. Why Tampa Bay?
Chris: We were performing overseas on the island of Guam for 13 years. When the pandemic hit, we closed our show and bought a 34-foot Class-A RV, traveled east coast to west coast and everywhere in between. We visited 26 states, looking for our forever home.
St Pete and Tampa Bay were never on the map.
We happened to be in the Florida Keys and coming across the Sunshine Skyway bridge on our way back up to Michigan. It dumped us out into St Petersburg. We looked around and went wow, this is a great area, a great community. It checked all the boxes for us.
There were no Michigan winters … we wanted the tropical life of the beaches and the palm trees. There was no competition; there is no magic show or anything like we're doing in the area, and it had year-round tourism.
We love St. Petersburg. The Tampa Bay area and the community has welcomed us, and our show is doing well. We hope to be here for many, many years.
Being able to perform again in front of a live audience must have been a pretty special feeling for you both.
Chris: Magic is best experienced live and in person. This is an intimate theater. We only have 92 seats, so you're not too far away from the action, and a lot of people comment after the show they feel like they've experienced a grand illusion magic show in their own living room.
Ryan: We love incorporating them and making them the stars of the show. We love bringing kids on stage—it makes it different for every performance for us and the audience for our repeat guests. You never know what they're going to do, what they're going to say.
Chris: Our show is for multi-generational audiences. The young [and] young at heart can enjoy our show. The real magic is that childlike wonder that we get to see in the audience and to bring back. It's funny to see a gentleman come in and they've got their hands crossed and they don't want to be here and then by the end the show they are just smiling from ear to ear, and they just love it because they feel like a kid again and they get to experience magic and wonder.
I think in this day in age, we're on our devices all the time, so being able to put that way for 70 minutes and enjoy live entertainment and laugh and clap and enjoy what you are seeing right in front of you is what's needed and special. These days, you don't get that often.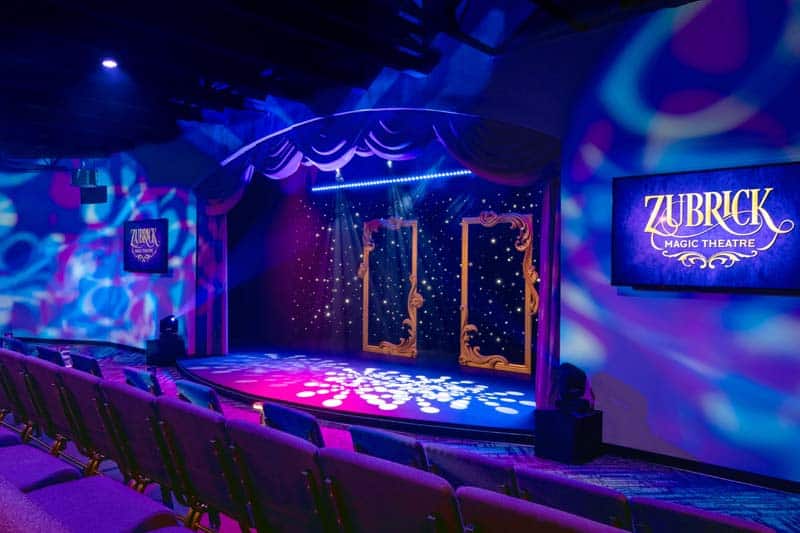 Do you have any favorite tricks or moments in the show?
Ryan:  I think our finale is the one that we enjoy the most and gets talked about the most. We're not going to give away what it is—you'll have to come and see it. You would not expect it on this stage.
One of my favorite moments in the show is when we invite our 5-year-old son Oliver on stage to perform his own act. To see him enjoying magic and to hear the audience respond after he does perform is heartwarming.
We never force him to take the stage if he doesn't want to, but right now he loves it! He smiles and is waving at the audience…
Chris: Future Houdinis have to come from somewhere.
Can you share a magic trick?
Chris: We do teach a magic trick during the show, so you're going to have to come check out the show!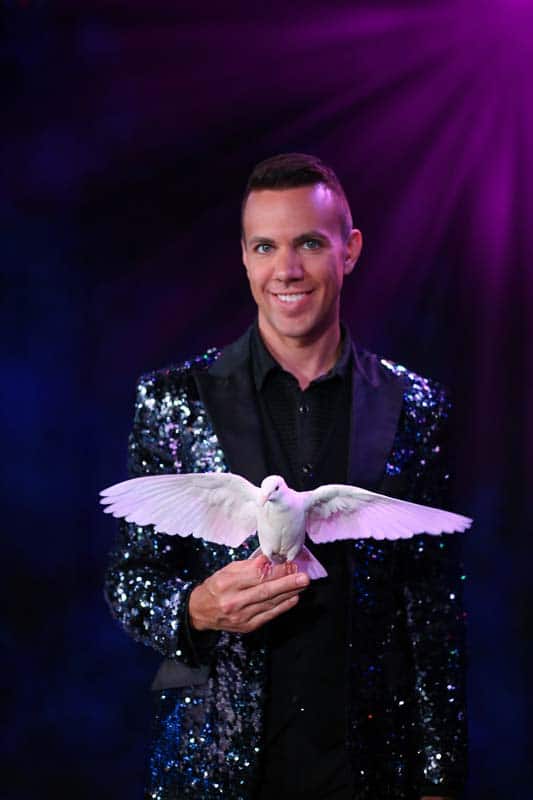 While you sell concessions like beer, wine, soda, water, candy and popcorn, do you have any favorite spots for a pre-show dinner?
Ryan: Downtown has so many great restaurants downtown. We're only one block off Central, which has so many great options.
Chris: Our favorite is Red Mesa Mercado across the street.
Other that share your magic, what are your favorite things to do in Tampa Bay?
Chris: Visit the St. Pete Pier. We enjoy going to the museums. Oliver enjoys the playgrounds, beaches of course during the summer … just getting outdoors.
---
How To Experience the Magic:
Zubrick Magic Theatre: 1211 1st Ave. N., Suite 101, St. Petersburg
Performances are Thursdays – Saturdays at 7 p.m. and Sundays at 2 p.m.
Tickets: $42 + taxes and fees. Children ages 1-3 are free if they sit on an adult's lap.
Want More? Read our 2022 interview with Ryan and Chris as they share their journey about building their life together as a family.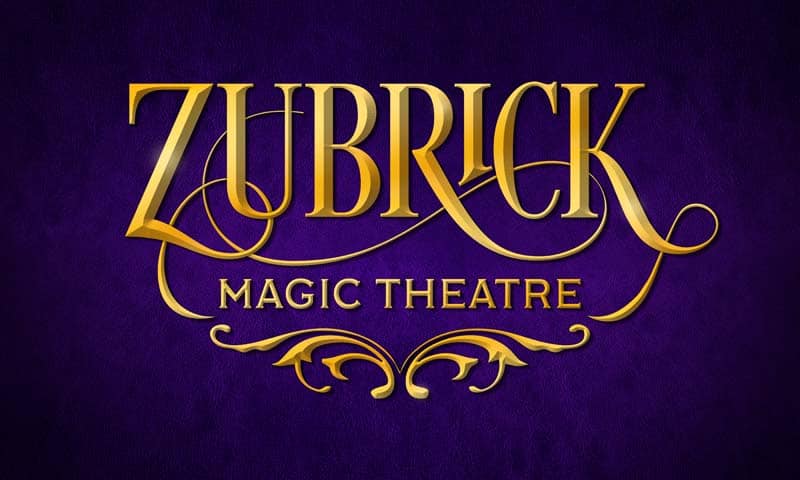 ---
*Presented by Zubrick Magic Theatre | Originally published in March 2023 of Tampa Bay Parenting Magazine.