All About Adum K-8: The Hype Surrounding Hillsborough County Schools' Newest K-8 School
There's always a lot of excitement when a new school opens. However, the hype surrounding the new Kenneth E. Adum K-8 surpasses all expectations!
Maybe that's because of its location. Maybe it's because it's going to be a Magnet School. Or maybe it's because it's a K-8.
Maybe it's all the above.
However, one thing we do know is there is a lot of curiosity about the school and a lot of interest in applying.
The school is under construction right now, and, in full transparency, a lot of decisions about the school will be made in the coming months since the school now has a principal, who was named at the Nov. 14 board meeting.
However, here is what we do know about Kenneth E. Adum K-8, and how to apply:
When will Adum K-8 open and who will it serve?
Adum K-8 will open in August of 2024 with grades kindergarten through seventh grade to start with. That means Adum will not start its first year with an eighth-grade class.
Who can attend Adum K-8?
There is no school boundary for Adum K-8. It is a magnet school, and you must apply to be accepted. The first Magnet and Choice Application Window is open now until Dec. 15. You can learn more about the application process and apply at HillsboroughSchools.org/Magnet.
What is Adum's Magnet Program?
Adum K-8 will apply for IB World School status. According to Robert Cox, Supervisor of Magnet Schools and Programs, "While curricular decisions are pending, Adum K-8 will feature electives that will enrich students' educational experience during their time at this magnet school and which are in alignment with the International Studies pathway that is implemented".
Who is the principal of Adum K-8?
The School Board named Scott Weaver as principal of Adum K-8 effective in February 2024. He is currently the principal at Roland Park K-8 which is an IB World School.
Who was Kenneth E. Adum?
The process of naming a school is a very tough decision for our school board. According to board policy, school sites and facilities can be named for individuals who have rendered outstanding public service to public education. That very accurately portrays Kenneth E. Adum, who worked in Hillsborough County Public Schools (HCPS) for 37 years, starting in 1970 as a social studies teacher at Booker T. Washington Junior High, and working his way to principal of Gaither High School.
Former colleagues and friends describe him as a "true servant" and a "compassionate leader," and friends and family campaigned heavily for this school to be named in his honor.
He sadly passed away from cancer in April 2021.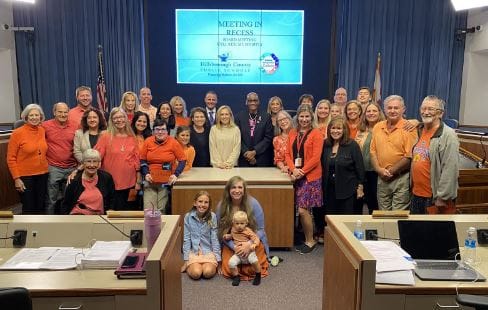 How to get a spot at Adum K-8.
Applications are chosen based on a lottery system, and results will be sent in late January to early February. If you believe you may be interested in sending your child to Adum K-8, it doesn't hurt to apply. You can always decline your invitation if you decide on another school. Remember to apply before the deadline December 15th.
You can learn more about Adum K-8 by visiting hillsboroughschools.org/adum.
*We will continue to update this story as new information about Adum K-8 is released.
Related stories we think you'll LOVE: