9 Ways to Upgrade Your Day with Unforgettable Animal Encounters at ZooTampa
Go nose to horn with a rhino as you feed them their veggies, learn about the unique personalities of giraffes, sit eye to eye with a giant tortoise: all are unforgettable animal encounters at ZooTampa you can experience with the kids.
You'll truly feel like you've stepped inside your very own episode of "Secrets of the Zoo: ZooTampa." Since we mentioned it, Season 3 happens to be airing now on Nat Geo Wild and Disney+.
A few things to keep in mind:
Encounters and backstage tours for non-members range from $19.95-$29.95 each, depending on the day. For ZooTampa members, prices range from $14.95-$24.95. Unless otherwise noted.
We recommend booking your encounter in advance to secure your spot since they can sell out.
Photographers on site take photos you can purchase for almost all the encounters so you can focus on enjoying the experience with your kids rather than taking pictures.
To book your encounter and learn more about other encounters, visit zootampa.org/encounters
Animal encounters are subject to animal cooperation.
Unforgettable animal encounters at ZooTampa
Experiences we love for kids ages 5 and older at ZooTampa: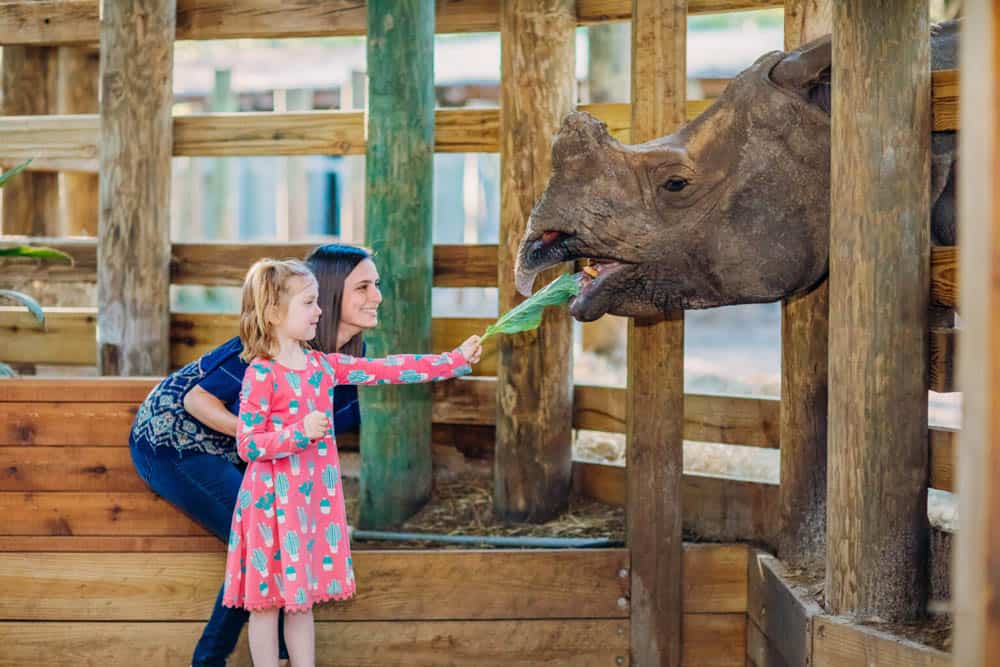 Indian Rhino Feeding
Ages 5 and older
Offered daily
We love this experience because it's a unique chance to go nose to horn with these beautiful animals. During your encounter, you'll get a briefing on how the zoo cares for the Indian Rhinos and then comes best part– a chance to feed them their favorite snacks like lettuce and other veggies!
African Elephant Backstage
Ages 5 and older
Offered daily
This signature encounter puts you behind the scenes and up close with the zoo's African elephants. Get one-on-one time with the animal care team as they show you how they care for the world's largest land animal. You'll even get to sit in on a training session.
Giraffe Backstage Encounter
Ages 5 and older
Offered Wednesdays-Sundays
Did you know giraffes are the world's tallest animal? This is among the many fun facts you'll learn about each resident giraffe – and they each have their own unique personalities just like people do. Learn about the positive reinforcement training techniques the team uses and more!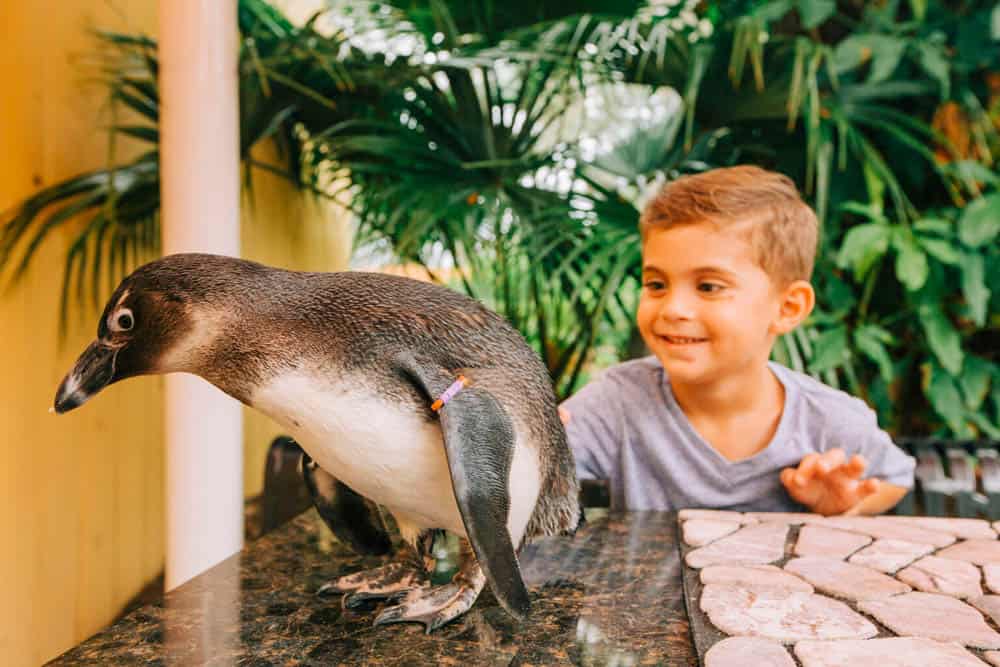 African Penguin Backstage
 Ages 5 and older
Offered daily
Waddle on over to this signature encounter to meet the colony of African Penguins who call ZooTampa home. Their animal care team will be ready to answer all of your questions about how they care for the endangered species.
Manatee Critical Care Center Backstage Encounter 
Ages 5 and older,  but recommended for ages 12 and older
Offered daily
When you sign up for this NEW encounter that starts this month, you can go behind the scenes to learn more about the care that ZooTampa's non-profit manatee critical care center provides to sick, injured and orphaned manatees. The zoo recently expanded its ability to care for even more manatees.
Animal Encounters for children of all ages at ZooTampa 
*Ages 3 and older require a ticket.
Giant Tortoise Encounter
Offered daily
Little ones will love this experience that places them inside the Aldabra tortoise's world at the zoo. They'll get to gently touch the tortoise and hang out with the animal care team that takes care of them.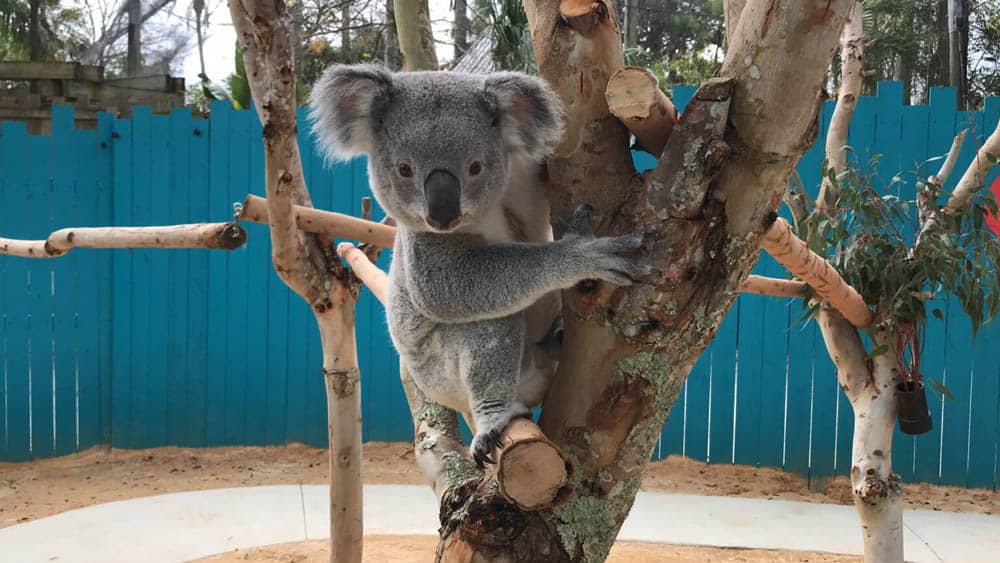 Koala Photo Encounter (check with Zoo to see if available during summer months)
Offered Saturdays and Sundays
This family favorite allows you and the kids to step inside the world of the zoo's koalas from an outdoor area with a walkway built around the koala's branches. You won't get to touch the koalas, but you will get a close-up view of the adorable creatures!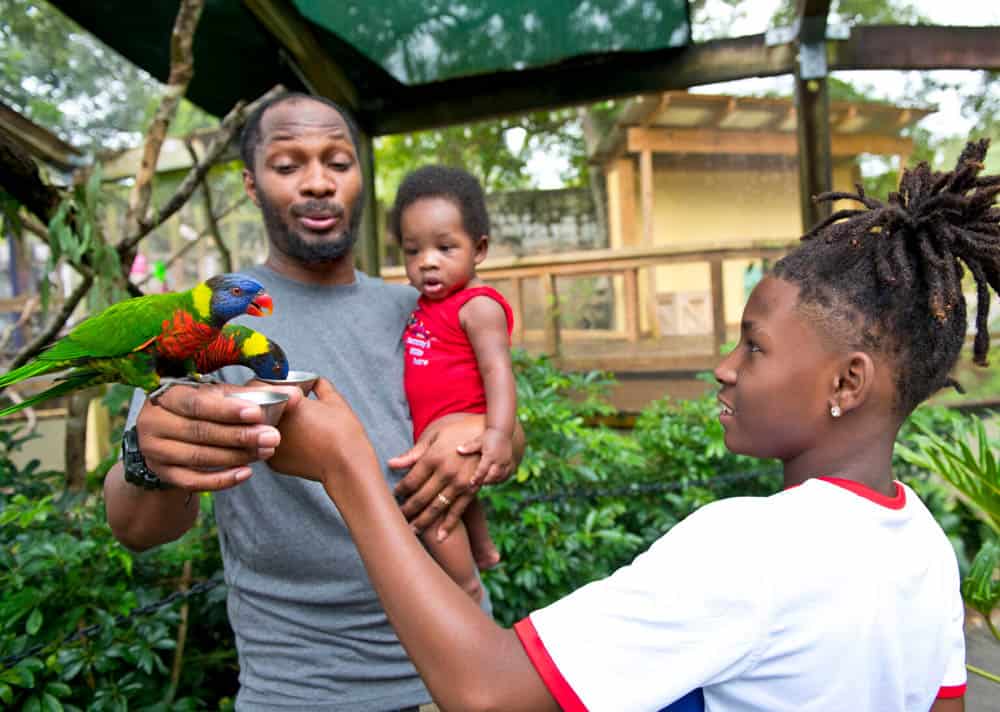 Lorikeet Feeding
Offered daily
FREE encounter! Admission to the Lorikeet Aviary is included with zoo admission and if you're lucky, you might be able to feed the lorikeets for a small fee for food. Be sure to ask an employee inside the Lorikeet Landing Aviary for details when you arrive.
Wildlife Explorer Quest
Offered daily
Wildlife Explorer Quest is a recently launched experience that's a fun, interactive way to explore ZooTampa with the kids while getting to know the animals in a whole new way. Your first step is to download the TRAKID app on your phone before your visit to save time.
Once you get to the Zoo, head to the Tours & Guest Services Kiosk near Manatee Circle to pick up your Wildlife Explorer Compass that interacts with the app on your phone as you go on a fun and educational journey throughout the zoo. It's best for kids ages 4 and older. $9.99 for ZooTampa members and $11.99 for non-members
---
*Originally Published in the March 2022 issue of Tampa Bay Parenting Magazine. Updated in April 2023.| Photos provided by ZooTampa
Related stories we think you'll LOVE:
ZooTampa's Creatures of the Night filled with thrills and treats