Uncovering the Disney Treasure Cruise Ship – The Newest in the Fleet!
Details on the newest ship in the Disney Cruise Line (DCL) fleet have been revealed. The Disney Treasure, the sister ship to the Disney Wish, will begin sailing on December 21, 2024 with a seven-night maiden voyage through the Eastern Caribbean, leaving from Port Canaveral, Florida. The Treasure's inaugural season will take guests on seven-night sailings through the Eastern and Western Caribbean, also from Port Canaveral. The ship's theming is all about adventure, with Disney favorites like Marvel and Star Wars showcased, as well as beloved Disney Parks attractions.
The ship's elaborate theming pays tribute to Walt Disney's love of exploration and travel, with stories like Aladdin, Coco, and Zootopia showcased throughout. The ship's Aladdin-themed grand hall will be a palace at sea, where families can gather for everything from entertaining show to character meet-and-greets.
Disney Treasure will have a 4,000-passenger capacity and have more than 1,250 staterooms, including 53 concierge staterooms and 23 concierge suites.
Here's everything we know about the Disney Treasure and the adventure it will offer families.
Details About Disney Treasure Cruise Ship
Restaurants aboard the Disney Treasure
DCL is known for its rotational dining, where families are followed by one team of servers throughout each night of their cruise, even though they rotate to different on-board restaurants. Since the Disney Treasure is a sister ship to the Disney Wish, evening dining experiences will be similar, but a bit more adventurous.
At Worlds of Marvel, guests who've sailed aboard the Wish will feel a similar super hero vibe to the Wish's Ant-Man and the Wasp-themed storyline, but aboard the Treasure, Worlds of Marvel is all about your friendly, neighborhood Spider-Man.
The immersive Marvel-themed dining experience will feature celebrated Avengers characters and a unique chance to interact with Spider-Man. Over a seven-night sailing, guests will dine at Worlds of Marvel twice and experience two different shows inspired by the Marvel Cinematic Universe, in addition to a menu of foods from around the world.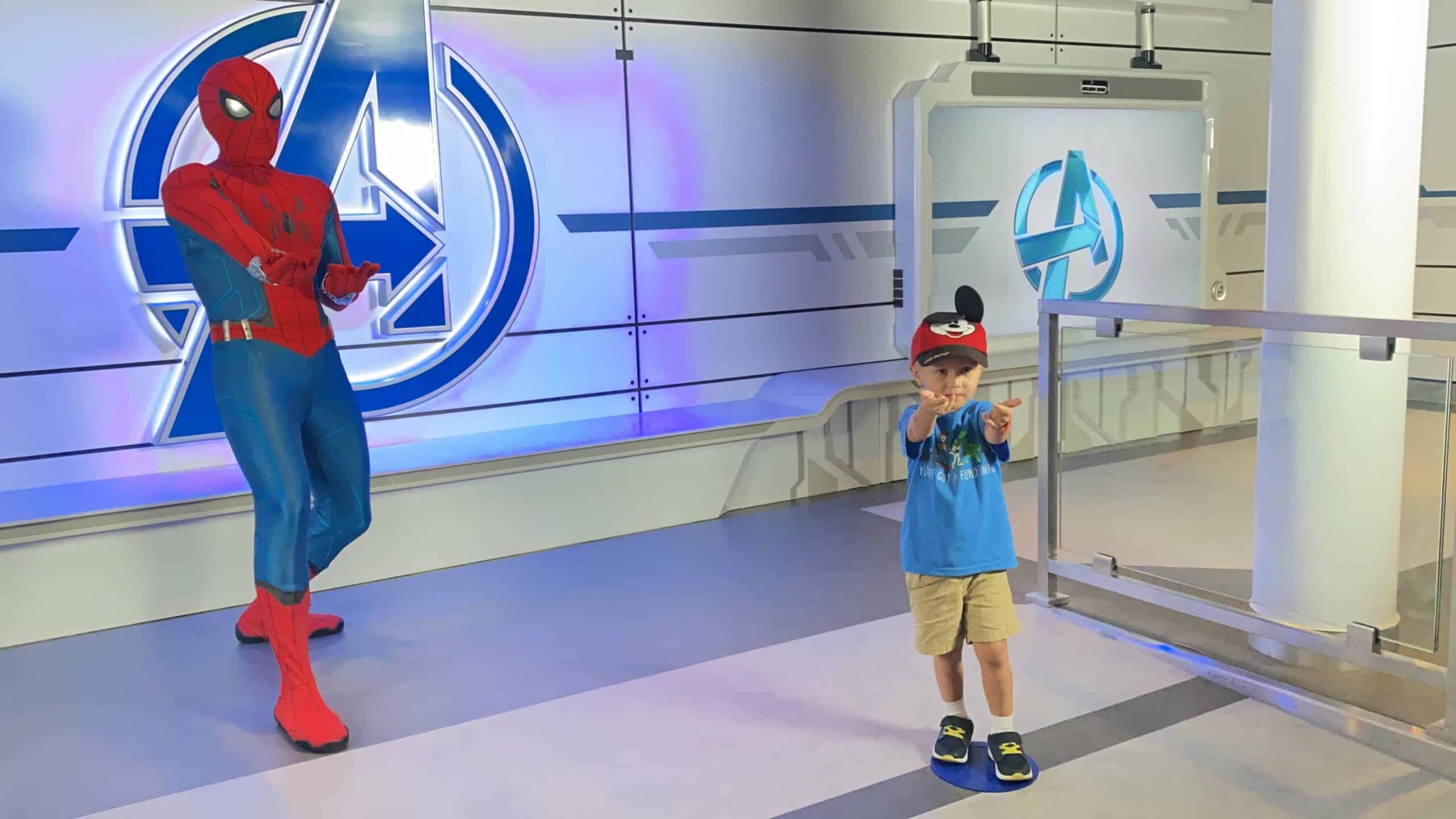 At animation-themed 1923, the upscale dining venue will be decorated with adventure-themed nods to Walt Disney Animation Studios. Like the Wish, the menu will be inspired by the fusion of cultural flavors found in California and designed to be a family-friendly environment.
The world's first theatrical experience themed around the film Coco, Plaza de Coco will tell the story of Miguel and his family right where the film left off, as they gather in Mariachi plaza to take guests on two nights of colorful musical performances. The menu at Plaza de Coco will offer modern twists on Mexican fare.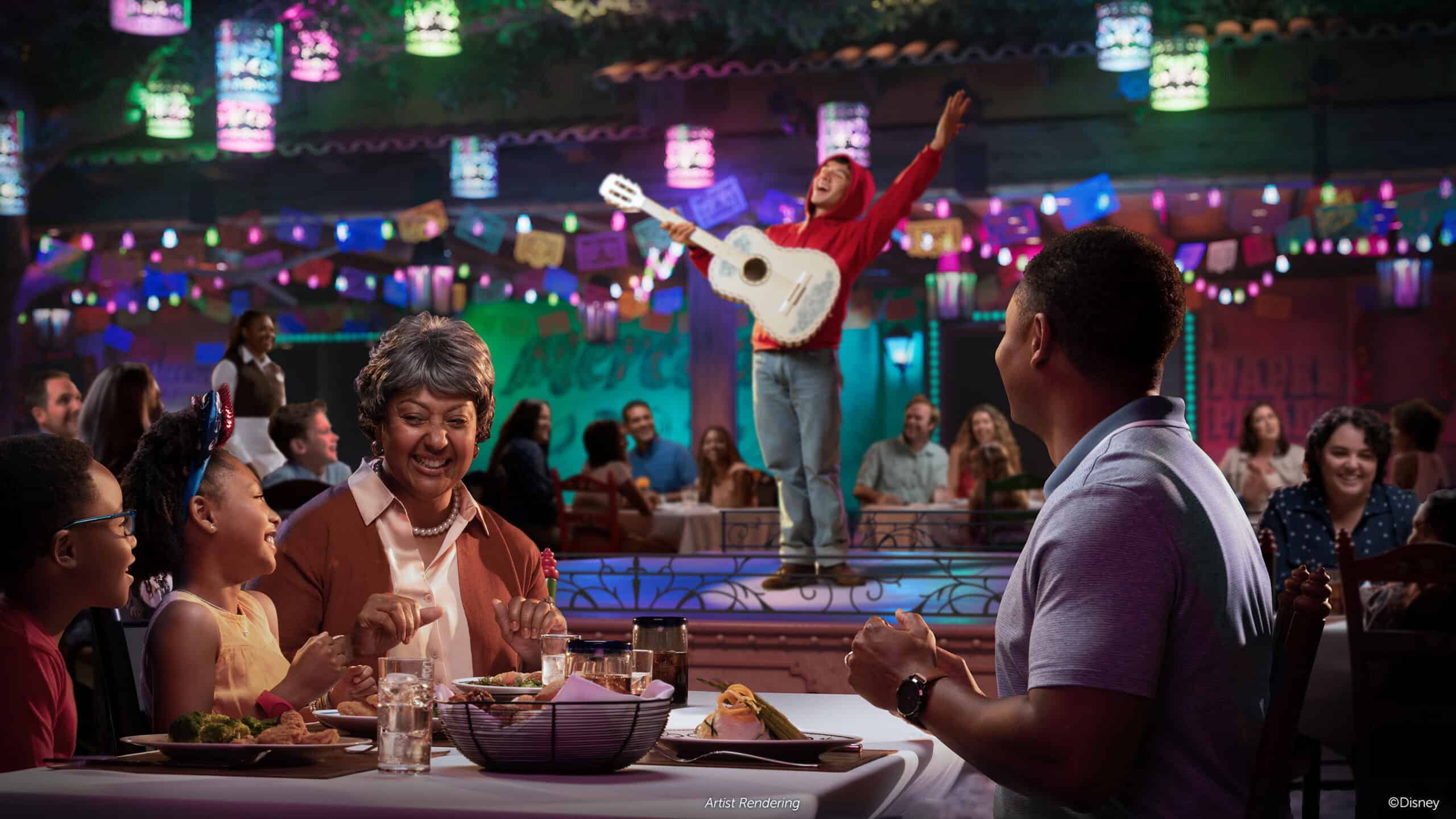 Like all DCL ships, there will also be lots of quick-service bites, casual dining, 24-hour room service, cafés, and sweet shops aboard the ship. Guests of all ages will be able to grab ice cream and treats at Zootopia-themed Jumbeaux's Sweets, and adults-only dining spaces Palo Steakhouse, Enchanté, and The Rose will make a return aboard the Treasure as well.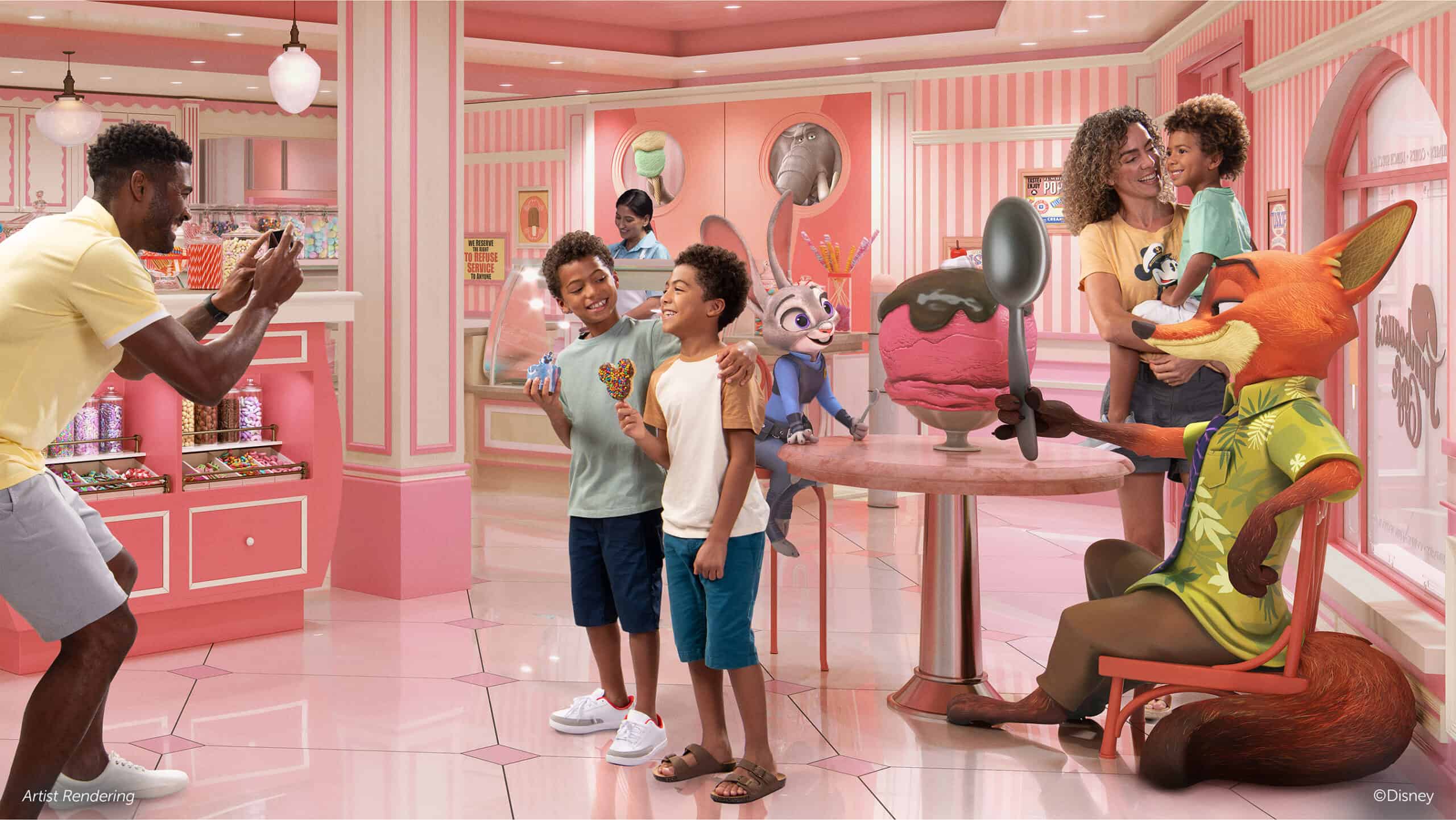 Entertainment aboard the Disney Treasure
Similar to the Luna entertainment space aboard the Disney Wish, the Disney Treasure will feature Sarabi, a hub for family and adult-exclusive entertainment named for the The Lion King character. DCL classics like "Match Your Mate" and "Family Time Game Show" will happen here, as well as new favorites from the Disney Wish like "Villains Game Night."
At The Walt Disney Theater, broadway-style shows "Beauty and the Beast" and "Disney Seas the Adventure" will appear on select nights. DCL has teased at third show that will be offered, but has made no announcement on details at this time. The Hero Zone sports competition area that's aboard the Disney Wish will reappear on the Treasure, as well as two movie theaters: Wonderland and Never Land Cinemas.
The Disney's Treasure's upper decks
Seven tiered pools and plenty of lounge chairs will be found on the upper decks of the Disney Treasure, as well as a Toy Story-themed splash area for kids like the one aboard the Wish. There will also be a Quiet Cove adults-only pool for grown-ups who'd prefer a bit of peaceful relaxation.
But the real star of pool life aboard the Disney Treasure will be the Aquamouse: Curse of the Golden Egg. The aqua coaster will plunge guests through 760 feet of winding tubes that offer views of the ocean and the deck below, as well as scenes from Mickey Mouse animated shorts. Aboard the Treasure, the shorts will show Mickey and Minnie's adventures through an ancient temple, treasure, booby traps and all.
Kid's clubs aboard the Disney Treasure
Like aboard all DCL ships, kids will be able to lose themselves in Disney magic at Disney's Oceaneer Club, immersive kid's club spaces where little ones can play and explore while their moms and dads enjoy some alone time. Programming will exist for kids of all ages: infants, toddlers, children, tweens, and teens.
At Marvel Super Hero Academy, kids will be able to channel Marvel heroes like Spider-Man, Black Panther, and Ant-Man while they hang in a high-tech Avengers headquarters. Fairytale Hall is all about the princesses, with areas like Rapunzel's Art Studio and Belle's Library.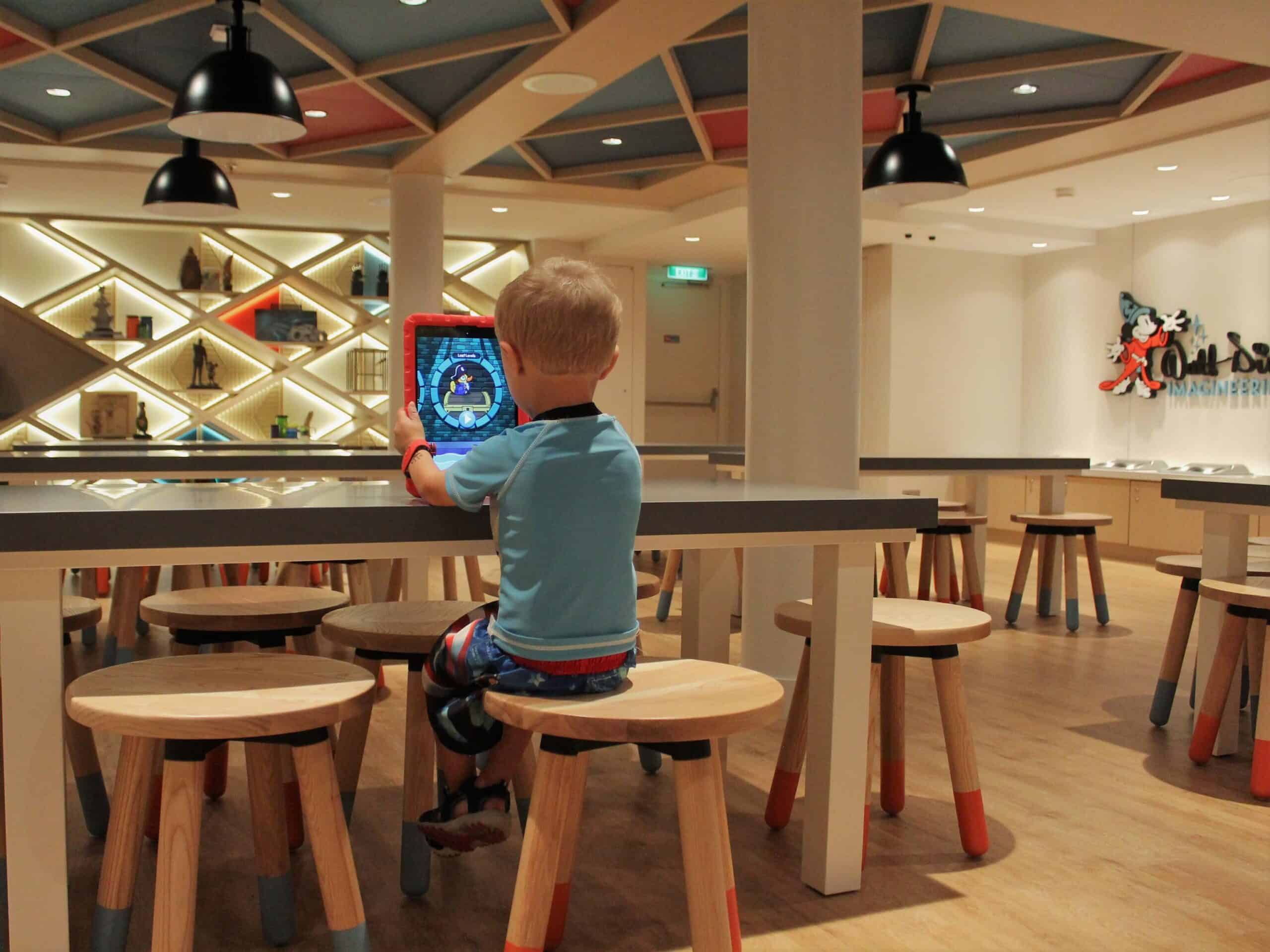 Kids can also try their hand at becoming an imagineer at Walt Disney's Imagineering Lab, explore a galaxy far, far away at Star Wars: Cargo Bay, or hang out at nautical playground area Mickey and Minnie's Captain's Deck.
Two all-new lounge areas have been announced for the Disney Treasure, both of which channel major adventure vibes. Periscope Pub, Disney's first film inspired by 1954 film 20,000 Leagues Under the Sea, will make guests feel like they're below the ocean's surface using a glass ceiling that makes the lounge appear to be under the ocean. Submarine-styled interiors will appear in the space, as well as light bites and craft beers.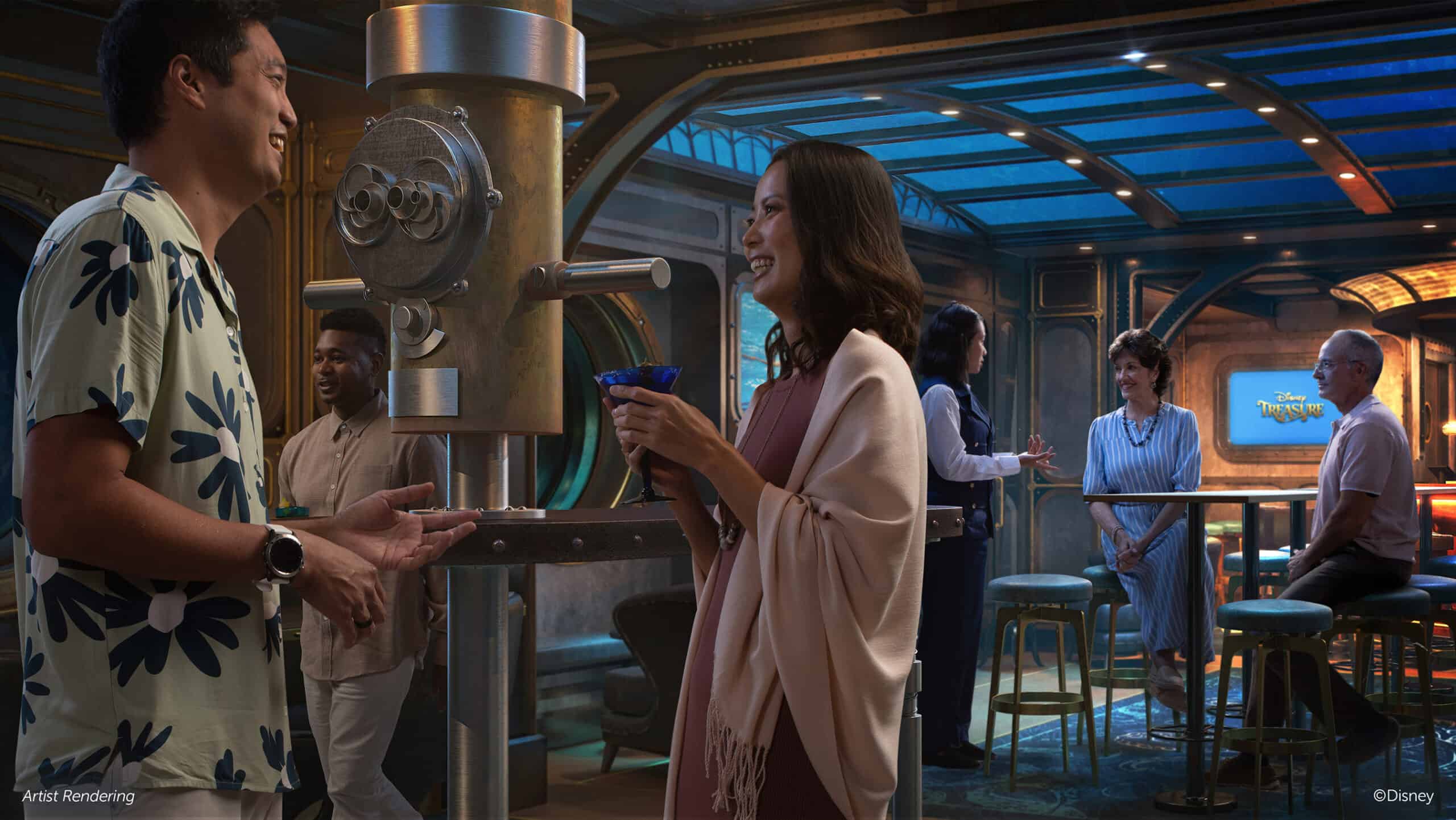 At Jungle Cruise-themed Skipper Society, which will be located centrally in the ship and feature a dense jungle for a ceiling, guests will find tributes to dry-witted jungle skippers, camp-style furnishings, and a natural color that gives the same vibes as the iconic attraction. Here light snacks and themed cocktails will be served.
LEARN MORE about Disney Treasure's new lounges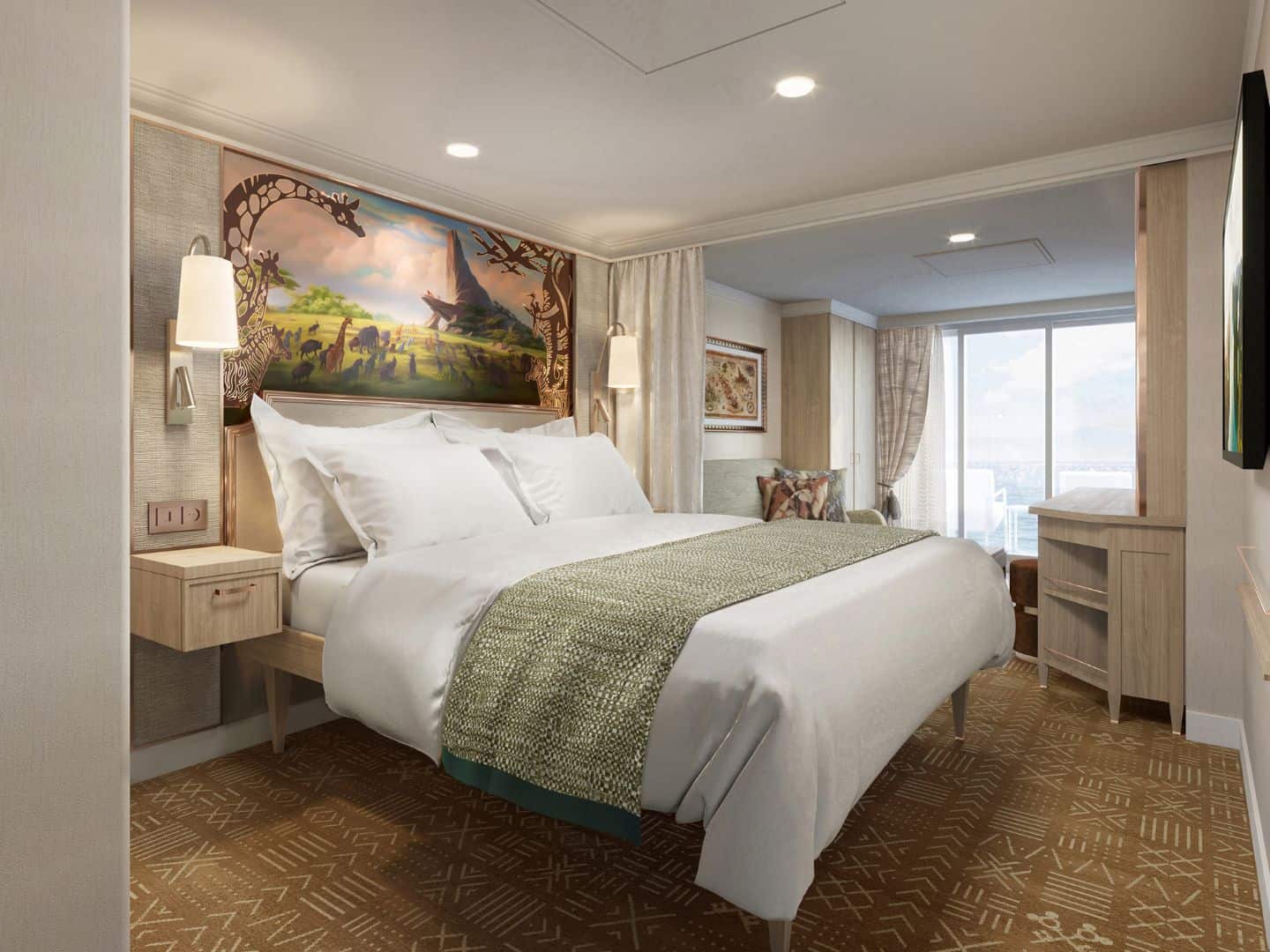 Staterooms aboard the Disney Treasure
Where the Disney Wish's staterooms were designed with Disney Princesses in mind, the Treasure's decor will be all about adventure. Most staterooms will include Disney's split-bath concept, meaning there will be a bathtub in each. The ship also has more than 450 connecting doors for families traveling in large groups. Concierge-level suites will feature interiors themed around the grasslands of The Lion King, but details on regular stateroom decor has yet to be revealed.
Other more extravagant suites will be themed around everything from Bagheera from The Jungle Book, Rajah from Aladdin, and Disney Parks' EPCOT theme park.
You can explore the Disney Treasure map online and as more details are announced we will be sure to provide updates!