Exciting New Rides and Shows Coming to Walt Disney World
It's an exciting time at Walt Disney World with so many new rides, new experiences, and more opening for your family to experience! So, let's dive in and explore all that's new at Walt Disney World's theme parks and resorts!
New Ride at Magic Kingdom: TRON Lightcycle / Run
The FASTEST coaster at Walt Disney World officially arrives on April 4, 2023. Our team got to step into The Grid early.
We spoke with Missy Renard, Creative Director at Walt Disney Imagineering during our preview. "I've taken my 12 year old on it, she absolutely loves it. People from all age groups love it. We recently had a 74-year-old guest ride it, so it spans all age groups – as long as the height requirement is met" explained Missy.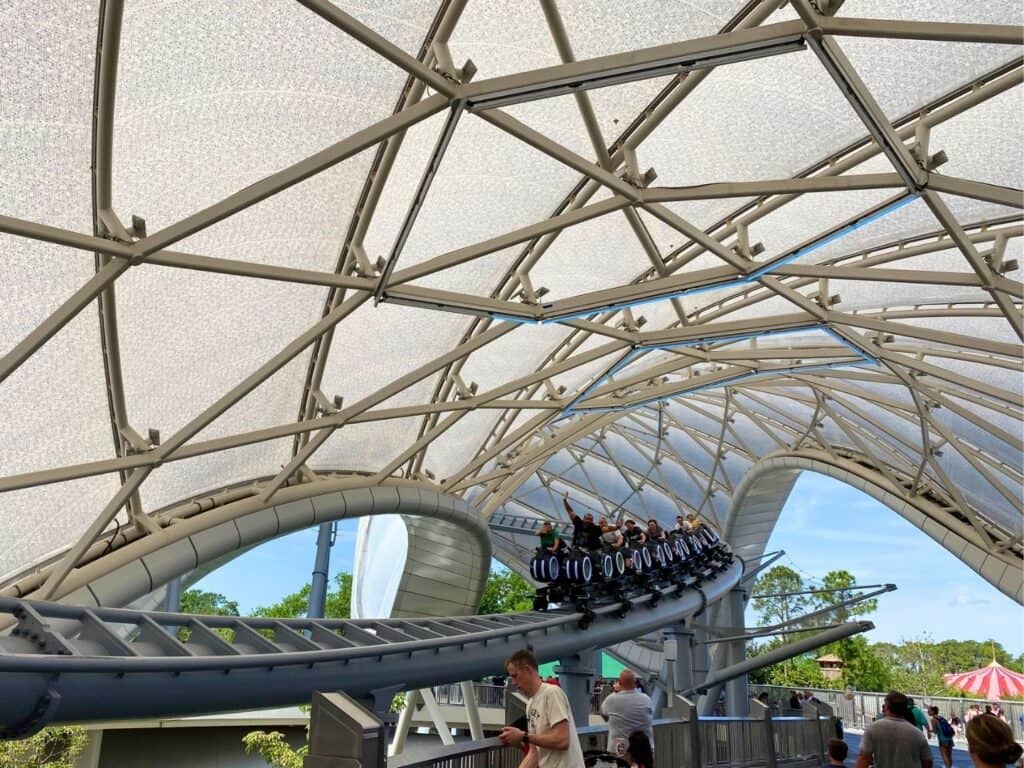 Besides being super fast it is a multi-sensory experience. So what will your kids think of it? And what do parents need to know about Disney's new TRON coaster?
For details on how to experience this new ride, check out our Parent's Guide to TRON Lightcycle / Run.
New Ride at EPCOT: Guardians Of The Galaxy: Cosmic Rewind
Epcot just keeps getting better. The NEW Guardians of the Galaxy: Cosmic Rewind ride is receiving lots of early hype. We talked with Kevin Doxey, Show Set Designer at Walt Disney Imagineering, during the ride's media preview. "The overall experience, especially in the Phase Chamber [the preshow area before the ride], when I was working on it and thinking about it, the kids are going to think they've been teleported to space."
What other rides are similar?
This new Walt Disney World ride is unlike any other. Still, it helps to relate it to other experiences. Kevin Doxey, also helped us understand how Guardians of the Galaxy: Cosmic Rewind compares to other Disney rides. "It's a little bit more than Big Thunder Mountain and Space Mountain. But the ride vehicle is very comfortable, you have a lot of room," replied Kevin.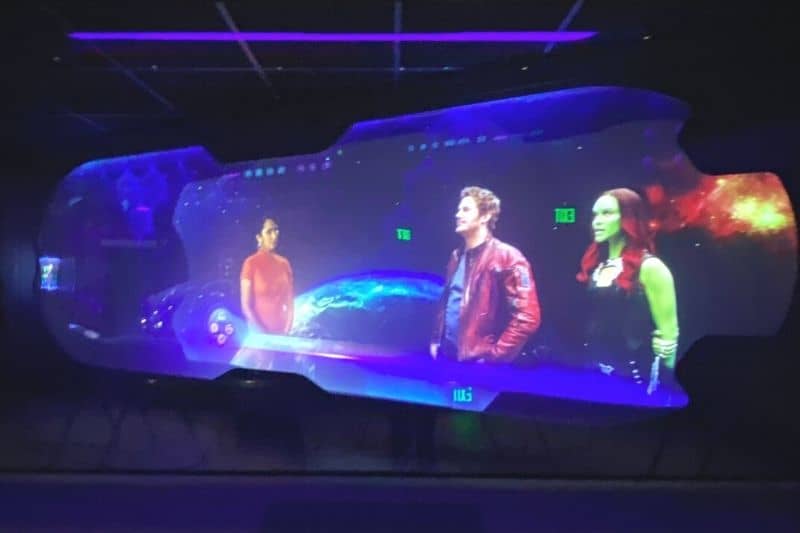 For details on how to experience this new ride, check out our Parent's Guide to Guardians of the Galaxy.
EPCOT Continues to Evolve
The new rides at Epcot are lots of fun, but they take some planning to be able to check off your Disney bucket list.
Although Remy's Ratatouille Adventure, Creations Shop, Connections Eatery, Space 220 Restaurant, and now Guardians of the Galaxy: Cosmic Rewind are all now open, there is more to come.
Journey of Water – Inspired by Moana opens fall 2023 and will flow into Epcot allowing guests to play with water in its many forms. This will be in the World Nature section of the park, formerly known as Future World West, near The Seas with Nemo and Friends. And will open in fall 2023.
Journey of Water will also feature a 16-foot tall statue of Te Fiti, the Mother Island in the movie Moana. Attendees at this year's D23's convention got a look at a model of the statue.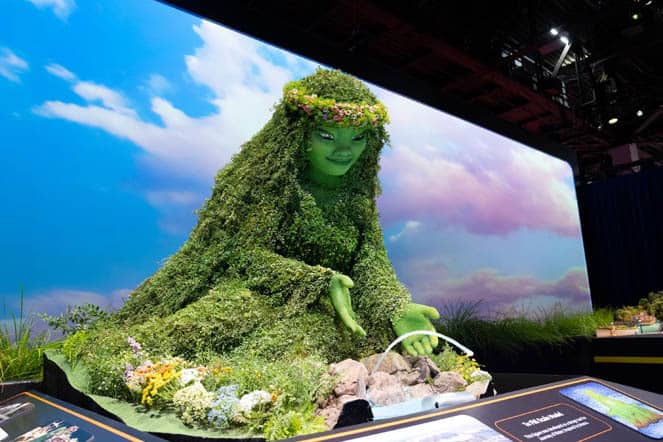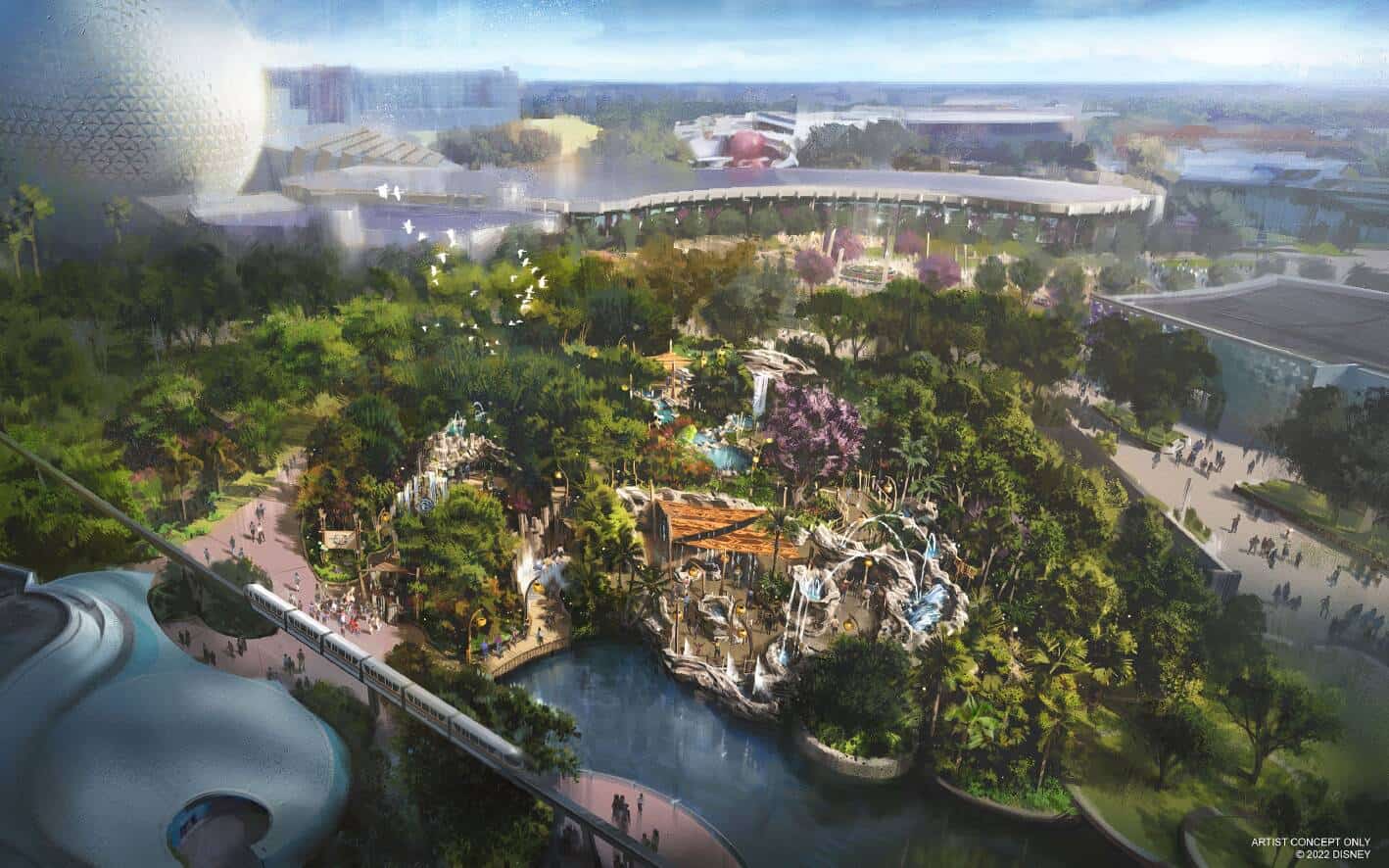 Want more Moana? She is now confirmed to come to Disney's Animal Kingdom! Beginning April 22, 2023, Moana will greet fellow voyagers on Discovery Island at Disney's Animal Kingdom Theme Park – just in time for the park's 25th anniversary!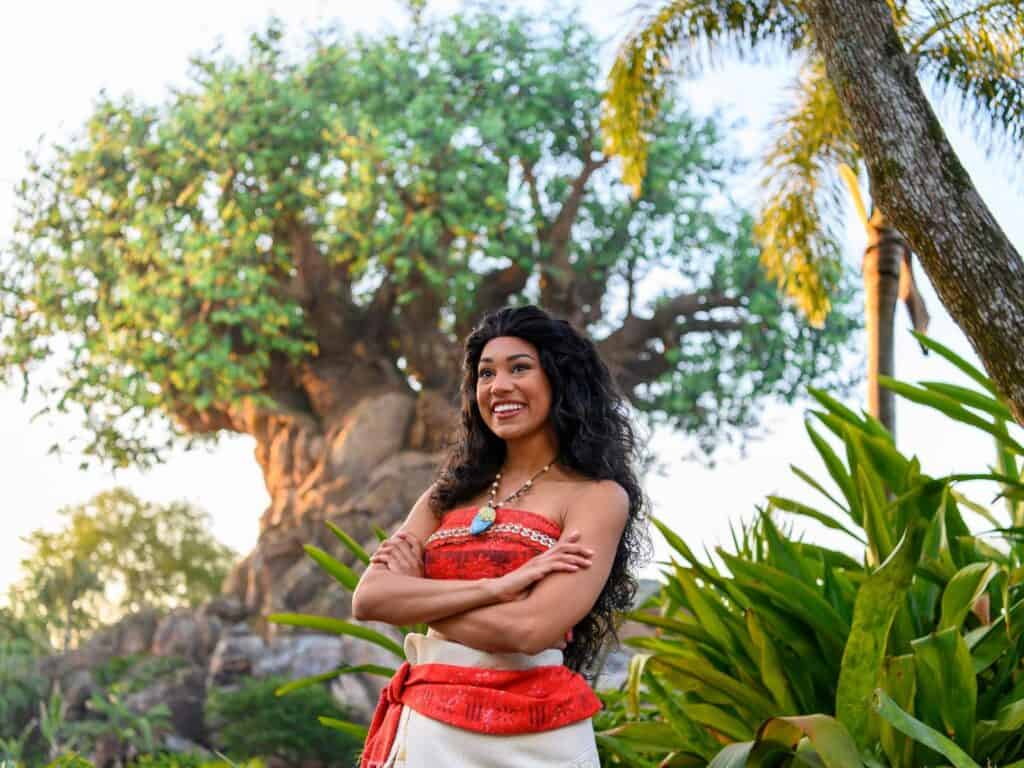 There will also be new EPCOT gardens and a festival plaza with a dedicated space for festival events and seminars. This is the heart of the park. Communicore Plaza utilizes a name that pays tribute to EPCOT's early days. Guests will enjoy a modern space, both indoors and outdoors, built to host a variety of events in connection with Epcot's International Festivals held throughout the year.
Related: A Parent's Guide to EPCOT International Flower and Garden Festival 2023
We spoke with Zach Riddley, Portfolio Executive, New Experience Development with Walt Disney Imagineering about this new space. "We really envision this as a park-like setting with multiple gardens, each has its own character, but the really unique element is that throughout the seasons the space is built to transform and host our international festival program," Zach Riddley explains.
Long-time fans of Epcot will appreciate the touches that pay tribute to the park's early days. "At the heart of the park, we've got a brand new planter location that is inspired by the five-ring logo of Epcot. But what's really unique and one detail I love is we're bringing in this illuminated pavement detail so at night you're actually getting the effect, and this is actually inspired by something that lived at Epcot before," shares Zach.
Communicore Plaza will also be home to a new Mickey and Friends character greeting area. No date has been announced for these projects.
Disney Character Meet and Greets are BACK
Most character meet and greet experiences are back to normal, including hugs and autographs. And Disney character dining is back too!
We've got Tips and Tricks for the Best Disney Character Dining, including what to do if you can't get a reservation, and other kid-friendly alternatives.
Just announced, Figment the dragon will have a meet and greet location at the Imagination pavilion sometime in 2023.
Mirabel from Encanto Debuts at Magic Kingdom
Fans of the hit movie "Encanto" have been waiting on a miracle in hopes more experiences featuring the new characters they love would begin appearing at Walt Disney World. Mirabel joins the "Disney Adventure Friends Cavalcade" at Magic Kingdom.
Mirabel appears alongside other adventurous Disney characters like Miguel from "Coco," Nick and Judy from "Zootopia," Max, Goof, Moana and more.
And better yet, this fall, Mirabel will greet guests in Fairytale Garden surrounded by whimsical décor inspired by La Familia Madrigal!
More Live Entertainment Returns
Fantasmic! returned on November 3, 2022.
Find out if Fantasmic! is good for young kids, as well as important time-saving tips with our guide to Fantasmic!
Finding Nemo The Musical returned on June 13, 2022, over at Animal Kingdom with a splashy new story, and shorter show time.
We spoke with James Silson, Show Director at Walt Disney World Entertainment about what is different about this new version, known as Finding Nemo The Big Blue and Beyond. "Our show takes place in the timeline of the movie Finding Dory. At the end of that film, there's a moment where we see the fish from Dr. P. Sherman's office in plastic bags in the bay get rescued and taken to the Marine Institute, well that's where our story begins. Those fish are now being released back into the ocean, and they're inspired to share their story as to how they came to be in the Marine Institute," explains James Silson.
Also at Animal Kingdom, Festival of the Lion King is back! This means the return of tumble monkeys, aerial acts, and more!
More Magic at Magic Kingdom
In mid-2022 the Festival of Fantasy parade proudly returned to Magic Kingdom, as well as Mickey's Magical Friendship Faire show on the stage at Cinderella Castle.
The parade is performed twice a day, starting in Frontierland at 12 p.m. and 3 p.m., and making its way down Main Street.
Character cavalcades featuring Mickey and friends still take place at scheduled intervals throughout each day. These cavalcades are best seen at the hub around Cinderella Castle so you can get a 360 degree view. And, this is a great alternative to seeing the Disney characters without the longer wait and longer performance time of the full parade.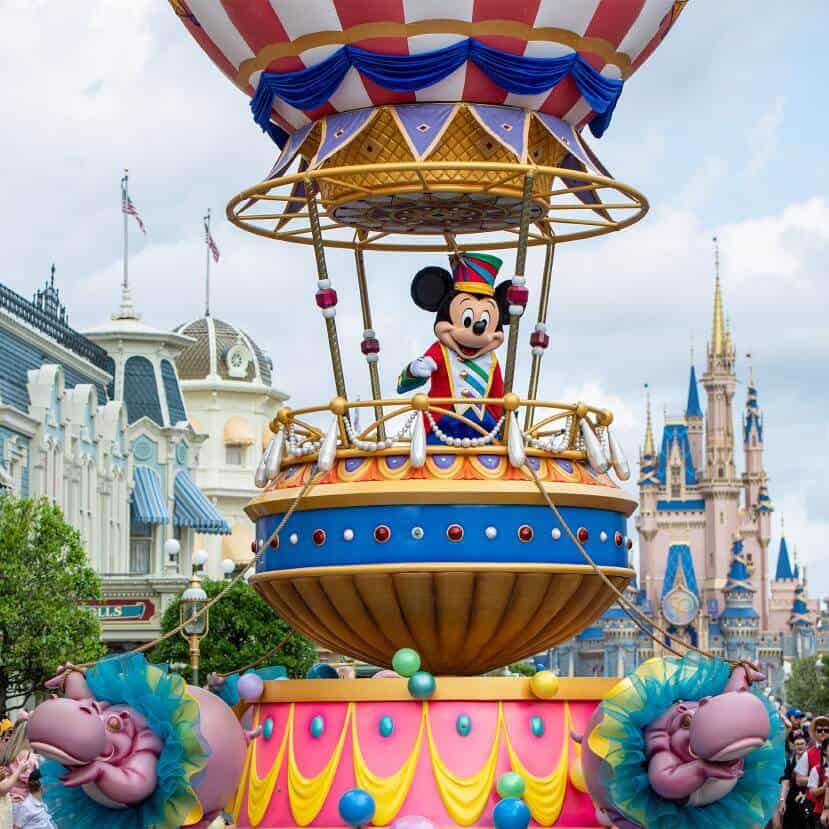 Minnie Mouse now joins Mickey in Town Square Theater at Magic Kingdom Park. Both will be ready for hugs and photos in their EARidescent fashions designed specifically for the Walt Disney World 50th Anniversary celebration
Magic Kingdom's new rides
More magic is to come with Tron Lightcycle / Run now in previews runs and has an opening date of April 4, 2023. This coaster has been much anticipated and it brings thrilling energy to Magic Kingdom.
Splash Mountain is now closed to make way for Tiana's Bayou Adventure in 2024. Look for a new water tower as part of the new ride's story to show up on the former Splash Mountain attraction some time this summer 2023.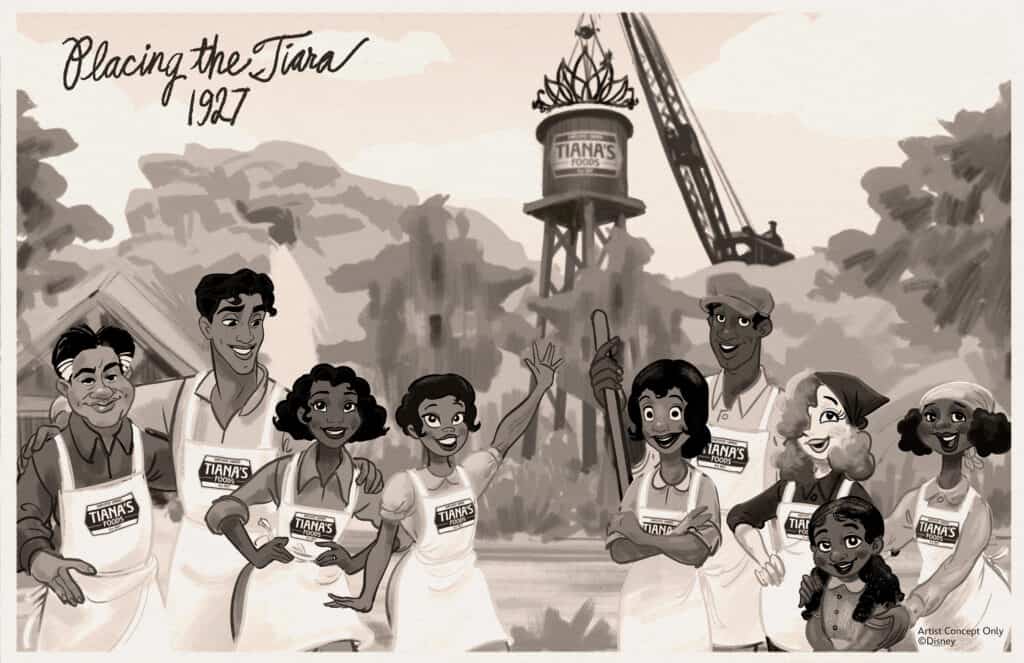 Just announced at the D23 Expo – The Hatbox Ghost, a beloved character in the original version of Haunted Mansion at Disneyland in California will debut at Walt Disney World's Haunted Mansion in 2023.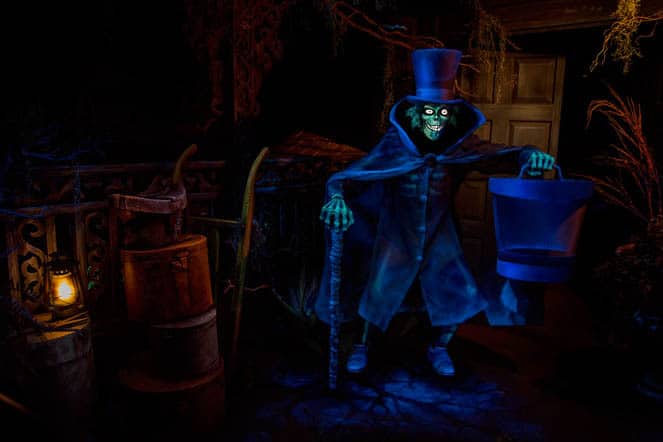 Big Thunder / Magic Kingdom Expansion
And a HUGE announcement from the D23 Expo – Characters and experiences from the movies "Coco" and "Encanto" are potentially coming to Frontierland in Magic Kingdom. And a concept that was first rumored among Disney fans decades ago, a Villian mountain-type experience may also come to life. The Disney Villians will have their own area as part of this expansion of Frontierland and Big Thunder Mountain area.
No dates or confirmed construction for these potential projects have been announced. Disney executives shared concept art with D23 Expo attendees in September 2022.
Fireworks Spectaculars
There are new fireworks shows at Magic Kingdom and Epcot, but you can view these spectaculars without a park ticket. This guide to Viewing Fireworks Outside the Parks will help you find a good spot.
Important Reminder! Park Pass Reservations continue to be required to enter any Disney World theme park.
Disney Enchantment debuted Oct. 1 as the new nighttime spectacular at Magic Kingdom. The 15-minute show includes fireworks, light projections and of course familiar Disney tunes. There's also a catchy, original new song that will be hard to get out of your head. And a new scene paying tribute to Walt Disney and his brother Roy O. Disney recently debuted. There are so many great spots to watch this show, including anywhere on Main Street where you'll get a front-row seat to the light show on the buildings there.
Just announced at the D23 Expo – the previous fireworks show "Happily Ever After" will return on April 3, 2023.
EPCOT also debuted a new nighttime show in celebration of Walt Disney World's 50th anniversary celebration. World Showcase Lagoon is brought to life in this 20-minute show that combines floating giant screens, fountains, lights, pyrotechnics and lasers in a 360-view. The show is one of the largest nighttime spectaculars ever created for Disney Parks. Classic Disney characters making an appearance include Moana, The Lion King, Coco and many more.
Just announced at the D23 Expo – EPCOT will receive a different nighttime show after the conclusion of the 50th anniversary celebration.
Toy Story at Disney's Hollywood Studios
Since opening in 2018, Toy Story Land in Disney's Hollywood Studios has been one of the most popular areas visited in Walt Disney World. The land is visually appealing and transforms guests into the legendary movie franchise.
It also houses one of the best attractions – Slinky Dog Dash. The family-friendly coaster is a blast for all guests at least 38-inches tall. This is one of the attractions you can purchase a Lightning Lane for.
As of now, the only option for food in Toy Story Land is Woody's Lunch Box, a walk-up counter restaurant. Pro-tip: be sure to mobile order well in advance here. This is one of the busiest dining locations in the park.
Rustle up some tasty BBQ fare at this all-new western themed restaurant while you experience the world through the eyes of Andy's toys. Guests will be surrounded by Andy's rodeo at play with everything from western towns to train station playsets. You'll also encounter popular character decorations including a larger-than-life display of Jessie riding the back of a Trixie pull-toy and view a scene of Bo Peep and her sheep posed to perform at the rodeo.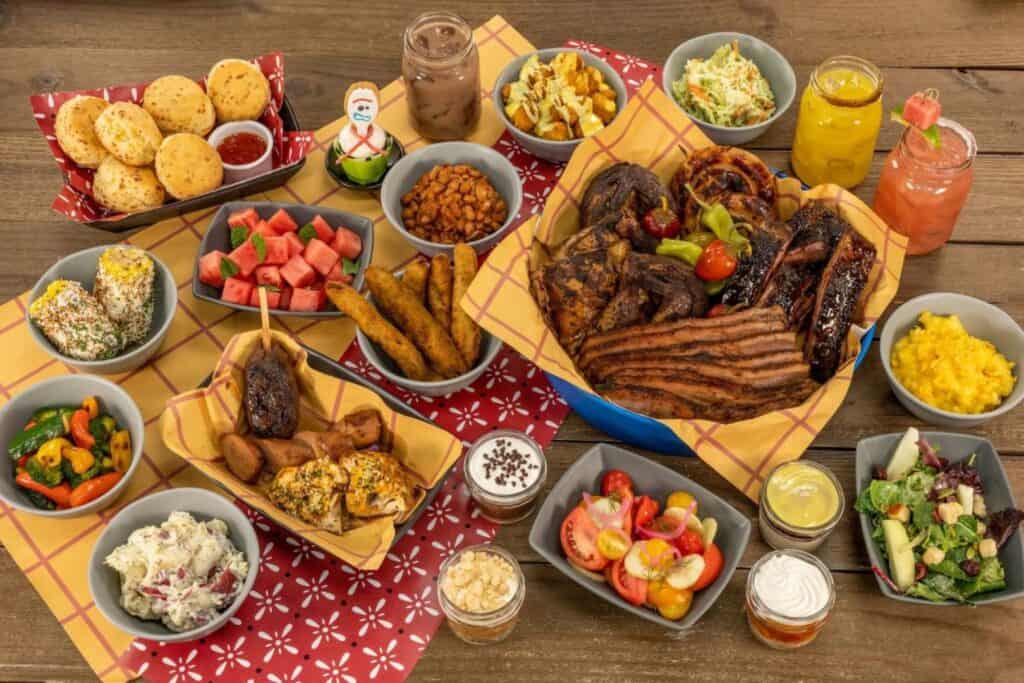 Lunch and dinner will include pre-fixe menus ($25 per child ages 3-9/$45 per adult).
Entrees come served with The Prospector's Homemade Cheddar Biscuits with Sweet Pepper Jelly, salad, sides, and main dishes include a choice between a platter of house-smoked meats or plant-based items.
Star Wars at Hollywood Studios
Although geographically it's right next to Toy Story Land, you may as well be in another galaxy. Star Wars: Galaxy Edge is truly an all-immersive experience that contains, in many people's opinion, the best attraction on property.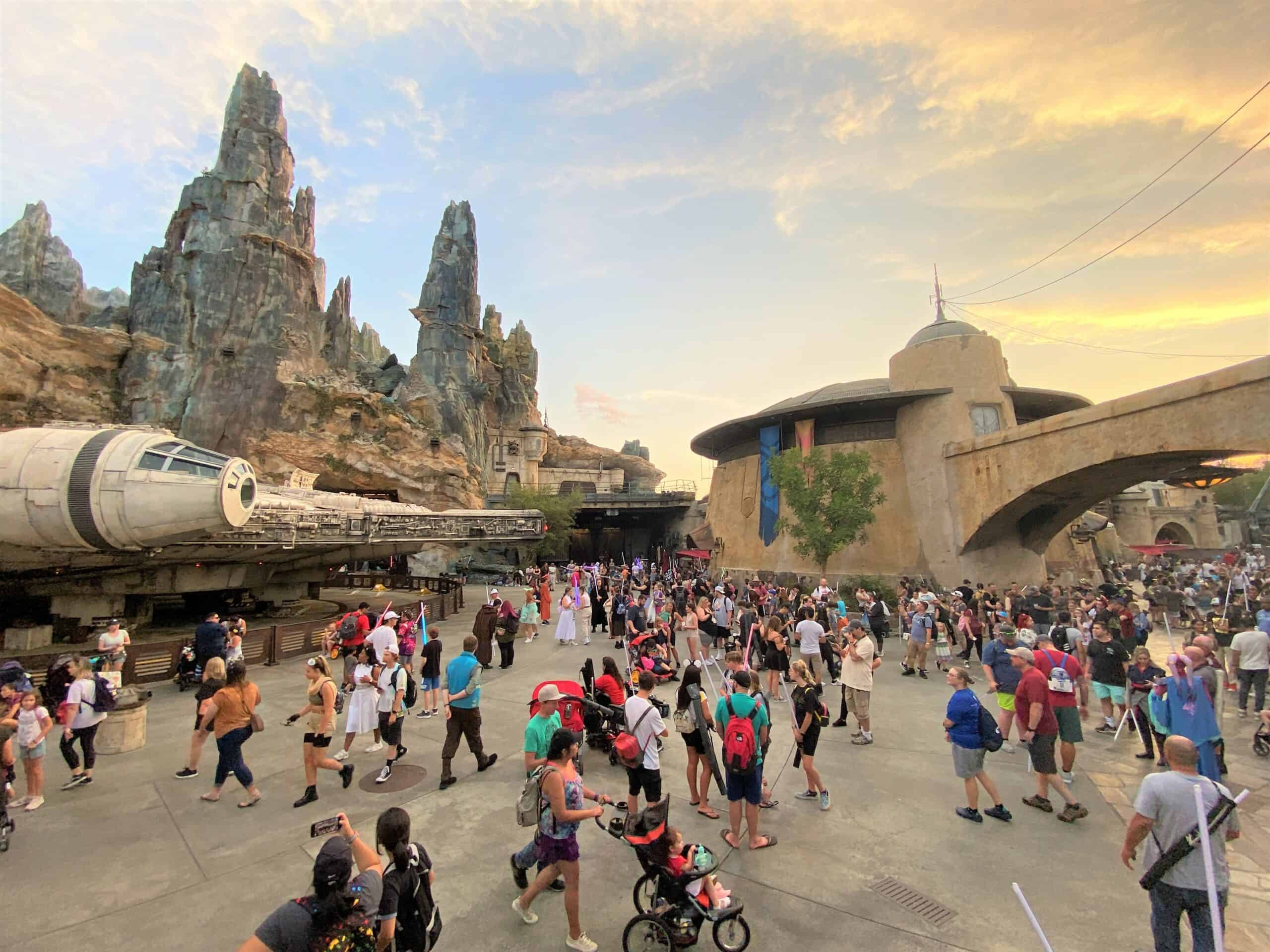 Rise of the Resistance is a roughly 20-minutes experience that begins in the queue. Open to guests 40-inches and taller, this is another Lightning Lane option. However, this big-ticket item goes fast. If you don't snag a Lightning Lane for this one, keep checking availability throughout the day or be prepared to wait in a long stand-by line.
Star Wars Launch Bay now reopened! A celebration of the legendary space saga, Star Wars Launch Bay is your place for a warm embrace with Chewbacca, a face-to-droid encounter with BB-8 or a run-in with Darth Vader himself for those brave enough.
Unforgettable Voyages Aboard the Galactic Starcruiser
Star Wars fans continue to enjoy an expanded universe at Walt Disney World. The Star Wars Galactic Starcruiser embarks on two-night experiences that are fully immersive, and unlike anything else in the galaxy. Plus, on the second day of the voyage passengers enjoy priority access to Rise of the Resistance and Millennium Falcon: Smuggler's Run inside Galaxy's Edge.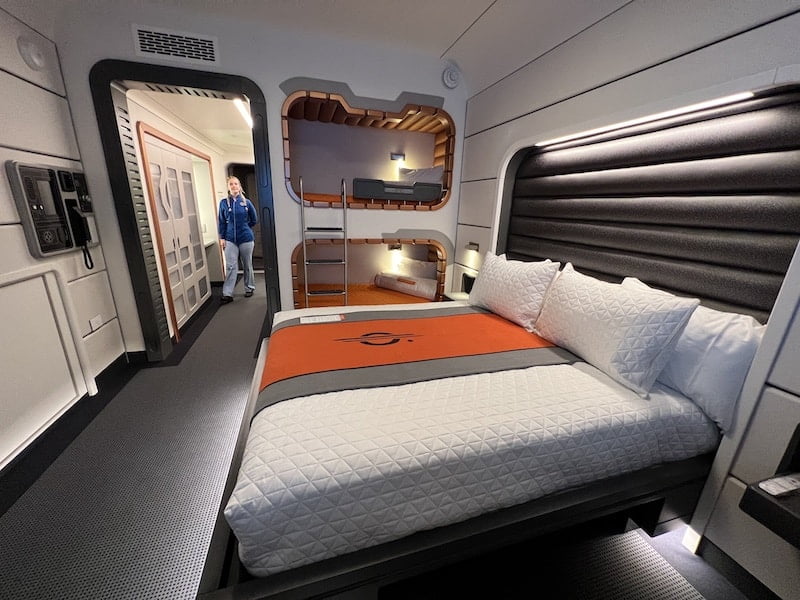 Blizzard Beach features a new "Frozen" theme
Disney's Blizzard Beach Water Park reopened in November 2022 with new additions from the Walt Disney Animation Studios film 'Frozen'.
The new Frozen features are part of the kid-sized thrills of Tike's Peak that's popular among young guests who will delight in the statuettes of Olaf and his Snowgie pals in the warm wading pool, as well as Anna and Elsa's igloo castle.
Disney's Blizzard Beach will be closed for the season on March 19, 2023 as Disney's Typhoon Lagoon reopens.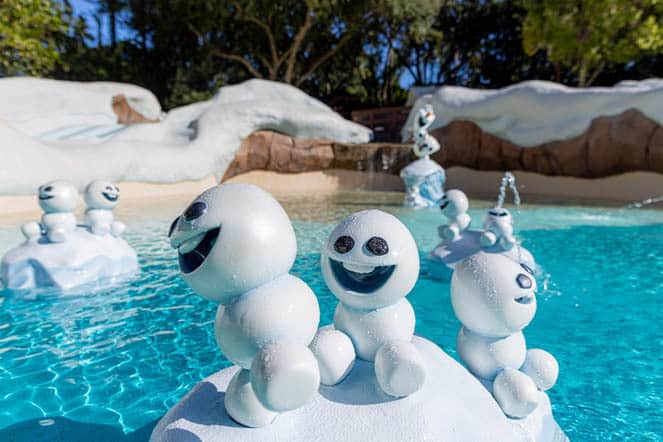 ---
If you enjoy learning how to "theme park like a local" you'll enjoy OrlandoParenting.com. Our group of Orlando local parents will keep you up to date on Orlando things to do with your family. The same local focus you enjoy from us will be found at Orlando Parenting, launching soon!