Let's Play! Our Favorite Parks and Playgrounds in Tampa Bay
There are so many amazing places to play in Tampa Bay! We rounded up some of our top picks of our favorite playgrounds in Tampa Bay, along with some help from our friend and busy mom of 3, Heather Overton DeManche.
So, pack those drinks and snacks, get outside with your kiddos, and get ready to have the BEST DAY EVER!
Playgrounds in Hillsborough and Pasco Counties
1001 North Boulevard, Tampa, FL 33606
Julian B Lane Riverfront Park is one of our favorite additions to the Tampa Bay area in the last few years. It is expansive, covering 25 acres along the Hillsborough River. The splash pad and covered playground are kid-friendly favorites, but there are so many more things to do! The park also features tennis and pickle ball courts, basketball courts, kayaking, a football field and more!
12292 Glencliff Cir, Westchase, FL 33626
Featuring a gated and more contemporary style play area, this recently renovated park in the Westchase area offers a rope structure, rotating climbers and swings under a aerodynamic sunshade. The park also features a basketball court, soccer fields and a nature preserve featuring a trail.
10020 Bridgeton Dr, Tampa, FL 33626
Baybridge Park is in the heart of Westchase and is designed for kids of all ages. There is a smaller shaded structure geared towards toddlers and smaller children and a larger structure for older kids all set on a padded ground for comfort. There are also two sets of swings, a climbing structure, and a large field with pavilions and picnic tables.
106 E Sligh Ave, Tampa, FL 33604
Located in the heart of Seminole Heights, American Legion Park has been a favorite of locals for many decades and offers visitors a fully shaded experience from the abundance of mature trees.  The park offers two play structures and swings, but the main draw is the nearly life sized, old fashioned fire truck.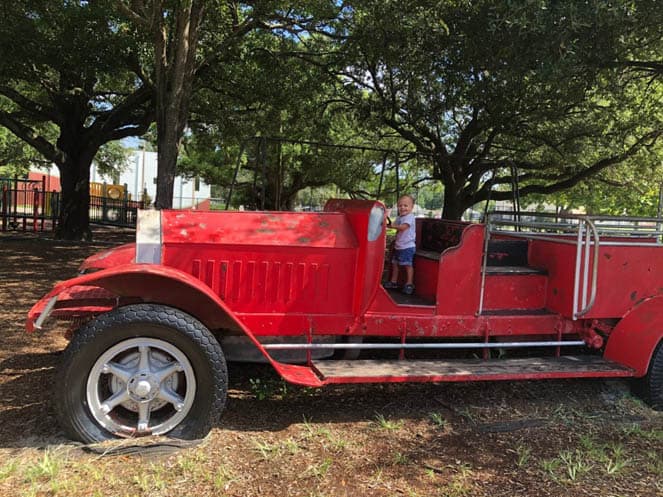 821 S Rome Ave, Tampa, FL 33606
Nestled in the heart of Soho and surrounded by large trees, Anderson Playground offers fun and shade for visitors.  Featuring two playground areas, swing sets, a multi-purpose court, garden and splash pad area, this urban park offers something for everyone.
5300 Interbay Blvd, Tampa, FL 33611
Located on Tampa Bay, Ballast Point Park offers a two-story playground and a smaller play area with a roller slide for toddlers. The park also features a splash pad area, a famed fishing pier, on-site seafood restaurant and lastly, magnificent views of the bay!
155 Columbia Dr, Tampa, FL 33606
Completely covered by large oak trees, Davis Islands Park offers two sets of play areas for younger and older visitors.  The park is also adjacent to the Bayshore little league fields and a short walk to the Davis Islands Marina, which houses the Tampa Fire Rescue Boat and the Tampa Police boats.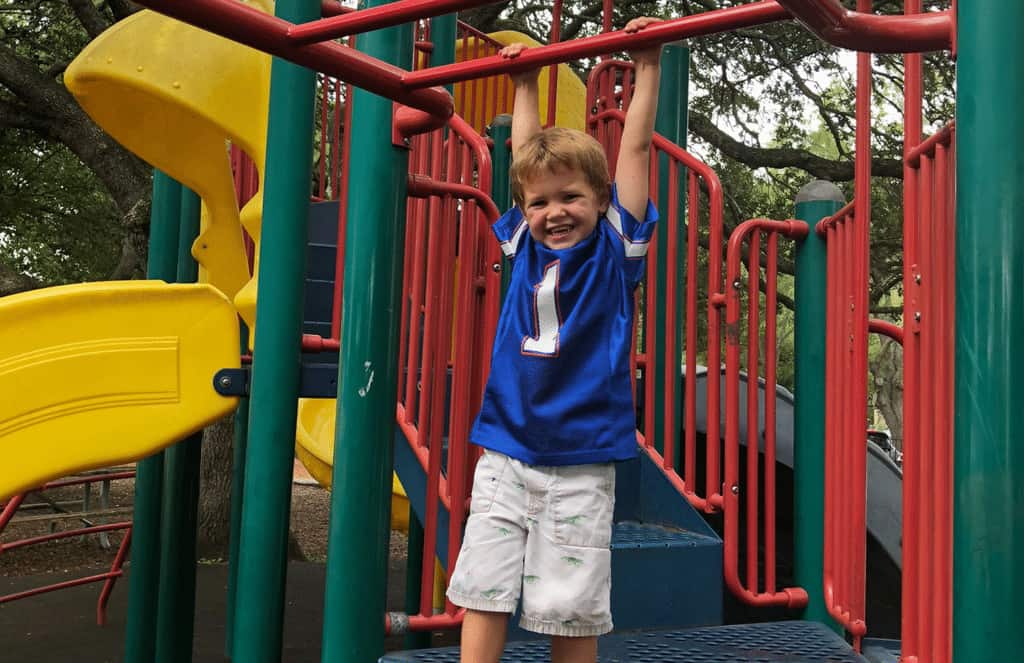 4810 N Himes Ave, Tampa, FL 33614
Within walking distance of Raymond James Stadium, Al Lopez Park is a terrific outing option right in the heart of west Tampa. The park offers three playgrounds to visitors, along with a nature trail and pond which permits fishing too!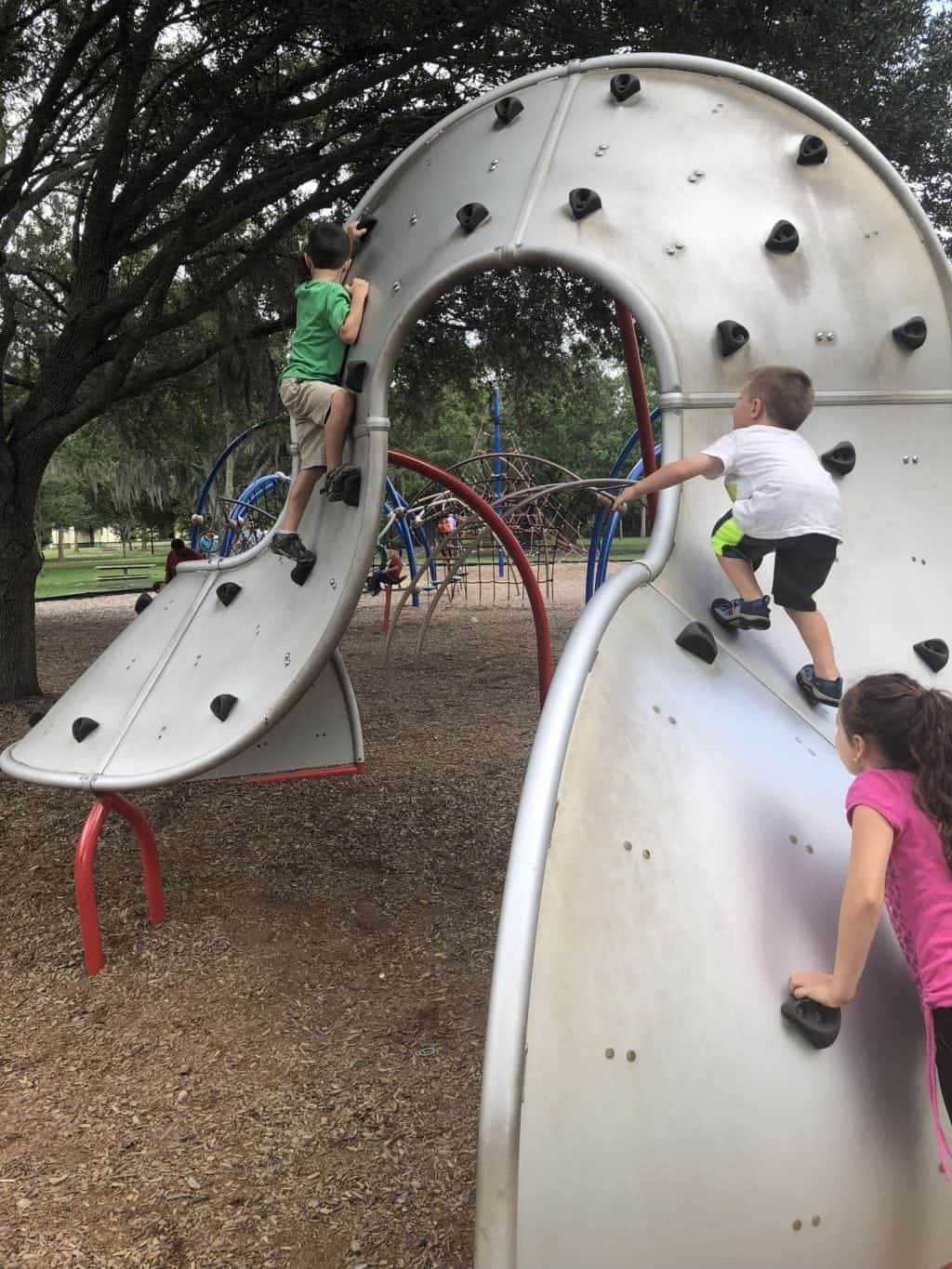 4680 West Village Drive, Tampa, FL 33624
Amenities at this park include a skatepark, dog park, playground, splash pad, and more. There are outdoor chess boards and ping pong tables, walking trails, corn hole, and a challenge course.
1710 N Highland Ave, Tampa, FL 33602
This riverfront park has open green spaces, covered and shaded picnic areas, a dog park, splash pad, and playground for kids. The playground features a jungle gym with slides, a dolphin teeter-totter, a rope climber with a crows nest pirate tower, and much more. The grounds are padded for extra comfort and safety.
Northdale Park and Recreation Center
15550 Spring Pine Dr, Tampa, FL 33624
Located in the greater Northdale area, this neighborhood park features a playground, basketball courts and a large field for kids to burn off their energy.  It also has a shaded swing area which features a popular sibling swing.
6341 Bank St., New Port Richey, FL 34652
This waterfront park has a large play area with shade, an amphitheater, open green space, pavilions and a paved path. There is also an ADA Accessible Canoe and Kayak launch. When the little one are ready to cool off, there is also a splash pad area for them to run around in.
Playgrounds in Pinellas County
R.E. Olds Park
107 Shore Dr W, Oldsmar, FL
This waterfront park on North Tampa Bay is a short drive from Westchase and offers visitors a shaded experience due to the large number of mature trees.  With a pirate themed play structure, a dock and an amphitheater, the park boasts plenty of room for kids to play.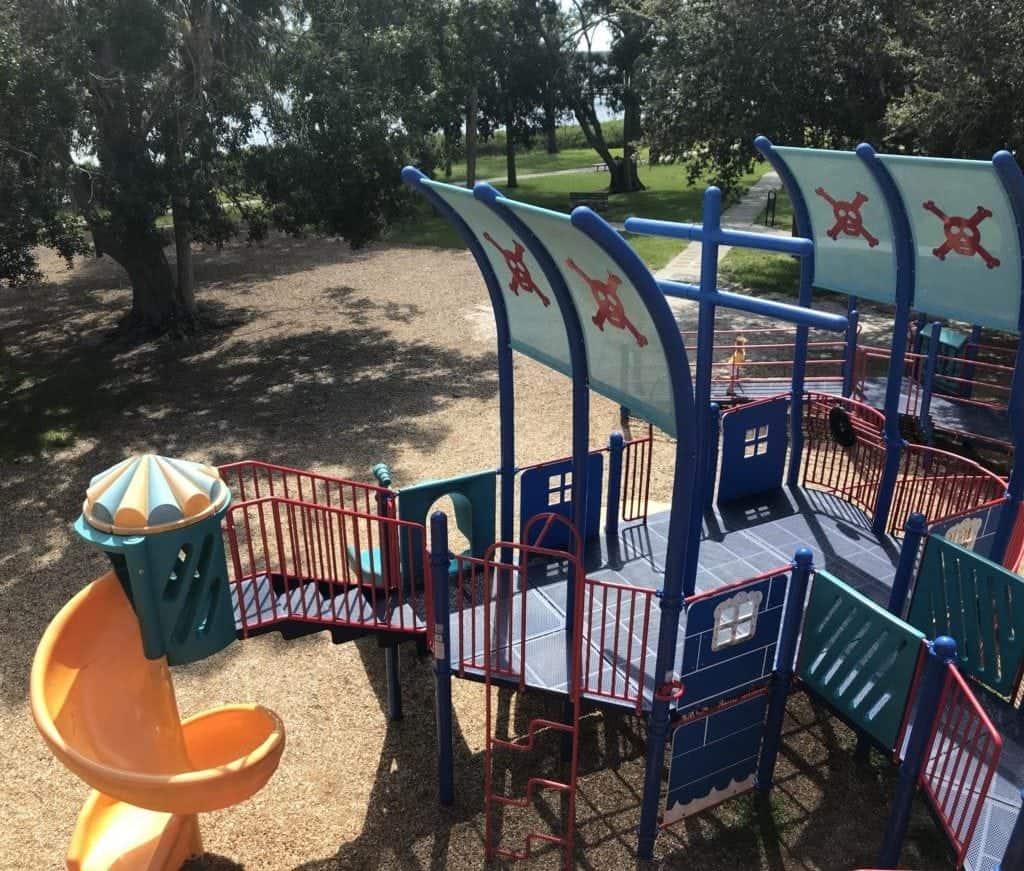 Highlander Park (Kiwanis Sprayground)
1940 Ed Eckert Dr, Dunedin, FL 34698
This park is worth taking a day trip to experience as it features one of the best splash pads in the region. The enclosed splash pad is adjacent to a fully shaded pocket playground featuring soft turf flooring. The nearby Highlander Pool is a fee based pool ($3/per person) and is open seasonally from May through September and features both a large main pool and children's training pool.
Josiah Cephas Weaver Park
1258 Bayshore Blvd, Dunedin, FL 34698
A great playground for younger children, Josiah Cephas Weaver Park located in Dunedin has a whimsical woodsy themed playground with a soft turf flooring replicating grass. The parks location is also only a short walk to a small gulf pier.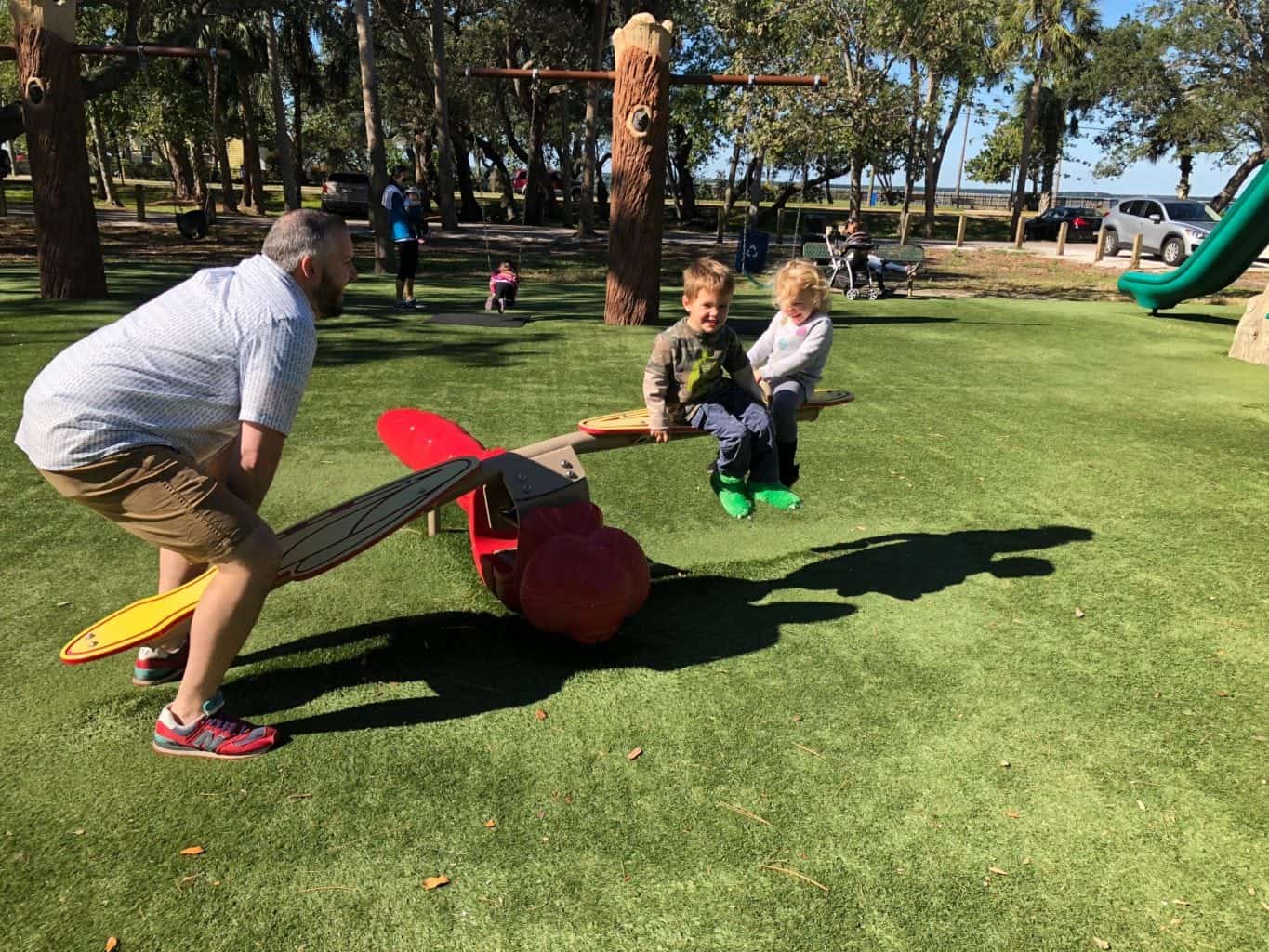 Pier 60 at Clearwater Beach
1 Causeway Blvd, Clearwater, FL  33767
Play at one of the top beaches in the world and then head to the covered playground for even more active fun! There are two covered play pavilions right by the pier which is a great way to seek shelter from the sun.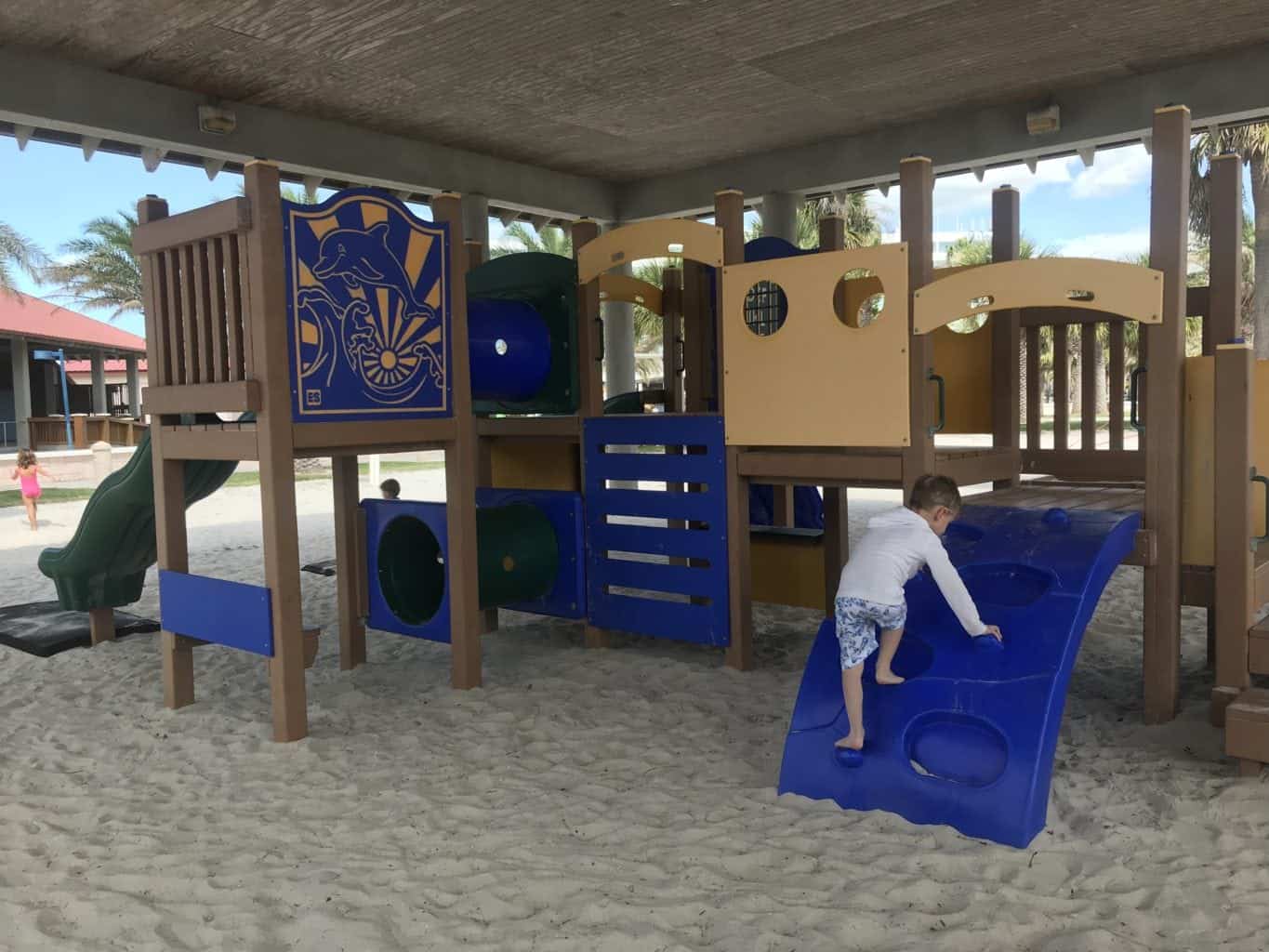 Boyd Hill Nature Preserve
1101 Country Club Way South, St. Petersburg, FL  33705
The popular preserve recently added a natural playground featuring playground equipment your kids love like a slide and climbing structures all made out of African wood. This is a great place to visit to allow your kids a chance to connect with nature while playing in the park!
101 Central Park Drive, Largo, FL 33771
This 70-acre park has a one-acre playfield, over 1,000 shade trees, a giant great lawn space, and even a disabled-friendly playground. On the first Saturday and Sunday of every month, visitors can take a ride on the miniature Largo Central Railroad that circles 1.2 miles around the park.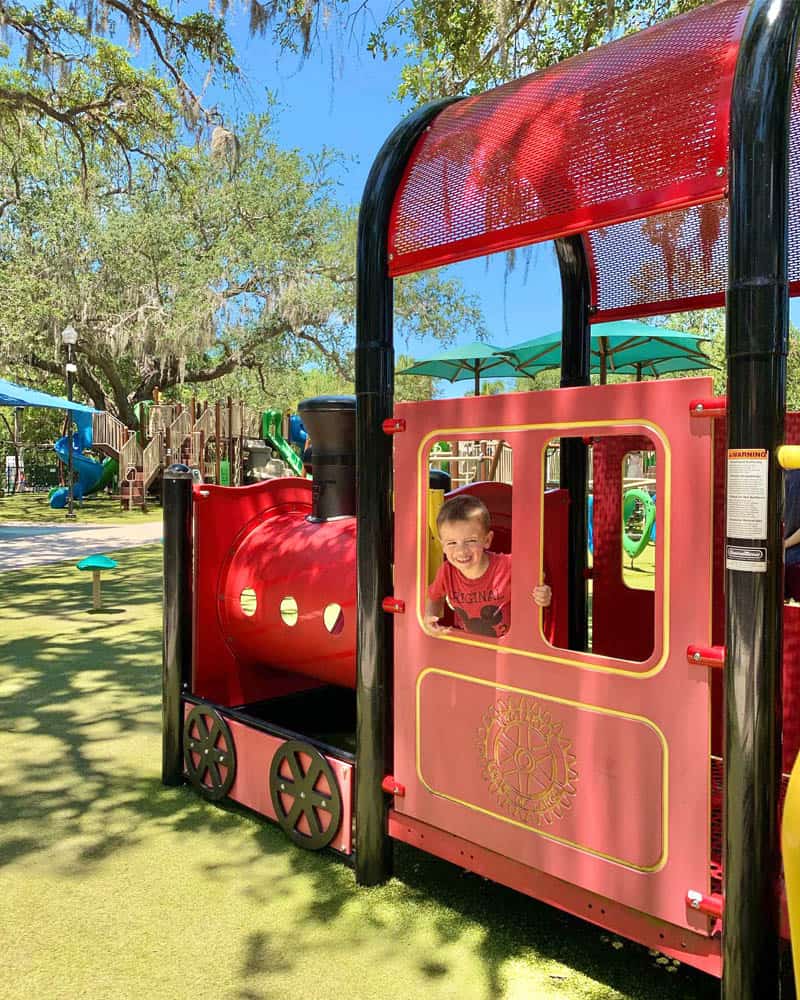 521 2nd Ave NE, St. Petersburg, FL 33701
At this nautical themed playground, kids can play in an expansive and colorful area and burn off energy on slides, swings, climbing structures, kiddie obstacle course, activity nodes, and more. This playground is conveniently located near the Majeed Foundation Splash Pad.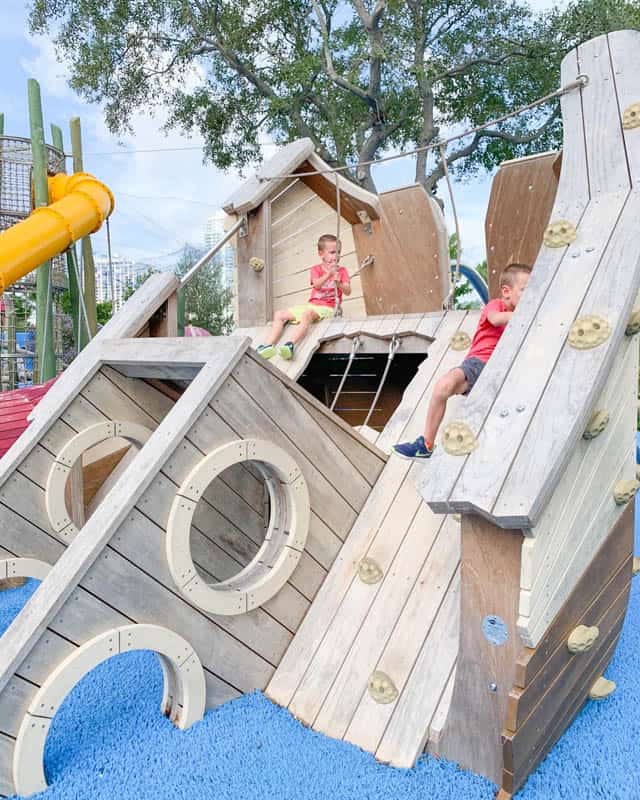 480 Bayshore Dr. SE, St. Petersburg, FL 33701
Located at the southern tip of the downtown waterfront by Albert Whitted Airport, this park is also the perfect place to watch the sunset and see the planes take off. Their playground is appropriately plane themed. There are also covered picnic shelters and a walkway.
Sunshine Limitless Playground
1501 Belcher Rd, Clearwater, FL 
This brightly colored playground was recently renovated to replace older play features. It was designed to meet a wide variety of play needs for children of all abilities. Some of the unique features include ramped play structures, a sensory butterfly garden, and elevated play features.
Lido Park
45th Ave. and 1st St. SE, St. Pete Beach, FL 33706
This park is located right next to the beach making it the perfect place for kids to burn off some energy before building sandcastles. There are several play structures such as a spider web climbing structure, swings, and slides. There are also two separate areas for big and little kids. There are also shaded picnic areas to sit and relax.
2525 Philippe Parkway, Safety Harbor. FL 34695
This 92-acre park is the oldest park in Pinellas County and sits right on the waterfront. There are eight picnic shelters, a boat ramp, historic trails, a softball field, and two playgrounds – one for bigger kids and one for littles. There are plenty of trails with trees which are perfect for a family hike.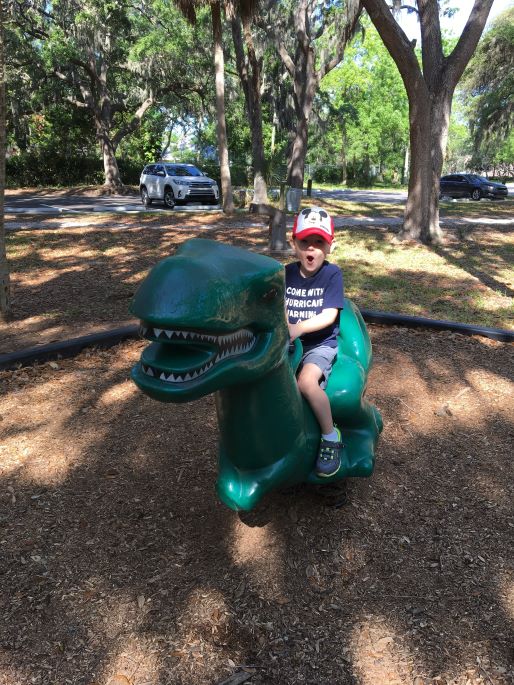 2200 East Lake Road South, Palm Harbor, FL 34685
This park boasts 255 acres of multiple nature walk trails that sits adjacent to Lake Tarpon. It has 13 picnic shelters with grills, a boat ramp, horseshoe pits, a softball field, a dog park, and two forest-themed playgrounds.
12410 74th Ave. N, Seminole, FL 33772
Boca Ciega Park is recognized by Florida Fish and Wildlife Conservation as part of the "Great Florida Birding Trail." Other nature highlights include pine flatwoods, coastal oaks, hammock, mangrove swamp, salt marsh, bay head, and wetlands. There is a playground suitable for both big and little kids along with a 25-foot observation tower. The park has seven picnic shelters and boardwalks and is accessible to the Pinellas Trail from 74th avenue.
301 Drew St, Clearwater, FL 33755
Opening June 2023, the all-new Coachman Park in Clearwater will feature new park space, gateway plaza, pedestrian promenade, scenic overlook, playground, splash pad, and performing arts venue. A fenced-in pirate-themed playground will be situated along the waterside and will include multiple climbing structures, a wooden bridge, a giant enclosed slides. Right behind the playground, kids can cool off by running through the large splash pad area. Learn more about what you can expect here.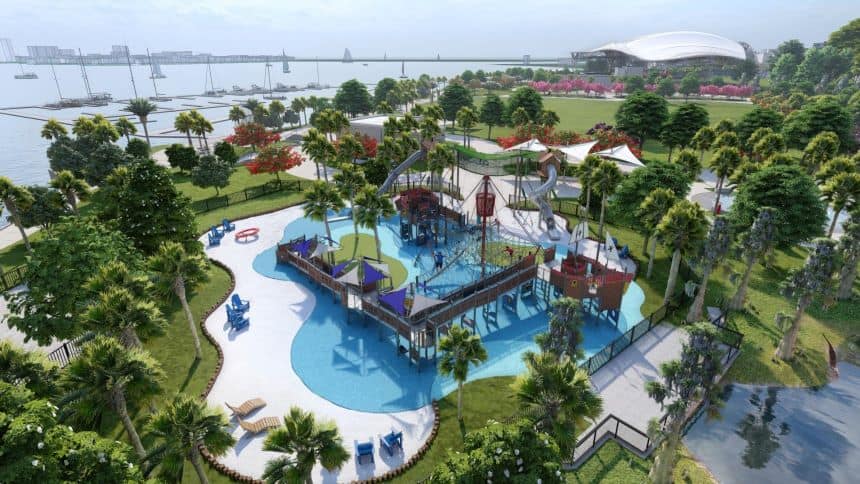 Our Top Pick for Venturing Outside of Tampa
400 Bonnet Springs Blvd, Lakeland, FL 33815
Located near downtown Lakeland, this massive new park has multiple areas for kids to play. The Ruthven Family Playground is the largest playground on site and includes a natural climbing structure and slides that are built into the side of a hill. There is also a water play area, a mosaic owl themed playground, an art-theme playground, train-themed playground, and a tree house. The park also features multiple trails, a butterfly house, and a children's museum.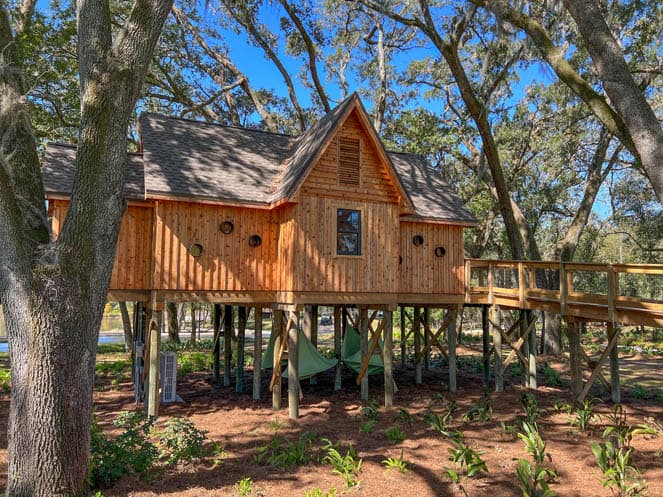 Featured image: Playground at Julian B. Lane Riverfront Park by Laura Byrne.
---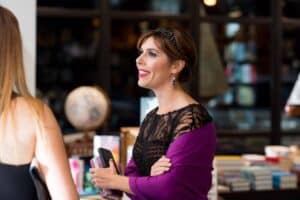 Heather is a fourth generation Tampanian and a graduate of the University of Tampa. She worked in news for ten years, from WFLA In Tampa to C-SPAN in Washington, DC. She left the fast paced news environment for an even crazier beast, taking on the roll of domestic engineer after having her second child. She now spends her days and nights planning fun and educational outings in and around the Tampa Bay area to keep her three boys busy and out of trouble.