What Parents Need to Know About Star Wars Galactic Starcruiser at Walt Disney World
Well friends, Disney Imagineers have done it again…they've created an immersive experience like no other and have essentially found a way to make you feel as if you've stepped inside your own Star Wars movie –and it's not just for a few minutes, but an entire two days.
It goes beyond anything they've created before, blending storytelling with technology and people who help bring the story to life. One of my favorite descriptions of the experience is —and it's something we adults probably all need in our lives around now–it's a "permission to play."
The long anticipated Star Wars Galactic Starcruiser officially launches on March 1, 2022 and we were invited for a sneak peek to help give you an idea of what to expect if you go.
We didn't get the full two-day experience, but our FIRST LOOK took us on a four hour tour to get a taste of what passengers on the Halcyon starcruiser will experience.
We mingled with characters in the luxurious lobby as we started to weave our way into the storyline, trained on how to protect the ship on the bridge, learned how to swing a lightsaber, chatted it up with our logistics droid D3-09 in the cabin, and so much more.
Whether you're serious about booking your voyage or you're just curious, we're going over some common questions about what it's like to be a passenger, and give our honest opinion on this newest Disney adventure.
What is the Star Wars Galactic Starcruiser?
To sum it up, it's basically a movie set combined with a galactic hotel. But, it goes so far beyond that. The ship you board is the Halcyon starcruiser, a centuries-old luxury liner that is part of the Chandrila Starline — and it was just restored to its "former glory" from 275 years ago.
In fact, when you step on board, you are on the recreation of the ship's maiden voyage to Batuu on the Outer Rim of the galaxy (this is where your visit to Galaxy's Edge comes into play during your voyage.)
According to the story, the Halcyon starcuriser has a long history that began when it was built in the same shipyard in Corellia as the Millenium Falcon. There is even a five-issue comic series and two novels based on the Halcyon if you really want to take a deep dive before your trip.
The Star Wars Galactic Starcruiser is an experience where you and your family can choose your own adventure whether you'd rather sit back and observe what's going on or really entwine yourself into the storyline as it unfolds in realtime, in real life, right before your eyes.
Another fun fact–it's the same shop Han Solo and Leia traveled on for their honeymoon.
How much does a stay on Star Wars Galactic Starcruiser cost?
This is probably the most important question because your feet aren't leaving planet Earth until you pay up. The two-day voyage on the Galactic Starcruiser is expensive and probably out of the budget for many families. Prices for a standard cabin for a family with 2-adults and 1 child start at $5,299. Gulp.
But here's the deal. For some people, this once-in-a-lifetime experience will be worth every penny because it truly is unlike anything you've ever experienced before.
So yes, the price tag is steep and you can probably travel to Europe for less this summer, but keep in mind that a voyage on the Halcyon starcruiser is not your typical all-inclusive vacation. In fact, there really is no comparison because there is nothing else like it on our planet. Plus, there are only 100 cabins, so there's that to factor in too.
Like most things in life, when there's rarity, you get expensive.
Do you have to be a Star Wars fan to enjoy the voyage?
Nope. I'll be honest, I'm not really into Star Wars. Not because I don't like it, I just simply haven't seen all of the movies. It's on my bucket list, but I've got little kids and most movie nights are dedicated to animated movies.
I have seen the first Star Wars movie ever made, A New Hope and I did watch Star Wars-The Last Jedi (Episode VIII) the night before our sneak peek because it was recommended since the voyage is set between Episode VIII-The Last Jedi and Episode IX-The Rise of Skywalker. This did help a few things make more sense, so it's not a bad idea to watch or re-watch the movies before your trip.
Even with my very basic knowledge about Star Wars, I thoroughly enjoyed our four-hour peek just like I've enjoyed my visits to Star Wars: Galaxy's Edge. When you get there, you just 'get it'.
There was a great quote by the panel of Imagineers–and I wish I could remember who said it, but it was somewhere along the lines of the "The Starcruiser was created for people who love Star Wars and for people who love people who love Star Wars."
If you are a super fan though, you may enjoy it a bit more than someone like me simply because…you're a super fan.
Soooo, is Galactic Starcruiser worth it? Should I book?
That really depends on who you ask.  Sure, you can stay at a luxury hotel like the Four Seasons, but you're certainly not going to get the entertainment value or unique food selections like you will as a guest on board the Halcyon.
This is a chance to live out your Star Wars dreams for two days in ways you could have never imagined, so you can't really compare it to a hotel stay. It's simply not the same. A Disney cruise might come close, but even then–that's a different experience.
If you prefer a less active experience then a luxury hotel or a cruise may be a better fit for you and your family. There is a lot of activity and action during this experience. There is some downtime, and nothing is mandatory, but if you want to get your money's worth then you'll want to participate in as much as you.
So, what's included in the costs?
A lot is included in the Starcruiser experience, which is a good thing considering how much you're paying.
Valet parking
Meals and soft drinks
Onboard activities
Immersive entertainment
Excursion to Batuu / Star Wars: Galaxy's Edge
Exclusive Magic Band
Valet parking when you arrive is included along with the obvious, your cabin. All of your meals and experiences on board the Halcyon are also a part of the upfront cost, including entry into Hollywood Studios for your excursion to Batuu/Star Wars: Galaxy's Edge.
Related: Tampa mom pens novel based on Star Wars: Galaxy's Edge and even creates a character you'll get to meet in Batuu!
You will also receive an exclusive Magic Band and exclusive access to the Disney Play app where you will interact with the characters and get your itinerary.
Alcoholic beverages in the Sublight Lounge and Halcyon exclusive costumes if you choose to purchase in the onboard boutique are not included.
What about the cabins. What are they like?
They're pretty cool! The standard cabin sleeps up to five people. There is a queen-size bed, two bunk beds, and a pull-down bed in the wall. There is also a table that pulls out and storage built into the walls and furniture as well.
There are rolling cribs available too if you are bringing your littlest ones.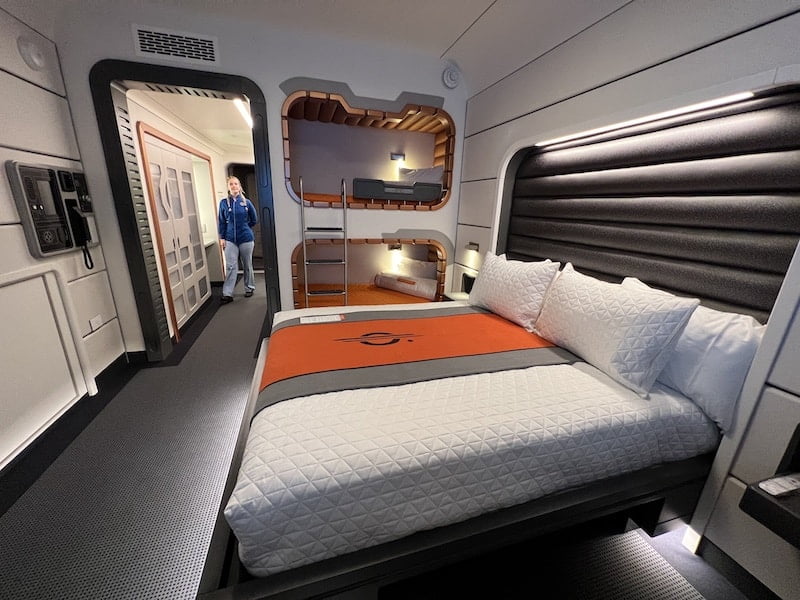 The coolest features of the room are the window with a view of space and your droid, D3-09 which is essentially an Alexa who is up-to-date on ship gossip and can help with any questions you may have.
The bathrooms are pretty spacious as well, but there are no bathtubs, just showers. For this and a few other reasons, it's hard to recommend the Galactic Starcruiser for little kids.
Age five is the youngest age that would probably have a good time to make the experience worth the cost.
If you really want to upgrade your stay, there is a Galaxy Class suite that sleeps up to four people and has two windows, a seating area, and bar area. There is one queen bed and two pull-down bunk beds in this suite.
For the ultimate upgraded adventure, the Grand Captain Suite sleeps up to 8 people has two bathrooms, two queen-sized beds and two pull-down bunk beds, a seating area, bar area, and three windows.
What happens during my Galactic Starcruiser stay?
This is not your typical two-day stay at a hotel or even on board a cruise. It's a chance to interact and play with your kids in ways you've never experienced. You are essentially stepping inside a movie set and living life in real-time in a galaxy far far away.
You are choosing your own adventure and you can be as laid back or gung-ho as you want to be. There are no rules. Ask questions of the characters and get to know them, discover the ship, and just play. There is no judgment here because everyone is on board for the same reason. It's an immersive escape to play.
It's easy to see how this would be an incredible way to bond as a family.
It starts when you arrive at the Star Wars Galactic Starcruiser entrance right next to Hollywood Studios. You can valet your car and step inside where you will board the Launch Pod which transports you into hyperspace to board the Halcyon.
The lobby of the Halcyon is beautiful and you'll find yourself looking up and all around and then suddenly face to face with the characters who will bring your Star Wars story to life. Don't be shy and strike up a conversation with them!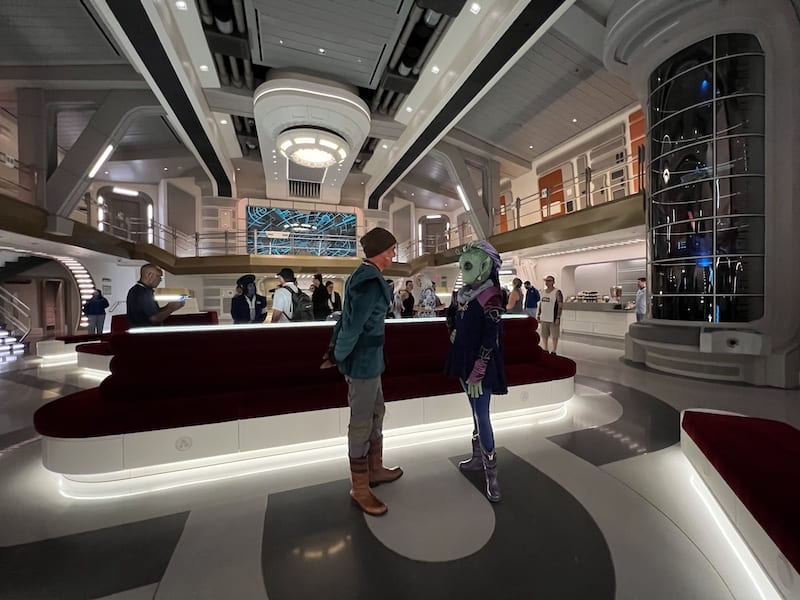 As for your stay, there are several activities for you to experience like a visit to the Lightsaber Training Pod. This is where you will learn how to connect with the Force and practice your lightsaber swinging skills.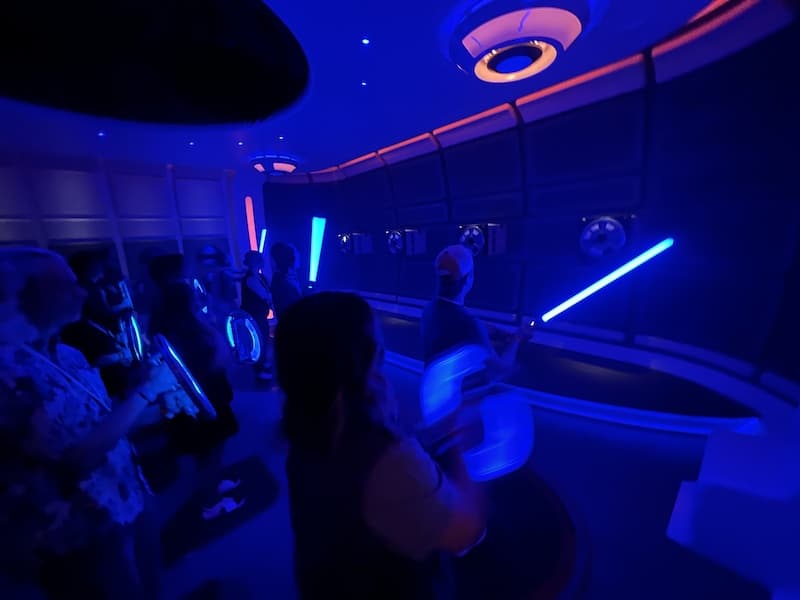 Maybe you need a moment to adjust before your visit to Batuu. Step inside the Climate Simulator which mimics the atmosphere of Batuu. You can also find peace here as you stack rocks and again, connected with the Force to move rocks.
One of our favorite experiences was on the Bridge where we trained on how to defend the ship against asteroids and lasers using consoles and 'gaming' that's reminiscent of the video games of the 70's and 80's. We also liked the simplicity of it so people of all ages can quickly figure it out.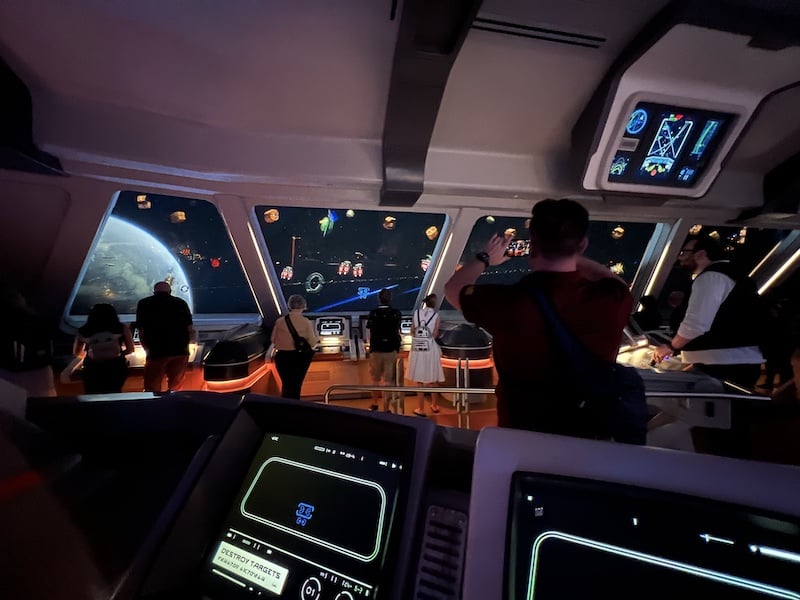 When you're tired from all of the play and want to sit back with a cocktail or mocktail, head to the Sublight Lounge for a galactic drink and game of sabacc.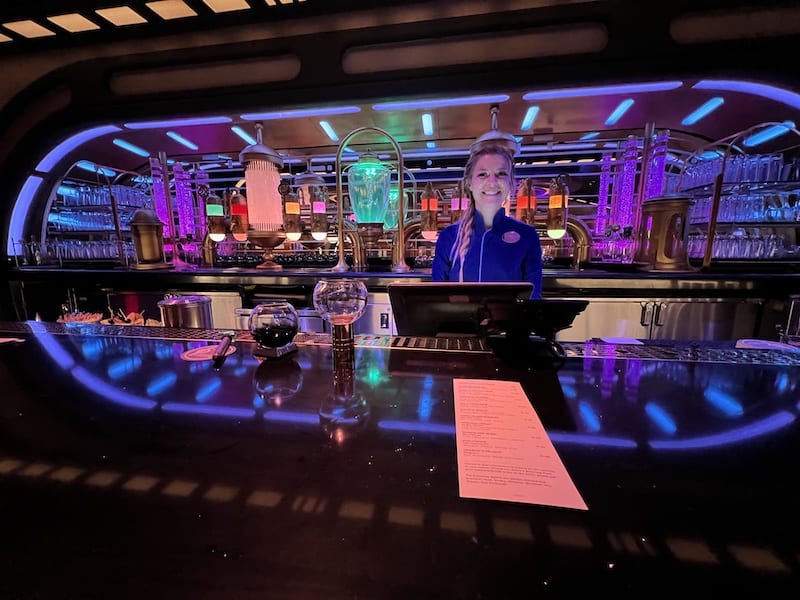 Again, this is the re-creation of the ship's maiden voyage to Batuu 275 years ago, so you will make a stop at Star Wars: Galaxy's Edge and explore this planet on the outer rim of the galaxy where you can upgrade your day to build your own droid and/or lightsaber (keep reading for more on these upgrades and others), taste the galactic inspired foods and get priority access to Star Wars: Rise of the Resistance and Millennium Falcon: Smugglers Run. What's super cool about your ride on Millennium Falcon is the choices you make there follow you back to the Halcyon.
There are many ways to avoid long lines at Disney World, but this is by far the coolest, most immersive way to experience the Star Wars attractions.
Will kids enjoy the voyage?
We think school-age kids will enjoy this Star Wars experience. But, we also can't speak for every child or even every adult. However, this is an adventure designed with families in mind and as we mentioned earlier, it's your permission to play as a family.
We asked Wendy Anderson, the executive Create Director at Walt Disney Imagineering, about her experience as a mom when she brought her 5-year-old daughter on board for the two-day adventure.
"It was incredibly joyful. I think we've all had a hard couple of years. The pandemic was hard for everyone. I got to play with my family in a way that I haven't the opportunity to do in a long time," she told us, "I think we all got to let our hair down a little bit. My daughter felt incredibly empowered and was aspirational to Rey at the end of it…just these moments I will treasure forever were able to happen."
Traveling with kids also opens up your eyes to a whole other way to play.
"It's almost like they unlock permission for us because they're so ready," Anderson told us. "Kids that age–5, 6, and 9–kids are so ready to go full into the imagination of it all, and when you see them going, you're suddenly given permission to engage in a smilier way and you feel safe doing it on our ship. You feel really safe knowing you have that permission to go there."
Let's talk about technology. What is the Datapad I'll be using on the Halcyon?
This is an important part of your adventure. You'll want to make sure you download the Play Disney Parks app. You will have exclusive access to the starcruiser Datapad inside the app as a passenger on the Halcyon. This is how you'll access your itinerary and even communicate with the characters onboard. It's a part of your story.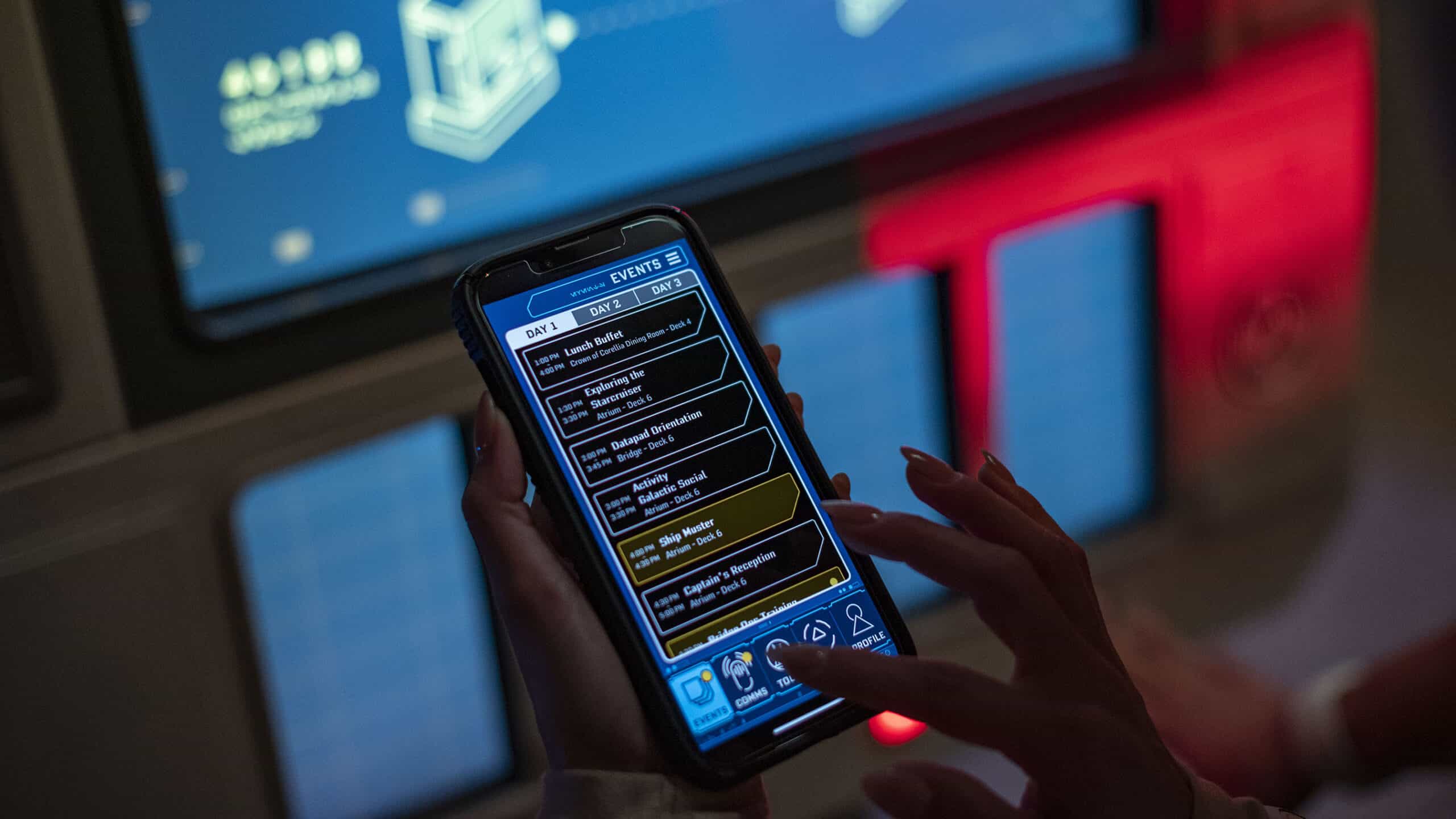 We met with Sara Thatcher, the Creative Director of Interactive on this project.
She told us, "One amazing part of this is– we have games that have characters we're able to talk to in a video game, but what's amazing about this experience is you're actually meeting them. These are incredible performers who bring these characters to life as you're meeting them, that character extends through their communications on the Datapad and those communications wrap back into the next time you meet them so your story evolves over the course of the next two days."
What is the food like on the Galactic Starcruiser?
It's sooo good! If you're a chef, Disney is probably a dream job because you can come up with almost anything in the test kitchen. We had a chance to talk with the culinary team behind the out-of-this-world meals on the Halcyon.
Bobby Rivera, Chef de Cuisine Concept Development at Walt Disney World, told us, "The goal of this whole entire experience was taking food and making it look unique, look out of this world, but when you taste it, it's very familiar."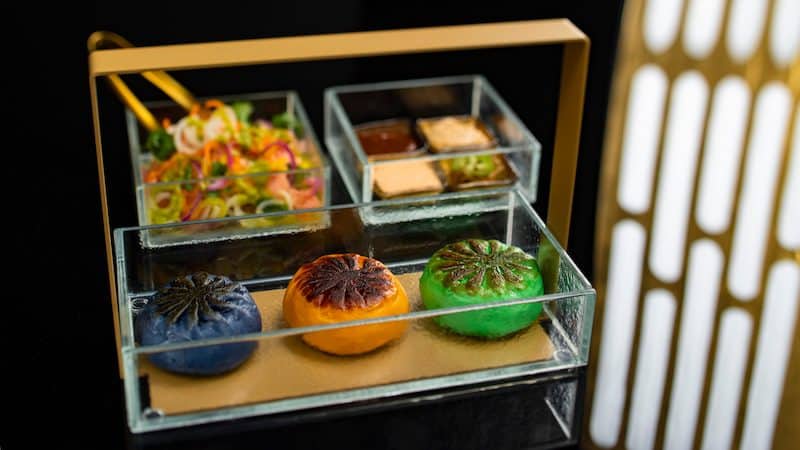 Breakfast and lunch are served buffet style where you can build your own plates. Each item is individually plated and you can take as many as you want. There are plant-based options too like-Kale polenta with roasted mushrooms, sausage gravy and egg. Or maybe you want something more traditional like a Starcruiser Waffle with roasted pork sausage and rolled omelet –traditional breakfast items presented in a creative way.
We even heard raves reviews about a spherical sunflower butter and jelly sandwich that is apparently out of this world, so ask about that when you board!
The sit-down dinners are luxurious and you'll be entertained by galactic superstar, Gaya. Get ready to get up and dance! Each night features a different menu and the food is almost too beautiful to eat.
Is there a menu for kids?
Yes! As a mom of two little ones and one picky eater, I was happy to see familiar menu items for kids like cheese pizza, chicken tenders, and butter pasta — though on the menu itself the names of the items stay within the galactic theme.
But, the food on this ship is so creatively presented, it just may inspire your little one to try something new.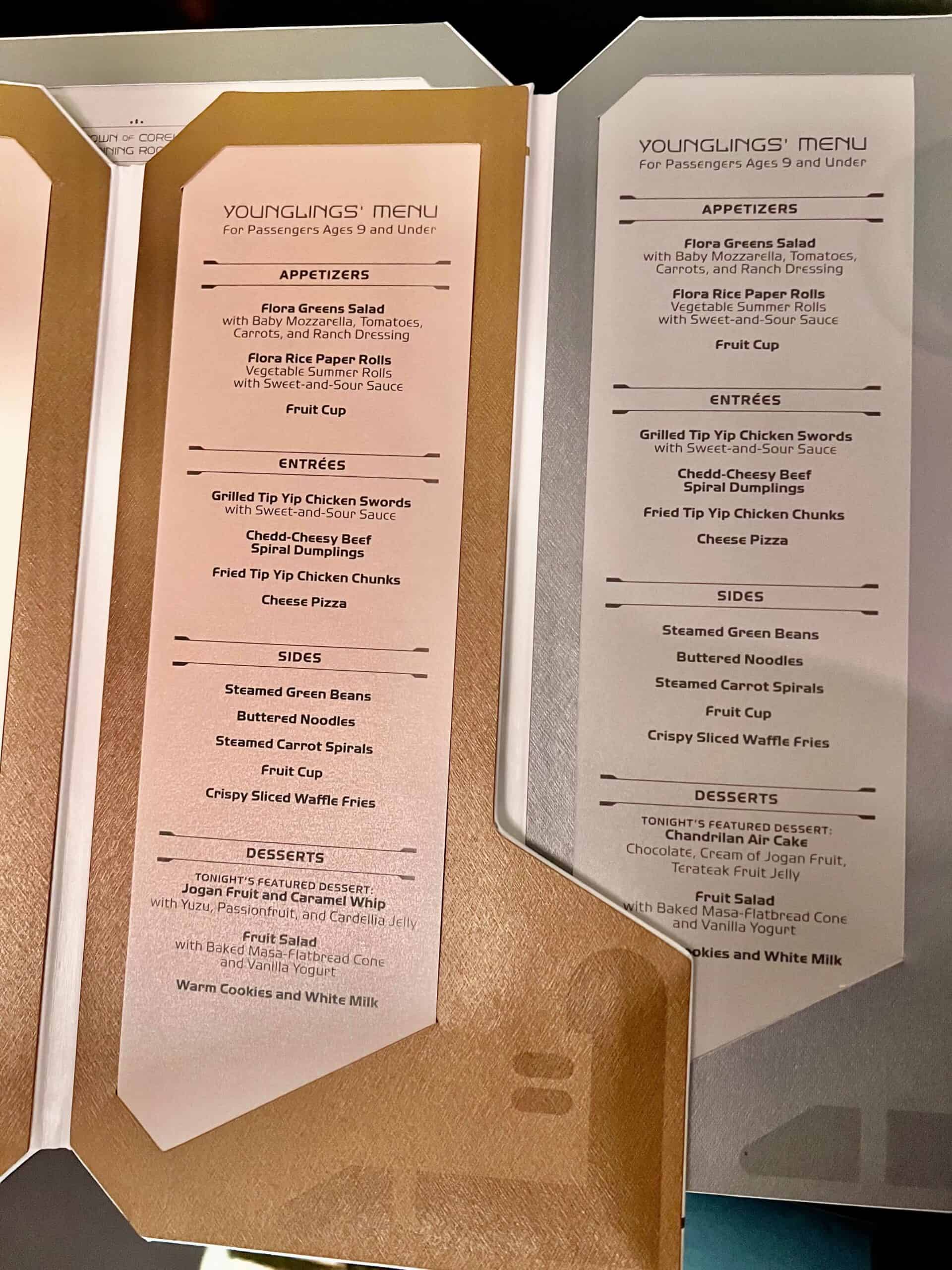 Are there photographers on board the Starcruiser to document our adventure?
Yes! You can even upgrade to a CSL Portrait Experience–30-minute one-on-one photo session with an image scanner "aka PhotoPass photographer on Earth". They are specially trained on how to take photos inside the ship's various lighting scenarios and they know all of the best photo spots around the Halcyon. There is an introductory price of $99 and can been booked up to 60 days in advance.
iPhones are great, but some of the lightning settings on board the Halcyon are tricky to photograph, so having the pros take care of it for you is a must-do, in my opinion.
There are also photo onboard scanners snapping photos throughout the trip to capture your special moments just as you would when you visit Walt Disney World.
What are the additional upgrades we can book during our voyage on the Halcyon?
There are two fun adventures on Batuu you can take advantage of–Savi's Workshop to build your own lightsaber and the Droid Depot. These are also activities you can book during a normal visit to Star Wars: Galaxy's Edge. It's an additional $219.99 plus tax per lightsaber at Savi's Workshop and $99.99 plus tax to build and take home a droid at the Droid Depot. For kids, I think the Droid Depot is your best bet because it's fun to build and play with the droid for months and years to come. A lightsaber is cool, but there's really not much a kid can do with it afterwards.
If you want to elevate your dining experience, consider booking the Captains Table for $30 per person plus tax per night. You get extra courses other diners don't get to experience and you get to dine with Captain Riyola Keevan.
For more on the additional upgrades, click here.
Which characters are there on the Star Wars: Galactic Starcruiser?
Fan favorites like Rey, Kylo Ren, Chewbacca, and the Stormtroopers make appearances during the climactic voyage, but you're also introduced to some new characters you'll come to love. Captain Riyola Keevan, Cruise Director Lenka Mok and Sammie, the ship's mechanic elevate and personalize the experience. All of the characters are there for you to get to know and they are an integral part of your adventure.
As we previously mentioned, don't be shy. Get to know them, choose your alliances, and help them out if they need it.
The entire story will come together at the end of your voyage and we don't want to totally spoil it but it's the epic Star Wars battle between good and evil and it's the coolest show that unravels before your eyes.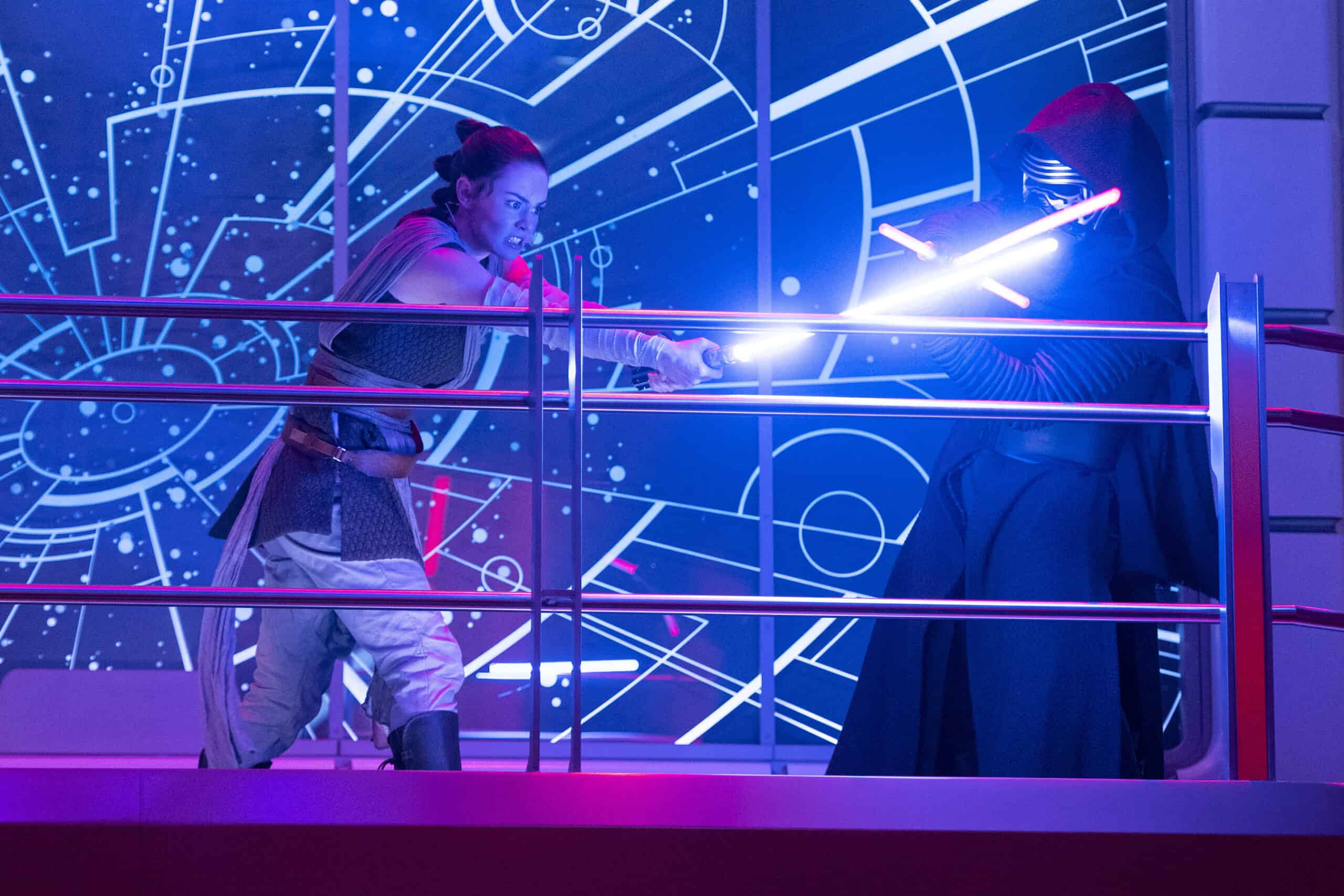 Do I have to wear a costume while on board the Galactic Starcruiser?
No–but if you want to, there is a collection of costumes inspired by the movies you can purchase, this includes kids too! You can also bring your own costumes as well.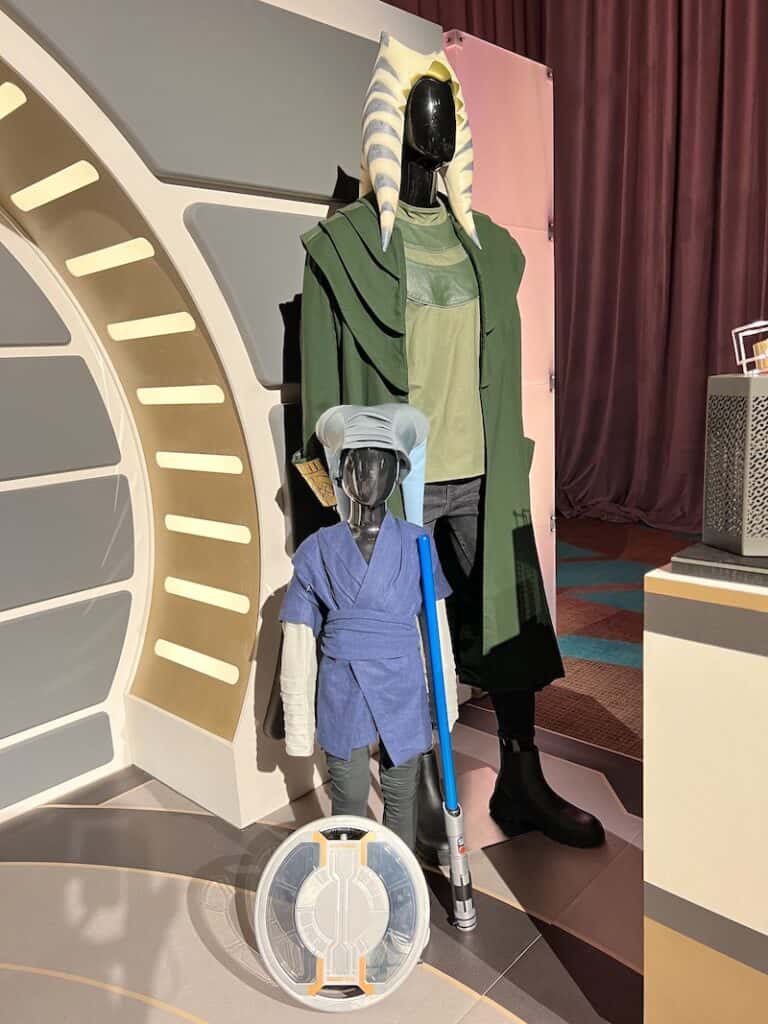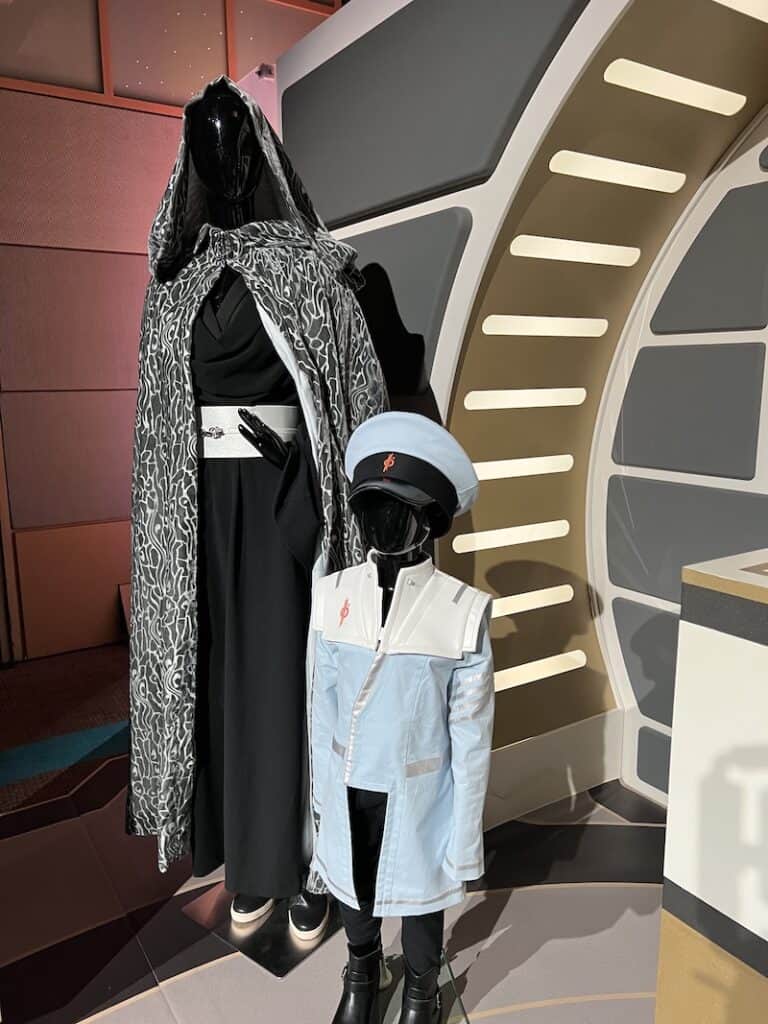 I have my costumes, but I want to make sure I speak the language. What are some common phrases I can practice before my family's voyage on the Halcyon?
If you've been to Galaxy's Edge, you've likely been greeted a good day by someone saying "bright suns". On board the Halcyon, there are even more ways to communicate greetings and farewells:
"Ta'bu e tay" – Celebratory phrase meaning "Cherish the moment"
"Ba ma' shay" – Goodbye phrase meaning "May you journey boldly"
"Good passage" – "Good morning/good day"
"Good journey" – "Hello/farewell/bon voyage"
"My honor" – "You're welcome"
"Clear Skies" – A good luck blessing/"Goodbye"
So, what is your honest opinion about the Star Wars Galactic Starcruiser?
Yes, we were hosted and did not pay for the four-hour tour, but I can honestly say it was an awesome experience. I wish it wasn't so expensive, but I also understand why it has such a high price point. There is so much included and, of course, there's the totally unique experience of it all.
For this reason, I'd suggest this for kids when they're about 5 years old or older so they can truly enjoy the experience with you. This is such a special way to bond with your kids.
Or, if you're not sure your kids will enjoy it, or you want a creative getaway without the kids, then go for it as a couple. I think most people will be happy with their experience and find the money was well spent since they knew going in the value is in this one-of-a-kind experience.
I recommend you thoroughly review Disney's Starcruiser site to get an idea of what to expect and call to chat more with a representative. Click here for more details.
How about the refund policy. What do I need to know?
This was a good point brought up by a friend of mine who recently booked a voyage for her family–she was told there was no refund in the event of an emergency. She purchased travel insurance which is always a good idea and it is offered by Disney, but have this conversation before you make the purchase. If the last few years has taught us anything, it's that stuff happens… You can read the all of the FAQs by Disney here.