The Best Things to Do with Toddlers and Preschoolers in Tampa Bay
Tampa Bay is a great place to live if you're a toddler! There are so many fun things to do whether it's indoor playtime, toddler themed events and classes or trips to the zoo, our list has something fun for your family.
As parents of toddlers and who have raised toddlers in Tampa Bay, our team has curated this list of some of our favorite things to do around town with the little ones. So, if you've got questions, friend, we have answers!
Need more ideas? We're sharing our 50+ Favorite Things to Do in Tampa Bay with the Kids
This list is always evolving and growing, so if you know of a great place to take toddlers, feel free to email us at laura@tbparenting.com. Updated May 2023 by Zoë Joiner.
Related: The BEST Summer Camps for Preschoolers in Tampa Bay 2023
And if you or someone you know is headed to Orlando then check out Things to Do and Places to Take Toddlers in Orlando from Orlando-Parenting.com!
Where are the Best Things to Do with Toddlers in Tampa Bay?
Museums and Attractions for Toddlers
Lucky you because there are several museums designed with toddlers in mind including two designed just for kids!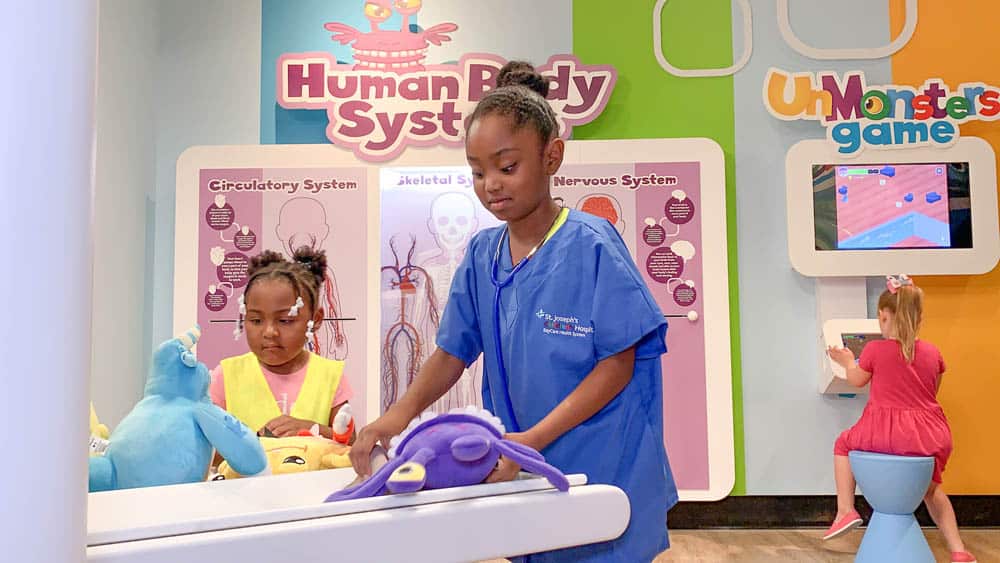 Glazer Children's Museum is the place to be if you're a kid in Downtown Tampa! There are some amazing hands-on exhibits kids love including the UnMonsters exhibit by BayCare where kids can be the doctor, a veterinarian's office, and a STEM area. There's also a Publix that's just their size where they can shop just like mom and dad, a theater for littles to put on a play, and an engineer's workshop.
There are three floors total with the first two mostly in use for daily play. If you get hungry during your visit, there is a small cafe on the first floor.
Coming this May, you won't want to miss the World's Largest Triceratops, Big John, Heading to Glazer Children's Museum!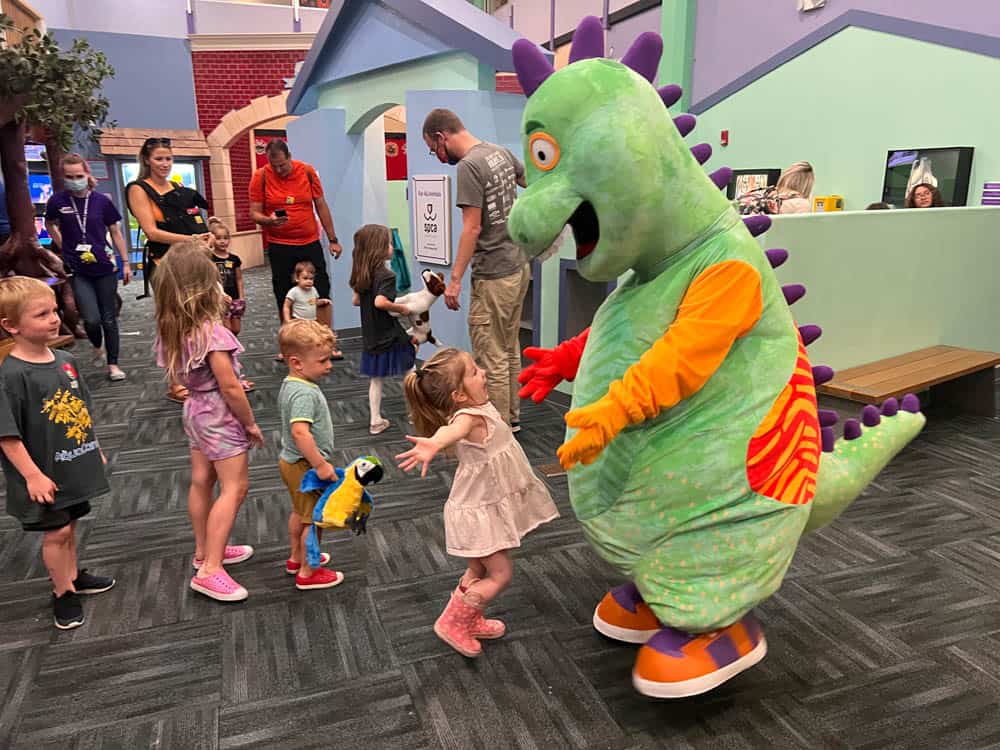 Great Explorations Children's Museum is located right next to Sunken Gardens, so it's a great spot for a day trip with your toddler or preschooler. They can stay and play at the many exhibits and they just might bump into the museum's mascot, Morris! Pretend to be a dentist, become a LEGO builder, learn about life on the farm, or become a news anchor!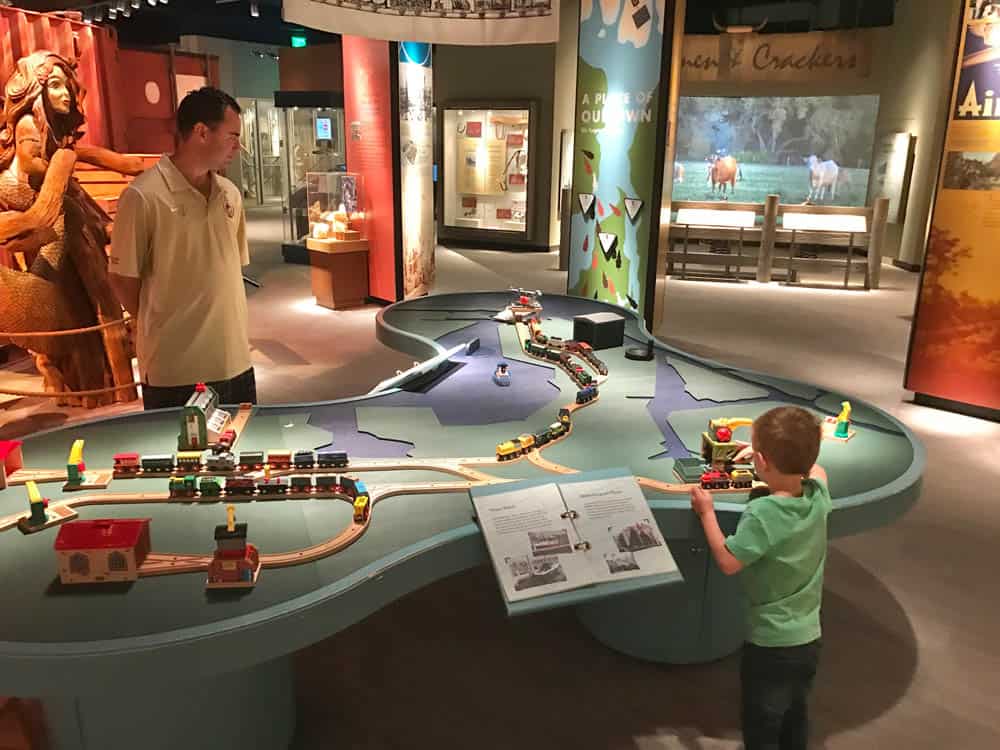 The Tampa Bay History Center isn't just for big kids and adults! In fact, if you head to the third floor, the Pirates, Conquistadors and Shipwrecks exhibit has hands-on activities they can manipulate with their hands like tying knots.
The second floor also has a giant-sized train table that is inspired by the Port of Tampa. This truly is a spot for kids of all ages. We also love the Columbia Cafe at the museum for lunch or dinner, so make this a part of your visit as well!
The Florida Aquarium is sort of like a museum since it's filled with super cool exhibits…and it's a great spot to stay cool on hot days or stay out of the rain. This is a truly magical place for little ones and even babies are enthralled with the large tanks as they come face to face with sea creatures like sea turtles and even sharks!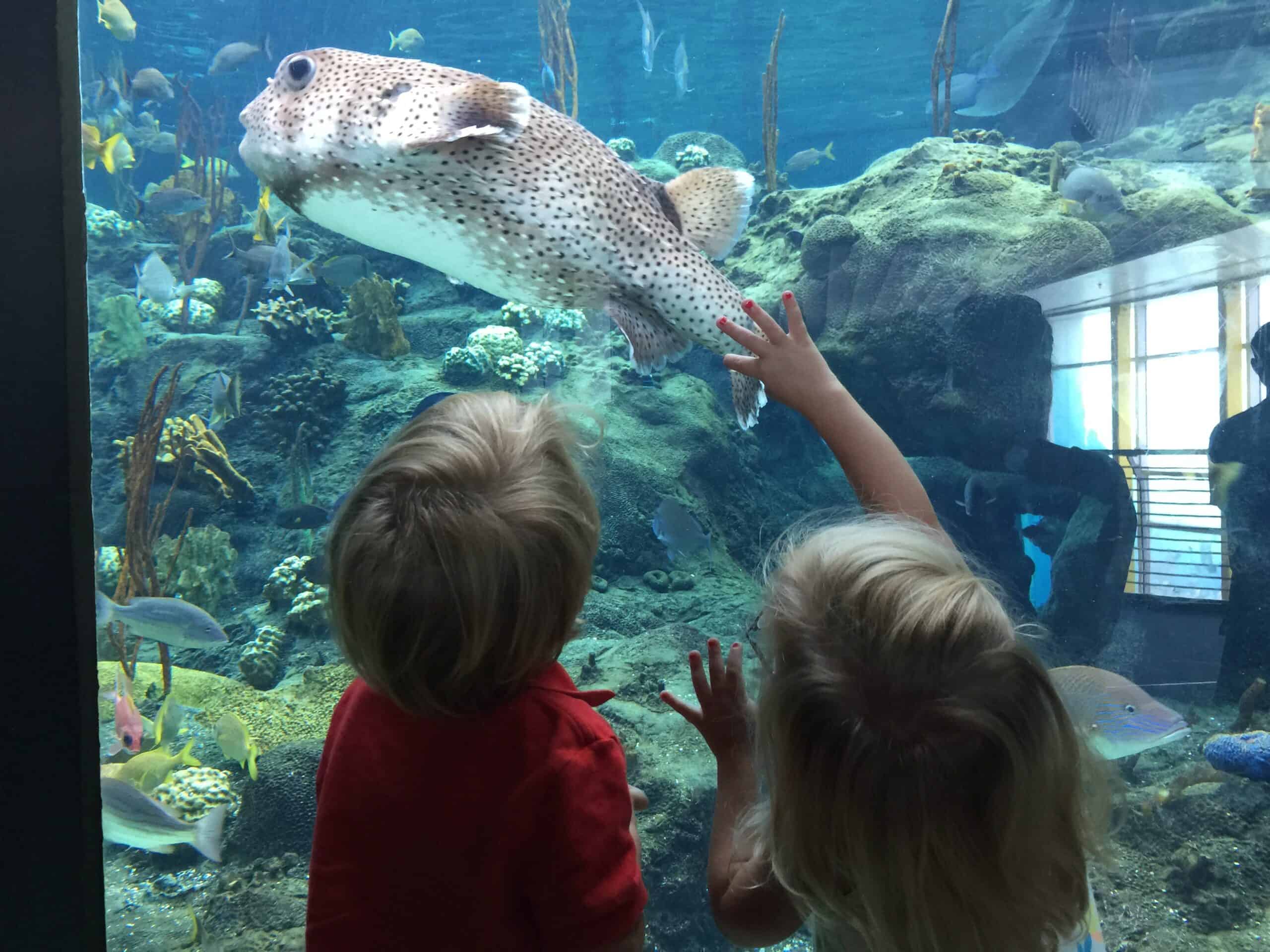 We also love the Splash Pad, so make sure to bring a bathing suit and towel. Keep scrolling to learn more about the Aqua Tots program they offer for little ones as well under the classes and special events category.
Clearwater Marine Aquarium
When the school
year starts back up, CMA also offers
Apollo's Pre-K Pals
, a once-a-month program themed for kids ages 3-5 years old. The next program is September 6 with the theme: Oodles of Otters.
We're sharing even MORE kid-friendly museums in Tampa Bay here.
Where can I find more indoor play places for toddlers in Tampa Bay?
In addition to the museums, there are some super cute play centers for kids that not only offer open play times, but also classes and parties.
Little Play Place in the Carrollwood area of Tampa is an adorable spot where kids can use their imaginations to dream big and simply play! They offer play sessions Tuesdays-Sundays at 9 am, 11 am, 1 pm, and 3 pm. Reservations are recommended to ensure you have a spot.
Little Explorers in Palm Harbor is another adorable education based indoor play area for designed for little ones started by a local mom and former educator. They offer open play sessions and playgroups along with birthday parties, too. Registration and socks are required.
Toddler time at your local public library is a great way to get out and have a good time. Times and days of the week vary by location. Almost every branch in the Tampa Bay area offers some sort of programming for toddlers like story time, baby yoga and more!
Take your busy tot to open play at We Rock the Spectrum. Make the most of their sensory toys, zip line, trampoline and swings, all inside so they can play no matter the weather. Memberships are available. Kids 1-12 are $12 with a $2 discount for siblings.
Where are the best outdoor places for toddlers in Tampa Bay?
Glad you asked since you can pretty much take advantage of outdoor activities all year long in Tampa Bay.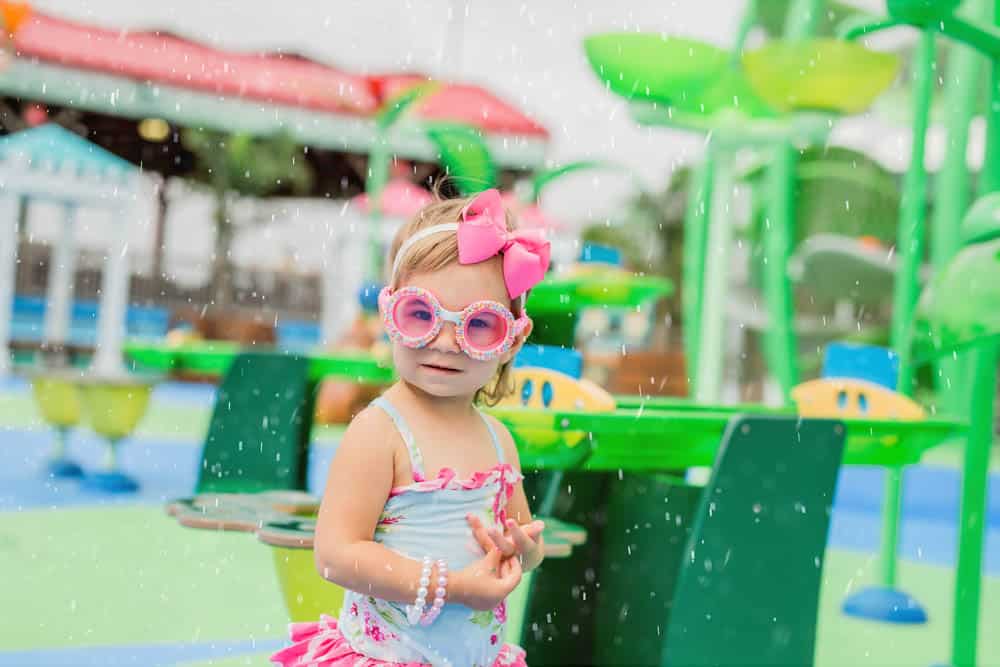 Preschoolers and toddlers will love day trips to awesome attractions around Tampa Bay since they have rides and activities designed just for them. We've been there, done that and now we're showing you some of our favorite places in town to take toddlers and preschoolers to play in Tampa Bay!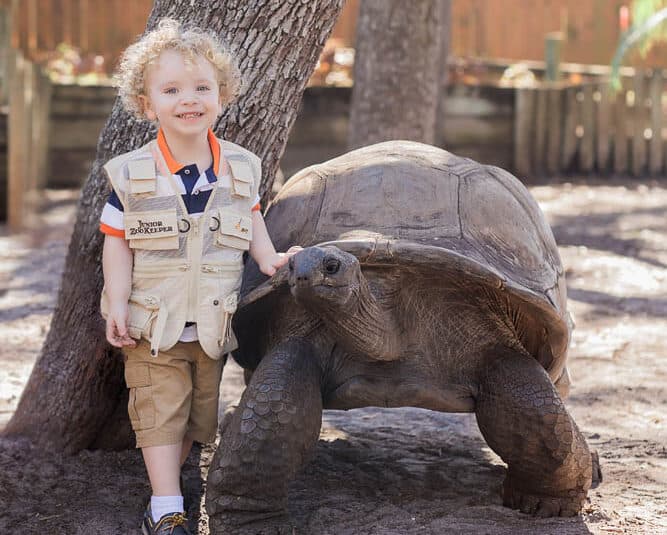 ZooTampa is the perfect spot to spend the morning with toddlers and preschoolers. The wide walkways allow plenty of room for strollers and there is a ton of shade if it's a sunny day. Kids can get up close with some of their favorite animals including manatees, Florida panthers, and more.
If you really want to upgrade your day at ZooTampa, your preschooler will love the Giant Tortoise Encounter which is open to all ages.
There is even an awesome splash pad in Wallaroo Station, playground, and cute rides that are just their size.
Keep an eye out for their special events throughout the year such as Christmas in The Wild!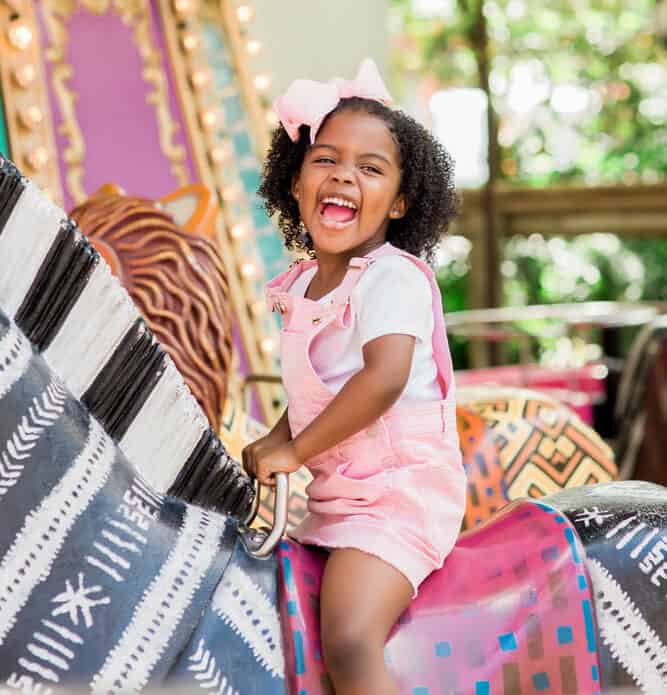 Use that Busch Gardens Preschool Pass you snagged for your toddler and head to Busch Gardens' Sesame Street Safari of Fun. Splash, catch a show, ride toddler-friendly rides and experience all the animals Busch Gardens has to offer.
Go to a park in Tampa Bay to play!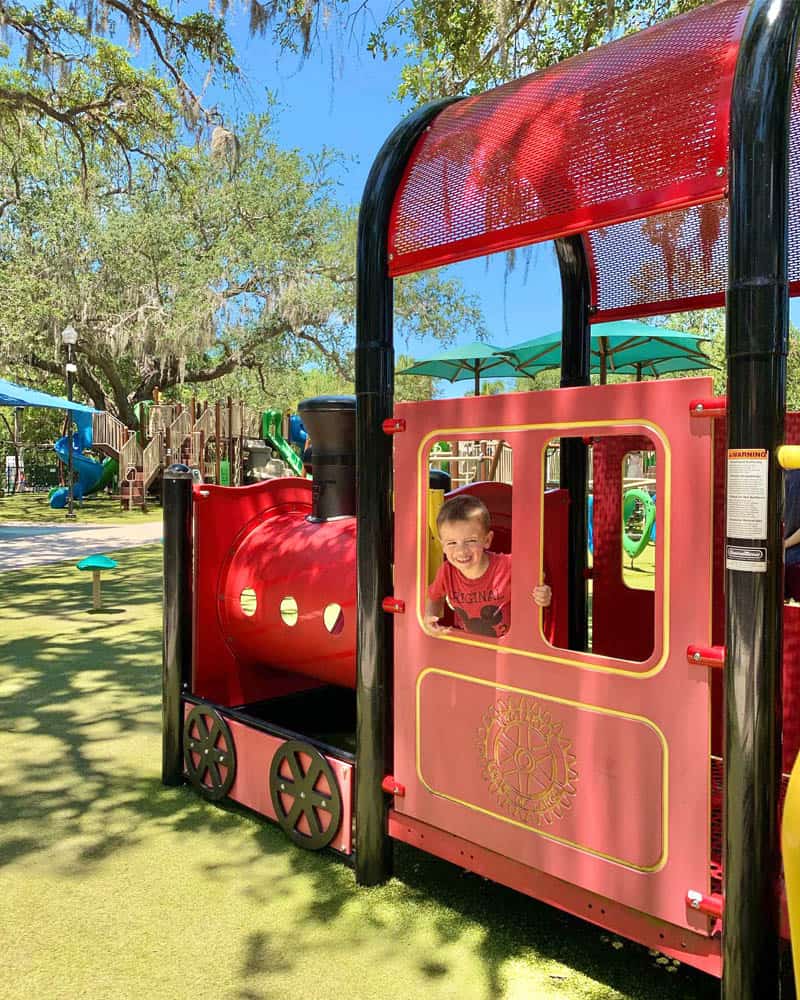 There are so many incredible city and county parks for kids in Tampa Bay! Some of our favorites include Largo Central Park since there is so much space to play and on the first weekend of each month, you can also hitch a ride on the Largo Central Railroad mini trains! The playground is even train themed.
We also love Julian B Lane Riverfront Park in Tampa because it's so expansive and it has a great splash pad along with a nearby dog park and open fields with a beautiful view of Downtown Tampa.
If you're willing to venture out a bit further, check out the amazing Bonnet Springs Park in Lakeland!
We're sharing even more amazing parks and playgrounds in Tampa Bay here!
Take your toddler to Dinosaur World in Plant City!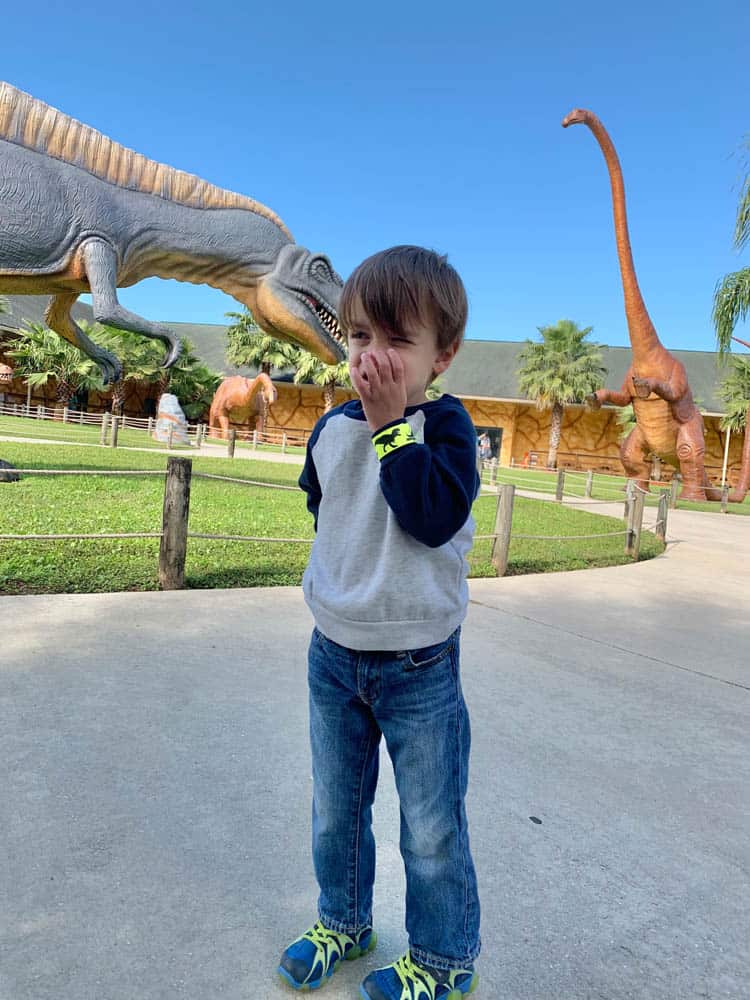 Dinosaur loving kids will think a trip to Dinosaur World in Plant City is totally RAWRsome! They can walk the boardwalk and see sculptures of all sorts of dinosaurs that will seem larger than life to them…and you. They can even dig for fossils or gems and explore an indoor area to see real fossils.
There is also a great playground kids of all ages enjoy and picnic tables in the shade to relax with a snack and drink. There's even an all-new splash pad for kids to play around in!
Head to a kid-friendly beach in Tampa Bay
There's no shortage of amazing beaches in Tampa Bay, but there are a few that are a better fit for families with younger kids.
Our favorite is Fort De Soto's North Beach and we're not alone in this sentiment. It was also named as a top beach in the country by Parents magazine and as one of America's Best Beaches by TripAdvisor. We find that it's usually less crowded than other popular beaches and the water is really beautiful. There are also restrooms too. There is a $5 to park and you will have to pay the tolls on the toll road to Fort De Soto, but that goes to the Florida Department of Transportation.
Honeymoon Island is also an ideal spot for kids. There are over four miles of beaches to explore and a nature center to learn all about the wildlife on the island. Parking is $8 per car.
We're sharing our favorite family-friendly beaches in Tampa Bay here if you're looking for more ideas too.
Cool off at a splash pad or water park with your toddler!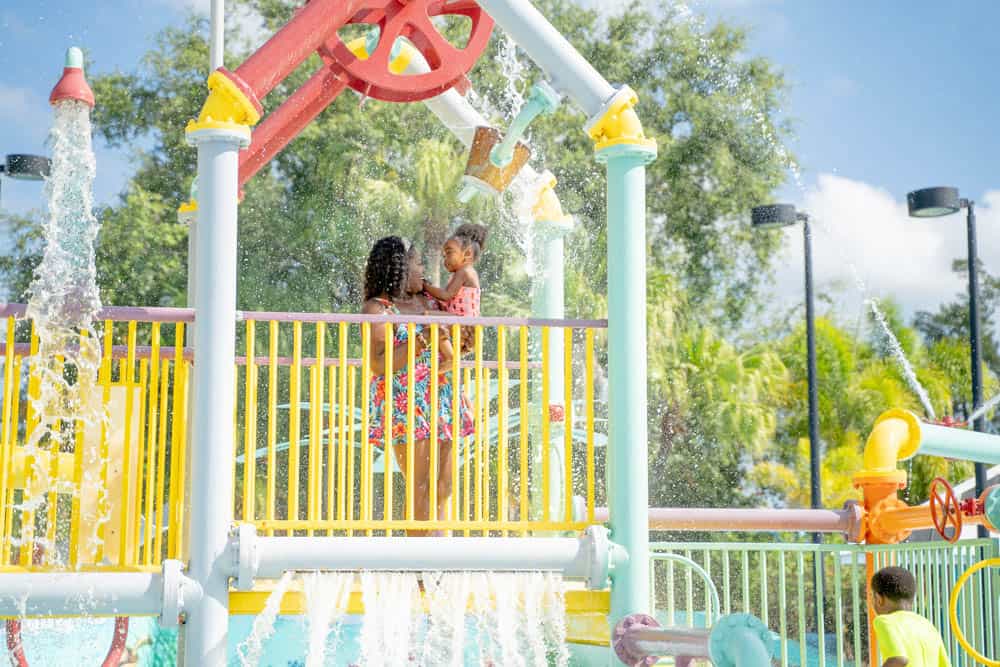 Adventure Island isn't just for the big kids! There are some great splash pads with tiny water slides for tiny tots! They can even put on a life vest and float in a tube down the lazy river with mom and dad or another responsible adult.
So, when the big kids ask to go play at Adventure Island, don't fret! The little ones will have a great day too!
We're sharing even more fun water parks and splash pads for families in Tampa Bay here.
Hop on the free TECO Street Car trolley in Tampa!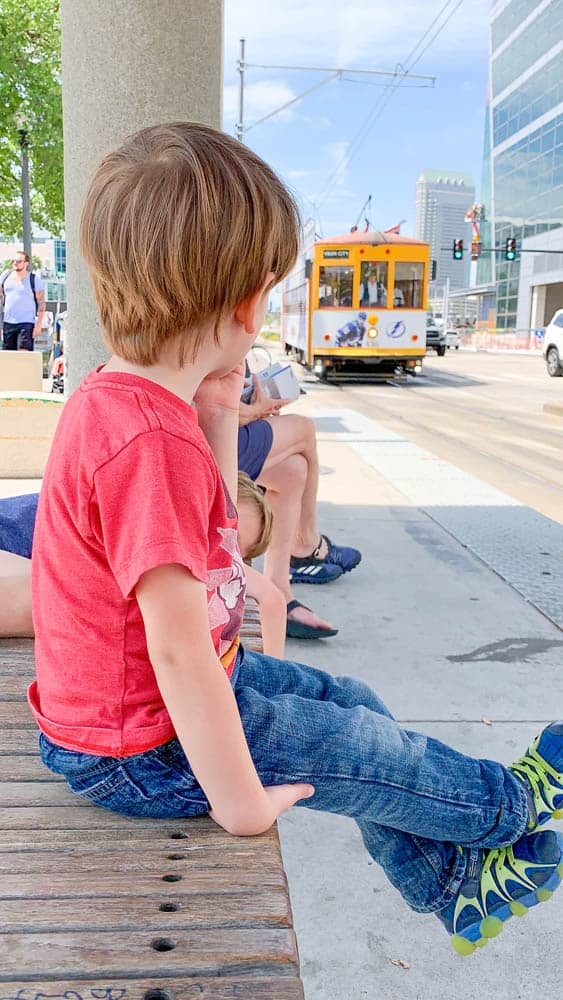 It's not only free to ride the TECO Line Street Car, but a great way to explore the city. The route essentially connects Ybor City with downtown Tampa and there are plenty of fun stops in between.
If you have a memberships or annual passes with other museums and aquariums, consider popping into the Tampa Bay History Center and the Florida Aquarium and take advantage of reciprocal discounts on admission. This includes visitors too since many of the reciprocal programs are national.
There is also a new amazing Publix GreenWise Market not too far from Stop 9 if you decide to pick up a few sandwiches for a picnic lunch.
You can check out the TECO Line Street Car map here and even read more about planning a day on the street car.
Head to the farm to visit with cute farm animals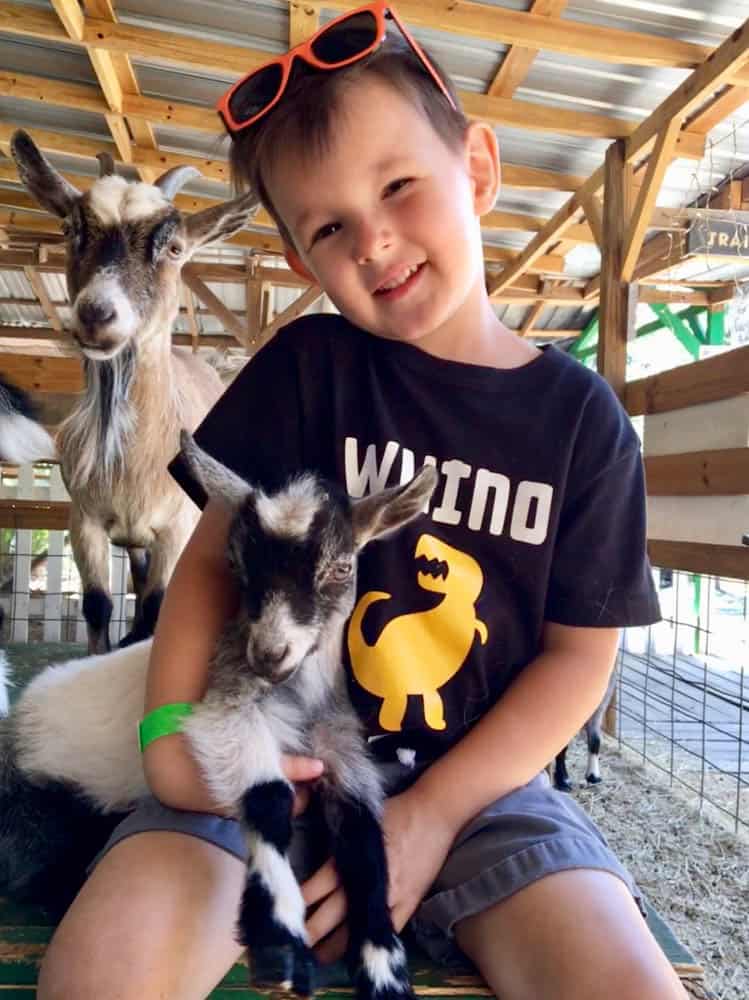 There are several farms in Tampa Bay that are worth the visit and one that seems to stand out most among our team is Old McMickey's Farm in Odessa since it's open almost year-round for visitors to meet with their animals.
This is a chance for kids to come face to nose with goats, pet a chicken and even milk a cow! They also host birthday parties and host special holiday events as well.
Horsepower for Kids in Tampa is another favorite farm to visit with farm animals! Explore their grounds which include goats, pigs, sheep, llamas, and even a Zorse (a zebra/horse hybrid)! They also have an array of unique animals such as lemurs and a sloth. You can take a spin around the park on their train or upgrade your day for a few dollars more for a pony ride.
The best theme parks for toddlers and preschoolers in Tampa Bay
This is another easy one…or two! Tampa Bay is perfectly located to some of the world's best theme parks like Walt Disney World, but we have some awesome places to visit closer to home as well!
Peppe Pig Theme Park is the world's first Peppa Pig theme park and it's one made just for toddlers and preschoolers! Rides were created with little ones in mind, allowing them to ride by themselves or with an adult. They can also ride their first roller coaster and cool off in the splash pad!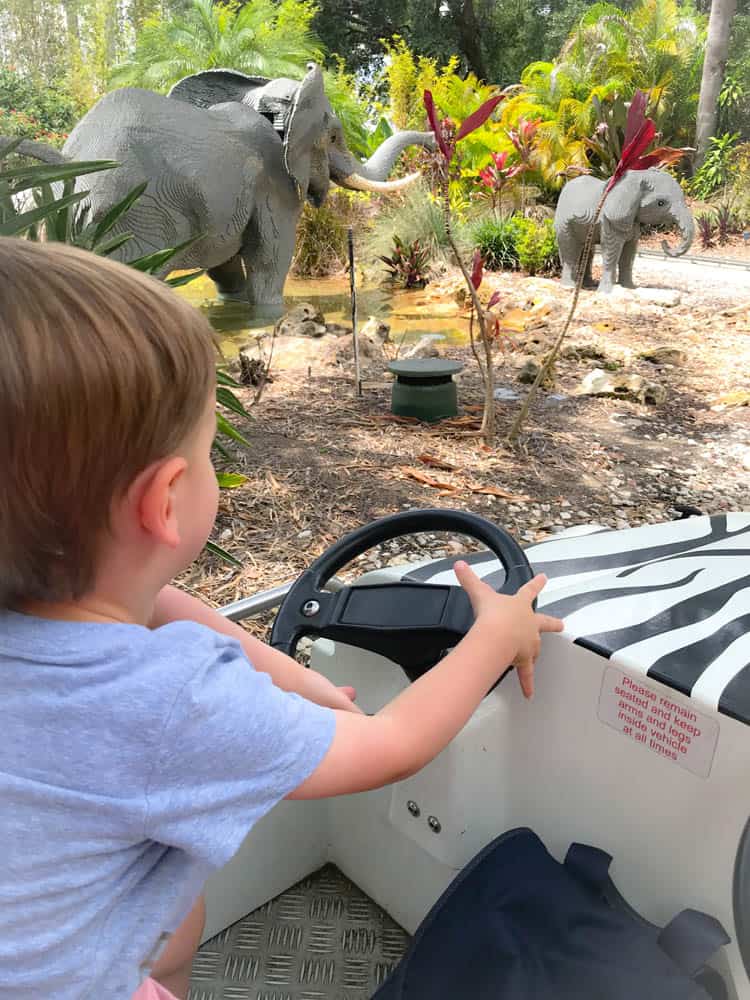 Right next door to Peppa Pig Theme Park is LEGOLAND Florida which has something for all ages, but there is a special area dedicated to preschoolers called Duplo Valley. There are several rides, a small splash pad and indoor play barn.
You'll also find other play zones throughout the park for toddlers and the water park also has areas that are little kid friendly. Kids will love the new interactive boat ride, Pirate River Quest!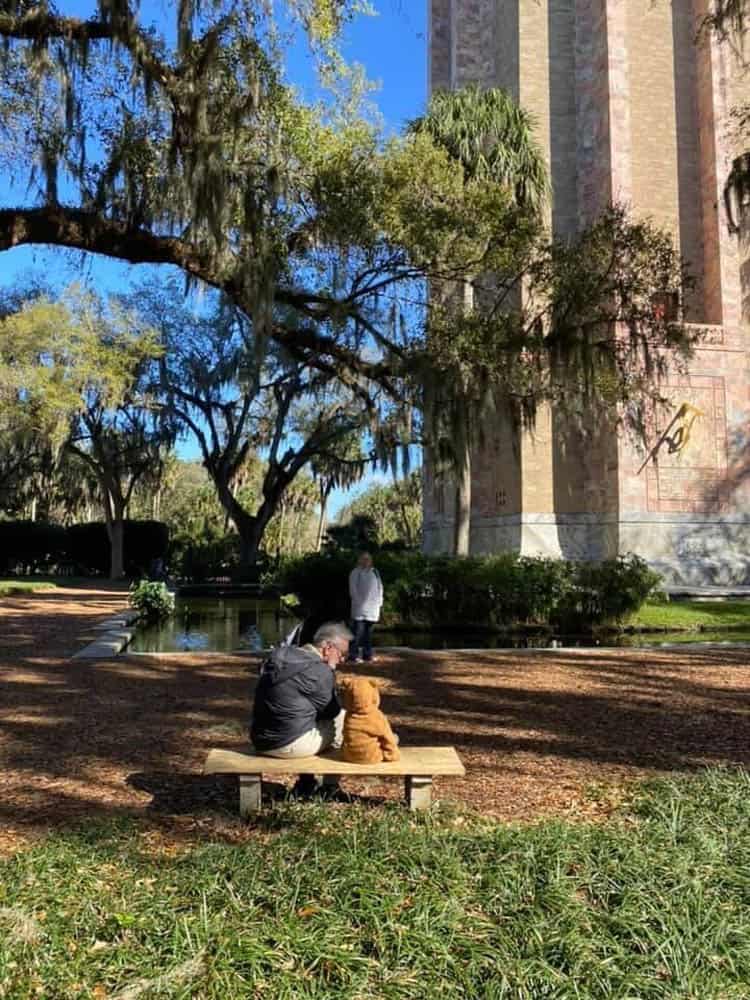 Bok Tower Gardens may not be a theme park per se, but you could call it a theme park for the soul. Since it's so close to LEGOLAND and Peppa Pig Theme Park, we're adding it here. It's a wonderful place to enjoy the beautiful gardens and tower and there's an awesome Children's garden as well. It was recently named one of the Most Beautiful Gardens in America 2023.
Special events and classes for toddlers in Tampa Bay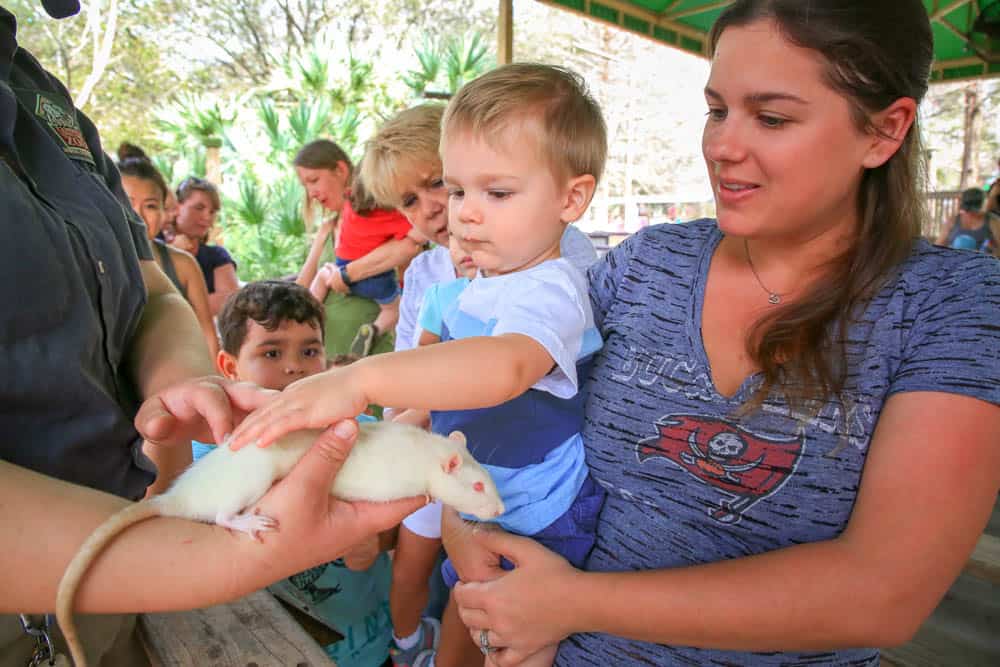 Head to ZooTampa the first Tuesday of each month for Toddler Tuesdays. Each month explores a new letter and how it fits into the animal kingdom.
Join a playgroup based on your toddler's age at Baby Bungalow. Classes are designed to engage your toddler while you learn alongside them and other caregivers.
Make the aquarium your toddler's classroom with an Aquatots class. Each class is $15, or $12 for members. Classes are designed for kids ages 3 through 5.
Enjoy story time and hands-on activities while visiting with furry friends at Pets & Tots. The class is offered once a month and is one hour long. Kids up to 4 years old are welcome and the cost is $20 per family.
Kids up to 5 years old can participate in this engaging and educational program hosted at sites throughout Hillsborough County at no cost. The in-person play sessions are 10:15-11:45 a.m. each weekday at various locations.
Learn, craft, explore and more with your toddler at Mini and Me in New Tampa. Classes vary throughout the week and are broken up by age group. Classes start at $19, with multi-class and sibling discounts available.
Get the wiggles out at Altitude Trampoline Park's Junior Jumpers program. Kids 6 and under jump for $9.99 Monday through Friday from 10 a.m. to 1 p.m.
Infants through kids aged 7 can Make Music Together® at one of the many class options (indoor/outdoor, Spanish language, etc.) at Allisongs for Tots in Hyde Park Village. Classes are 8-weeks long and include a songbook to keep, one in-person class and one video to enjoy at home per week.
Tots aged 2.5 – 5 years old can discover the joy of making art and making friends at Little Art and Play Open Studio drop-in classes. With a North (Gunn Hwy) and South Tampa (Westshore) location parents and tots can enjoy age-appropriate arts & crafts, sensory experiences, and good old fashioned play.
---
Photos by Ciarra Johnson, Laura Byrne, Brie Gorecki, Dani Meyering, and Darlene Barlows Photography | Originally published in the August 2022 issue of Tampa Bay Parenting Magazine