Where to pick sunflowers and other pretty flowers in Tampa Bay
The spring season season means u-pick sunflowers are back in Tampa Bay and the giant beauties are in full bloom along with other beauties like zinnias and wild flowers.
Some of your favorite family farms may be closed for the spring u-pick season, but there are a few still offering u-pick sunflowers and u-pick flowers!
There are usually other u-pick opportunities too, depending on the farm, so plan to spend a couple of hours there and make some space for some yummy farm fresh veggies.
A few pro tips:
Check with each farm before you go to make sure they will be open because anything can change, especially when it comes to weather.
Keep in mind, it does cost money to pick flowers, so having extra cash on hand is always ideal as some farms are cash only.
Bring your own cutters and a vase to fill with water and box to keep the vase steady for the drive home. No one wants to go home with wilted flowers.
Since it's Florida, pack the sunscreen, hats, and water because it can get hot in the fields. Bug spray and closed toed shoes like tennis shoes are always a good idea.
Pack some wet wipes to clean up after your day on the farm and snacks for the car ride home to prevent hangry child syndrome.
*Check with each farm's Facebook page for up to the minute updates on flower availability and other farm news. Things can change pretty quickly!
---
Where to Pick Sunflowers and Other Pretty Flowers in Tampa Bay this Spring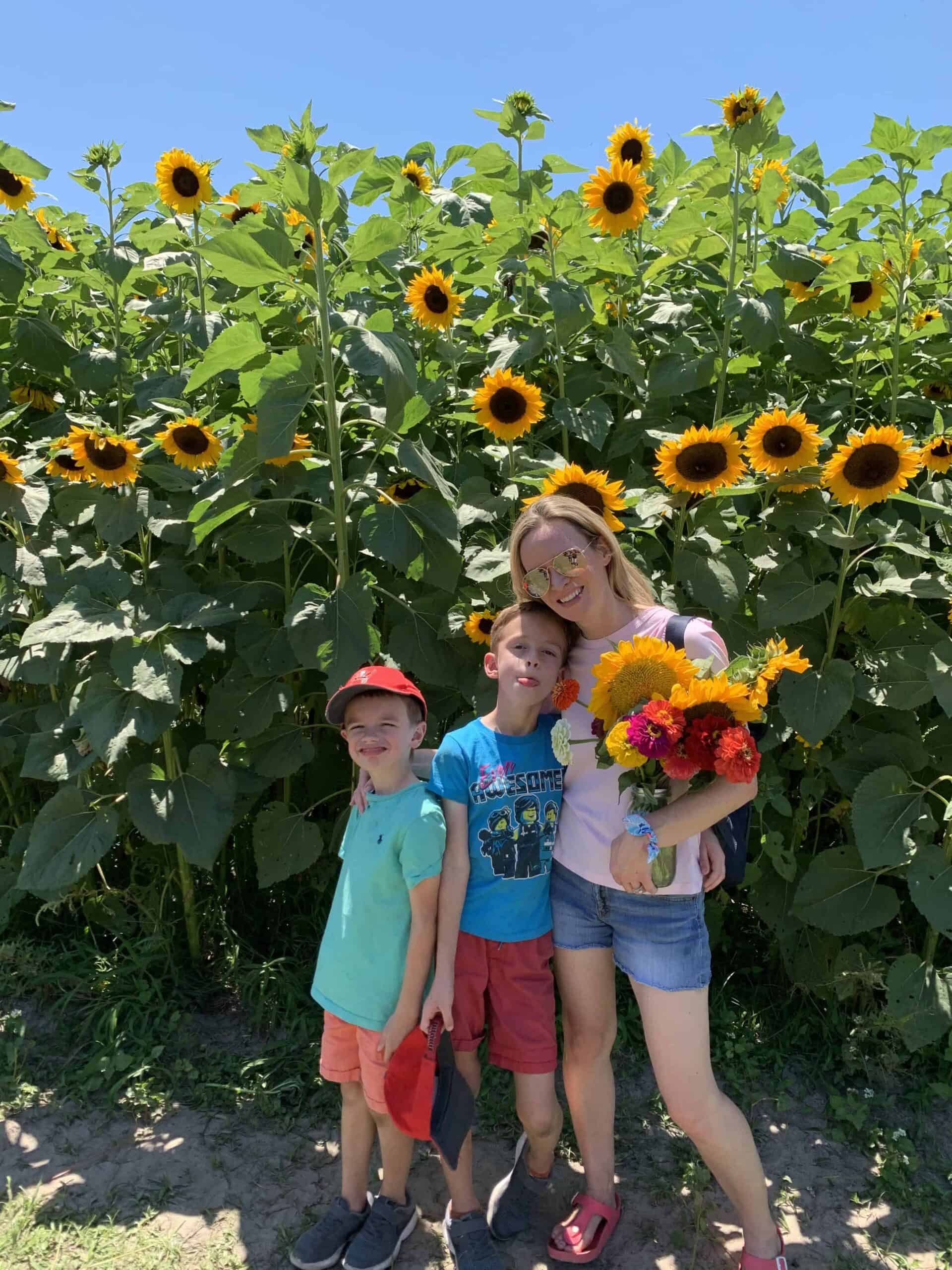 Berry Sweet Acres in Plant City: U-Pick Sunflowers, Zinnias
5621 W US Hwy 92, Plant City
Last day to pick is Sunday, July 3! Berry Sweet Acres is a new farm to the Tampa Bay Area, run by the family of farmers behind the popular Parkesdale Farms. They will have seasonal u-picks and right now, it's sunflowers and zinnias! The farm is open Wednesdays-Sundays in June. Admission is $2 and then sunflowers are $1 each or you can get the mason jar special for $15. Stay up-to-date by visiting Berry Sweet Acres' Facebook page before you go.
Strawberry Passion/Passion Organics and Thonotosassa: U-Pick Sunflowers and Zinnias
11780 Tom Folsom Road, Thonotosassa
According to their Facebook page, it looks like Strawberry Passion is gearing up to offer u-pick sunflowers and zinnias July 6-July 9 from 9am-3pm. You can pick 10 stems for $2.00. Check their Facebook page for times and dates.
Beasley Farms in Brooksville: U-pick Sunflowers, beets
10137 Preston Road, Brooksville
This is a new addition to our list of places to pick sunflowers in Tampa Bay! They have opened the field for u-pick sunflowers –you can pick two for $1. They also have u-pick organically grown beets and even a corn crop coming in which you can purchase. Stay up to date on future u-picks by visiting their Facebook page here.
---
All picked out for the spring season, but stand-by for info on Fall U-Picks and other fun events on the farm: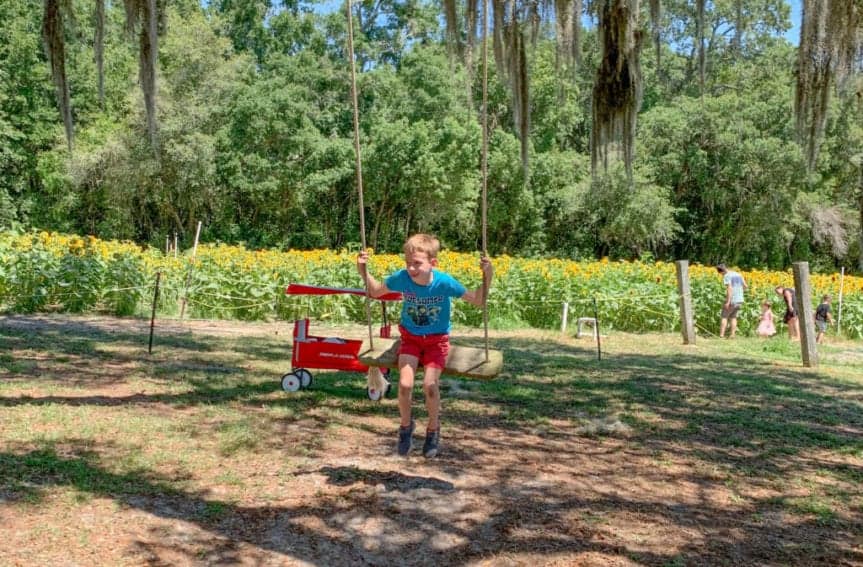 Sweetfields Farm in Brooksville: U-Pick Sunflowers and Zinnias
17250 Benes Roush Road, Brooksville
www.sweetfieldsfarm.com
May 30, 2022 is the last day for the spring season!
In the spring, you can check out the themed sunflower maze, play area, peddle tractor rides, hay rides, farm animals and more! Tickets usually sell out for this one, so you'll want to buy right away to secure your spot. Tickets are required for everyone ages 3 and older and includes the maze, visits with farm animals, tumble weed rollers, peddle cars, and more. Check out their Facebook page here.
Fancy Farms in Lakeland: U-pick Sunflowers, Zinnias, and Wildflowers 
5204 Drane Field Rd Lakeland, FL
Fancy Farms opened their fields in May for zinnia and wildflower u-pick. The flower fields should be open through the end of June. Check their Facebook page here for updates.
Hunsader Farms U-Pick Wildflowers, Sunflowers and Zinnias in Bradenton 
5500 County Road 675, Bradenton 34211
www.hunsaderfarms.com
Hunsader Farms has the prettiest sunflowers, zinnias and wildflowers during u-pick season (and Insta-worthy pics!), along with lots more u-pick veggies like varieties of beans and peas, squash, and tomatoes. There's also a petting zoo with more than 30 species of animals!  Learn more here about future events
HarvestMoon Fun Farm Sunflower U-Pick in Masaryktown
15950 Stur Street, Masaryktown 34604
www.harvestmoonfunfarm.com
May 30, 2022 is the last day for sunflower u-pick! 
In the spring, be sure to visit HarvestMoon Fun Farm for u-pick sunflowers, zinnias and wildflowers AND have some fun on the farm by making your way through the sunflower maze, visiting with the animals at the petting farm, and more! They'll be open May 6-May 30 this year.
5K Farms in Plant City: U-Pick Sunflowers and more
6302 S County Road 39, Plant City 33567
Follow their Facebook page for updates and exact dates for u-pick.
Jimmy MC's Farm in Spring Hill: U-pick sunflowers
17430 Coon Hide Road, Spring Hill 34610
Jimmy MC's Farm offers u-pick sunflowers in the spring!  Learn more here for future updates.
---
Related Stories: