The BEST Things to Do in Tampa Bay with the Kids
Whether you live here or just stopping by for a visit (welcome!), there is no shortage of awesome things to do in Tampa Bay with the kids. From world-famous beaches to world-renowned theme parks, we've got it all here in Tampa Bay and we can't wait to share all of our favorite spots with you!
We not only live here, but we have also spent many years visiting these special places around the area with our own families so we're truly speaking from a place of experience and not a google 'copy and paste' search like all the other sites out there (we know, we've read them too and we're not impressed as locals). We've been there, done that, friends.
Our Favorite Things to Do in Tampa Bay with the Kids
Explore fun things to do this weekend in Tampa Bay!
Every week, we curate a list of the best weekend events and things to do in the Tampa Bay Area for families. There's never a shortage of fun events for families, especially as we near the holiday season.
Save some cash and check out our favorite FREE and Cheap Things to Do in Tampa Bay
We don't have to tell you, raising kids is expensive, so why not save a bit while still having an awesome day out with the family? There are some pretty spectacular places to visit at little to no cost including year-round ways to save and special savings events. We're sharing 40+ awesome free and super cheap things to do in Tampa Bay with the kids here.
Things to Do with Toddlers in Tampa Bay
Since we've been there, done that we know it can be a different experience going out and about with a toddler which is why we've put together a list of our favorite things to do with toddlers in Tampa Bay!
Location: 1101 W. Sligh Ave, Tampa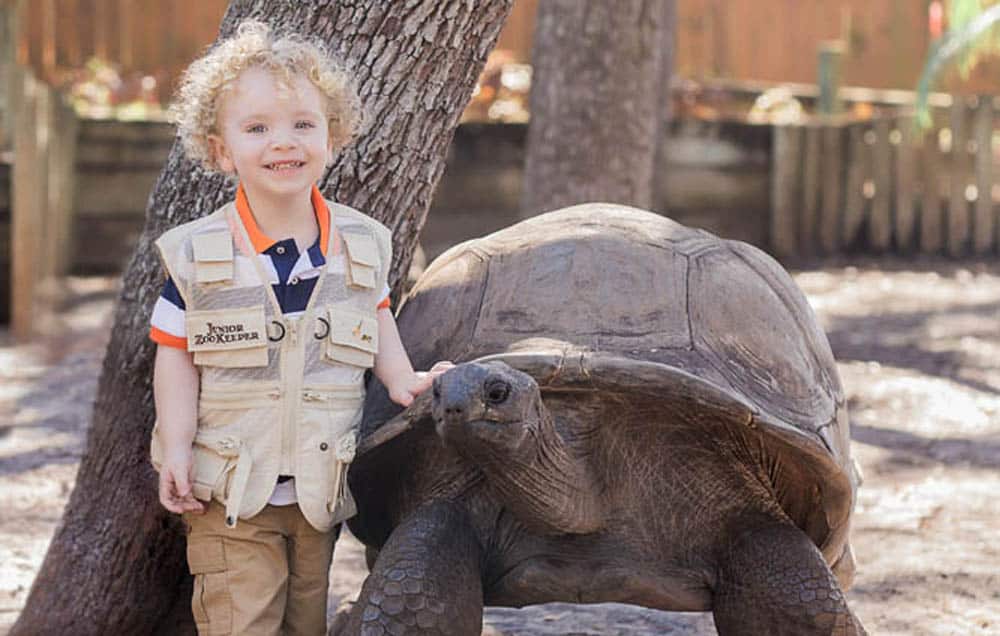 Once you experience ZooTampa, you'll see why it's rated as one of the best zoos in the country and the most visited cultural attraction in Florida. To make the day even more unforgettable, consider upgrading your day with a unique animal encounter like meeting a giant Aldabra tortoise or feeding an Indian White Rhino. And make sure to pack a bathing suit and towel in case the kids decide to cool off in the splash pad at Wallaroo Station.
There are also pretty cool exhibits that come through the Zoo. On February 25, BUGTOPIA goes on exhibit where you can go face-to-face with larger-than-life bugs!
Go for a thrilling ride and meet the animals at Busch Gardens Tampa Bay
Location: 10165 McKinley Dr, Tampa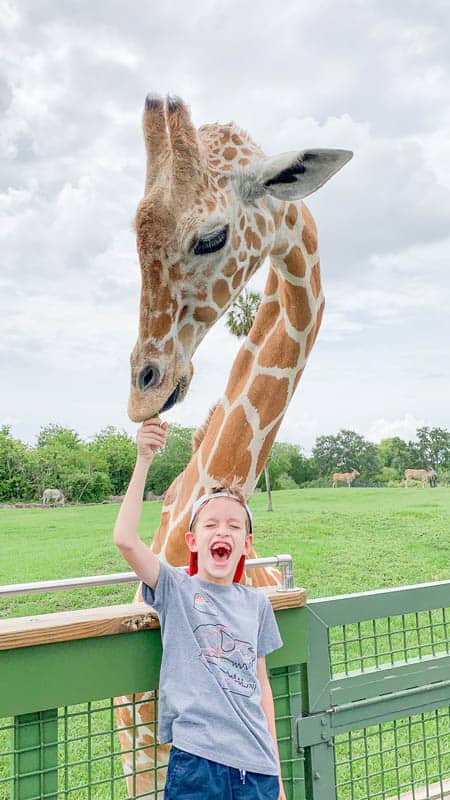 Busch Gardens Tampa Bay is home of many rides that can boast -est as a claim to fame–like tallest, fastest… In fact, the theme park is debuting a brand new ride that will be the world's tallest and fastest of its kind when it opens February 27, the Serengeti Flyer.
Busch Gardens is also known for its animals. You can choose to observe from the exhibits or fully immerse yourself by booking an animal tour like the Serengeti Safari which we highly recommend! The park is also toddler friendly with the beloved Sesame Street Safari of Fun which is filled with rides and activities for little ones! Don't forget to take advantage of the FREE Busch Gardens Preschool Card when it is offered once a year.
Location: One LEGOLAND Way, Winter Haven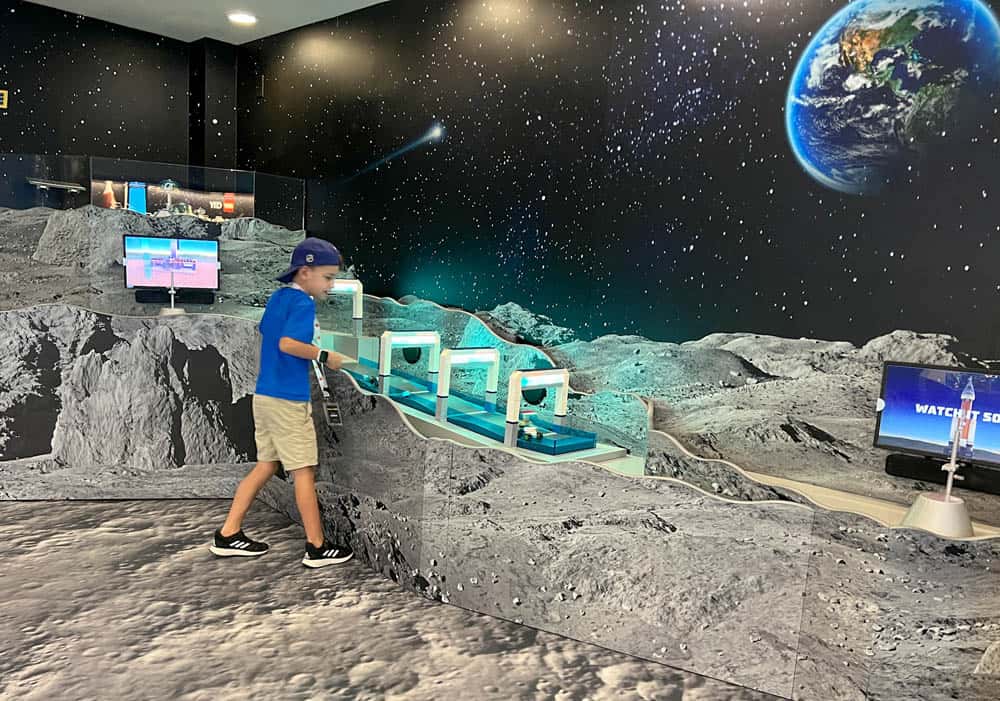 With over 55 rides and attractions and a theme park dedicated to a favorite toy, you can't go wrong with a visit to Legoland Florida Resort. There have been a few new additions in the last year including the new Pirate River Quest ride in the historic Cypress Gardens and LEGO City Space in the Imagination Zone. There is also an awesome water park too cool off on hot days and if you want to stay overnight, we highly suggest booking a stay at one of the three awesome hotels on property too: Pirate Island Hotel, LEGOLAND Hotel, and LEGOLAND Beach Retreat. We've stayed at them all and we love that each features a bunk bed nook for kids! If we had to pick a favorite, it would be the Pirate Island Hotel because…pirates! We are from Tampa, after all!
Location: One LEGOLAND Way, Winter Haven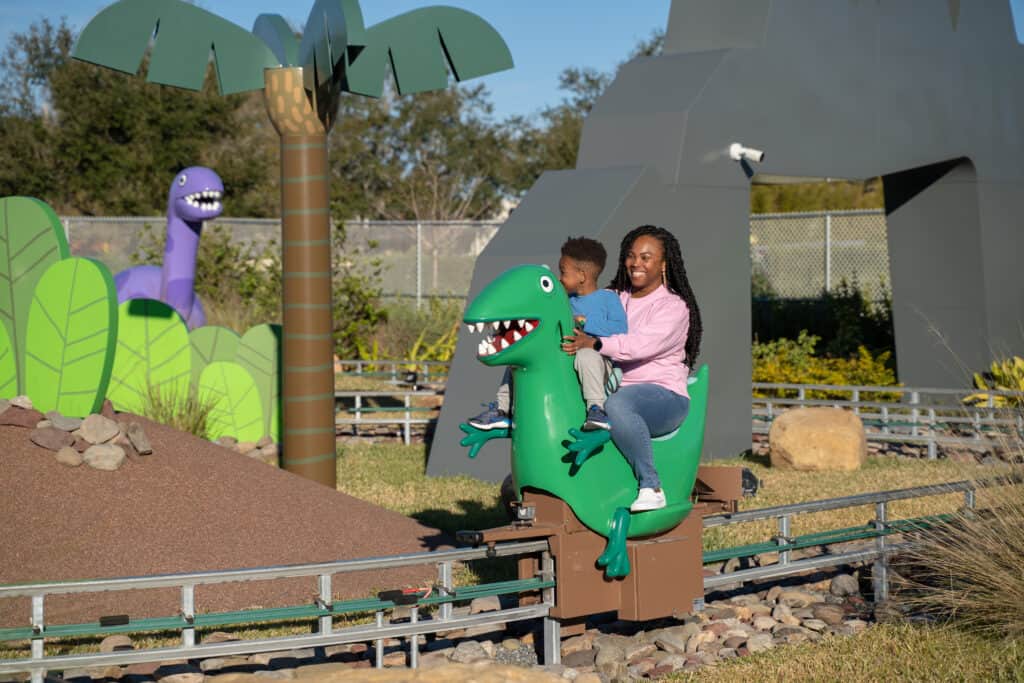 Right next doo to LEGOLAND Florida Resort is a preschooler's paradise! The world's first Peppa Pig Theme Park is right here in Tampa Bay and it's a park designed just for little ones. Preschoolers can ride their first ride on their own or even with a parent if they're not quite ready to take that step on their own. There is also a a great splash pad area with slides and fun water features and of course, character meet-and-greets!
You can buy a dual ticket or even annual pass to get your family into both LEGOLAND Florida and Peppa Pig Theme Park. There is a shared parking lot and you can easily walk between each park, so it's a must-do if you have little ones.
Go face to snout with the world's largest fossil triceratops at Glazer Children's Museum in Tampa and stay and play!
Location: 110 W Gasparilla Plaza, Tampa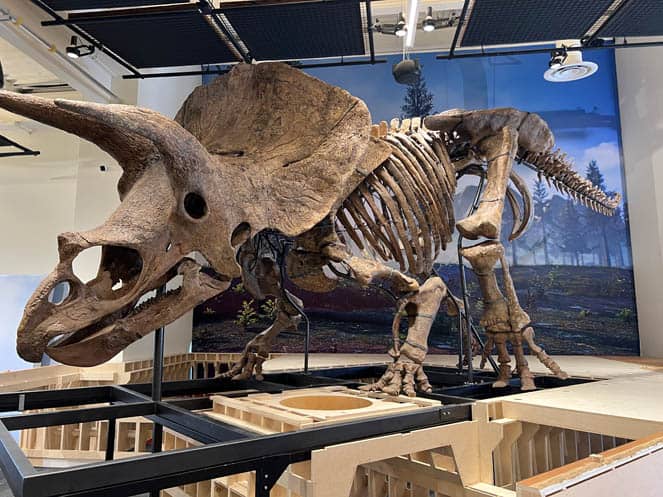 Did you know the world's largest fossil triceratops lives right here in Tampa Bay? The Tampa family who purchased Big John, the record-breaking fossil have donated it to the museum for a three year display on the third floor. It officially opens on May 26, Memorial Day Weekend.
The Glazer Children's Museum has a ton more to do for kids, spanning the first two floors as well, including the popular Port water play area, climbing structure on second floor and several interactive exhibits for kids to experience as they learn and play.
Location: 4801 E Fowler Ave, Tampa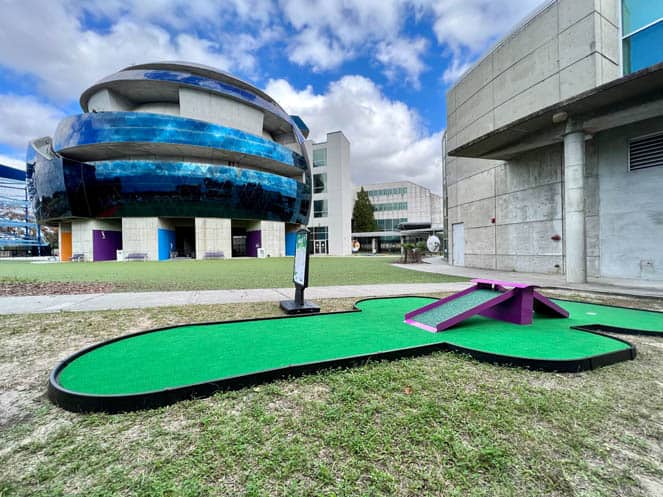 We love visit MOSI with the kids because it has a great mix of indoor and outdoor fun. Inside, you can explore the hands-on exhibits and even blast off to a moon base in the Mission Moonbase! But, that's not all. There is also a cool Dinovations Lab, planetarium, Drone Zone, and an awesome schedule of rotating special exhibits. Right now, Toothpick World is on display which features the world's largest buildings built entirely out of toothpicks at 1:64 scale.
Location: 701 Channelside Dr, Tampa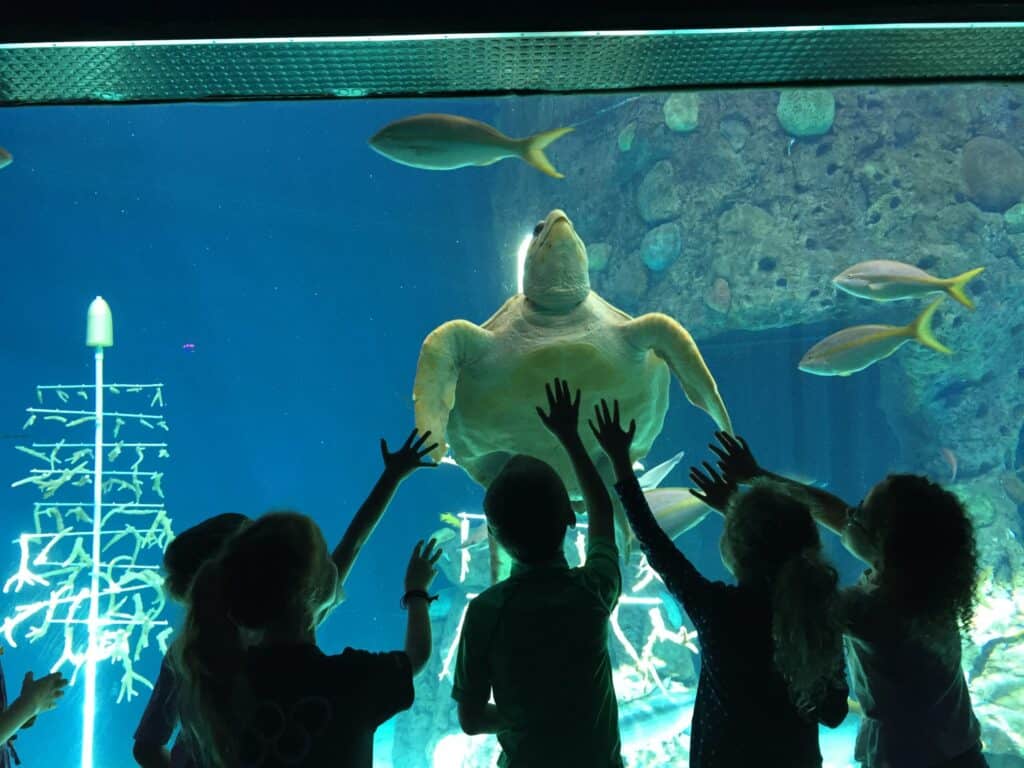 Kids of all ages love the Florida Aquarium and we've been taking our own kids here since they were tiny babies–and they loved it then too because there was so much to look at. It's a great way to cool off in the summertime and even take shelter on rainy days too. The Splash Pad is another popular attraction at Florida Aquarium, so be sure to bring bathing suits and towels!
They have some cool ways to upgrade your visit like a meet and greet with the penguins and you can even walk underwater among sharks as part of Sea TREK–we can't wait to do this once our kids are old enough–kids must be at least 10 years old to participate.
There's a major expansion in the works right now too that will eventually bring sea lions and more to this beloved Aquarium.
Location: 249 Windward Passage, Clearwater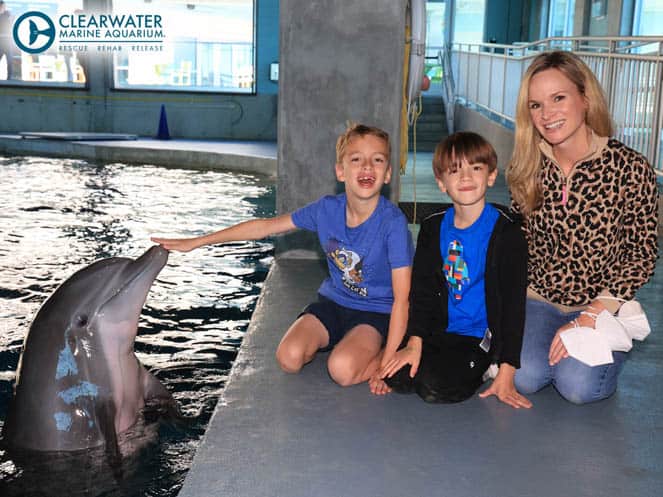 We love Clearwater Marine Aquarium because it's a chance to get up-close with world-famous dolphins like Hope from the movie Dolphin Tale 2. Winter -the dolphin that put the aquarium in the international spotlight with the debut of the first Dolphin Tale movie – sadly passed away in 2021, but she has been memorialized through an endowment fund to help the aquarium to continue to rescue and rehabilitate other animals. You can also still see part of the movie set like Dr. Haskett's office.
While this is an aquarium that most definitely entertains, its true purpose is to rehabilitate and rescue animals and educate us about the importance or protecting these precious creatures and our waterways. You can book a dolphin cruise and even upgrade your day with an experience like feeding a dolphin and even feeding a shark!
Experience the awe and wonder of Zubrick Magic Theater in St. Pete
Location: 1211 1st Ave N, Suite 101, St. Petersburg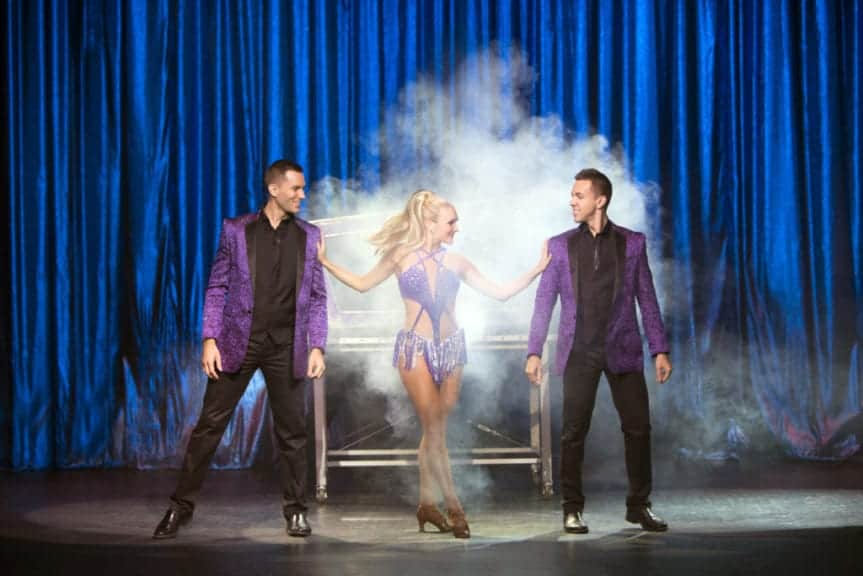 Did you know you can experience a real magic show in Tampa Bay? Illusionists Chris and Ryan Zubrick brought their award-winning magic show to St. Pete in 2021 and it's been a huge hit ever since. Their show proves that magic isn't just for kids–it transpires across all ages and everyone will leave wondering, 'how did they do that?"
Zubrick Magic Theatre is perfectly situated near St. Pete's Central Avenue where you can easily walk to several yummy restaurants and even hop on a ride on the new SunRunner rapid bus line that takes you all the way to St. Pete Beach.
Location: Downtown Tampa/South Tampa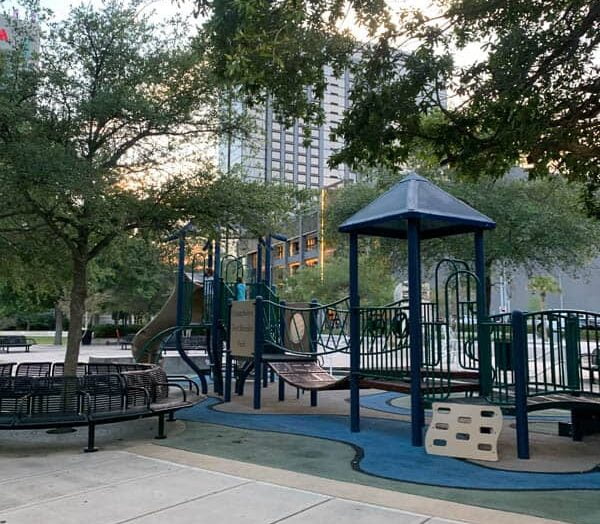 The Tampa Riverwalk stretches 2.6 miles and it's expanding in the near future. Right now, it spans between the area of Armature Works and continues all the way up to the area of Sparkman Wharf. Bayshore is the longest continuous sidewalk in the United States at 4.5 miles. If you get tired, you can hop on the Pirate Water Taxi for a ride or even rent a scooter or bike. There are a couple of playgrounds to play along the way like Curtis Hixon Waterfront Park, Water Works Park and Cotanchobee Fort Brooke Park.
Visit the Beach
Location: Various locations throughout Tampa Bay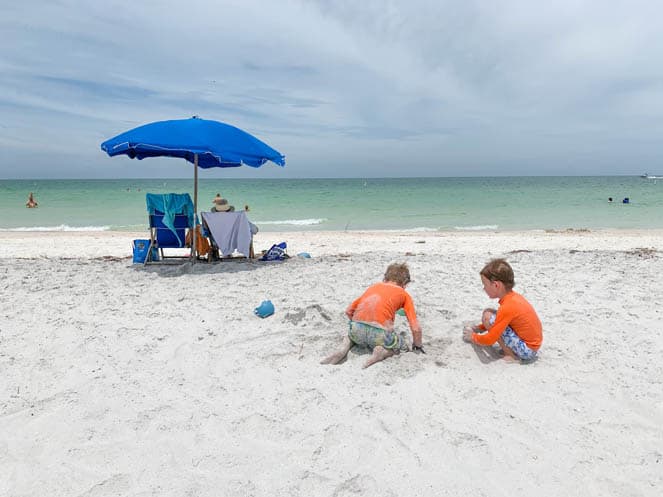 This is pretty much a no-brainer since the Tampa Bay Area is known for its world famous beaches like Clearwater Beach and St. Pete Beach, but there are so many more amazing beaches to choose from along our stretch of coastline. We're sharing our favorite family-friendly beaches here, but since we've got your attention for a minute, we want to also recommend spending the day at Caladesi Island State Park. While you can walk there from the north end of Clearwater Beach, it's a long walk and we much prefer taking the ferry over from Honeymoon Island which also has some beautiful beaches of its own.
There are also beautiful beaches we love south of Tampa like Anna Maria Island and Boca Grande.
Search for Shark Teeth in Venice
Locations: Between Casey Key and Manasota Key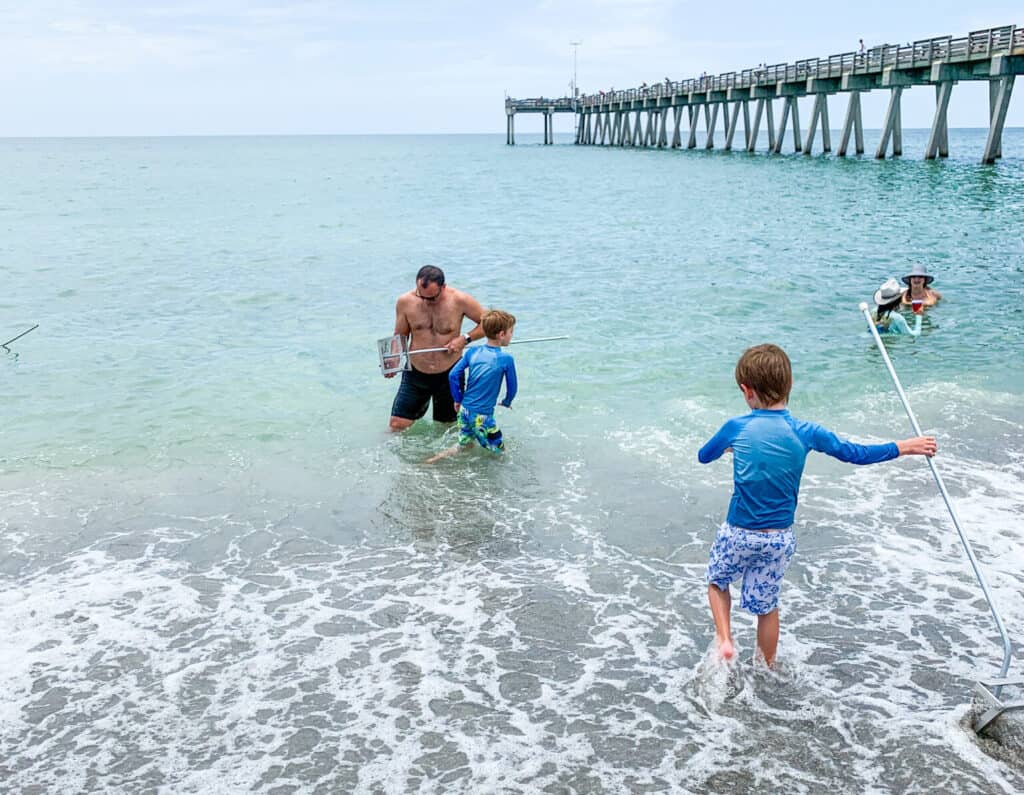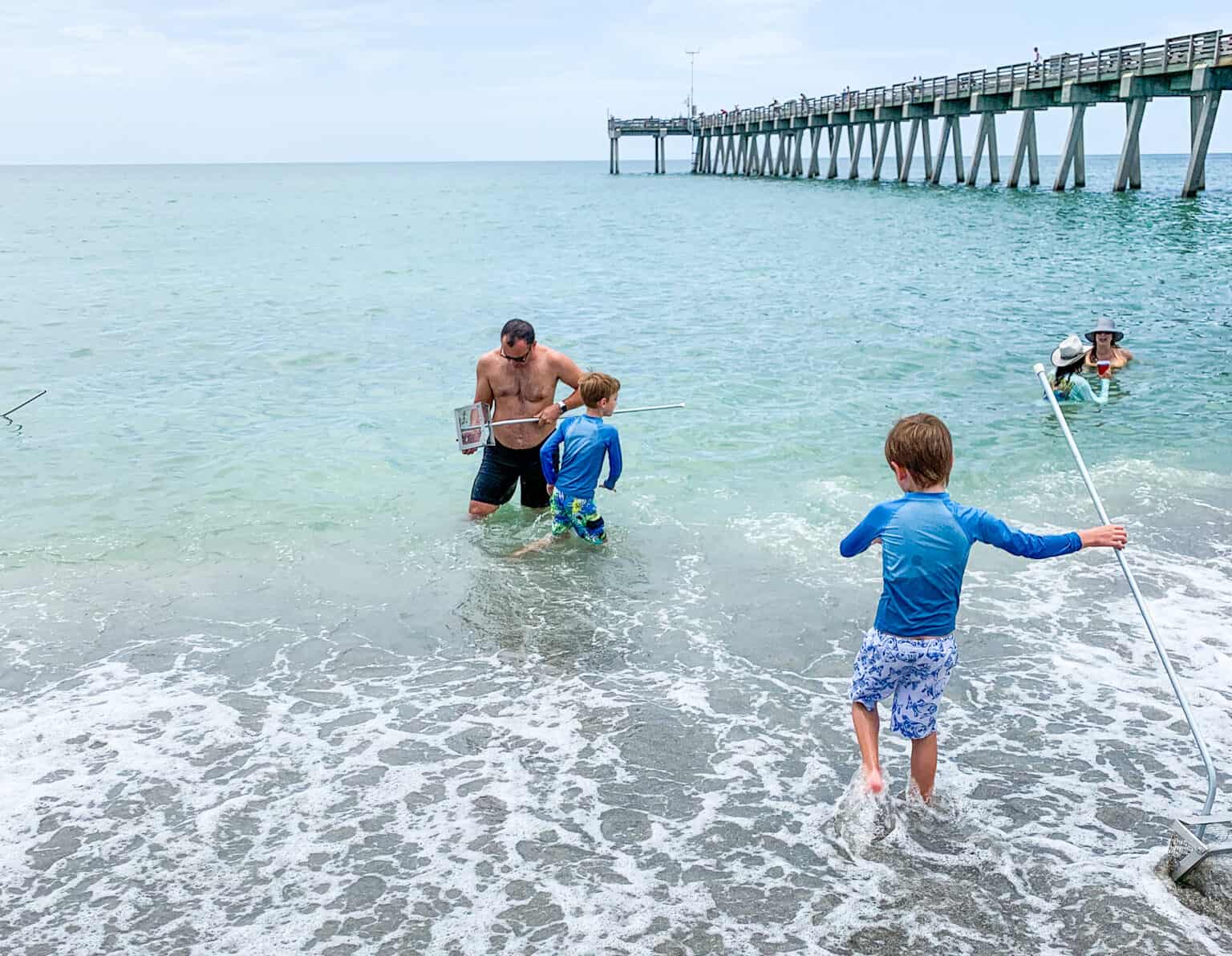 Did you know Venice is the Shark Tooth Capital of the World? FossilGuy.com informs us that this distinction was millions of years in the making, but in the short version, you can thank rising and falling sea levels, the earth's movement, erosion and the Peace River Formation flowing right into the area with fossilized treasures.
Venice's beaches range from north at Casey Key south to Manasota. For the best luck, try Caspersen Beach, the Venice Pier and Manasota Beach. In addition to a keen eye, you'll also need some tools of the trade like a Shark Tooth Sifter that you can rent or buy. Just make sure the opening of the sifter is no more than a quarter of an inch. Careful with kids since it can get up to knee to waist deep pretty quickly from the shoreline depending on the day.
For a deeper dive into Florida fossil exploration, check out one of the cool inland tours along the Peace River such as Paleo Discoveries and Fossil Recovery Exploration. You can even pay a visit to the Bone Valley Fossil Farm to search for meg teeth.
Cool off at Adventure Island in Tampa and other awesome water parks
Location: 10001 McKinley Drive, Tampa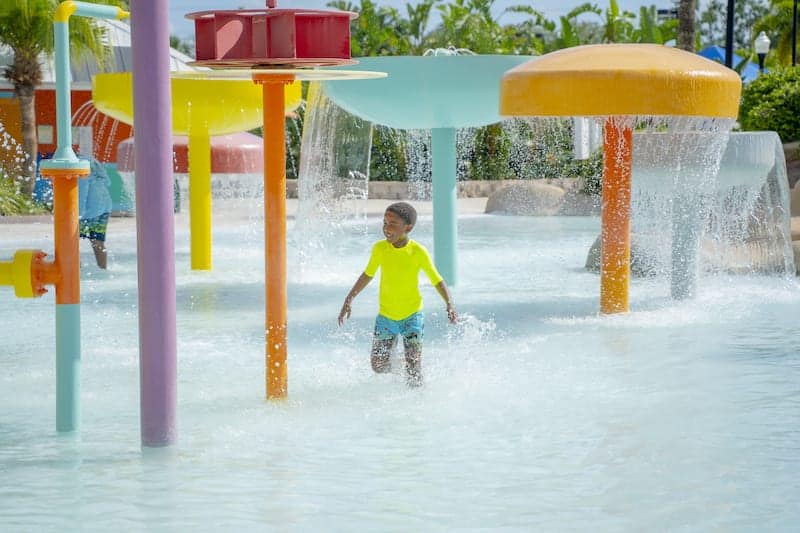 Adventure Island is one of our favorite places to cool off when the temperatures rise in Tampa Bay because there is so much for the kids to do. There are 10 awesome waterslides including the newest slides added to the mix: Wahoo Remix and Rapids Racer. Our kids love the Rambling Bayou lazy river and the splash areas for kids. In fact, a brand-new one debuts when the park opens for the 2023 season on March 4, called Shaka-Laka Shores.
There are also two amazing man-made lagoons to experience, Epperson Lagoon in Wesley Chapel and SouthShore Bay in Wimauma. We're sharing more of our favorite water parks in Tampa Bay here.
Kayak our beautiful natural springs in Florida!
Location: Various locations throughout Tampa Bay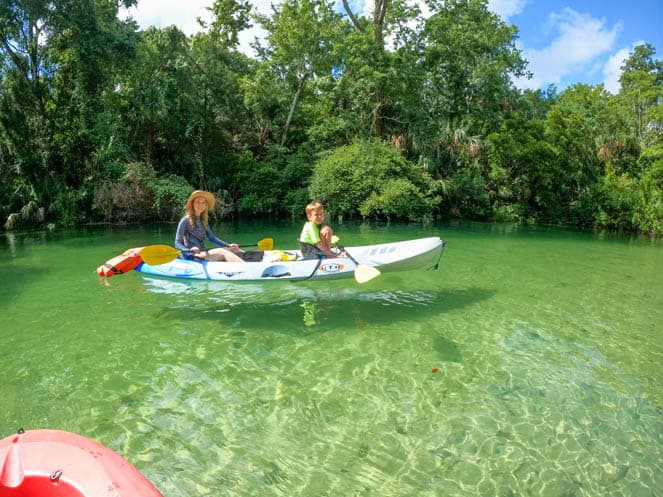 There are so many places to go kayaking in Tampa Bay whether it's on the bay or in the crystal clear waters of our natural springs. One of our favorite spots to go kayaking with the kids is along the Weeki Wachee River–you can start with a visit to Weeki Wachee Springs State Park and then kayak along the river. You just might spot a few manatees too! We're sharing more awesome places to go kayaking here and giving you an Inside Look of a sweet tour designed just for kids called Paddle Pals with Get Up and Go Kayaking at Shell Key.
Meet Mermaids at Weeki Wachee Springs State Park and stay and play at the water park
Location: 6131 Commercial Way, Spring Hill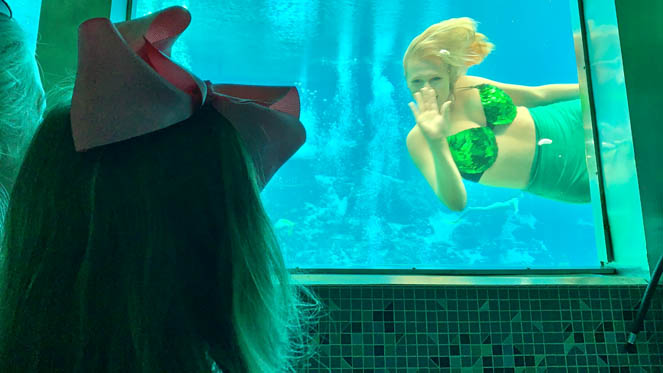 Speaking of Weeki Wachee Springs State Park, let's take a deeper dive into this MUST-VISIT state park in Florida where you can meet real mermaids and swim in the Florida's only natural water park, Buccaneer Bay! The park can fill up pretty quickly, so we recommend arriving early. There is so much to experience here including the world-famous mermaid shows in an underwater theater, Buccaneer Bay water park that has water slides, tubing, a splash pad, bar and snack stand and more!
Location: 6990 Dickman Road, Apollo Beach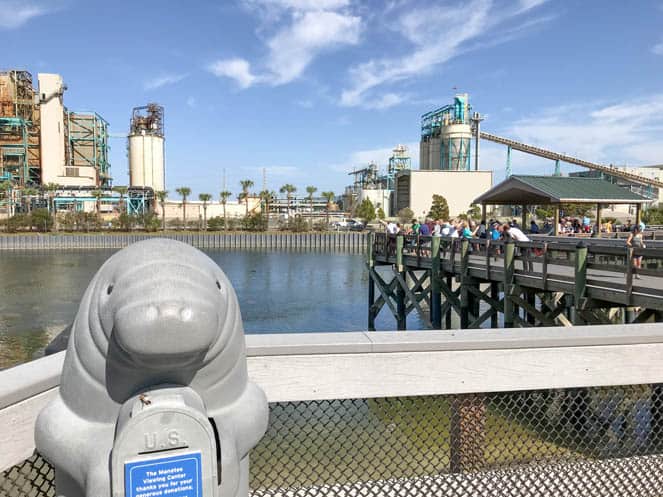 If you visit during the cooler months during the winter and early spring, head to TECO Manatee Viewing Center in Apollo Beach to see hundreds of manatees as they seek the warmer waters coming from the power plant–don't worry, the water is clean. This is a free experience and a beautiful place to spend the afternoon. There is a boardwalk walking trail and plenty of picnic tables for an al fresco lunch! The TECO Manatee Viewing Center is only open seasonly around November through April.
Go Ice-Skating
Various locations in Tampa Bay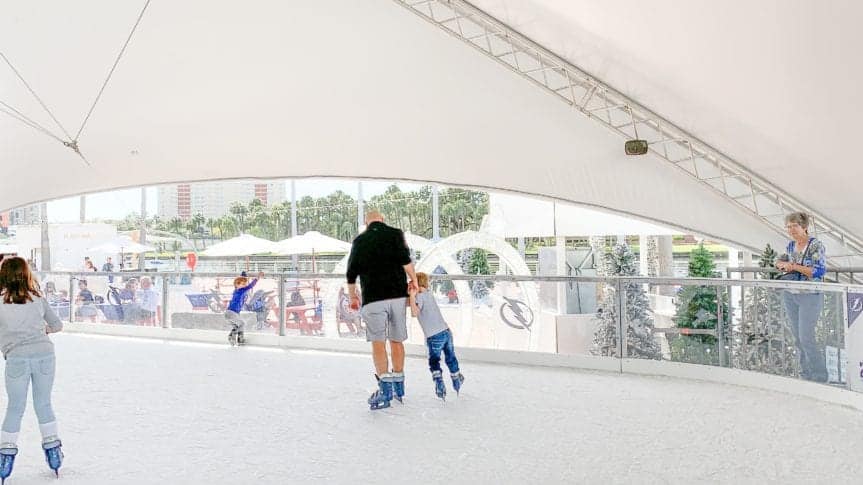 Tampa is home of the Tampa Bay Lighting, back to back Stanley Cup winners, so it's safe to say hockey is sort of a big deal here! There are plenty of spots around town where you can can indoor ice skating like Clearwater Mall, TBSA, and AdventHealth Center Ice. Even outdoor ice-skating in November and December at Winter Village at Curtis Hixon Waterfront Park.
Spend some time on the Farm
Various locations in Tampa Bay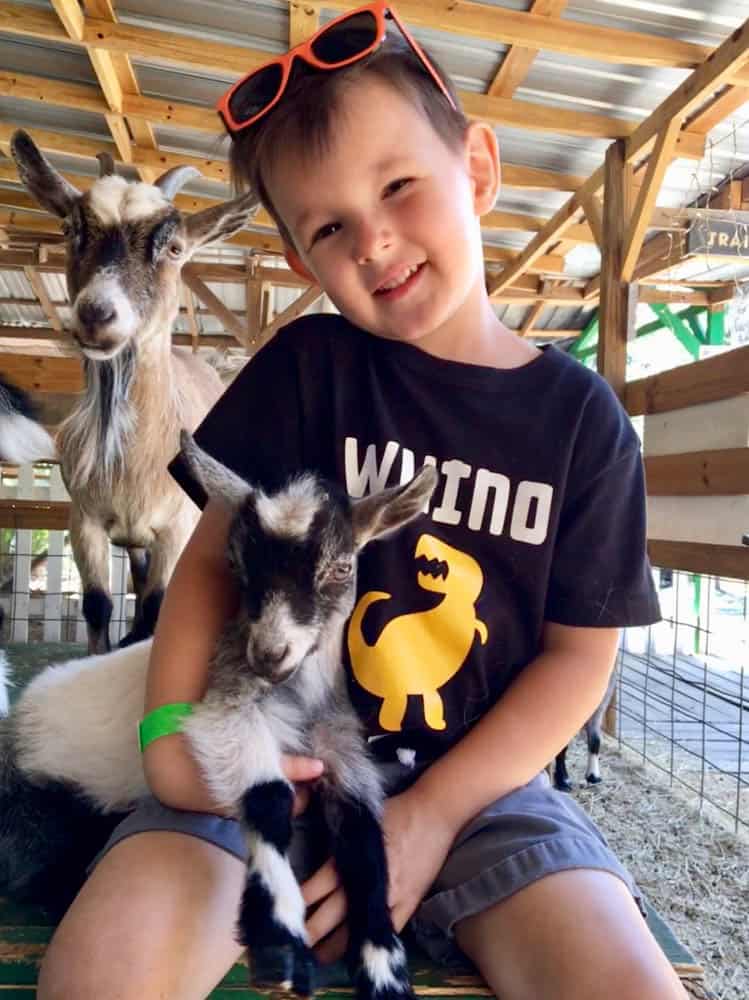 Agritourism is a big business in Florida and most definitely here in Tampa Bay! While the region is known for its strawberries, it offers so much more for families. U-pick is huge here and you can usually find a u-pick even throughout most of the year, however spring and fall tend to have the most farms on schedule. You can explore our favorite u-pick farms here.
Other staff favorites are a visit to Old McMickey's Farm in Odessa where kids can milk a cow, go on a farm tour and hold a chicken. DK Farms and Nursery in Largo hosts special events throughout the year, but is open daily for a Petting Zoo experience. HorsePower for Kids in Tampa near the Westchase area also offers a petting zoo opportunity Thursdays-Sundays and horseback riding for kids 7-15 years old.
If you want to visit a real working dairy, head to Dakin Dairy in Myakka City in the Sarasota-Bradenton area hosts tours where you can learn all about the production of milk, pasteurization, and even cheese-making!
These are just a few amazing farms that offer tours and events for families, so we hope you'll plan to experience at least one with the kids! You won't regret it.
Play at the AMAZING parks and playgrounds in Tampa Bay
Location: Various locations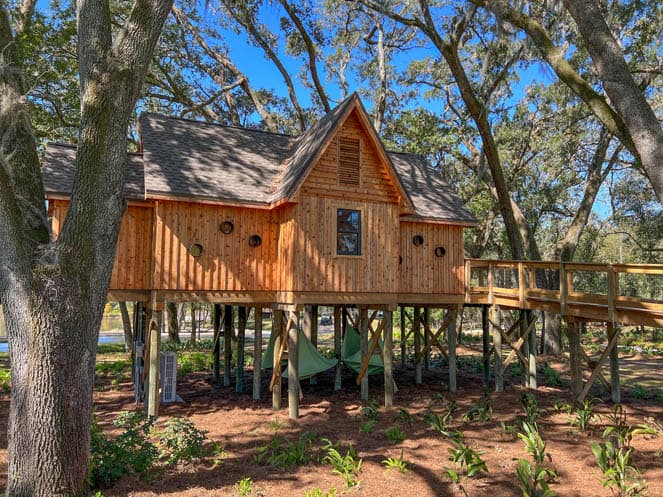 There are so many awesome parks and playgrounds in Tampa Bay, but there are a few that standout due to their size and amenities. One of our favorites is Julian B Lane Riverfront Park in Tampa. It has an awesome splash pad and playground and plenty of green space for kids to simply run. There are also pickle ball courts along with tennis and basketball courts and even a dog park. The community center on site is gorgeous and the park offers spectacular views of downtown Tampa.
Another park we love is relatively new — Bonnet Springs Park in Lakeland is not only huge at 107-acres, it also offers several play areas along the connector loop, is home to the new Florida Children's Museum, and so much more!
Location: 600 Bonnet Springs Blvd, Lakeland (located in Bonnet Springs Park)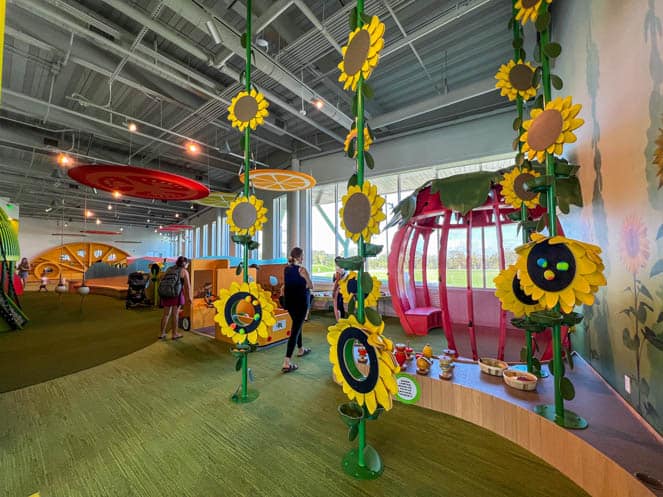 The Florida Children's Museum, formerly the Explorations V Children's Museum at its previous location, is a brand new, 47,800 square foot building located in the NEW Bonnet Springs Park . It's geared for kids up to age 12 featuring two floors of interactive learning fun including a Publix exhibit, stop motion exhibit, and so much more! We're sharing our INSIDE LOOK of the Florida Children's Museum here.
Location: Stops between Ybor City and Downtown Tampa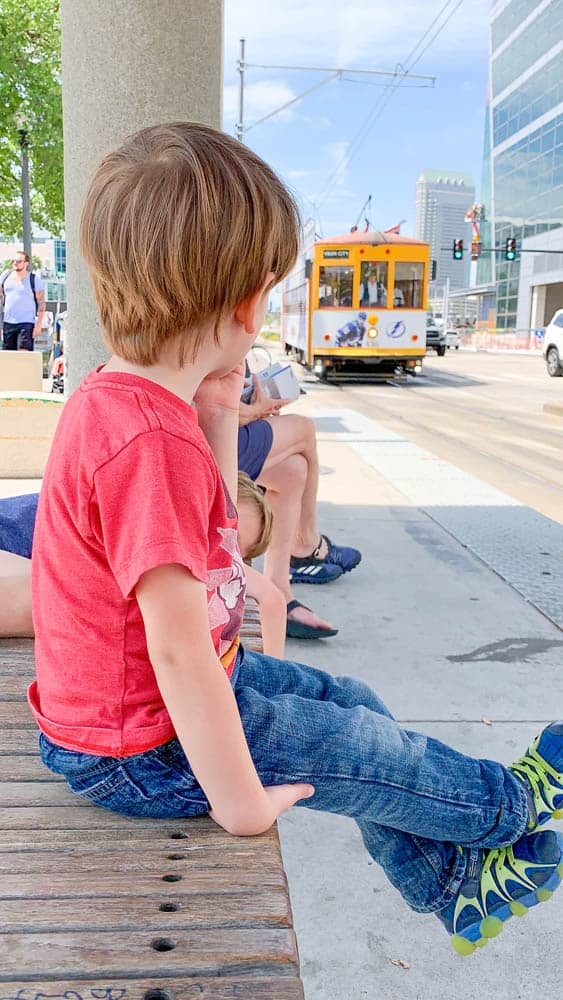 We LOVE taking a ride on the TECO Line Streetcar with the kids. It's free to ride and there are so many awesome stops along the way. Since we're members of the Florida Aquarium, we'll usually park there for free, go for a quick visit and then hop on the streetcar for a ride. Fun stops include ice-cream in Ybor City and then a stop to play at the park at Cotanchobee Fort Brooke Park's playground behind Amalie Arena.
Go on a thrilling jet boat ride on the Bay Rocket that you can only ride in a handful of cities around the country!
Location: 333 S Franklin Street, Tampa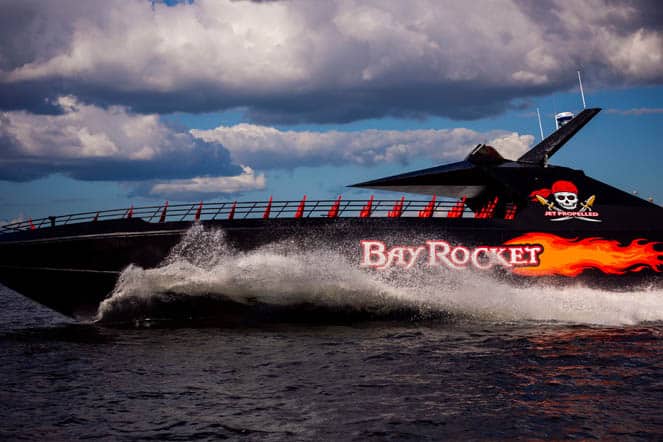 The 2800 horsepower Bay Rocket jet boat is the newest addition to the Yacht Starship fleet and it's ready to launch you and the family to heart-pounding speeds and 180-degree turns for a thrill ride on the Bay like no other. And when we say 'like no other', we mean it. The Bay Rocket is one of only five speed boats like it in the country. Similar jet boats can be found in waterfront cities like New York, Boston, Chicago, and San Diego…and now Tampa.
Go for a ride on a real Pirate Ship
Location: 333 S Franklin Street, Tampa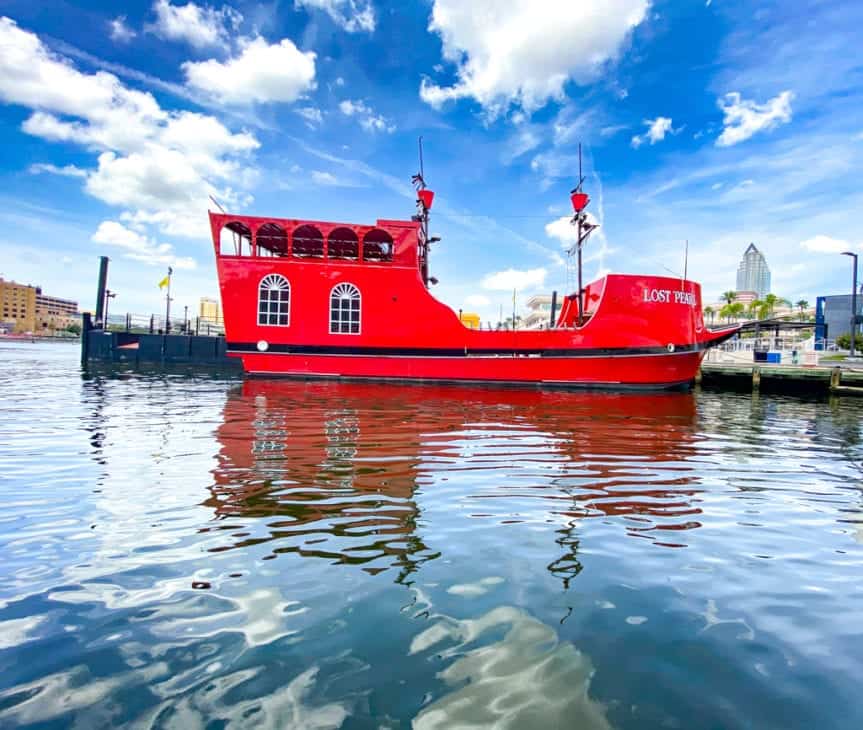 The Lost Pearl Pirate Ship is also part of the Yacht Starship fleet out of the same dock as the Bay Rocket. The Lost Pearl is an awesome and a totally unique thing to do with the kids in Tampa. The short cruise features pirate themed games, water cannons, a grog bar, and more. The ship also hosts fun holiday themed sailings too. While the boat is in dry dock right now, it will eventually set sail, so make sure to put this adventure on your radar.
Go for a ride on a Mini Train on Largo Central Railroad
Location: 101 Central Park Drive, Largo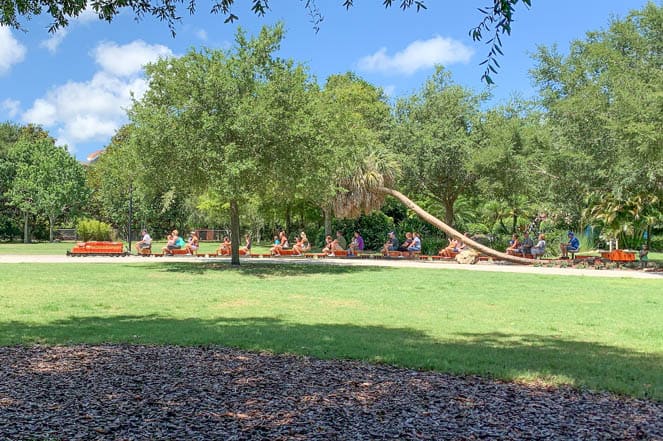 The first weekend of each month, Largo Central Railroad hosts families for a free mini train ride around the beautiful Largo Central Park. While it is free, a small donation is appreciated to help keep the program going. During the fall and winter holidays, they offer themed rides as well which are usually ticketed events, but something to keep in mind.
Stay and play at the park, and again, pack a picnic since there are plenty of areas to sit down and enjoy your lunch. We also bring a soccer ball or football for the kids since there is a large lawn area too.
Up in Pasco County, Central Pasco and Gulf Railroad operates train rides on the second Saturday of each month through Crews Lake Park. A small donation of at least $1 is appreciated. They also host holiday themed rides in the fall and winter.
Experience an awesome annual event like Gasparilla!
Location: South Tampa, Bayshore Blvd.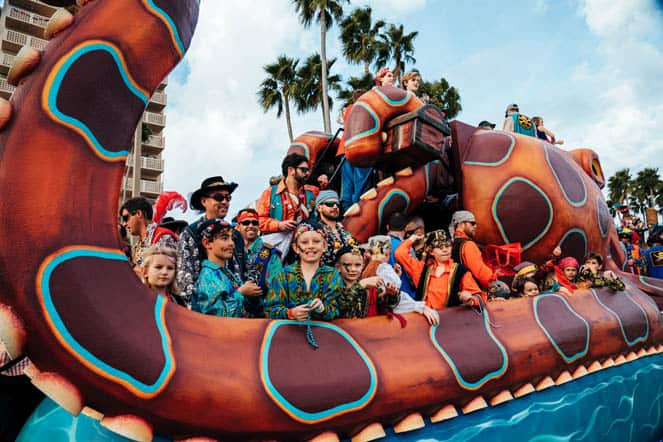 There's the Children's Gasprilla Parade and Gasparilla Pirate Fest each January. Other cool annual events families love: St. Pete Grand Prix, Pier 60 Sugar Sand Festival, Florida State Fair, Florida Strawberry Festival.
Experience

Esports

in a totally unique way
Location: 1802 W Kennedy Blvd, Suite 100, Tampa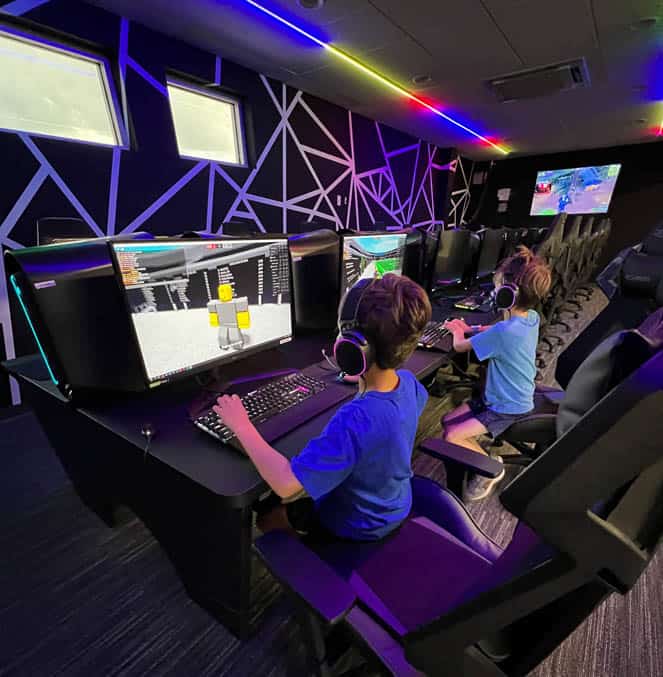 Esports Players Club on Kennedy in Tampa is the only Esports facility like it in the country and we're pretty sure the idea will catch on fast, so they'll always be the first. While they host gaming tournaments, they also offer open play for a fee and you can even sign up for classes to learn more about gaming, how to edit photos and video, and more.
MOSI also offers Minecraft Mania on Saturdays where kids can learn all about this popular game!
Location: Sunken Gardens-1825 4th Street N, St. Petersburg | Great Ex- 1925 4th Street N, St. Petersburg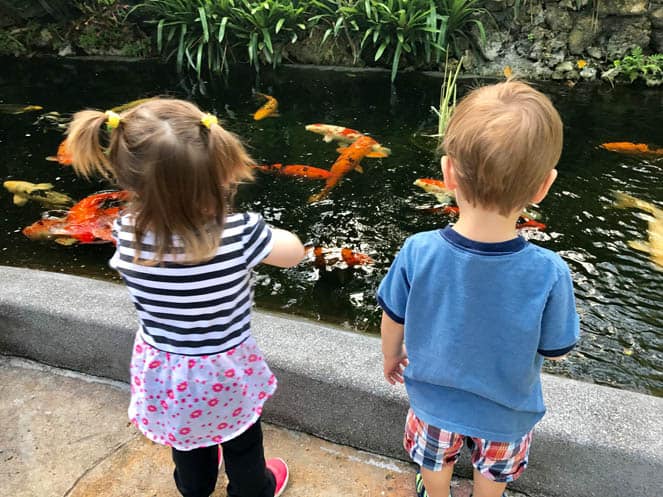 Sunken Gardens and Great Explorations Children's Museum are a great two-in-one visit since they are right next door to each other. Sunken Gardens is a great place to explore with the kids. Our kiddos love looking at the giant fish in the koi pond and the flamingos. Once you're wrapped with the gardens, head into Great Explorations Children's Museum for some indoor play! The kids love the treehouse and climbing structure!
Try a new restaurant
Locations: Everywhere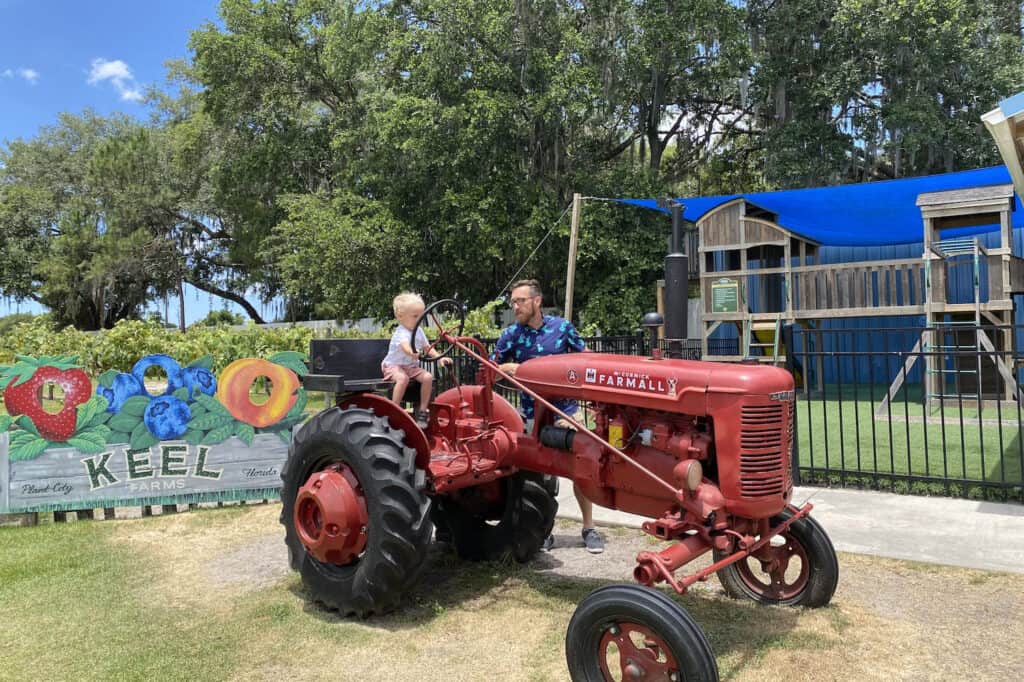 There are so many awesome restaurants around the Tampa Bay are whether you are looking for waterfront restaurants, kid-friendly restaurants or even where kids eat for free! We've got it all covered!
Explore other amazing museums in Tampa Bay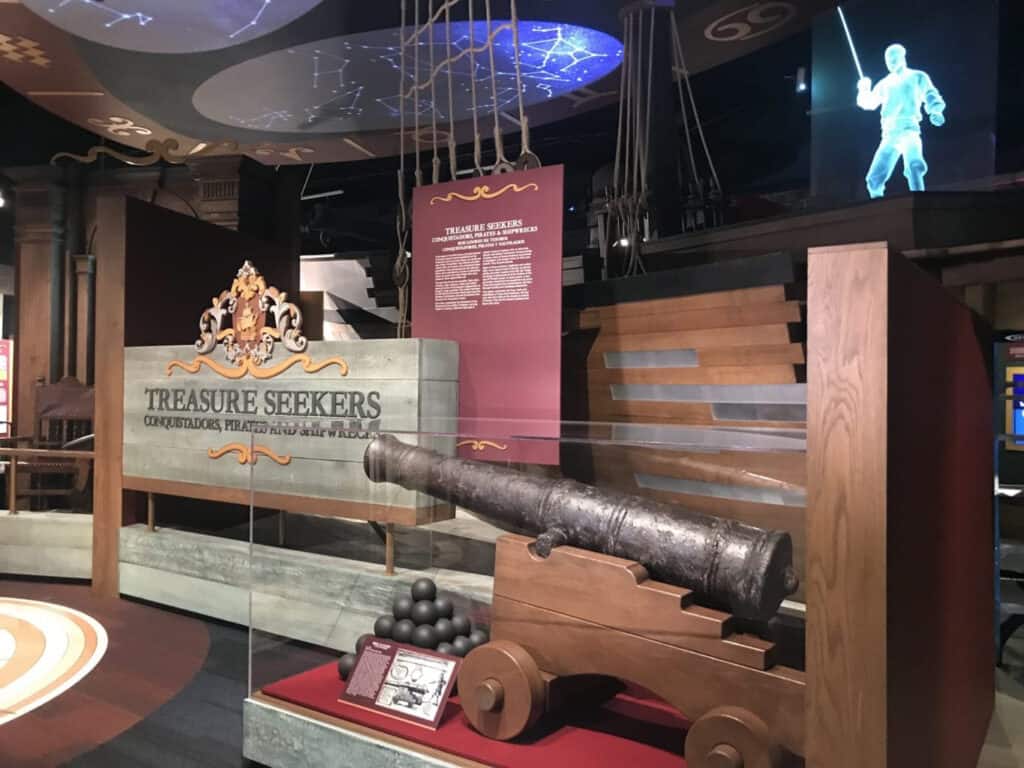 There are so many incredible museums to explore on both sides of the bay with the kids. We love the Tampa Bay History Center in Tampa because it has so many hands-on exhibits for the kids–we also love squeezing in time to eat at the Columbia Cafe which is at the museum. We are sharing even more of our favorite museums of kids in Tampa Bay here.
Play for the day at the St Pete Pier
Location: 600 2nd Avenue NE, St Petersburg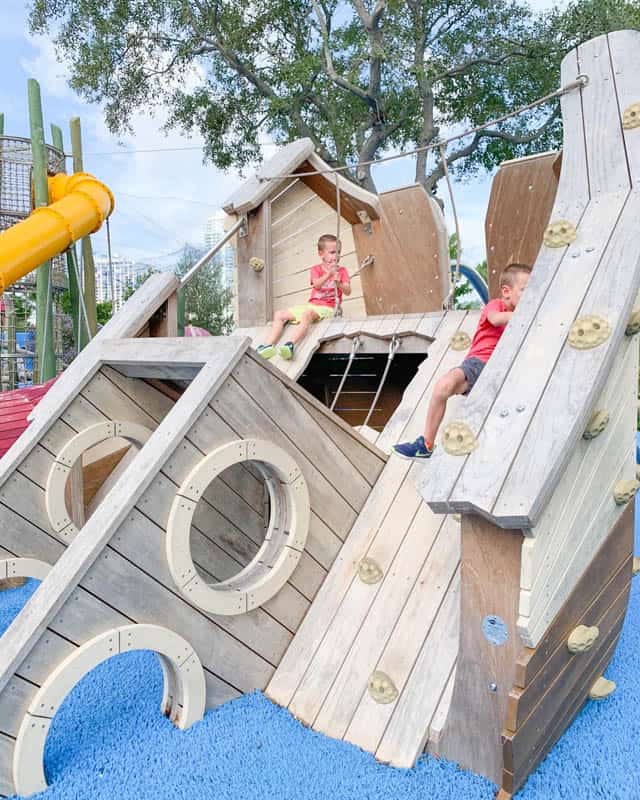 The 26-acre St. Pete Pier park area is free to explore, but it might cost you to park, so keep this in mind. Free parking can be hard to find these days, right??
Our favorite spot at at the St. Pete Pier is the Glazer Family Playground which has play spaces for kids of all ages. We also love biking and scootering along the Pier and the trails. The beach is also beautiful. You can pack a picnic and eat near the beach or on the lawn under the beautiful 'Bending Arc' hanging art display. There are also plenty of restaurants nearby if you decided you'd rather eat out instead. We also love visiting the Florida Bay Watch Discovery Center too!
Location: 1151 Tower Blvd, Lake Wales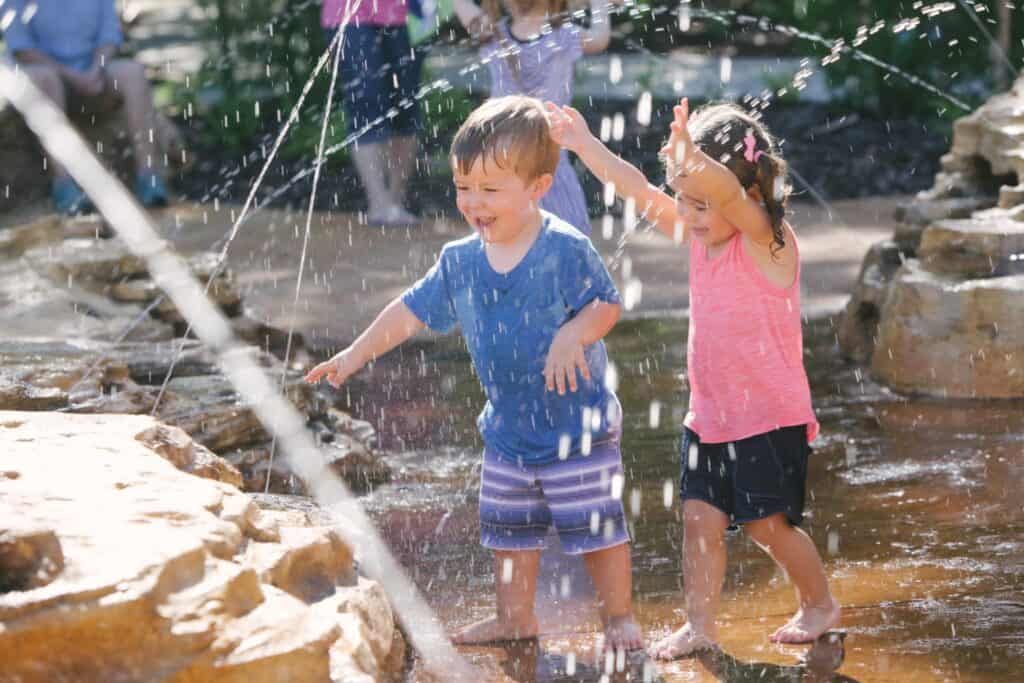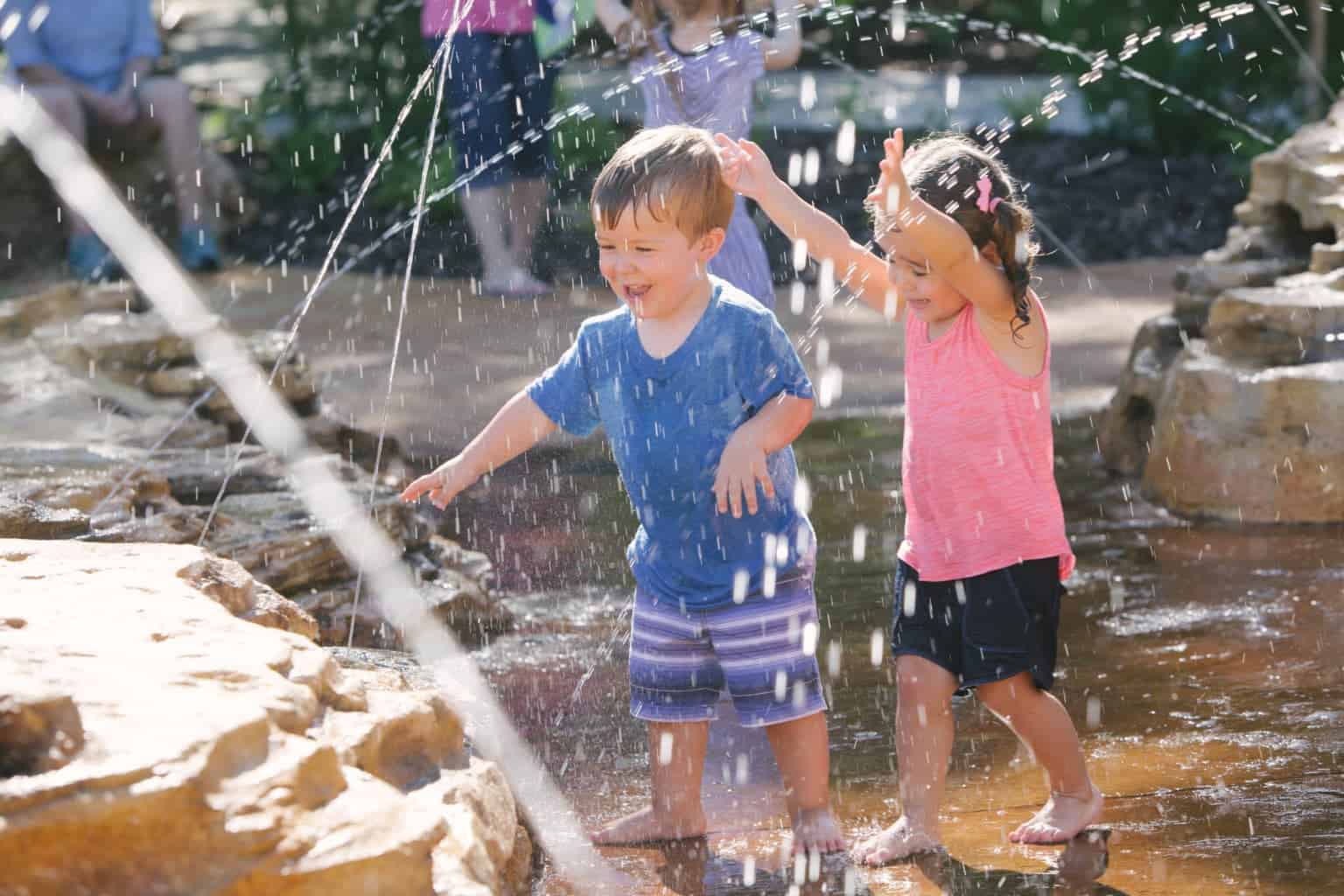 Recently named one of the most beautiful gardens in America by Good Plant Care, Bok Tower Gardens deserves a spot on your list. See the beautiful singing tower, walk the gardens and nature trail, and play in the Hammock Hollow Children's Garden which also has a water feature to cool off on hots days, the garden is must-explore with the kids. Be sure to check for reciprocal admission discounts if you are a member of the Florida Aquarium, MOSI, Tampa Bay History Center, Tampa Museum or Art or Great Explorations.
Heritage Village in Largo and Cracker Country in Tampa
Location: Heritage Village: 11909 12th Street, Largo | Cracker Country: 4800 US-301, Tampa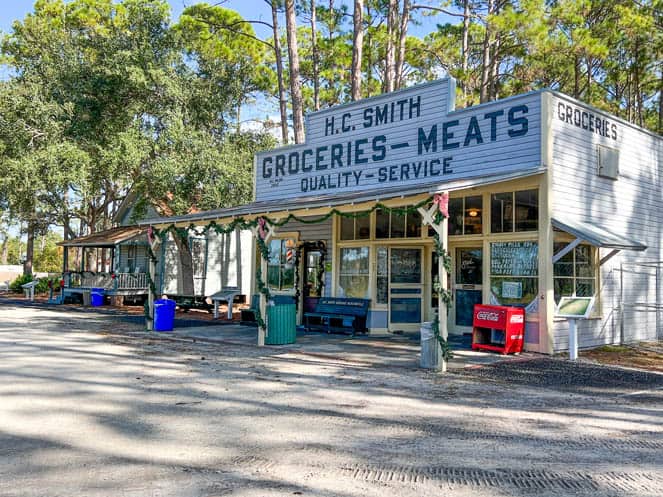 The is your chance to step back into the time of Pinellas County's earliest settlers. Heritage Village is a living museum that sits on 21 acres and contains 30 of the county's oldest buildings including a log cabin, replica school house, general store, and even an outhouse! Kids can see history in action and even learn about old games kids used to play a century ago.
There is a pretty nature trail to guide you through the village. It is open Wednesdays-Sundays. While it is free to go, donations are always appreciated it.
Cracker Country in Tampa at the Florida State Fairgrounds also offers you a chance to step back into time into the 1890s. The living history museum is not open daily, but you can schedule a tour or visit during one of the many special events throughout the year.
Wander through thee Florida Botanical Gardens in Largo
Location: 12520 Ulmerton Rd, Largo
While you're at Heritage Village, make time to visit the Florida Botanical Gardens as well since they're located on the same property operated by Pinellas County. It is free to visit the Florida Botanical Gardens, but donations are always appreciated especially as they build a new children's garden, the Majeed Discovery Garden which is slated to open soon.
There are several different gardens to explore like a Jazz Garden, Cactus/Succulent Garden, Herb Garden, Native Plant Garden and even a Butterfly Garden kids love. This isa must-visit during the holidays as well when the gardens are filled with thousands of holiday lights.
Spend the Day at Tarpon Springs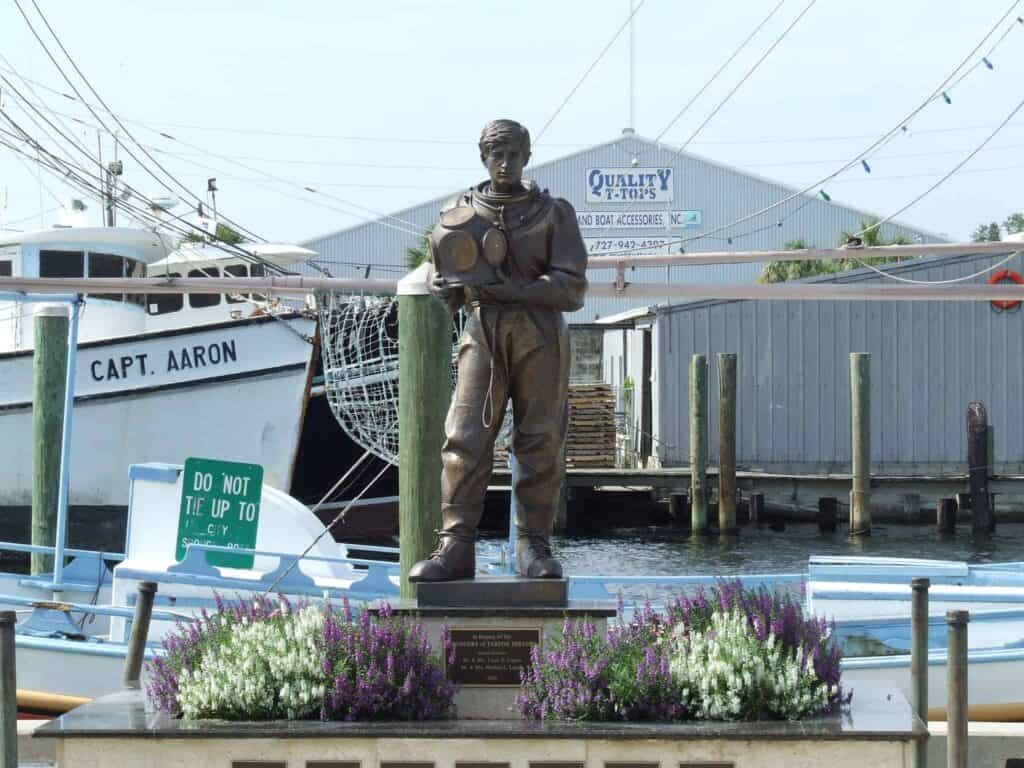 Learn about Tarpon Springs' Greek heritage and learn about the city's sponge divers with a stop by the Historic Sponge Docks. Tarpon Springs is a great day trip destination where you can indulge in delicious Greek cuisine, learn about the city's history and walk around enjoying the sights. Make sure to stop by the Sponge Factory (you can't miss it) to check out the sea sponges plus handmade soaps and other wares.
MORE Awesome things to do in Tampa Bay
Cheer on a Champa Bay Sports Team
Johns Pass in Madiera Beach
Visit a State Park in Tampa Bay: Fort De Soto State Park, Hillsborough River State Park, Caladesi Island State Park are a few favorites
Visit Dinosaur World
See the Fairyland statues at Ulele in Tampa
Book a Dolphin Cruise
Go Fishing
Catch a movie on the big screen at the historic Tampa Theatre