Where to pick strawberries in Tampa Bay
Strawberry picking season is here and we're showing you where to pick strawberries in Tampa Bay! It's one of our favorite things to do in Tampa Bay with the kids!
March is the height of the u-pick season, however we often see strawberry picking events as early as February and even into April, so you've got a good amount of time to experience this for yourself.
There are a few things to keep in mind before you head out the door to the u-pick farm:
Check with each farm to ensure they are open before you go since things can change.
Wear closed-toed shoes and plenty of sunscreen.
Pack extra sunscreen, bug spray, and water.
Bring cash just in case.
Bring a container or bags to carry your strawberries in. (The containers you get at the store when shopping for strawberries are great since they are designed to keep your berries fresh, so clean and keep.)
Related: Where to pick blueberries in Tampa Bay
How to store your freshly picked strawberries when you get home:
Since you'll want to ensure all those freshly picked strawberries stay fresh, we turned to the expert and asked Sue Harrell with the Florida Strawberry Growers Association –also known as Strawberry Sue, to share her top tips.
If you happen to have one of the clear plastic clamshells from store bought strawberries, she says these are ideal.
"If you look at that container, it has venting in it. That is designed to keep that berry as fresh as it can possibly be," said Sue. "When you take it home, put them in the refrigerator unless you are going to eat them right away. Store it there until right before you get ready to eat."
"When you're ready to eat, leave it on the counter for a few minutes, 15 minutes or so and let it warm up. You are going to have better flavor berries if it's at room temperature than cold," she added.
She also suggests you leave the green top on the berry until you are ready to prepare.
"Rinse them off with the top on so you are getting that full flavor and it's not watered down. Don't soak them. My mother used to soak them in a bowl of water to get the sand off. Well, we grow on plastic here, so the berries aren't sandy. They are nice and clean. Just give them a quick rinsing. Even if you rinse them in that colander, I call it a colander –the clamshell that has the holes in it–rinse the berries off and eat them fresh."
Now that you know how to store and how to prepare your strawberries, we're showing you where to pick strawberries right now in Tampa Bay!
The BEST Strawberry U-Pick Farms in Tampa Bay
*Hours and days open may change based on availability of strawberries.
Upicktopia in Masaryktown: U-Pick Strawberries, Greens, Zucchini and more!
19125 Phillips Rd, Masaryktown 34605
www.upicktopia.com
Open Fridays, Saturdays, Sundays
Upicktopia has a variety of veggies and strawberries available for u-pick. You'll want to check their Facebook page before you go to see what they have available for u-pick as it changes.
Berry Sweet Acres in Plant City: U-Pick Strawberries
5621 US Hwy 92 in Plant City
Berry Sweet Acres Facebook Page
Open Wednesdays-Sundays 
There's nothing quite like the taste of freshly picked strawberries and Berry Sweet Acres is opening up its fields for u-pick strawberries by reservation only to ensure you don't get overcrowded. They are open Wednesdays through Sundays from 9am-5pm. There is a $2 admission fee in addition to the purchase price of the strawberries. Walk-ins are welcome or you can make your reservations here.
Hunsader Farms in Bradenton: U-Pick Strawberries 
5500 County Road 675, Bradenton 34211
www.hunsaderfarms.com
Open daily
Hunsader Farms is offering u-pick strawberries right now for $3 per pound. Their fields are open daily. They also usually have other u-picks throughout the year including veggies like varieties of beans and peas, squash, and tomatoes. There's also a petting zoo with more than 30 species of animals! They're open daily right now, (Monday-Saturday 8am-4pm & Sunday 10am-3pm) so it's a good day trip for littles. Hunsader Farms also offers the prettiest sunflowers, zinnias and wildflowers for u-pick in the springtime, so standby for that!  Learn more here.
Strawberry Passion/Passion Organics in Thonotosassa: u-pick strawberries
11780 Tom Folsom Rd, Thonotosassa 
12351 McIntosh Rd, Thonotosassa
Typically open Friday-Sunday
Visit Facebook Page
Strawberry Passion/Passion Organics is offering u-pick strawberries on weekends at their McIntosh Road field along with their farm fresh market. Check their Facebook page for updates and availability.
5K Farms in Plant City: u-pick strawberries starting April 1
5732 SR 60 W on north side of the road, Plant City
5K Farms will offer organically grown u-pick strawberries beginning April 1 and 2. They will be open from 8am-5pm both days. Berries are $2 per pound. Bring cash, but they do accept credit card. Follow their Facebook page for updates.
---
Farms that usually offer strawberry picking, but aren't open right now: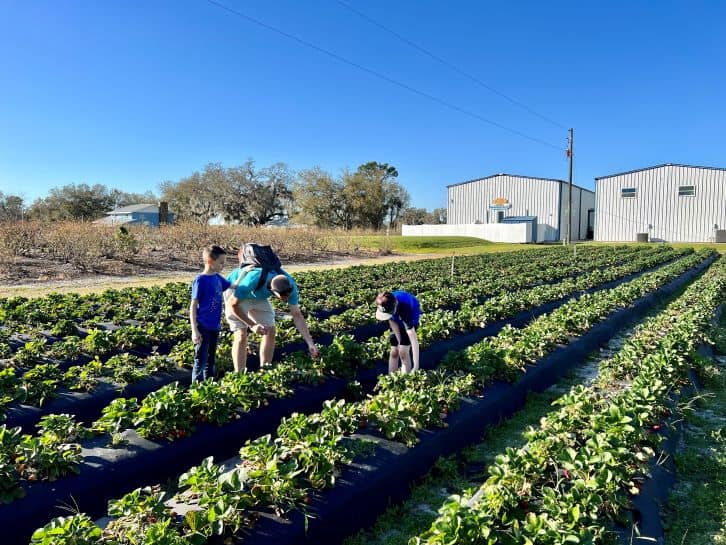 Keel & Curley in Plant City: U-Pick Strawberries (not offering u-pick right now-check back soon!)
5210 Thonotosassa Road, Plant City 33565
keelfarms.com
Keel & Curley location on Thonotosassa Road which also happens to be right by Dinosaur World, so it's a great day trip for families. We also love grabbing lunch under the covered patio and saying hello to the farm animals, so make some time in your day for that too! Check their Facebook page here for updates.
JG Ranch in Brooksville: strawberries and greens
17200 Wiscon Rd, Brooksville 34601
www.jgranch.com
Strawberry picking on weekends
JG Ranch is now offering u-pick strawberries (as they ripen) and veggies like broccoli, lettuces and peppers. You'll want to check in on their Facebook page to see if they are open for u-pick before you head out.
Starkey Blueberry Farm in New Port Richey: U-Pick Strawberries 
10730 Lake Blanche Drive, New Port Richey 34655
www.starkeyblueberryfarm.com
Starkey Blueberry Farm's u-pick strawberry season is open this week at the field located at 10730 Lake Blanche Drive in New Port Richey. The field is not too far from Starkey Market if you want to stick around for lunch and pre-picked berries. Check their Facebook page for daily updates on availability before heading out.
Favorite Farms in Dover
10070 McIntosh Rd, Dover 33527
www.favoritefarms.net
Favorite Farms u-pick strawberry season typically opens in March. Visit their Facebook page to stay up to date.
Pappy's Patch U-Pick Strawberries 
501 Florida Ave, Oviedo, FL 32765
Visit Facebook Page
Pappy's Patch was usually offers u-pick in March and April. You can check their Facebook page for updates.
Wish Farms Blueberry U-Pick in Plant City: U-Pick Strawberries and Blueberries
1301 Frontage Road S, Plant City 33563
www.wishfarms.com
Wish Farms sometimes offers u-pick events. You can check their events page here to stay up to date.
Three Son Farms in Dover: U-pick strawberries
3830 MacIntosh Road, Dover 33527
Visit Facebook page here
Open daily during spring break week 
Three Sons Farms in Dover is offering u-pick strawberries daily. They also sell shortcake and pizza on site.
Want to add your favorite u-pick farm? Email us and let us know so we can share: editor@tbparenting.com